Ed. Note: In celebration of our second collaboration with the storied West Coast imprint, Death Row Records, we're revisiting our friend Jensen Karp's essay originally published here in 2014. The Hundreds X Death Row is available now at flagships, select retailers worldwide, and the Online Shop. Happy 25th anniversary, Death Row Records.
I've read tons of stories over the years about how Adolf Hitler had a dog named Blondi that he treated with so much love and endearing care that the people around him were always surprised by his aggression and maniacal actions. He was reportedly an ideal dog owner, putting his pet's needs above his own, and having numerous portraits commissioned of himself with the German Shepherd, eventually alongside another he would adopt named Bella. It was both effective propaganda and allegedly truthful to depict one of history's most sadistic leaders as an avid animal lover. I'm not sure PETA would ever come out and praise his commitment, but it does seem there was at least one way to make a monster smile.
Back in 2001, at 20 years old, I was signed to Interscope Records as an emerging rapper, right in the midst of the music industry's attempt to capture a second white MC and capitalize on what was becoming a deafening fame for Detroit's Eminem. The story of my short-lived rap career has become such folklore amongst the industry that I'm currently writing a memoir about "Hot Karl," the moniker I adopted on-stage, for Random House/Three Rivers Press to be released in 2016. But in the meanwhile, let's just say that my record label, and publishing company, spent enough money on my project to revitalize the NASA program, even if I ended up looking like the Challenger. During that time, I found myself recording with the likes of Kanye West, will.i.am, Fabolous and DJ Clue – feats usually not connected to the life of a suburban Jewish kid who grew up in Woodland Hills, CA, and loved Little League. With The Hundreds announcing their collaboration with Death Row Records, I figured now would be a good time to remember the moment that Suge Knight ended up being REALLY nice to me.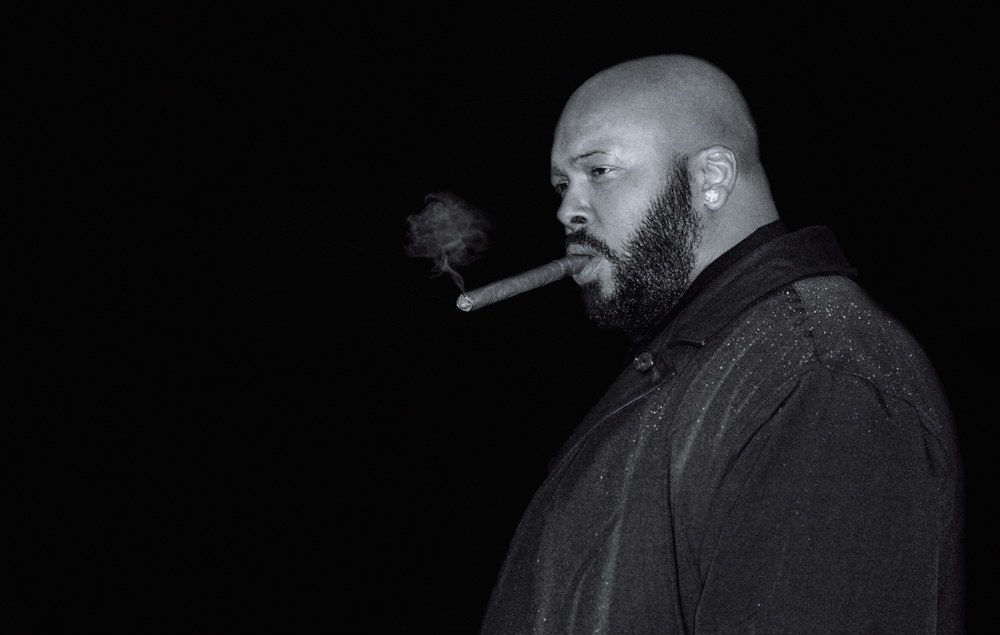 Signing to Interscope in the early 2000s involved a lot of office-whispering about Death Row Records and Suge Knight. Jimmy Iovine, then founder of Interscope and now headphone guru, had given Suge his first big break, making millions of dollars together on releases from Dr. Dre, Snoop Doggy Dogg, Tupac, and Nate Dogg. But, like most of Suge's business deals, it all went south rather quickly. So south in fact that when I first signed there, Suge Knight had released a Death Row Records Uncut DVD that included the home address and clear photos of Jimmy's mansion. So it was no shock that security was immediately beefed up at the Santa Monica label's office, because based off past stories about the Death Row CEO, he took shit from no one. As you know, his name would later be thrown around when dissecting the murders of Biggie and Tupac, and no matter how the mighty have fallen since, at one point in Suge's relevance, he was the most feared man in America.
Most of my Interscope recording sessions took place in expensive studios, ones that could be inhabited by numerous musicians in separate rooms at a time. I explain this only because I know most rappers nowadays – the type with a dollar $ign in their name – can do the exact same thing from their bedrooms and we'd hear no difference. But back then, before home studios, part of the fun when recording at places like Record Plant or Baseline, was seeing who was working in the nearby rooms. I'd find myself getting a bagel in the kitchen with Swizz Beatz or talking boxing with Nas in the common room and that was as much of a dream come true as the record deal. And every once in a while, a rapper would walk, uninvited, into our studio and hang out to listen to what I was making. It was rare, but when it happened, it always ended in a story worth retelling. And one day in 2001, while mixing a song I recorded with DJ Quik, Suge Knight walked into my studio and stared at me for 3 awkward minutes before talking.
It's important to establish Suge's reputation with both white rappers and uninvited studio visits before I go any further. One of the mogul's most infamous tales involves the publishing rights to megahit "Ice, Ice, Baby," a smash in the '90s by Caucasian car crash Vanilla Ice. Soon after the track's popularity explosion, California rapper Mario "Chocolate" Johnson claimed he wrote the song with Vanilla Ice—legal name Robert Van Winkle—and enlisted one of his "associates," a then-unknown bodyguard named Suge Knight, to deal with the disagreement. The details of the story change from person to person, but it would seem that at some point Suge Knight dangled Vanilla Ice over a Miami hotel balcony by the feet until he signed over the writer's credit. And once Suge became one of the most successful label heads in music years later, the folklore only became more mythical. Word got around town that Suge would just stroll into studio sessions, walk up to the engineer and commandeer the files, or tape, so that the song was now "his." Like when people took candy from a baby, and created that weird saying everyone uses. So to say that the music industry—and Interscope specifically—was afraid of Suge Knight would be a massive understatement.
DJ Quik insisted on mixing our collaboration, "Sump'n Changed," so I had to set up a session to get the track finalized on my own and ready for his hands. Interscope rented me a room in Los Angeles on Rowena and I got to work. I usually would take around 1-3 hours to get something like this done, mostly because I'd buy lunch or dinner, or both, on the label's credit card, a benefit that encouraged me to always stay a bit later. After about 2 hours of pecking away at what needed to be done, the studio runner asked in a mysterious tone usually reserved for when kids ask other kids if they want to see a dead body, "Do you know who's in the studio next door?" After I shook my head no, he leaned in and whispered, "It's Suge Knight."
I only read 1 or 2 of the Harry Potter books, but I do remember that when they mentioned Voldemort, they had to say, "He who shall not be named," and it genuinely felt like Suge should've gotten the same treatment. I had read the painfully underrated Death Row biography, Have Gun, Will Travel by Ronin Ro, and just knew to avoid the man at any cost. From that point on, I tried to not leave my room, and quickly get through the day's chores. I kept remembering the accounts of Suge walking into a session and just jacking a song, and I wasn't willing to hang around and see if those stories were true. But with only a few minutes of rendering to go, I heard the studio door swing open and smelt what I assumed was a cigar. My nightmare had come true: it was Suge Knight.
We had just started the song, playing it loudly on the speakers for a final test, and neither myself nor the runner looked up from the board, knowing exactly who'd be looking back at us if we did. Like those two Jurassic Park kids in the kitchen, hiding from raptors, knowing any movement will trigger killer instincts, we didn't even breathe. Suge sat in the doorway, listening to the song, for its entire duration. I thought maybe he'd leave after the first hook or during the bridge, but he didn't move. When the song finished, we sat in silence for what felt like 10 minutes, but was probably more like 10 seconds without anyone saying a word.
"Was that you?" Suge Knight asked me without ANY indication if my answer would force him to shank me or shake my hand.
I waited for a second, fully trying to figure out my options. It felt like the world's most terrifying Choose Your Own Adventure. I closed my eyes and answered.
"Yes."
There was a brief silence, and the tension was so thick in the room it would've made Vida Guerra look like a waif. He took a drag from his cigar and said...
"That's some good shit."
And then we small talked for a little. He asked me about my influences and where I was from, and I asked him what he was doing next door (he was recording his wife, Michel'le's album). It was pretty soon after 9/11, so we talked about that a bit as well. I wish I could tell you he said something offensive about the tragedy, or screamed "BUSH DID IT!" and punched me in the face, but he didn't, he just seemed sad about people dying innocently. With that, he shook my hand and walked out. I never spoke to him again.
This past week, Suge turned himself into police after a run-in with paparazzi, where he allegedly stole their camera and committed assault. If found guilty, he'd be looking at his third strike and, in turn, life in prison. I'm not trying to say that my small moment with the man is his "Hitler was nice to dogs" angle, 'cause neither of them get a pass because of a fleeting moment of humanity. They're both bullshit garbage humans. Obviously, Suge is nowhere near Hitler-esque, unless you really consider the Hammer comeback album to have hurt rap music as a whole, but I still thought my story should be told.
I'm not sure how history will look at Suge Knight, even as the Death Row catalogue becomes my generation's Motown. Clearly in the long run, Dr. Dre will get all the credit, and that makes sense. But Suge represented a vital time and era for West Coast gangster rap, where things weren't quite as commercial as they are today. Threats weren't always just on wax and some people actually lived the lyrics they were spitting. Those days are over now, and apparently so are Suge's, But either way, I saw a monster smile.
***
Want more stories like this? Get a copy of Jensen Karp's Kanye West Owes me $300: And Other True Stories from a White Rapper Who Almost Made It Big.