I've never watched Rugrats or Doug, or really any Nickelodeon cartoon that's currently being beaten to death in the resurging soft enamel pin craze. I'm not sure if I'm aged out by just a few years, or if I was just too focused on early morning NBA programming where Ahmad Rashad wore crazy sweaters to interview Derrick Coleman to notice, but when people wax poetic about the days of Angelica & Tommy or Hey Arnold!, I feel little to no nostalgia and mostly have no idea who or what they're talking about. It's a bit of a pop culture black hole for me. But despite my lack in recollection for those cartoon callbacks, if you mention even just one housemate from MTV's The Real World, I can rattle off the entire cast and top moments from each season. Just the "Will someone get the phone?" audio clip from the show's opening can take me right back to my parent's house, sitting in front of my TV, eating tortilla chips and salsa after school. Wanna know Andrew from the original NY cast's band name? Reigndance. Need someone to sing David from New Orleans "Come On Be My Baby Tonight" song word for word? I'm your man. That's my nostalgia wheelhouse and I'm always ready to revisit it any chance I get. But bring up Salute Your Shorts, and I'm as confused as DeMarcus Cousins at the Beatles LOVE show in Vegas.
With this year's seemingly out-of-nowhere success of Stranger Things and streetwear's continuous obsession with all items '80s and'90s (p.s. Urban Outfitters is now selling the exact Aaliyah Tommy Hilfiger tube top and underwear duo that made most of us boys into men), we can all agree, even if we tried our hardest not to, we have our yesteryear vices. As you mature, not everything from our childhood may speak directly to you, as seen in my conundrum above, but something will, and last week at the Forum in Los Angeles, there were two shows that made sure fans of Rugrats, The Real World or really any child of the '90s got their fix one way or the other.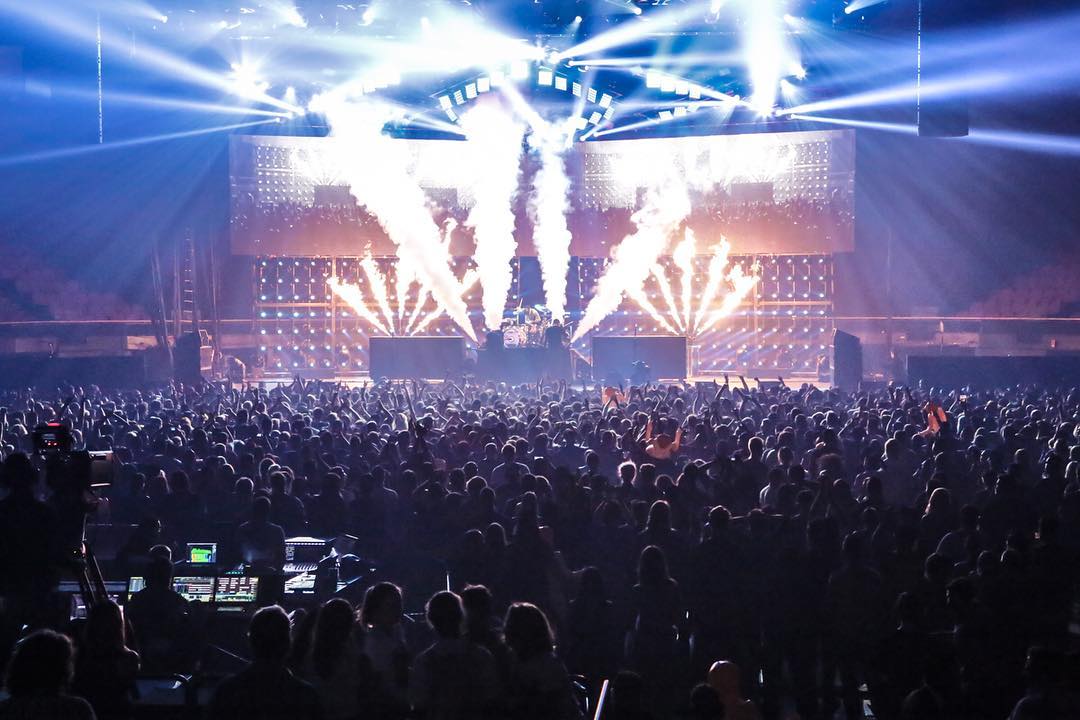 Image via Instagram
Blink-182 has produced more drama than Shonda Rimes over the past decade. With continuous appearances and disappearances from lead singer and founding member Tom DeLonge, who has recently shifted his focus more onto the legitimacy of aliens (and emailing Hillary Clinton apparently?), the band's public squabbles and side projects have taken center stage and lead them into numerous hiatuses and false starts. But when things felt most bleak for the trio, whose rise to fame in the late '90s started on TRL with mainstay hits like "All The Small Things," "Josie," and "Dammit," a reformation was announced in 2015, this time without DeLonge completely. Bassist/singer Mark Hoppus and drummer Travis Barker would indeed be recording a new Blink-182 album, but this time with Alkaline Trio member Matt Skiba replacing their allegedly "difficult" former bandmate. And just like that, amongst some more backtalk from DeLonge, who now seemed both content AND bitter, the album California was released in July. And when they visited The Forum this past Saturday to officially unveil the new line-up's music live, you had to wonder how much of the audience was there to discover or just to relive – or how many would connect at all.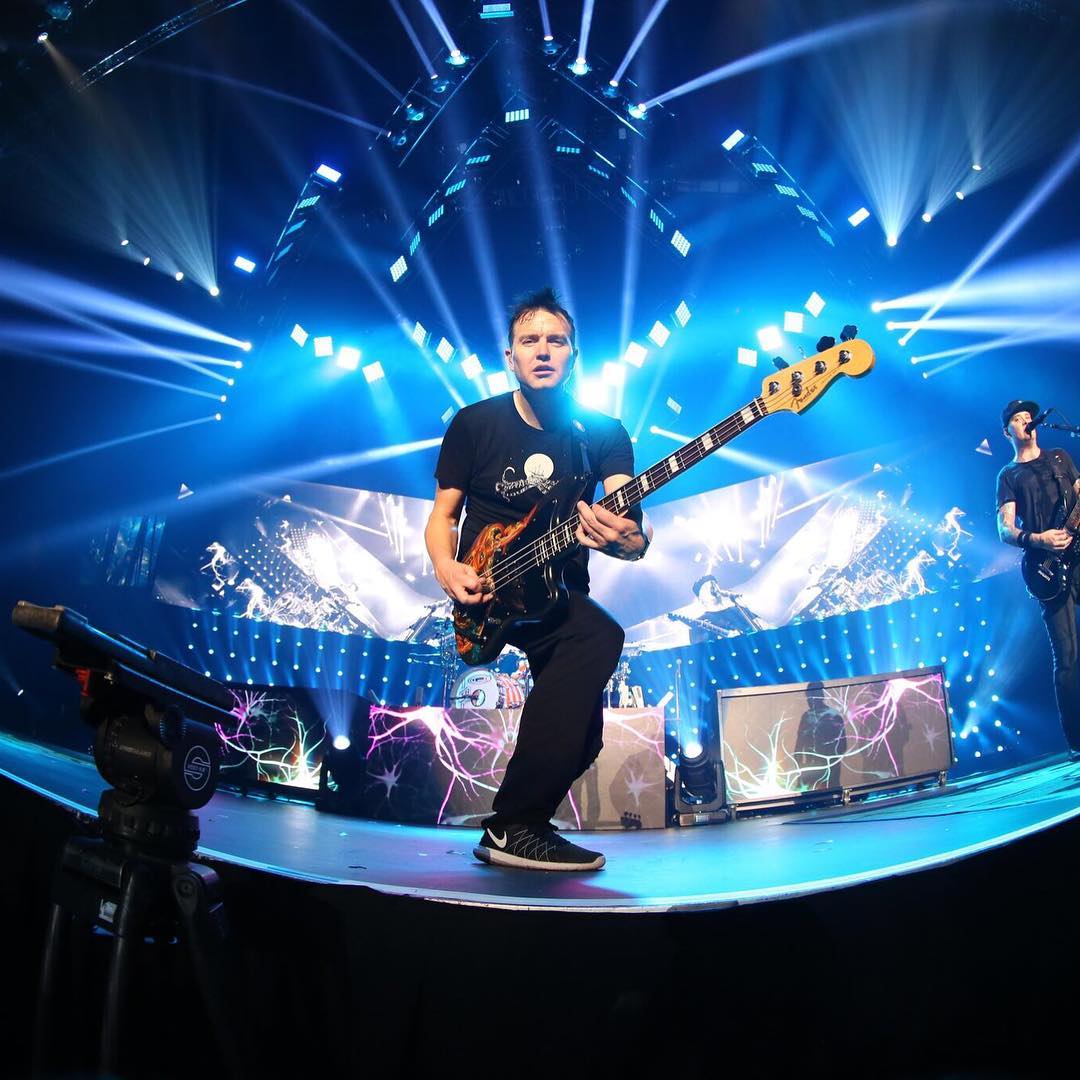 Image via Instagram
I'll be honest here. Despite remembering that Blink-182 had that one video mocking boy bands and another running naked through the streets, their music falls more into the Nickelodeon category than Real World for me. Full disclosure: Mark Hoppus and I have become friends over the years, but his music has had little to nothing to do with our connection (we clearly spend our time theorizing about true crime). But I went in with an open mind and hoped to see exactly what the sold out crowd was reminiscing about.
With openers All Time Low and A Day To Remember rounding out what would prove to be the Summer's most sought after rock line-up, they made sure to cater to the millennials too young to truly know the reach of Blink's influence (members of both All Time Low and ADTR have Blink inspired tattoos). And once the new trio took to the stage, a band easily described with snark as Blink-183, it became obvious they would successfully ride the line between nostalgia and rebirth. Leading with 2003's "Feeling This" and the anthem "What's My Age Again?," they weaved in and out of new songs like "Cynical" or the ridiculously immature 17-second "Built This Pool" while still addressing their greatest hits. Hoppus's signature mid-song banter played to both crowds, referencing memes ("Don't talk to me or my son again") as changing lyrics to pay tribute to retiring Dodgers announcer Vin Scully. With a set list of almost 25 songs, Blink did what a lot of "legacy acts" have trouble perfecting: something for everyone. Their peers from the late 90's, bands like Papa Roach, Alien Ant Farm and P.O.D. – would have greatest hit sets that last around 3 minutes each.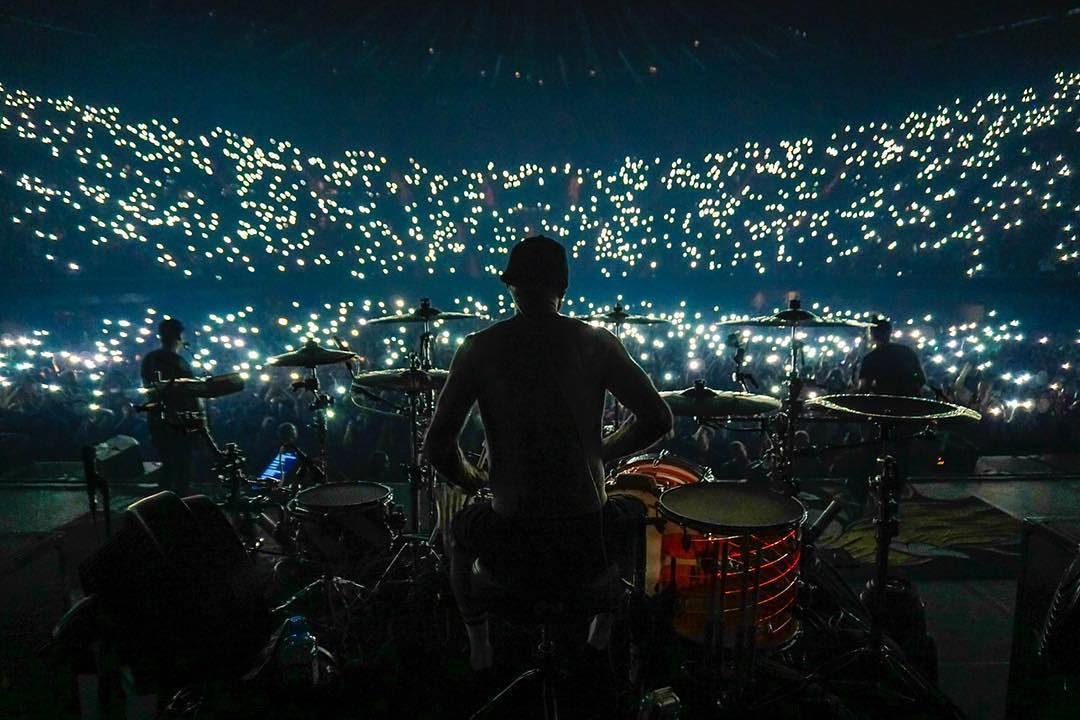 Image via Instagram
Blink also employed sensory overload visuals, heavily featuring artwork from the credible international street artist D*Face, and for one song they threw hundreds of naked blow-up dolls into the audience for crowd surfing (although I saw some fans take them home and assume maybe they have another function). Blink-182 has both grown up and repressed – which I think we all can relate to. They may still rely on the late '90s to fill seats, but with both Hoppus and Barker being dads themselves, they've realized they have more than one generation buying tickets. But when Puff Daddy took that same stage a few nights later, as part of the Bad Boy Family Reunion Tour, a show I had been looking forward to for almost a year, the same type of inclusiveness wasn't even contemplated.
Even before the Bad Boy concert began, the warm-up tour DJ revealed all you needed to know for the evening, with thousands of grown adults screaming at the first sounds of records from Blackstreet, Bell Biv DeVoe and Heavy D. And I totally was right there with them. This was my Puck vs. Pedro Zamora Real World moment. Where Blink-182 may have hired young openers to speak to teenagers, Puffy was solely looking for the aunts and uncles. For the next almost 3 hours, he worked as a narrator, warning the audience, "Have you ever seen history before?" He produced the multi-city tour all in the name of his own 20th anniversary in the business, and he delivered exactly what he promised. With acts Total, Lil' Kim, Faith Evans, the Lox, Ma$e, Carl Thomas and 112, they completely ransacked his label's discography.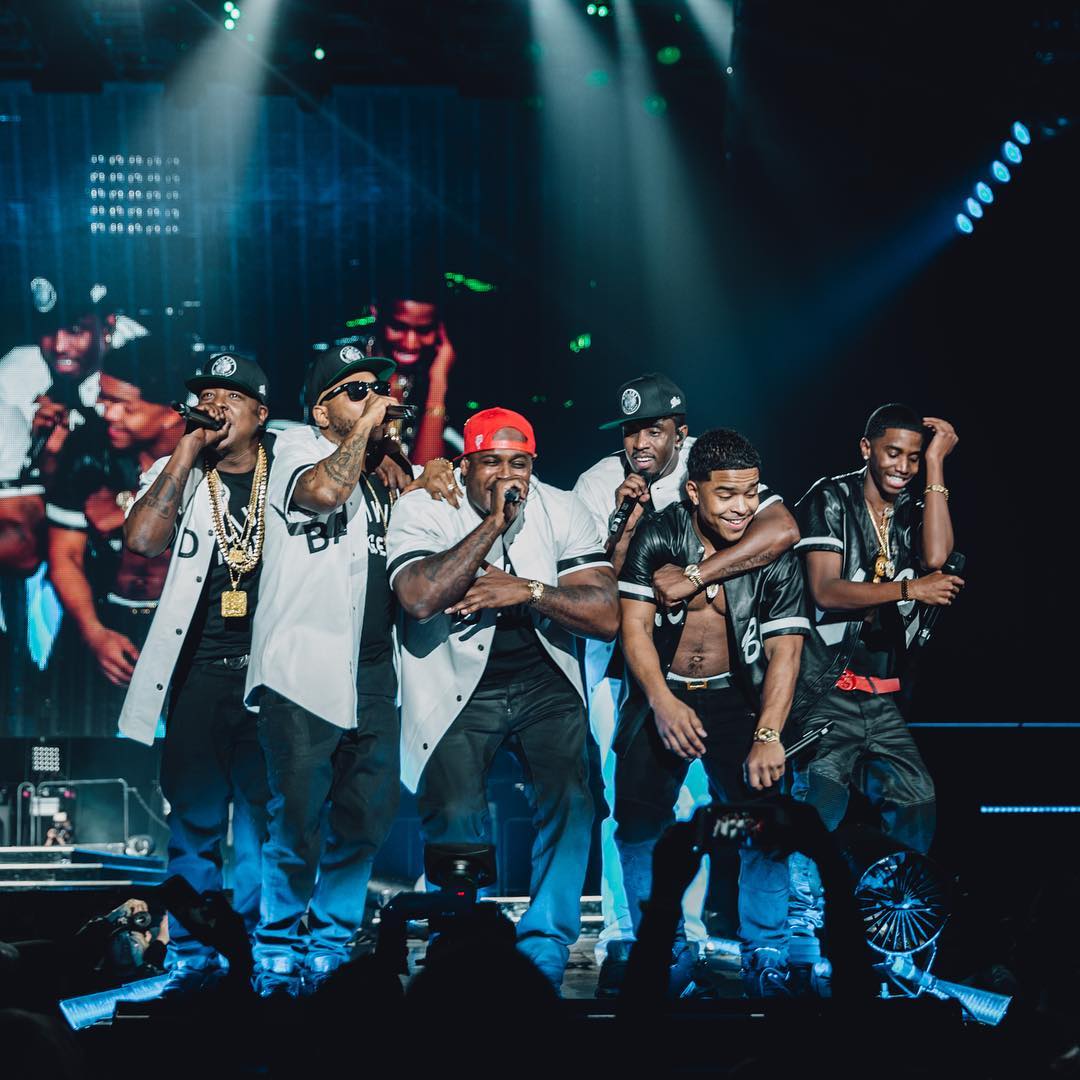 Image via Instagram
The only thing Puffy didn't do was tell us to "Vote or Die" or try to run a NY marathon. Each hit had the crowd dancing and time traveling back to a time of shiny suits and Hype Williams videos. His attempts to introduce the future of Bad Boy, with it's current flag bearer French Montana and a new signee, his son Christian "King" Combs, received some reaction, but nothing like when Nas surprisingly joined Puffy on stage for "Hate Me Now." The only actual silence heard Tuesday night was when A$AP Rocky and A$AP Ferg cameo'd during French Montana's set, with the audience almost thanking them for coming, but quietly still hoping for a Black Rob appearance (he eventually did run out for "Whoa" in case you wondered if he got the day off from dricing an Uber or serving coffee). This was clearly a trip down memory lane.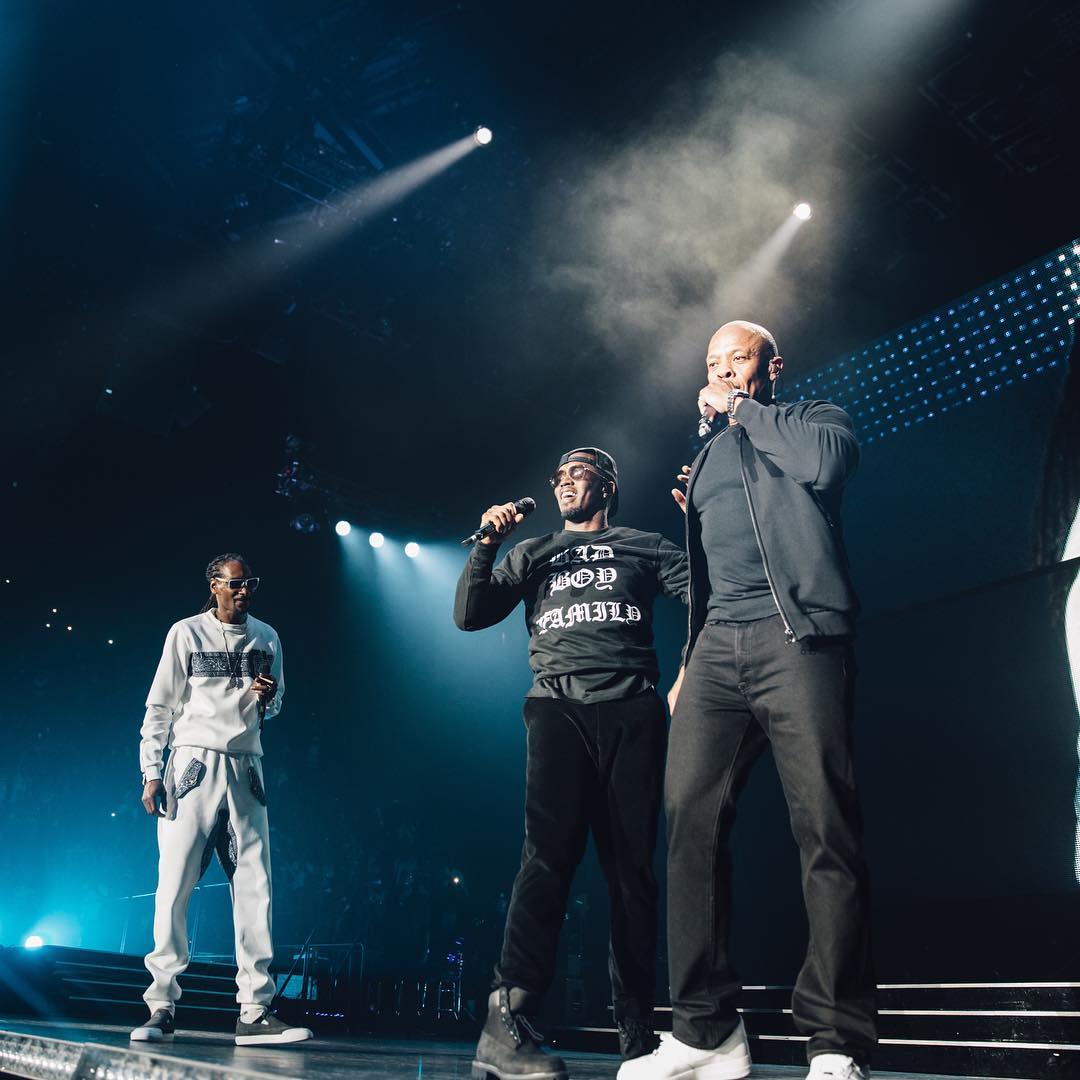 Image via Instagram
But the Bad Boy tribute, though worth the ticket price alone, was only the beginning. Puffy once again took the stage to ring lead a list of surprise guests that, without a doubt, secured him LA's best rap show of the year. What started with Mary J. Blige performing a handful of songs, turned into DMX barking for a few tracks. And even Diddy himself was surprised to introduce his next guests, actually caught off guard to see Snoop Dogg and Dr. Dre, two men once entangled in an all-out bi-coastal war with Bad Boy Records, rise to the stage. They performed "The Next Episode" and "Still D.R.E." with a timeless ease. The three men stood together, with two Vibe magazine covers behind them on a big screen, one adorning the faces of Dre, Snoop, Suge Knight and Tupac, the other featuring Combs and Biggie Smalls. You can only wonder what could've been had calmer heads prevailed earlier (I Like to think Biggie would be on Blackish). Jodeci was the final guest, rounding out the chaotic night with some R&B and setting the stage for the B.I.G. finalé tribute "I'll Be Missing You," which featured every Bad Boy member back on stage with a video tribute to their fallen peer. I even saw Bad Boy record executive Harve Pierre join the ensemble, which made me realize just how much nostalgia I had for this era. I KNEW THE FUCKING EXECUTIVES.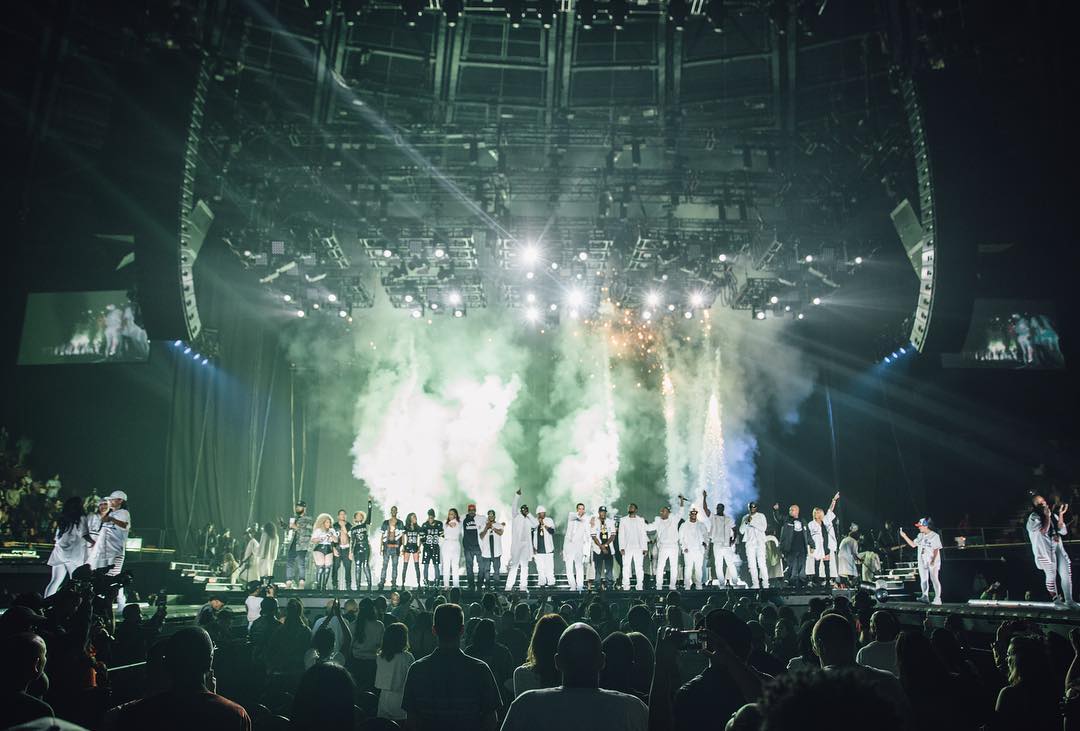 Image via Instagram
With both shows at The Forum, Blink-182 and the Boy Bad Family Reunion, nostalgia was king. Although they showed different methods of inclusion, their purposeful missions were accomplished. And I'm sure those enthralled with Hoppus and Barker's return to form may not have connected as strongly to the moment Lil' Kim came out for "All About The Benjamins," but we all have our own nostalgia. Isn't that the point? You get to pick. Blink asked you to join, Puffy expected you to know it. Both styles worked, leaving those who attended with not only the typical "what happened to the good ole' days" question, but with an optimism of what's next from both. I am also hoping Black Rob's homeless shelter doesn't have Wi-fi.
***
Follow Jensen Karp on Twitter @JensenClan88