As The Hundreds' free #SPITSET show this Friday May 1st approaches (RSVP here), Alexander Spit, shared a few words about the night's headliners, Silk Rhodes:
"Composed by the introverted vocals of Sasha Desree and the mininimalist grooves of Michael Collins; Silk Rhodes is the refreshing interpretation of soul music founded on the ethos of less is more," Spit explains about the Stones Throw duo. "With each song being reminiscent of ballads from the past, they breath with their own innovation through the scope of intelligent production and vocal melodies that bypass the overbearingness of melodrama. With only a few songs floating around the realm of the web, Silk Rhodes' music and essence is captured best with a full dive into their offerings of content."

 

Their self titled album Silk Rhodes was released through the innovative powerhouse of Stones Throw, and offers a definitive collection of psychedelic chords and intimate hymns.

 

Silk Rhodes will be performing this Friday at "SPITSET" at Three Clubs in Hollywood. Pair the soul duo of Silk Rhodes with the mobster-esque elegance of the Three Clubs, and you have a Friday night to remember."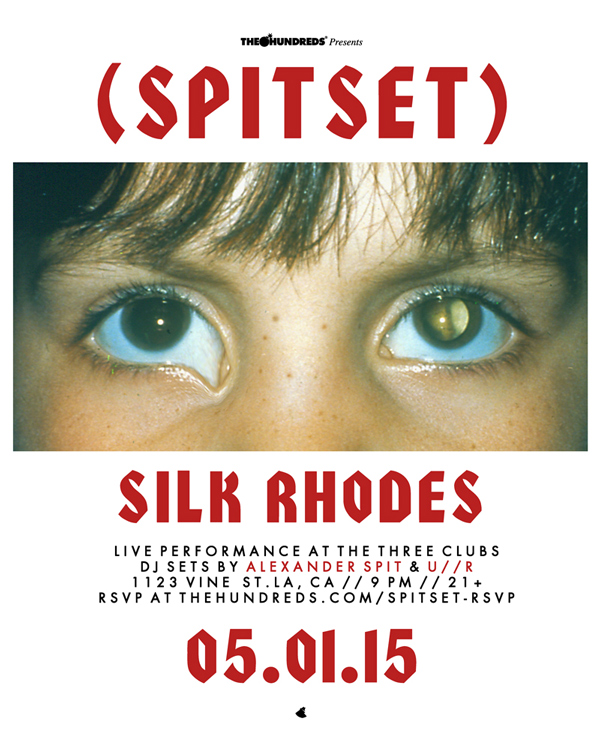 Click the flyer above to RSVP or click HERE.
#SPITSET is set to go down at the iconic Los Angeles bar, Three Clubs. Be sure to catch the FREE show and immerse in Silk Rhodes' envelope-pushing vibes before you're the last to hop on the train.
Doors open at 9pm. 21+.
Three Clubs
1123 Vine St.
Los Angeles, CA 90038
As the cherry on top, here's a quick playlist of Silk Rhodes' offerings to swoon you and catch you up for this Friday's Hollywood performance.
Another live set the Baltimore duo did for Boiler Room: