With the 20th anniversary of the film approaching in less than 365 days, and last week's news that Nike and Warner Bros. are teaming up once again to release all new "Hare Jordan" products this Spring, it could be argued that the movie Space Jam is more credible today than it was in 1996. Hell, I even staged a live reading of the shooting script at UCB last year with Blake Griffin, DeAndre Jordan, Nick Kroll, Paul Scheer and Topanga from Boy Meets World. To say that Space Jam is still in the lexicon of pop culture in 2015 would be an understatement, and it doesn't appear to be going anywhere soon, especially since a sequel with LeBron James has been rumored ever since that dude won a championship and stopped being a dick. And honestly, all this reminiscing has me excited. You can dog the theory of nostalgia, and hope that new properties come along and wash away the camp of yesteryear, but my opinion is "the more the merrier." Let's honor the past, while also celebrating the future (also, keep in mind, it's not like we have a ton of amazing basketball movies to choose from. Here's the proof). I'm so on-board that a few years back, I took to collecting some of the memorabilia from Space Jam, focusing on both the cool, and the ridiculous, consumer products that were released back in the day. Further cementing my title as "the grown man whose house looks the most like the kid from Big when he becomes an adult," I've actually been pretty successful on my quest. To celebrate the announcement of Hare Jordan's return, I've decided to list my ten favorite Space Jam products, both pieces that I own, and others that I am currently attempting to acquire (holler if you want to unload your pristine shit). Like a good episode of Storage Wars, get ready to see some real treasures that only a few idiots, like myself, think is worth something.
Michael Jordan Head Mug
I weirdly don't remember many of the Space Jam items I now worship from back when I was in high school. I was too busy seeing Fargo in the theater 5 times to stay updated on the ways that WB planned on raping our pockets. I waited until I actually had money to let that concern me. But I like to think that, at any age, had I seen this gigantic Michael Jordan head, where I could drink from his brain, I would've purchased it. He actually looks kinda disturbed too, like he knows we've filled his noggin with hot coffee and now enjoy consuming it. Coincidentally, this looks like the face he makes while acting in 99% of the film. Also, for those not looking for mint condition items, this would be a fun opportunity to paint over his mustache to make it look more Hitler-y.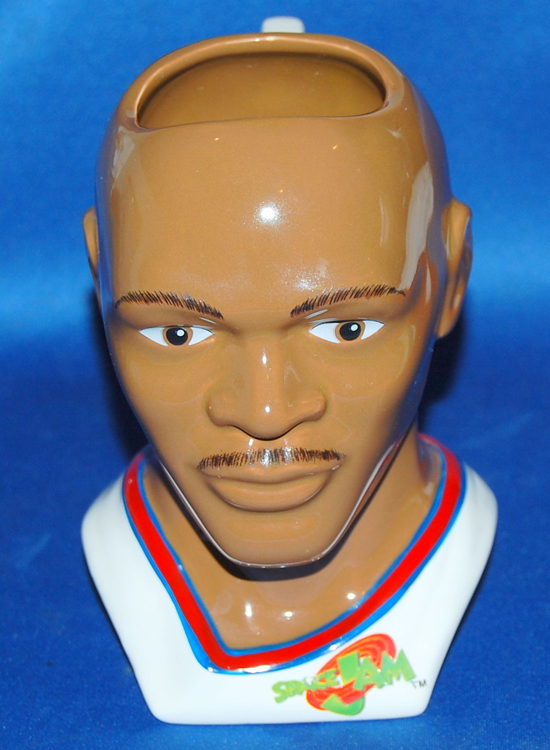 Space Jam Basketball
My dream is to show up at Rucker Park, during one of its more popular and intense streetball tournaments, put on a headband, throw down this basketball and yell, "WHO GOT NEXT?" at the top of my lungs. And then, after I was released from the hospital, I would think it was the funniest thing I've ever done. Honestly though, if I saw someone playing with this ball, in a serious manner, I would assume he/she was the coolest person on the planet and just become part of their entourage. The only way I'd give someone more props is if I saw them actually dribbling a basketball made up of a squished Michael Jordan, like the Monstars created in the movie, but then I'd also be on Peyote.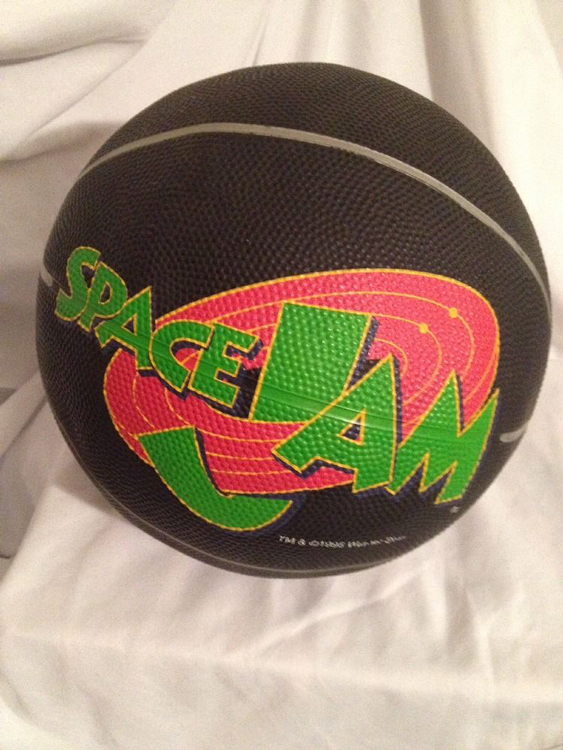 Space Jam Board Game
The official name is "Space Jam: Michael Jordan's Cosmic Court" and I'm not guessing this will take the place of Settlers of Catan at your board game night anytime soon. It can be played by up to 4 people and it pins friends against each other, racing to be the first to "slam dunk" and save Bugs & the gang from the Monstars. Everyone plays as Michael Jordan, moving him around the board, while attempting to shoot a little purple basketball through a hoop (which doesn't seem like a board game at all). It was designed by a legendary woman in the industry named Peggy Brown, who also worked on classics like Girl Talk and Pretty Pretty Princess, but in my opinion, she took a real L with this movie tie-in. Won't stop me from bidding for it on eBay though!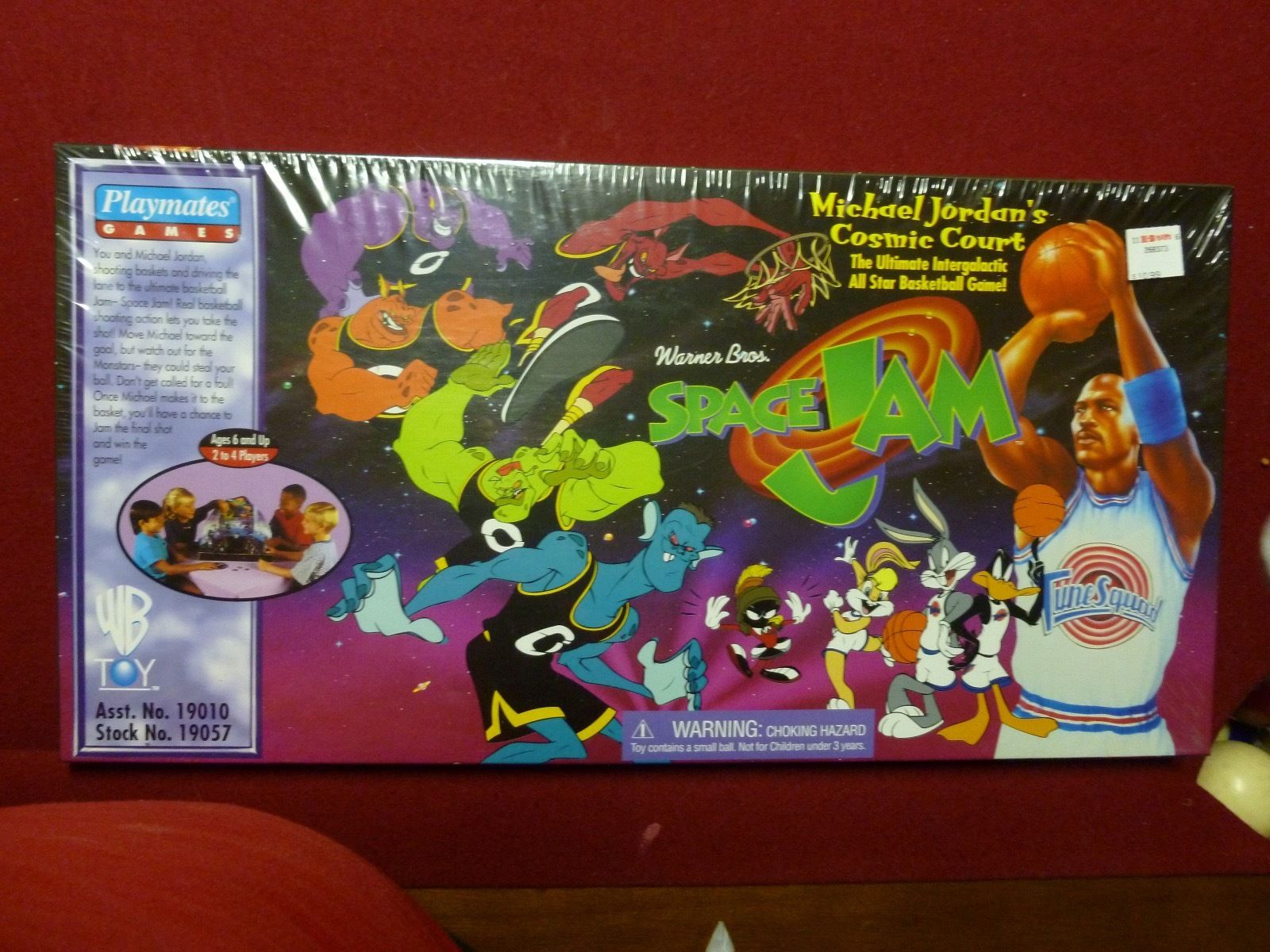 Scott C. Original Space Jam Painting 
Scott Campbell (better known as Scott C.) has become one of the premiere artists working in pop culture art today, even recently illustrating a children's book written by Bob Dylan. He's shown pieces from his Showdowns series over the past few years at Gallery1988 (full disclosure: I co-own the place), where he picks characters or items that have a conflict in a movie, and paints them as very minimalist cartoons, staring each other down. It's become quite a success in both our gallery and on Tumblr, even spawning two books from Chronicle Publishing. Anyway, a few years ago he took on Space Jam, and I HAD to jump at the chance to own it. It now hangs happily in my house and I wouldn't trade it for even a Rothko. No need to inquire, museums.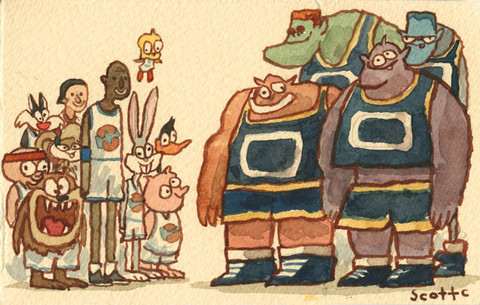 Space Jam Coin
As if it was the Gettysburg Address or some type of historical monument, Warner Bros. released a commemorative coin for Space Jam, because if there's one way to rope in the kids, it's collectible currency. And I don't want to hear anyone tell me this is a POG, cause it's not. They made those totally separate. One side of the coin (heads), includes MJ, Bugs and Taz, while the other side (tails) represents Swackhammer and the Monstars. It's a little known fact, but if you ever try to buy something with this coin, the establishment has to sign over the deed to the business to you immediately. Go ahead. Try it.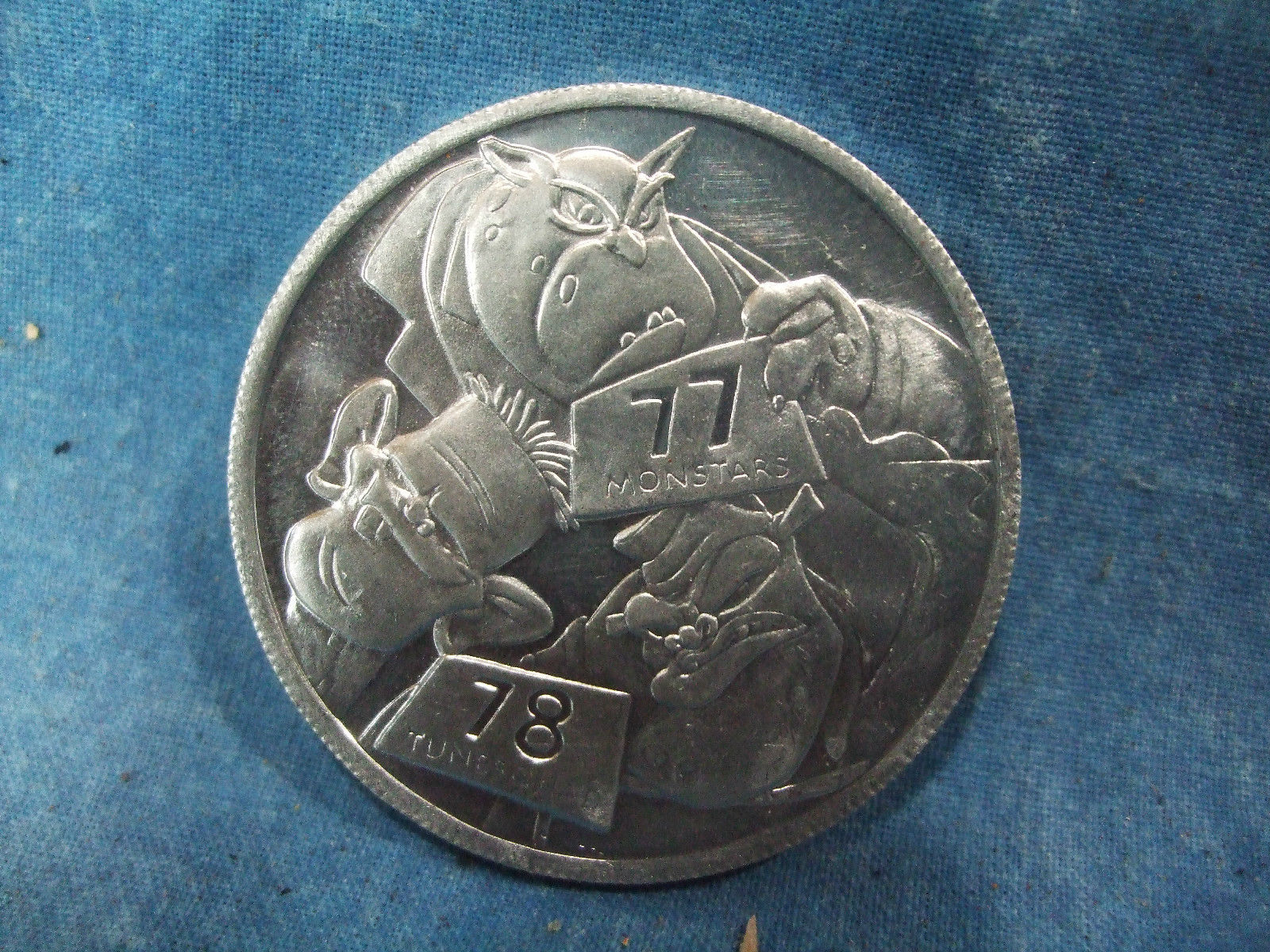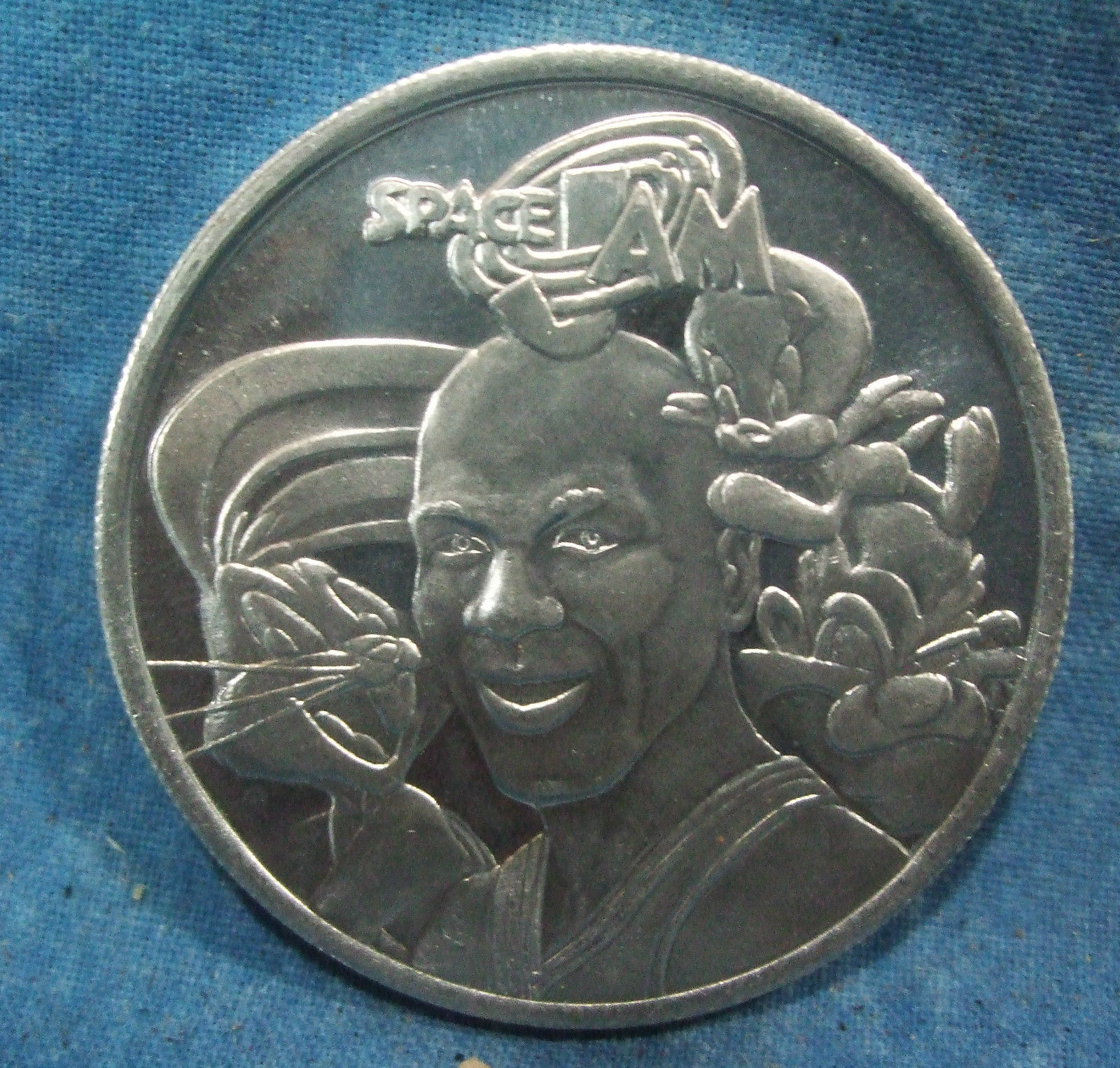 Michael Jordan Baseball Action Figure
In what could easily be described as the least successful action figure of all-time, if you pretend that Mattel didn't make a 90210 Steve Sanders doll, the Michael Jordan baseball toy is what (crushed) dreams are made of. Michael Jordan retired from basketball under suspicious conditions and briefly played minor-league baseball for the Birmingham Barons (and by "played," I mean "was extremely mediocre at"). He hit just about .200 and on the field showed the comfort of rusted metal chair with a spike in the middle. They decided to include the baseball storyline in Space Jam, which includes numerous self-effacing comments and makes up the first 1/3 and end of the film. SPOILER ALERT: the movie has a happy ending; Michal's baseball career did not. Commemorate failure with an action figure – I did!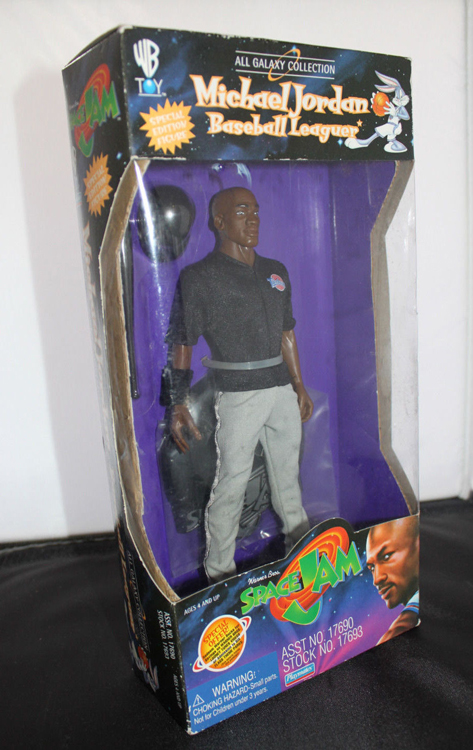 Space Jam Yo-Yo 
Like Michael's numbers on the Washington Wizards, this Yo-Yo goes up and down with the greatest of ease. How far into the catalogue of possible consumer products do you have to go before you land on a Space Jam themed Yo-Yo? It has absolutely zero film tie-in and even the design is half-assed. I'm sure I could find just as random of items for money-guzzling franchises like Harry Potter or Lord of the Rings, but in the land of Michael Jordan commercialism, this is grosser than the Jordan XX8s.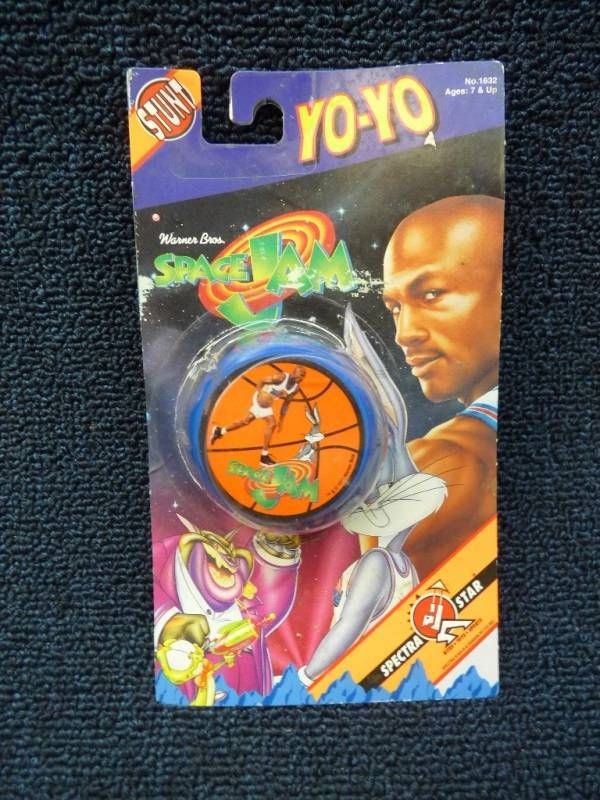 LeBron James Tune Squad Jersey
This is a newly produced item that is currently being sold on eBay that may just be the most die-hard way to show your Space Jam fandom. If you're holding out for the sequel and you're pleasantly surprised by LeBron's acting chops in the newest trailer for Trainwreck, then do I have the jersey for you! The same seller on eBay has Taz, Daffy Duck, Lola Bunny, Marvin the Martian and Bugs Bunny jerseys up for bidding, but why stop there? Let's draft a fantasy team to go toe-to-toe with the Monstars. I'll take Derrick Rose, Paul Millsap, Kyle Lowry, Marc Gasol and DeMarcus Cousins. Imagine if you opened someone's closet and they owned all of those custom Tune Squad jerseys. They would be a fucking serial killer. Anyway, this shit is even too out there for me.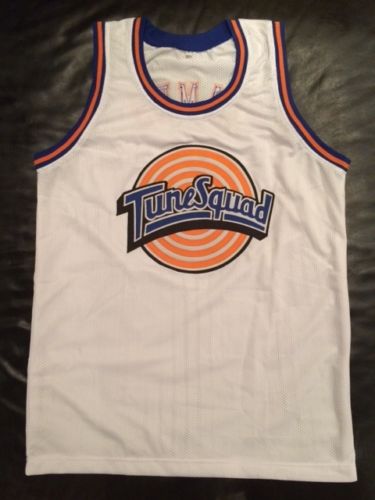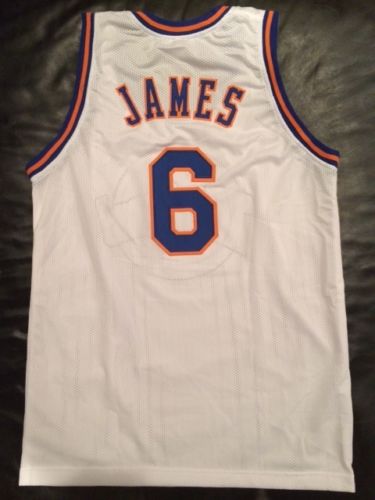 Michael's Secret Stuff Water Bottle
I still can't believe this is an official Space Jam item and that I don't own it yet. One reason is that it sells for an average of $50 and I just haven't been able to pull the trigger on spending that much on a water bottle. But this truly is amazing. Referencing the Deus Ex Machina from the movie (I promise I'm the first dude to ever use that term when talking about Space Jam), Michael's Special Stuff was the potion, or presumed potion, that helped the Looney Tunes become better basketball players. Yes, like steroids. Don't be surprised when you see me at the next The Hundreds party straight up drinking my beer out of this water bottle like a G, with $50 less in my pocket.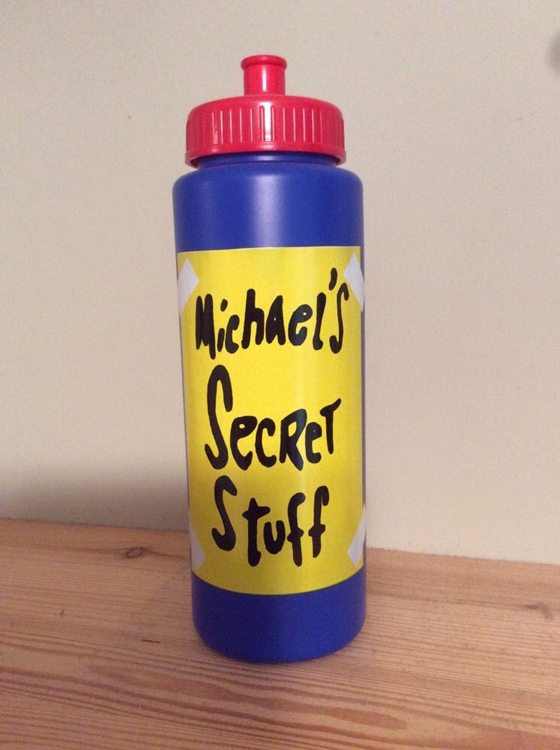 Space Jam Cookie Jar
I had to take a picture with this shit because it isn't even currently on eBay. It was a gift from a friend and honestly, I wouldn't expect this type of present even at my wedding. It's an official cookie jar, with Michael Jordan giving a straight up side-eye like Bugs just farted. I obtained it right in the middle of Girl Scout Cookie season too, so I can't imagine life getting any better than this. All hail my holy grail and get ready for a whole 'nother round of Space Jam products. You can bet on it (then play baseball during your secret suspension).