Growing up, we spent hours stringing together the perfect HTML code on Xanga and Myspace to make it our own. Today, we devote our time using a plethora of platforms and services to curate our voice or brand. Retailers and brands now offer millennials a haul of options to sift and separate themselves from the mass, driving their consumer preferences for more personalized experiences that have reshaped industries. NIKEiD, mi adidas, nameplate necklaces, one-of-a-kind pieces, and dad hats all share customization as their biggest feature to promote individuality. As personalized products have become more popular with millennials' buying and style habits, this generation has even been coined "Generation DIY."
Raised during The Great Recession, millennials have been more cautious on what materials to spend on and treat consumption as investments. Like how fast food chains have revamped through Chipotlification, fashion has turned to hyper-personalization to cater to individual tastes while integrating technology and social media. However, devoting time and energy in maintaining uniqueness isn't the only driving factor of a millennial's consumption. In a day and age where this generation is tied to busy schedules and digital noise, personal brand messaging exposes millennials to feel emotion and connection. Nostalgia marketing has been a campaigning trend used to tap into the positive memories from the '90s to engage with millennials. In a 2014 research survey by YPulse, "millennials were asked which decade had the best culture, from music and movies, to clothing and cars, 46% of 13-32-year-olds, and 50% of 18-32-year-olds, said the '90s."
The '90s revival trend has strengthened over the seasons as the takeover of millennial spending increases, reaching 200 billion dollars annually beginning 2017. With the mixture of nostalgia and a personalized experience, the '90s aesthetic of airbrush T-shirts are the next wave in DIY that not only fuels individualism, but feeds our desire for exclusivity. From Kanye West's DONDA and Rob Kardashian portrait airbrush T-shirt at the premiere of the Yeezy Season 3 collection, the Alexander Wang #WangSquad T-shirts made exclusively for models, to the '90s-inspired "We All We Got" Fall capsule collection designed by Des from Fat Tiger Workshop, airbrush T-shirts place value on the individual rather than encouraging conformity. And although digitally printed, Ye's Donda/Rob portrait tee and FTW's capsule collection has a unique finish that alludes to the nostalgia which millennials yearn for, similar to RSVP Gallery's recent airbrush tee, and artist Aaron Kai's throwback spray-painted version of his signature waves.
No one knows this better than the pioneer of airbrush T-shirts and one of the first outfitters of hip-hop, The Shirt Kings. The graffiti and artist duo from New York City have always understood the value of individuality. The level of hyper-personalization expressed on their airbrush T-shirts were unbiased from trends, but a culmination of someone's personal style. With a touch of nostalgia by favorite childhood characters or portraying expensive brands, Shirt Kings made style accessible. Phade once told Red Bull Academy, "A guy might not be able to afford all of the Polo wear that he wanted. But he could scrape together $50 and buy a Shirt Kings shirt of him wearing it." The greatest cultural impact made by The Shirt Kings was establishing the essence of streetwear and what it first paved itself to be. They were the alphas when it came to rocking what you had without breaking your wallet, making your style personal, and assembling fashion to reflect hip hop culture. Iconic leaders and new faces in hip-hop alike have worked with Shirt Kings—Jam Master Jay, LL Cool J, YG, Dipset, and Kamaiyah—to relish in a sentimental dream, commemorate their status, and reaffirm their identity through a personalized product.
Linking the importance between graffiti and streetwear, hip-hop and fashion, and exclusivity in streetwear, I spoke to one-half of The Shirt Kings, Phade, as he was running his "Dear Summer" pop-up on Fairfax. We discussed the rediscovered art of airbrushing and its connection with culture and fashion today.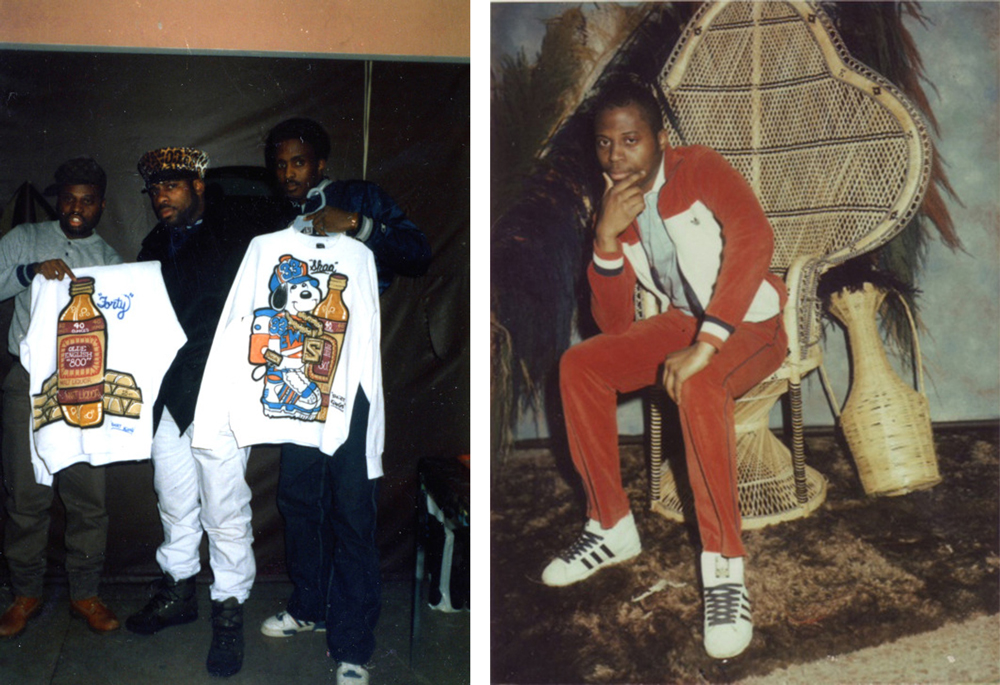 Left: Phade with Jam Master Jay; Right: Young Phade in Harlem in 1981.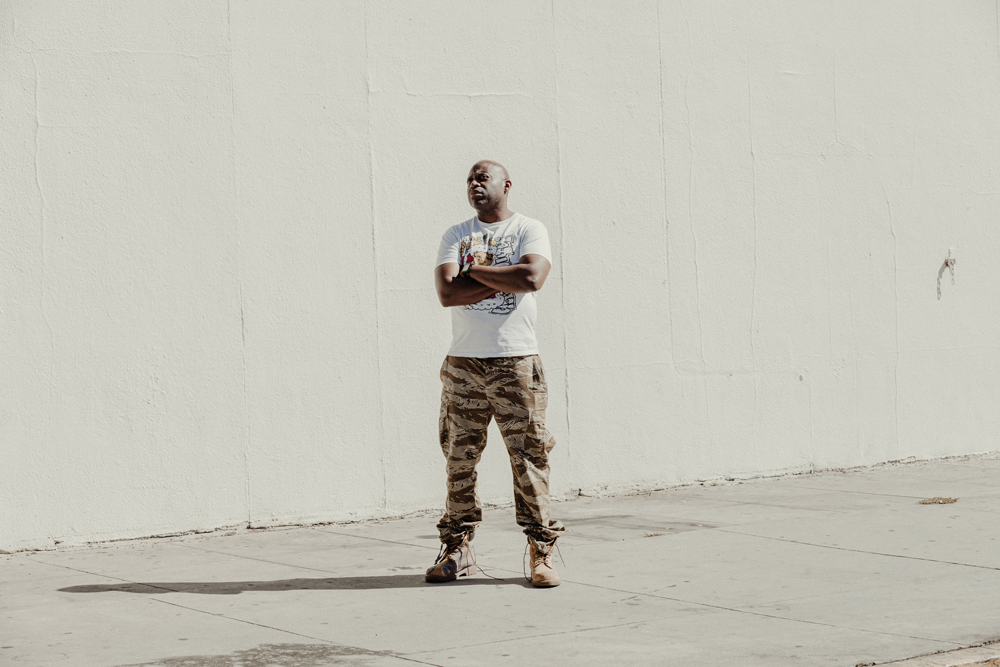 Shirt King Phade today. Photos by Julian Berman.
CHARLIE KANE: Shirt Kings' T-shirts became a trend and an important staple in hip-hop and streetwear culture. It has also transformed as vintage art pieces or a luxury commodity for rappers and artists. In retrospect, could you have forecasted that DIY type fashion like airbrush T-shirts would be trending today?
PHADE: I came into this game as an artist who loved to tag on trains in the NYC subway system. Attending the High School of Art and Design in Manhattan helped infuse and solidify that what I had was different from other writers and artists. For me, luxury is what me and my Shirt King partner, Mighty Nike, aspired to. Our school was located in Midtown, so we frequently went to the Gucci store on 5th Avenue and eventually purchased a pair of Gucci frames.
Once I got introduced to the airbrush by my graffiti partners George and Spank, I found my personal niche. I decided this is what I was gonna make money off of: My art. Anything you put your hand continuously will expand—so for me, it was never trending—it was a force of a natural evolution. When everyone gave up and strayed away from custom, I kept going.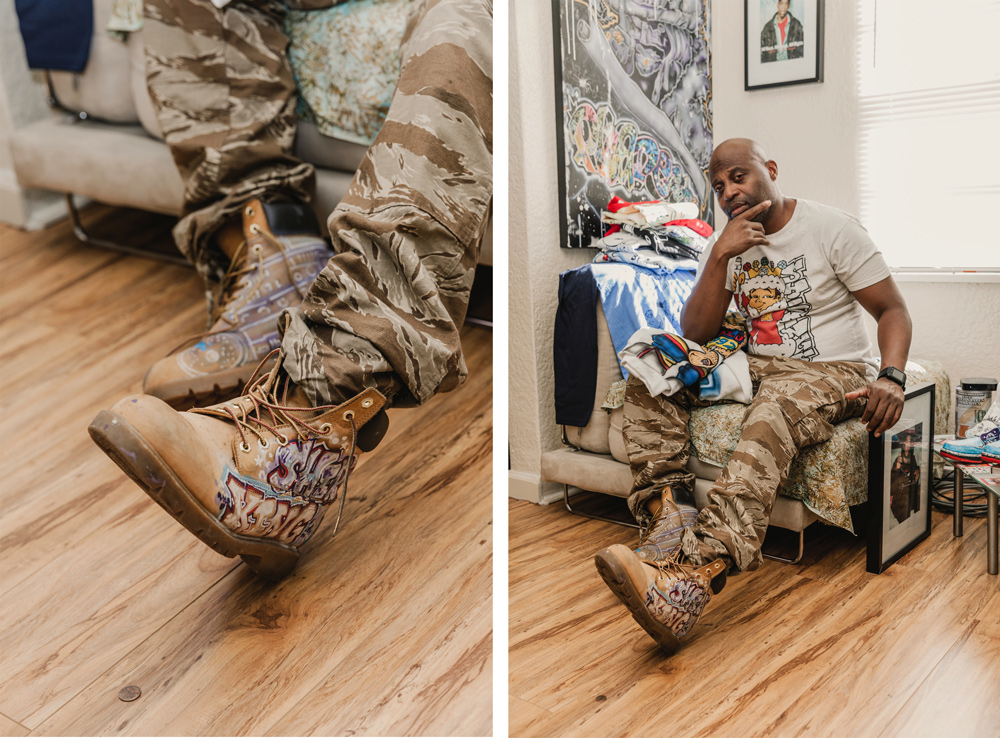 "Used to be the shit, why they have to stop. On the Ave niggas looting all the jewelry spots. Hit the Shirt Kings for an ill airbrush top." – "Queens Day" by Run—DMC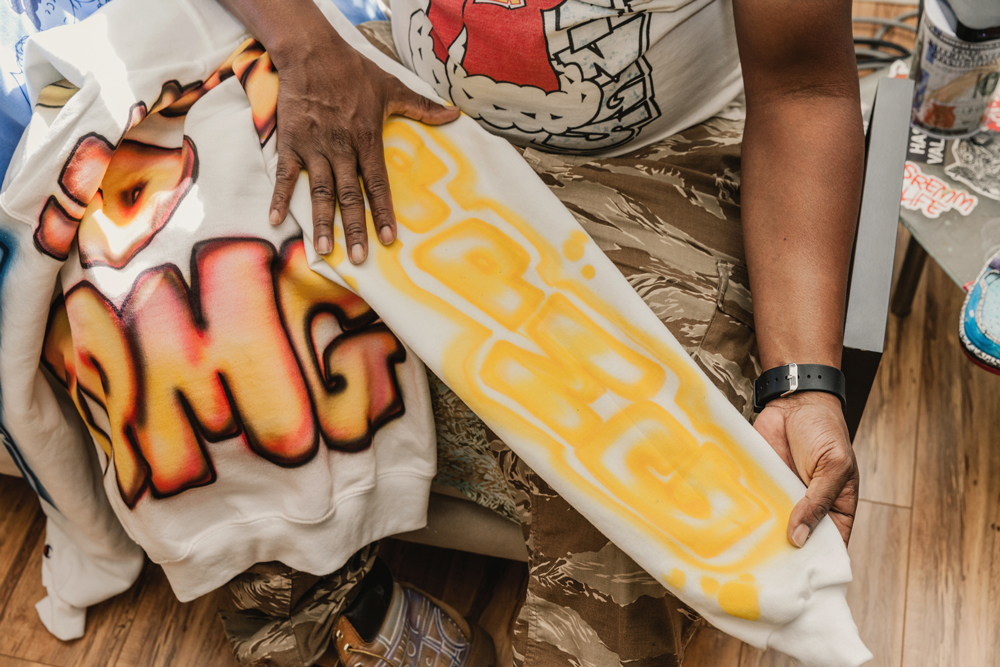 Do you think it says anything about youth or culture today that DIY fashions are popular right now?
There are a lot more "Do It Yourself" brands today who have taken the initiative to study branding and marketing. They have looked through archives and came out saying, "I can do this!" The generation today values authenticity, and being self-made. And most businesses have been built on a DIY concept, but the corporations who have been around understand the value of an intern or the youth for fresh ideas and their ears to the street. At the same time, for a corporation to stay ahead or relevant in fashion, they still acknowledge an archival, OG brand like Shirt Kings as a catalyst to what's next, what's happening, and what's fresh. What better examples of this "Do It Yourself" plus "Do or Die" attitude than Shirt Kings?!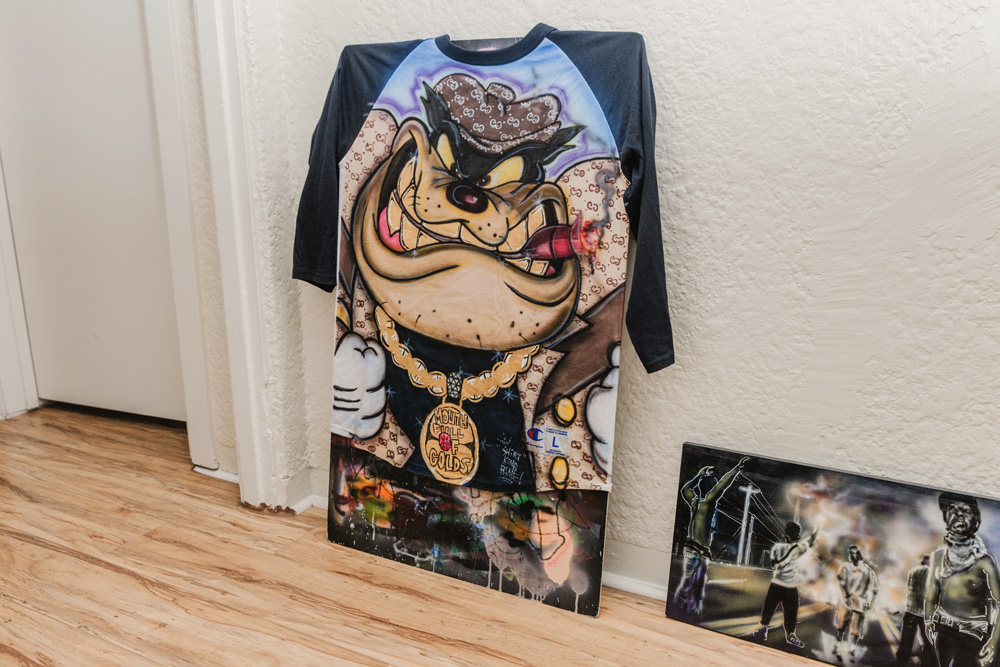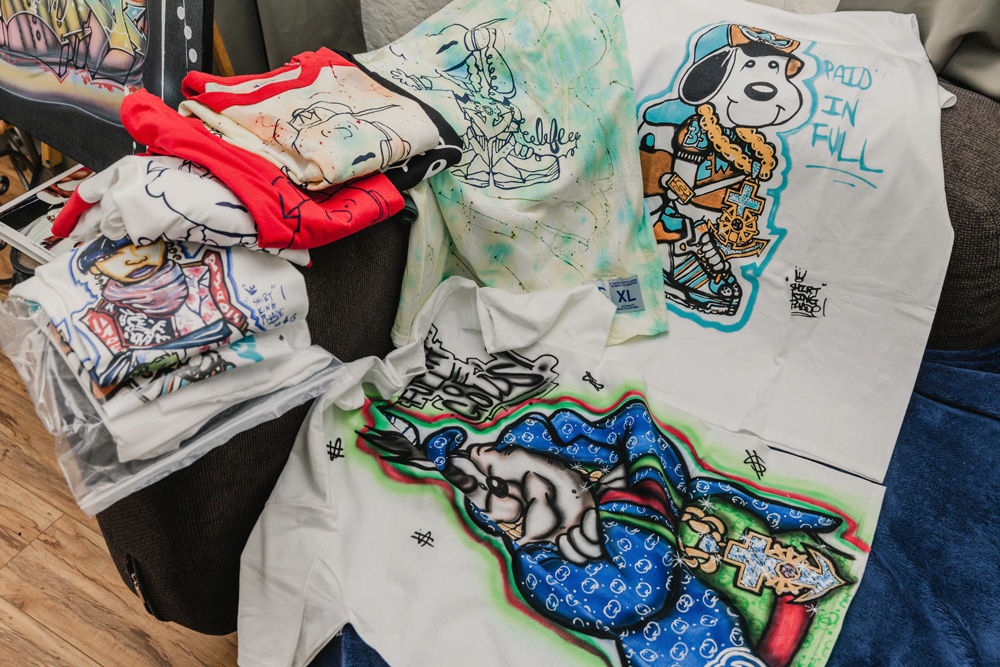 Why do you think airbrush tees are trending? Do you think it's fueled by designers, celebrities, or millennials who love customization?
To a creative, what you do is not trendy. A lot of our clients introduced The Shirt Kings history to their kids because we have a strong story and meaning behind us. But the list of Shirt King influencers are beyond merit. The Bell Biv Devoe outfits I did for New Edition brought back fond memories of a time when custom reigned. 50 Cent used to be a Shirt King. Jay Z was a Shirt King. Bizmarkie, too. Shirt Kings became a bridge and connector between generations and culture. No other streetwear brand does that.
Alexander Wang, Kanye, Jeremy Scott, Gucci, etc. see the value in our integrity. They follow suit then airbrush style becomes trending. I am flattered by it. These top designers help solidify my art in the world.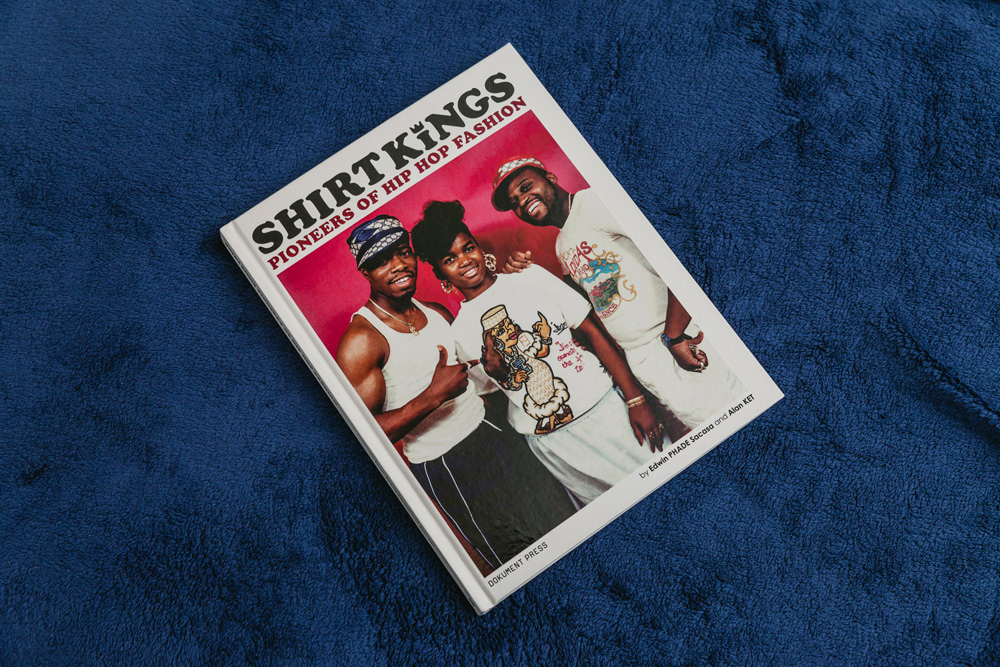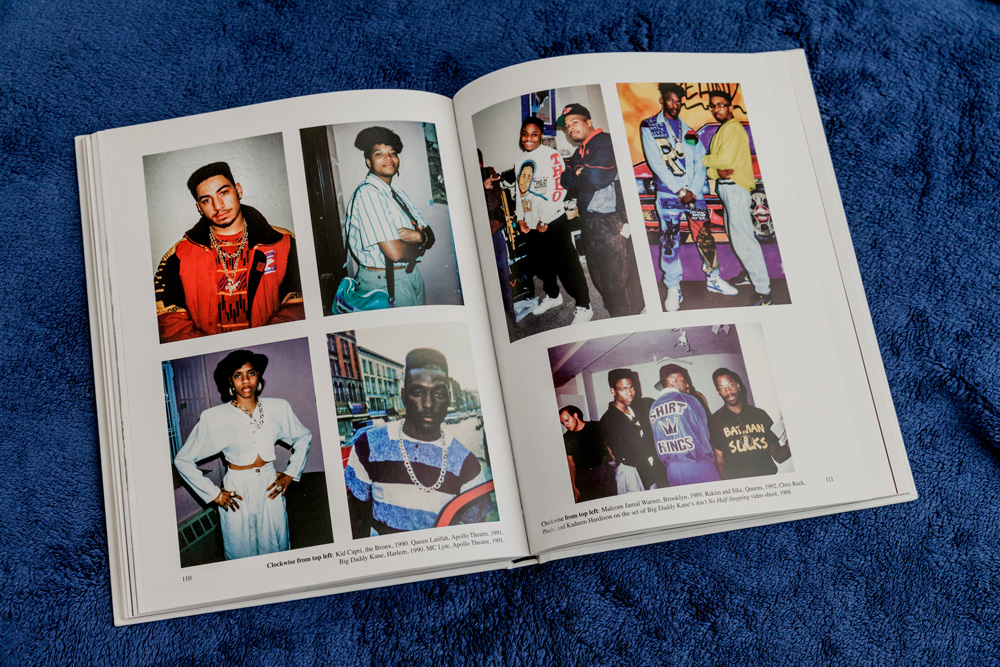 Shirt Kings: Pioneers of Hip Hop Fashion
Yeah, it's always huge when street culture trickles up and crosses over to high end and commercialized avenues. Do you think these avenues are attracted to the art of airbrushing, the fun yet almost low-brow designs, or that it's nostalgic?
No matter how commercialized it got, we've also turned down people like The Fat Cats, The Supremes, Tony Montana... and maintained our integrity through art. Airbrushing has a look, a feel, that attracts the eye. It can radiate a variety of emotions. Depending on design, airbrushing can evoke feelings of excitement like being in an amusement park, or love with "his & hers" T-shirts, rebellion like a Gucci Mickey Mouse with a Moët bottle, or honoring a loved one that has passed. Shirt Kings bring back the good times.
Are there any key differences between your customers today versus when you first popped off? Does a high profile artist ask for different designs than a huge fan of your work?
My high profile clients today want authenticity. But everyone… they want the real deal. The only differences between clients then and today is that the value has gone up and the appreciation level for airbrushing has gone global. Pusha T recently ordered a jacket. It was done on a Yves Saint Laurent denim. He went straight to referencing the collab we did with Supreme and Anti-Hero for his design. He wanted to revisit the past to leap forward. Later that week he became the President of G.O.O.D. Music.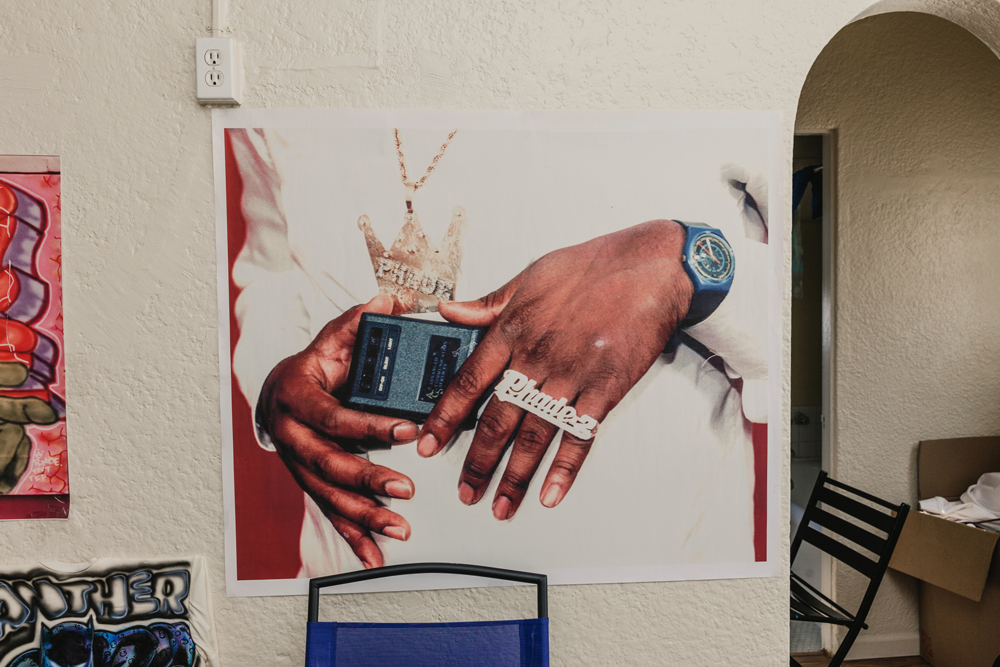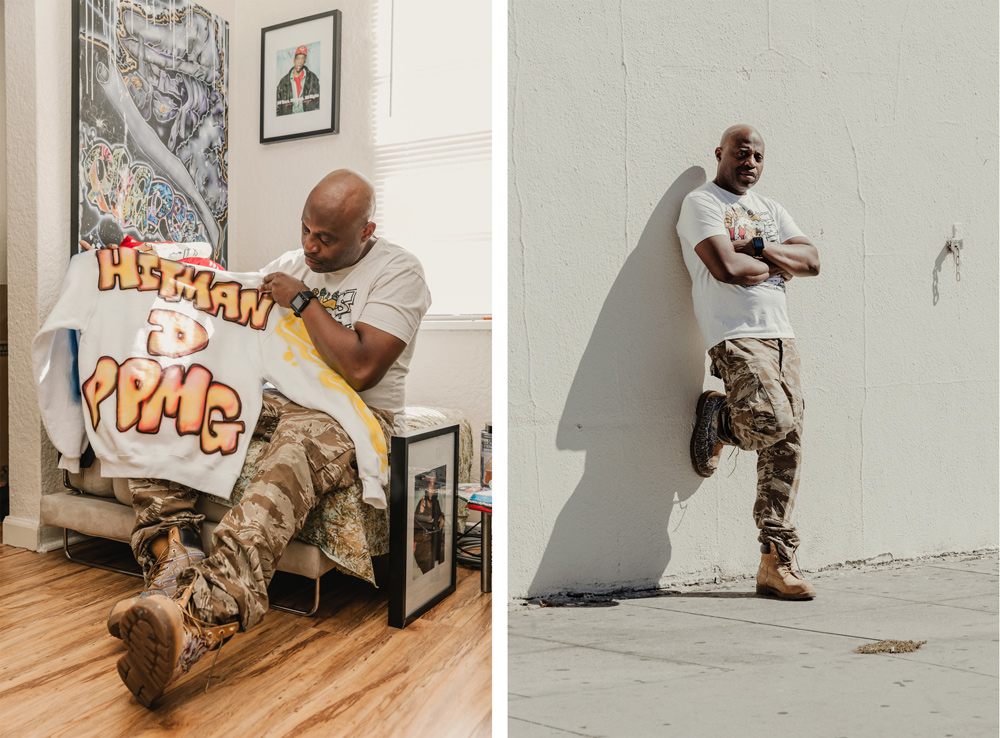 Damn, that's crazy. I love how you can also connect and form a narrative between pieces of clothing and history. How do you think Shirt Kings contributed to the birth of streetwear?
Celebs have walked in and are astonished by how a piece of the culture was being preserved in my book, Shirt Kings: Pioneers of Hip Hop Fashion. This archival book captures a period in that time. My work in general, like the "Paid In Full" movie shirt for Cam'Ron, maintained the value of what I was constantly pursuing. Raven Simone's "Country Cousins" double-episode gave newfound exposure to my work for a new generation. Flavor was being recreated for all to enjoy. Shirt Kings have shown many different facets to street style. Every untold story needs to be told, and my involvement and contribution to movies like Fresh Dressed solidify to seek out branding truths and history.
"Customization is freedom, and you can't cookie-cut freedom. Trending becomes slavery."
I think the fact that Shirt Kings have connected hip-hop and fashion together made such an impact to its premise. It wasn't about copping brands but expressing individualized style. What do you think is more important in streetwear: exclusivity or customization?
Humans have an inert desire to be individualistic. That is what makes us all different. Shirt Kings served that need of self-expression—born to be unique. Some clothing lines can create a cookie-cutter vibe, but Shirt Kings empowers the customer to become designers themselves. Airbrush is an extension of one's aspirations, whether you want that emblazoned on your chest, or just say something without opening your mouth. This is why customization is so important.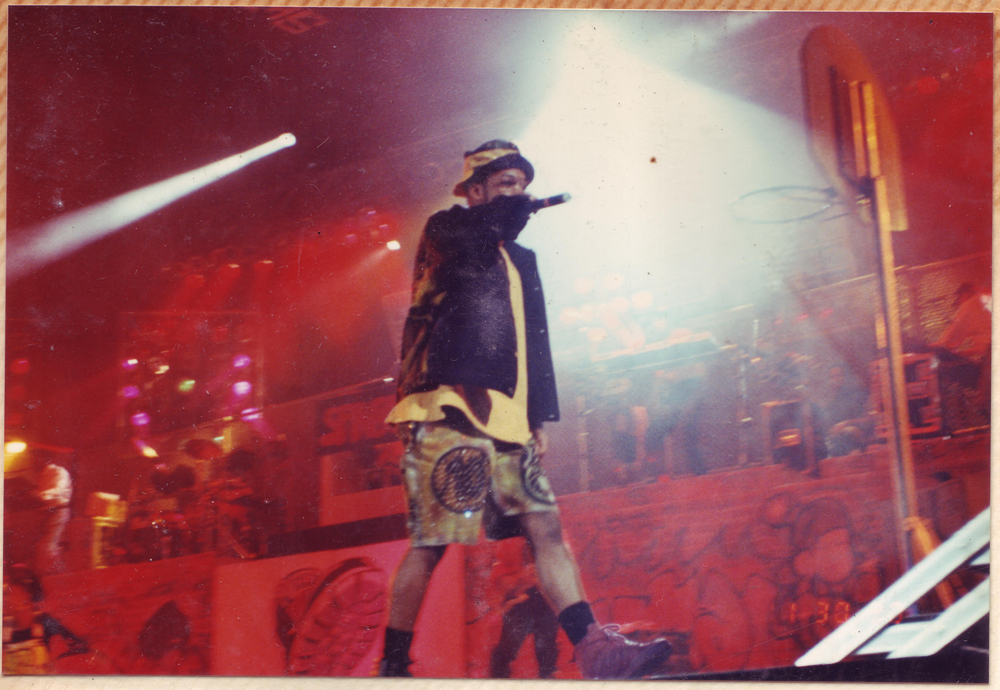 Outfit for Bell Biv Devoe by Shirt King Phade, Detroit 1991
Cookie-cutter can tie in with affordability though, right? Usually people with more spending power can afford more customized products. But you go against that grain. I've read in a previous interview you did with Red Bull Academy, you mentioned, "It's putting all the things you like together on a shirt." Is it still about customizing and collaging materialistic wants together, building a special experience, or creating new art luxury?
Customization is freedom, and you can't cookie-cut freedom. Trending becomes slavery. The freedom comes in when I can sit with an A$AP Rocky and get to know him, his thoughts, his likes and dislikes. It's also enjoying the genius in A$AP Ferg and doing a piece of art with him, then come to find out he went to the same art school, and his dad was my best friend in high school. High-profile custom pieces have always been trending for me, but sharing God's gift has been the goal.
That's insane that all of that unfolds while you are collaborating with someone. In the end, you treating each person as a partner instead of a purchaser is even more satisfying because this individualized product is also a special experience.
Yeah, I just want to enable young creators to dream big no matter how long it takes.
***
Photos by Julian Berman.