Most little girls grow up dreaming of ponies and unicorns. But me? Nah. Football is my pony, and the World Cup is definitely my unicorn.
When I first found out that World Cup 2014 would be in Brasil, I knew I had to go. Not only was it in Brasil—one of my top places to visit—but it was going to be in THE country of "futbol." This won't happen again in my lifetime at a young age, I couldn't miss it. I saved my pennies with my eye on the prize, I figured just being there during World Cup was enough for me.
Some background info on me: I was born in Manchester, England. I am a huge Manchester United supporter (Hi dad, you've done well). I played the beautiful game for seven years and I am a lover of anything to do with the sport. In England, like most nations, football is a religion. Needless to say, I take The World Cup seriously.
Having been hesitant to travel alone due to safety issues with rioting, I was on the fence about going until things seemed clear. With nowhere to stay, no ticket to a game, and no guarantee of any of that actually happening, I took a risk and booked my flight right after Clint Dempsey scored the fifth fasted goal recorded in World Cup history. Booking the ticket was all it took, the rest followed…
::
JULY 2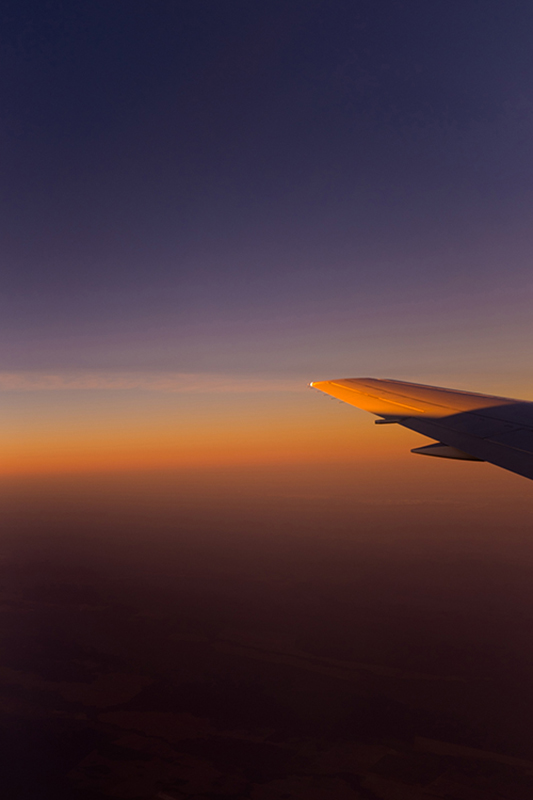 It was after a sunset flight over the Amazon that I arrived in a city called Curitiba for a 14 hour layover. There is something really awesome about flying long distances alone. My favorite part is how susceptible you are to speaking with strangers. There's more opportunity to meet people when you are alone. And meet people, I did.
I barely got to see Curitiba, but I did meet some footy enthusiasts during transit. I made a friend—Carlos—en route to Rio who would eventually become a teammate on this adventure. When I got off the plane, I met some fellow Englishmen who gave me a gift: an England scarf to wear!  This was my first taste of the World Cup. It wasn't until that moment that I thought, "wow, i'm here, I made it! And there are thousands of other people here just like me….completely addicted to football." 
::
JULY 3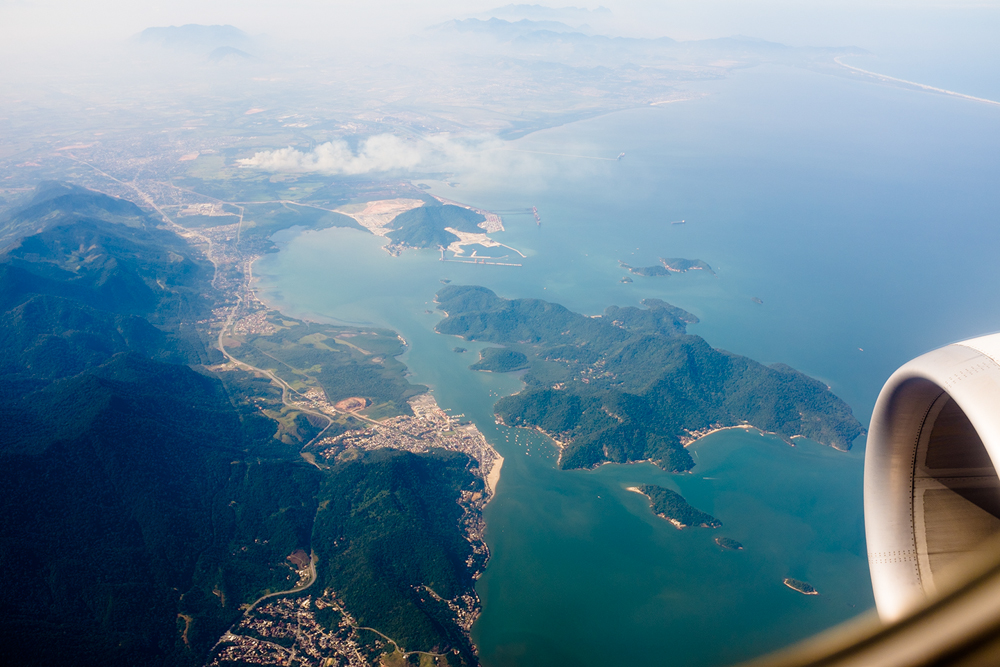 After arriving at the airport in Rio De Janeiro, my new friend Carlos and I met up with Carlo, a friend from Miami. We decided to stick together. We took an epic car ride through Rio to our final destination, Copacabana, the epicenter of all the action.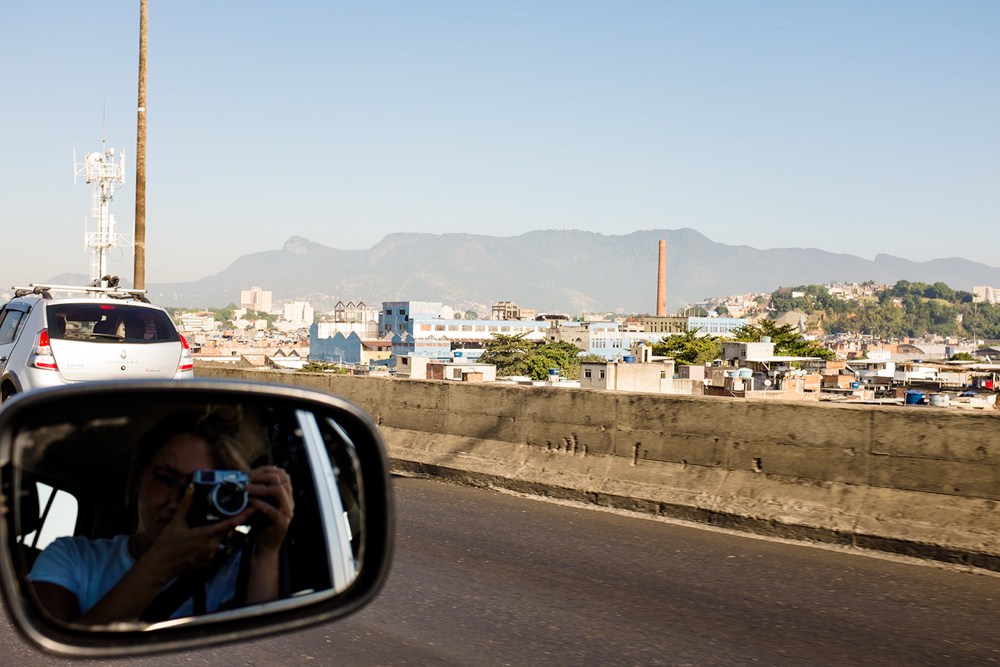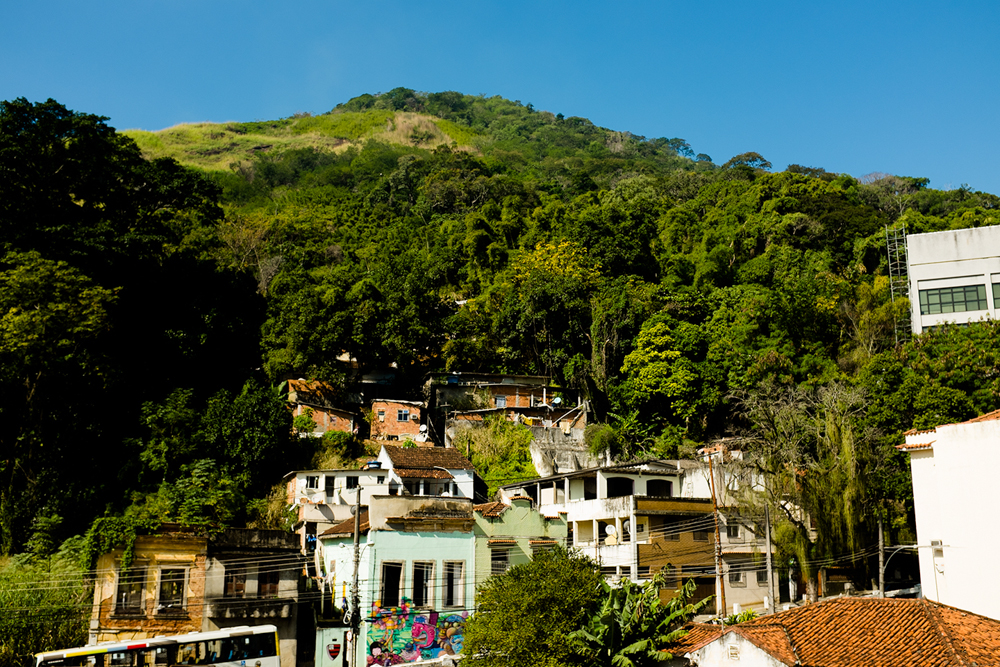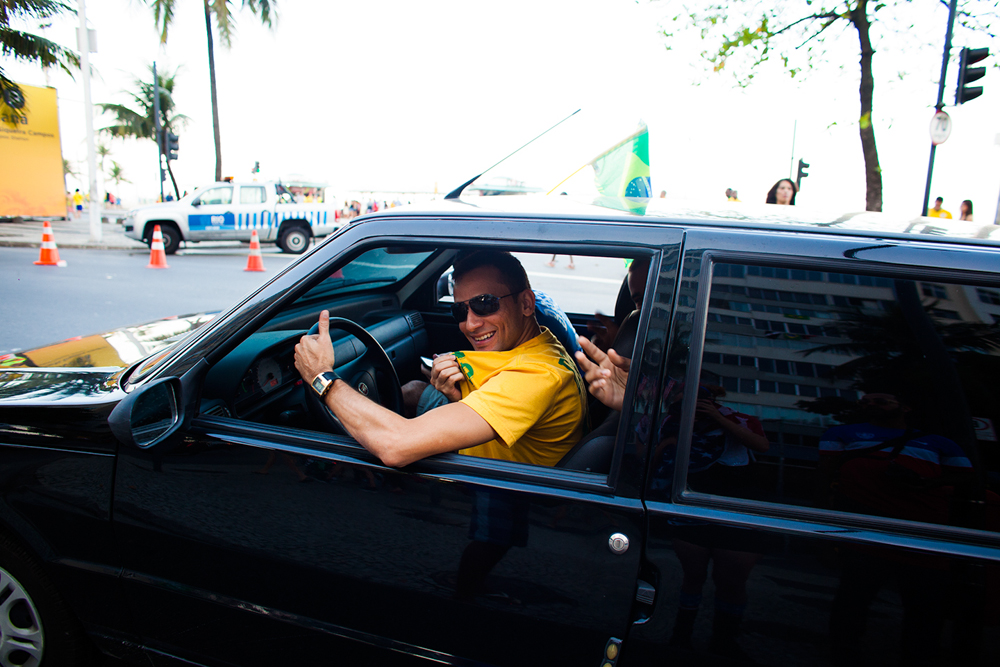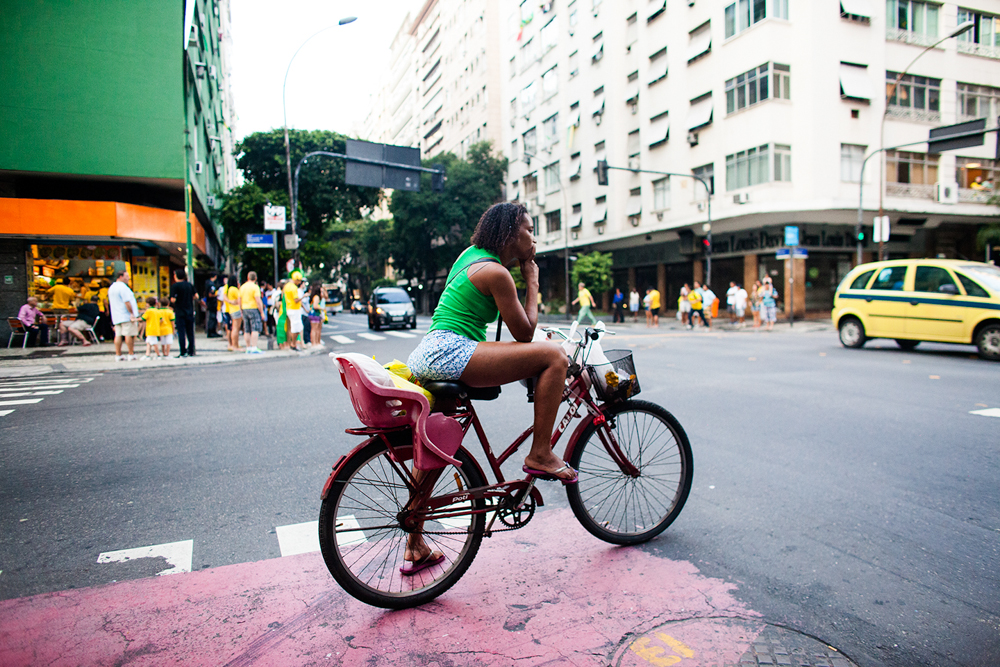 I found a great hostel called Che Lagarto, where I would rest my head for the next five nights. Even though it's summer time in the states, it's winter in Brasil, so the sun was already setting by 4PM. We decided to acquaint ourselves with the area on foot, grab a bite, and prepare for the following crazy day.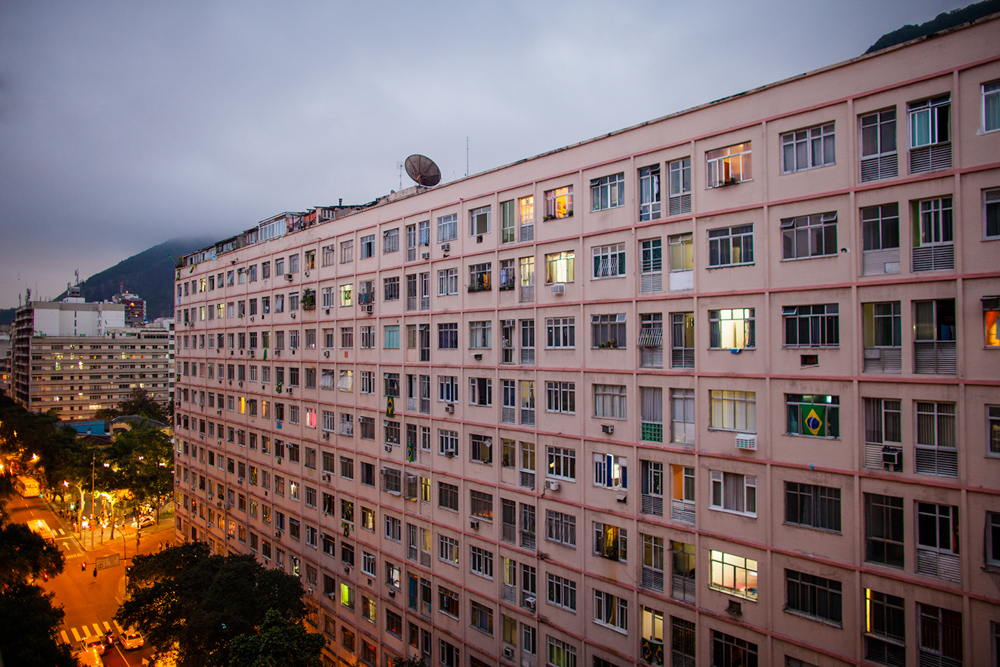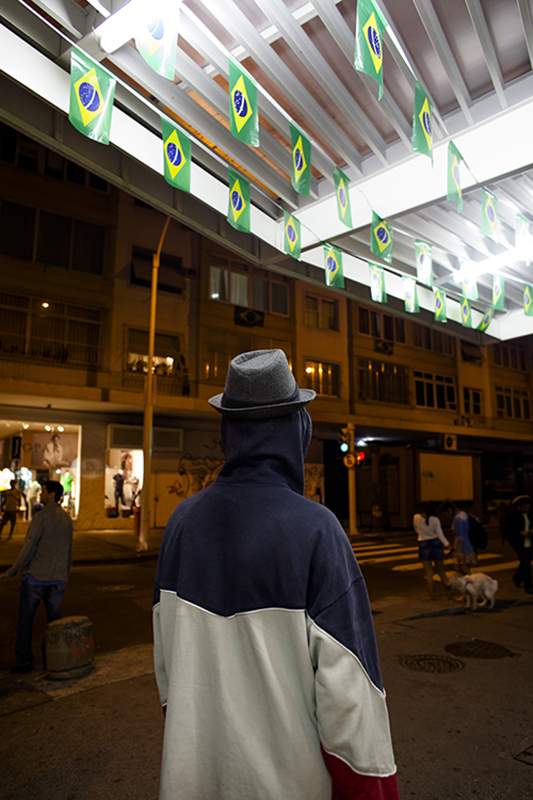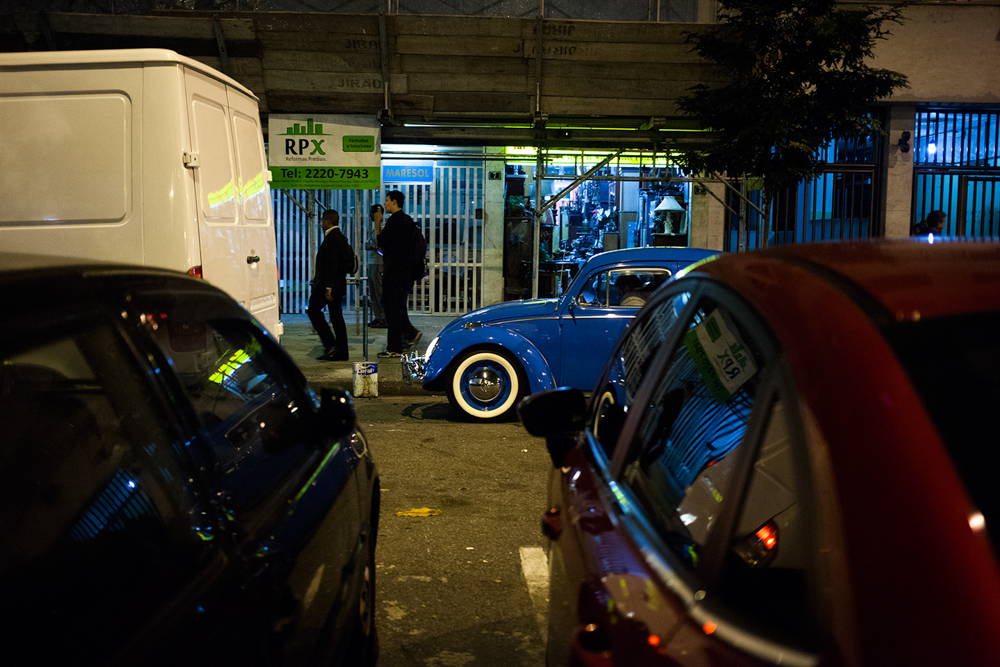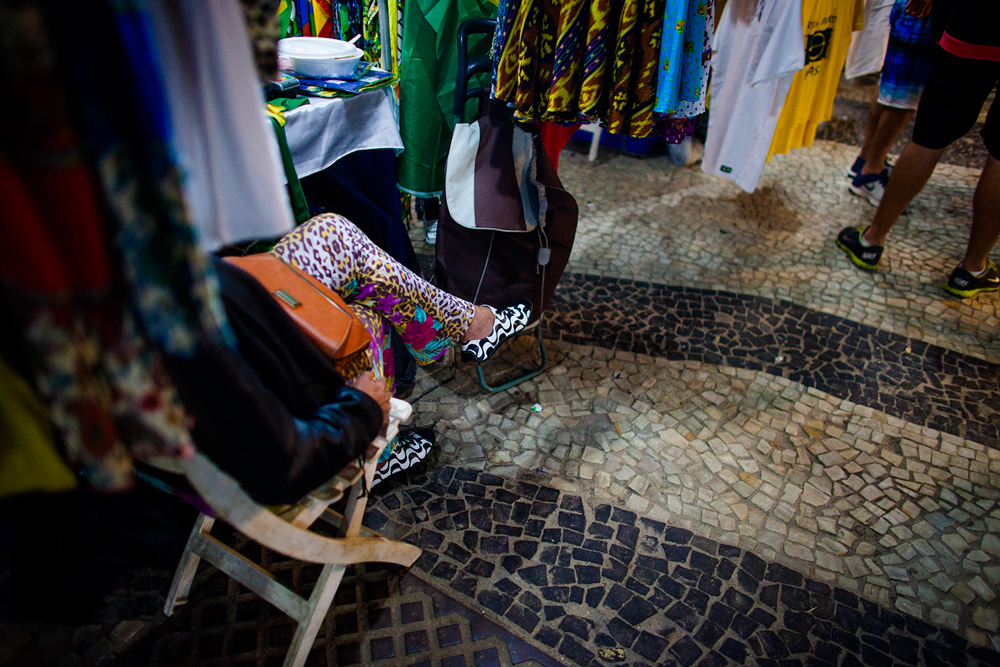 Other than the famous patterned streets of Rio, the second awesome thing I noticed were the phonebooths. They reminded me of some kind of Matrix portal or turtle shell. The phonebooths are nicknamed by Brasilians as "Orelhao," translating to "big ear."
So cute.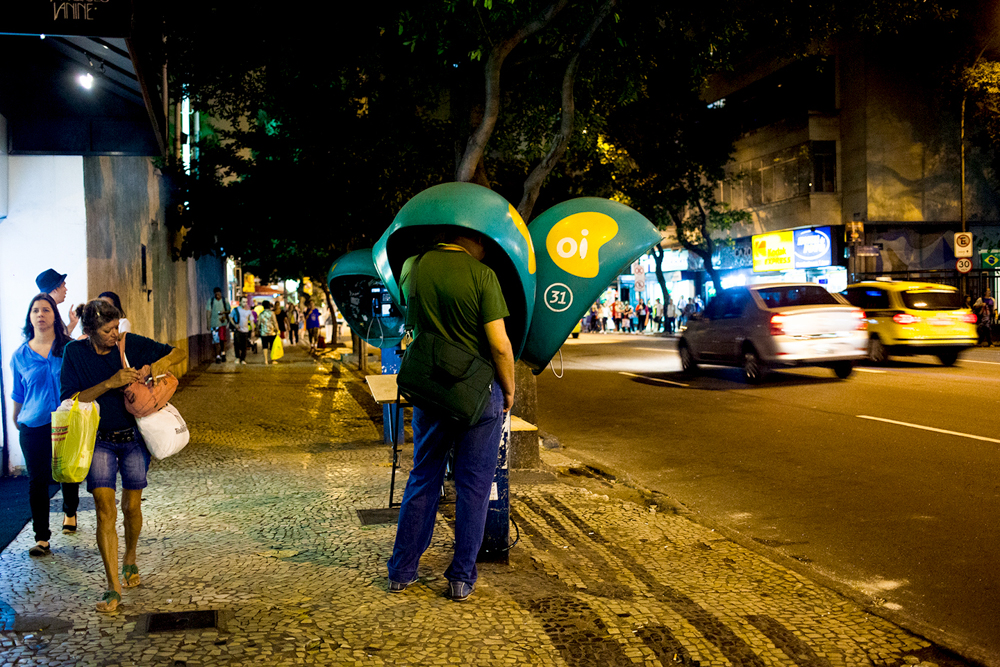 Weird fruits and juices (sucos) galore, I instantly fell in love with this tropical country.

So many selfies…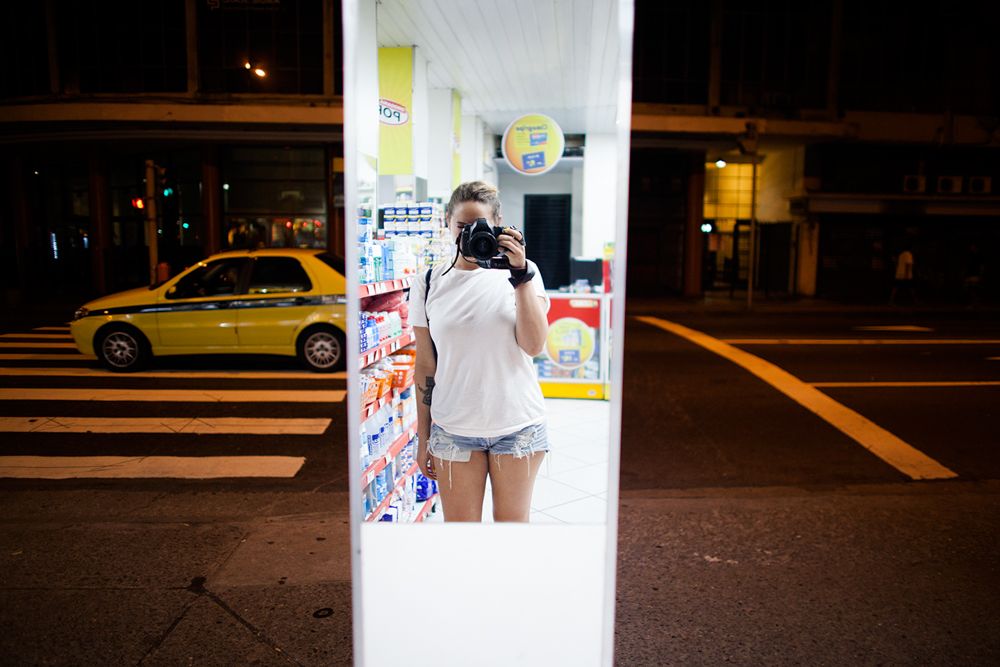 JULY 4
Today was a big day: Quarterfinals!! It was game day in Rio at Maracana stadium (Germany V. France), with Brazil V. Colombia playing later in the afternoon, AND America's Independence Day. At this point, I still didn't have a ticket to the Rio game. I sat on FIFA's site for a week, asked around the web/friends, but still no luck. I wanted something legit. I figured I would wait until I was in Brasil to get a ticket. Thanks to countless Twitter searches, I found two tickets for a decent price. The game began at 1Pm. The tickets looked good so I bought them, but it was a gamble. I met up with my Brasilian brother, Gabez, hopped in a cab, and by 12:25PM we were on our way to Maracana, ready to test our luck.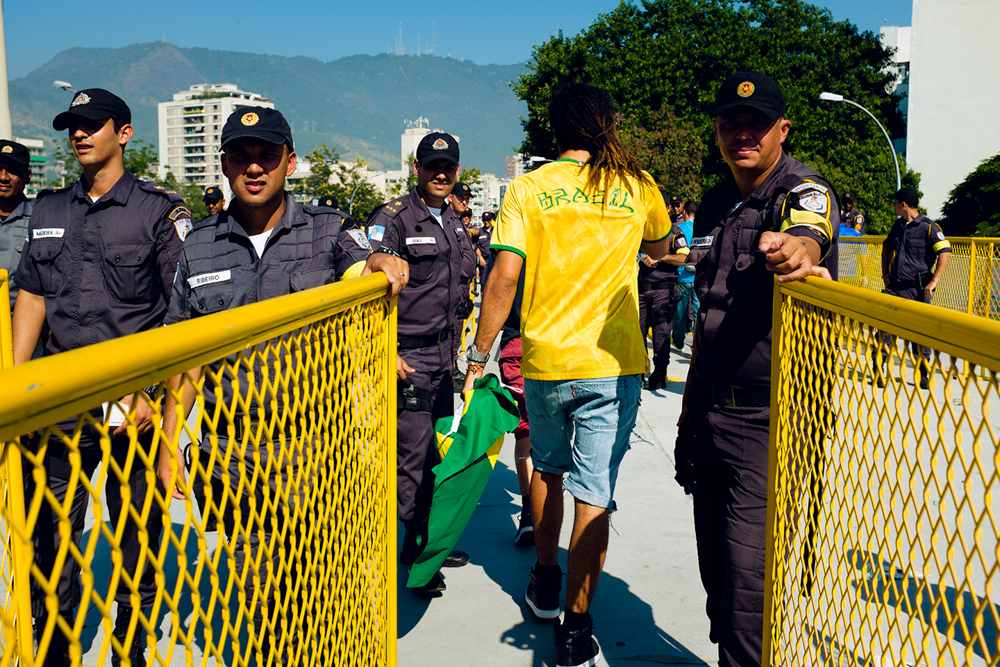 I was nervous going through the gates, but so excited. I had a really good feeling that the tickets were going to work. Plus, it was the 4th of July and I was draped in my USA gear—what better way to represent than at the World Cup? You would usually see me in England or Manchester United gear, but I guess being a dual citizen has its duties. Between the excitement of experiencing my first World Cup match, being at Maracana, and a chance at possibly not getting in… that walk felt like an eternity.
Me in tears, some random American, and The Maracana…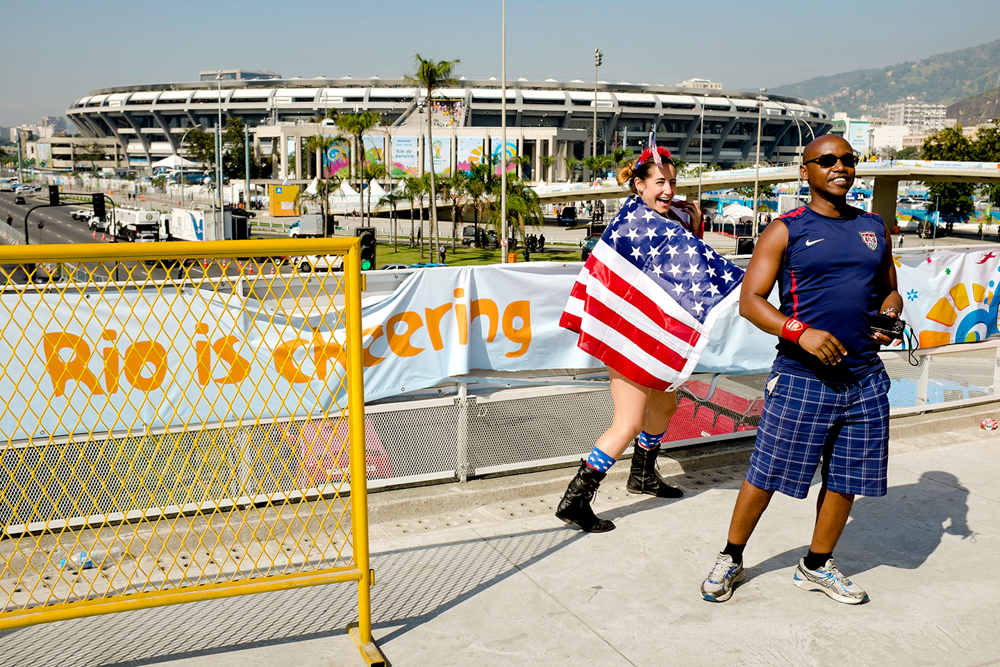 WE WERE IN!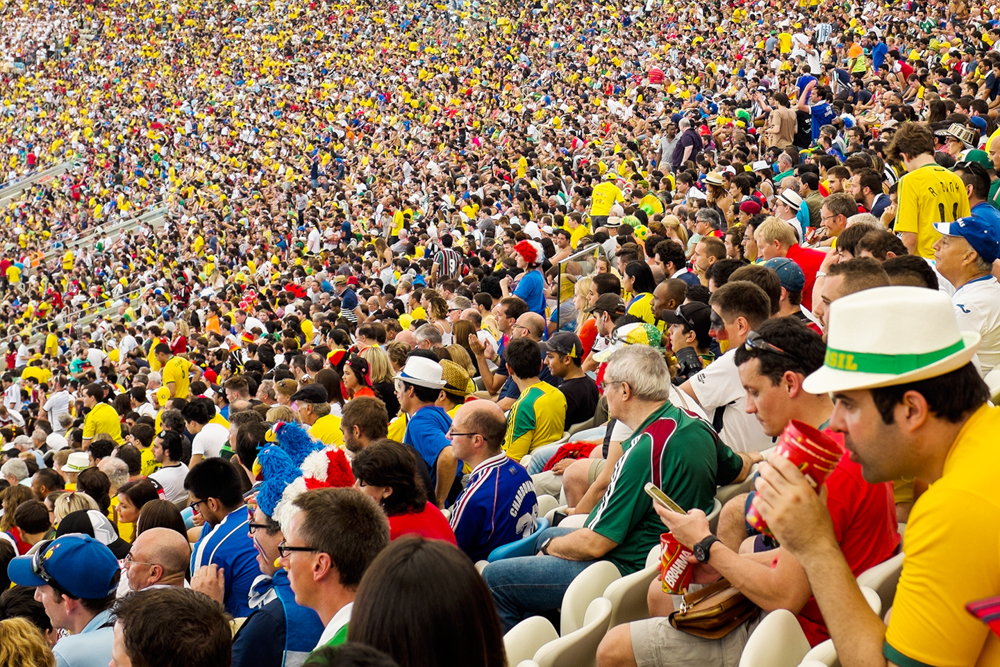 It was incredible inside, I've never seen a stadium like it (beside the Theatre of Dreams of course). I can't even imagine what it must be like to see your country play at the World Cup, let alone here, at the biggest stadium in Brasil.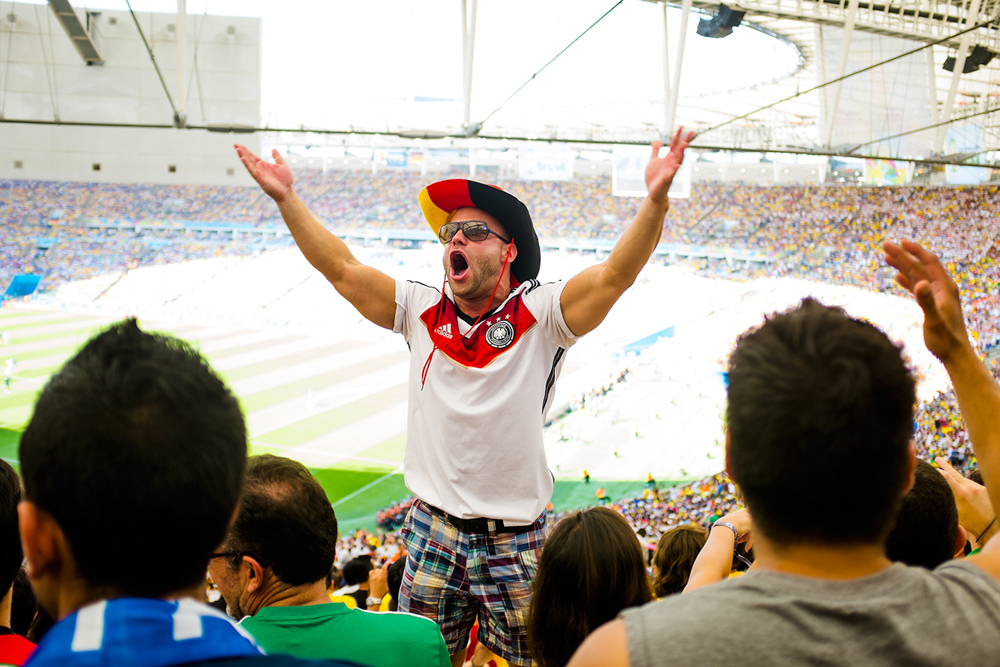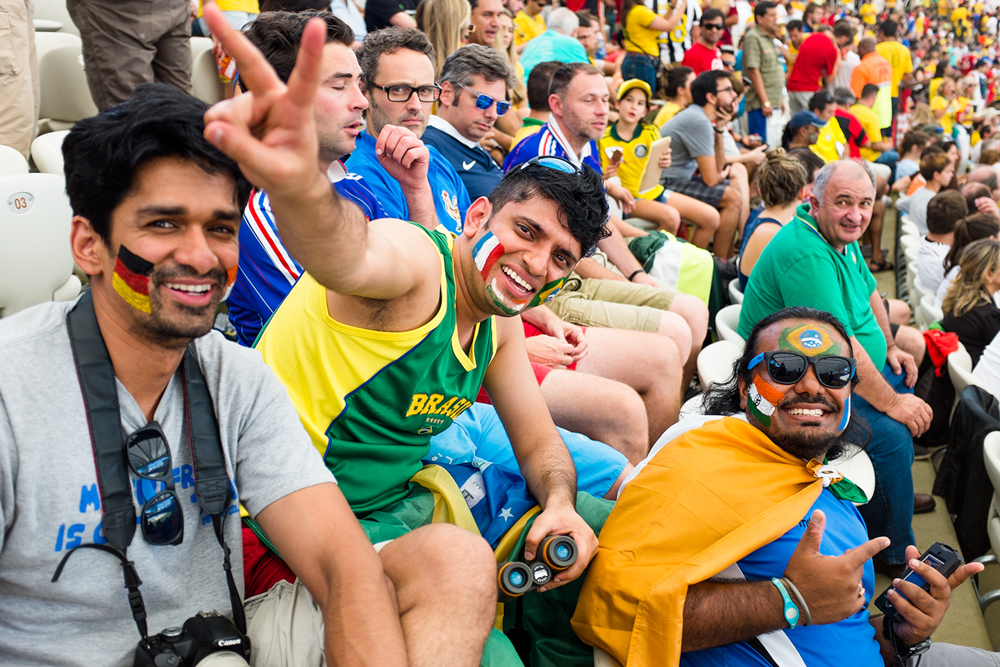 I loved seeing so many fans from different countries enjoying the game, a lot of people were wishing me a happy 4th of July too. I also got to enjoy one of my favorite parts about attending sporting events, The Wave. There was nothing better than a Maracana wave (that's 78,000 people!)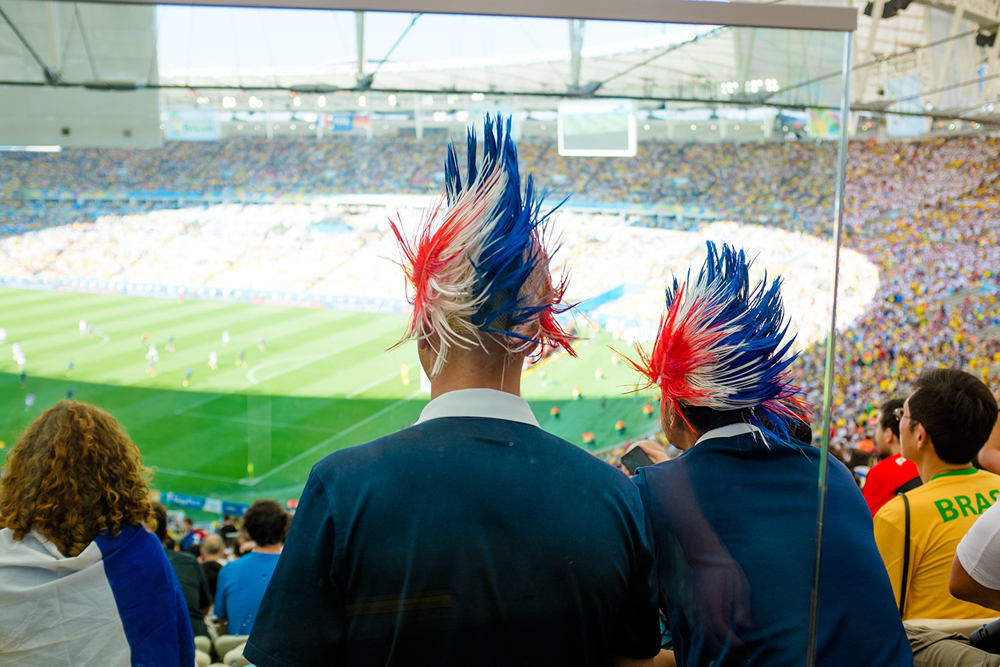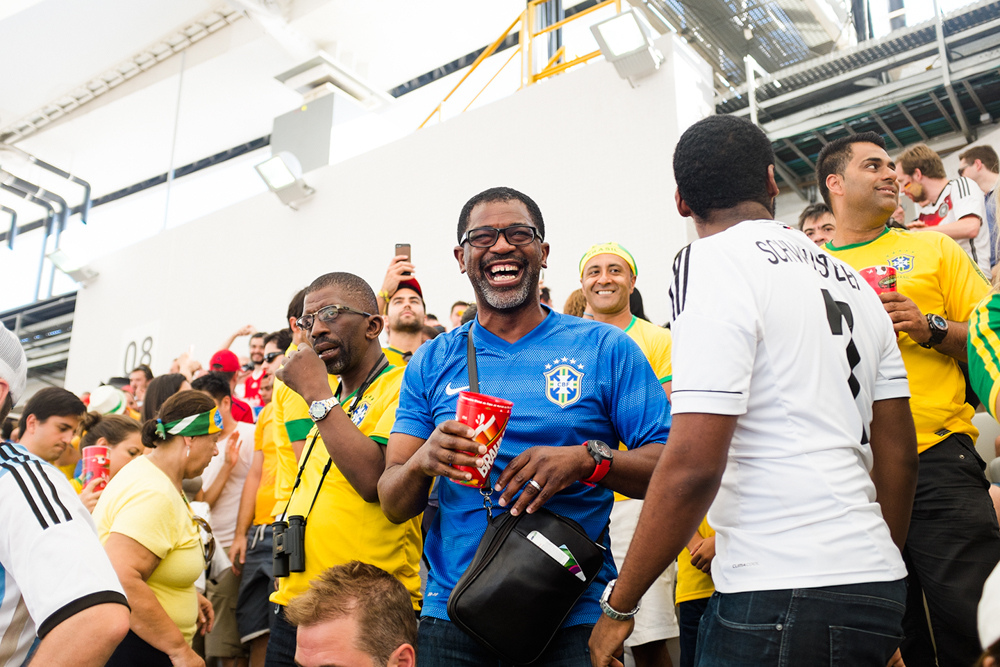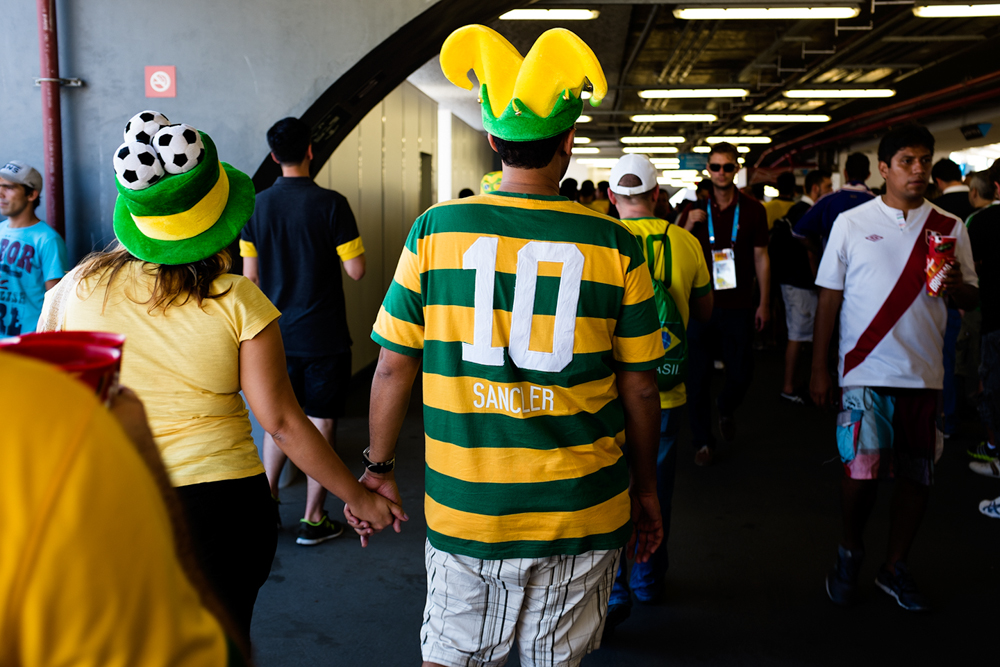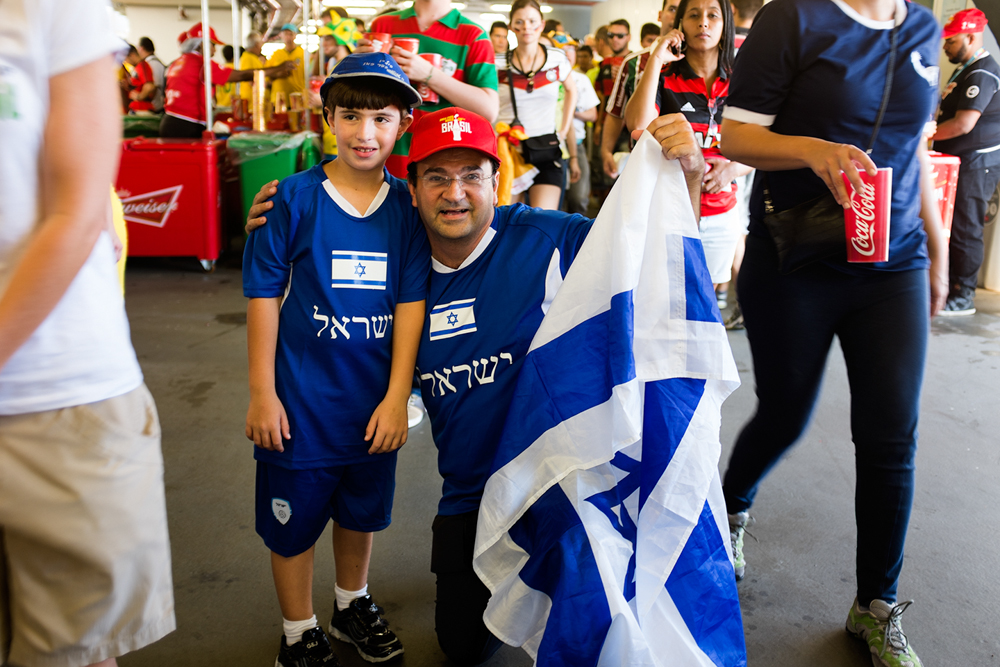 Leaving Maracana during magic hour, what a blessing.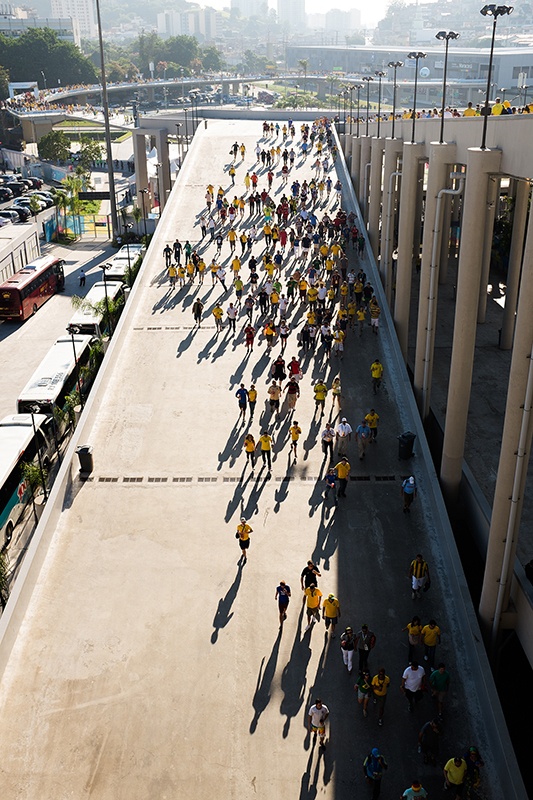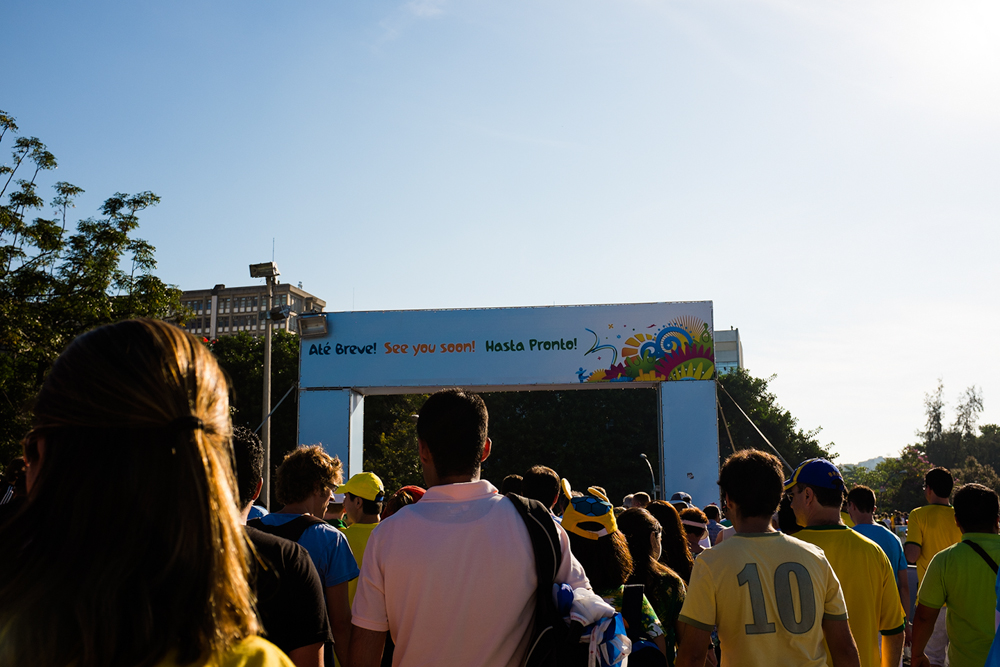 Germany beat France 1-0. The game was over, but I wasn't quite ready for the events ahead. We hopped on the subway to get back to Copacabana, just in time to watch the Brasil V. Colombia match at FIFA Fan Fest.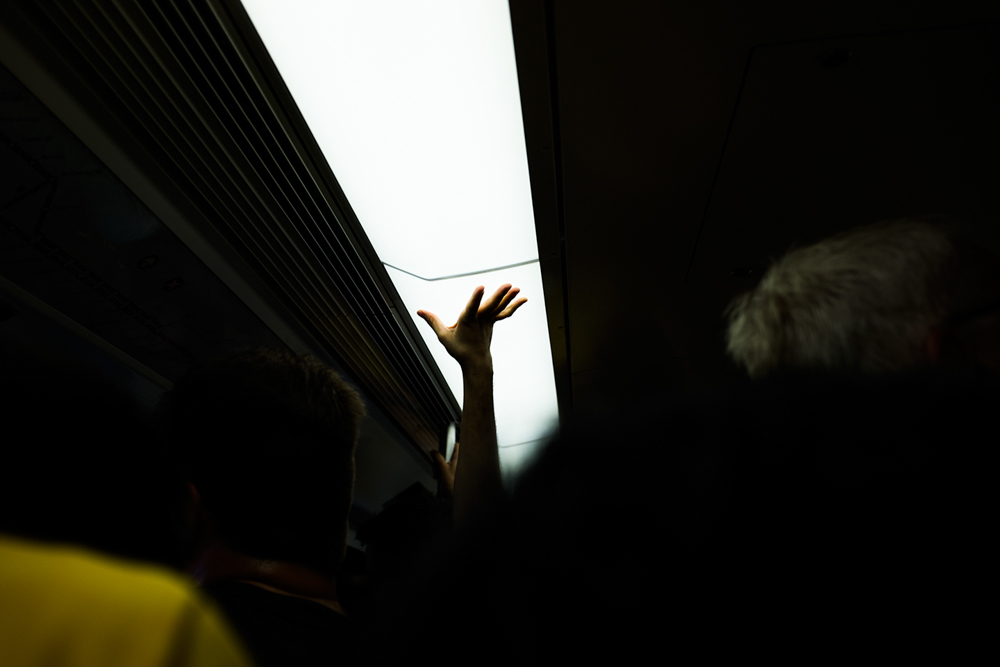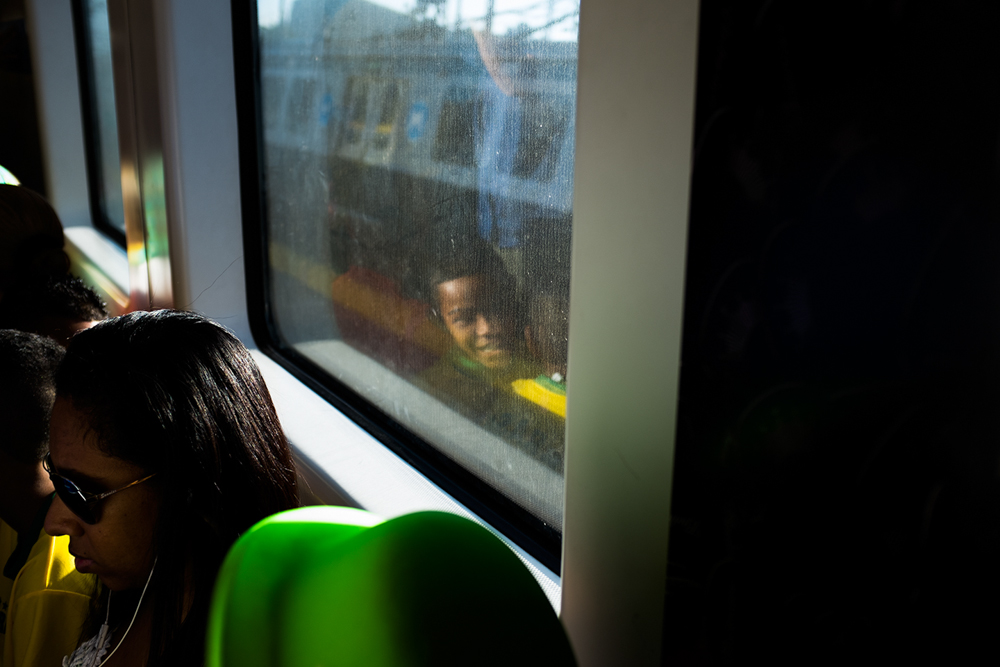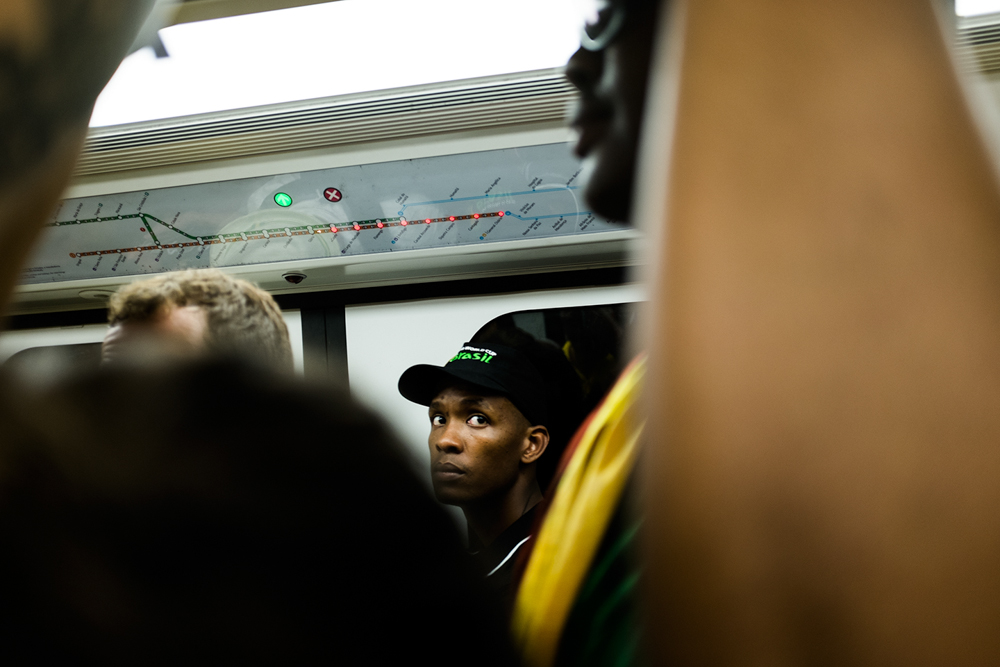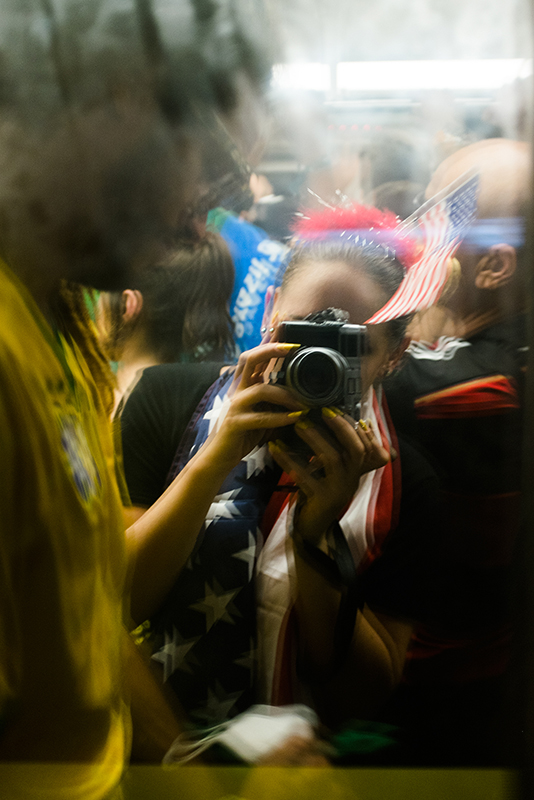 The stations were crowded with fans cheering and getting hyped up for the match.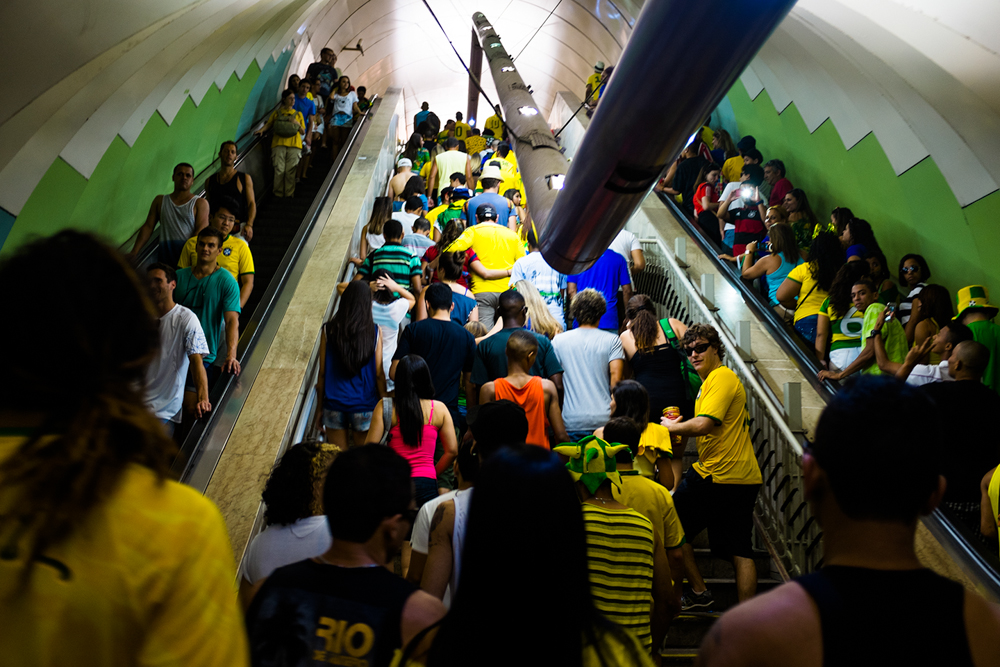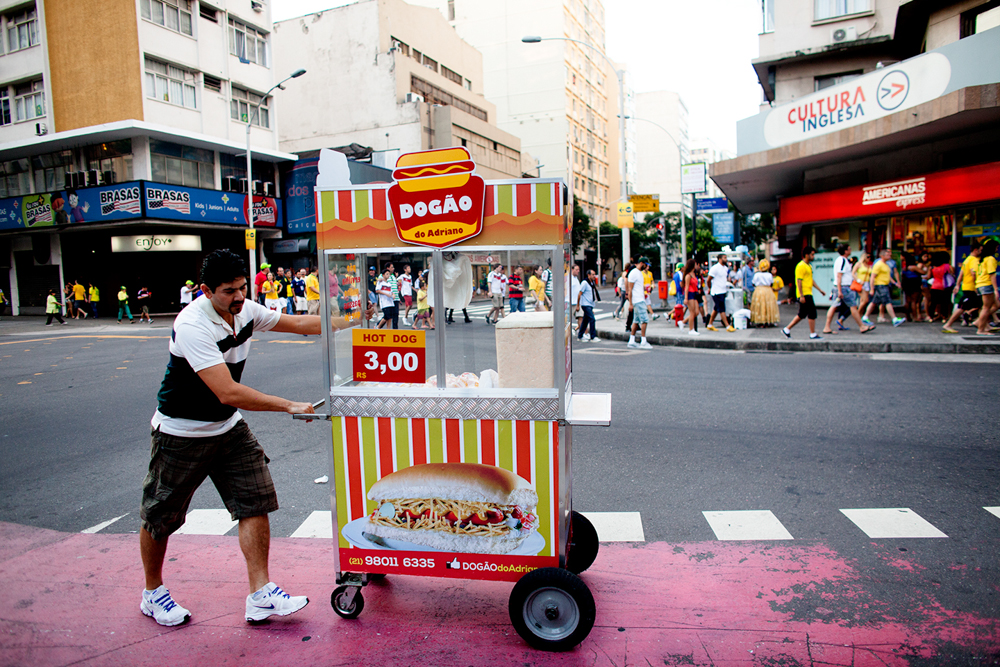 I arrived at Copacobana to a group of Colombians cheering at me "USA!" I took this for you, Steven, Ella, and Mono.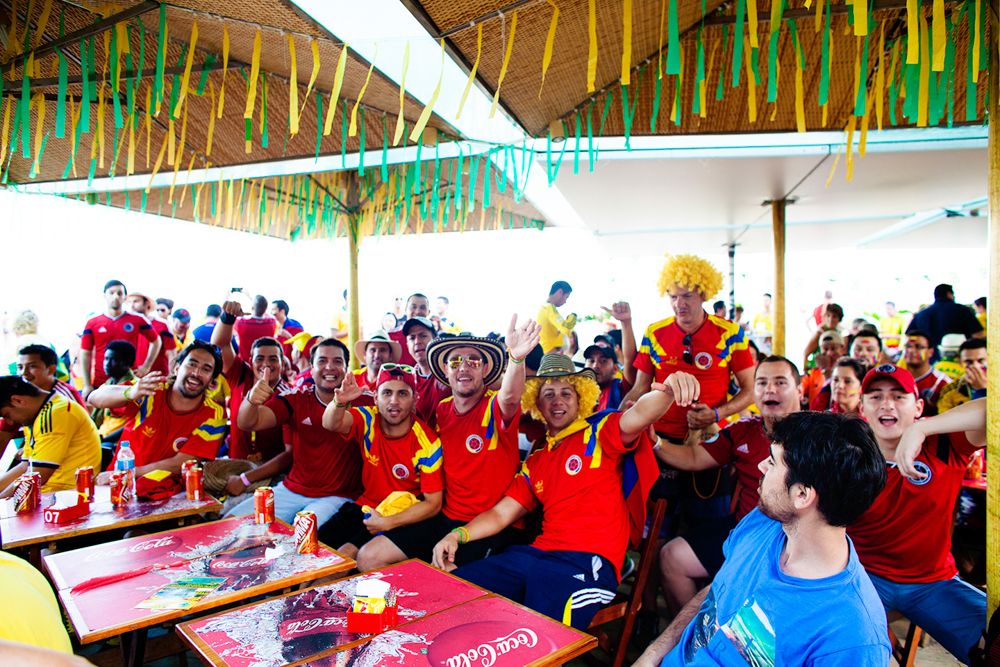 It was packed. We couldn't even get inside the actual Fan Fest, so we joined the heaps of people partying and viewing from the side.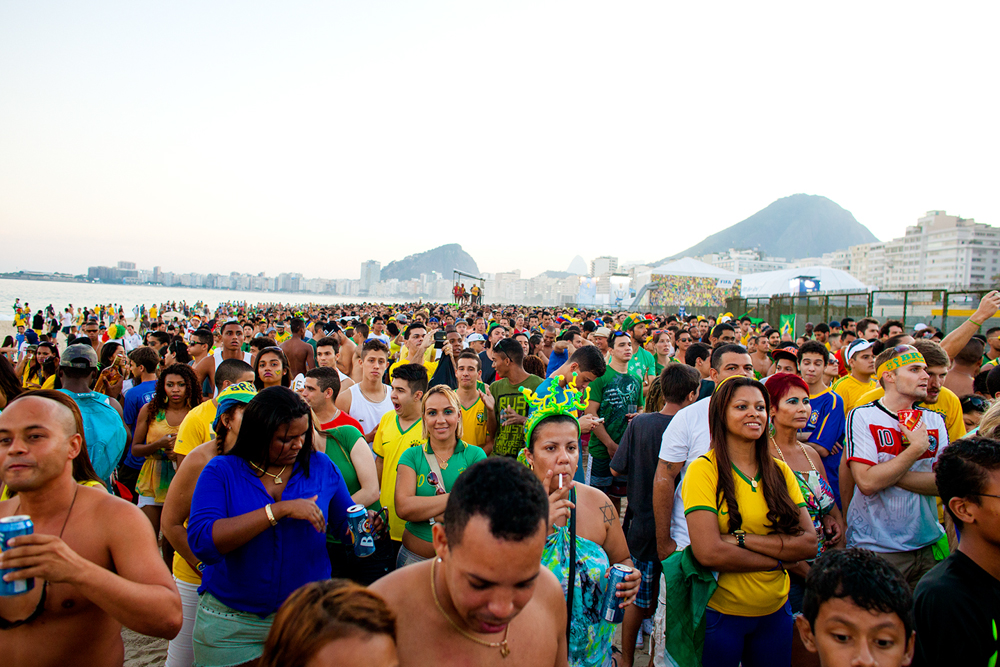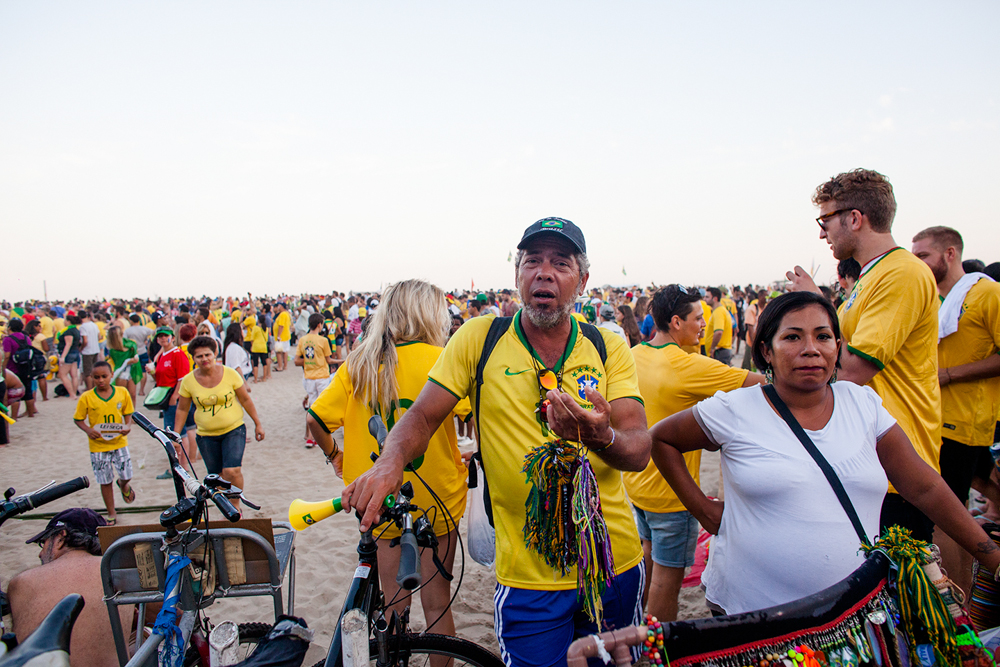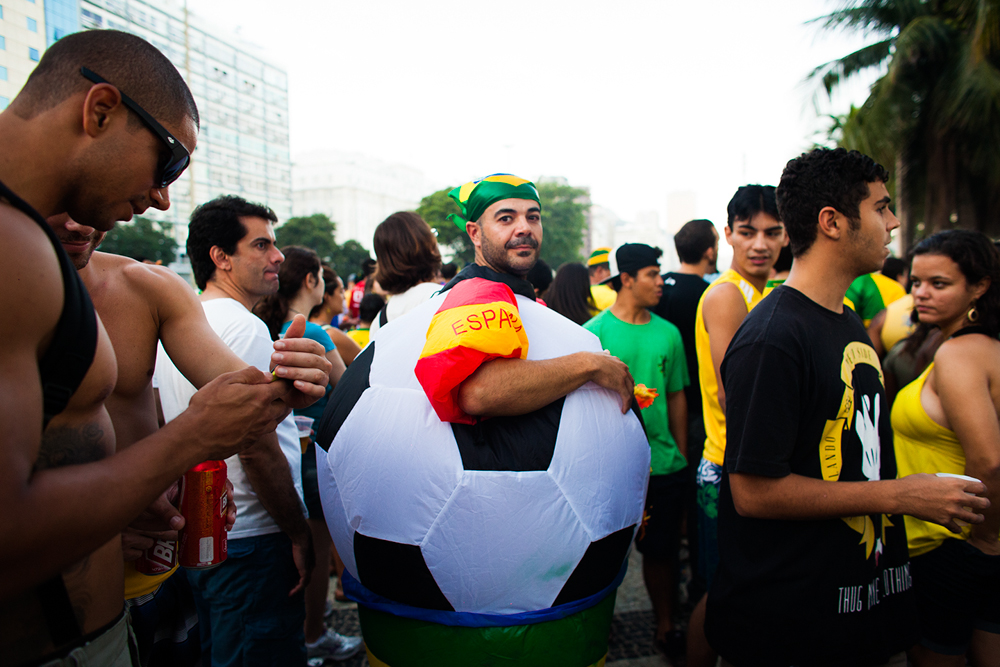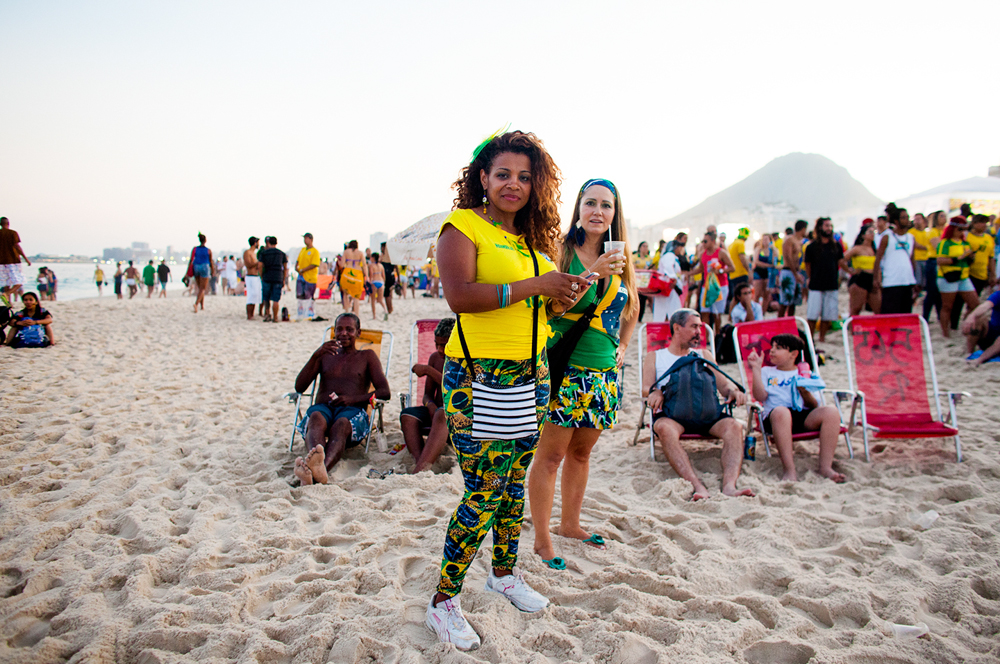 I had been warned that it gets crazy when Brasil plays. I didn't take it seriously until I was squished between thousands of people on the sand. At least there were fresh caipirinhas for sale, yum.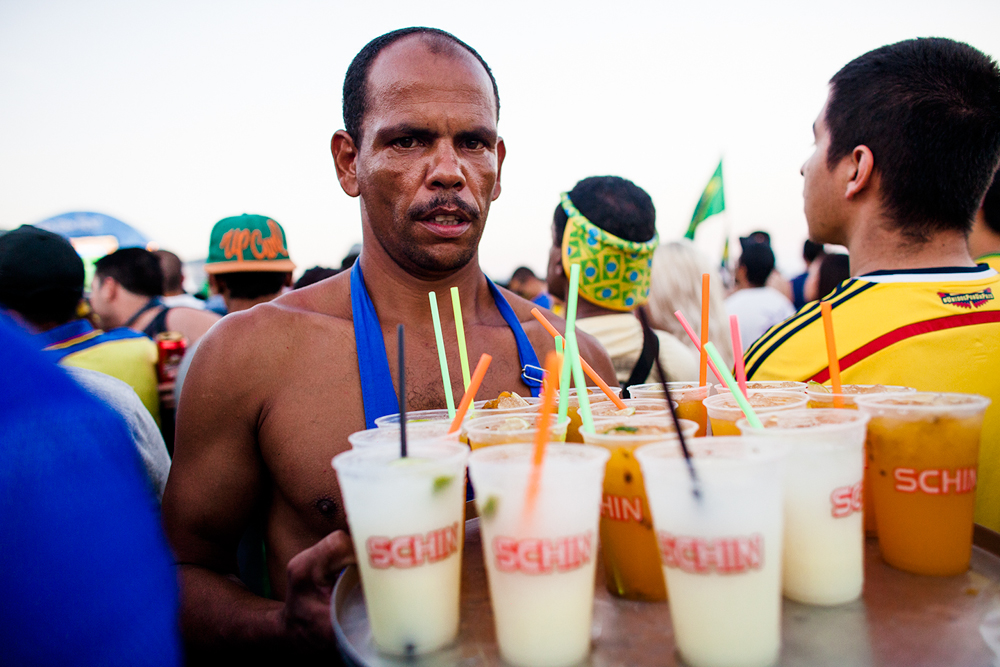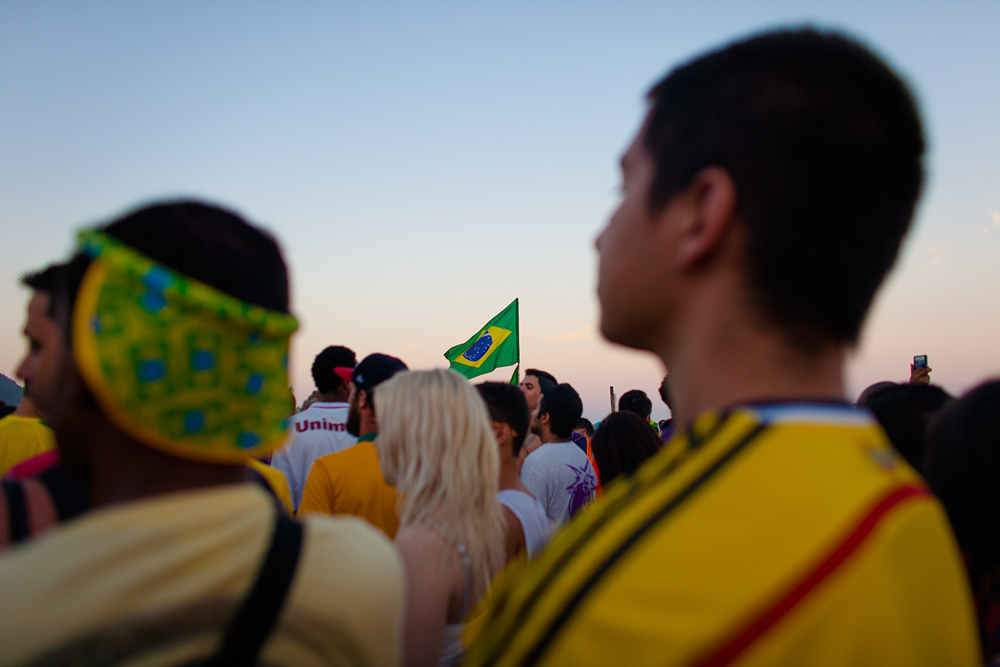 (I know these shirts are fake.)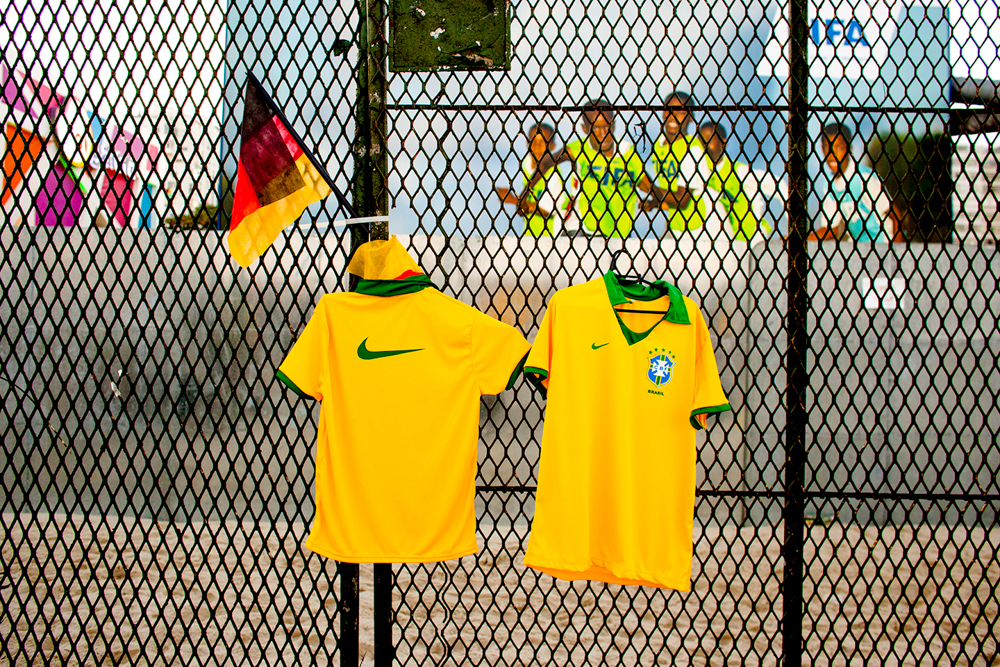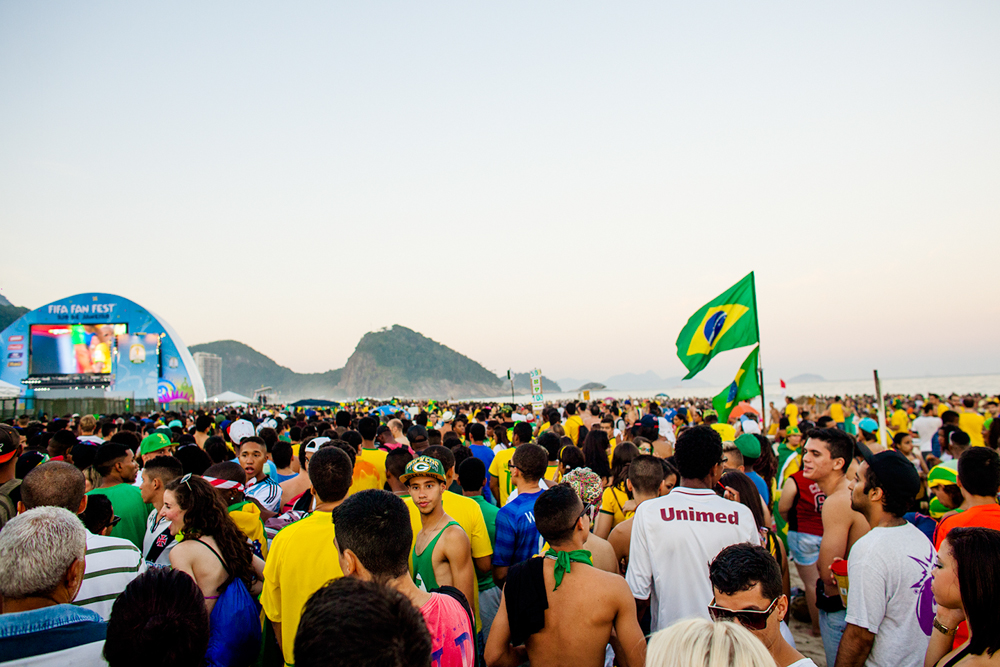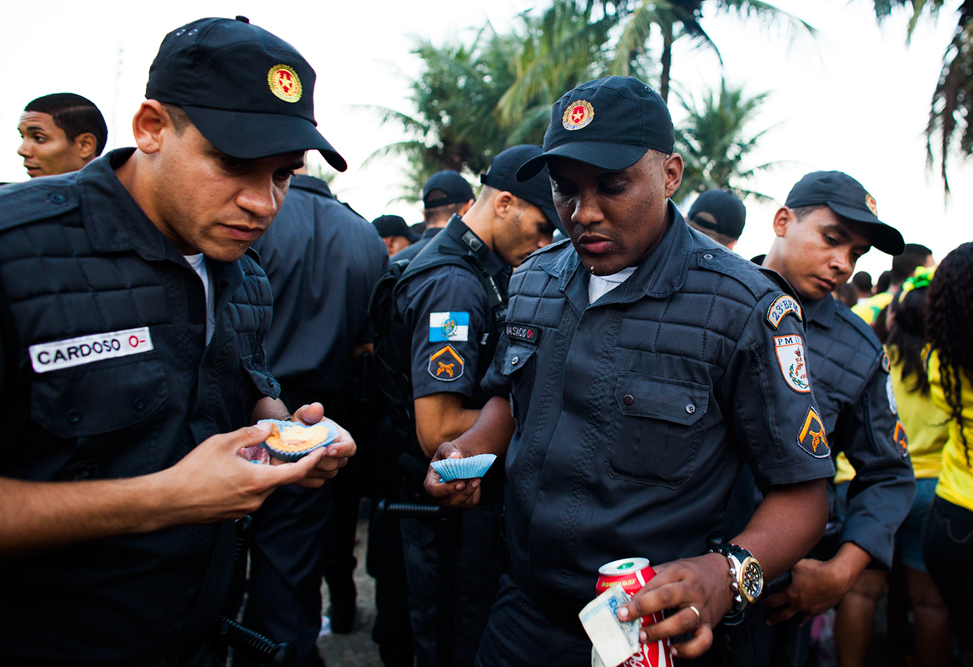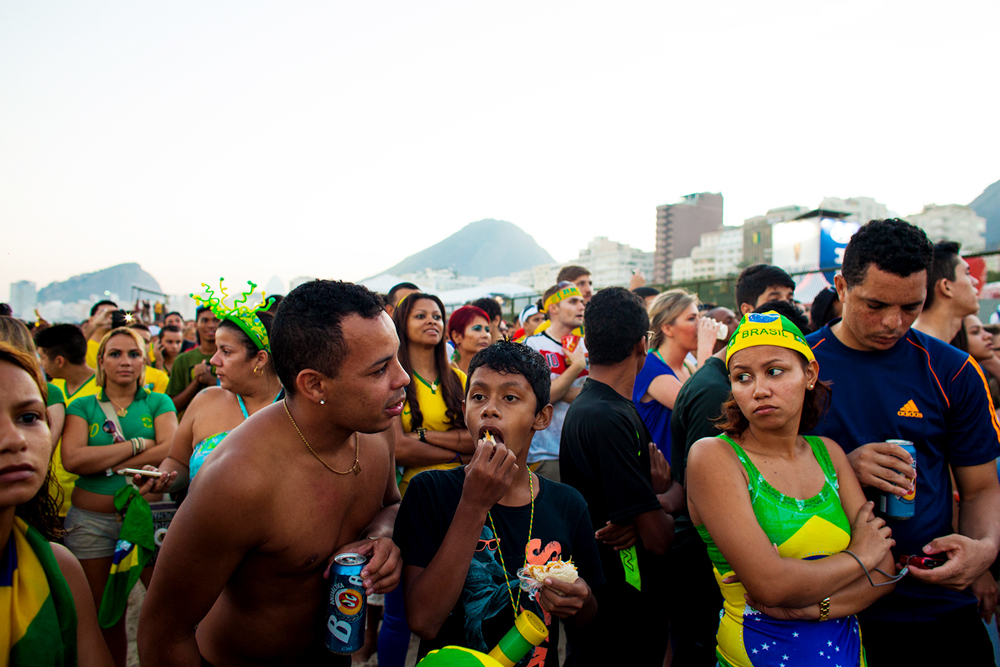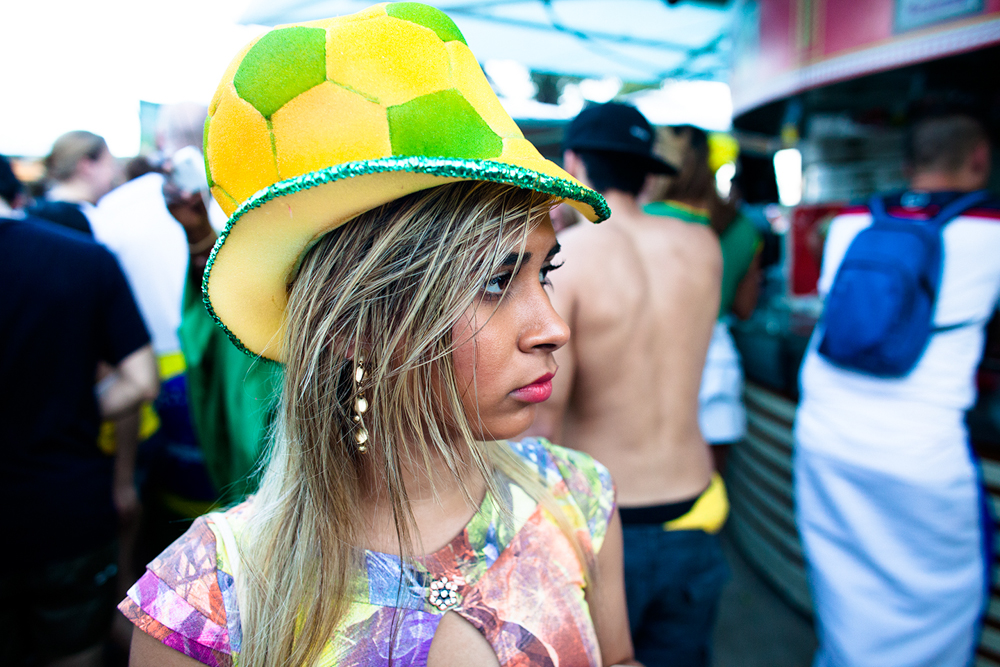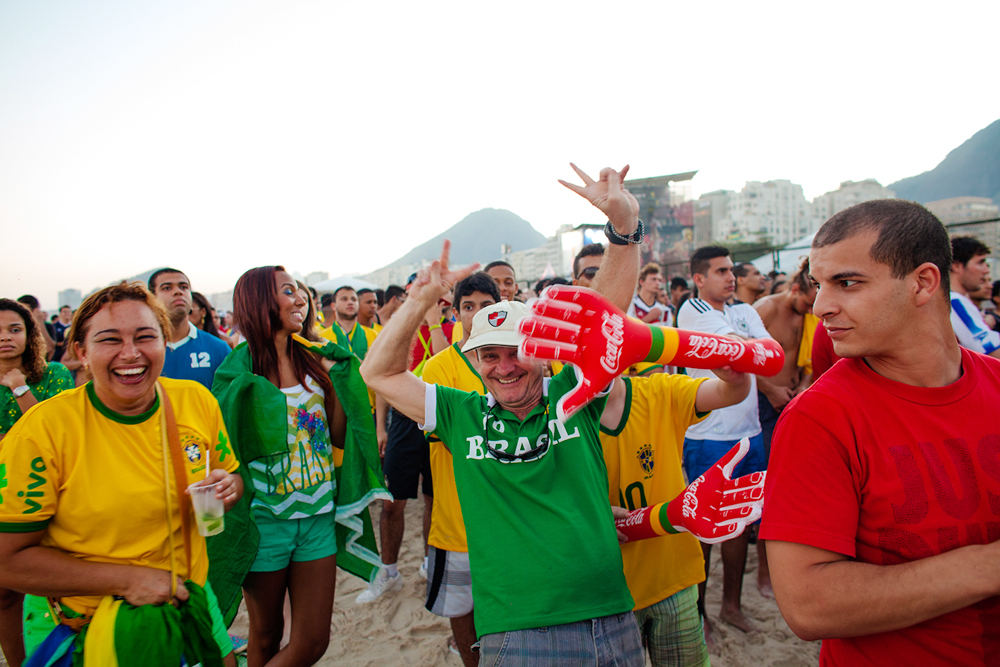 Things were getting a little crazy, and I was getting a little tired. Plus, we couldn't even watch the game properly, so we left Fan Fest to watch the second half elsewhere. And even though things were getting wild, everything remained under control.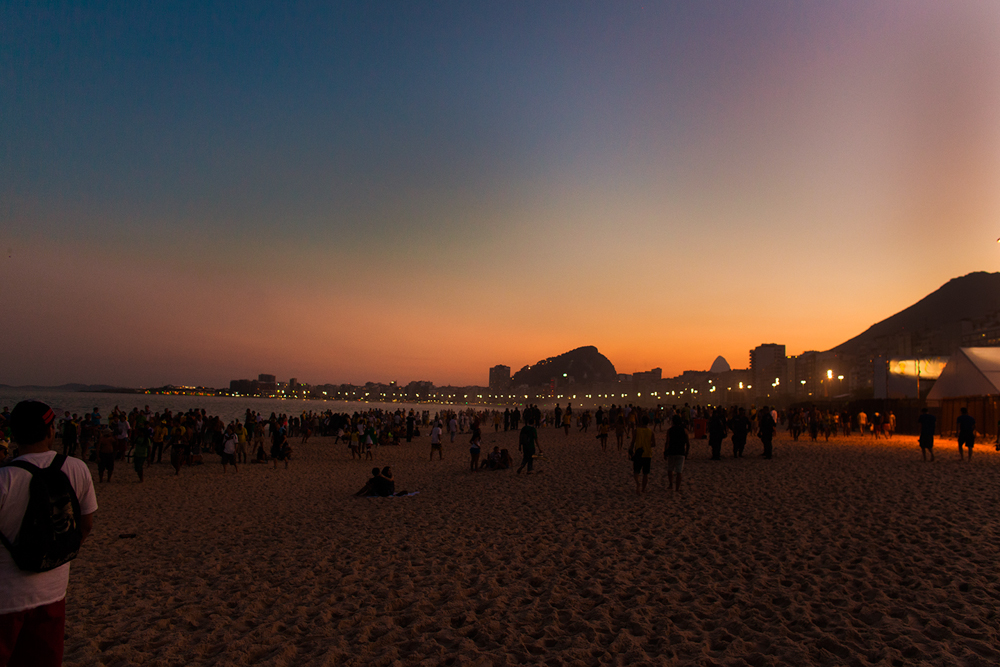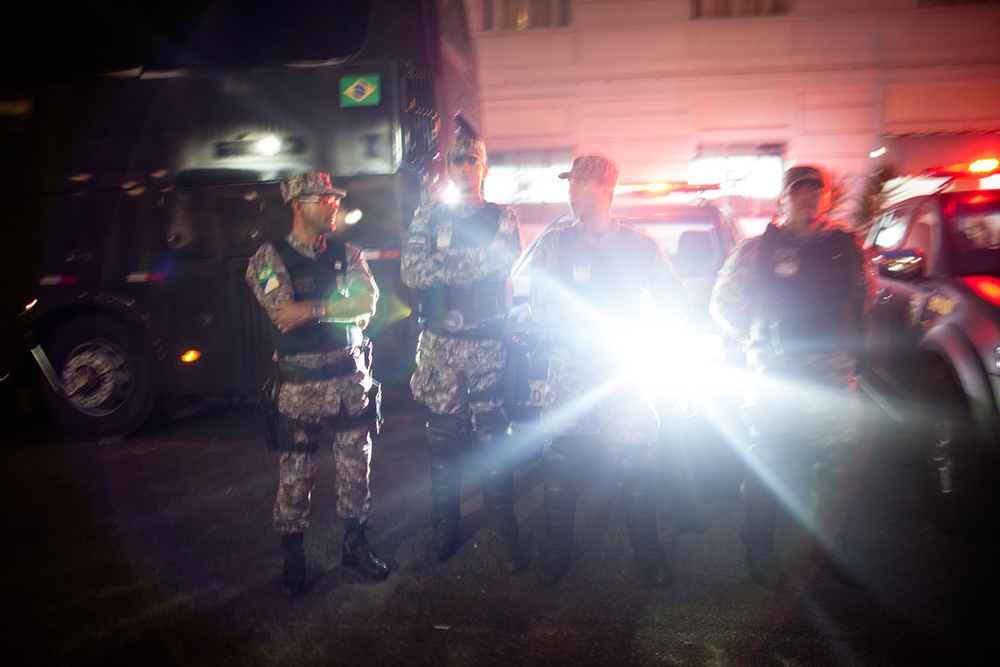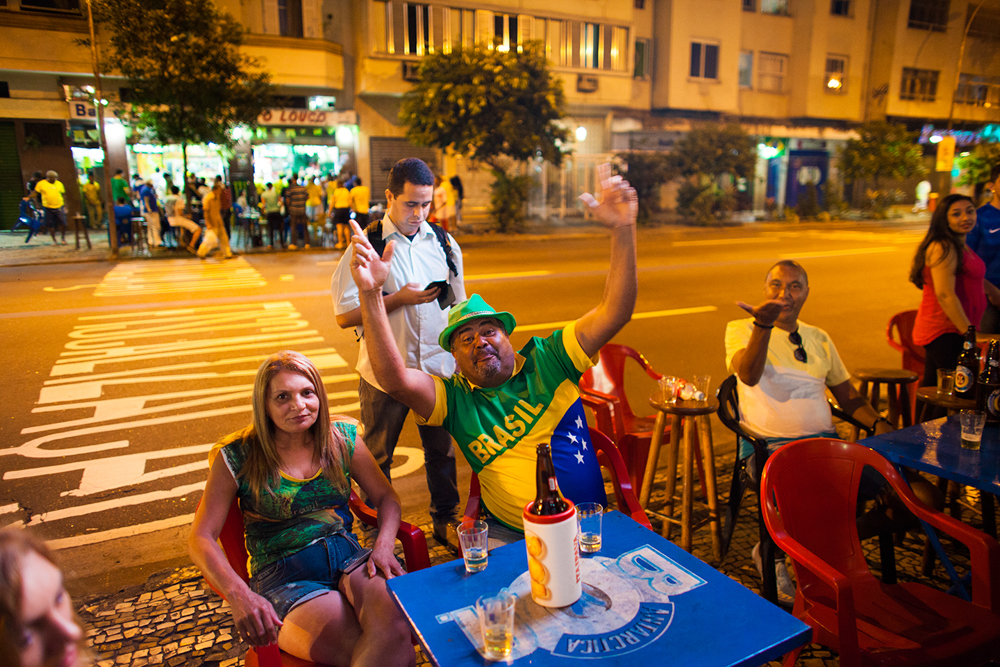 Right after Brazil won, we went back to the hostel to freshen up so we could hit the streets again. We fell asleep before we could even make it back to celebrate and photograph. But that's ok, I think I did enough today…
Keep your eyes open for the next segment of my trip to Brasil for World Cup!