Sevyn Streeter has been in the music game for over a decade, but it wasn't until 2013 when she came onto the radio and the music industry's radar with the addictive R&B slow jam, "It Won't Stop," featuring Chris Brown. Now signed under Brown's own management, CBE Imprint, the 28-year-old is set to make her own imprint on the industry. Though she's considered a rookie, to her, it's as if she's been doing music for more than half of her life.
"I have been doing this for a while," she tells me, laughing.
Indeed, the Florida native and Los Angeles transplant has been on the come up for a while, writing songs "to keep the lights on," as she'll say, self-deprecatingly for the likes of Alicia Keys, Trey Songz, Brandy, Estelle, and most recently, Ariana Grande's chart-topping hit, "The Way." She's also been onstage as well, having having been a part of two girl groups: Rich Girls with producer Rich Harrison, and TG4.
Now anticipating her first ever album, the Atlantic Records-signed Streeter is attempting to create a path all of her own. She talks to The Hundreds about her latest single and video that dropped, "Don't Kill the Fun," working with Chris Brown, having sex on the ceiling, and making time for some love-making session with her current boyfriend, B.o.B.
DAVID YI: Your video just dropped recently for "Don't Kill the Fun." Tell me about the process.
SEVYN STREETER: "Don't Kill the Fun" is out – yay! I've been working on my album and it's 90% done. I'm finally happy to have new music out and the new EP is always out to have new music out. The song fits where I am in my life perfectly. I feel like I can literally apply that to every aspect in my life. I don't want to kill the fun in the my life and kill that process, in life and relationships and everything.
Tell me about your debut album.
I'm head over heels in love with my album. It comes from the most honest and pure place as possible. It's always how I imagined my first album to be, like when you start on it you don't know how it's going to turn out. You go into it and see with what will stick. One of my favorite songs is "Fight For Me." I wrote it with Babyface. That song came from the most honest place. I was going through it with someone. I was on the floor with my manager and I was upset. I was like, "Sometimes you just want them to go harder and want them to fight for you." I went back into my room and recorded [the] melody [on a] laptop and Babyface came and touched it up.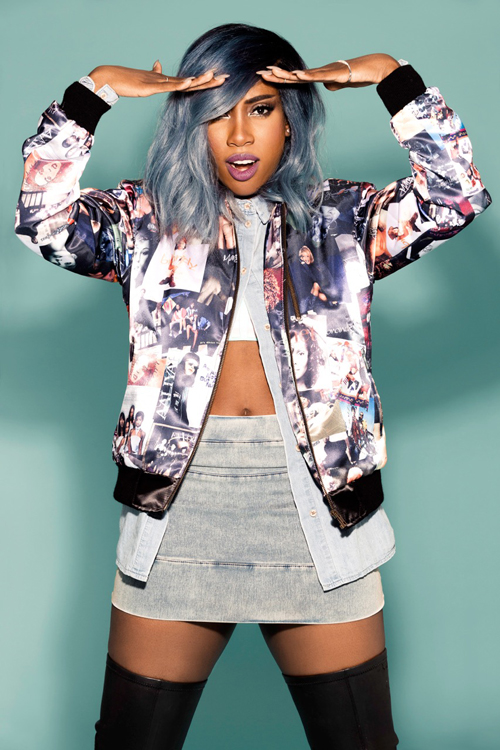 Since you write so much, how do you determine what will be on your album, and what you're giving away?
You have no idea. It's the hardest thing in the world. I'll be honest, my managers always sit me down and they're like, "Okay, Sevyn, is it going to be a single for you? Is it going to be more beneficial to you or someone else?" I'm terrible, I would never give away anything. Especially if I write from my life experiences or something that I read. But it makes it easier writing records for guys since I know that it wouldn't be for me, because it's a male record.
Any habits you have in the studio to get you in the mood?
I'm really big on strobe lights, like it's a rave. I have to have them. Not just one but a bunch of them. I dim the lights a little bit. I need a little vibe. I do that and it depends on how and what I'm beginning to write. I'm focused on being creative. I will order some alcohol and me and writers [will] drink a little and nine out of ten times the conversations and joke and banter turns into a song. We'll pick tracks and we'll play around with melodies and talk some and drink a little more. It's always honey, Jack, and Coke – and laughter.
You were in not one, but two girl groups and were probably so young and impressionable. What was that experience like?
Young and impressionable is the perfect way to explain it. I was happy for once to get a record contract. I was really appreciative to have a record deal and tour and be on a tour bus and things like that. The groups over the years were really good for me for a lot of reasons. They taught me how to work with other people. I still use those skills to this day. But I remember I cried like a baby when RichGirl ended.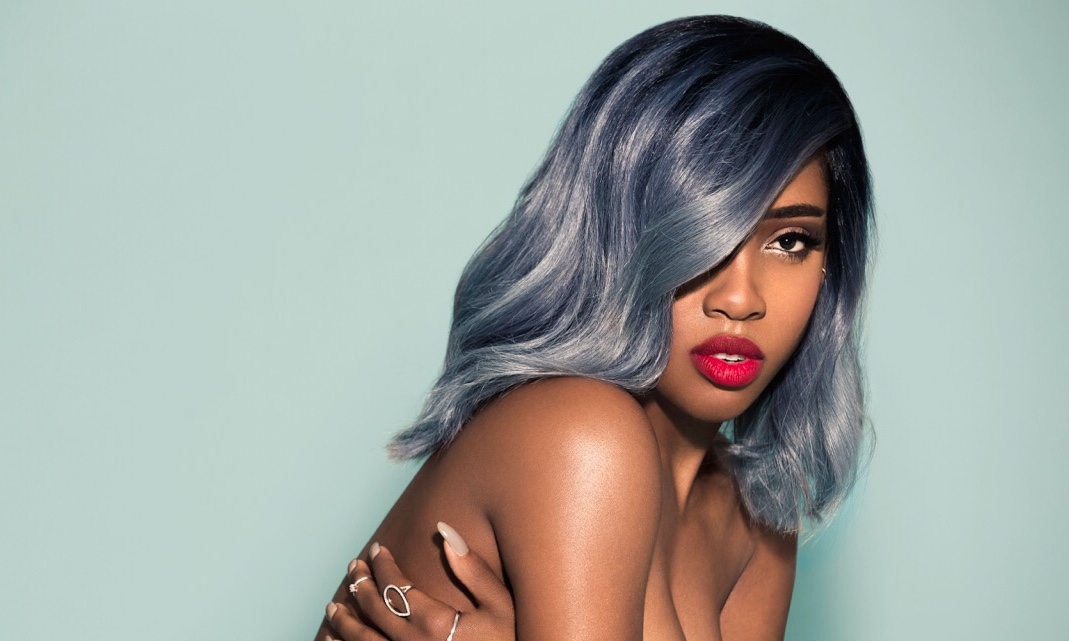 So were you the Beyonce of the group? You can be honest.
[Laughs] No, no, I wasn't. I think it had a lot to be about my complexion, I believe so. I felt like I came up short because they wanted a certain look for a certain idea for what the lead or what to look like. I've never said that before, ever, but now thinking about it, that was what it was. It didn't do with my talent. I had writing ideas and management would say straight to my face, "You know these wouldn't work."
What's your own personal, sartorial style like?
My style is kind of like crazy, sexy, cool. It changes daily. And it changes depending on what mood I am musically. If I'm in a sexy mood and sexy ballad and sexy record, I'll put on a sheer short dress and strappy heels and walk in my session. I may do a dark maroon lip to feel sexy and sensual. I like Chris Brown's style a lot.
We were on the set of the video, for "Don't Kill the Fun," he was directing. When I came out on set in this outfit, he was like, "I'm not crazy about those," and so we collaborated. We changed up the whole look. My stylist Marni and Chris, we remixed a few things.
What's the best advice Chris Brown's ever given you?
Always just do your shit. It sounds hilarious, but throughout the years he always encourages me to be myself. He always says, work your absolute hardest. He's so supportive and there when I need him and he steps back because he wants me to be my own artist and successful in my own right.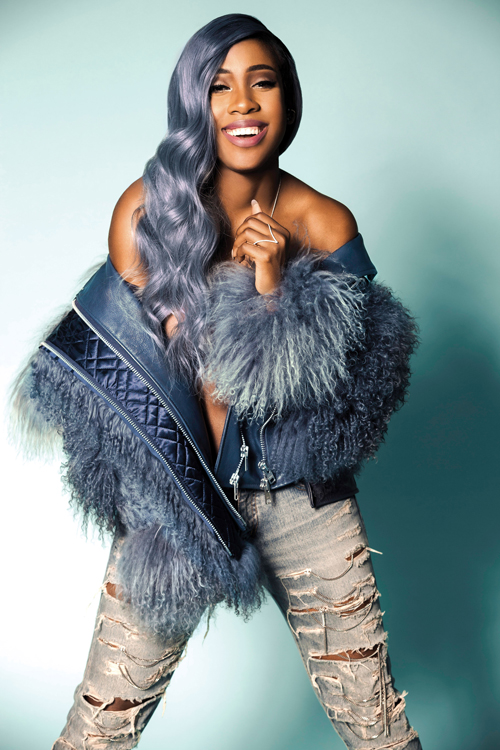 There's a lot of people who give you a side-eye for working with him, knowing about his past. Does that offend you?
Do I get offended? Am I used to it? Yes. I know who Chris is in my life and who he always has been in my life for the past five years. The type of friendship we have and work relationship we have is special. Everything else I block out. You're always going to meet someone that doesn't have the best experience with a friend or someone you worked with. You have to go off of your experiences.
You once had a single called "Sex on the Ceiling." Is that even possible?
[Laughs]. "Sex on the Ceiling" is supposed to be about the best sex you've had. It's wild, it's adventurous, and the whole realm of what you've tried before. With sex, don't put yourself in a box. People get very adventurous. This is a judgment-free zone. I would be lying if I said I never had sex in a car. All of my songs come from some experience I've had. But maybe I'll figure something out for having sex on the ceiling. Maybe install mirrors?
Tell me about your Valentine's Day plans. Perhaps with someone special to you, like with perhaps B.o.B?
Well, this is where management comes into play. Let's say, for example, I may have to record something somewhere and have to do something. I'm like, "Can't I go here or there?" so that we can coordinate. You know what? He's great – he's really, really great. The thing I enjoy about him is that we've been friends for years. Sometimes it begins with a friendship, and for some people it turns into something more. I do think though, that when you start with a friendship nothing can go wrong.
::
Follow Sevyn on Instagram @sevyn.