Melbourne-based artist and illustrator Sean Morris re-imagines sexploitation films in his work. In "Scorpion Trust," for example, an ink and watercolor drawing, Morris pulled inspiration from Spanish film director Jess Franco's 1970s films Women Behind Bars and Women in Cellblock 9. One woman is chained to the ceiling, her ankles shackled, while another coolly walks down a staircase with a sharpened axe. "I'm trying to generate a feeling rather than an intellectual understanding," Morris says of his work. "I can't pin down what that feeling is, though. Some kind of blend of pleasure and weirdness."
To cut through that "weirdness," Morris often employs plants and a limited color palette. The aforementioned shackled woman, for example, is surrounded by potted ferns, which act as a "counter to more gnarly subject matter," and the only color in the drawing is pink. "Using pink is more of a conscious move," Morris says. "It's always fun to use it with dark or masculine imagery."
In advance of SOFT, a group exhibition he and Michael Hsiung have curated, which opens at Superchief Gallery in L.A. on October 8, we spoke with Morris about what drives him to make art, the central themes in his work (which include nostalgia and outsiderism), and his favorite '70s and '80s sexploitation films.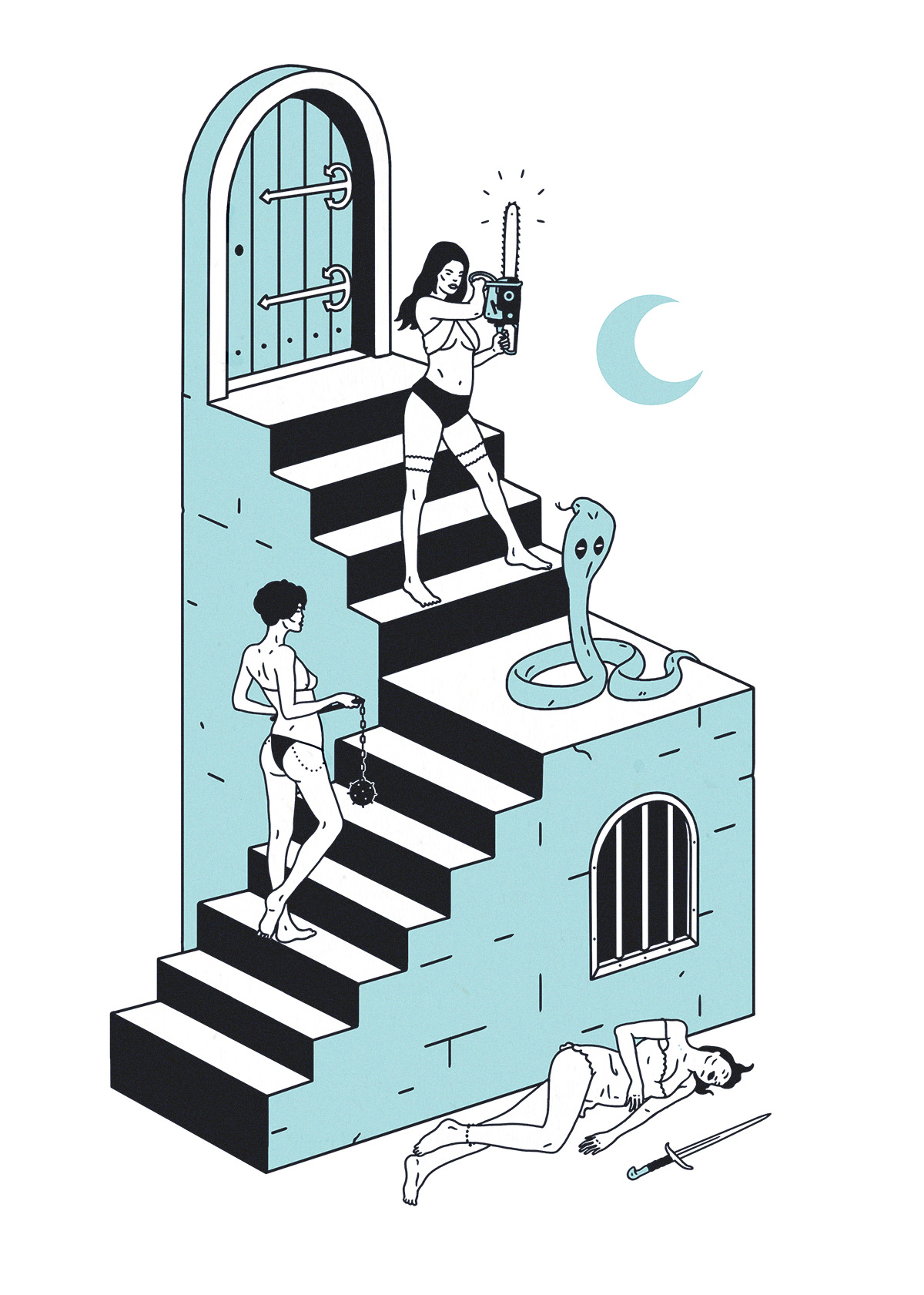 "Cobra Dungeon"
ZIO: What is your first memory of art?
SEAN MORRIS: I have this pretty clear one from when I was about 7, at school, and we had an art class where we had to draw a tree. Everyone else finished, but I went on for hours, because I drew a tree in a park, and I absolutely had to draw every single little blade of grass in the park. I remember my friends and teacher being amused by my obsessiveness, and it's the first time I realized I didn't think about that stuff like the others. I cared about it a weird amount. But in the long run, once I worked out how to channel it, that mix of patience and obsessiveness turned out to be real helpful for getting shit done.
Why do you make art? What drives you to do what you do?
Fun, competitiveness, curiosity, survival, sadness, jealousy, dreams. Maybe some other reasons that I'm not quite aware of yet.
What's a piece you've done that was motivated by jealousy? How did it come to be/what was it like working on it?
It's less about individual pieces—maybe competitiveness is a slightly better word? It's just like, seeing another artist getting an opportunity that I really want, and that [makes] me work harder, which I think is pretty common! Or seeing a piece of art (or film, or photography) that I wish I made, and having a real response to it. But then my ego coming in and feeling jealous, because I want to create that emotional reaction. And then being driven to level up what I do, not to imitate the piece itself, but to try and create a similar response in other people.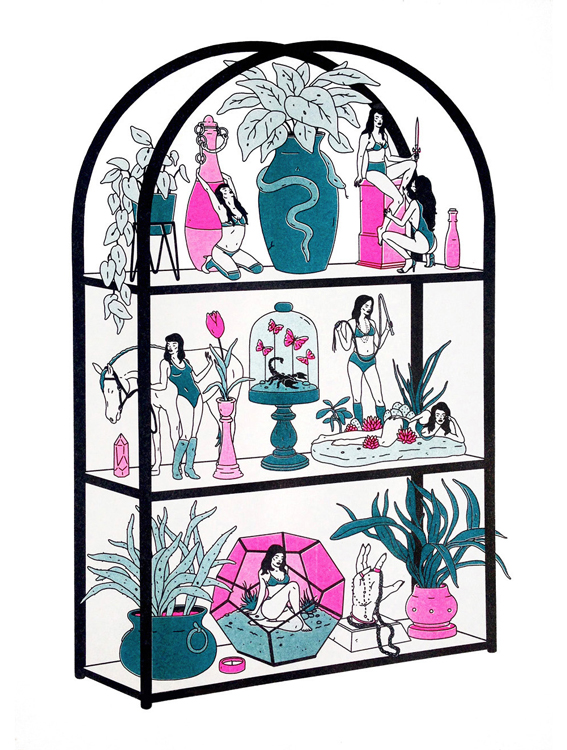 "Heirlooms"
Why blue, teal and pink?
I've always loved working with blue, I'm not sure why. I'm particularly into dark blue at the moment; it's such a nice alternative to black for single-color work. Using pink is more of a conscious move—if you play it right, it cuts through, and gets an image noticed. It's always fun to use it with dark or masculine imagery.
Why are plants so often featured in your work?
I'm big on plants in general; any room is better with a few leaves. I guess sometimes I apply that same thought to drawings? But I mostly use them when I want to offset a drawing with something calming and pleasant. They're a great counter to more gnarly subject matter.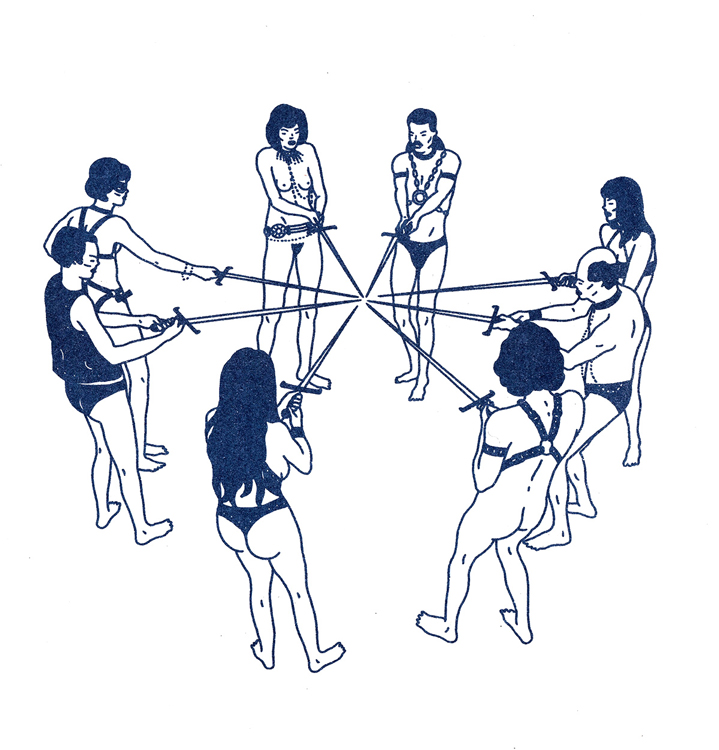 "Circle"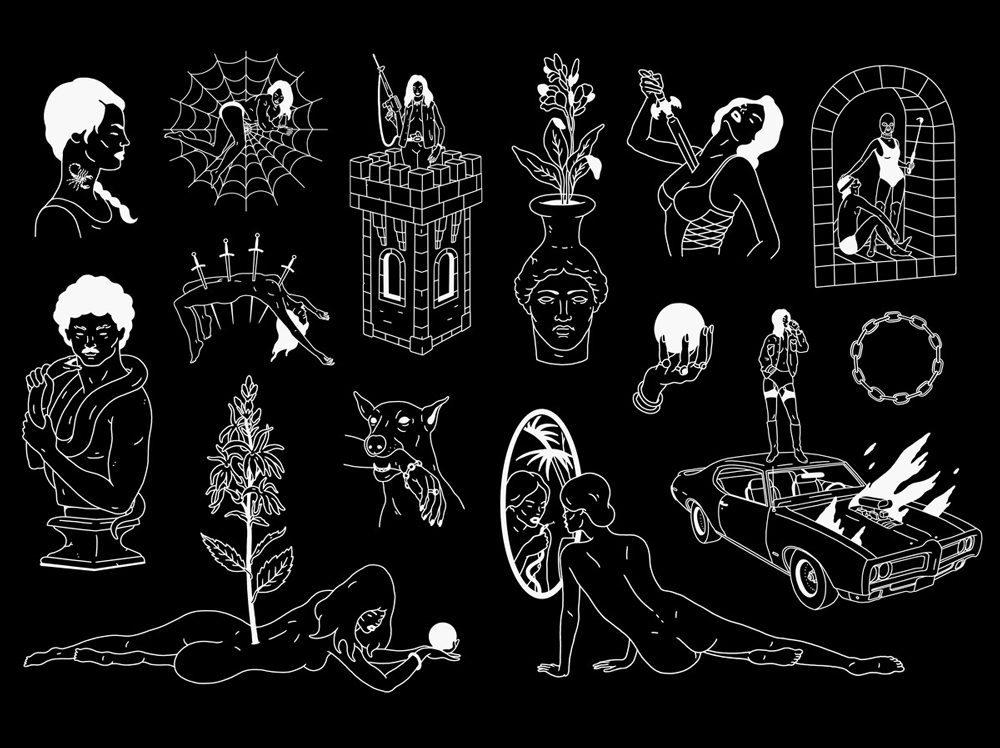 "Curses"
The babes in your work remind me a bit of Russ Meyer characters (especially from Faster, Pussycat! Kill! Kill!). What are some of your favorite movies from the '60s, '70s, or '80s?
I'm definitely a Faster Pussycat fan! Those Meyer films are obviously kinda problematic, but there are still some great powerful female characters. I'm inspired lately by so much of the imagery that came out of '70s Sexploitation, particularly the dreamier Euro-cult stuff, like Jean Rollin's Fascination. School of the Holy Beast and Switchblade Sisters have some amazing visuals too, and Suspiria is so creepy and beautiful. As far as the '80s, some of the Troma Entertainment films are amazing, all the Mad Max movies, and Jess Franco's Golden Temple Amazons.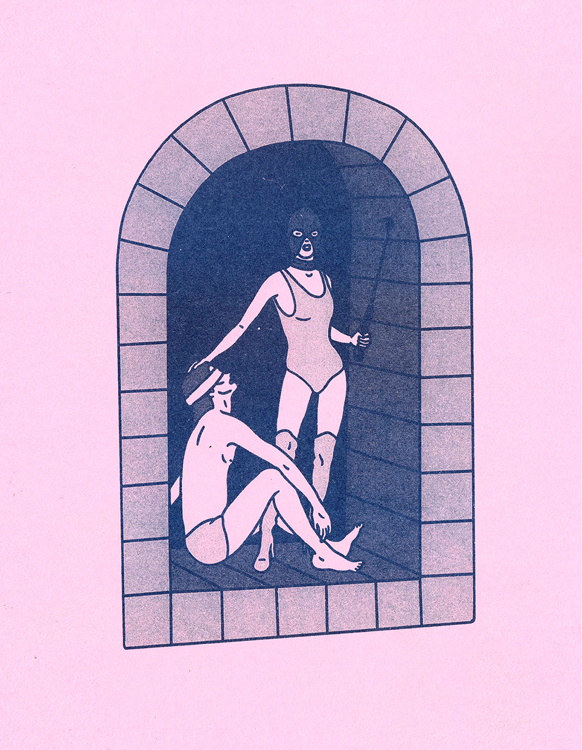 "Power"
What initially drew you to sexploitation films and why did you start drawing with them in mind?
I'm drawn to exploitation more generally because it's so gratuitous and unapologetic. I'm particularly drawn to the Euro-cult stuff for the imagery (vampire women, creepy castles, amazing fashion, great weapons) but also because it takes wild, ridiculous ideas so seriously—it's so genuine. Which I prefer to jokey, self-aware B-movies. The opening scene of Golden Temple Amazons is ten warrior girls on horses, wearing nothing but a few pieces of golden body armor, riding slow motion through the jungle to a synth-rock soundtrack. And it's so silly, but it's not meant to be funny, it's just meant to be awesome. I used to make art that was kind of sarcastic, not genuine—but now I just focus on a set of imagery that I really love, and it's definitely more enjoyable.
What are the central themes in your work? What do you want people to think about or understand when looking at it?
Power, outsiderism, intimidation, evil, sexual expression, all sorts of nostalgia. There are occasional issues that I want to provoke thought about, but most of the time, I'm trying to generate a feeling rather than an intellectual understanding. I can't pin down what that feeling is, though. Some kind of blend of pleasure and weirdness.
"Alligator Freedom Ride"
What's the most moving exhibition or piece of art you've seen recently?
I just went to see The Universe and Art at the Mori Art Museum in Tokyo! Da VincI drawings and Galileo books, a Hajime Sorayama sculpture, and some amazing comic art and space photography—it's a super beautiful collection.
What projects are you currently working on? Do you have any exhibitions coming up?
I've got some mural projects coming up in Melbourne, and then I'm heading back to L.A. in just over a month. Me and Michael Hsiung have curated a group exhibition at Superchief Gallery called SOFT, 30 artists designing woven tapestries. Opening night is October 8!
***
sean-morris.net. Follow Sean on Instagram @sean__morris. Purchase his works at seanmorris.bigcartel.com.