Sap is silently and strategically taking over the music game. The producer, whose name is an acronym for "Sound Of A Pioneer," created a solid foundation for himself, producing tracks for the likes of Mac Miller, Freddie Gibbs, Meek Mill, Schoolboy Q, Nipsey Hussle, Kid Ink, and The Game, to name a few.
In the early '90s, the line between producer and emcee was blurred when beatmakers stopped linking with rappers and started taking the mic into their own hands. Though Pharrell, Kanye, and Timbaland have all successfully made this leap in their career, the transition from producer to hip-hop artist is not an easy task, and not everyone can master it. Rather than stay in the producer lane, Sap recently re-positioned himself as both a respected music producer and a talented rap artist with the potential and skills to become one of the game's most exciting new music contributors.
Sap's latest mixtape Self Employed, touches on socially conscious truths in black communities and urban culture, as well as celebrating the success that comes with working hard and staying focused on your dreams. When you hear Sap get on a track, his voice effortlessly demands attention. His approach to wordplay is reminiscent of the backpack, boom-bap type cuts from hip-hop's early days; a true student of this culture, he knows the history.
Just weeks before the official release, I caught up with the Delaware native in Hollywood. During our chop up, Sap shared scenes behind his new album, stories of sacrifices he's made including parting with certain beats for the good of the culture, and the journey that led him to this important transition in his career.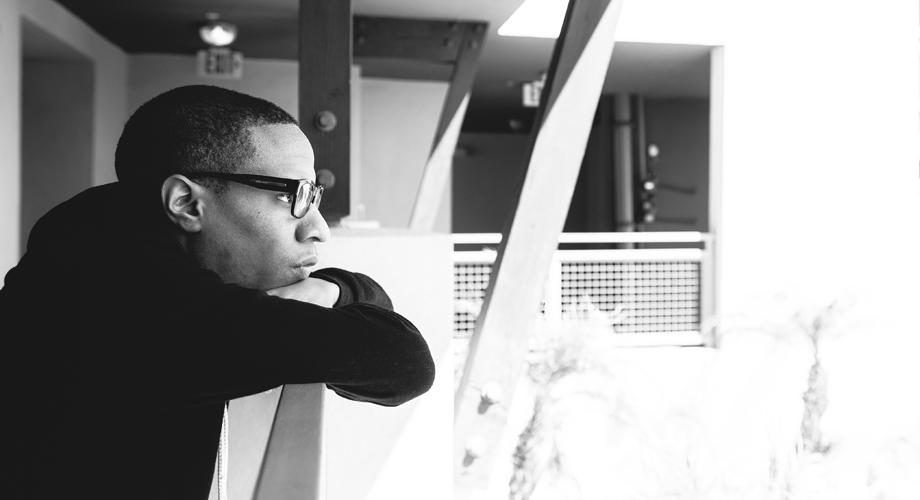 VASHTI: On Self Employed, did you produce everything on your own?
SAP: I did everything on there. All fourteen tracks.
In doing the entire project alone without any contributions from other producers or writers, do you think that puts boundaries on your music creatively?
Nah, I don't think there is a better producer than me, for me.
Is there a difference between the beats that you make for another artist and the ones you keep for yourself?
Nah, there's not... that's a good question 'cause honestly I make all of my beats as if I was going to rap off them. Everything I make is like something that I would want to rap off.
And sometimes I hear beats, though, that I'm like damn; it's rare that I hear it, though. But sometimes producers send me beats and I'm like, "Damn! I might not like the whole beat but I like this."
'Cause the way I rap is different than like a lot of people now. Like I kind of rap kind of old school but then kind of new school at the same time... The flows of this shit are still kind of now, but the pockets and tempos are kind of old school. So, I'm real picky and particular how my drums swing. Like, it just got to be right. I'm just weird about that.
That's why I don't really let people produce for me like that. Like, I'll let them lay down an idea. Like if they have a dope melody or drum loop. I'll be like, "Yo, I want this."
Kendrick is the same way. I talked to Kendrick like not too long ago—this might have been on my birthday—he was saying how he wants like, stuff that's like unfinished. Because sometimes when you all the way do like what you do, it kind of pulls away from what they want to do. So, he kind of likes to build from ideas. That's kind of how I am too.
Instead of sending the whole beat, like, send a drum loop or send a melody so I can add how I want the drums to sound. Because once people hear it a certain way, now you kind of sometimes tarnished the idea and now they can't hear it their way because you already pulled it so far your way.
So, there needs to be space, basically?
Exactly, like space for them to do what they want to do, be creative. It's got to be like a canvas. Let them paint. I used to be a dude who had these entire complicated ass beats. I used to have like, so much shit. My beats are definitely simpler now, I think than they used to be. Even with "Donald Trump" like, "Donald Trump" was a busy beat. With the sample and just how the drums were real heavy.
How has your sound changed or evolved?
I definitely simplified it down. It's not as complicated as it used to be. That was the problem; I was making beats because that's the shit I like rapping on, 'cause I've got a heavy voice. So when I rap on heavy beats, my voice cuts through. But a lot of rappers aren't like that. A lot of rappers are more so, like, their voice is a little lighter. So they need room and space to get stuff off. And I learned that. I definitely learned that.
Like with Nipsey. Nipsey is particular about how he likes sounds. That's why making beats for Nipsey is—it's not hard, but it is hard because he likes it to be significant, but he likes space. So, it's hard to make a significant beat that's simple. That's the hardest thing to do.
"I MAKE BEATS FOR ME FIRST."
Who have you [learned from] and who do you learn from?
I learn from everybody. The listeners, people who are hot at the moment. I just pretty much self-teach and pick up things from dudes like Hit-Boy, I pick up things from dudes like Pharrell, dudes like Kanye, Timbaland. Just like little tricks and just mash everything together. And I listen to the listeners too. Like, when people are infatuated with current beats that're out. I'll be like damn! What do they like about this beat? And I try to apply that to everything I'm doing.
'Cause it's still a business at the end of the day. We'll be like, "Oh, I make music for me"—niggas is lying, because if we just made music for us, nobody would be going platinum.
I know you said the beats you create for others are made with the same type of effort you would use in your own music. Is that what you have in mind when creating? Do you do it to make money or is there certain artistry to it?
I make shit for myself. And then, I feel like I'm at the point now where I'm established enough to be able to keep producing for people and Ibe able to live off of it. My whole thing now is I make beats for me first. I might make a beat and I'm like, "Damn this person will sound dope on it." But I make beats for me first. Like, "Damn I can rap on this, but let me send this off and see what happens."
From SAP's debut Self-Employed.
Do you ever have a feeling of regret once you've sent a beat out and another artist is really fucking with it?
Yeah, I had a few times like that. But I'm like, man, I can't be mad because you know. One song was "Holy Water," for The Game. That was a beat I was like, "Dog, I gotta rap on this." I played it for him. He wasn't going to put it on his album at first, but it made it.
He was leaking out records and that one, in particular, stood out. I remember being at home watching 106 & Park. This when 106 & Park was still on its last leg, as far as watching it, and [Game] was on there. He had just left Delaware and Bow Wow was the host.
Bow was like "Yo, you got this record Celebration. It just dropped and people love it." And Game was like, "Shout out to my man Sap, he produced it." Then Bow Wow was like "Yo, you got this other record though, it's called 'Holy Water.'" And Game was like, "Yeah, that's produced by Sap." I was like, OOOOH SHIT! My phone was going crazy off of that shit. But that was the moment that made me realize it was worth giving it up.
Tell me how you linked with Cool N Dre.
I met them through Legend. One day, they hit me and invited me to Miami. It took a while to go through, for me to really make it happen.
And what about Meek, Wiz, and Mac Miller?
Joey Jihad, you gotta look him up—he's a legend in Philly, That's how I got with Meek. He hit me up on Myspace when I was in high school and I got with Meek. I was a junior and I did this big ass record for Meek called "In My Bag" in Philly. I brought him to my high school too, to perform. Muthafuckas went crazy. After him, that's when Wiz and Mac Miller got a whiff of that. You know 'cause Pittsburgh is in PA.
Mac had hit me up on Myspace. I didn't know who the fuck Mac Miller was and we never linked up. Fast forward a few years later, my man Tommy was like, "You should get at this dude Mac Miller." I'm like aight, word. I hit him up, and he was like, "Yo, do you remember me? I hit you up on Myspace like a minute ago, when you did the Meek record." I was like, "Oh shit!" So, I ended up going to Pittsburgh. And then I met Mac, you know, that's how we made "Donald Trump."
What is the inspiration behind the title Self Employed? Are you your own boss?
Yes, I am. I take pride in that because I like betting on myself. Like if I'm going to bet on anyone, I'ma bet on myself. Like, I won't take out a loan for $400,000 to go to school, no disrespect. I'm going to invest it in Sap because I know I'm going to be satisfied with the flip. So, that's why I take pride in that. I think the way I'm doing it, is the approach that a real boss should take. Like what Steve Jobs did. They really put that work in and laid that solid ground. I'd rather have a company that makes ten million a year and it's mine; I'm the owner. Rather than being a part of a company that makes a hundred million a year. And I'm only getting 2 million.
Video for "O Eight" featuring unreleased footage of Sap and Kendrick and Meek Mill.
Who made the album cut?
Um, Mac Miller, Game, Hit-Bot, Hodgy, Mike Zombie, Stat Quo, Devin Cruise… I don't want to forget nobody. Chris Webby, Jitta on the Track. I think that's it. That's everyone that's on the project. Oh, yeah, Shiz Nitty from Delaware.
What will listeners take away after listening to Self Employed?
It's really just me celebrating the fact that, damn, we want to go further but look at all the shit I did on my own. The intro is more detailed than "I Made." That's the second track on there because it makes more sense to come after the intro. The intro is crazy because I'm talking about everything. Like everything I kind of explained to you about the Meek stuff. You're going to get the story.
I don't know what I'm going to name the intro, but the cover is going to be dope… Basically, it's going to be a wall with a framed picture of me for each employee of the month. It's going to be so hard. [see: Self Employed mixtape cover]
I think with all that, and I got unreleased footage of me and Kendrick. I got footage of me and Meek that's throwback footage that people haven't seen. Just all this stuff combined and we might put that in the intro video. I feel like damn near eight tracks out of fourteen is good for videos. I can't wait to drop this. I'm so anxious. I'm working on my next one already.
For the next one, I've already got like songs I'm working on. I'm working with Lil Dicky. He's dope.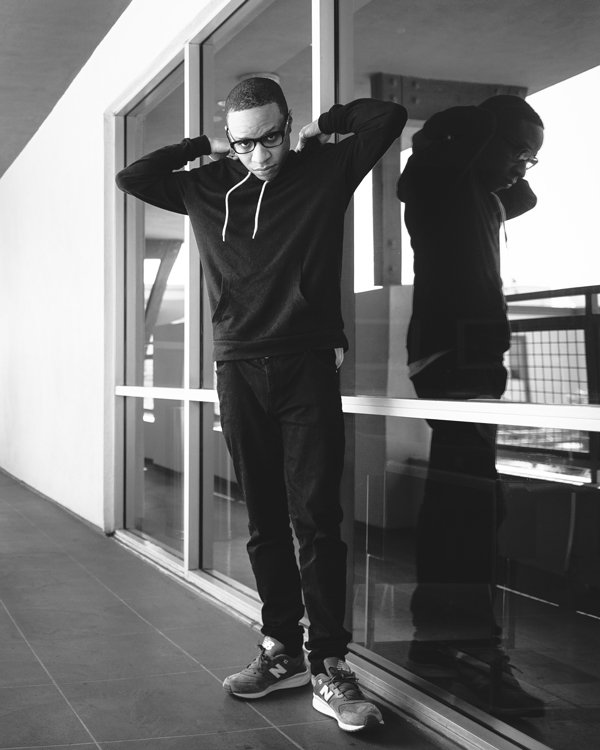 What's something you've learned about yourself in this journey—or let's say, this past year?
That I needed to be a little more aggressive with business. I was always laid back. Like when people didn't want to help me do something, even when I helped them and it was a fair exchange. If they didn't want to help me I would be like "It's all good I'll do it myself then." But now I'm like "Yo, wassup man?" I'm kind of a little more aggressive about it. I've probably gained confidence all around just in what I do. Just believing in what I do all around. Just like, "Yo, this shit is important dog."
Ever since I started doing that, people started taking me more serious. I'm definitely letting people know I'm serious and it seems like it's getting across. I can't complain.
***
Follow Sap on Twitter @TheRealSap, Instagram @TheRealSap, and on Soundcloud at soundcloud.com/TheRealSap. Purchase Self Employed on iTunes and stream it on Soundcloud. Photos by Paolo Fortades.

This article is the first of a new interview series by Vashti called Acquainted.