The idea was simple. Andrew Dharmosetio wanted to create his own version of Outfit Grid—with sandals instead of sneakers. With his friends Ray Santos and sneaker collector Fran Marchello AKA Franalations on board, the hashtag #SANDALBOYZ quickly took off with its corresponding Instagram @SANDALBOYZ, in large part due to Fran's footwear-minded social following. "When we started the page, I personally just did not know where I was going with it. We just started the page for fun," says Andrew. "Personally, I've been wearing sandals since I was in 7th grade. I don't even like wearing shoes." Andrew and longtime friend Ray grew up playing basketball, and like all players, are well-acquainted with the socks and slides combination for on and off court. Socks and slides—they're like the proto-Flyknit. Completely breathable, comfortable above all, and convenient—slip on, slip off. The idea, Andrew explained, was to put a name to that sandal-wearing lifestyle they felt a part of as athletes and "spearhead it in the right direction." That was 8 months ago. 2 months in Indonesia working with 4 factories, and 10 rounds of wear testing later SANDALBOYZ.COM launched this past Saturday on January 23. They sold out of their first drop: minimalist slides in a cool, muted avocado green, with matching outsole, midsole, and strap. Reminiscent of Buscemi's line of one-color luxury slide sandals, SANDALBOYZ in contrast comes in youth-minded pop colors, with a matte baby pink colorway arriving soon on Valentine's Day. Take an Ian Connor co-sign, last week's launch party at DOPE on Fairfax, and the speed with which they executed their concept to market, and it's clear that SANDALBOYZ represents how brands in its lane work in 2016. I spoke to co-founder Andrew Dharmosetio last week about the design process, key decisions, and hype.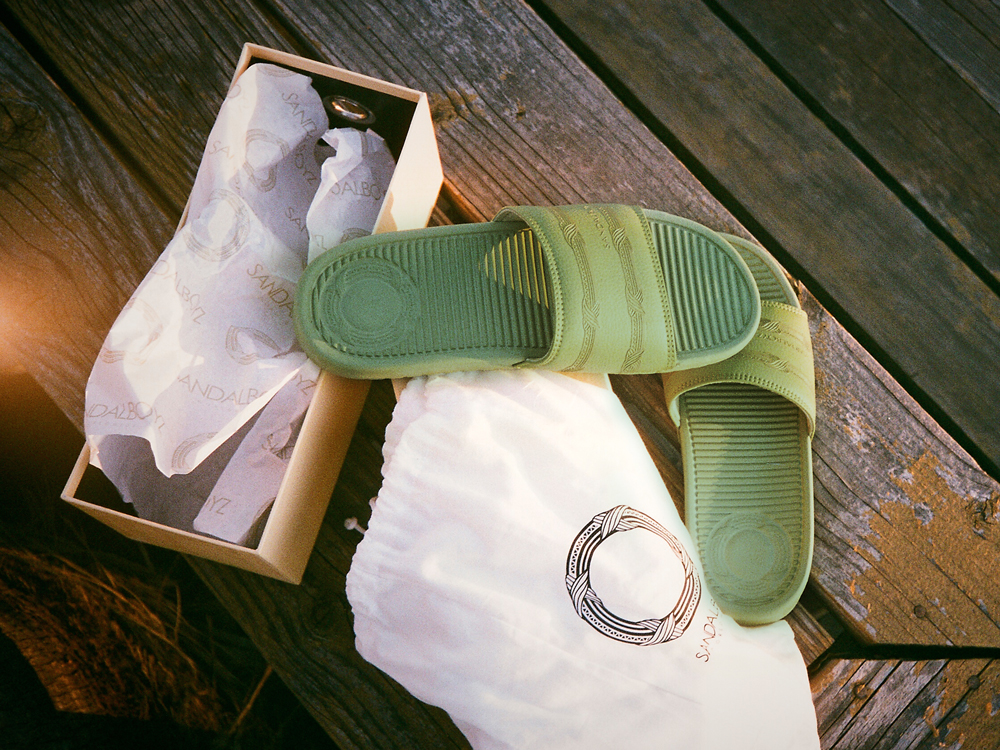 So it's 2016 and the way people are learning to start brands is very different now, as opposed to even just a few years ago. From your point of view, how do you build hype in 2016? To start, we wanted this to be a sandal movement and a lifestyle. People have always been wearing sandals. Obviously, we are not the ones that started sandal-wearing. People have been wearing sandals for years. But we just wanted to put a name on that movement and spearhead it in the right direction—kind of take it over. Because fashion trends, historically from the beginning, they're not really practical, conventional, or comfortable. So we're kind of taking an opposite approach, we have a product that's very comfortable and convenient, which is the opposite of what fashion is. We definitely want this brand to be long-lasting. We just wanted to show that this is a year-round thing. It's wintertime and we're releasing sandals, which people see as a summer accessory. It's not just a summer thing, it's not just a fad, we're here to stay. People wear this at the beach, the pool, in the house, traveling; going through TSA and sitting on the plane, it's just better to have sandals than shoes. What happened between the creation of the hashtag and IG page to the manufacturing of your first product? When we started the page, I personally just did not know where I was going with it. We just started the page for fun and it was just me, Fran, and Ray—Ray's a close friend of mine. I've known him the longest. After about two months of the page, I think we were in LA at Ray's apartment and I was like, "Dude, we should make sandals—we should start a brand." They kind of didn't think it was a good idea, but I'm Indonesian and [explained that] I have good connections in Indonesia. Then came Mikey. We've all known him for a while, but he's my favorite designer friend. We told him about the idea and he really liked it, so he came up with a logo and design. Then me and Fran flew to Indonesia, met up with my uncle at some factories, and it was a two month process. We used four different factories and it actually took a really long time because we were really, really focused on making the most remarkable product we can; we didn't want to rush the process. But now that the sandals are done, I'm really glad we took the time and we were patient with it because if we're going to be known for sandals, we need to have the best sandals out there. What types of design cues have you put into the sandal as a self-proclaimed "sandal connoisseur"? That's a good question. Mikey [Loran] is the one who designs it, and he came up with a lot of different designs [for the logo]. We definitely wanted more of a high end feel to the sandal just because that's what we're into. We tried to look for the best material, so our sandal's midsole and outsole is made of injected phylon. That process is really complicated because you need to make one mold for every size. So it takes a long time, there's a lot of little mess ups, and that's what took us so long to come out with this. But now that it's done, we have a quality product and we're very happy with it.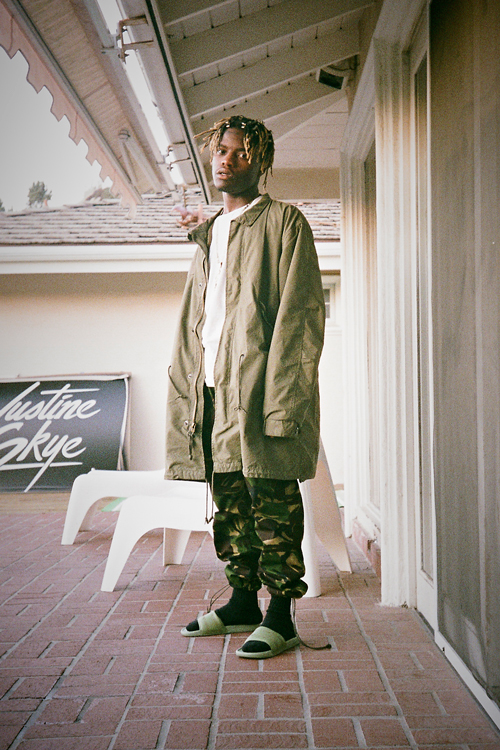 I was watching Fran's unveiling video and he was talking about how usually with slides they just come with a throw away box, but you guys were more deliberate with a dust bag and keepsake box. Can you talk a little bit more about why you decided to go that way? So since we've spent so much time making a great sandal, we didn't want to just put it in a throw away box. That's actually the first thing the factory asked us, they were like, "Oh, do you want this box?" It was a really cheap box, but we were thinking about it and we were like, "If we spent all this time making such a great sandal, anyone who buys this sandal, we want it to feel like Christmas when they're opening the package." Obviously, we know how much care we put into the product, but we wanted to show that by wrapping it. The box is significantly more expensive than a normal box, but to us, the whole process of opening the box and everything is really important. What made you guys decide to go with those colorways? We actually went through a really long elimination process for colors. The first thing we thought was, "Oh, obviously, we should make black. Everyone wants black." Then Fran brought it up, he was like, "Wait. If we came out doing black—which is what everyone expects us to do, which is what everyone is doing—two negative things will happen. One, we would be no different from everyone else. And two, no one would come back for a different color because they already got what they want, which is black." So after that—I'm not saying we're never going to make black, we will. We just didn't want to start off with it. You were saying that you don't really want to call SANDALBOYZ a streetwear brand, so I was wondering what route you decided to go in with stockists. Where will the sandals be available? Yeah, so I'm actually going to contradict what I told you before. Our stockists right now are all pretty much streetwear boutiques. Like I said, we do love streetwear. All four of us grew up on that and we still wear the brands and we're very active in the community I guess you would say. We just didn't want to call our brand a streetwear brand per se. But inside Dope on Fairfax, we're in Wish Atlanta, Brooklyn Projects on Melrose, and then we're inside Knew in Las Vegas.
***
SANDALBOYZ said to look for a restock of the Olive colorway in a few months. Pink will drop on Valentine's Day. SANDALBOYZ.com and @sandalboyz on Instagram. Follow Andrew Dharmosetio on IG at @dharmosetio.
Words by Alina Nguyen.