With everyone holding their breath in anticipation of the RSWD Invitational soccer tournament this Saturday, we figured the least we could do to ease the excitement would be to give you a closer look at the teams and their respective captains. On Saturday, January 24th, all six teams will turn Hollywood High School's soccer pitch into a no-holds-barred battleground  – with only one team rising to the top as the true RSWD soccer champions. Below, learn about each of the team captains and their official rosters for our most important invitational match of 2015 thus far. Be sure to check our their Instagrams and let them feel your support.
 FIGHT BACK FC 
Team Captain: Bobby Hundreds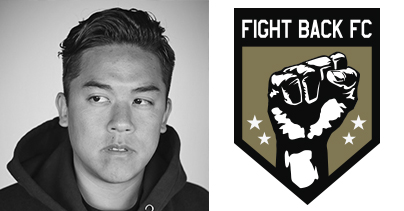 Taking a day off from his camera and computer for one day only, Bobby Hundreds takes the helm as captain of Fight Back FC; a group elegantly assembled by what he calls his own "highest sexual attraction." He plans to take "at least a few feet" to climb to the to the top ranks of this tournament. Proudly sporting the poignant slogan, "Always do the bare minimum," Bobby plans to assert his attack maneuver of "crouching tiger," and backing that up with the defense of "hidden dragon." So prepare yourself when Fight Back FC take the field, not because of intense talent, but because the captain's stealthy Hail Mary is "eating a bowl of hot chili" before he steps onto the field.
Official Roster:
Mark Modersohn
Seth Modersohn
Silke Labson
Josh Lederer
Tyler Rasmussen
Fred Serra
Tai Doan
Steve Merker
Katie Huston
Craig Scheer
ROSEWOOD RIDERS
Team Captain: Ben Hundreds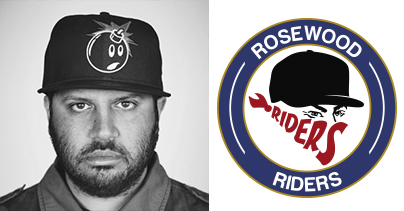 Notorious man of little words, big actions, and many names – the Burger King himself, the Prince of Persia, the barber extraordinaire, Indiana Ben, the Hostess with the Mostest – ladies and gentlemen, Ben Hundreds. Ben has taken the lead as captain of the Rosewood Riders, a team that he claims he hand-picked "by email" and is willing to take "very far," he says, "maybe the moon." At first, he refused to announce the names on his team, but word around the water cooler got out that his team is a 50/50 mixture of wanted federal criminals and star athletes, hence their inability to check in. The biggest rumor floating around is that a twin of a certain player on Bobby's team may just show up for Ben's… When pressed further for anything at all, Ben merely mumbled, "It's a secret," then kindly shared the list below. So here's to hope of seeing twins duke it out.
Official Roster:
Scotty Litel (#thetrillz)
Tony Rodriguez
Zach Schwartz
Saif
David Westfield
Micah Peters
Brian Burdue
Lizzy Huston
The Melch
MOVE MOUNTAINS FC
Team Captain: Skin Phillips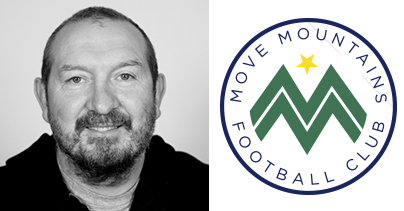 Coming in all the way from his cushiony seat as editor-in-chief for Transoworld Magazine, Skin Phillips is galloping into battle with his team, Move Mountains FC, at his coattails. Always a gentleman first, Skin claims there will be no humiliation for the other team when he wins: "Definitely not – we wouldn't want it done to us and vice versa." That doesn't mean he's not willing to travel to the "bitter end" to see this one through. "A victory will suffice," says the legend, backed up by his team of "work colleagues from the past and present." Be sure to show your support and check out Move Mountain's exclusive, even patented "score goals, stop goals" method. Check out a partial list of his team members below – which should be updated later in the day.
Official Roster:
Matthew Hensley
Mike Fitzgerald
Jascha Muller
Allen Malone
Kevin Lowry
Raul Castillo
Dan Sledd
Karyn Hintze
Patti Wiberg
Jascha Muller
Eric Sentianin
FAIRFAX FIRE STARTERS
Team Captain: Lucas Puig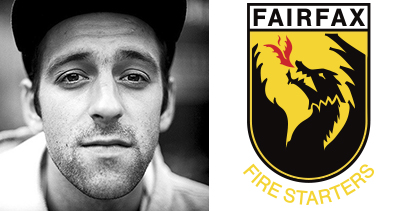 Legendary French pro skater, Lucas Puig, will be head in charge of leading to lead Fairfax Fire Starters to a landslide victory this Saturday. His advantage and preferred tactic is the fact that he is, indeed, from France – a country both better at and more obsessed with soccer than any American we've ever met. You can find Lucas and his team of ruffians taking the field through a cloud of smoke and ear-shattering gangster rap this Saturday.
Official Roster:
Mike O'Meally
Lem Villimen
Miles Silvas
Erica Yary
Eric Sentianin
Jimi Britches
HOLLYWOOD DREAMERS
Team Captain: Alexander Spit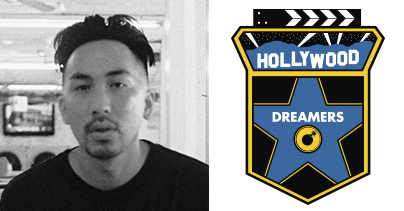 Weighing in at whatever lungs full of smoke weigh, we present proud team captain of the Hollywood Dreamers, Alexander Spit, and his merry team that he tells us "all met on Tinder." We pressed the rapper on his preparation for RSWD's most historical game and asked him how far he's willing to go to be crowned victor – his answer was, "Third base," or, "Until we get a Papa John's sponsorship." Whichever comes first. When asked about any special tactics, he responded, "My whole team has been taking steroids all month," and that, if necessary, they will secretly "spike the opposing team's water with tequila." Anything for the win.
Official Roster:
Yeraldy Hurtado
Enriqz
David Rivera
Spintelect
Jay Ughh
Chidi Himself
Brad Scoffern
Brick Stowell
BEVERLY BRIDGE BURNERS
Team Captain: Van Styles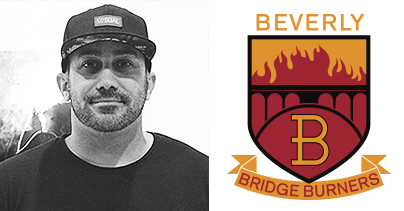 The photography legend himself, and founder behind V/SUAL, Van Styles, stands in unity with Tianna G, Michele Maturo, and more, to construct the Beverly Bridge Burners; not entirely different than Voltron. When we asked him how far he's willing to go to take the winning crown, he said, "*Insert aggressive jock statement here*." He admits he isn't trying to humiliate the other teams, and is there to "have some fun with friends." Let's see if having fun can bring home the winning title – swing by this Saturday to see some beautiful ladies in action, playing for the Beverly Bridge Burners.
Official Roster:
Michele Maturo
Tianna Gregory
Craig MacDonald
Lee Derber
Jay Larson
Alvaro Santillana
Sean Mackey
Navid Saedi
Trevor Nathanson