"You know, the other day we were talking about it and a few years ago we were like, 'Let's have rap at our show,' and the PR company we were working with was like, 'You can't do that, you can't do that.," Laurence Chandler, co-founder of Rochambeau said days before the brand's Fall 2016 runway show at New York Fashion Week: Men's. "I remember we were discounting ourselves in terms of what we could or could not do, and what men's fashion could deal with at the time. But now, there's this great grand merger of everything is one—that wasn't always the case." This season, the brand hosted battling DJ booths in the vein of Juice, the film that inspired the season's pieces.
It was a lot to take in. Rochambeau had been given Platform 1 for their Thursday time slot, which put them on the biggest stage offered. But the vibe of the presentation felt more house party than the catwalk vibes that brands like Joseph Abboud and Billy Reid brought to that space. "The idea of doing some sort of sterilized format was never of interest to us," Chandler said. "If we're going to do a show, let's do a show."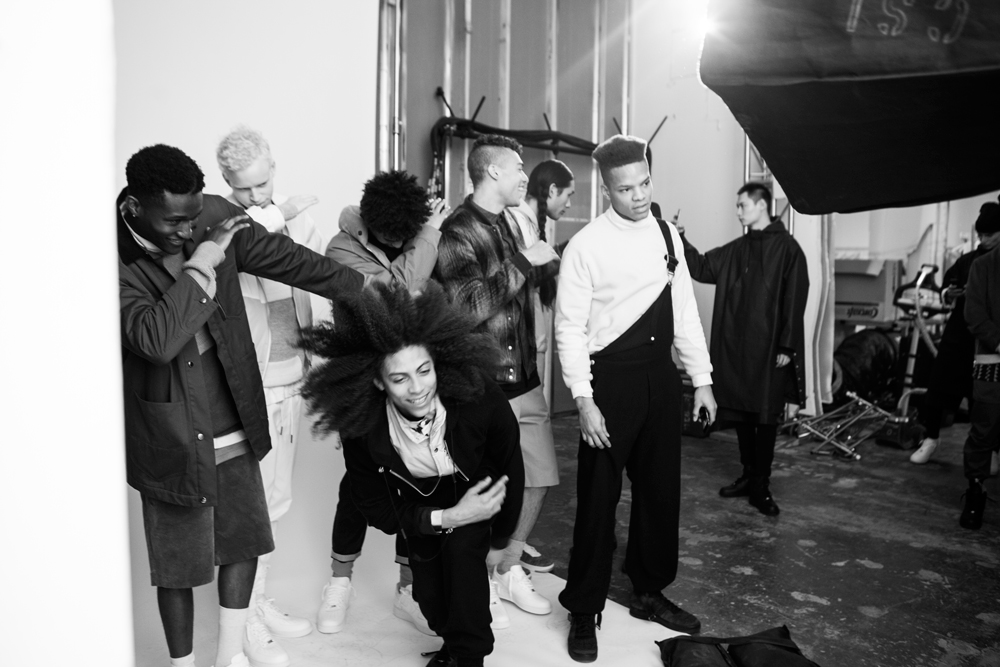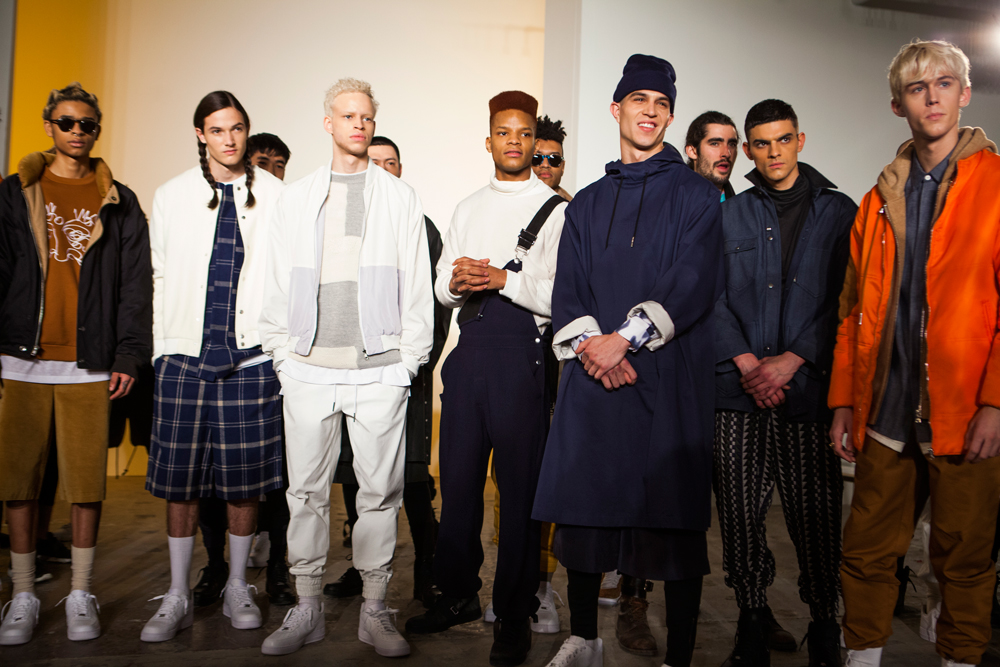 Rochambeau was started in 2007 by Chandler and Josh Cooper, friends from college. "We went to school for living in New York," Chandler laughed when asked what they studied. According to Cooper, the pair bonded over their love of sneakers (he later admitted that he originally was studying business, failed math, and ended up with a communications degree) and from there started their friendship. But while studying wasn't their top priority, their future was.
The duo started politicking. "When some people go off and go to school they decide 'I'm going to go to school, doing whatever people in college do!' We decided, we were going to spend our time building a business," Cooper explained. "Meeting people in New York, learning from people and being inspired by people. Like hitting the ground and making relationships." Those relationships and that hustle have paid off.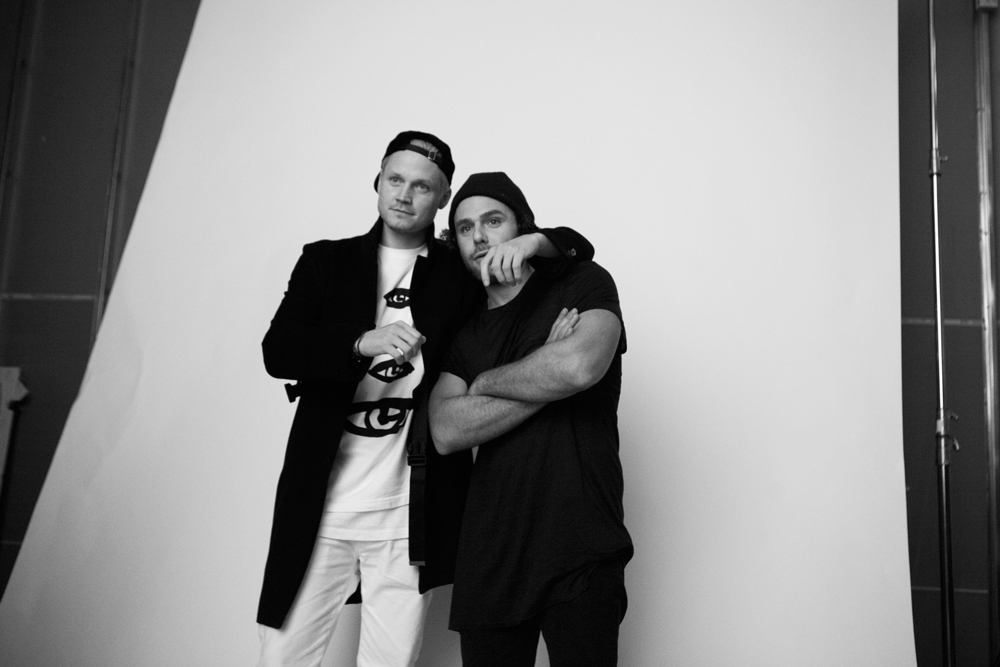 Laurence Chandler and Josh Cooper.
Though neither Chandler nor Cooper have design experience, they leveraged their network and early on they worked with creative director Michael Venker, who had logged time at Marc Jacobs and Helmut Lang after winning a design award from Parsons. Other people they've sourced from their networks? Show performers. "Most of the stuff that we do is through our resources, it's through the people that we are either inspired by or we have relationships with," Chandler explained when the conversation turned to last season's show which featured the band Prayers. "That show really gave us the opportunity to see what it was really like to produce a show. The CFDA asked us to do the show two weeks before so we just called them up; it's like no levels of management, it's just a phone call."
For the most part, that's how last week's show went. For the show load in, the team backstage all seemed familiar with one another, working efficiently and effectively to set up the two DJ booths. The day before Chandler was busy on the phone setting things up. "I really need that man, we are shooting a lookbook backstage now so it's important that we have it." It was efficient by necessity, scrappy by origin, and increasingly effective. But it's been a learning curve.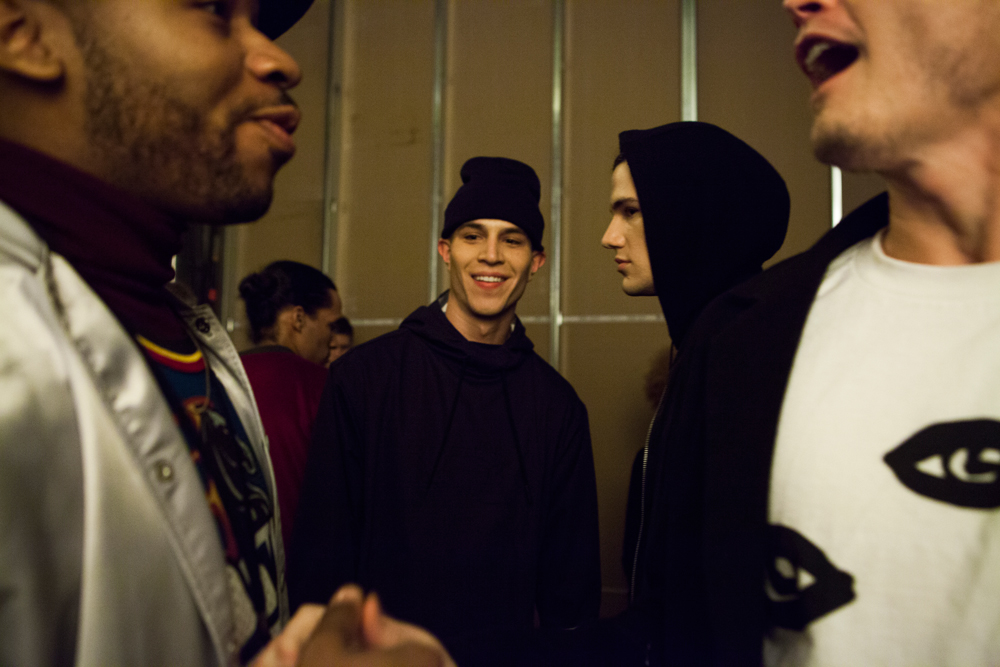 "You know, the thing is, [when we showed during women's week], the people used to come and support us more than editors," Chandler said.
"We've had editors who have emailed us comments like, 'I can't come to your show, there's too many people, there's smoke. The music is too loud,'" Cooper continued. Couple the lack of editorial support with the fact that the United States makes up their smallest market commercially, and the brand was ready to pull up stakes and show elsewhere. In fact, the label was already in conversation with the British Fashion Council to jump ship for London Fashion Week when the CFDA approached them about starting a New York Men's week. But hopefully, the latest range will find more commercial viability.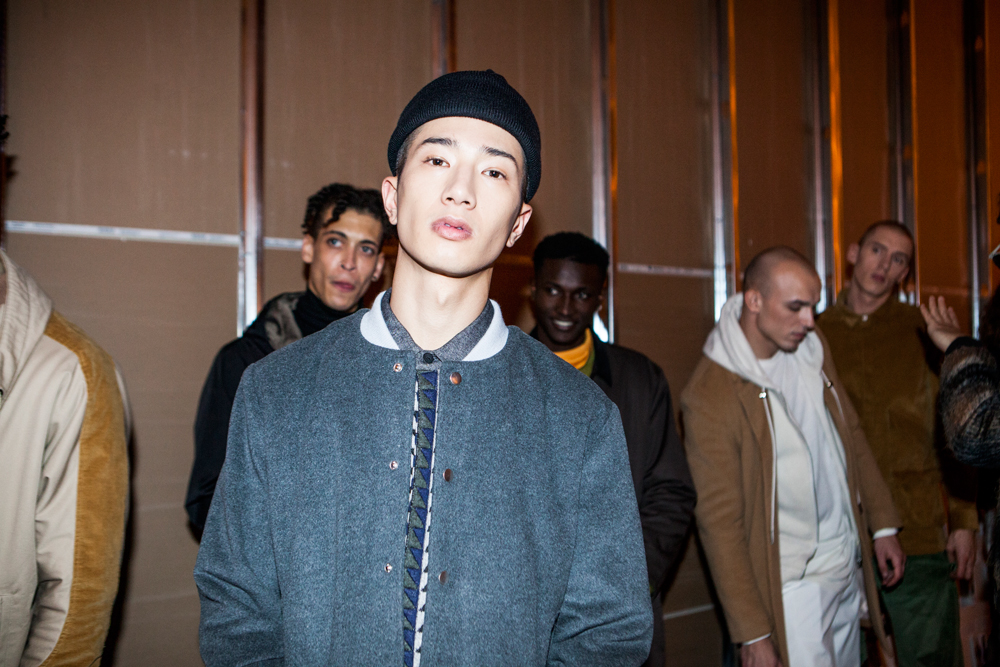 "Our biggest driver [now] is Asia," Chandler said bluntly. "The hurdle right now is the major department stores in the US." This latest line was chock full of classic menswear with thoughtful, consumer-driven updates. Double band crew-necks come with soft velour linings, a stand out angora coat features embroidery on the inside, only visible to the wearer and utility focused secret pockets are ubiquitous. Sure, the music at the show was still incredibly loud, and yes, the aisles of the show were packed in ways that most PR agencies will not allow, but the pieces deserve attention.
And hopefully, after eight years of hustle, they are about to get it.
***
ROCHAMBEAU.NYC. Photos by Cyle Suesz.