New York's known for many things: the music, the people, the landmarks, the style, the food, and the nightlife. The latter two aren't things most would think go hand in hand, but in New York, a night out either begins or ends somewhere over a good meal. Pizza's my go-to most nights if I'm out and about – it's fast, cheap, and almost always good, depending on where you get it. Rizzo's has become my favorite spot in the Lower Eastside as of late. The slices are fresh and delicious, the pies are just right, and if you do venture in, make sure you ask for the garlic – they literally melt in your mouth, they're divine!
For about 55 years, Rizzo's has been a family-owned and operated function, currently run by David Rizzo, the son of the late founder Joseph Rizzo. Coming from an old school artisan pizza way of thinking, David's used to pizza-making, not marketing: "People respond to trends, and to hype, a lot more than I'm used to. I'm coming from a store that established itself on the quality of its product, and nothing else," says David. So recently, when former club owner and nightlife promoter Bugsy came on board as part-owner of Rizzo's LES and Rizzo's Upper Eastside, he's brought in a different dynamic to their old school NY flavor, and shown them the ropes in new school promotion. Below, I chat with Bugsy and David Rizzo – it's a New York story of legacy, good eats, and adapting to the changing times with some teamwork and elbow grease.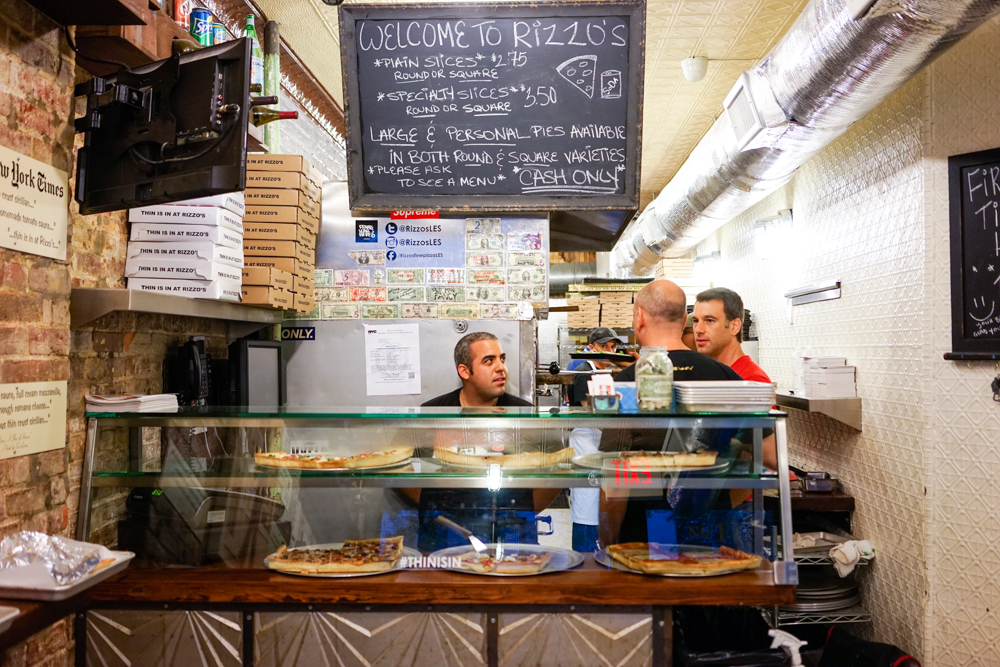 Where are you from and what do you do?
Bugsy: My name is Bugsy and I'm originally from Ukraine – Kiev to be exact. I am a former nightlife entrepreneur. Currently dabbling in the pizza game, trying to build up a pizza empire here with my partner, David Rizzo.
David: David Rizzo.
Bugsy, how are you associated with Rizzo's and how did that come about?
Bugsy: Part owner of two Rizzo's – one in Uptown, Upper East Side, and Lower East Side, along with my partner, David Rizzo and the Rizzo family. I used to work in a nightclub called Le Pomme, with David's niece. For years she was telling me how legendary the pizzeria [was] that her family owned in Astoria, and she encouraged me to meet with David to possibly invest and take the brand further. Three, four years later, here we are.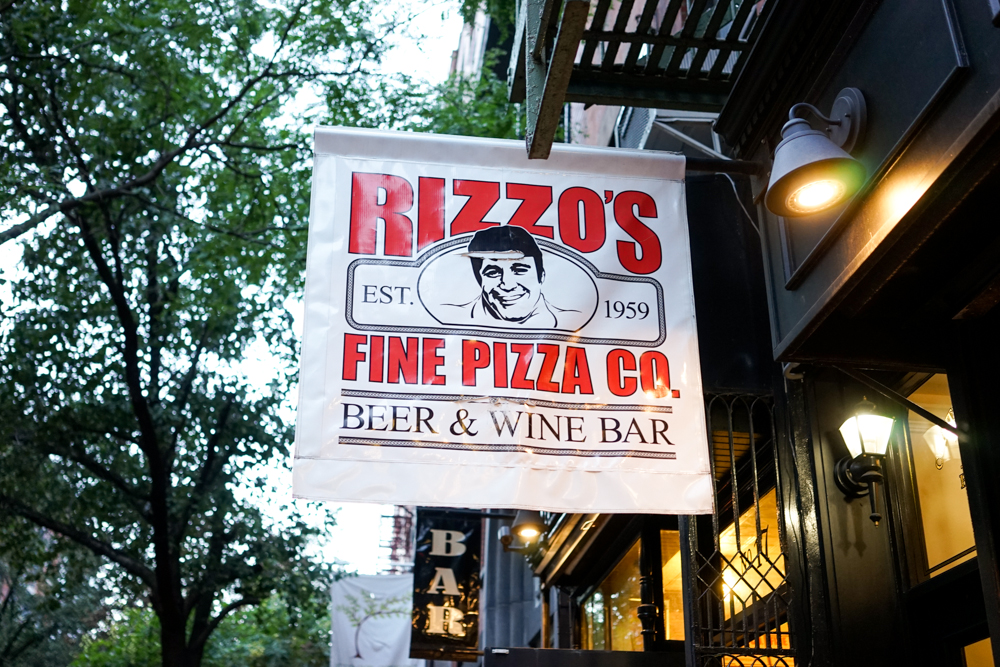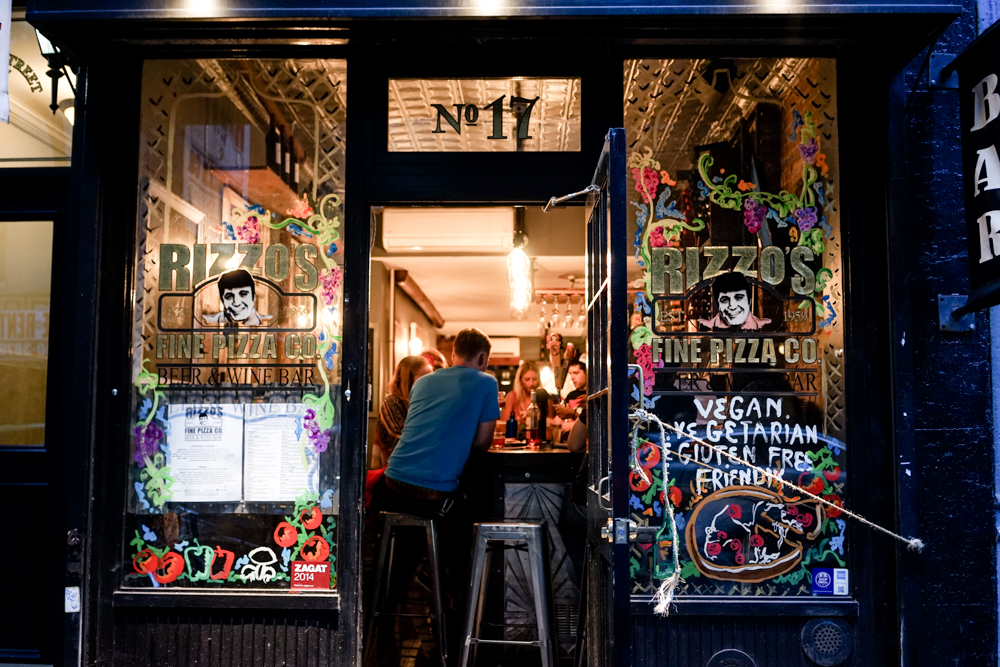 Beer/wine bar next door.
You're attached to a lot old New York night life, Soho 323, meatpacking district, Bill Spector, Smac Entertainment, Roxy Cottontail, to name a few, can you talk briefly on that?
Bugsy: A 22-year career in nightlife, [I] did a lot of things – promoting parties at first, after which I became a doorman. I started Roxy (?) out in the business. She actually calls me her "club dad." I've worked in most clubs five or six times over, and I'm semi-retired from the nightlife game now. Began building the brand, Rizzo's pizza.
How have those experiences helped you now with Rizzo's?
Bugsy: I guess they just made me [a] well-rounded individual, dealing with so many people, so many personalities… dealing with so much crap – excuse my French – for 20 plus years, got me prepared for going further in the restaurant game.
The hospitality game got me prepared dealing with different personalities and having to be nice to everybody. Reading peoples' minds and catering to their needs and wants.
David: He's great, people like him. Honestly.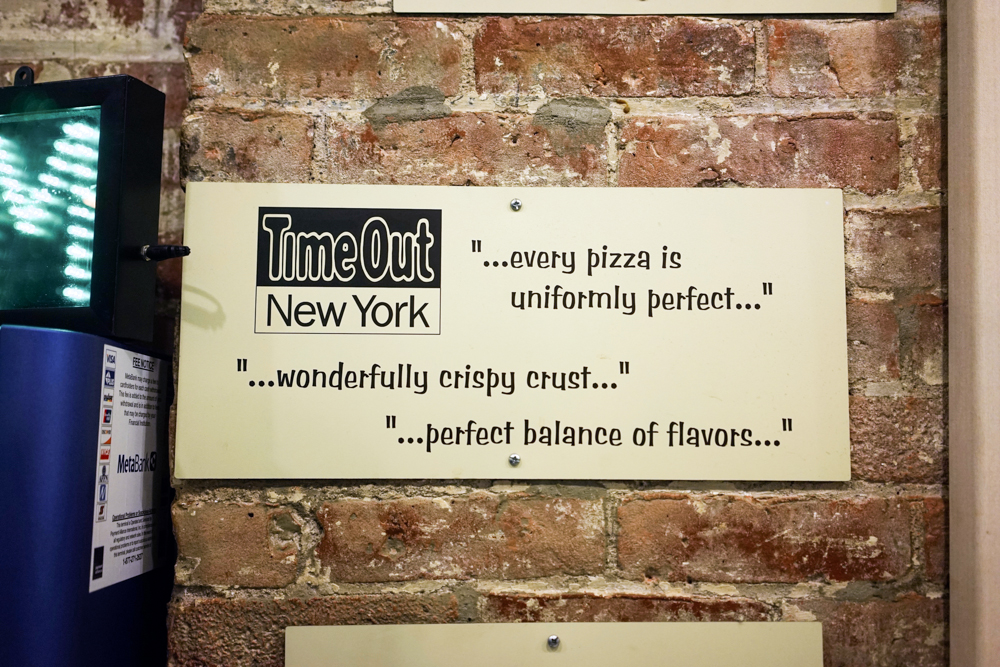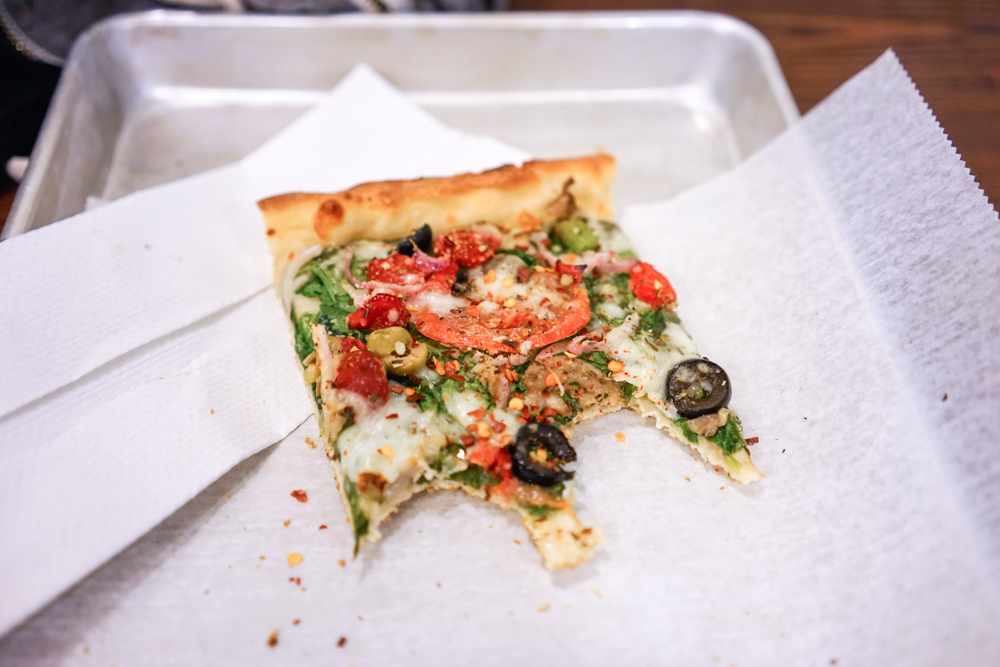 Rizzo's has done a few collaborations, more recently Ricky Powell, can you speak on how you pick them and which are some of your favorites? Any you want to do in the future?
Bugsy: That's the beauty with Rizzo's. We do a lot of collaborations. We let people come in and create their own pie, and we do a party around that. Ricky Powell is a good friend from a long time back. A very colorful character. It was a pleasure collaborating with him on that one.
Also, NA from Deadline, we did a collaboration with him, which was a lot of fun. He's a great kid, and I've known him literally since he was a little kid. It's nice to see him grow up into a positive young man.
We have quite a few in the works. Obviously, we would love to do one with The Hundreds that would be great. Queen Majesty – we did a collaboration with her hot sauce… Trying to do it with everybody, as many people as possible.
David: I'm open to pretty much anything. I think it was a nice idea. And you have to be creative. It's a creative environment. It's not something that I ever would have considered. I hadn't even thought that people did such things. Once he [Bugsy] explained how it works, and we did it the first couple [of times], I liked it.
Bugsy: It's nice to involve the neighborhood and artistic people. Helps them be artistic in a different arena.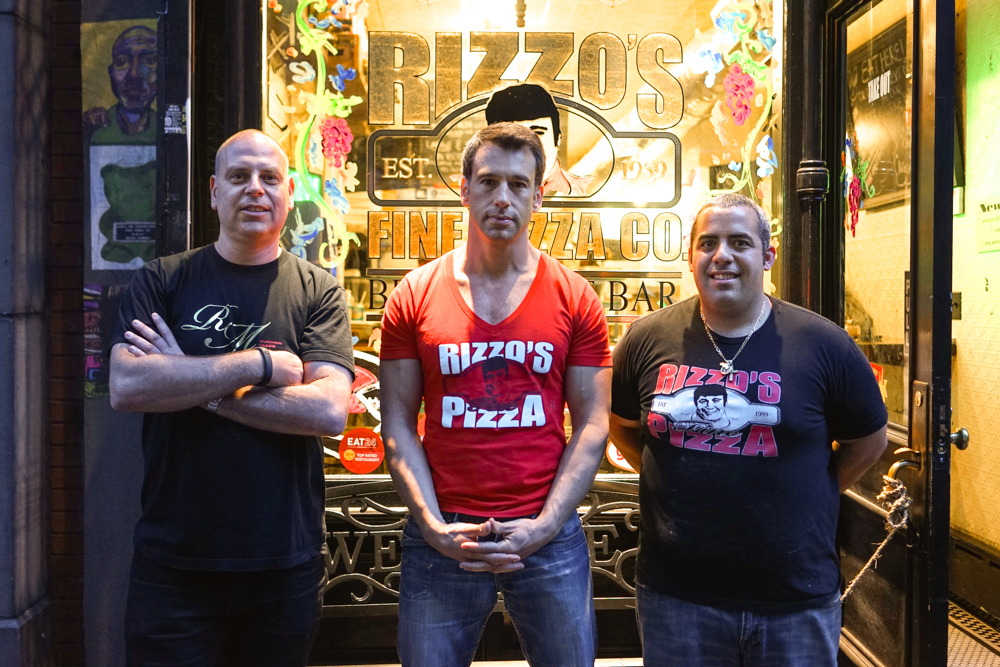 Bugsy, David, and Frank.
Can you give any advice to someone out there who may want to open or buy a restaurant/eating establishment?
Bugsy: Just be prepared. The restaurant game is a very very tough game. You have to work day and night and you have to really love what you do.
David: Consider that's the toughest arena there is. Highly competitive, saturated, everything's been done multiple times. To me, the most frustrating aspect of it, coming from a place that's well-established, is the idea that you have to market so aggressively. And that people respond to trends, and to hype, a lot more than I'm used to.
I'm coming from a store that established itself on the quality of its product, and nothing else. No PR, no advertising, no marketing – nothing more than just good pizza and good service. The idea that there are a lot of guys out there, not just in the pizza business, but across the board that are… selling things that aren't necessarily bad, but aren't necessarily discretional either – but they've got the right amount of hype behind them. I've been disappointed repeatedly in this area, by any number of dessert places [and] food – not pizzerias. I've also been pleasantly surprised by hole-in-the-walls that nobody's ever heard of, and nobody likely ever will hear of. But, they're selling great stuff.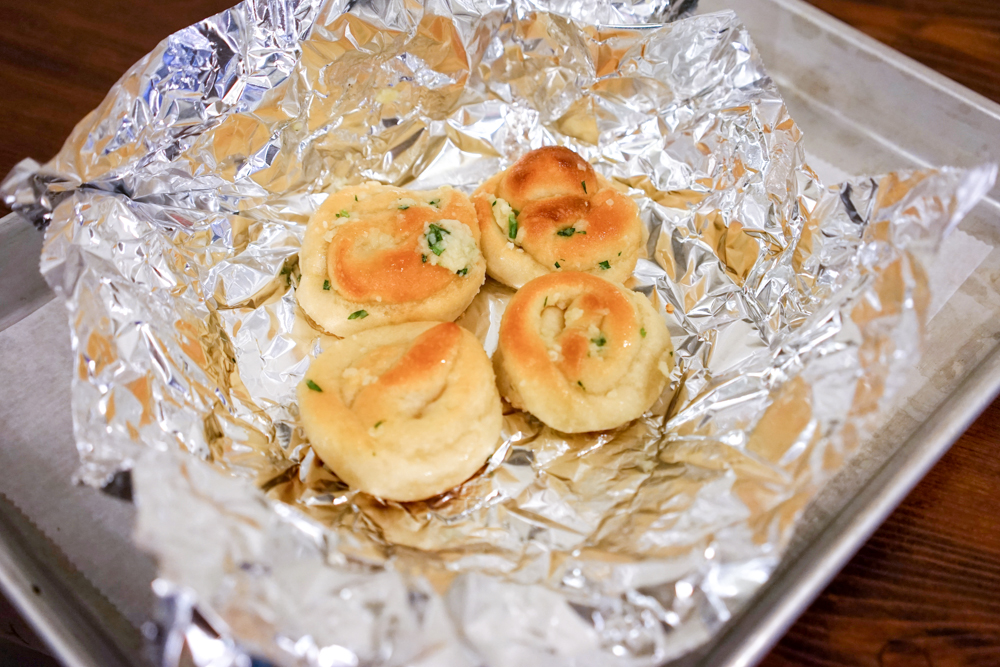 The amazing garlic knots.
We read that the location on Clinton "just felt right" – what was it about that spot and that area that clicked?
David: It shares very much the same [feel]. A lot of young, artistic, bohemian, open-minded – just people who are looking for something different and are eager to try, and also that'll spread the word if they like it. They'll support you if they're okay with what you do.
Bugsy: Our philosophy is that you don't have to pay an arm and a leg for a good meal. And that's what's reflected in our restaurant.
Who designed the layout of the restaurant – how would you describe the ambiance to someone who's never been there?
Bugsy: The layout and the design, we just kind of winged it. As we were building the place out, whatever felt right, that was our strategy basically. It wasn't anything that we planned ahead prior to construction.
David: With in-store, we worked more with what the architecture and the materials already provided us with. It's a typical Lower East Side joint – old-fashioned tin ceiling, tin walls. We wanted to keep it as informal and rustic as we could.
Final words?
Bugsy: We just wanted to thank you, Pete, for hooking this up. This is a great honor to be on the The Hundreds. We're looking forward to it and looking to do some big things.
David: I don't know where we'd be without Bugsy, honestly. Because I don't know anybody, I don't go anywhere, if not for him, we have really no connections here. We'd be lost, as it is with strangers on the block. Which again, is new to me, because I'm used to the store that's been up and running for 55 years. Everybody knows who we are. Coming to a new neighborhood, and he's getting a foothold, because my partner [Bugsy]. Nobody has anything bad to say about that guy.
::