On February 17, I stood in a gallery with Eric Wareheim, one of my favorite all time Bravolebrities (RIP Gallery Girls), and over 600 neon signs depicting slang words for vagina. It was the preview of the first major Los Angeles exhibition devoted exclusively to the work of the late artist Jason Rhoades. Two days before the press preview, LA art insider Khoi Nguyen wrote on Facebook: "are you going to the jason rhoades opening?" is the new "are you going to coachella?"
From February 18 to May 21, the Hauser Wirth & Schimmel gallery in downtown LA will house six major works created from 1994 up to Jason Rhoades' death in 2006. The frenetic installations spread over 28,000 square feet and include titles like: "Swedish Erotica and Fiero Parts," "The Black Pussy… and the Pagan Idol Workshop," and "Tijuanatanjierchandelier." While more famous in Europe, Rhoades spent most of his career in Los Angeles; he died of heart failure caused by a suspected drug overdose at premature age of 41.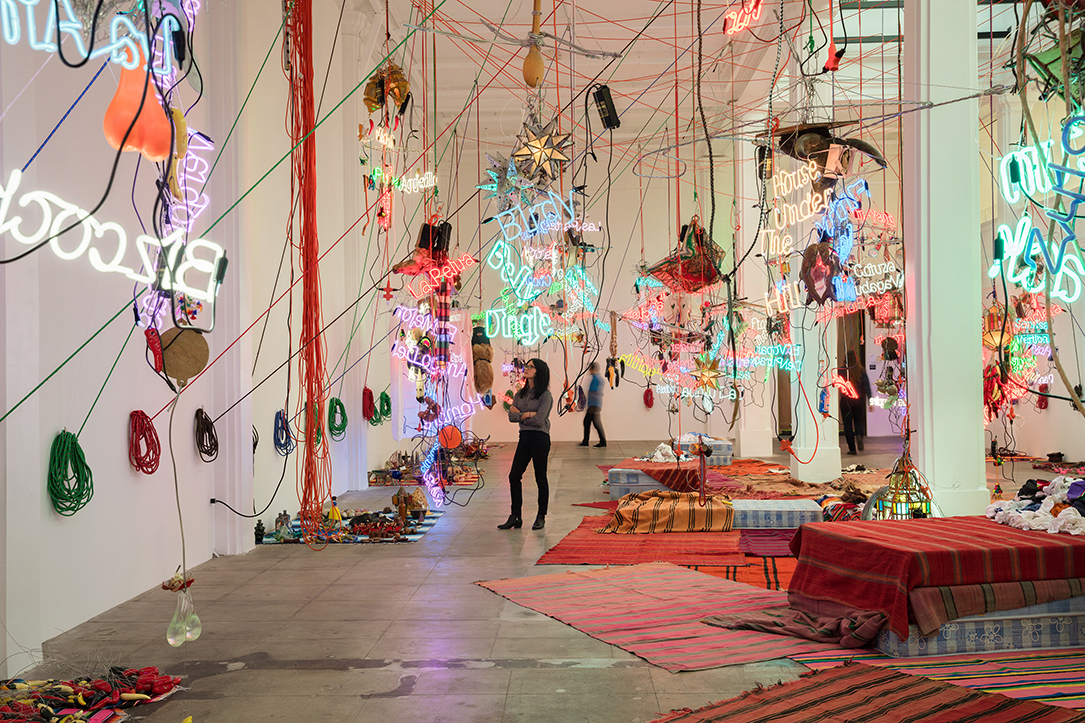 Above and below: Installation view of Tijuanatanjierchandelier, 2006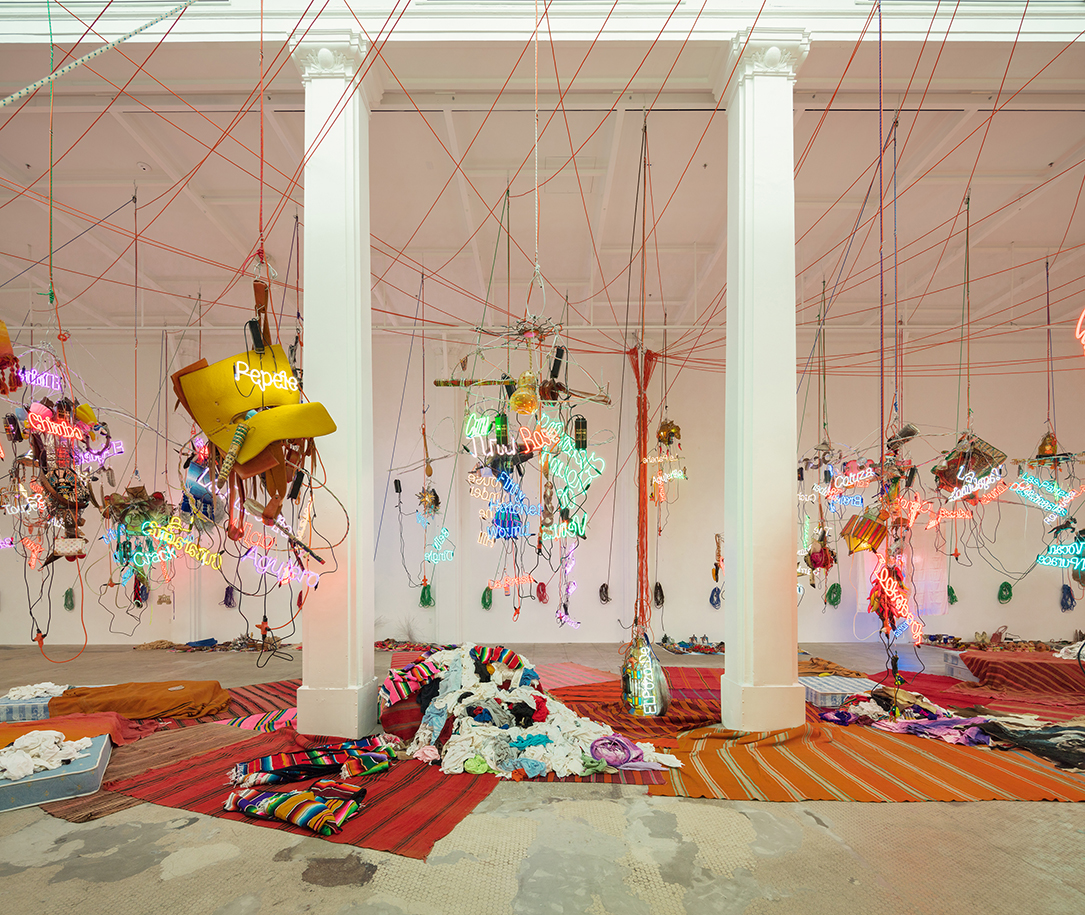 When I first told my editor I wanted to cover the Jason Rhoades show, she told me she felt "weird" about a white male artist making making vagina-inspired art. Frankly I was embarrassed this hadn't occurred to me; I had been hypnotized by the artist's mesmerizing tangles of neon glow (and, well—he had me at "vagina"). Yes, Jason Rhoades is a provocateur brazenly showcasing the what society tells us to keep quiet. He's pushing buttons, but are they his buttons to probe?
I've always been suspicious of mass culture, particularly when it's deemed "the new coachella," and particularly at this moment. Adele just beat out Beyoncé for a Grammy. La La Land won a Golden Globe over 20th Century Women, and almost beat Moonlight for best picture. The American public elected Donald Trump president. The tastes of the masses are more perplexing than ever. When my editor cast doubt on Rhoades, I wonder whether I'd been fooled—is Rhoades just another member of the tone deaf cultural zeitgeist?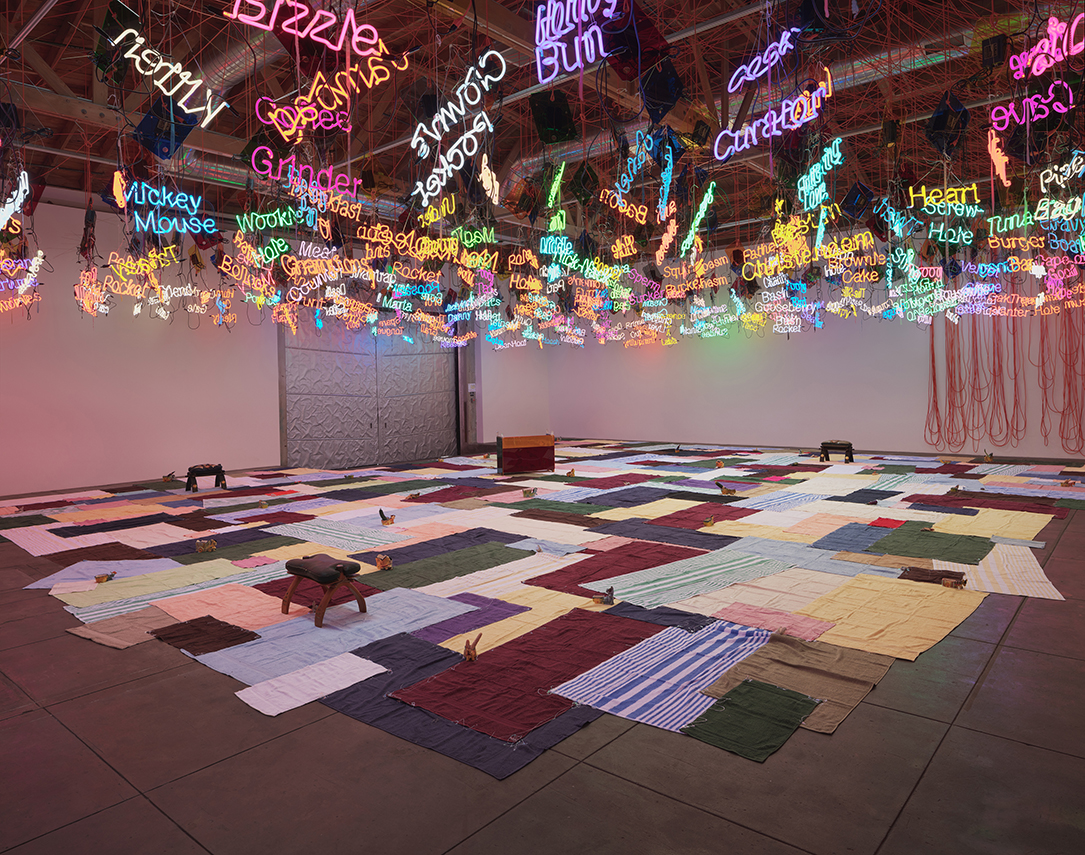 Above and below: Installation view of My Madinah. In pursuit of my ermitage…, 2004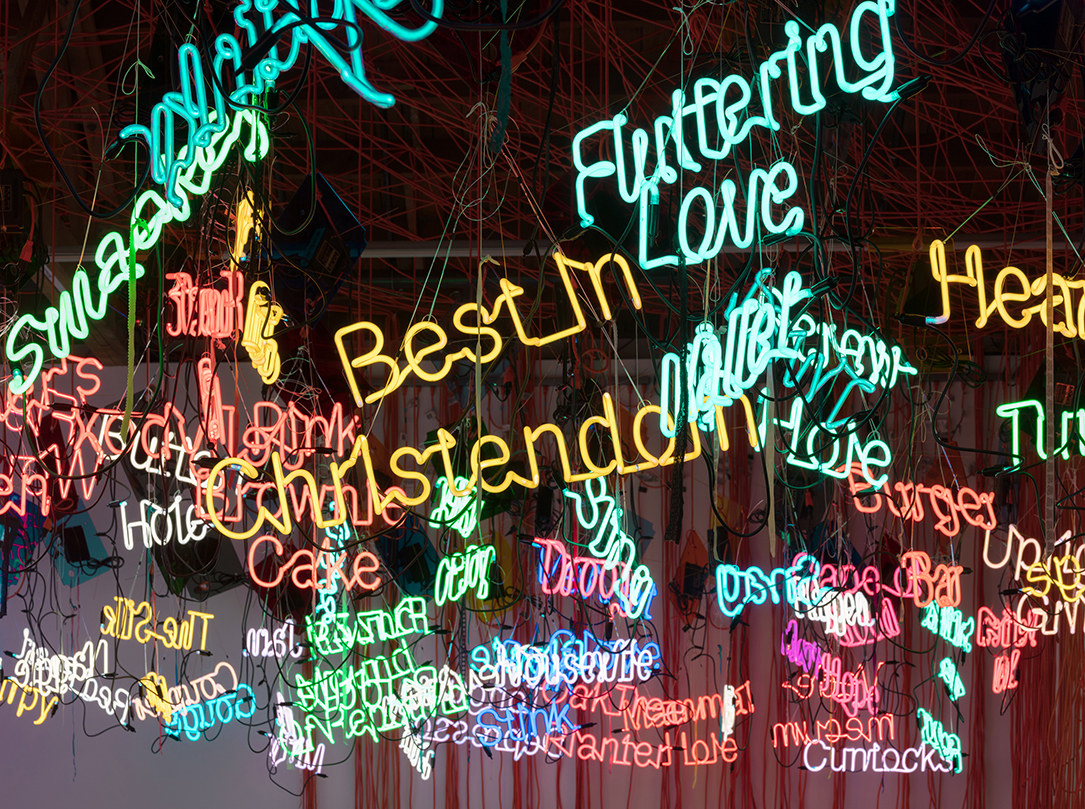 Rhoades would probably be fascinated with the idea of me sitting alone in my apartment twirling my hair and trying to figure out whether he's the problem, the solution, or whether he even matters at all. The LA Times wrote in Rhoades's obituary that he regarded his public perception "as an artistic medium itself[,] to be manipulated just to see what might happen." If someone misunderstood his work, his former assistant told the Times, "[h]e would let misconceptions sort of bubble and grow; he was fascinated by the myth that surrounded him."
The public uniformly deemed Rhoades a "bad boy"—The Guardian called his work "all-American, sex-obsessed, psycho-babbling, LA bad boy art." But his mother Jackie insisted that Rhoades was merely poking fun at the public obsession with cars, sex, and consumption. "[I]t appeared to us he was laughing," Jackie told the LA Times, "because the world was so taken with that stuff." Much like Andy Warhol decades earlier, Rhoades made work that acted as a cultural echo—replicating cultural obsessions and throwing them back at the viewer with bold force. As the Warhol-managed band The Velvet Underground sang in 1966: "I'll be your mirror, reflect what you are, in case you don't know."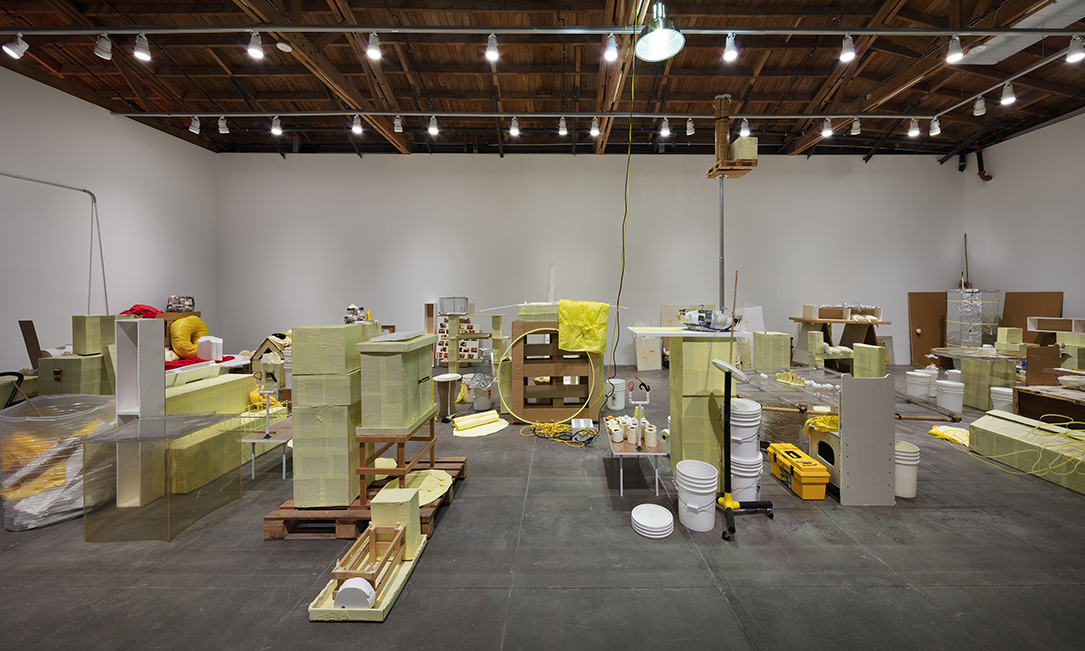 Installation view of Swedish Erotica and Fiero Parts, 1994
Rhoades angered feminists with his obsession with synonyms for vagina—over his life he collected nearly seven thousand slang words, incorporating 600 of them into his elaborate installations. Making matters worse, Rhoades resembled "an American kid ready to drink a beer at the Super Bowl." But Mousse Magazine explained that Rhoades's motive was not to be shocking or disrespectful; rather, "his task was to imitate and replicate to infinity the lowest and most disgusting elements of American society." The America he represented was an "all a white and male and blunt America, an America that runs on empty, without understanding, just like a single machine." And Rhoades's work was replicate it, exaggerate it, and reflect it back at us in its most grotesque.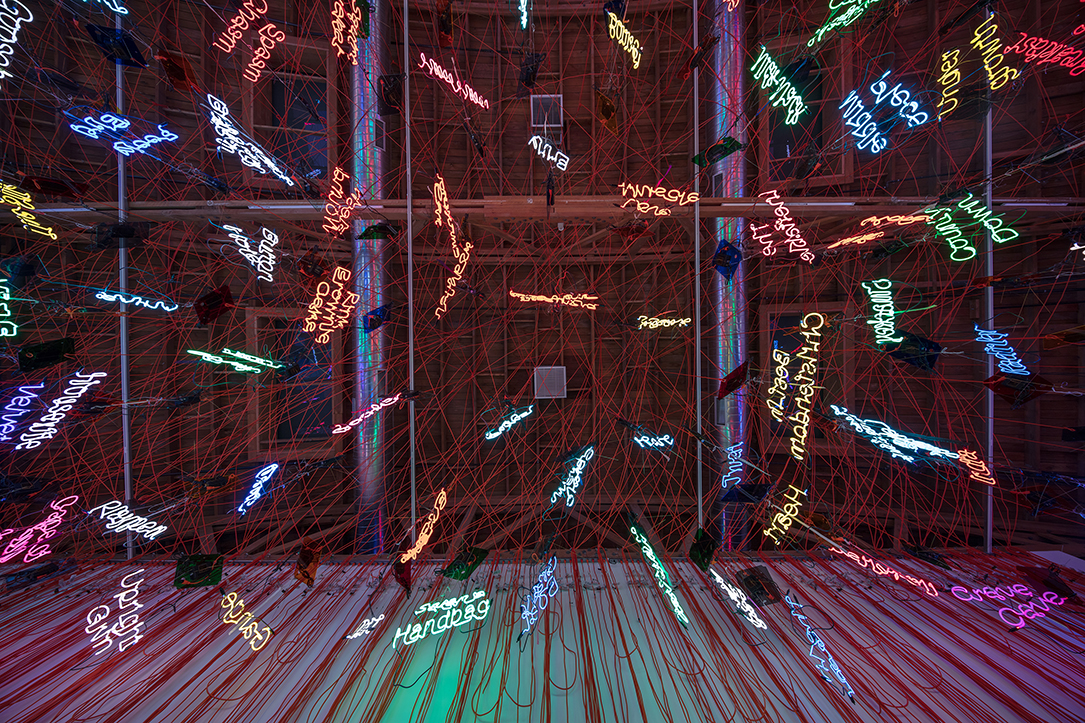 Installation view of My Madinah. In pursuit of my ermitage…, 2004
Art critic Robert Ayers posited in a 2008 review that the reason the public was uncomfortable with works like "Black Pussy" (easily the standout piece of the show) is not because they were distasteful, but rather because "Rhoades puts misogyny and racism front and center rather than subconsciously burying it and denying it's there." This feels important in an era in which people are slinging around the term "racist" and "sexist," as if accusing others disassociates the words from ourselves, as if we aren't all swimming in the same pond. Appropriately, some installations in the show are uncomfortable to look at—the neon signs emit a blurry glow that renders the viewer dizzy and disoriented.
And over 10 years after his final piece, Rhoades's work still feels culturally reflective. While his death briefly preceded the explosion of the internet, looking at his glowing maximalist mazes, I can't help but think of Twitter—chaotic, overwhelming, yet replete with Easter eggs. Rhoades considered his separate works to make up one, continuous, ever-changing whole. "If you know my work," he once said. "you know that it is never finished." Like the internet, it is infinite. And the way it continues to find new contexts after the artist's death speaks to its perpetuity.
***
Check out Jason Rhoades's hypnotic installations until May 21 at Hauser Wirth & Schimmel.