Listen up, this is no casual Friday. Lots of things to address. First of all, the end of the week means new music. Rick Ross is about to let Port of Miami 2: Born To Kill loose, and just released a new single to whet everyone's appetite for some lemon pepper-level rap. Check out "Act a Fool" featuring the legend, Wale. Ah, hearing these two trade bars again brings me back to… SEE, that's what we're not gonna do. Stop comparing to old stuff, that's what gets you quote tweeted by Wale.
Speaking of DC's finest, Wale has been on a tear lately, dropping three new loosies for the people in the last few weeks. He's what expert would refer to as "in his bag" and with Summer finally here, it's the perfect time for as much new Wale as we can get. So, please unleash the new album, Folarin. You know, whenever you're ready, but preferably sooner rather than later.
And if that wasn't enough reason to give Wale his Nike SB Blazer Lance Mountain English Roses while he can still smell them, he'll also be hosting our biggest event of the year on Tuesday in LA.
As you know, Bobby's book This Is Not a T-Shirt will finally arrive worldwide on Tuesday, June 25th. To celebrate, we're throwing a huge book release party… at the bookstore. That's right, wear your cleanest pair of reading spectacles and get yerass to Barnes & Noble at The Grove in LA on Tuesday at 7 PM.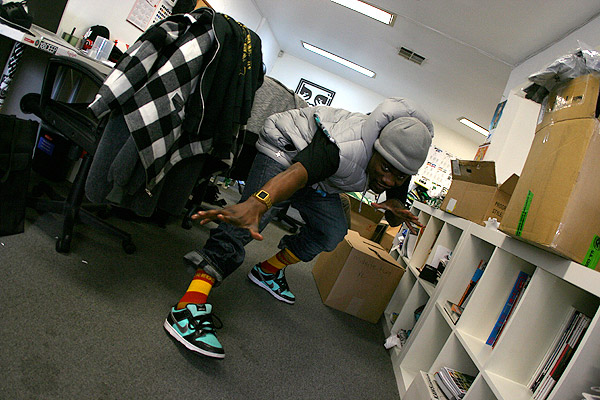 Bobby will be doing a live Q&A, hosted by our guest moderator Wale, where the two will rehash classic streetwear stories, as well as answer questions from fans in attendance. In addition, the first 200 attendees who buy a copy of This Is Not a T-Shirt at Barnes & Noble that night will receive an extremely limited run This Is Not a T-Shirt T-Shirt for free. Can you tell we're excited? If you miss out on a t-shirt, don't trip, because Bobby will also be signing books for everyone that picks up a copy at the event.
RSVP below to let us know if you're pulling up. To confirm, free event with Bobby and Wale, free T-Shirts, chance to be first people in LA to have Bobby's book, and get it signed — plus all the free knowledge nuggets you'll pick up during the Q&A. Come hang out with The Hundreds team and celebrate the release with us!
***