Comedian Lil Rel Howery is no stranger to being a hometown hero to his native Chicago after a string of successful stand-up specials like Netflix's RELevent and his role as the brash, boisterous older brother in NBC's The Carmichael Show. But after the triumph of Jordan Peele's horror-thriller Get Out managed to tap into the zeitgeist in such an unprecedented fashion, Howery—who plays sharp-witted TSA agent Rod Williams and best friend to the protagonist—has now found himself being discussed within a much broader scope after his show-stealing, breakout performance: as a national treasure.
Howery's Rod not only provides some much-needed comic relief to the unsettling racial terror unleashed in Get Out, he's also a surrogate for the audience: he says exactly what we are thinking and what we wish we could yell at the screen to help the characters avoid their impending doom. As the wisecracking but always perceptive everyman, Howery has breathed new life into a genre that often lacks fully realized, rational supporting characters and sidekicks. Rod provides a modern spin on the Greek Chorus. Think of him like Jamie Kennedy's Randy in Scream—except much more intelligent, authentic, and human (and someone who actually survives!).
Lil Rel took some time out from his shooting schedule for season three of The Carmichael Show to chop it up with The Hundreds about the success of Get Out, working with Jordan Peele, and creating a new and instantly iconic cinematic hero.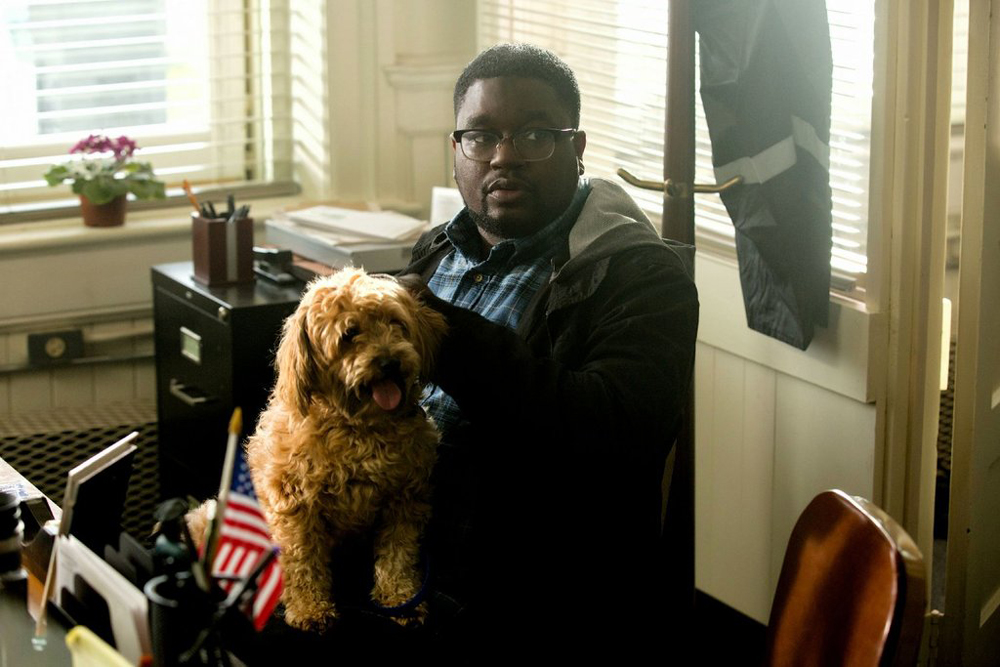 ERIK ABRISS: So how did this script fall in your lap?
LIL REL HOWERY: Jordan and I had met a few times, and we had a conversation about this movie at a party a while back. It was brief. He just told me he wrote a horror film and there might be something in there that would be good for me. Maybe a couple months later I received the script from my agent and manager. I read it and I was like, "Oh, I gotta be a part of this!" [Laughs] I read it and told myself, "Rel, you gotta book this." I didn't care who else was going after it. And sometimes I may not take everything seriously that's sent to me. But this was different. I immediately knew I wanted this.
We saw how masterfully Get Out was executed onscreen, but did you ever have any concerns when you initially read the script? Like: what if we don't get this right?
Nope! It's funny you ask that, because you'd think so, but there really wasn't anything that concerned me. And I think the reason is, the way I grew up, I'd always hear about stuff like this anyways. It was like Guess Who's Coming to Dinner? and what people really think might happen to you. I was immediately down for this project. There was just something so original about the story. Even with my character Rod, for him to immediately be like "nah!" [to the suspicious events unfolding onscreen], like, rarely in a movie do you see a character so aware from the jump. He was like, "Hey brother, you need to get the hell out of there!" [Laughs] I had never read a character like that before, one that represents the audience and their exact feelings so truthfully. It was a no-brainer.
What kind of conversations did you have with Jordan when fleshing out your character Rod the TSA Agent?
Jordan and I were having dinner after I booked the role and we just talked about my character for about 3 hours. One of the things he kept telling me was, "You have this realness about you, whether it's how you deliver truth in your stand-up or in The Carmichael Show. Whoever plays this Rod character has to be real to people." It was all about honesty.
It's funny, now when I get interviewed people always ask me if I was freestyling or improvising my dialogue. I mean, of course there were a few lines I threw in there but it just comes down to my delivery and the great writing from Jordan. That's just showing you guys my acting ability. If you think it felt that real—that I was just freestyling the whole movie—that must mean I did a good job of making it feel so natural. And that's why Jordan said he wanted me for the role. He needed these situations to feel real to people.
"Racism is horror. It is terrifying on its own!"
To call the commercial and critical reception to Get Out "a success" would be to wildly undersell it, with its $33 million opening weekend and damn-near perfect score on Rotten Tomatoes. Why do you think this film is resonating so deeply?
You know something? When it comes to the horror genre, I just think it's been so long since we've seen something this well written and not overdone. People tend to overdo these types of films. Jordan did a great job of finding horror, not in blood and guts, but in real-life racism. Racism is horror. It is terrifying on its own!
I have to praise Jordan. Sometimes people forget that simplicity is the best way to go when it comes to art. I mean, he could've gone crazy with the writing and had cars blowing up or Walter running and jumping over the house on some supernatural shit [Laughs]. You know what I mean? Reality is scary enough, and Jordan tapped into that. That's why Get Out works so well.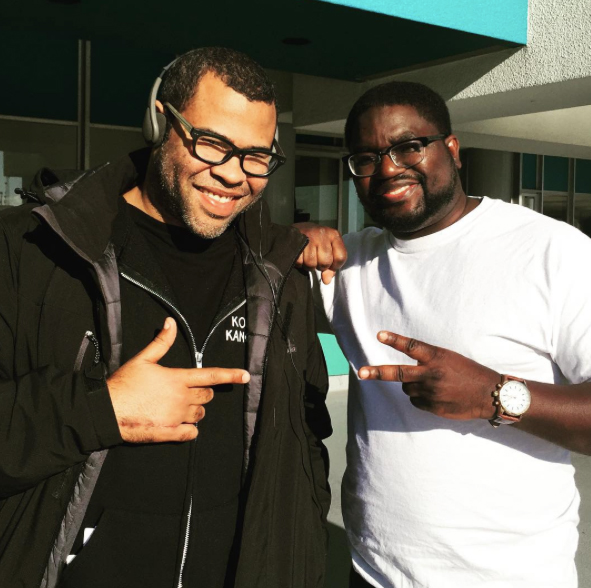 Jordan Peele and Lil Rel
What are you most proud of with this film?
I am honored to be a part of this amazing renaissance that's going on with black actors, black creatives, black directors, and writers. Look at Hidden Figures, where we get to see these amazing women who, without their help, America would've lost the space race, you know? These are heroes that young black audiences are getting to see and celebrate. Same thing with Moonlight. Hollywood loves to paint the dope dealer as the worst person in the world, but in Moonlight you get to see him as a human being, and it alters people's perception.
"This was a low budget film. It wasn't about the payday—it was just great art."
I'm just excited to be, along with Jordan, part of this new amazing group of voices. It's even on television with The Carmichael Show and Jerrod Carmichael, or Donald Glover and Atlanta, or Issa Rae and Insecure. It's just so many amazing black voices out here and everyone is creating such amazing art. And I'm a part of that! I'm truly honored to be a part of this talented movement.
It was just announced that Jordan intends to make an entire series of horror films that tackle "social demons." Does that mean we will be seeing more of you in the Peele Cinematic Universe?
Man, I want to be the Denzel to Jordan's Spike Lee, or the Samuel L. Jackson to his Quentin Tarantino! [Laughs] I talked to Jordan about this already and some of the ideas he's already working on. It's gonna be so fun to see him create these worlds. I'm excited for the audience to see me do different things. It's playtime, baby! Let's create some more classic characters.
We all need a friend like this. pic.twitter.com/4j7FlUJYka

— Steele Hear (@QUEcified) February 26, 2017