Since December 27th, 2014, the date that history books will refer to as "Dave Zee's Party," a new gang of reggae selectresses hit the town: Queens Table Sound.
Composed of three badass cholas, Sistah Q, Sistah Michelle, and Fyahrie G-Irie, who know their roots in culture and music, the all-female crew from East LA/Montebello has slowly been making a name for itself, playing regular parties at the M Bar, the Anarchy Library, and the Love Hate Bar, as well as being regulars/OGs on the Roots Time Radio Show, transmitting every Sunday straight out of the amazing Espacio 1839 in Boyle Heights.
From a Bob Marley tape found in a dad's suitcase when he returned from prison to pretty sharp anarcho-punk references, here's the Three Wise Women's unfolding story. Remember: you heard it here first!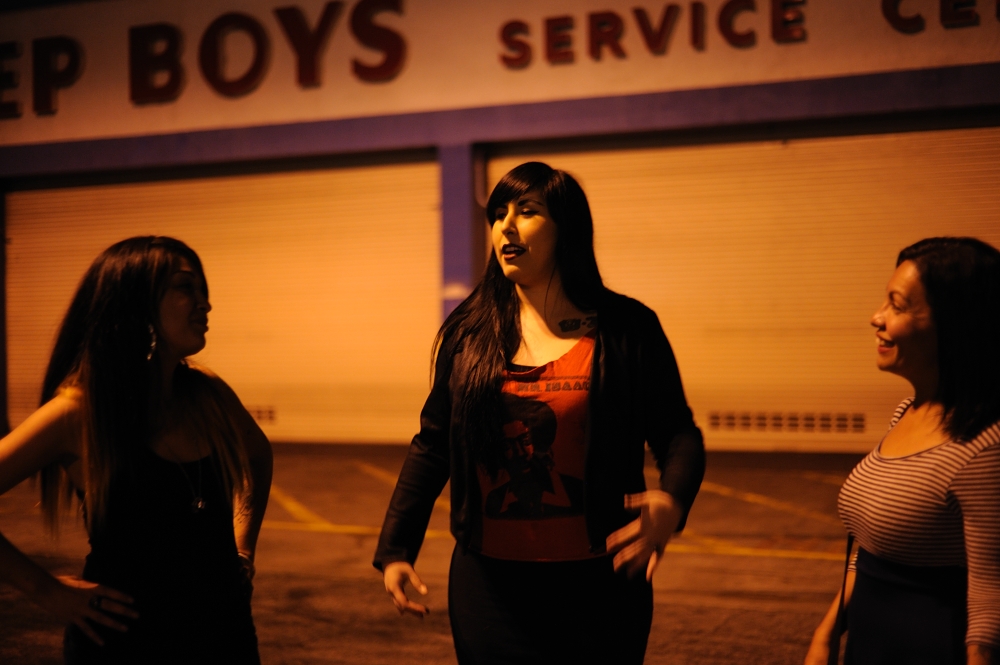 SEB CARAYOL: Would you say you identify with Chola culture? Is that a thing I can say?
Fyahrie G-Irie: Yes, I'm a Chola. I'm a part of it, I don't care.
Sistah Michelle: It's a way of life. Part of our ancestry.
Fyahrie G-Irie: A Chola is a gangster girl [that's] been in the hood. You've been jumped, you've been in fights, you are down for your shit, which I am. It's just part of our culture.
Sistah Q: We are also very classy ladies. We are classy Cholas. But in a very real way—we don't sugarcoat shit.
Fyahrie G-Irie: We don't, we try not to. We don't get out of hand, we don't get violent. Well maybe I have a couple of times… [laughs]
"WHAT REGGAE DID TO ME, I WANT OTHER PEOPLE TO FEEL IT; I WANT OTHER PEOPLE TO ENJOY IT HOW I DO."
Oh, you are the violent one?
Sistah Q: And she's the smallest one too [laughs]. I'm like the gentle giant. I'm the peace keeper. I'm always there to give advice.
Fyahrie G-Irie: She is like the gentle giant and Michelle is the little gullible one, and I'm just the little feisty one. Michelle's the one, like, "I don't know guys." She's more like that
Sistah Michelle: That's [the] teacher in me.
How did you get into roots reggae? It's not necessarily the first music that people associate with "the hood."
Sister Q: Reggae is ghetto music. You don't have to be in Trenchtown to understand the struggles that they felt, in your own way, here. Living in poverty living as a middle/lower class, and just trying to be better for yourself by sharing music, that's what we do.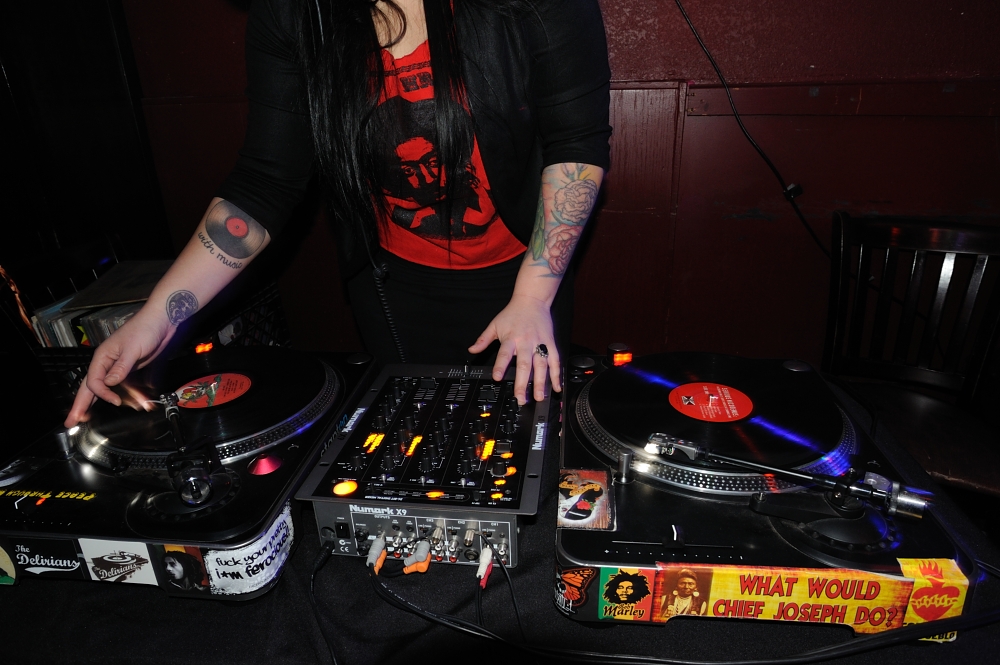 Myself, being old and having been in reggae forever, I've noticed in the past three, four years, a real interest from Latino kids for hardcore roots reggae-kids you wouldn't see at roots dances before.
Sistah Q: There's like a whole huge ska scene in here, it's a little more like the punk/ska influence, but these kids know what Jamaican ska is, and its influence. So they are just paying homage in their own way, but in a punk/East LA style. I think that's where it stemmed from. Roots reggae is now huge for Latino kids. But that's very recent, yes.
Yourselves, before that, were you into other musical genres?
Sistah Q: I was into punk music, backyard shows, and all that stuff.
Fyahrie G-Irie: I grew up with a lot of music because of my mom and dad; I used to call them Mexican hippies because my mom and dad–sometimes I think my mom was an undercover DJ. My mom had so much vinyl, she had Ravi Shankar albums all the way to Simon and Garfunkel. I grew up to all of that, Rancheras, Janis Joplin. My mom was always at Tower Records. Every time she heard a new song she liked, "Kids get in the car, we're going to Tower!"
Sistah Michelle: East Side Story vol. 5!
Fyahrie G-Irie: My dad listened to Black Sabbath, to the Doors, David Bowie, so I grew up with all kinds-even Dolly Parton.
Then the reggae thing now, how did that come about?
Sistah Q: Everybody has heard about Bob Marley, but it's crazy 'cause the real revelation for me, Bob aside, where I really was "Oh my God", was The Heptones. I heard "Mama Say" first, and then "Cool Rasta", "Country Boy," all these, and I was, like, "Man, this is the bomb". I just started digging more deeper into anything that wasn't Bob Marley, only because you are familiar with it and you really don't know the rest.
I mean, even with punk music, you go beyond what everybody knows. You want to go into the underground. I know there's a lot that are really well know but I really like that anarcho-punk, that peace punk, Crass, Rudimentary Peni, Nausea, Bad Brains obviously. Bad Brains would burst into "Leaving Babylon" after "Re-ignition" or whatever song. I thought, "Reggae is something else."
Fyahrie G-Irie: Actually my dad got out of prison, when me and my sister opened his suitcase he had a cassette of Bob Marley, it was the Legend album. My mom was, like, "Who is this?" and my dad played it. It was my first exposure to reggae. As I grew older, the main song that got me to like reggae was from Augustus Pablo, it was on a CD from Dub Club. I never even heard of Dub Club, and he gave me the CD and that was the first song I heard that shit got me like "What?" I had never heard reggae like that, just Bob Marley.
Sistah Michelle: My dad, he has vinyl records and he played vinyl records when I was a little girl, and he had this live Bob Marley, "Babylon by Bus." And he just played—first record collection that was just my love for records and reggae and vinyl. That was my first I guess like been a toddler.
LA being a hip-hop hub, a lot of people are more into Dancehall or whatever, that's why to me it's interesting when fresh people get into the roots and culture thing.
Sistah Q: I like how there's a roots revival right now, with Chronixx and all these guys. I'm not really into that dancehall. My own personal preference is early '80s channel one like Junjo Lawes productions, that's my stuff.
Fyahrie G-Irie: It's just too raunchy for me; asses up in the air and grinding, I'm not into that, I'm sorry.
How did the Queens Table idea come about?
Fyahrie G-Irie: Actually Michelle, actually she's the one that came to me with the idea some time in 2014. We were all going through our little thing, but she came up with the name Queens' Table: we are queens, and the turntables, you know. We were trying to pick a third girl and we know a lot of girl deejays, but a lot of them don't get along with certain girls... Sister Q is the only one I knew that gets along with everyone.
Sistah Michelle: Good vinyl selections.
Sistah Q: About four years ago, I used to have event at the M Bar in east LA called East Side Irie. I used to be the resident DJ there, bring bands. One night I was spinning at the Anarchy Library and G came up to me, and this was like three years ago. She's like, "I like your selections and this and that," and yes, we exchanged information and here we are now!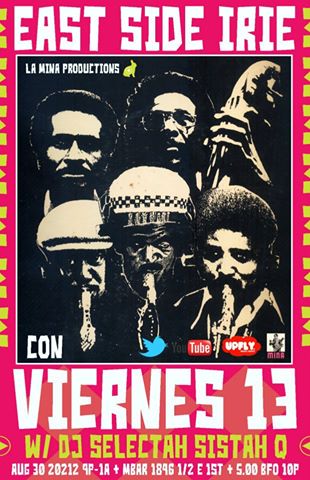 The reggae world has sometimes this macho reputation, is it harder as an all-girl DJ crew to come up?
Fyahrie G-Irie: The thing with us is that just we don't spin JUST reggae. We spin punk, disco, soul, oldies, we mix it all up. So far everybody has loved what we've spun. When we vibe, we vibe. I love what reggae did for me, reggae changed me big time; reggae made me do a whole 360. I used to be into hip-hop, I used to go party in West Covina and then when I started getting into the reggae and listen to the lyrics, it just made me be a little more... I used to be a very negative person. What reggae did to me, I want other people to feel it; I want other people to enjoy it how I do.
Your current top 3 tunes to spin?
Sistah Q: Toyan "Cuss Cuss", Sister Candy "Pickpocket," Josey Wales "It a Fi Burn."
Sistah Michelle: Horace Andy "Money Money", Prince "Erotic City", James Brown "Night Train"
Fyahrie G-Irie: WAR "Galaxy," John Holt/Dennis Brown "Wild Fire," The Four Tops "Still Waters"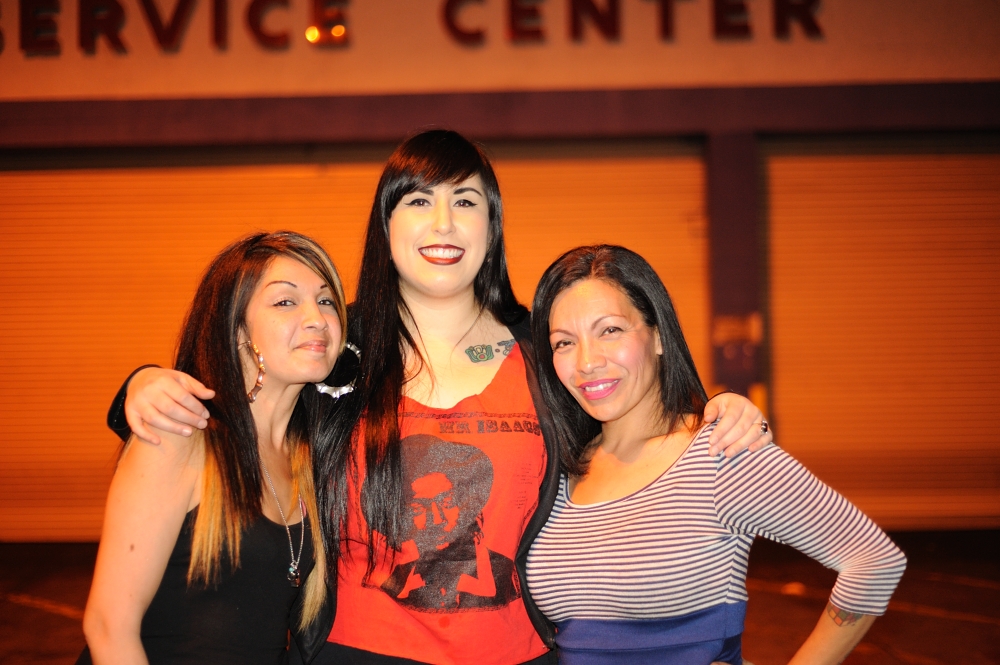 Left to right: Fyiah G Irie, Sister Q, Michelle Darling.
***
Follow the ladies on Facebook at Queens Table Sound.