Rising R&B star Pinky Liberachi shreds a guitar solo at The Hundreds Homebase in front of a wall of flowers. Need we say more? Watch it below.
SPITSET—our monthly free show curated by Alexander Spit—is tomorrow, featuring a very special performance by Pinky Liberachi himself and a DJ set from Grammy-nominated artist/producer/DJ Like of Pac Div. Additional DJ set by Blondie Beach.
21+. RSVP at thehundreds.com/SPITSET. Tomorrow, March 3. Always free.
Pinky on making people feel with his music: "If I'm playing live, I want people to feel it. Even if you're not paying attention to my performance, and you hear the guitar—like you're talking at the bar and you hear my guitar, I want to get your attention and make you feel something, and if I don't do that before the end of the performance, I don't feel good. So I try to do that every time I play the guitar. I just want to make people feel."
If you missed our premiere 3 weeks ago of Pinky Liberachi's latest guitar-driven music video for "OMW," catch it here. The multi-talented Lexington, Kentucky crooner who's bringing live instrumentation back to R&B just dropped his Love Pink EP Valentine's Day via Hoodstock Records. Stream it here.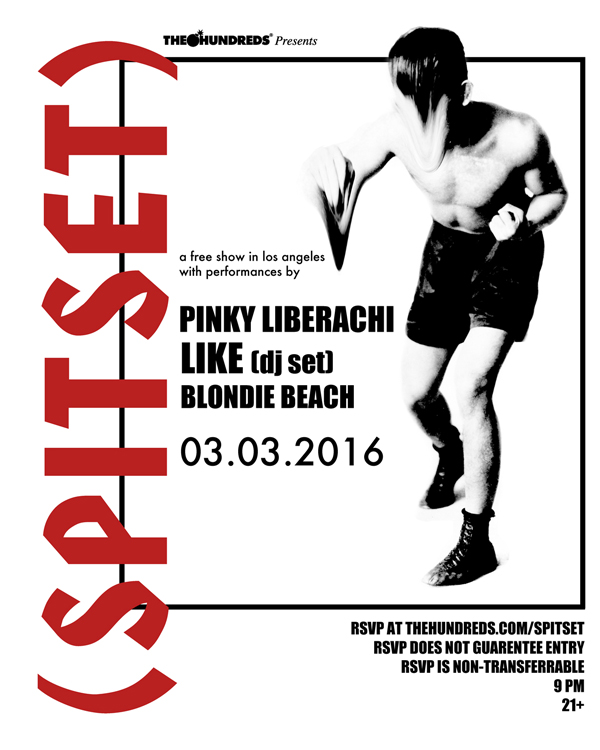 Listen to Like's "sonic cleansing" ZESTY below:
And in case you were wondering what SPITSET is:
"SPITSET is a saying I've thrown around for years as a term to rep the collective artists, musicians, and tastemakers within my circle of peers," Spit explains. The show is an attempt to push Los Angeles out of its comfort zone, to create a space without an archetype. "The bottle service nightlife types will be encouraged to mingle with the anti-social art kids. The music elitist, show-goers will be set arms length from girls that dress like ladies." In the simplest terms, Alexander Spit is "trying to provide an LA party featuring carefully curated live performances, DJ sets, and, most importantly, interesting venues for the artists and subculture circles that actually define the city's charisma."
***
Follow Pinky Liberachi on IG @pinkyliberachi and Like at @clearlyitslike.
Cover Photo by David Rivera.