Israeli graphic designer and artist Pilpeled started his career In Tel Aviv, a city known for its dynamic nightlife. He would create posters for parties and clubs, as well as two to three flyers per week. "It was the best way for my development," Pilpeled says, "and also the best way to touch the people viewing my work."
He continued to develop his style in the metropolis, using the city's tight-knit creative community as a sounding board. "Tel Aviv is a small place with a lot of creative people," Pilpeled explains, "and because this place is so small, everyone knows everyone and it's like a big school... you meet everyone and get feedback good or bad. It makes you want to make/create more and more."
In recent years, Pilpeled's bold and graphic work has shifted from bright and colorful to black and white, and appears in the form of prints, murals and sculptures, as well as on a special bottle of Absolut. In the following interview, the artist discusses this project, as well as how Israel influenced his style, what he loves most about Tel Aviv, and much more.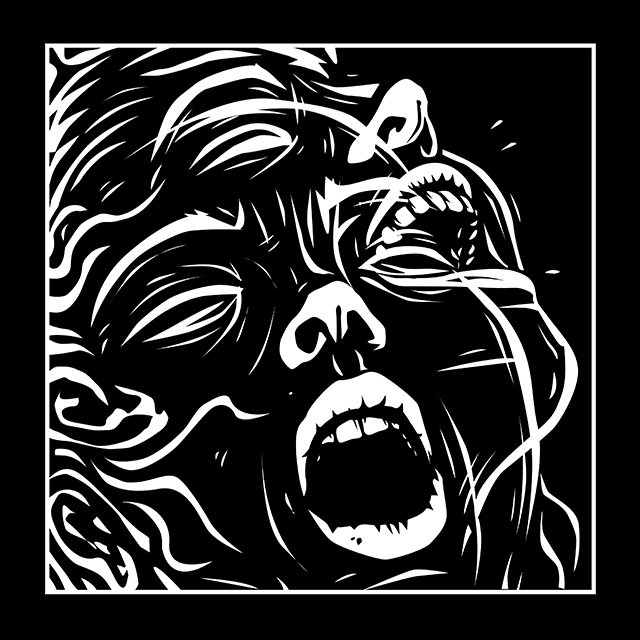 ZIO: Where are you from?
PILPELED: I was born in Tel Aviv. When I was 5 years old my parents divorced and I moved to Hertzliya, a city next to and just north of Tel Aviv. It's a beach town with a quiet energy.
How do you think Israel in general has influenced your style?
Tel Aviv is an OG town; you have all the cultures of the world in one place. It's a small place with all the international music/fashion style and a lot of creative people, and because this place is so small, everyone knows everyone and it's like a big school "with a high roof," meaning there is a lot of room to develop and it keeps growing all the time. The Tel Aviv, streets are like the hallways of school – you meet everyone and get feedback good or bad. It makes you want to make/create more and more.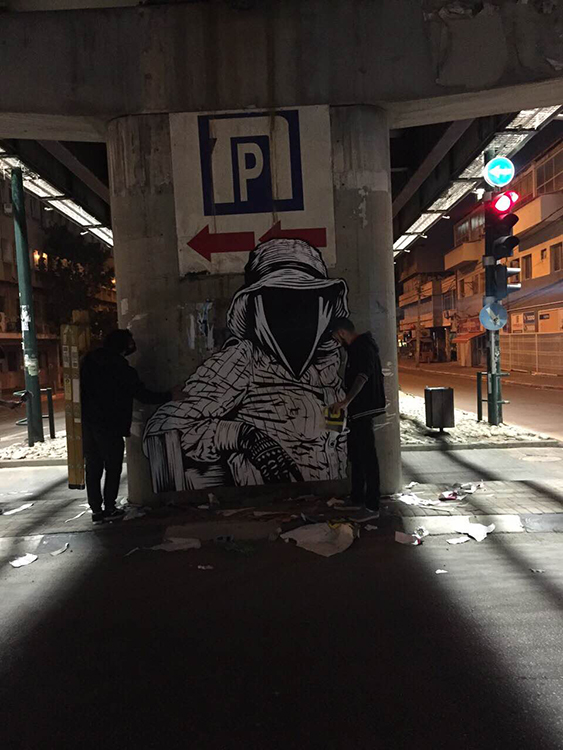 Pilpeled's wheat paste in Tel Aviv on March 18.
How did you develop your style?
My style just grew with no planning – I am self-taught. I used to draw, and then I started to make posters for friends and for parties at clubs. It started to be a big focus, then I set out onto the streets to produce about 2 to 3 flyers every week. It was hard, but it was the best way for my development, and also the best way to touch the people viewing my work. Since then, I started a T-shirt line, and naturally I created what I would wear myself and incorporated it within the line.
From the looks of your site, it seems like your older work was in full color, whereas your newer work is all black-and-white. What caused this shift in your style?
That's a good question. I think it developed this way because in the last five years I was more busy with creating stuff for advertising, like T-shirts, posters, album covers and more, and I wanted it to stay similar to one another. I also wear mostly black and white, so I got to keep it classic!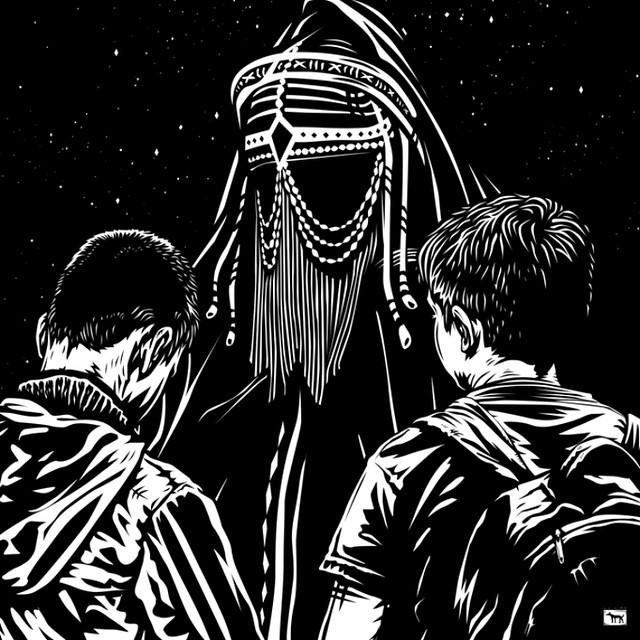 What project from your past are you most proud of and why?
I was lucky to design the Absolut official bottle of Tel Aviv in 2013! It was all over the city and I got a lot of good feedback. I am proud to be on the list, amongst the amazing artists, that took part in the Absolut project over the years.
What are your goals for 2015? What do you have planned?
One dream is to have, for the first time, a solo exhibition. But my biggest dream is to make a comic book. I grew up on comics and I love them.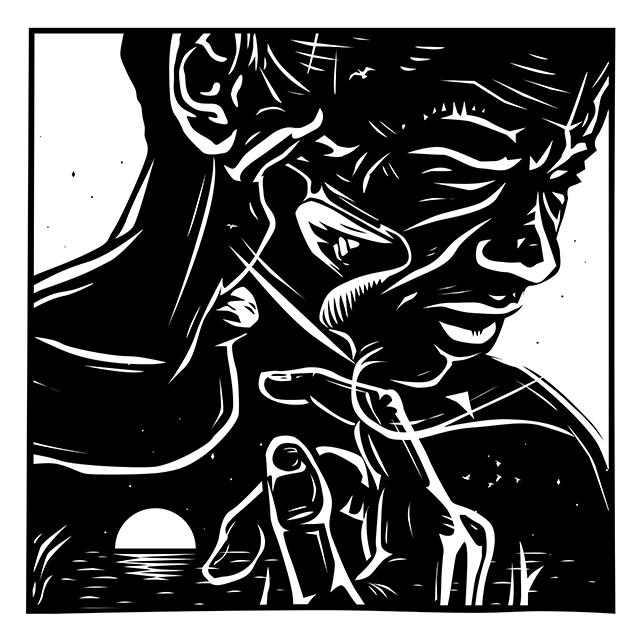 What do you love most about Tel Aviv? What are a few of your favorite places there?
To me, Tel Aviv is the best city in the whole world. I have never been to a place where parties are going on everyday of the year – throughout the entire night until morning. It's really the city that never sleeps, a city that has developed so fast, with the fashion, the technology and all other new styles that keep growing. People are friendly and you have the best food in the world from all the different cultures around the globe.
Port Said is the best bar-restaurant. It offers fusion food made by the very popular Israeli chef Eyal Shani. The place is located in the center next to the big synagogue, it's always crowded with cool people, and they play only vinyl records that they have been collecting from all over the world. Teder Bar is the best place to go party – but it's only open in summer time. This bar is not really a bar, it's more of an online radio station/music venue/art gallery/food spot/place for the best things Tel Aviv can bring. They are open only for 100 days a year and every day is more special than the other. Abu Hassan is one of the best hummus places in the world, located in the old part of Jaffa. You need to taste it to understand.
::