Here at The Hundreds, we like to eat, and talk, and talk about what we eat. Thank goodness you can't see me right now, because I'm actually blogging with my mouth full. Trust me, it's not pretty. This week's foodie fodder, which we've previously salivated over here, is The Oinkster Restaurant in Eagle Rock, Los Angeles, the family-owned burger joint run by Chef Andre Guerrero (of Max and Senor Fred)and his two sons, Frederick and Max, specializing in your classic, All-American hamburger. No frills. Well, some frills. Like house-made Thousand Island dressing, premium beers, and mouth-watering Gruyere cheese. But none of that fancy molecular gastronomy or precious microscopic portion stuff.
Left to right: Frederick, Max, and Andre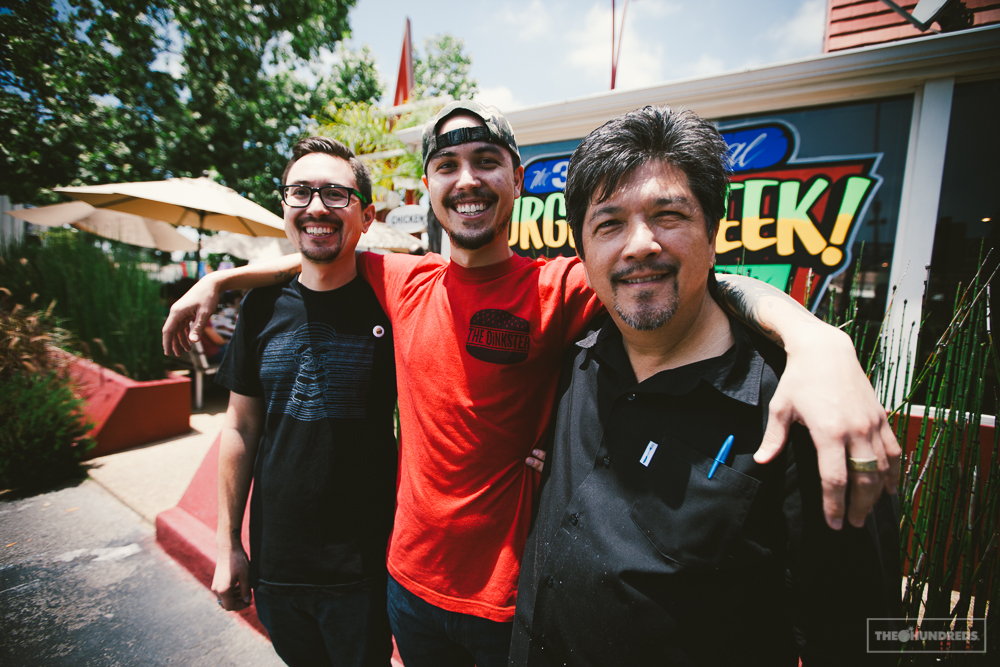 The Oinkster just kicked off it's 3rd annual Burger Week, which means celebrity burgers like the Wendy's Baconator re-imagined in the glorious shape of the the Oink-O-Nator, square patty and all. Past ingredients include Pop Rocks and red food dye to create a "Himalayan Ketchup"; the guys are innovative, to say the least. Burger Week can also mean waiting in lines for up to two hours if you dare to brave rush hour traffic and hungry devotees. Thankfully, there are live twitter scavenger hunts for your entertainment, as well as all sorts of cool, collectable, clever memorabilia like pins, stickers, and tees, designed by our very own The Hundreds graphic artist and burger enthusiast, Benjie Escobar.
As if serving up delicious pulled pork and Belgian fries isn't enough, The Oinkster team strives to engage their customers, incorporating a strong sense of design and creativity into their marketing strategy with an aesthetic conceived and executed by the late, immensely loved and talented, Justin Van Hoy (This Gallery), who created all of the art and graphics for the eatery. This year, for Burger Week, the brothers are more organized and prepared than ever, and so far (keep in mind, it's only been a day, and what a difference a day makes) things are grilling off without a hitch. When I spoked to co-owner Frederick Guerrero this morning, I asked him what The Oinkster does best; he tells me, "We keep it classic. It's not this weird hybrid fancy burger, it's not over-the-top, it's not showy or fancy, that's what we have burger week for. The rest of the time our food is classic, good American fast-food from high-quality ingredients."
In short, WHO IS TAKING ME OUT TO LUNCH???