The Phytology project, out of London, England, is using weeds to make street art. The Portuguese artist Vhils, who is known for using techniques like stenciling, pyrotechnic methods, and carving into walls, is working with Michael Smythe, who is the co-founder of an art incubator called Nomad. The artist features images of common people, which is meant to relay a message of how we view certain people as icons and not others.
Smythe tells me that the use of weeds is not only meant to highlight the valuable medicinal qualities of the weeds, but to be a metaphor for something being where it's not wanted and the relationship between cities and nature. The weeds that have been used are indigenous to the East London area where the project lies, in the Bethnal Green Nature Reserve, where guests are encouraged to harvest the weeds for medicinal uses. I spoke with Smythe to learn more about the project.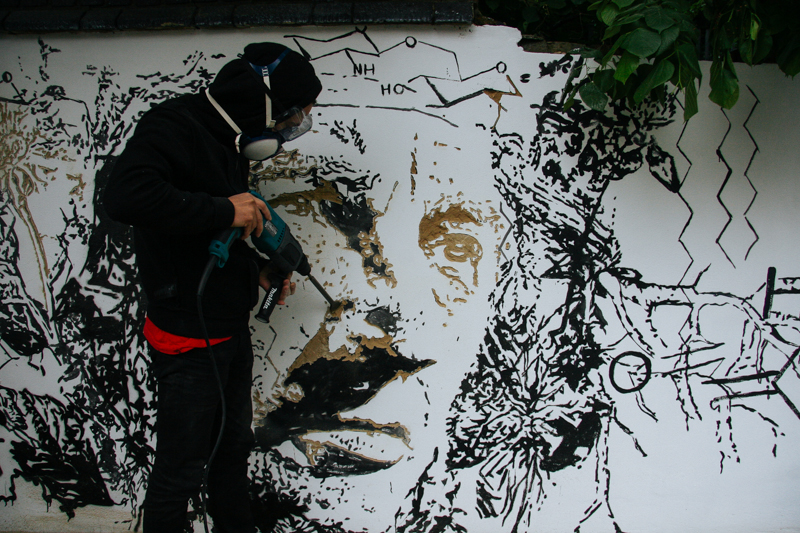 What is the main goal of the project?
Michael Smythe: The project as a whole is quite large, and Vhils is a pretty essential component. I've worked with Vhils on other projects for about six years now, and when I was devising Phytology, it was essentially about different ways of utilizing urban space and ways of reassessing how we live in cities. It was partially about food and medicine and resilience, which kind of made it connect street work with the medicinal field that I'm growing. Vhils was the most obvious artists that I wanted to work with. Obviously the dialogue between what I'm growing in the meadow and street art is complex. Street art is often dismissed as being somewhat uni-dimensional, but there's actually a lot going on. I'm also kind of interested in the relationship people build with works that they see on the street, as well as powerful and interesting plants that are often overlooked ... It's about resilience—his work's really hard wearing, and I really wanted something that could be built into a space and weather, not just sort of be vulnerable to tagging or anything but something that would really hold its own over time. 
It seems like it's partly about how nature is being eradicated by the growth of the city.
Yeah, well, it's interesting. It's all about perception, isn't it? It's always about what we're able to perceive. Usually it's what we know about and that goes back to how we find information and all that, but about 20 years ago I went on a tour of this industrial part of the city I was living in with an herbalist. I went on it looking for buildings to squat and take care of for exhibitions. In the end, I ended up staying with the herbalist and learned a lot about these plants, and it's equipped me to walk around cities and just changed my perception of greenery in cities. It's the power of the incidental. To answer your question, I think cities are somewhat eradicating them, but the thing I like about these plants is that they're not really giving that much of a fuck.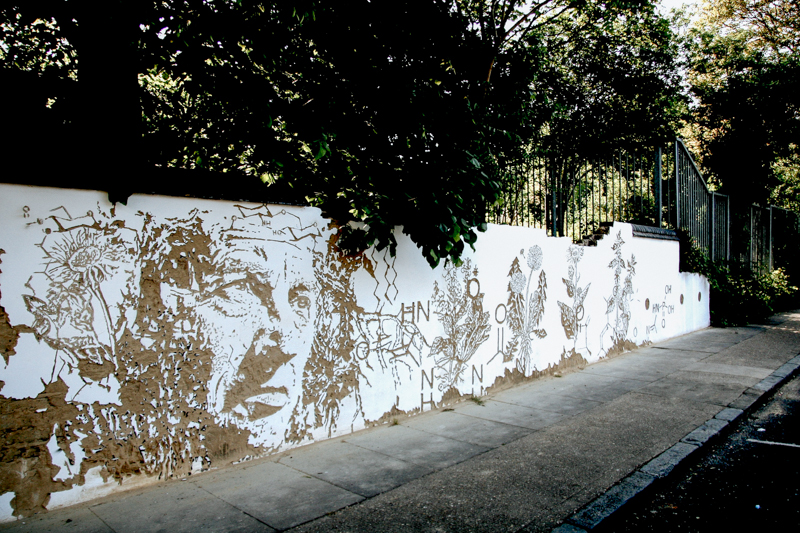 Since it's not paint, is this still considered vandalism by the city?
[Laughs] Good question. Yes, once again, it's about perception, isn't it? I think the whole street art craze, which is kind of interesting in a weird kind of way, confuses people. On one hand they think they're getting something of value, and on the other hand they're defacing a space. When we were installing the work with Vhils, there was actually a lot of euphoria that the neighborhood was getting something. It's kind of interesting seeing a sense of ownership coming up. A concerned elderly woman came up to me and said, "They chipped into his drawing, they chipped into his drawing!" And I was like, "Well, that's actually that's just another step in the process." And then she was like, "Oh, ok, good." Finally the police stopped after the third day of him carving ... They realized it was just plants, and once again, it's just about perception.
Tell me about the location.
It's in a really impoverished part of East London, and it's one of the few areas that hasn't been overly gentrified. Basically, it's an old church site that was bombed in 1942 by the Germans and they never got around to building anything back there... The church was named after St. Jude, the saint of lost causes, no hope. It's not St. Judas, but St. Jude—different guy. That was kind of the starting point in some ways—the cyclic nature of the site and a very loose interpretation of the namesake of the site. Before St. Jude, it was a medieval nursery for medicinal plants ... Vhils just kind of tied those relationships together and has sewn them through with biochemical data. Each plant represented, he's pulled out their main biochemical component ... We tried not to be too literal. He wanted there to be completely different ways of interpreting this, which is kind of important. It's not a known figure. The plants are somewhat well known, but the biochemical stuff is only known to those who happen to know that information. All together it reads in its own way.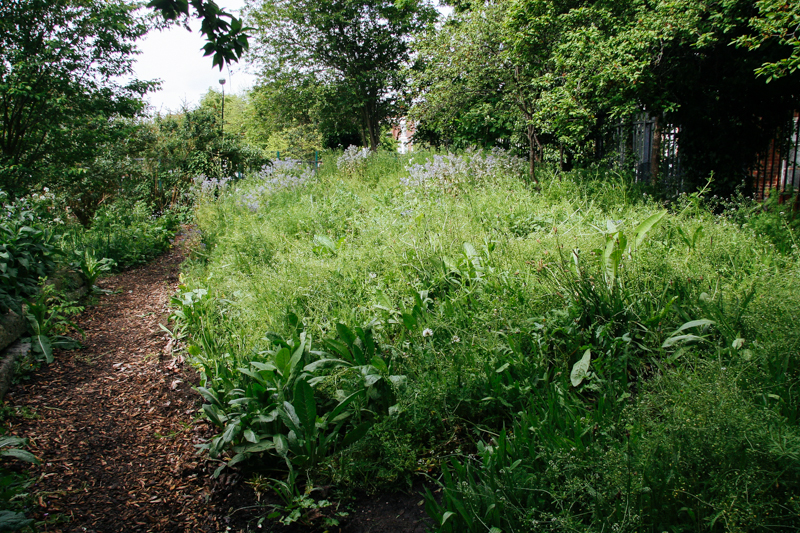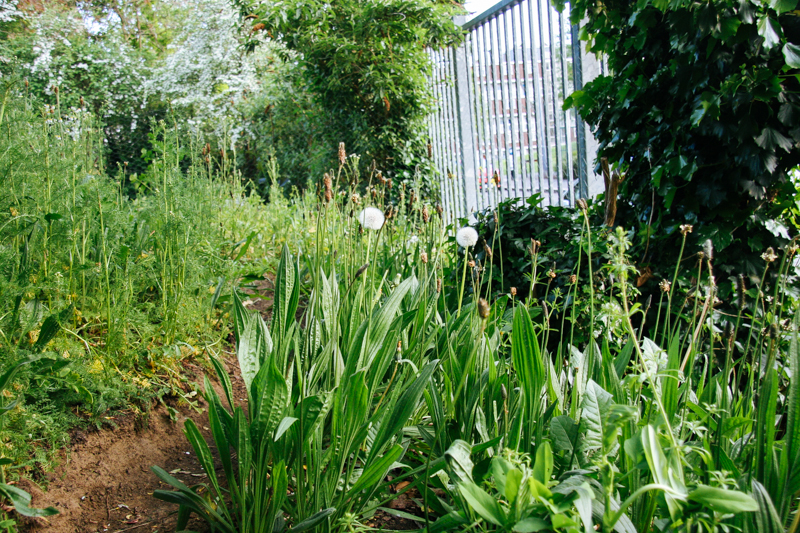 How far do you plan to take this project?
I do a lot of installation and public works, and the older I get, the more interested I am in letting things take time. I dislike the idea of the pop up. This whole thing about being temporary seems slightly gratuitous in some ways. So, I'm setting it up this year, and the meadow culture has a three year process that can be self-sufficient ... The project life idea is maybe three to five to ten years, but it's that thing of the meadow being this trust around many different commissions that will unravel over the next three or so years, which Vhils is one of the first people to be involved in. Also, I'm trying to have a different aesthetic too. I'm not a hippy, and I know that sounds kind of terrible, but I'm not somebody who would typically be interested in an allotment, even though they're great things to have. I'm more interested in working with an aesthetic that is maybe a bit surprising for the kind of project it is and the Vhils piece really activated that—you had older women saying, "Oh, that's a very pretty nettle," and you had the teenage Bengali boys across the park getting excited about the process he was doing.
How was the weed applied to the wall?
They've been carved into the wall. There's a wall and next to the wall is a 25' by 9' meadow where we've planted indigenous weeds. People are invited to come in weekly and harvest what they need, for insomnia or dermatitis or whatever, and there are a couple gardeners on site to inform people what to do and how to use it.