It's always nice when you get in on something at the ground floor. Seeing a project, band, website, or clothing brand start up from their humble beginnings and eventually make it big time is a great experience. It's something I'm currently finding out with upcoming Amsterdam clothing brand DEZEEP. I first came into contact with the brand's founder, Paul Zeper, when he just finished printing up his first basic logo pieces. I've seen him slowly expand his line, and every time I meet him at one of Amsterdam's many free drink events we chat about what's happening with the brand and the progress he's making. A month or two ago we were knocking down a few cold ones at one of those events while him he told me he quit his retail job to fully focus on his brand. Right after that, he flew to Portugal and Copenhagen to source materials and got his first international stockist. When he got back, he showed me some things he had been working on for his new collection and I was impressed. Young Paul Zeper is a driven individual, with his own ideas and views on streetwear. His brand DEZEEP (THE SOAP if you translate it into English) lives by the motto "keep it clean," which is something that most definitely shines through in his upcoming clothing collection.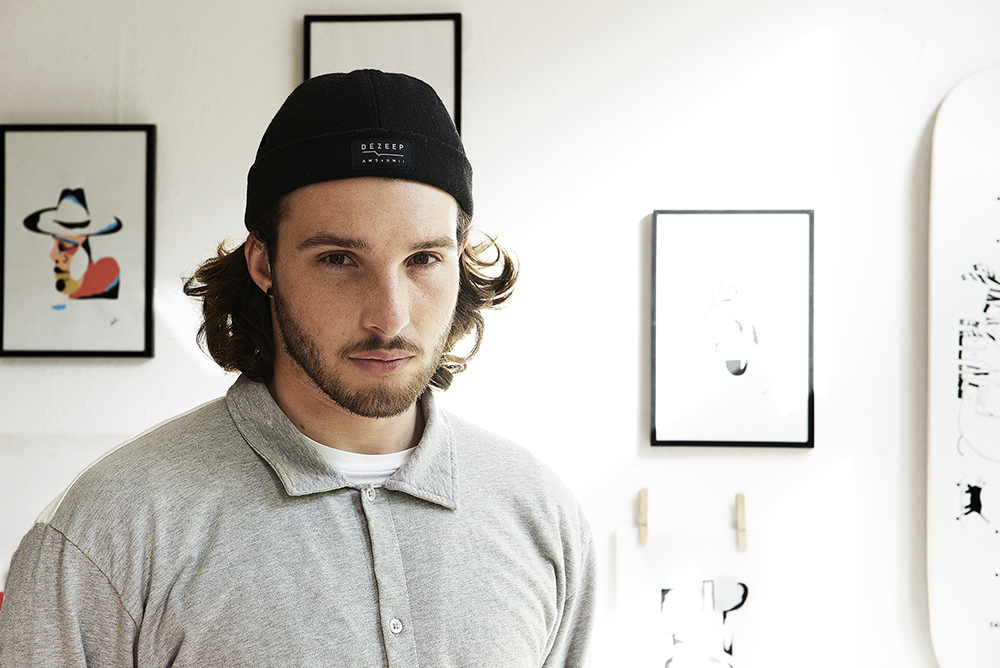 MAARTEN: I never asked you this, but the brand website and cap patches mention both Amsterdam and Hawaii. What's your connection with Hawaii?
PAUL ZEPER: The brand was born during an internship I did on Maui. Ever since I was 14, I was heavy into wind surfing, and I had the chance to do a graphic design internship at a company that sponsored me, which was based on Hawaii. It was great, I worked from 10 till 2 every day and hit the water after that. During that time, I already had thought about starting my own brand, and there it all came together. The name, the logo, the brand identity, everything.
How'd you get into wind surfing?
When I was about 14 I wasn't doing much. Before that, I was really into breakdancing, but after a while I wasn't feeling the vibe as much. My mom used to windsurf back in the day, when it first started booming, and she suggested I'd give it a try. I was hooked instantly. Wind surfing had a huge influence on my life. Straight after high school, I went to Curacao for 9 months and got into the contest circuit. You can't really go pro with windsurfing – there's about 10, 15 guys who can live off it, but I competed in World Cup contests and was sponsored. At one point I decided that I had to get an education, so I went to graphic design school for three years. After that, DEZEEP was born and I decided to focus on that.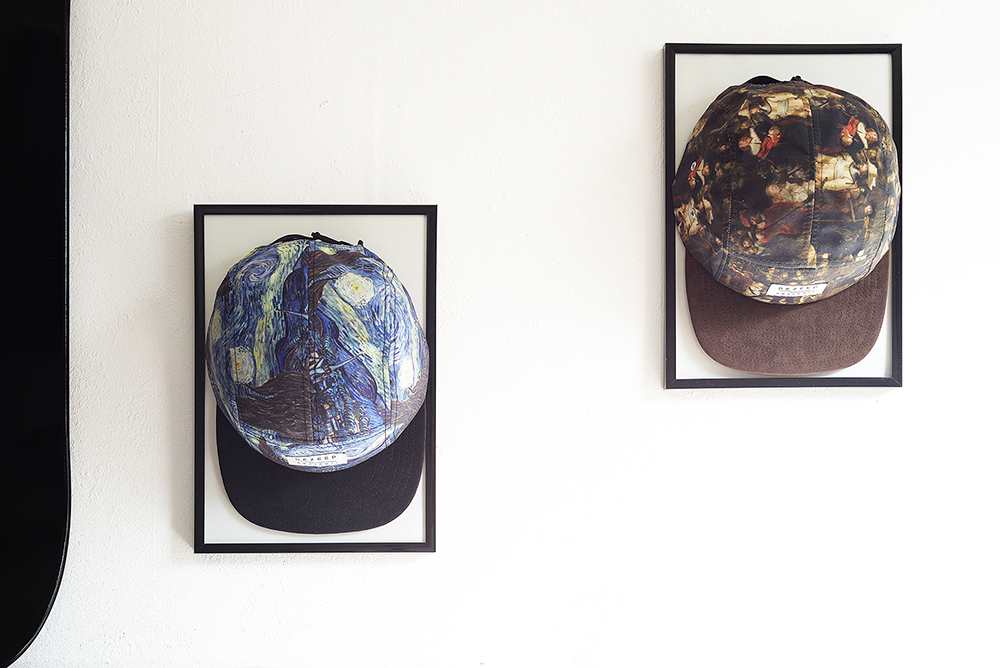 What got you interested in graphic design?
I drew a lot when I was a kid. When I got into high school, I did a lot of graffiti sketches and did some bombing, but spray cans weren't really my thing. I like to work with Posca markers and fine liners. I felt I had to do something with it. I feel when you're trying to make personal art, school isn't the way to go. Art is about personal exploration, and you need to figure out what works for you. But with graphic design, it's a great way to learn all the software. I basically saw it as a workshop instead of an education, something I had to do to learn the basics, which I then used for my designs for DEZEEP.
DEZEEP has reached a point where you're taking it very serious, and trying to actually make a living off of designing things you really like. How's that transition going?
I'm taking it more serious than ever. My administration is on point, business-wise it's okay, but I'm learning to focus more on creating collections instead of just thinking of something I like to make and execute that right away. Maybe I'll keep doing that with my hats, but the clothing needs to be more scheduled. And I found out that I need to learn to invest more in finding shops and keeping in touch with potential stockists. if it's just you doing everything by yourself, it's hard. Finding retailers that want to carry your line is crucial. Especially when you need to make that big financial investment for your first complete collection. You don't want to get stuck with boxes full of unsold product in your apartment.
I'm not much of a sales guy, I'll probably need help with that. I'm not a big storyteller, I'd rather have the people figure out the story and my influences through my work, instead of putting it in a sales pitch or a brand introduction page. Plenty [of] brands have a slick story, but the product doesn't show that story. Your story should grow along with the brand, and not be determined from the start. Your taste changes throughout the seasons and years, and so will your brand.
Inspiration-wise, what drives DEZEEP?
It's influenced by my life in Amsterdam, the things I see, find, and experience. I use some surf influences in my designs, but it's not really a surf brand. I'm very inspired by Scandinavian brands, like Wood Wood and Norse Projects. I'm trying to do my own version of what those brands have been doing, with my own twist added to it. Not copy them, but I am aiming for that same segment. Take Norse for instance, a lot of the stores that carry them aren't shops that usually sell caps, but they'll stock a full line of Norse caps.
I mostly design things I personally like. I don't really have the consumer in mind too much. Of course there's stuff I'd want to make that I know will be too over the head of the average consumer, but I'll probably execute those things in extremely limited runs. It's good to have some new things happening, you don't want your brand to become stale.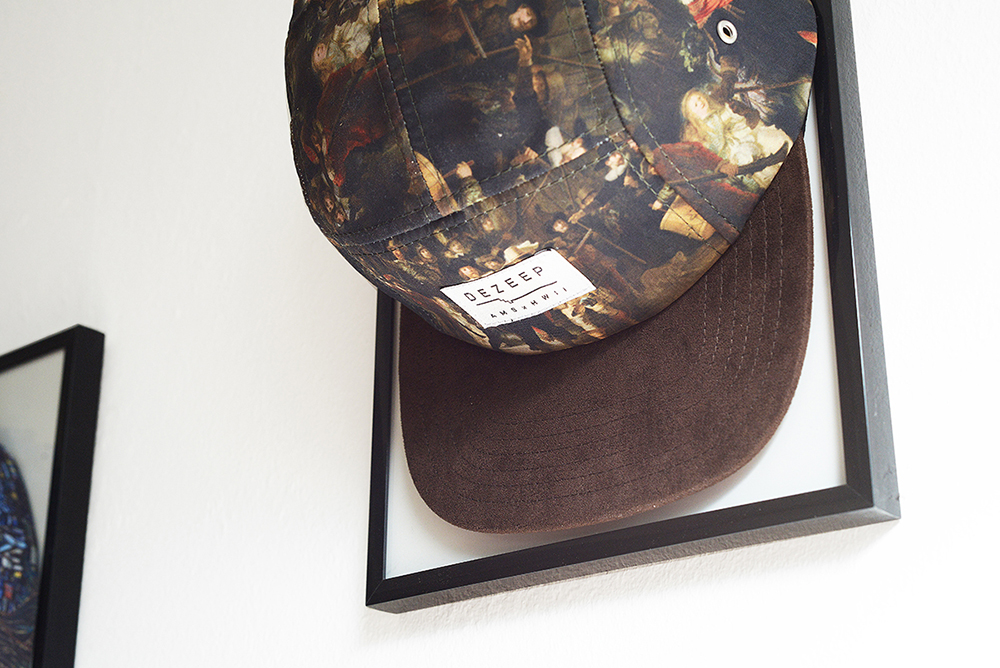 What type of stores do you see as ideal stockists for DEZEEP?
Stores like WoodWood or the new Baskèts store in Amsterdam, who combine high end items with classic streetwear pieces and sneakers. I'm not much of a skater, so I don't really see my brand as something for skateshops. And I'm aiming for something just above regular sneaker stores. More geared towards menswear. And that's where I'm taking the brand as well.
You're really into strictly cut & sew items, right? You're not using any standard blank tees, hoodies or caps.
I recently went to Portugal on a sourcing trip. Looked at so many materials, which lead to so many options... I went there with ideas on product and materials, but when you get there you see all this other stuff. Materials and options that you didn't consider, or thought were not possible to execute. And since my collection is still quite small I can't experiment that much in one collection. There's no room to put out three completely different version of a crew neck at the same time right now. My focus on this trip was on materials and mostly the collars. Enhance them a bit more, make them a bit thicker. Also, I don't really like stretch in my clothing, so I sourced materials that are soft, thick and comfortable, but don't stretch.
Is it safe to say that you're just trying to take classic pieces and give them your own twist?
It is, but not to a fault. For instance, I like 5 panels, so I make 5 panels. I could go overboard and switch the panel lay out but that feels too forced, I'd rather make a different in the print or small details that you might not even catch right away. With a clothing brand, you usually start off by thinking of prints you might want to do on a t-shirt. You always start with t-shirts, they're easy to make, relatively cheap to produce. But after I printed my first t-shirt I was like, ok, what's next? How the fuck are you going to sell a t-shirt with some random print on it? And you don't want to talk about cocaine or other semi-offensive texts on t-shirts that are selling really well right now. I'll never do a print because it'll sell a lot of shirts. I might come up with something that'll sell, but it'll be something that I like, that I can back, believe in.
Last year your Night Watch 5 panel cap, which showcases the famous Rembrandt painting, managed to get some international buzz on blogs and social media. How did that cap come about?
When I stayed on Maui I saw a lot of people wear tie dye. This was before it blew up in street wear. They were just regular people, fat American tourists without any sense of style. I really wanted to take something that was considered uncool and turn it into something I'd want to wear. But then it got big before I had a chance to do something with it, and I had to think of other concepts with the same philosophy behind it. That eventually lead me to the Night Watch. It's a classic painting, but to be honest it's kind not a really exciting piece of art. It's big, and technically it's amazing, but it's just another dull colored painting from an era known for it's realistic paintings. It's classic, but not cool. So I started messing with it in Photoshop and it turned out pretty good, so I decided to go for it.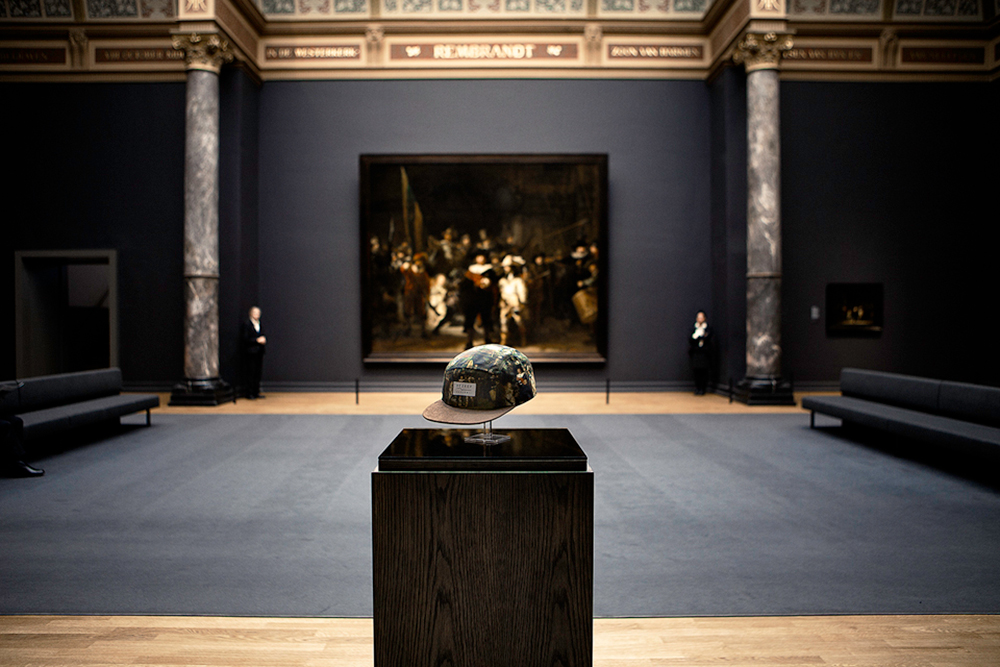 Your lookbook for that hat was amazing, the beautiful display in front of the actual painting... How'd you make that happen?
When I was working on the cap, I knew that I wanted to something different with the presentation. I didn't want to do the old boring 'my friend all wearing DEZEEP caps having fun at a barbecue' type of lookbook. Along with my friend Wayh Gude I worked on the concept of displaying the hat as a piece of art. Around that time I met Mirelva [Berghout], who at the time was working for the yearly Museum Night event in Amsterdam, and she hooked up the connection with the museum to make it happen. Marnix Postma did the photography.
It took off on various blogs, it was the most liked post on the Hypebeast Facebook page at that moment, save for some crazy Nike's. Although it didn't lead to a huge amount of sales, I really loved getting that recognition for my work. At the time I actually preferred getting that type of feedback over selling caps. But now I'm at a point where I will have to start selling caps, because I want to grow with the brand and make good clothes. That's the hard part of starting a brand, it requires a lot of investing, both time and money.
Now you're doing a new 'art cap', this time featuring Van Gogh's Starry Night. Will this type of cap become a staple for DEZEEP?
Not really. To be honest, I'm kind of done with 5 panels for now. I have one more that just dropped, a collaboration with [Dutch artist] Sasa Ostoja and [art director] Wayh Gude, but that's it. I'm working on some new headwear concepts right now.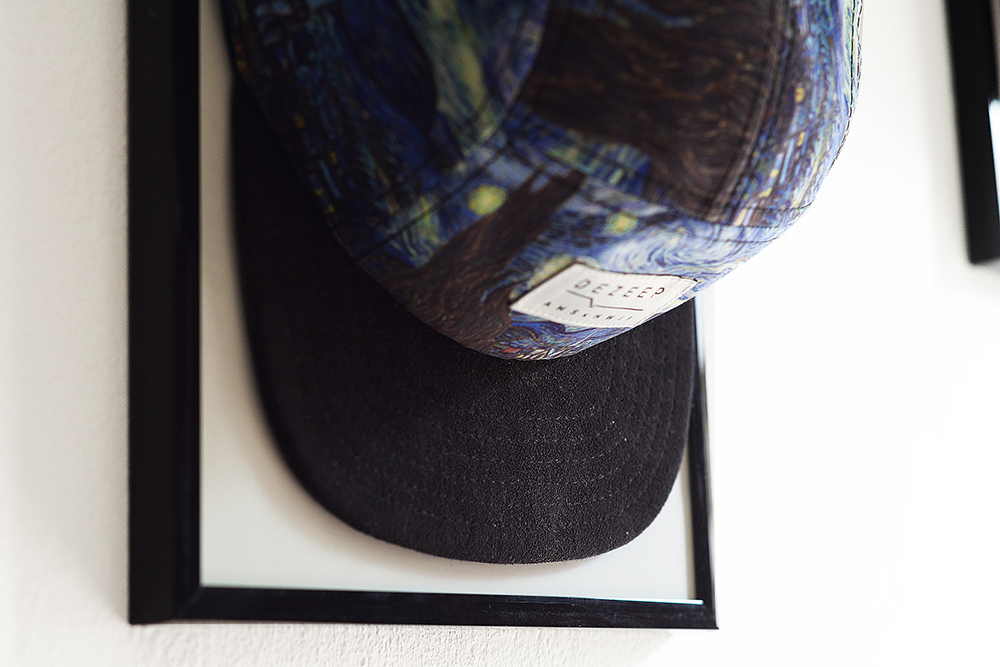 What's the inspiration behind the logo?
It's two things. First, city and surf. And by surf I mean everything that happens outside of the city. That's represented by the old school canal house and the wave. At the same time, those two pieces of the logo are a reflection of my vision on life. I come from a normal family, things weren't handed to me. I had to work hard to earn money for on surf trips back in the day, while others had parents who backed them financially. This is reflected in the logo by the wave, which stands for things go smoothly, and the stairs, which represent working hard, and advancing one step at a time. Eventually in life, you need both of those to succeed.
DEZEEP's newest releases are two custom 5 panel caps, 1 in collaboration with Sasa Ostoja, featuring the signature art style of this Dutch artist. This cap is currently available on the DEZEEP webstore. The Van Gogh Starry Night 5 panel will be released at the end of this week at Baskèts (Amsterdam), Flavour (Copenhagen) and the brand's webshop.
DEZEEP x SASA OSTOJA x WAYH GUDE from DEZEEP on Vimeo.
::
@dezeep on Instagram