For our next show at Slow Culture, we are presenting the first solo exhibition by photographer Paul Chan: "Off Safety." From 1997 – 2003, Paul Chan photographed numerous rappers, skateboarders, and actors for a publication called Kronick Magazine (a gig he landed after meeting editor and publisher Meshack Blaq in a UCLA English program). Right on the cusp of the Internet and digital cameras, this was a time when we still relied on film cameras and print media. During his stint at the magazine, Paul amassed an unprecedented collection of images (shot on his dad's old Nikon F2) that we are unearthing for the first time in nearly a decade. While most photographs were taken with the intent of being editorial portraits that were supplemental to a magazine interview, every so often – or if there were shots remaining in the film roll – Chan captured candid moments that gave the viewer a glimpse of rappers in a more intimate and vulnerable state, which was a contrast from the often super-heroic, hyper-masculine images rappers usually are portrayed to be in the media.
For the past 7 months, we've been working with elsewhereSTUDIOS and Vacancy Projects curating this final selection of photos for the show. Among his photographic subjects shot at the early peaks of their careers were Cam'ron, Wu-Tang Clan, Busta Rhymes, Dr. Dre, Snoop Dogg, Eminem, Birdman, and more. During this whole process, we've also spent a good amount of time with Paul hearing all of his crazy stories hanging out with all these mega rap superstars. This was a time pre-internet and pre-stardom, so many of these guys weren't so guarded and welcomed him into their camps with open arms. As strong as the photos are on their own, hearing some of these stories make them even more insane. For this feature, we thought it would be fun to share some of those. We had Paul choose some of his favorites in the show and give a little background on each. Enjoy!
The Neptunes
"This photo was taken in the parking garage of a studio somewhere in Manhattan when the Neptunes were not yet a household name. The session was for ODB's "Baby I Got Cha Money." Dirt McGirt wasn't there but a poofy pink-haired hottie by the name of Kelis was. After meeting her, I pretty much forgot about the Neptunes. Side note: I remember that Chad Hugo was really excited about the brand new Foamposites on his feet."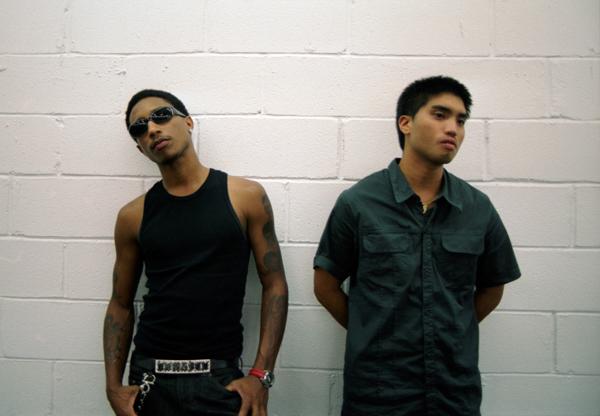 Lil Wayne gives the bird.
I've taken many photos of Wayne over the years and each time he manages get a few shots of him waving his middle finger at me. I'm pretty sure he's not directing them to me, at least I hope not. In any case, this particular photo was from the first time I met Wayne. He was 14 back then. He kept bragging about the fleet of luxury cars he owned. He told me that sometimes he would pull up to the stop sign in the front of the local high school, open his sunroof, then peel out while tossing a fistfull of singles out the roof.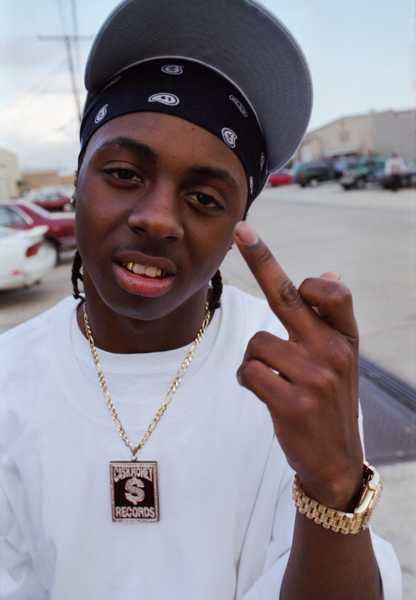 Slum Village
This was during the release of the very first Slum Village album. We met them at the famous A&M studios off La Brea in Hollywood. Although the property was secured, the streets adjacent to them were obviously really sketchy at the time. Around the corner I saw this crazy street sign and pointed it out to the fellas. We all thought it was amazing and decided to take some photos.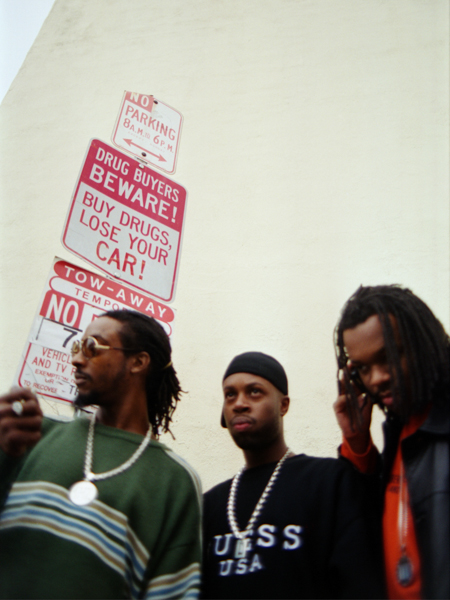 Scarface
Scarface might not mean much to those of us on the coasts, but to the South, he's a living legend. I'd met Scarface years before this was taken when he was the franchise talent over at Rap-A-Lot records in Houston. This particular image was taken in the living room of Too $hort's Atlanta home. At the time, Scarface was the president of Def Jam South, responsible for signing Ludacris. Side note: I took a digital picture of Too $hort's prom photo (better than you imagine).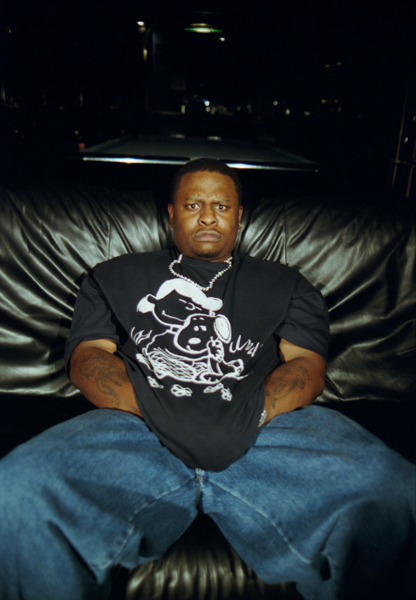 Kool Keith
My boss Meshack has a really good relationship with Keith. Sometime he would just wanna kick it and smoke some weed. This particular time we ended up in one of Keith's favorite places; the sex shop.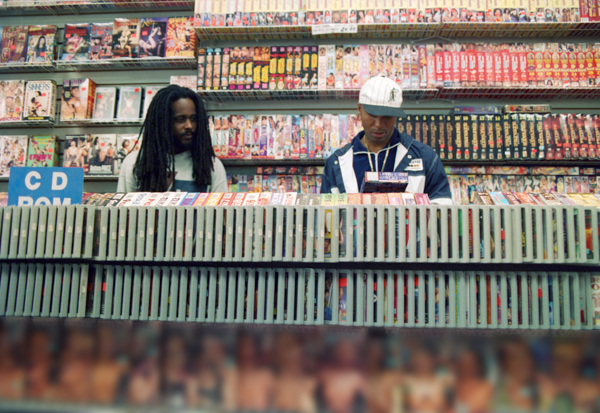 ::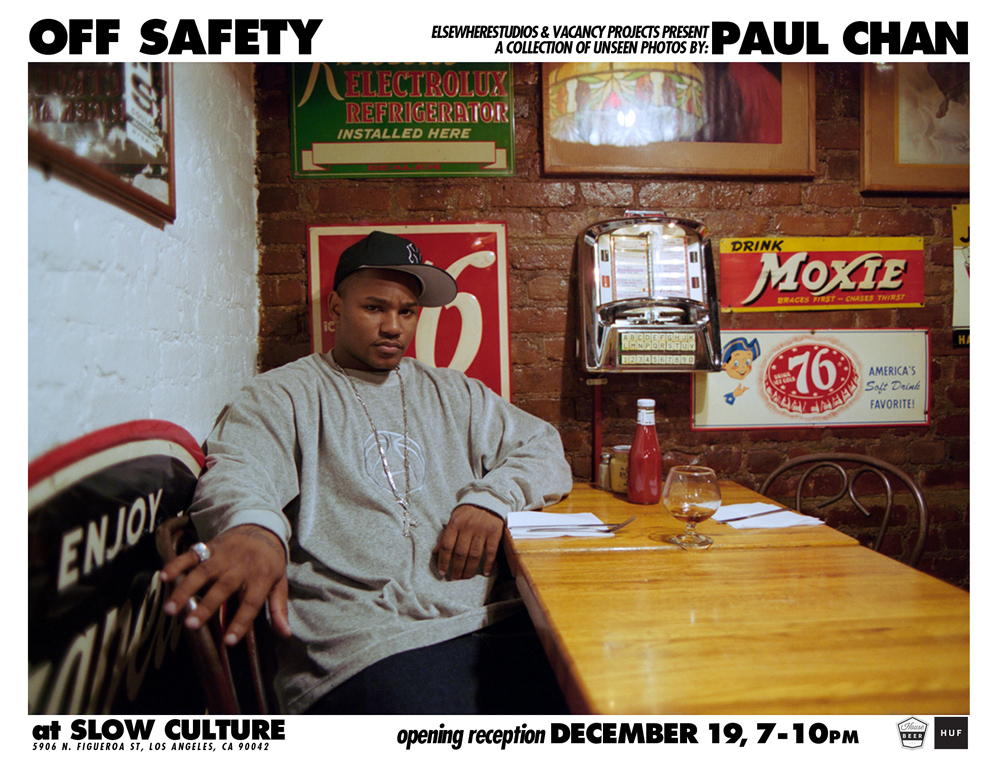 At Paul Chan's first solo exhibit at Slow Culture, you'll see images of a young Lil Wayne, Wu-Tang Clan behind the scenes during the filming of their iconic 'Triumph' video, Eminem and Dr. Dre, young Black Eyes Peas before Fergie, Snoop Dogg, Busta Rhymes, and more shot with film, pre-Internet, in a snapshot, documentary style aesthetic which echo the works of Larry Clark and Nan Goldin. [The images] serve as a unique historical document of a time in Hip-Hop and fashion, which some call the 'Shiny Suit' era, where Hip-hop artists were quickly infiltrating and dominating mainstream consciousness in a way that many never thought Hip-Hop could.
At a UCLA English program, Paul Chan he met Meshack Blaq, editor and publisher of a start up hip hop rag called Kronick. After helping Meshack layout his 4th issue on an old  Apple Performa, he was given the title "Art Director."  Tired of stock press release photos the record companies, the magazine realized original photography was a must.  As a startup with no budget for a professional photographer, Paul took the lead and grabbed his dad's old Nikon F2 while simultaneously teaching himself how to use it.
This self-starter attitude led Paul to become Kronick magazine's head photographer for the next 7 years. A dream job for a any college student. Traveling all across America, meeting his Hip Hop heroes, seeing legendary concerts, and getting a first hand look from an industry behind the scenes. It wasn't necessarily paying the bills, but he got to write, take photos, and design a magazine all by himself. 
In 2003, Kronick stopped publishing and all he was left with was a few shoeboxes full of zip disks, hundreds of promo cds, and thousands of old photos. Fast forward to 2014, Paul has unearthed all of these photos for the show. 
::
"Off Safety" opening reception will be on Friday, December 19, from 7-10pm at Slow Culture gallery in Highland Park at 5906 N. Figueroa St. Los Angeles, CA 90042.