It might seem strange to think of understated apparel that falls in line with "basics" as a rebellious take on fashion. But particularly in streetwear, having a muted, minimalist aesthetic often becomes a counter-response to all the noise of loud graphics and logo hits. If it's en vogue to stand out, those interested in disrupting the style status quo will react like a wallflower would: Staying subtly under the radar, effortless—favoring function, utility, and classic silhouettes.
This has been the Public Label aesthetic since Patrick Hill became the brand's lead designer in Fall '10. In this interview, we talk to Pat about the brand's minimalist foundations, the The Thing-inspired Fall/Winter 2014 collection, individuality, branding, and his endless search for the perfect white T.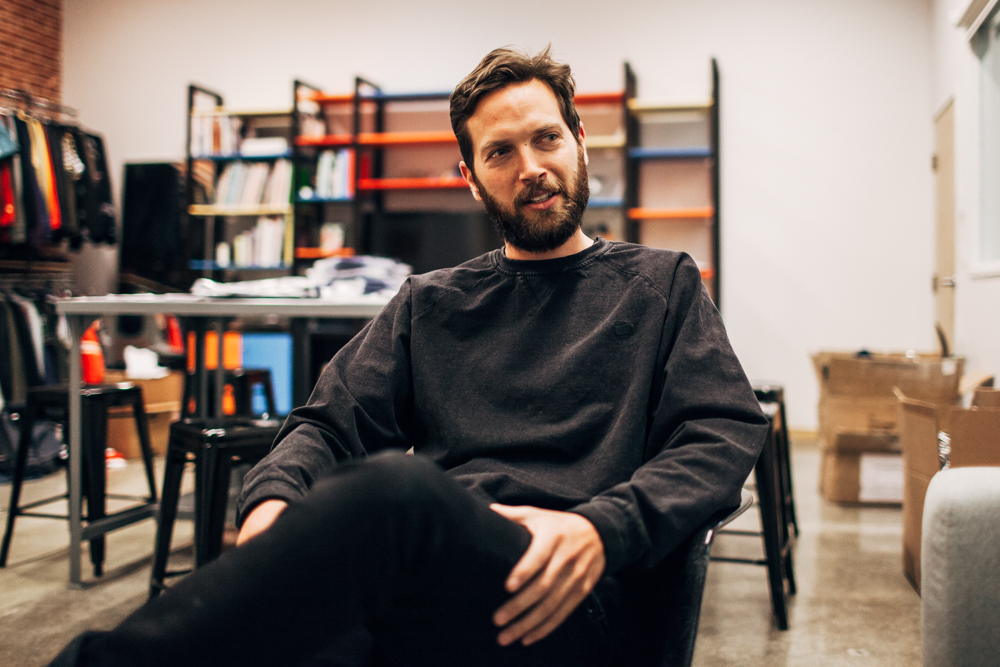 ALINA: So what did you see lacking in menswear and streetwear that prompted The Hundreds to start Public Label?
PATRICK: Public Label was the original name for The Hundreds Cut and Sew apparel. Bobby had called it Public Label because it didn't necessarily fit with what we were doing in printables and headwear. It was a much cleaner design aesthetic. And to him, he could never [reconcile] The Hundreds Cut and Sew with what The Hundreds was doing in printables at the time, so it was this separate entity. As we progressed into the business, we began to create cut and sew that was specifically designed to work with the rest of the line.
When did Public Label become what it is now?
Fall '10 was the first season of Public Label that I designed. The need for it came from the fact that we were doing all this loud cut and sew that wasn't necessarily what we wanted to wear. We wanted a cleaner aesthetic. We saw a gap in our market and wanted to provide some timeless non-branded basics.
What were you into that led you to lean more towards that minimal aesthetic?
It's not even what I was into at the time. I've always been like this ever since I was young. I only really wear basic non-branded pieces. It's the same pair of black jeans and a white tee every day. And to me, that's what it is: It's all about basics. It's all just about super basic, clean clothing and rad jackets.
Why do you think you were into the non-branded utilitarian basic type stuff since you were young?
I've always worked in the clothing industry and I've always worked in the skateboard world. And everything was always like Volcom, Element, and these loud, showy things. And once you're into that for a couple years, you're like, "I don't really want to be a billboard for people anymore. I'd prefer to just wear something that fits me really nicely." You get over the whole brands and logo thing, and what I got into was wanting to wear clothes that look really good and fit me really well. Something really clean and simple and not a billboard.
So for you it was almost a little bit rebellious?
Yes, yes, totally. I've always been like that with clothing. I don't know what it is in me, but especially working in this world, you're supposed to be a billboard for the company you work for, and I've never ever wanted to do that. I'm a really good employee. I'll do anything for a company, but that's the one thing I refuse to do— change the way I dress. I always feel really uncomfortable when I dress for the job or have to put on a tie to go to some stuffy event, so making super clean basic stuff for the company I work for was like a dream come true.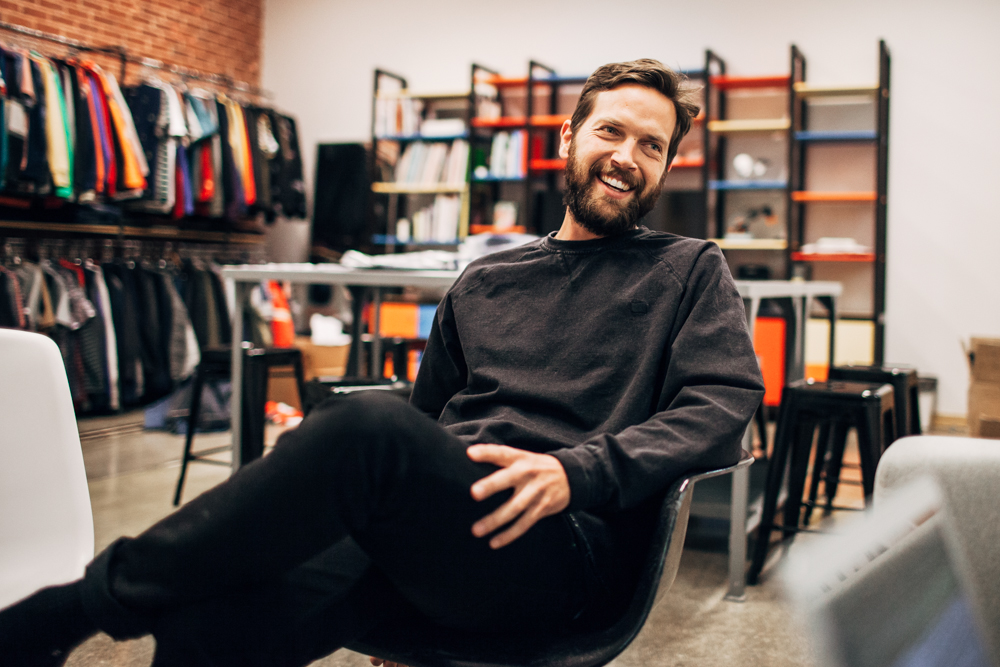 It's interesting because I don't think people usually think of non-branded basics as a kind of disruptive approach to apparel. Do you have any thoughts on that?
I don't necessarily dress like that to disrupt, but for me, individuality is the way clothes look and feel and fit more than a way to brand you as part of a group. Or brand you as part of a subculture. I've been on a search for the last 20 years to find the perfect white T. I still don't think it exists.
What's the closest thing?
This company in Canada called Zellers made a T-shirt from a private label brand called Cherokee, they were great for about 4 years and then they changed the cut.
How would you describe the perfect white T?
Slim-fitting but not too slim-fitting. It's long, the sleeves hit you just below mid- bicep. The neck isn't too tight. Crew-neck.
Besides the T-shirt, what else would you say are completely essential basics?
A crew-neck sweater, clean wovens with nice fabrication, and then a military- inspired jacket. And that's everything from a three quarter-length parka to a M65 to a MA-1 flight jacket.
What about bottoms?
Bottoms, for me, should be raw or lightly washed. No whiskering, because that's what you get to wear into the pants. That's what you get to turn the pants into. The pants I wear every day are just a black denim skinny fit and I buy them from the same brand every time. And I have archives for the last eight years of all the pants that I've worn and have no knees or pockets left in them and I keep them. They're all in a box in my house. They're Acne Max Cash. I buy two pairs a year.
Was it your decision to do letter numbering with the cataloging?
That was a decision Bobby and I came up with. Just taking any sort of association or connotation of names away from the clothing and not making it some aspirational name or anything that ties the name of the clothes to an idea or time… It's also a nod to military garments and the way they are named.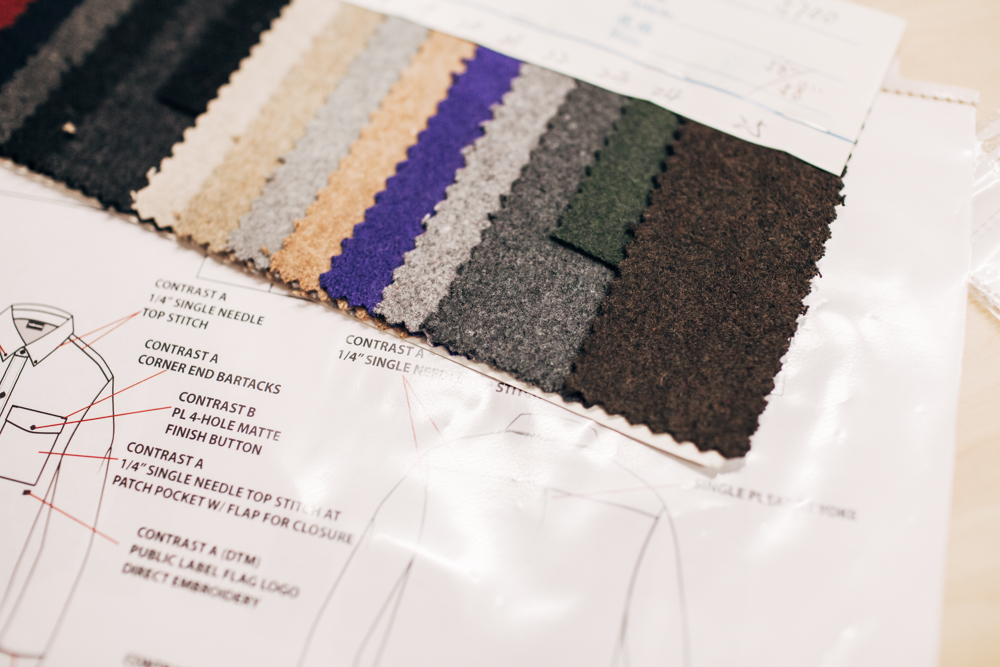 Are there any movies, songs, books, or any work of art that inspired the feel and aesthetic of Public Label? Any that give off the same vibe you wanted to capture?
We were actually really inspired by the movie The Thing this season. If you haven't seen it, it's a science-fiction horror film from the '80s about researchers working in the high arctic and this shape-shifting alien creature coming out of the ice. Everything they wear is obviously very utilitarian. It's a bunch of scientists working up in the high arctic wearing amazing, beat down parkas. It has nothing to do with the story of the movie or anything, but the clothing they wear is amazing. They're wearing leather bombers with shearling collars and heavy parkas with coyote fur. So we set out to create a really cold weather pack of apparel. Being based in LA, we don't often get to wear this kind of apparel, but we wanted to make something to get you through a New York or a Scandinavian winter.
With such a subdued palette, if the focus isn't about standing out, what is it?
It's about being classic and thoughtful. The Fall '10 collection is just as relevant today as it was four years ago. We're not trying to hit trends at all with Public Label. What we're trying to do is make classic apparel—timeless apparel.
Are there any materials that you're excited to work with this season?
We're working with an amazing fabric distributor from Japan, so we're using this fabric called NanoWing—it's one I'm most excited about. [This fabric] embodies what I'm thinking about Public Label… if you look at this fabric, it looks like a fabric you've seen ten thousand times, but it actually has technology and science behind it. It's nano-coated and fully waterproof and weatherproof and lightweight. We're also using some really heavyweight fleece. It's probably the heaviest weight crew-neck fleece I've made, so that's exciting to me.
What else have you been really inspired by?
I'm always really inspired by street snap photography and blog format street photography. I troll through all that street photography looking for… not the guy outside the fashion show in a kilt with neon Nikes and a bunch of wristbands waiting to be photographed. And not all that Pitti Uomo with the Italian tailored suits and needless scarfs and accessories… I'm looking for the opposite of that, where the photographer gets a shot of a guy who's wearing a great coat, a T- shirt and a pair of jeans that you can tell he loved. And a pair of Vans. That's what I'm inspired by, the guy who didn't get dressed to get photographed, but is casually well-put together.
What blogs do you usually keep up with?
Tommy Ton. He's the best at that, finding the right people. He talks about it in interviews all the time that he hates to shoot the people that got dressed to show up and get photographed. He still shoots those people, but he says that it's not really what he's looking for. He's looking for the person who looks comfortable and confident in their clothing. The person that perhaps is actually there to do work or happens to be in the background—that's what I'm looking for.