Almost three years from its initial release, Random Access Memories, the Grammy award-winning album by mysterious Parisian electronic-disco duo Daft Punk keeps rocking the sound waves and Billboard charts. It was the fourth album by the duo made up of Thomas Bangalter and Guy-Manuel de Homem-Christo, and their most commercially successful one, topping the charts worldwide and debuting at number one on the Billboard 200. The album's lead single "Get Lucky" featuring Pharrell is one of the best selling songs of all time. Leaving behind their predominantly electronic past and looking for inspiration in the West Coast's '70s and early '80s music scene (disco, funk, soft rock, and prog-pop) as well as analog studio recordings, the album was a huge achievement for the duo.
Meanwhile, back in Paris, the album was a huge achievement for creative director Cedric Hervet as well. Hervet remains one of the most important pieces of the Daft Punk puzzle. Working close with Thomas and Guy-Manuel for more than 15 years, Hervet has helped shape their image and visuals, along with other collaborators, by designing Daft Punk's album covers from cover art, creative direction, and art direction for the Random Access Memories album, co-producing their third album Human After All, leaving his eclectic touch on films like Daft Punk's Electroma and Interstella 5555, along with various direction and production work. On top of that, Hervet was also the animation supervisor of the 2009 Oscar-winning animated short film Logorama.
With credits like these, you'd expect to see Cedric Hervet in front of his magic screen working on film and music projects all day, every day. But his inspirations also surprisingly come in the forms of craftsmanship, furniture, wood, and leather. Along with his cousin Nicolas Hervet—who has received repeated honors in woodworking, marquetry, and sculpture—the Hervets together  have been designing furniture and unique objects for years, and in 2014 they formed the Hervet Manufacturier company.
Hervet Manufacturier recently opened their first Paris gallery in the Vendome Square area, at 8 rue Volney between rue de la Paix and the Opera.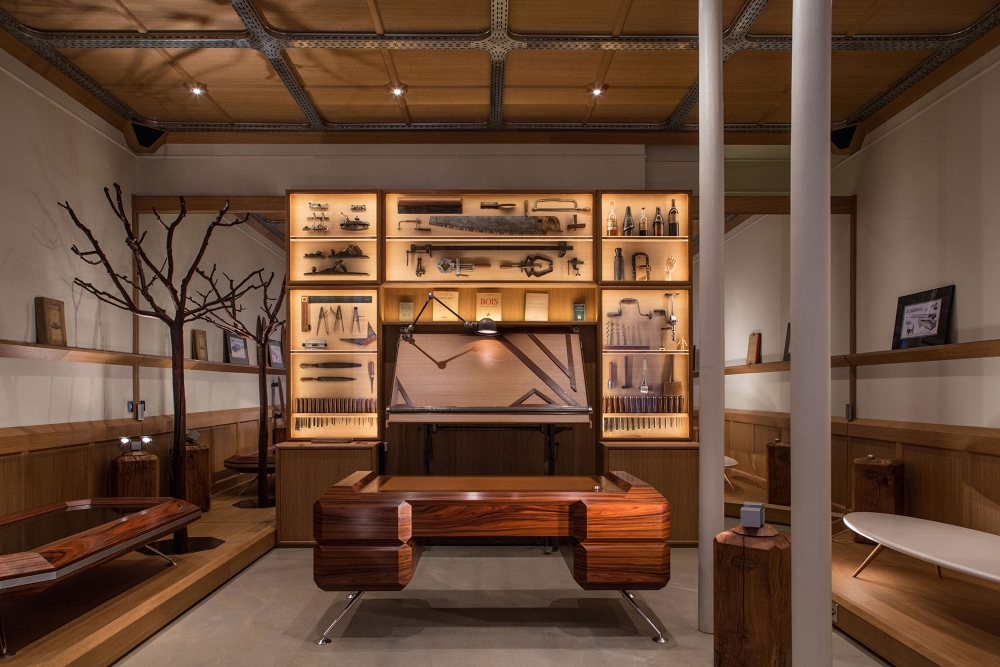 Manos Nomikos: How did you decide to open your own flagship store?
NICOLAS & CEDRIC HERVET: We started to work on Hervet Manufacturier's project in 2008, that is when we did the first desk, but I was still working for other companies, and to develop these kind of products you need funds. So when we had enough design and money to have the first pieces ready, we launched the brand in 2014. We were debating about having a web store or a real gallery for the furniture, then we thought [for] these kind of objects you kind of need to see them in real [life], to really see the details, feel the materials. So that is why we started with the gallery in Paris.
Tell us some more things about the store and what someone can find in it? I can see the fantastic Daft Punk skateboards among other items.
We designed and built the whole gallery ourselves. All the pieces we produce are pieces we would like to have for ourselves. It goes from small items, like yo-yos and skateboard decks, to big pieces of furniture like the desk or the satellite.
Will we see more Daft Punk items and collaborations in the shop in the future?
There is some because Thomas [Bangalter of DAFT PUNK] shot all the pictures that are exposed in the gallery. He visited the workshop in Normandy and shot them on film. They are beautiful.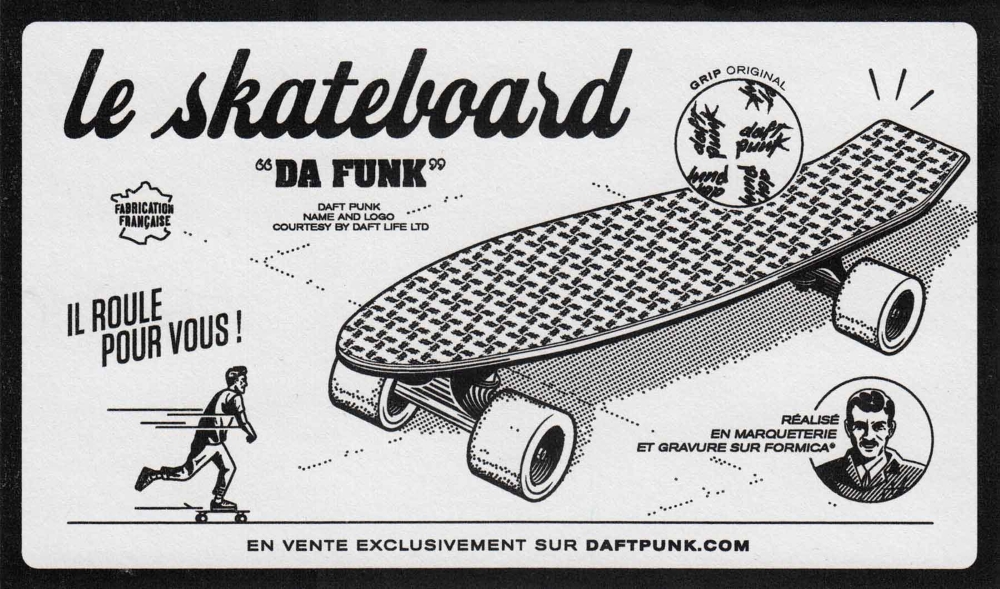 How did you both start working with wood and metal back in the days? What were your first pieces?
We spent our youth together mainly during school breaks and holidays—we had access to wood and tools very young, so we started to build stuff at this time. Then when we were around 20, we were living in the same flat in Paris; we designed and made all the furniture in the apartment. In 2008, the first Hervet Manufacturier's piece we did was the desk. It was made of white lacquer and black leather. It was dedicated to post-production, it already had the futuristic lines and all the computer, tape desks, and hard drives were hidden in the furniture. Only the ports were visible.
How would you define your style? I can see retrofuturistic and space age elements meeting modern architecture.
For sure the final look is really retro-futuristic, but it was kind of unconsciously. In fact, it came from the shapes we liked in combination to the materials and traditional technics we used.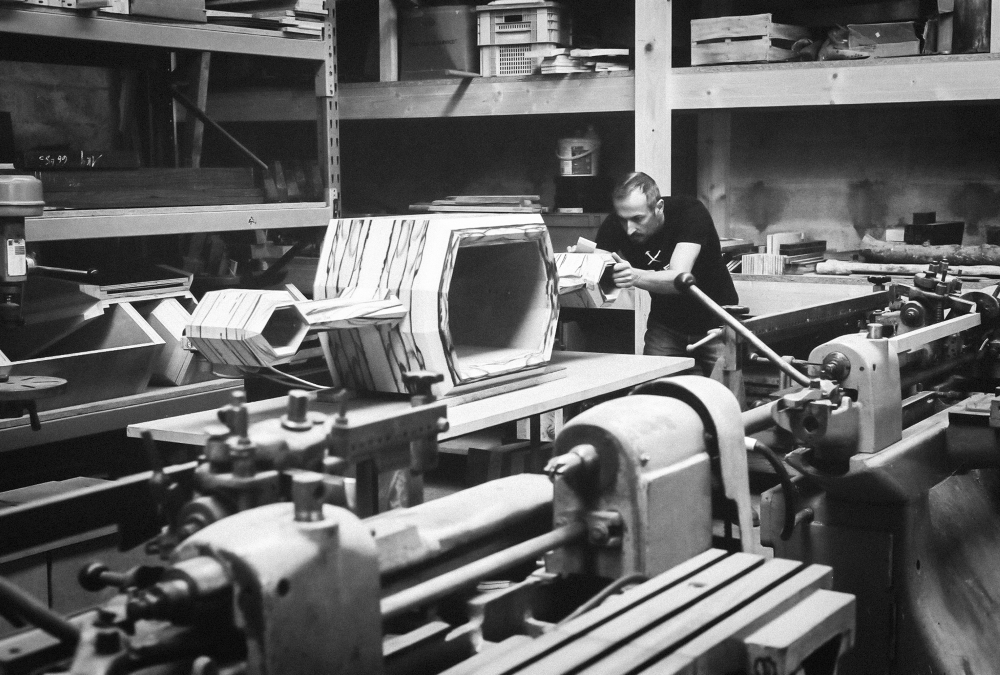 What type of material do you prefer to use and what do you enjoy most of your job?
We really like wood and leather as you can see in our products. We love to draw and sketch new pieces, find the right way to assemble all the pieces together in an elegant and clever way. Also, there is something we like about our job, it is to find the best pieces of veneer and how they will fit to the furniture. It is like treasure hunting.
How do you see the world of contemporary design and furniture making in 2016? Trends come and go?
We are passionate about what we do. To be honest, we spend so much time since 2008 to find the way to do our own furniture, that we didn't have time to really check what is out there.
We do not design our pieces based on what is hot now, or what is trendy. About the trend, that is true, that trends come and go, but in design, you can see pieces that are around for 70 years, they have been re-edited or licensed.
What's next for Cedric and Nicolas Hervet? More films, music and furniture?
We just started this new adventure, it takes a lot of time, we have to learn new jobs, like doing this interview. We have a lot of new objects and furniture coming, but we are always open to new experience and very motivate by doing new projects.
***
HERVET MANUFACTURIER
8 rue Volney
Paris 2e, France