If graphic T-shirts are the heart of streetwear, then collaborations have to be the brain. With the right brands working together, collections are sold out in minutes, lines wrap around several blocks, and, sometimes, there are police officers in riot gear. But, even with so much hype and attention directed toward collaborations in 2016, the concept of two brands working together had very humble beginnings. During the nascent start of streetwear, a collaboration was simply helping one another to expand and grow. And this mindset is probably why even when a co-branded project is released nearly every other weekend that some collaboration are still very relevant.
Anti Social Social Club x mastermind JAPAN
Hate to be the bearer of bad news, but Anti Social Social Club (ASSC) is on the list again. I'm not a fan of printing on Gildan and charging a hundy for a hoodie, but it's safe to say that you must be doing something right to work with mastermind JAPAN. The luxury streetwear is coveted around the world and have loyalists in China taking pilgrimages to wait in long lines. To see ASSC score a project with mastermind JAPAN will get the most ardent hater to take a second look; a different perspective on the hype and all the right things Neek Lurk has been doing. Kudos.
Source: Hypebeast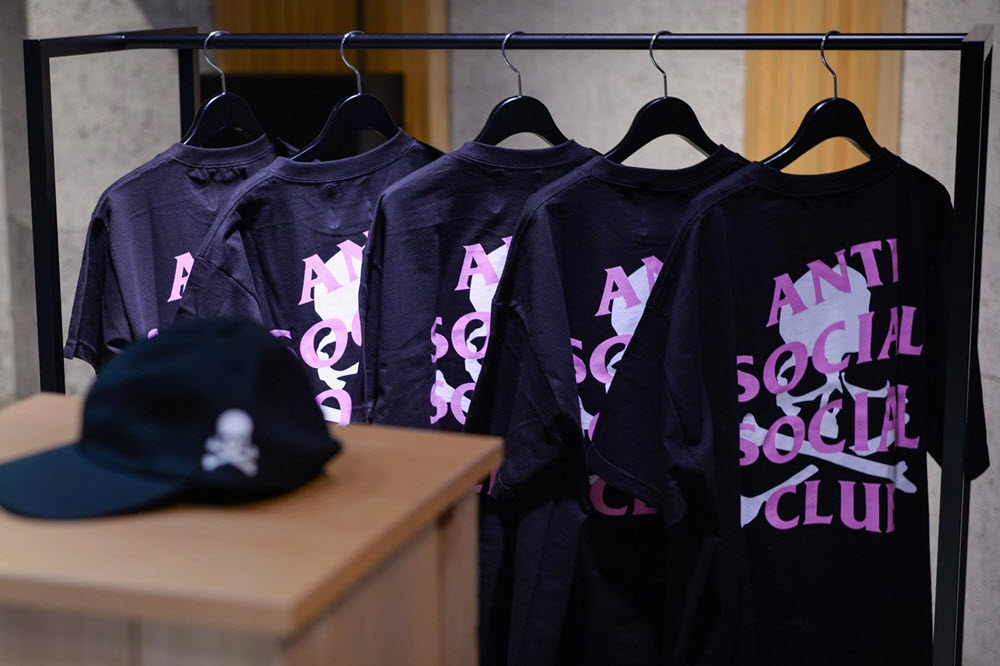 40s & Shorties x FTC
There is nothing stellar about the project except it joins two brands that I deeply respect. You have FTC representing NorCal, looking to celebrate their 30th anniversary, and then you have the young bloods over from 40s & Shorties filled with that Southern California/OC flavor. The results are some fresh graphic T-shirts, some Emoji-themed socks, air fresheners, and a couple of limited edition decks. Sometimes you don't have to knock it out of the park; a nice double to win the game is all you need.
Source: FTC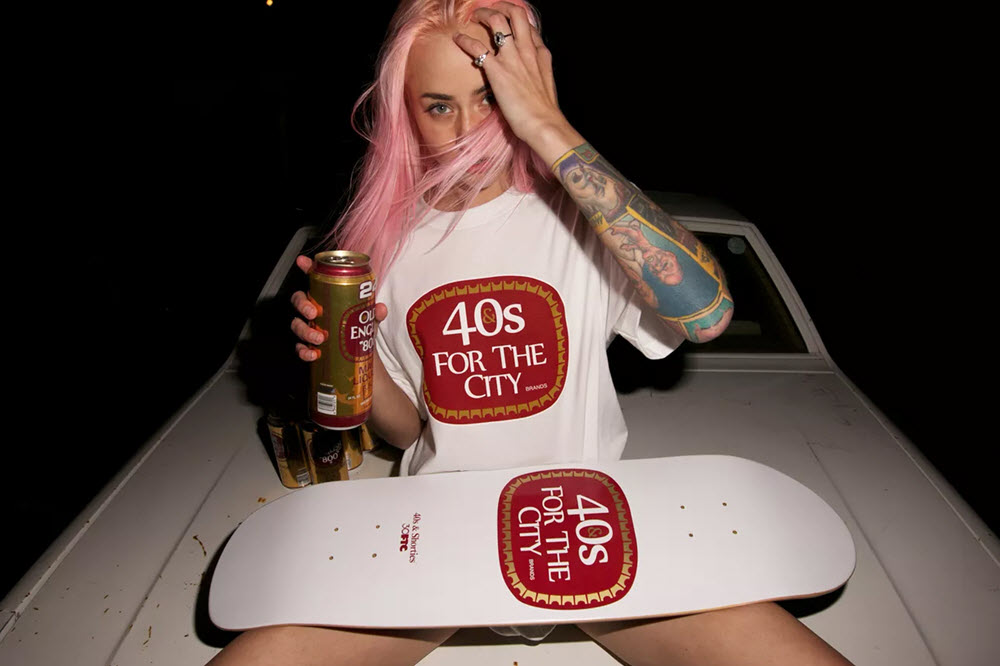 Supreme x Betty Boop
You know Supreme was going to be on this list, but it wasn't the seasonal The North Face or Vans collaboration that caught my eye this year. It wasn't even the dope-ass Seven Samurai graphic T-shirt with UNDERCOVER. What caught my eye was that '30s darling Betty Boop. Decked out in her flapper dress and those long eye-lashes, this was the first "Safe for Work" sex symbol. Supreme did nothing more than re-appropriate a familiar image, but the nostalgia conjured up is priceless. From the graphic T-shirt and enamel pin, to the satin jacket, this project was on point. The icing on the cake was the Betty Boop on the hang tag.
Source: Supreme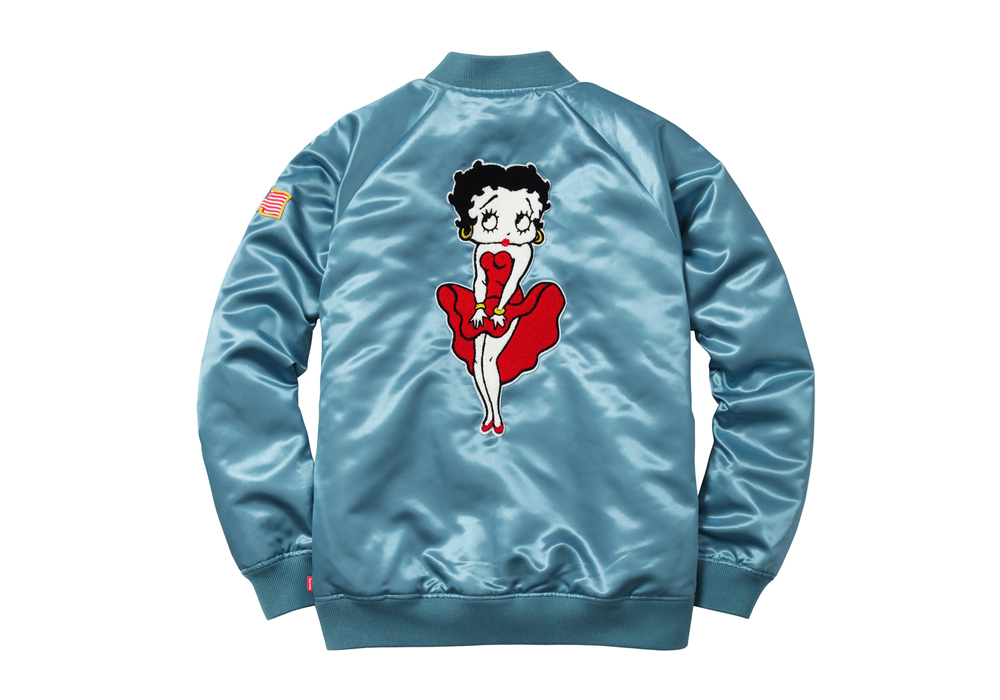 FTP x HUF
The real star of this union is Fuck the Population (FTP). This is the second project between the two brands, and it brings with it all the reasons why FTP is so relevant to the youth. FTP literally does not care (while simultaneously caring more than most brands) and this collaboration is an extension of that ethos. HUF and FTP use the familiar "H" and applies a "FTP" and a sad face. I wouldn't be surprised if this was done on MS Paint with a Compaq desktop. Creatively there leaves some to be desired, but at the same time, it hones in on what the people want.
Source: HUF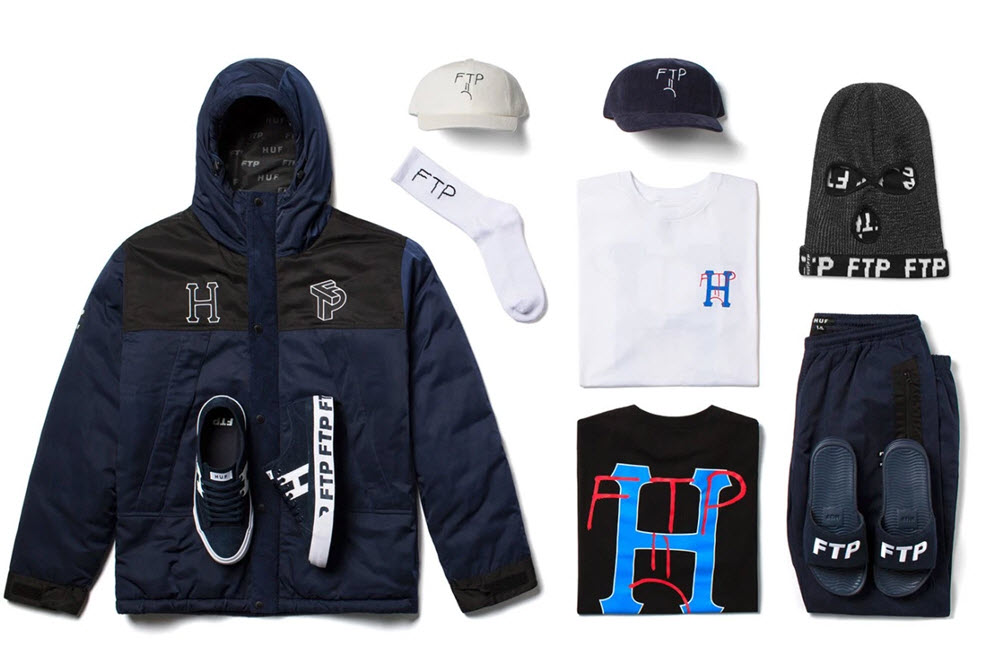 Robert Geller for Five Four
If you thought subscription menswear was a joke, then look again. Five Four proved that getting a box of clothes every month was a legitimate business when they followed their Mark McNairy collection with one from Robert Geller. Born in Germany and raised in the United States, Geller went to RISD and has worked with everyone from Marc Jacobs to Kanye on Yeezy Season 1. The award-winning designer knows his stuff, and is behind my favorite defunct brand of all-time, Cloak. Five Four recognized Geller's talent and just made it happen. The result was affordable high-fashion that was ready for the average joe.
Source: Five Four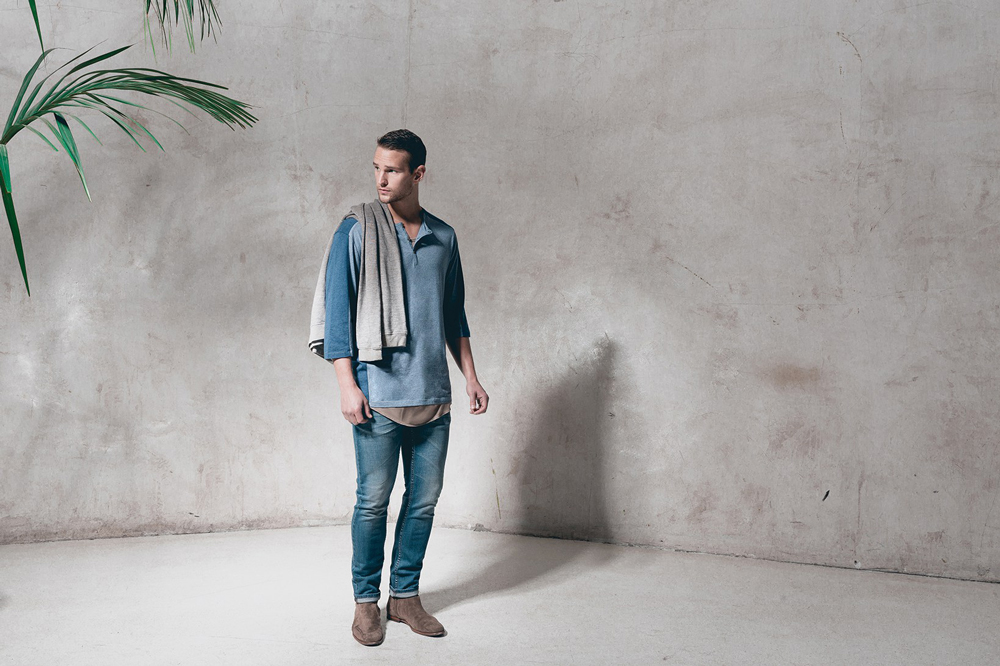 Reigning Champ x adidas
I've been a fan of Reigning Champ (RC) ever since I put on a tiger fleece hoodie. They're great, but their latest endeavor with adidas makes them even better. The two brands link up, yet again, for a collection that was centered around a special edition of the hype-worthy UltraBoost. But the real stand out was the collaborative apparel. Premium fleece woven in the mills out of Canada paired with cutting edge adidas design, all the while being practical and functional. Oh, and that's Von Miller, highest paid linebacker in the NFL, in the lookbook.
Source: Reigning Champ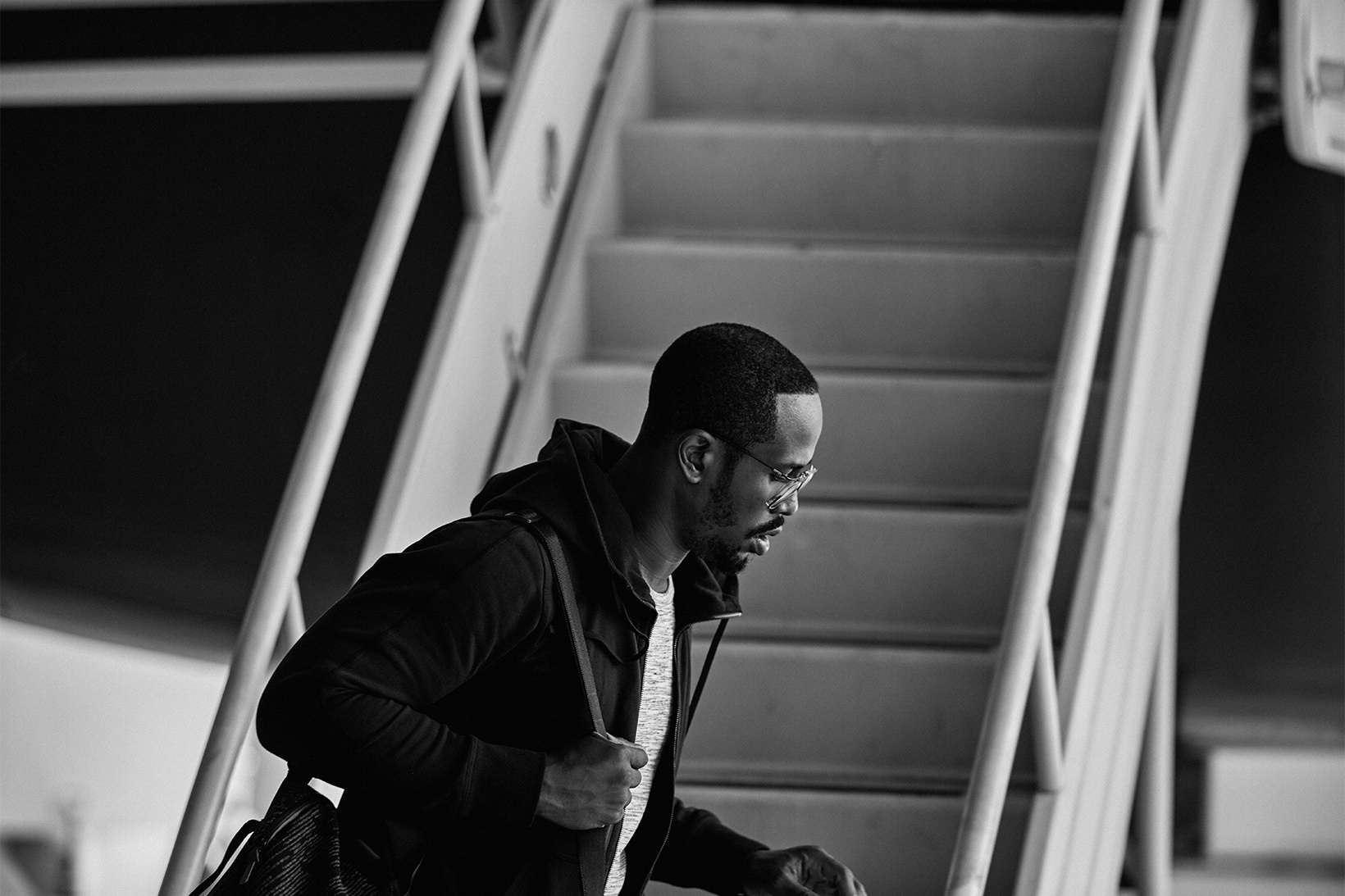 3sixteen x Schott
A good leather jacket will save your life, and 3sixteen makes a beautiful piece with the help of Schott (pronounced "Shot"). When it comes to leather, Schott has over a century under their belt, and none more convincing to that motorcycle look than the Perfecto. 3sixteen takes on much of the silhouette of the iconic jacket and throws in their own edgy take. The result is a functional riding jacket that is inspired by the leather fencing jackets from Japanese brands, like Julius and American stalwart Rick Owens.
Source: 3sixteen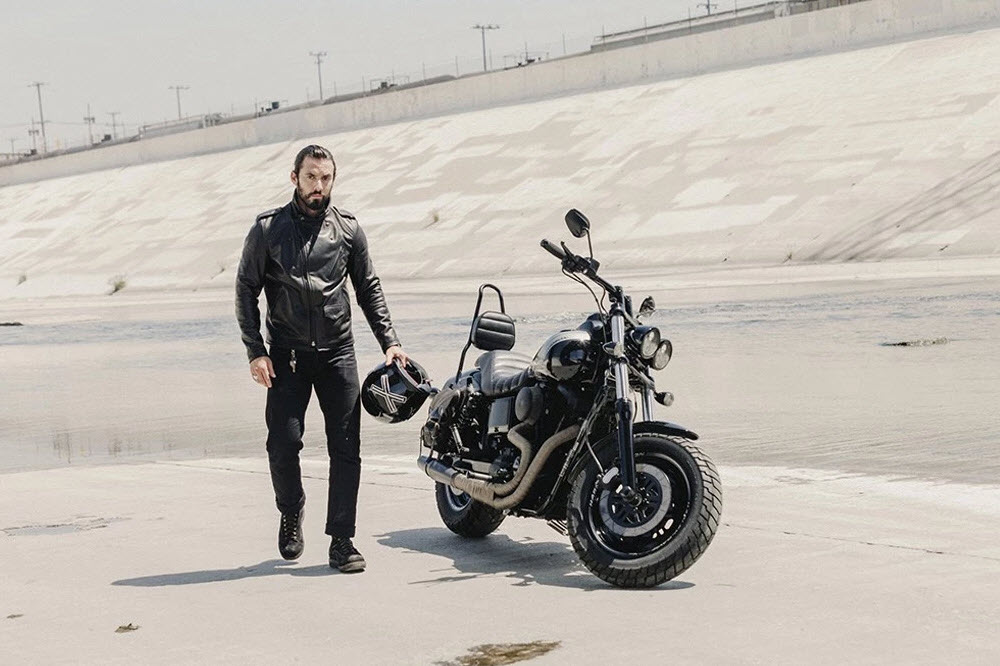 The Hundreds by Alyasha
The closest streetwear has to Michael Jordan is embodied in Aly. Alyasha Owerka-Moore, like Jordan, may not have invented the fade-away or graphic T-shirt, but he's been damn close to perfecting it. He seems to be the one dude with a crystal ball when it comes to youth culture. Who do you think suggested the Dunk Low when Nike decided to give Skateboarding another go? Who was wearing cuffed Japanese denim with the selvedge line showing when most of the internet was getting into skinny Tsubi and Nudie's? The The Hundreds collection with Aly was a lesson in essentials, and a way to circle back to one of the orginators of streetwear (who also happens to be Bobby Hundreds' mentor).
Source: The Hundreds
I also want to give a mention to The Hundreds X Death Row. For you '90s kids, you may think you know, but you don't know. You have to have been born in the late '70s and '80s to really understand the juggernaut that was Death Row. Imagine dominating radio stations, nightly news, and nationwide periodicals with your music… and antics. That was Death Row in a nutshell—they were a part of culture and they created many sub-cultures. Death Row with The Hundreds isn't a collaboration, it an extension two entangled sub-cultures: gangster rap and streetwear.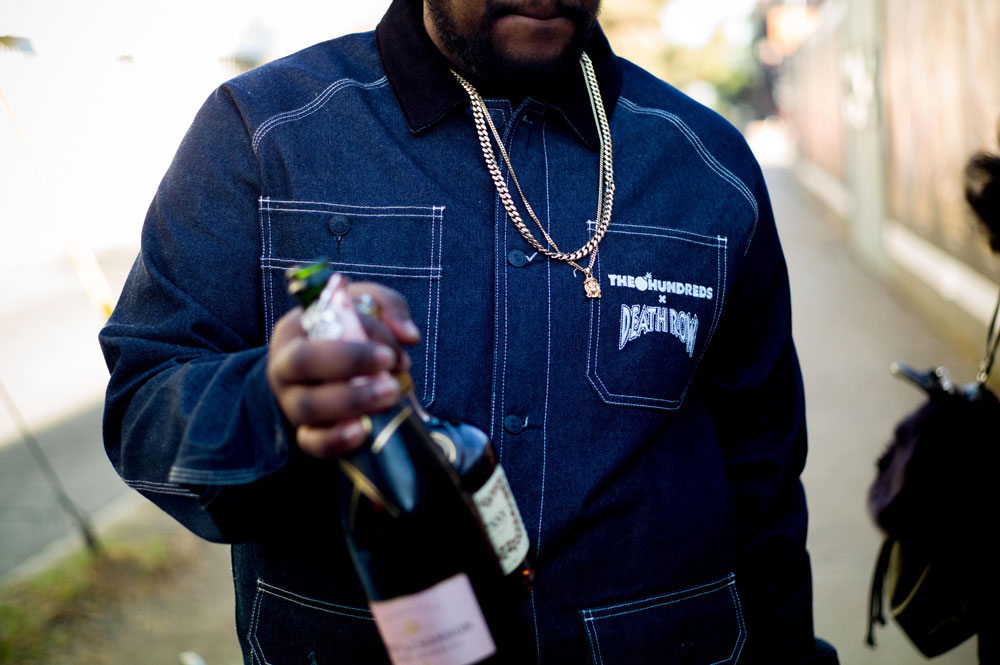 Jordan Brand x Drake OVO
Two vowels, a consonant, and a Jumpman was enough to get kids and grown-men to line up for blocks. Drake teamed up with Jordan Brand again in 2016, but expands their relationship beyond sneakers. The collection was small, minimal, and exactly what the fans wanted. Using the Jordan 12's heel tag as inspiration, the T-shirts and hoodies sold out instantly, with Drake's reputation as a musician/designer becoming mythological. How is it that a dude in the rap game, that is best known for singing about heartbreak, have a collection with Michael Jordan?
Source: Jordan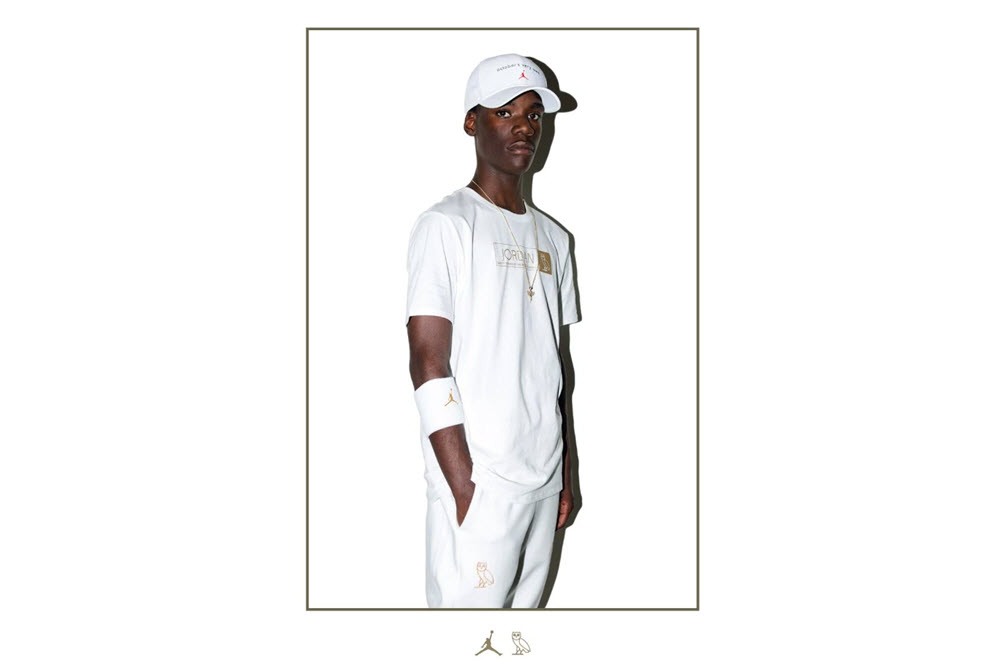 Carrots by Anwar Carrots x Brooks
How is it that a label largely branded around a vegetable might have any place in streetwear? Anwar Carrots rides that fine line with alacrity as the roots of his Carrots brand deepens and strikes a collaboration with Brooks. The Beast silhouette arrives out of the nineties from the Brooks line of premium runners, and is done up in the familiar orange. But what makes this sneaker stand out in the litany of other collaborative projects in 2016 is the ratio of colors and the brands involved. There is just enough orange in the runner to highlight the navy blue on the toe, and prevents the bright orange to completely take over. Brooks is also a pure running brand that has done a string of projects with smaller labels. The idea that one brand can truly complement another really rings true in this collaboration—unlike the countless money grabs we see from Nike and adidas.
Source: Anwar Carrots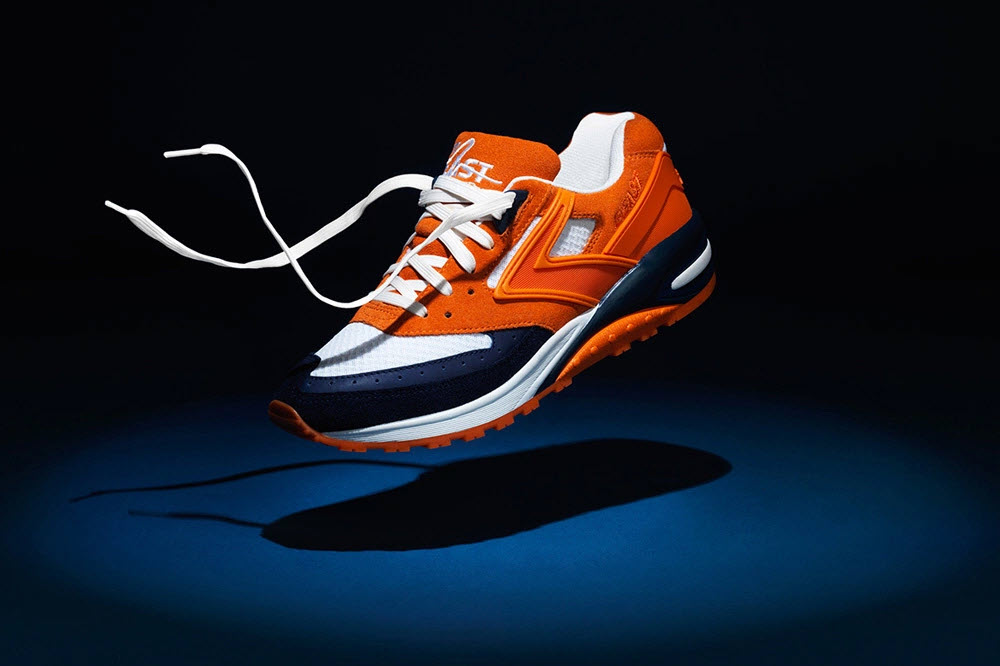 Only NY
There are some notable collaborations on this list. How The Hundreds got to Death Row, I will never know. And why Jordan continues to work with the softest rapper in the music game remains a mystery. But one thing I do know, is that none of the brands have the co-sign of an entire city. Only NY has locked up a choice project working with the City of New York for the second year in a row. Imagine logos from the Department of Transportation, the Parks Department, and the Department of Sanitation from the Big Apple at your disposal.
Source: Only NY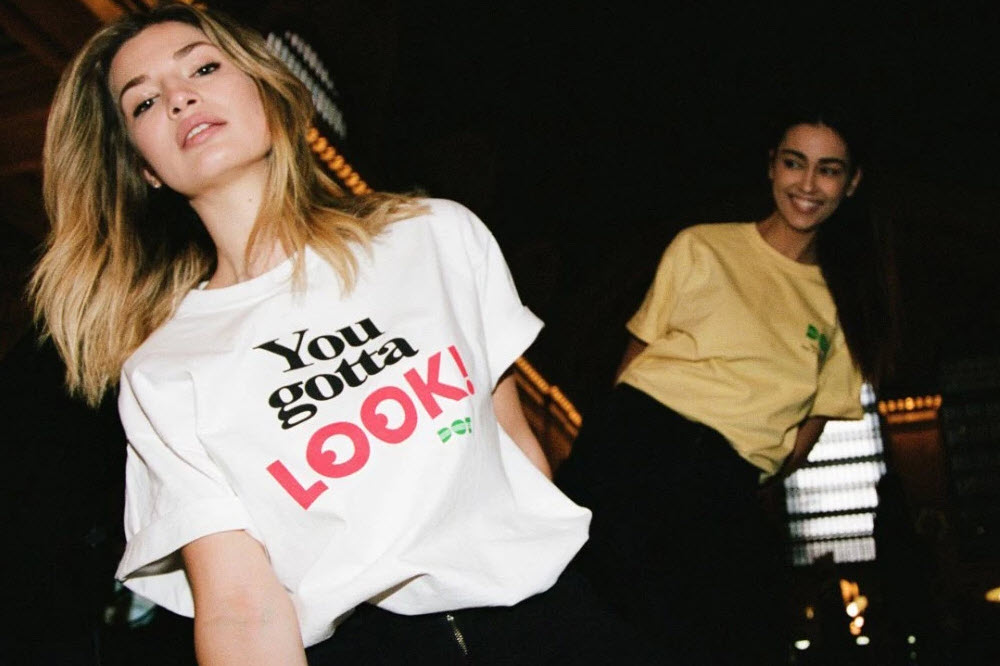 ***
Honorable mentions from our Assistant Editor Justin Davis: BAPE x CAPCOM, Supreme x Undercover, Jordan Brand "Space Jam" collection.