There would be no C.L. Smooth without Pete Rock, no Guru without Premo, and definitely no Future without DJ Esco. When it comes to a song, the producer or rapper debate is very much like the chicken or the egg—who came first? While both are important in the creation of a bomb omelette, the producer is the main ingredient that you don't necessarily see, but taste loud and clear. "On The Beat" is a The Hundreds column where we get to know the enigmatic figures behind the beats to your favorite songs accompanied by a mix of ZEEMUFFIN's favorite productions from the artists.
Atlanta's 28-year-old TM88, born Bart Saaci, is one of the main producers responsible for crafting and defining the unmistakable sound of trap music that originated in Atlanta. Along with his 808 Mafia-affiliate Southside—and producers Metro Boomin, DJ Spinz, and Zaytoven, to name a few—the city's producers are clearly having their moment, and don't plan on leaving the spotlight anytime soon.
"This year we're winning a Grammy man, I know this for a fact!" 88 says through a cloud of smoke. It's a beautiful sunny day and he's sitting beside an empty pool in the backyard of his Atlanta studio, his unforgettable green hair creeping from his black hoodie.
And his statement isn't a reach. 88 has worked with pretty much anyone and everyone you can name in hip-hop: Young Thug, Gucci Mane, Waka Flocka Flame, Migos, Soulja Boy, Future, and 2 Chainz, among others. At the same time he's working with Atlanta up-and-comers—most recently with rappers like HefnaGwap, and on 21 Savage's Free Guwop EP—in an attempt to show a different side to his sound.
88 and other members of the 808 Mafia are known for defining the current sound of trap, most recognizably establishing the sound for Gucci Mane's Brick Squad label. Future's 56 Nights is probably one of the best recent reference points of 88's sound, heavily laden with 808 drums and crisp, finely chopped hi-hats.
He clears up any rumors that have surfaced about him leaving 808 Mafia. "Man, me and Southside [are] brothers... We still hang together on the daily. This shit on my hands, my neck, my arms. it's everywhere," he says as he gestures at the tattoos on his body.
88 is in high-demand, locked in the studio on the daily. "[I'm] working on me, working on making my beats better, working on everything," he proclaims. We sat down with the man who says he clocks in "12 hours at the studio"—his "gym"—to talk about his process, his story, and what's next on the horizon.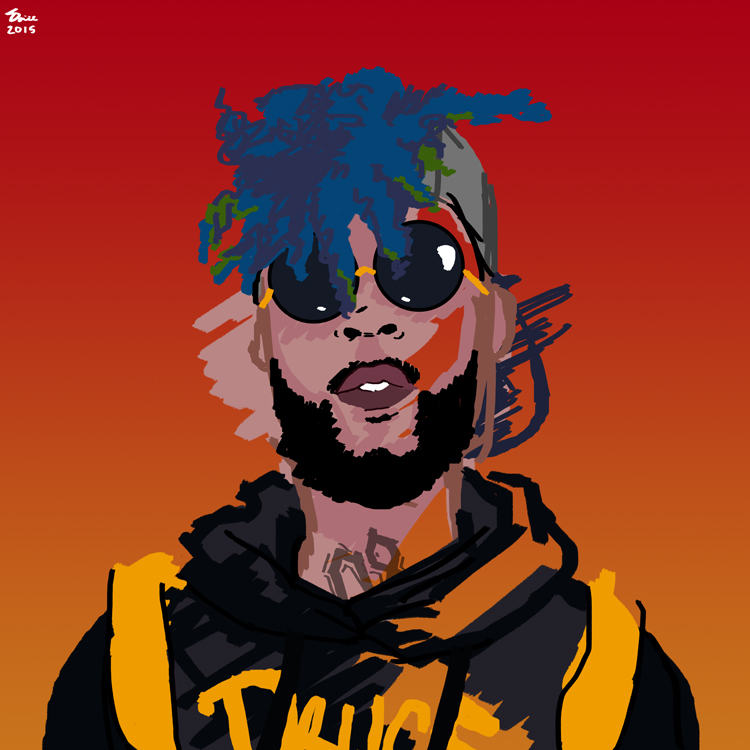 Let's start from the beginning. How did you get into producing? I was in high school, ninth grade. I was playing sports and shit and I kind of figured I didn't want to do that shit no more. So my cousin who was two years older than me, he was making beats and I was like, "Bro you gotta teach me that shit!" I woke up one morning, like eight in the morning, and just walked to his crib—he stayed like a few neighborhoods down. He showed me how to make a beat and it's been on since then.
Who was the first person you sold a beat to that affirmed you wanted to do this? "Lurkin'" for Waka Flocka. It was my first album, my first sale. The first person I started working with was Slim Dunkin—R.I.P. my brother. Then I started working with D Dash, Waka, Gucci, and then Future.
On a good week, how many beats do you make on average? If I'm in the zone it's probably 10 to 20. If I'm just cooling it, I'll do like three to five. But you know, you never know. It's however you're feeling. You might just make one.
"MAN, YOU CAN NEVER MOVE FROM ATLANTA. IT'S WHERE THE VIBE AT."
What's more important to you, quality or quantity? It used to be the quantity when we first came out. Now it's more so about the quality. 'Cause when people listen to your shit they wanna hear that real. You don't wanna have no slacking tracks out there.
There's this work ethic of artists from Atlanta, specifically in trap music. Where does that come from? I mean it's the trap. It's real trap music. When you see the trappers, they're working hard. Some niggas whipping around fucking selling packs all day. So like, that's real trap music. That's how it's made. It's made from the trappers. Being around that environment, it's real fast paced and no one got time to play. That's how everybody treat the music. You go into the studio [and] the producers are working hard, going crazy, and then the artists come in fresh off trapping or whatever they're doing. I don't know what they fuck they doing. And you know, they pushing out music faster than you can make 10 cookies in the oven.
Trapistan Volume 2 by ZEEMUFFIN, featuring her favorite productions from the artists.
WATTBA was made in 6 days, that's pretty crazy. I mean sometimes it takes hours, niggas like record 10 songs in a whole session. Niggas will have a whole mixtape. But you know it ain't about how fast you put them out. Only the real talented ones who put them out fast go crazy, like Future, Thug. It's more Atlanta artists.
I know you said you like to be a behind the scenes guy, but now you're DJ'ing, most recently at TomorrowWorld and Fool's Gold Day Off in Atlanta. How's that going? I mean I used to be more of a behind the scenes guy. People kind of pushed me forward to be out. I guess 'cause of the hair, my style of music, the way of dressing or whatever. DJ'ing is actually fun too. I don't like to get too far into it because I'm a producer first but it's fun. You get to take a load off with your friends and your fans. I like to jump in the crowd and fuck around. My friends are out there, my camera crew, my online crew. Everybody turn up. They gonna have to start paying these niggas! [Laughs]
Is Atlanta where you create best? Would you ever move to another city? Man, you can never move from Atlanta. It's where the vibe at. You can go to LA for two or 3 weeks, but you're gonna want to come back. Trust me. It's where the vibe at. Where you gonna go? Omaha? I got my Miami patnas but the music scene ain't popping out there.
You've talked about being one of the greats. Is that in the realm of trap music? Or beyond? Man, trap is my thing. I'm doing R&B, pop records. I mean the shit we're doing is pop! It's popular music. I'm doing everything except for EDM. That shit don't fit me.
That "Nightcrawler" track on Travi$ Scott's album that you worked on is the craziest record by far. I still got the Instagram video up for when we was making that shit—I think it was like 38 weeks ago. Man, there was so much lean. There was so much weed! It was crazy [laughs]. Man my whole body was numb. Just cookin' up numb, my hand just clicking this shit. Yeah man, Travis a cool dude. Shotout Metro [Boomin] and Allen [Ritter].
Word, so do you think you work better alone or collaborating? Either. But it's just like I can't go into the studio with a lot of producers. Like if it's not the legends like Polow [Da Don] or [Timbaland], like some people are just not meant to click and make beats together. Some people gotta send shit over email and let me do what I do and I send them something and they do what they do... I've been doing a few collabos but working a lot on my own too.
So you recently ventured into fashion? There's a few companies I'm thinking to collab with for clothing and shoes. Because like growing up, you know how you have shit and then you lose it all. At one point I felt like I was the prince of America. My momma had all the fucking money and then she got married and shit happened. When you lose it all you gotta learn how to dress with the shit that you got. You might take some pants and wear the same pants four times in a row to school like fuck it and change the shirt, jacket, and the shoes and go to the club and do the same thing. Fake it 'til you make it.
"NEVER STOP. WORK LIKE YOU AIN'T GOT NO RECORDS."
What's up next after Sacii Lyfe? I got an EP coming out that I can't talk about right now. I'm working on everybody album. I don't want to oversaturate myself. I mean I fuck with niggas but it's just like, "Why are we working? Like are we actually making money together or what are we doing?" It's pointless if we don't have a relationship. Pause. We don't have a music relationship where I'm pulling up on you.
What's your advice to upcoming producers? Create your own sound first. Then work on being more simpler with your melodies and having your drums out there. Like the only way you're gonna get rhythm is if you hear a clap, snare, hi-hat, kick, bass drum. You gotta hear it. If you can't hear it there's no way for you to move, dance or dab to that motherfucker. And then once you find that shit out man, you'll be able to come together with other producers and join your sound with theirs and make it epic. Make it just the best. Never stop. Work like you ain't got no records. Forreal man, just get high bruh and just work.
***
TM88 artwork by Nick Diminico.