There would be no C.L. Smooth without Pete Rock, no Guru without Premo, and definitely no Future without DJ Esco. When it comes to a song, the producer or rapper debate is very much like the chicken or the egg—who came first? While both are important in the creation of a bomb omelette, the producer is the main ingredient that you don't necessarily see, but taste loud and clear. "On The Beat" is a monthly column where we get to know the enigmatic figures behind the beats to your favorite songs.
For our first installment, we skyped with St. Paul, Minnesota native and Dallas, Texas-based Cardo, aka Ronald La Tour, your favorite producer you didn't know was your favorite producer. At only 30-years-old, Cardo's resume is already impressive: He's worked with rappers from Mac Miller to Big Sean, Freddie Gibbs, Dom Kennedy, Meek Mill, Jay Z, PARTYNEXTDOOR, and most recently, Cardo teamed up with The Game and Drake for "100".
Recognized predominantly for his signature funky, outer space groove-laden sound all over Wiz Khalifa's formative Kush & Orange Juice Mixtape, Cardo has since moved on from being an in-house producer for Taylor Gang and recently was in the studio with Dr. Dre. Citing Pimp C, DJ Toomp, and DJ Quik as influences, Cardo has developed a sound that is grabbing the attention of heavy hitters. "[I've been in the studio with] Justin Beiber by the way, too. I'm trying to rank up," he says on Skype, a wide grin on his face as he winks at me while throwing a thumbs up.
"So whatever I'm doing right, I'm going to keep doing. To be in the presence of Dr. Dre and the presence of other people reminds me that I'm doing something right. I just want to continue doing that and remaining humble at the same time." And that's an ethos he's been staying true to: Always undertaking new projects like DJing, which he's new to and still learning.
Cardo is also the boss of EISG (Everything is Gold), a collective of up-and-coming producers and artists, including beatmakers like Young Exclusive and Johnny Juliano (who helped with the Drake and Game record), and rappers like Gerald Walker and Pizzle. Cardo recently teamed up with Pizzle on the trap banger, "Once."  The collective is gearing up to drop their first offering Mental States, which Cardo described as "A [The] Chronic-type album," in the very near future.
If being in the studio with Dr. Dre among countless other musicians and dropping a new EISG album wasn't enough, Cardo also has two instrumental albums slated to come out this year: Oceans Theory in August and Everything Is Gold II through Fool's Gold later in the year. It's safe to say that Cardo is about to have the craziest summer of his life and finally get the recognition he deserves.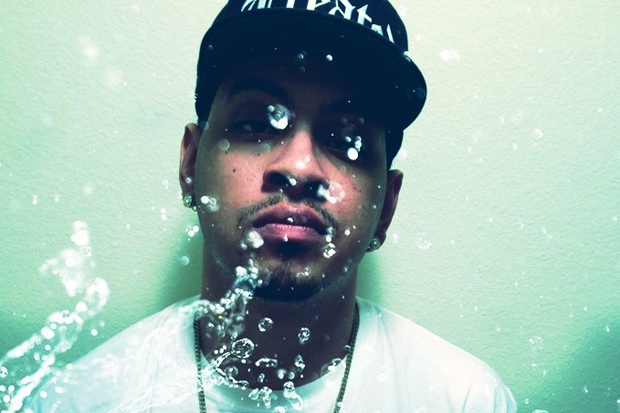 ZAINAB HASNAIN: You're from St. Paul originally. What made you make the move to Dallas?
CARDO: Man, I was getting caught in a lot of trouble. I was trying to avoid the street life. My mom was living in Dallas and she was like "move down here." I was in jail. Literally a day after I got out I moved to Texas.
So you're pretty much a fixture in the scene down there. Describe Fort Worth's music scene.
It's very wide. There's a lot of good talent coming out of here: Both producers and artists. You got Post Malone, Tum Tum, JT who is working with Dr. Dre and the Aftermath, Symbolic One—you got a lot of producers. I think Post Malone is dope, he lives about 15 minutes from me.
"[DR. DRE] TELLS ME I'M THE FUTURE. LOOKS ME DEAD IN THE FACE AND TELLS ME I'M THE FUTURE. HOW DO I FOLLOW UP THAT?"
Is it true that you started making music with the Playstation video game MTV Music Generator?
Yes ma'am, this is indeed true, [with] my brother Sosa—we're a year apart. Same birthday, same mom and dad. We started doing it together. I would say around September of 2000 we started making beats. I recently just found the game again… at this place [called] Moving Trade Company and I ended up buying it and ended up buying another PS1. It took me down memory lane and reminded me of where I came from.
You've talked a lot about being Influenced by DJ Quik. What was the first record you heard by Quik that made you go, 'I have to make music like this'?
It had to be "Tonight" and "Jus Lyke Compton." Them songs made an impact on me because I grew up on the West Coast sound. Everybody in the Midwest listened to the down South shit and the West Coast shit. The west Coast G-Funk and the down South Rap-A-Lot days. The East Coast didn't really have much of an impact on us, just because it wasn't the music we was on.
I heard that when Chevy Woods first introduced you to Wiz Khalifa, you had food poisoning. Sounds like a crazy night.
I don't know what I ate. Man, that was terrible. I had to stop by the store and get Pepto Bismol and shit... Chevy and [Ill] Will was like, 'Come down, Wiz wants to meet you,' and I'm like 'Cool, I'm on the way.' They're like, 'Yeah he's at the club about to perform.'
I get up and my stomach was over with and I was like, Imma fight this shit out. Finally I get there and man, [Wiz] showed me a lot of love—and it was definitely mutual. I told him I was a fan of his shit and he told me he was a fan of my shit. Then he was like play me some beats and I was like, "Fuck! My laptop just crashed this week." But what I usually do is like, I'll email the beats to myself so I can play them in my car and see how the the beat sounds.
I started playing him a bunch of shit [from my email] and he started picking it like, "I want this, I want this." And I'm like, Cool, cool, cool, he ain't gonna use these shits. [Then] he's like, "Yo! Cardo e-mail it to me right now." So I start emailing them from my phone. I played him "In the Cut" that night… March 4, 2010, I made the "Mezmorized" beat the day my daughter was born. I ended up sending him that beat that day like, I know he's going to fuck with this. I didn't know if he used it or not until the month after when Kush & Orange Juice dropped and it was on there.
So everything changed from that point forward?
A lot of things changed. My job started getting on to what I was doing. I was working at my first big job… at a home loan place. I actually got fired for making beats at my desk. It was dope as fuck though [laughs]. I swear to God as soon as I walked out of the building this dude calls me, said he had some money on the table for me in New York. I got the check but he did some sideway shit and used my material for movies… That trip was definitely worth it. That's when I met [A$AP] Rocky and them too.
I want to talk about your process. You're a samples guy. Are you more of a wax digger or an Internet digger?
I'm an Internet guy because that's where most of my techniques came from. [It] was off of the laptop, the computer PC. Hardware wasn't really my thing [because] I didn't have it. I learned how to do it by using programs and plug-ins and shit, just how to chop samples. So whenever I heard something, I would try to find the song on YouTube [and] I would rip it on YouTube. Boom. Chop the sample. That's how most of the shit came to play.
One of my favorite songs of yours is Meek Mill's "Levels."
Actually, I didn't even make "Levels." My daughter did. My 5-year-old daughter was in my chill area inside my studio and she was on my chair playing with the sample on the keyboard. She got up and I was like, "Yo, what are you doing?" And she's like, "Am I in trouble?" and I was like "No!" So I was like, "Get up and sit in my lap and play that again." She played the wrong keys and she's like, "That's the wrong one,"  and then she's like, "Here's the right one," and presses it. My daughter got her little chair and sat next to me the whole time and made that beat in 45 minutes.
"HARDWARE WASN'T REALLY MY THING [BECAUSE] I DIDN'T HAVE IT."
So she's the next Cardo.
Definitely. She's definitely musically-inclined. Both her and my son. [She's] five and [my son] just turned three. My son is like a mini Cardo. They're definitely the reason I work so damn hard. Everything I've been doing lately is because of them. They're like my motivation; they just keep me going.
A Meek Mill track Cardo says his daughter made the beat for in 45 minutes.
I know you started DJing too. How did you get into that and why?
I would have playlists and shit for the homies' parties when we were growing up but I never had the money to buy turntables, so I had to make like mixtapes or whatever. Last year I was fucking with Serato at Guitar Center and was like, Yo, I could do this! So I copped Serato and ended up going full throttle with it. And [PARTYNEXTDOOR] was like, "I need you to DJ in El Paso this week," …I'm going there thinking I'm about to fail at this shit.
Man, if you would have seen that crowd. I had the crowd lit. All it takes is practice. Even PND looked at me and was like, "Nigga how did you do that?" and I was like, "Bro, I don't know…" Because I interacted with the crowd. I'm not a DJ, I'm a TJ: A Turn Up Jockey. I brought water guns out, I started spraying everybody.
Did you think of DJing as a way to put a face to your name or just to learn something new?
I wanted to learn it to learn it and show people that I'm talented in multiple hustles... I don't want to become the world's best DJ—I just want to have fun while I'm learning. Sometimes while you learn, opportunities come with it. Life is all about the hustle.
Are you trying to stay in hip-hop or do everything?
Right now it's a blend. I want to do the pop shit because the pop world is where a lot of money is at and to put myself to the test. I can do whatever I want to do because I'm confident enough doing it and I want to show others that if you're confident enough [and] you believe in yourself, you can do it too—no matter what. Anybody that knows me knows that I'm a risk taker. You know I take my risks and I kind of don't care what anyone else thinks. Because that's just me.
I need to ask. Where were you and what were you on when you came up with "Lost in Vegas"?
I was actually in Vegas when I made "Lost in Vegas." It was during my cousin's wedding. I was making the beat in the car in the back seat. I had the aux cord and had that shit playing through the speakers. There's these outskirts that you can ride around and see the city, and we got lost in Vegas. We got lost for 3 hours. The streets are so weird to get back to the city. It's like zig-zags and we just decided to ride around. And that's how that shit happened.
What's the best advice anyones ever given you on your way up, and what's the best advice you'd give to someone who is an aspiring producer?
It would have to be from Dr. Dre. [He] was like, "Believe in yourself. I see your passion, I see what you're doing.You're a mastermind, you're empowering other people around you." That's true, I'm empowering Johnny Juliano and Yung Exclusive as producers. [Dre] tells me I'm the future. Looks me dead in the face and tells me I'm the future. How do I follow up that? He told me I have the skillset to do whatever I want to do in this industry. He said he's impressed by my work ethic.
For me to give anybody advice, shit, All you gotta do is believe in your damn self. If you believe in yourself more than others believe in you, anything you put your mind to, it will make you become successful in many ways and put the doubters to shame. Because I went through that. I went down the road of people doubting me and thinking I couldn't do it and thought it was a random hobby. So I used all that shit and put it all in music and started going hard with the music and I just started showing off.
I don't do anything in an arrogant or ignorant way… I always tell my kids you can do any fucking thing in the world and don't let anyone tell you different. All it takes is a little bit of faith, a little bit of hope, with a little hint of having that drive. You gotta have that drive.
::
Follow Cardo on Twitter @cardogotwings and on Soundcloud.