*It's taken me 2 weeks to write this post.
Each day in the shower I have what I delusionally tell myself are my "best ideas" and each day I mentally rewrite this title, this intro, this dialogue with myself. It usually starts the same, but it quickly strays down a narrowly guided (re: opinionated) path and actually comes to a complete end even more rarely. This, I tell myself, is part of the process of creative writing. Whereas my previous posts have been interviews woven around porously crafted skeletons of research, this –this one I am freestyling. I'm shooting from the hip and it's feeling good and wrong at the same time.
There's this thing called "utility." Everyone knows the word, but I'm going to argue against any likelihood that it's wildly embraced as something that has deeper meaning to most people. It's this point (or observation) that is the basis for my opinions. I've been racking my brain for half a month trying to craft a witty post about my visit to Northern Grade and the opinions that accompany such a visit. Which, to be fair, are impossible to isolate from the larger, more recent, "maker movement" or from a broader standpoint; a resurgence in all things "Americana." I have extremely strong feelings regarding both. It's no surprise to those who know me, but for the strangers out there reading this blog, well, bear with me.
My mother was a seamstress. Her mother was a seamstress (amongst many other things). These women were the ones in the family finding all the smart, crafty, and clever ways to stretch a buck. And these ways were by hand. Reupholstering chairs and couches, making their own curtains, drapes and clothing. Hell, my mom even got really good at cutting and laying tile for renovation after renovation as my family continued to move around the midwest, trying to build equity in each home to pay off my father's surmounting credit card debt, house by house. In fact, my very own name and that of my brother's are based on utility: "Tyler" coming from an old English version of "tiler," one who makes tiles. And, "Tucker" being the name of a sewing machine foot from long ago that tucks the cloth before sewing it. My wardrobe is pretty practical. I always held myself to a rule that if I couldn't stop what I was doing and jump on a skateboard in what I was wearing, I shouldn't be wearing it. I think it's the way I thought about my own daily needs in life, the sorts of situations I find myself in.
What the hell does this all have to do with a traveling (enter buzzword: "pop-up") market consisting of American-made products you might ask? The goods and products at a show like this – they all come from a place of need – some more distant and less direct than others. The existence of stiff and thick denim, wool blankets, duck canvas jackets, hats and bags, Red Wing boots; These were all invented and/or adapted for uses that stemmed from a place of need: a need for utility. Forging westward, building industry and even more importantly, building a nation; these are the reasons these products came to be. Their ability to be continually worn and utilized by those as the times change are why they're still around. The only shame is that it's taken till semi-recently for a growing awareness to form around just how damn important this stuff was and still is.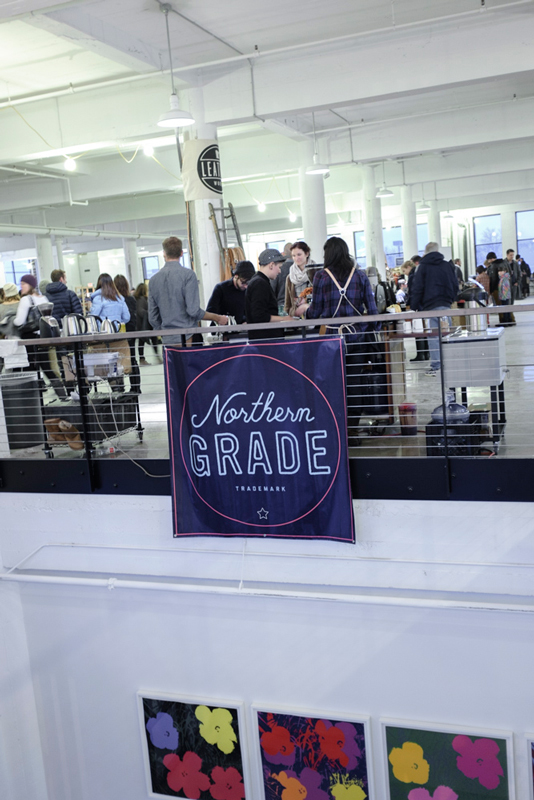 This year Northern Grade was located in new location near Minneapolis' International Market Square, a remnant of Minneapolis's very industrial heritage currently experiencing new use. It's an interesting corner of the city that is often forgotten about unless you find yourself in line at the nearby city impound lot after a snow emergency. If so, bring snacks, it's gonna be while.
The Growler Magazine hosted a booth with a "meet the brewer" theme. The Growler is the leading source in MN for all things beer related. Below, Mikey Salo of Fulton Brewing holds down the fort while sampling the competition's goods.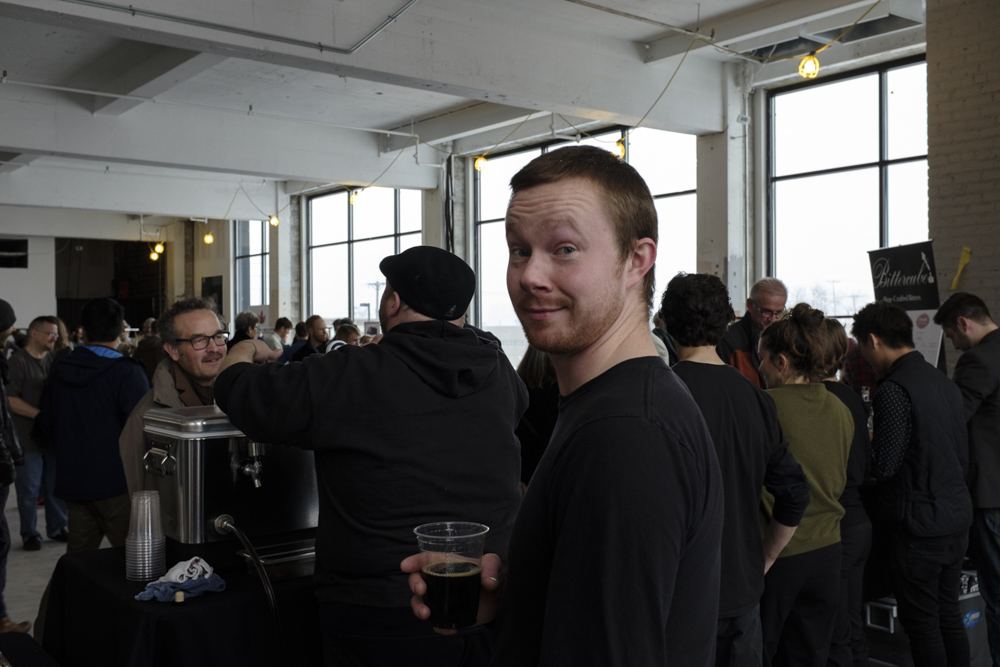 The event was 2 solid days long and attendance was robust. The crowd skewed towards the young and affluent with most decked out in their finest heritage goods.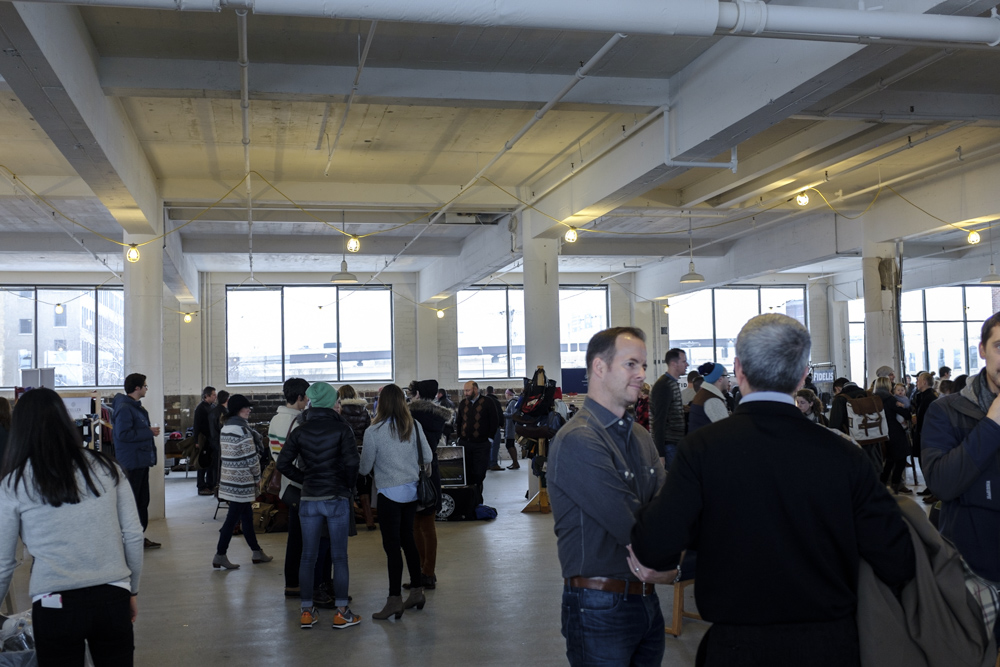 Prior years have seen a larger presence from local retailers too, but this time around their absence was filled with a more diverse offering of products, all made in the U.S.A. of course.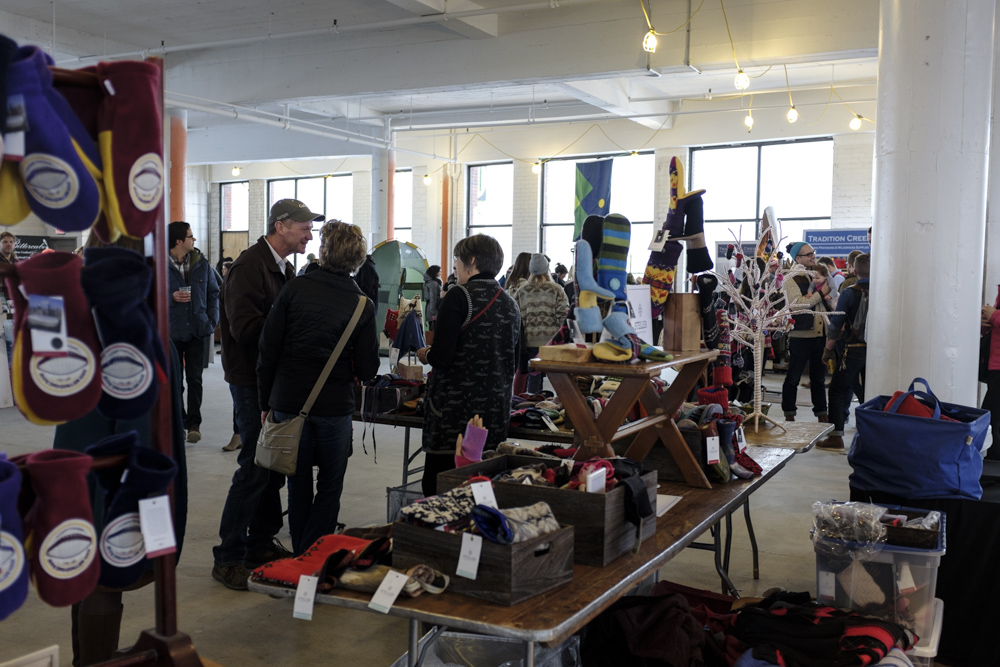 The new space was bright, airy, and seemed to be a hit with everyone there. Still, I'm a bit nostalgic for the early years of Northern Grade at the old spot: Architectural Antiques of N.E. Minneapolis. Its aesthetic seemed far more fitting for the vibe of this show.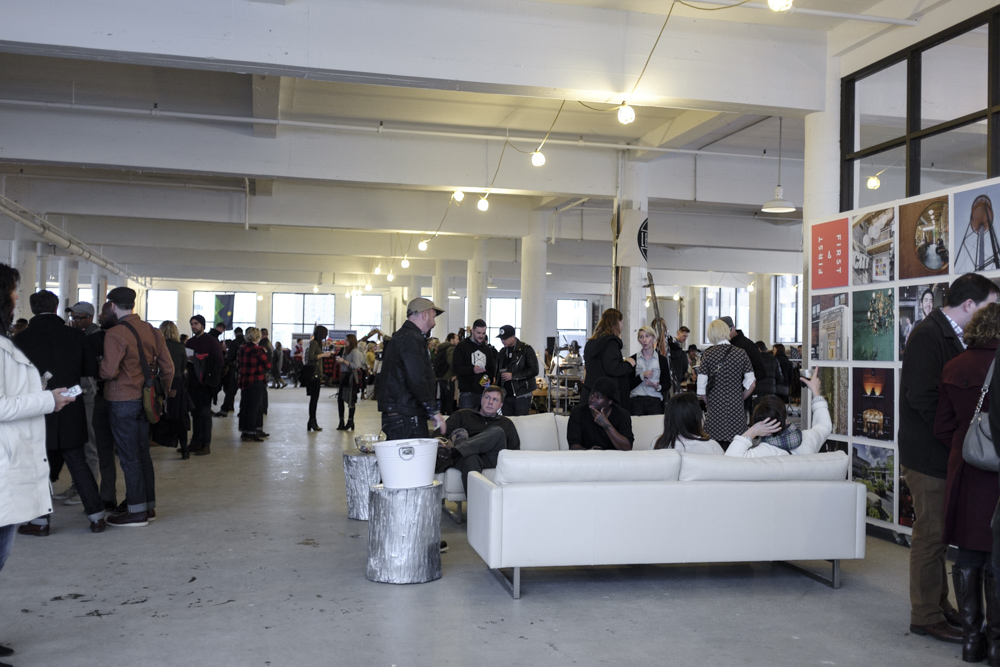 Dayton brothers'-owned Askov Finlayson is a Minneapolis store catering mostly to men. It's attached to their award winning restaurant Bachelor Farmer and above their dark and craft-driven watering hole Marvel Bar. Here is Askov's store manager Arthur Oxborough with his little one. Askov has been transitioning from selling strictly other's products into broadening their own private label.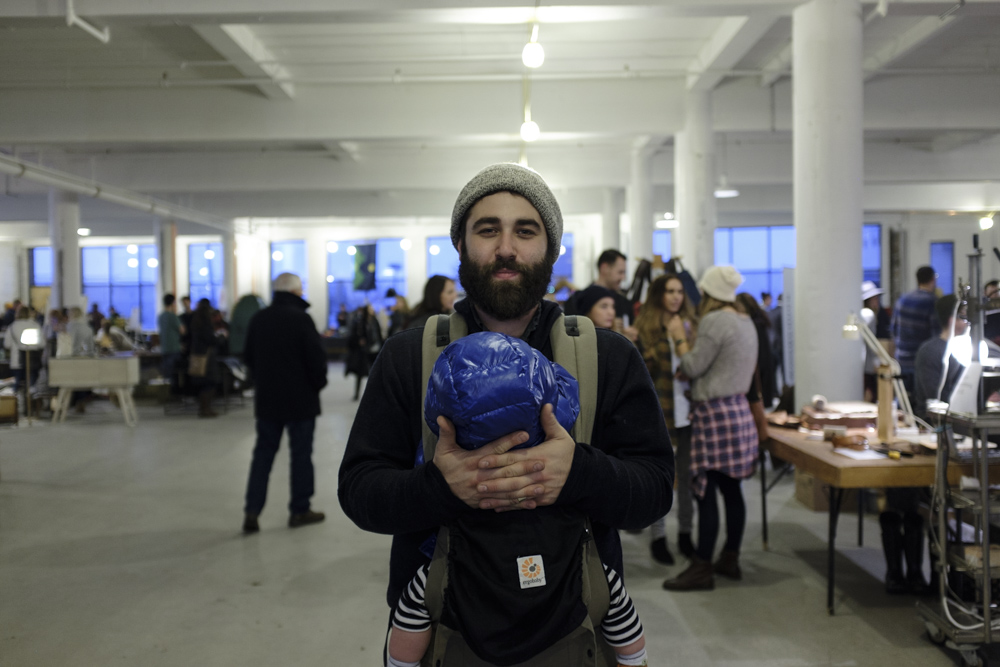 More new vendors in attendance this year. Some of which I admittedly have never heard of prior.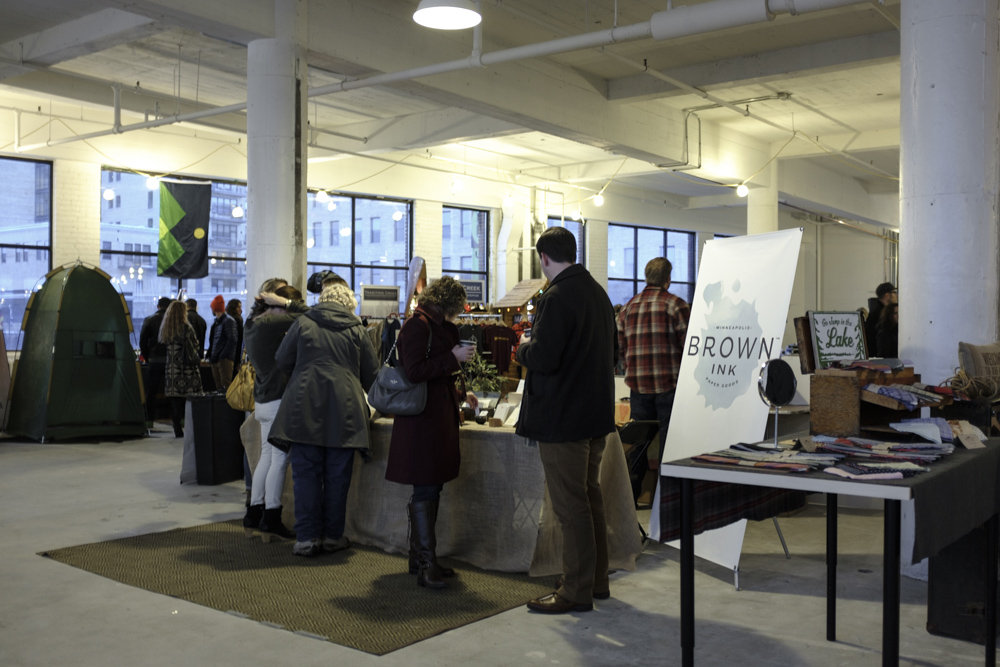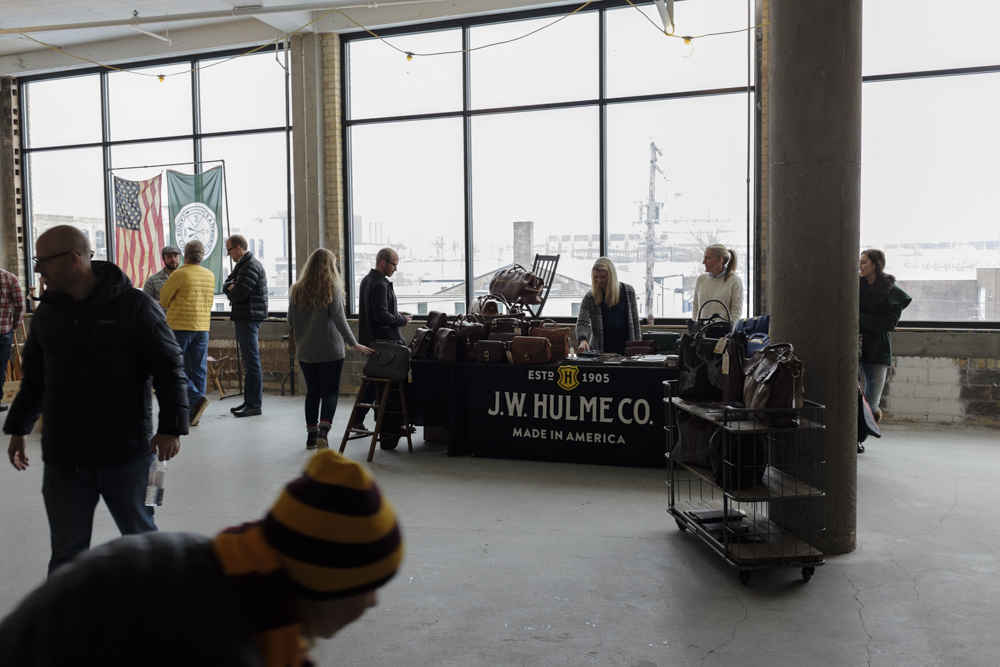 We can't possibly buy everything local or U.S. made, it's just not in the cards at the moment. But when you can, you should. And you should with pride. There are a lot of stories spanning countless generations of how product innovation came to be out of true necessity in this country. All the goodies we have, wear and carry came from a place of need at some point. Things that have purpose have meaning. There's meaning in "utility" still. I can feel it.