From the inner city to intimate art spaces, it has been a common debate whether or not street art belongs in a gallery. In 2014, it almost seems like a dead question with so many amazing shows from graffiti and street artists all over the world. Street art galleries and pop-up galleries are a worldwide phenomenon nowadays, birthed out of a need for new mediums of expression—it's not simply a trend that's going to go away. You can even see street art exhibition spaces in Athens, Greece, not to mention in LA of course (The Seventh Letter and more).
What about inviting 40 graffiti and street artists from Greece (with a couple exceptions), give them the entire Onassis Cultural Centre—minus one level–and the absolute freedom to create. The Center is a fantastic arts multi-space in Athens, funded by the Onassis Foundation. (If the name rings a bell, yes, it's Aristotle Onassis, the most famous of the Greek shipping magnates.)  The result is called "No Respect"—an amazing group art show curated by Marilena V. Karra.
You will probably recognize some artists from our previous "An Art Walk In The Streets Of Athens" feature I wrote some days ago. Add some dope local graffiti writers too in the game, and you can have a good idea of the diversity of Greece's street art scene. We are surprised, too, sometimes—as people of this big city called Athens—of the quality and quantity of the work.
The show is about to end after a successful run of three full months. The following images serve as a document of an exciting and creative, albeit difficult era of modern Greece.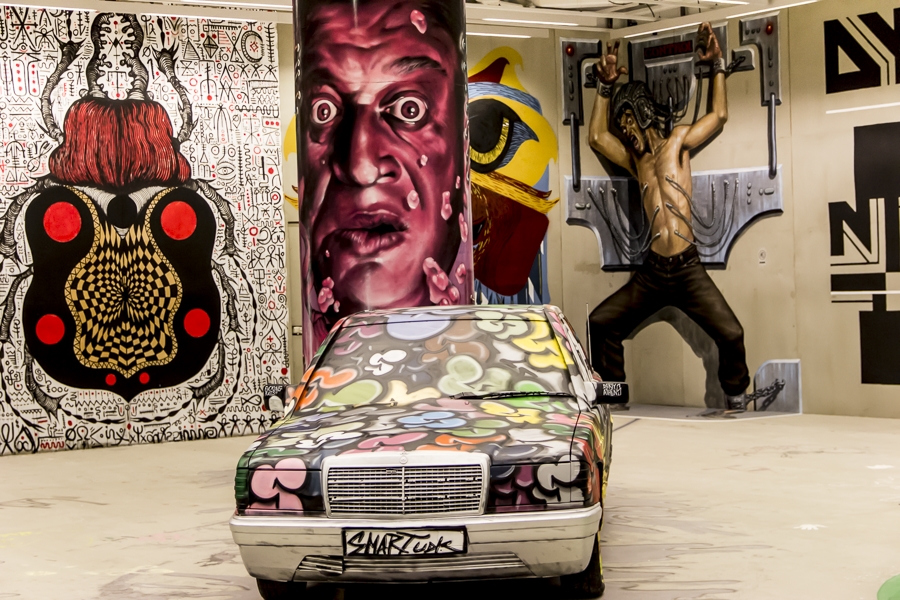 A Greek-French street artist with a kaleidoscopic palette, working on various forms and mediums.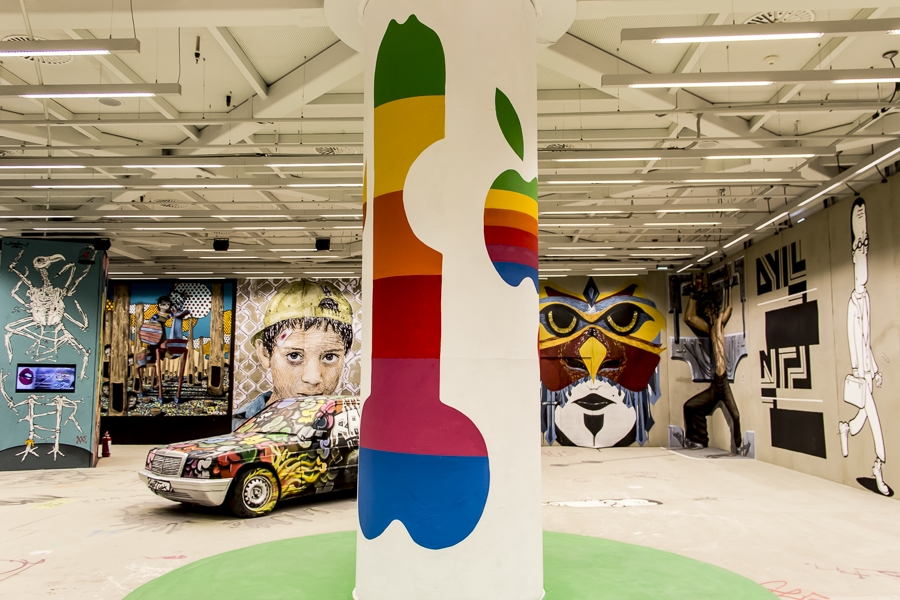 ApSET:
Cutting his teeth in the graffiti world since 1998, ApSET comes from the city of Thessaloniki. He has participated in many local and international events the last years, with a wide variety of work and mediums in his hands (from huge murals to sculptures and graphic design).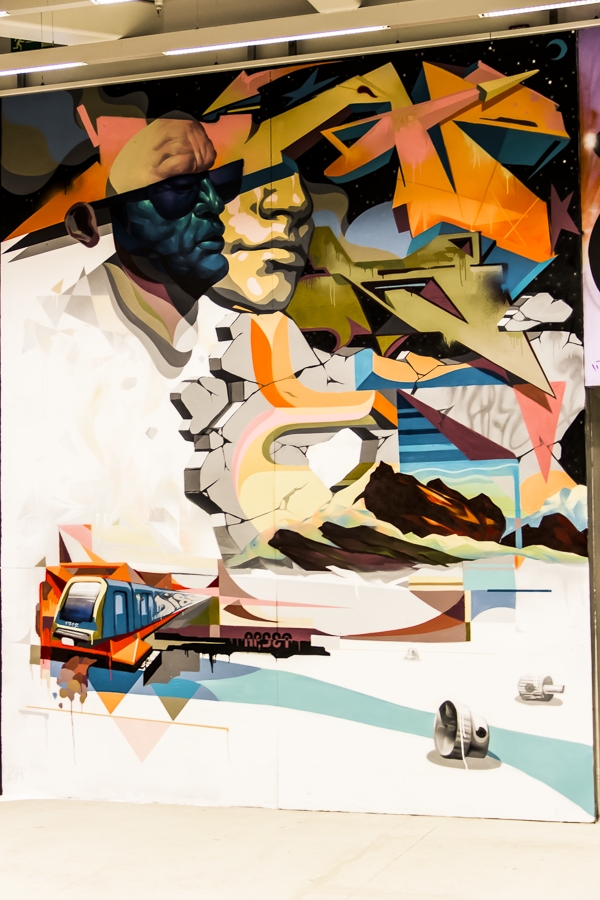 NOBLE ROT:
Noble Rot is Skeim and Illu, two students attending the Athens School of Fine Arts. Animation, painting and graffiti/street art are their main interests.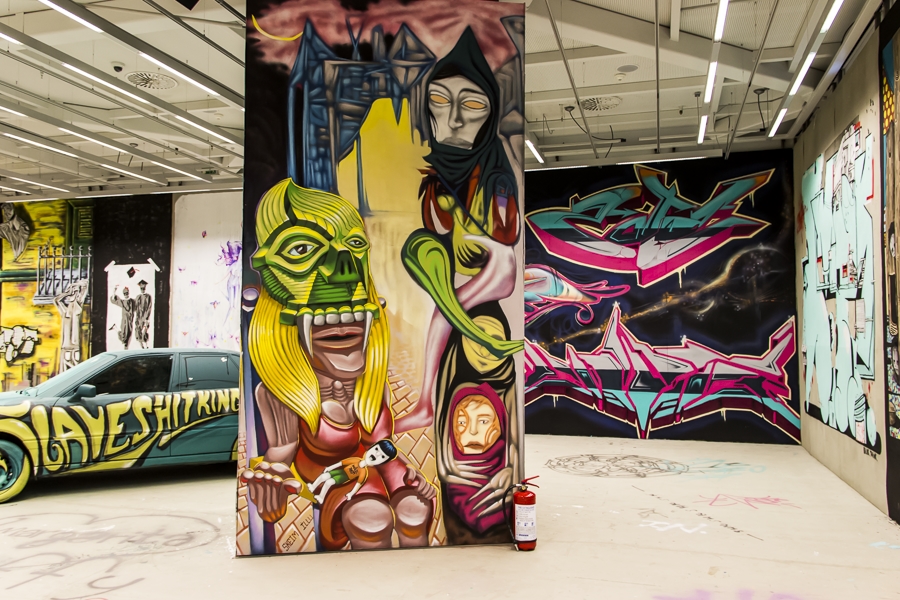 WD:
Wild Drawing aka WD was born in Bali, Indonesia. He finished his studies in Fine Arts and in Applied Arts and started off as street artist in 2000. Since then, he spends most of his time with his work in the streets, though he's never stopped working in his studio, too.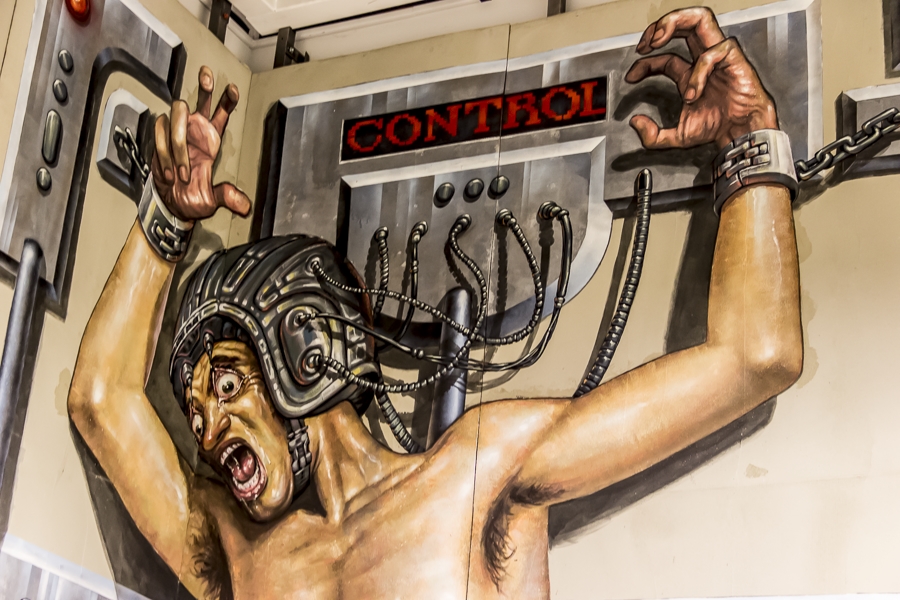 DIMITRIS NTOKOS:
Dimitris Ntokos (born in 1984) is making his scarabs all across Athens, based on irregular forms, combining patterns, geometrical forms, symbols and illusions through a perspective that flirts with a sharply imaginative and often surreal element.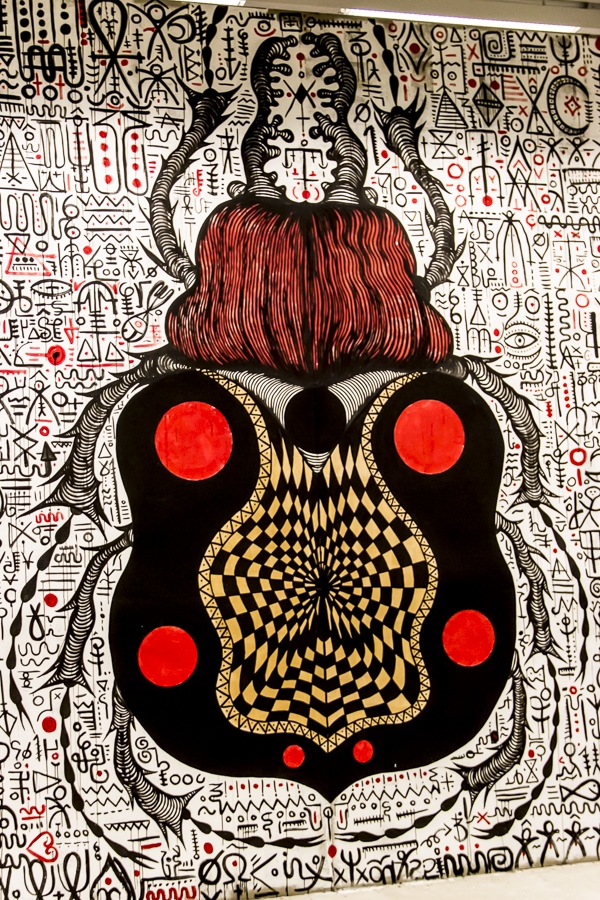 THIS IS OPIUM:
Traveling to India for some people can be an eye-opening experience. That's what happened to the artist THIS IS OPIUM, who comes with a a wide array of street and gallery pieces and symbols of mysticism, paganism, and fantasy (don't be afraid, he is a super cool dude).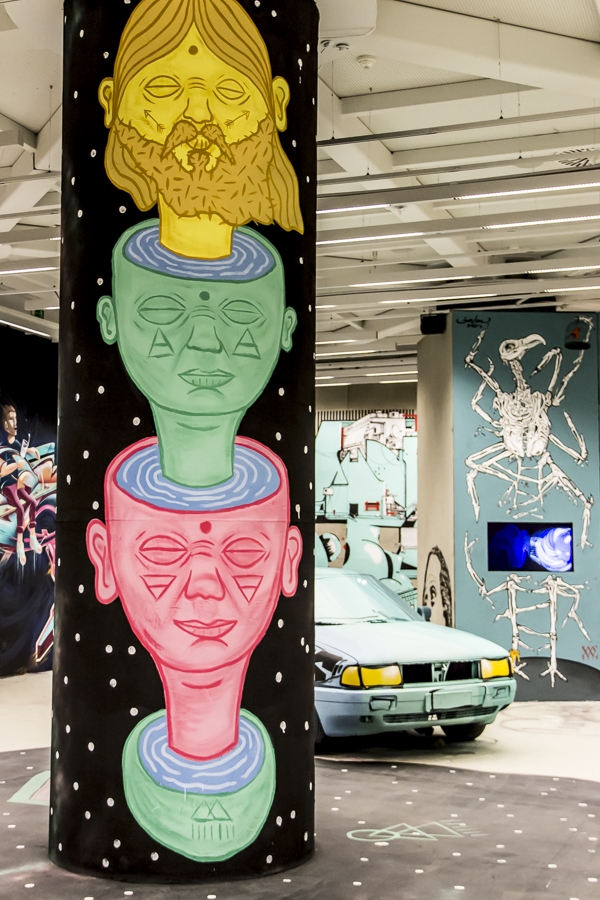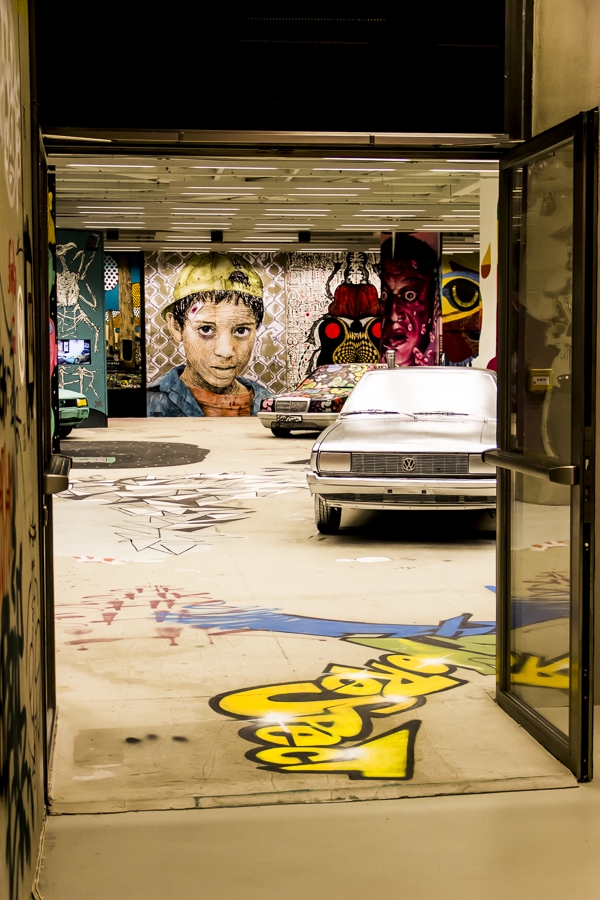 NAR:
Born in Russia, Nar moved with his family in Thessaloniki, Greece in 1991. Known for his pieces in abandoned factories, his art experiments with empty spray cans.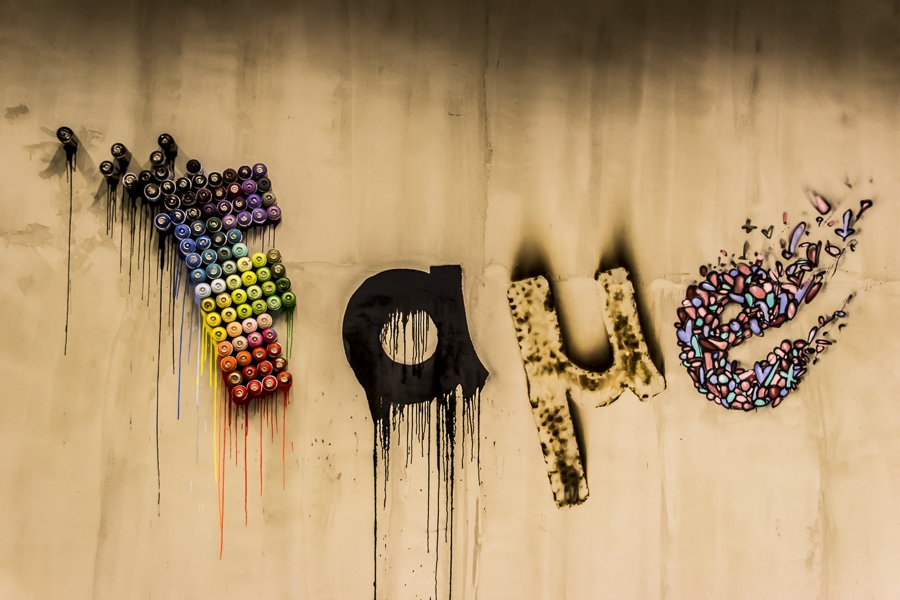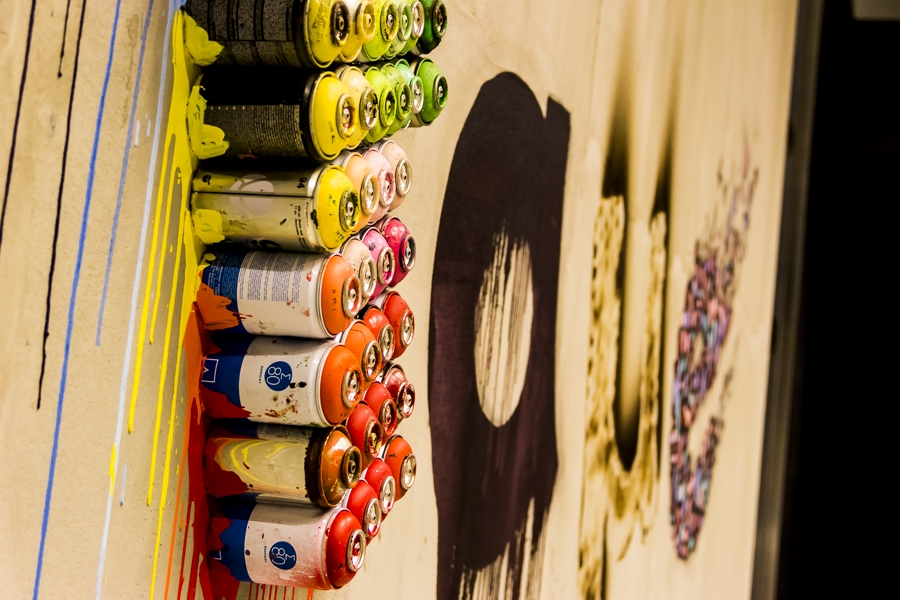 Well-known graffiti and tattoo artist from Thessaloniki (Greece's second biggest city, with a fantastic street art/graffiti scene as well). Skra Getto Boys. Style Matters Tattoo Studio.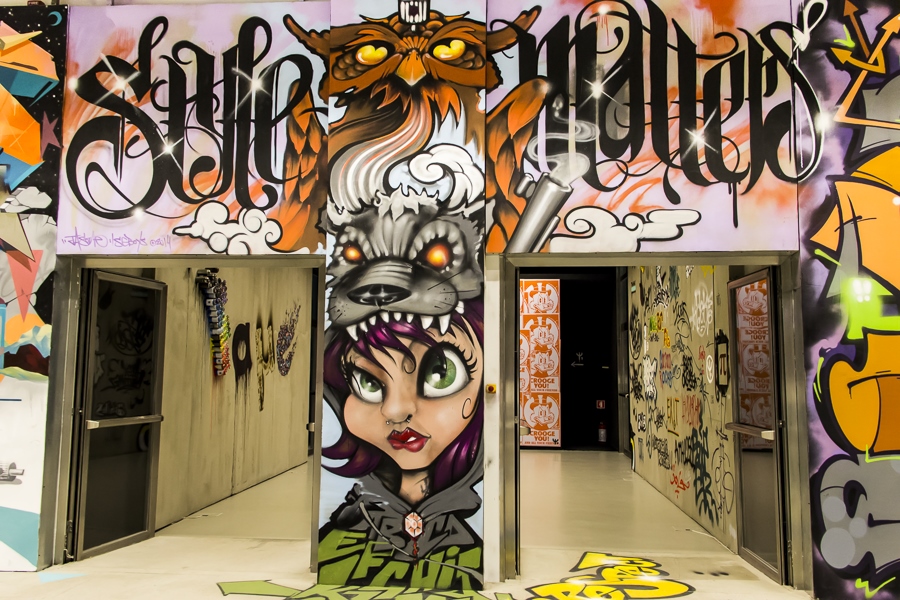 ICEK / LIOR (FOLA CREW):
Notorious graffiti crew from Athens, Greece.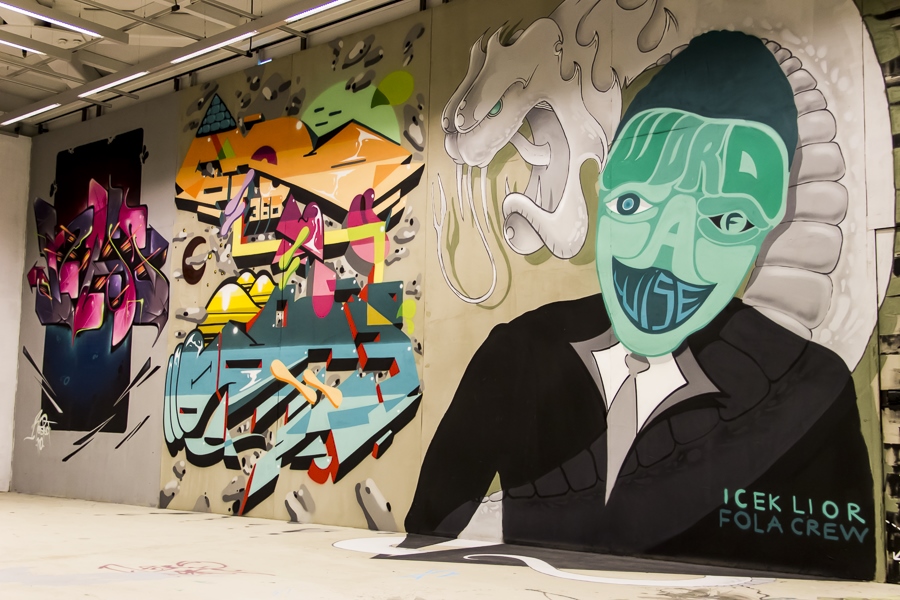 EX!Τ:
Street Art where the subject reclaims the existence of its evacuation mode, reclaiming the streets. Athens. ΛΑΘΩΣ.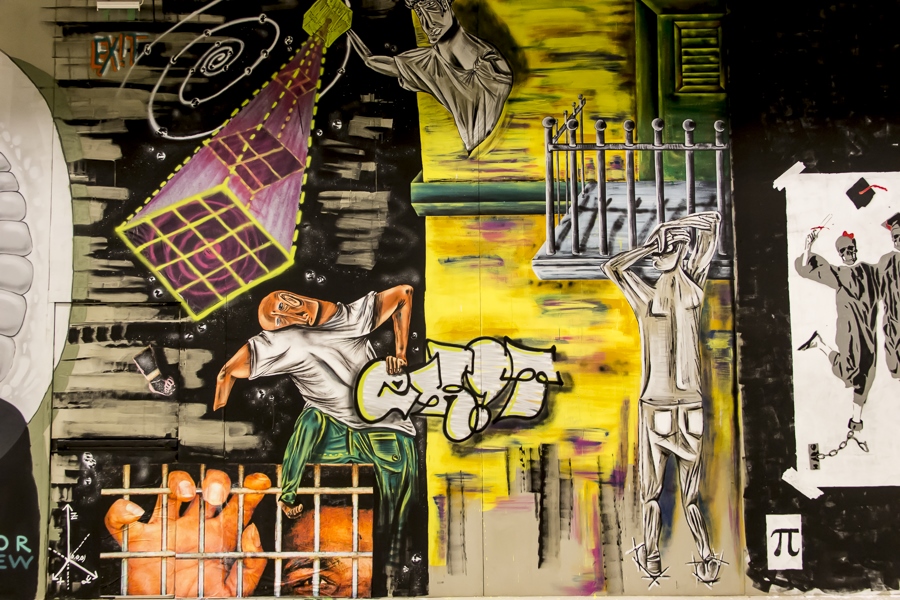 Artist (on the right): Π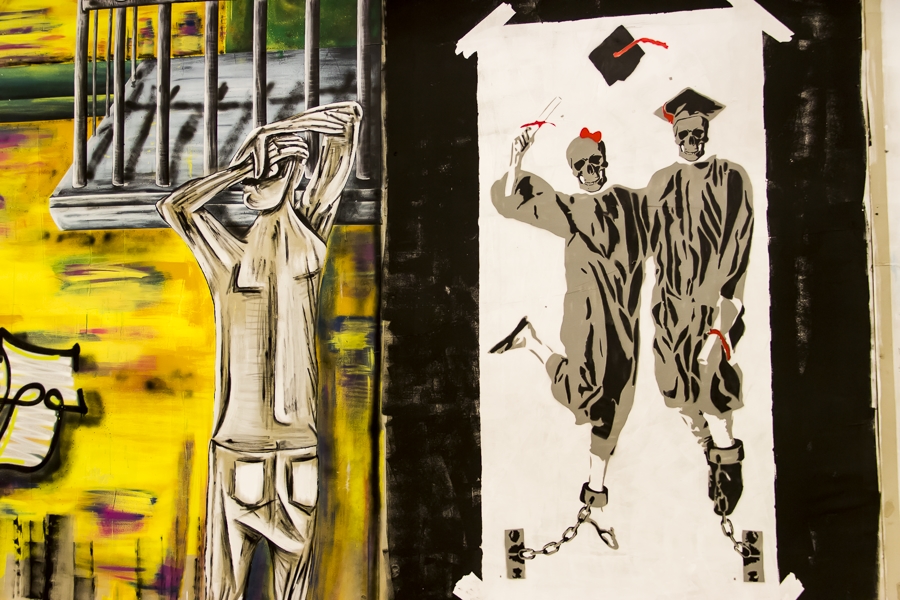 YIAKOU:
Yiakou is a young painter / street artist from Athens with a more poetic approach of things and a wide work of dreamy—mostly female—characters.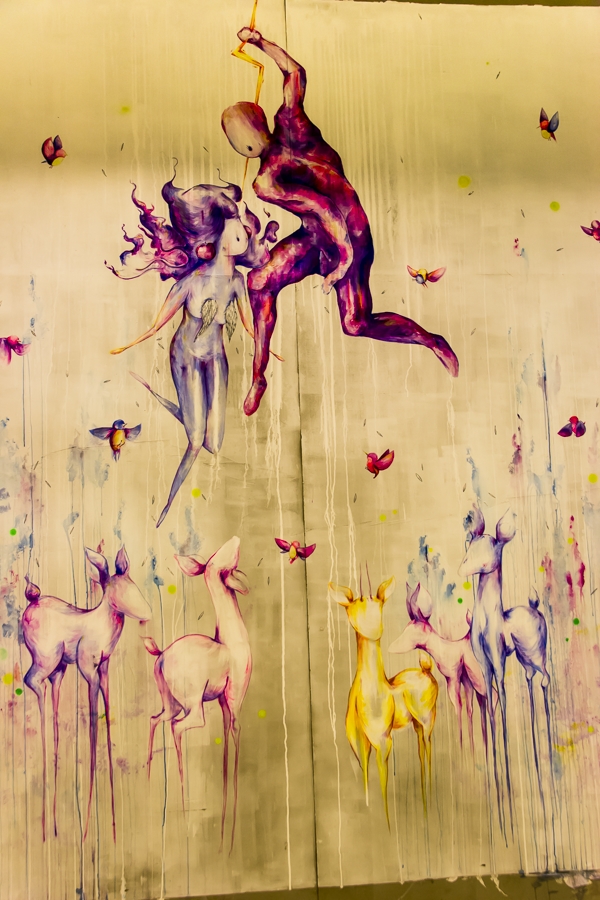 THEOPSY: 
Veteran street artist Theopsy was born in 1968 from Greek parents in Boston, USA. He moved to Paris at early age and grew-up between France, Greece and England. Theopsy begun painting on the walls of Paris in the '80s. During the '90s, drawn by his love and studies in sculpture, he arrived in Greece and the Greek islands.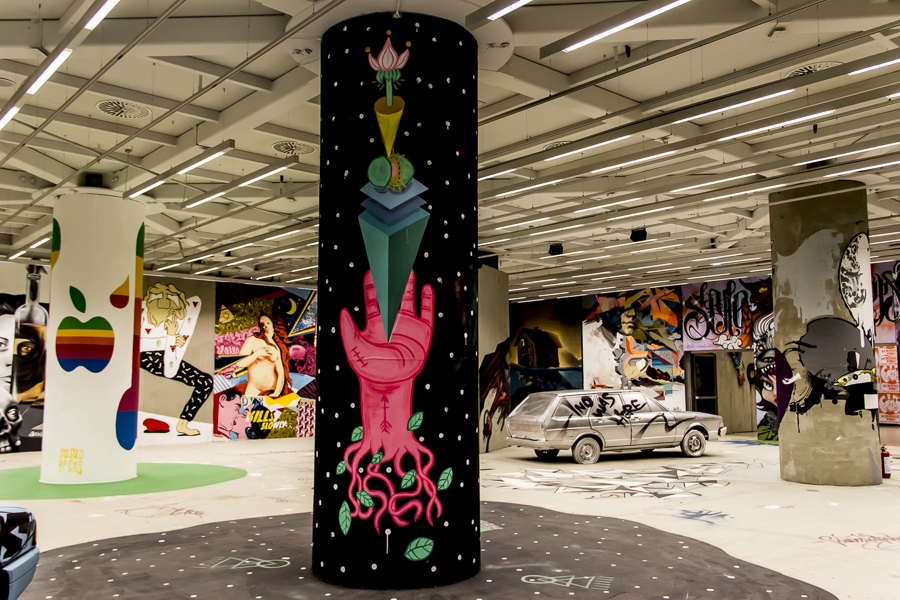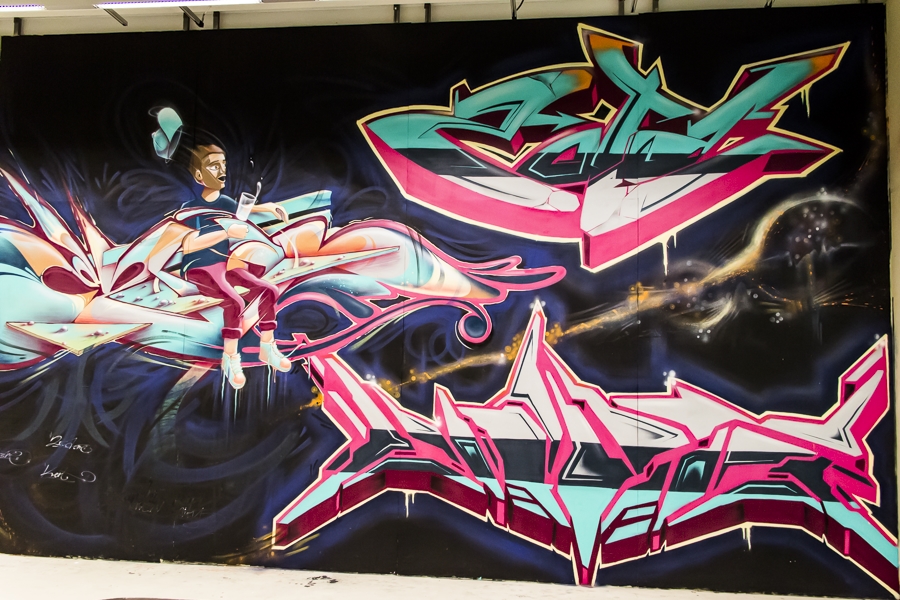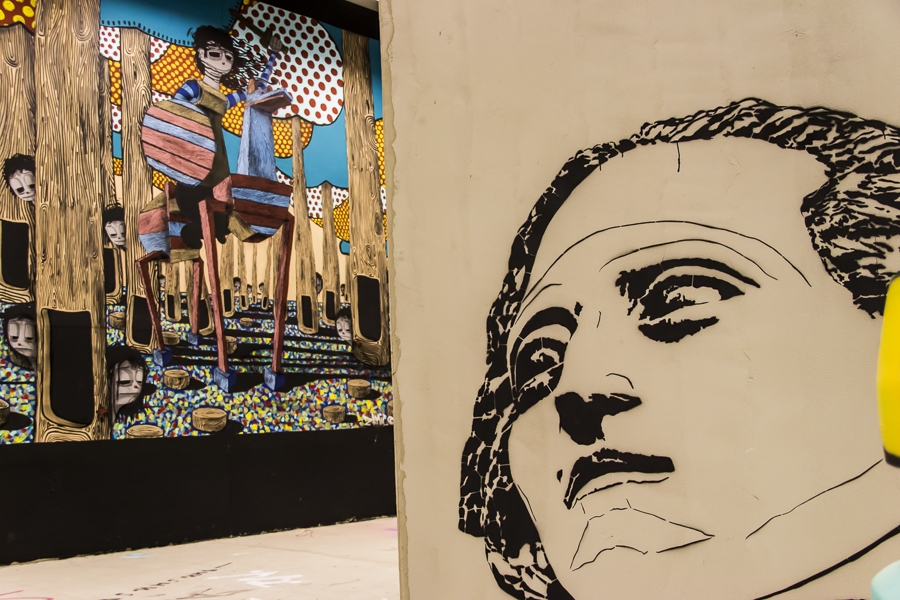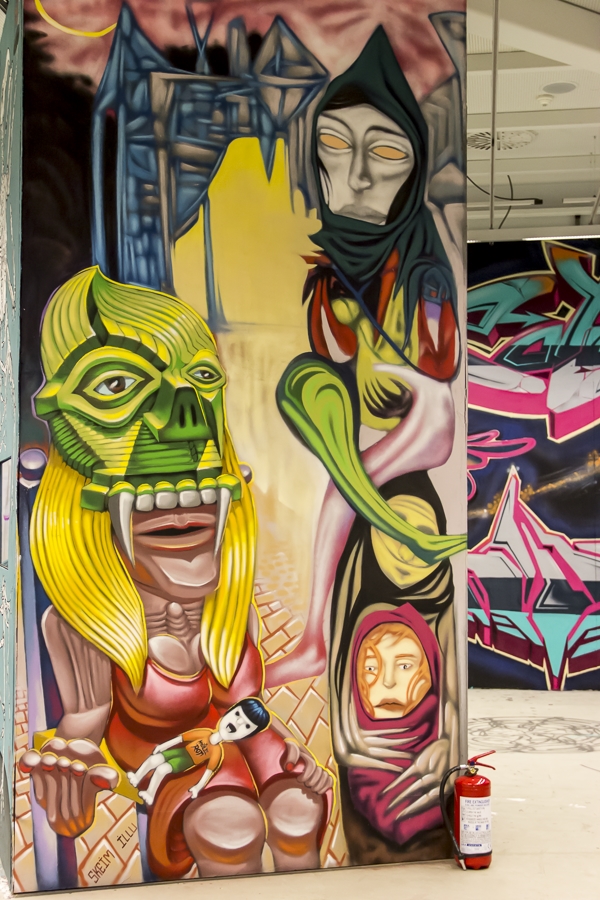 DON FORTYS:
Don Fortys lives and works in Athens. Educated in graphic design, Fortys works mainly on illustration but also on print design, walls, installations, and experiments with different materials. He has participated in art exhibitions and quite a few collaborations. His designs are mainly focused and affected by current events, presented through his own eyes.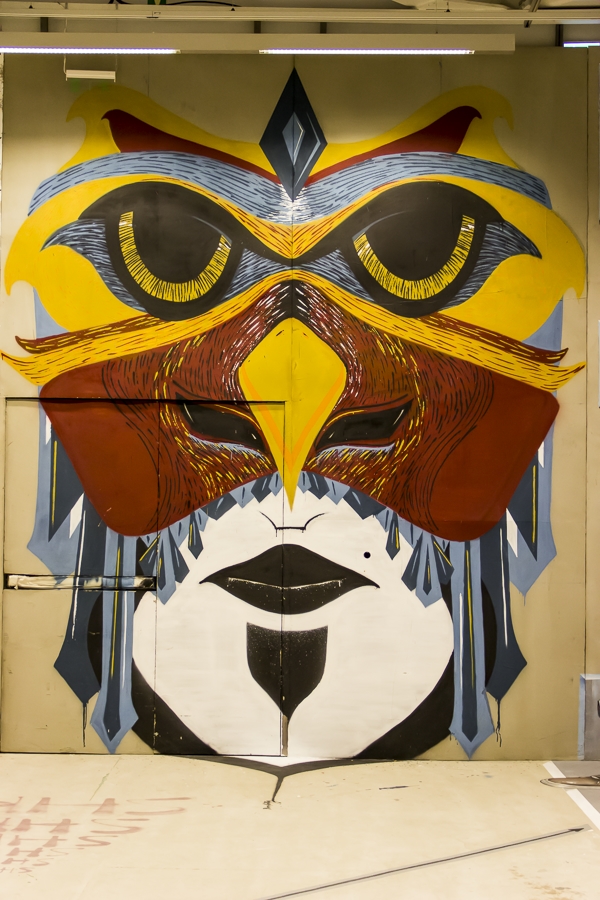 SENOR (below: piece on the right): Senor is one of my personal favorite graffiti artists from Greece. Born in Paris, France, but living in Athens, he brings a really unique blend of styles and colors. He has also designed some unbeatable posters for hip-hop shows in Greece.
ZOFOS (below: piece on the left): A young street artist/illustrator from Thessaloniki. He studied graphic design in a technical high school and graduated with honors from the Department of Fine Arts of Aristotle University of Thessaloniki. His work covers a wide range of projects and collaborations with artists and creative professionals.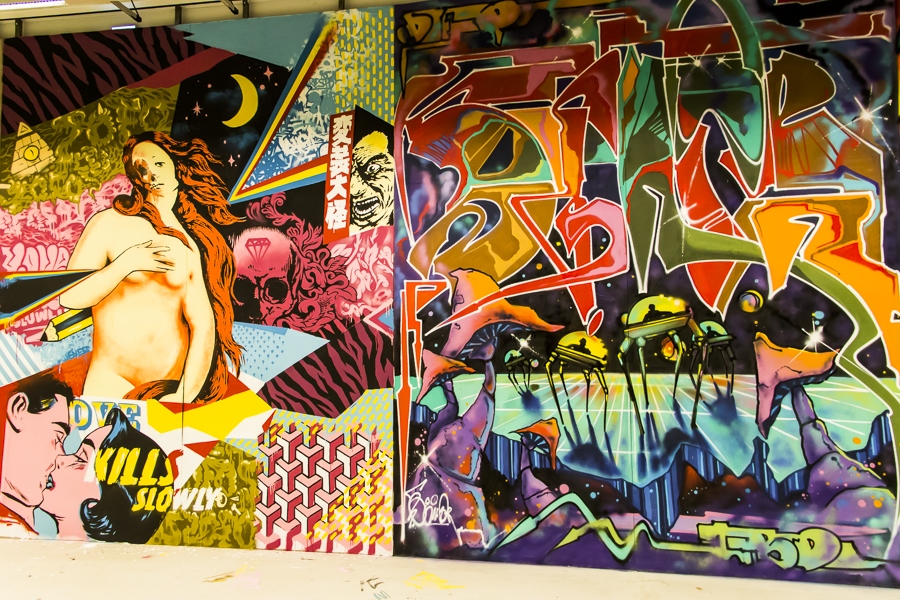 Artist (on the left): AIVA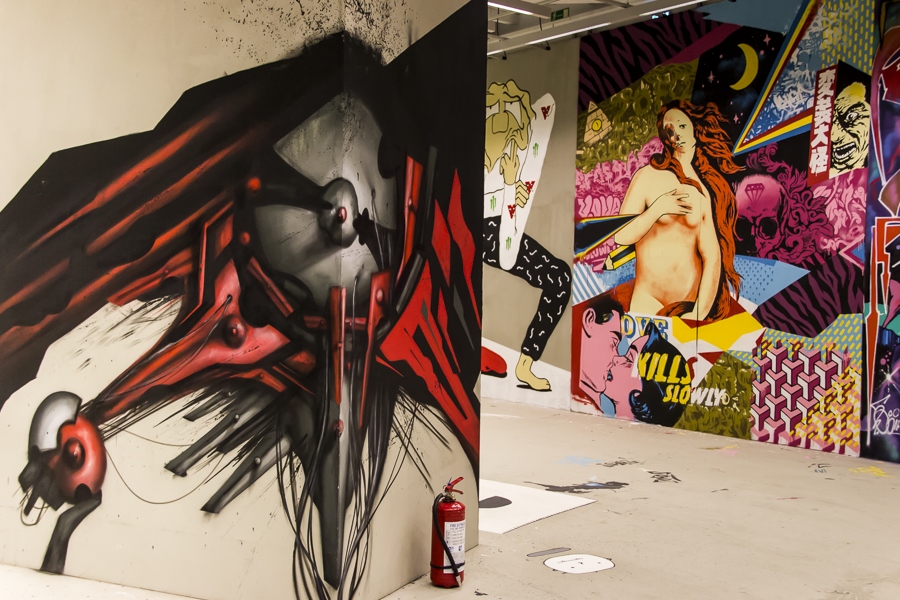 SINKE WFC: 
Sinke is a well-known graffiti artist, operating since 1996. As a member of Wrong Face Crew Athens, he's participated in a handful of Greek and European festivals. He started tattooing professionally since 2011 and covers a wide range of different tattoo styles.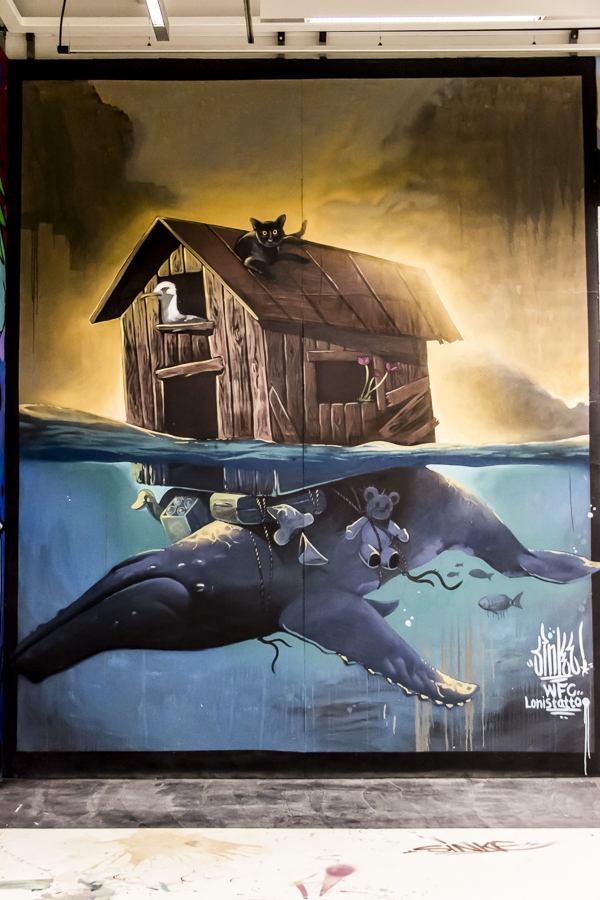 ZAMIE (piece on the left):
Zamie is a street artist from Athens. "I am not a photographer, painter, or video artist. I use these as tools to support my idea of how I perceive the world that surrounds me."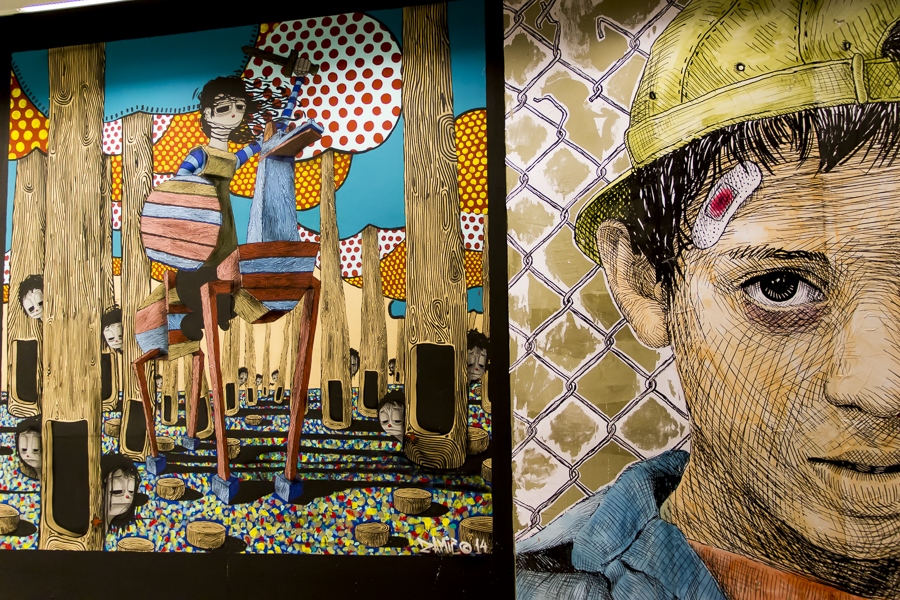 A young wheatpaste artist from Athens with his work even making it to the pages of The New York Times. He is currently studying at Athens School of Fine Arts.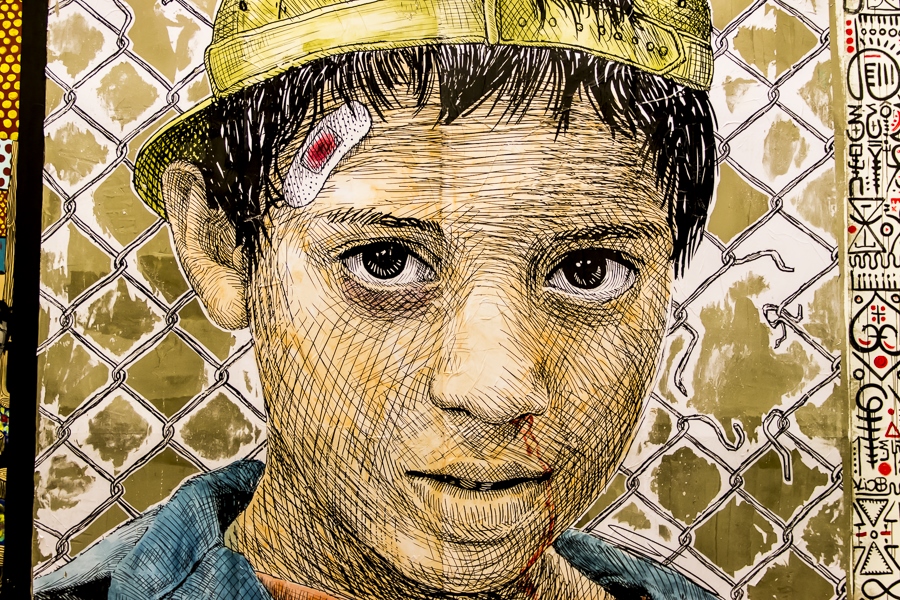 ATH 1281:
"The past few years, the streets of Athens have been filled with [ATH 1281's] very distinct sketches. He uses the graffiti throw up techniques excellently in an innovative and more visual manner that is reminiscent of French comics and Topor's designs with a humorous hint."
(From the 'Stop and Stare' exhibition press release)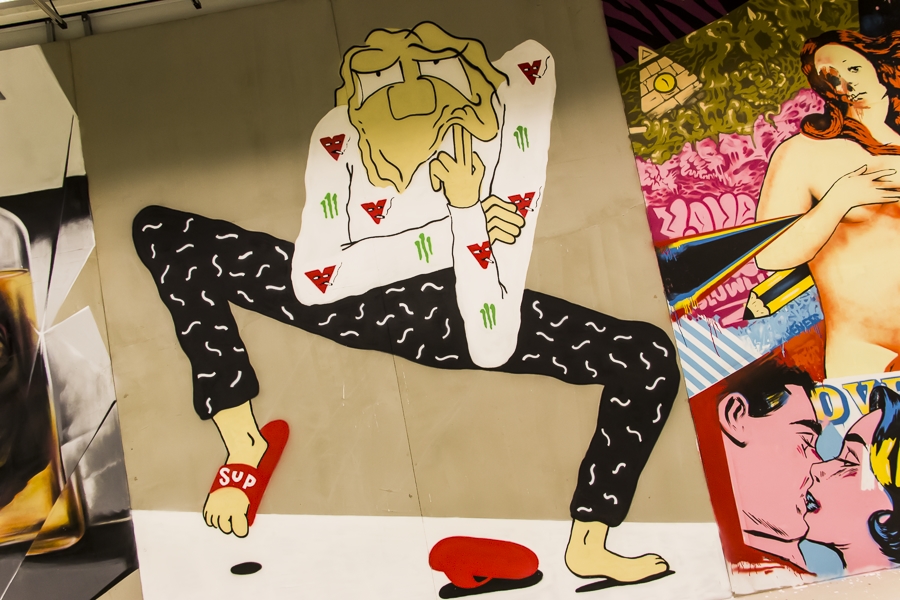 ACHILLES:
Achilles was born in 1986. He lives and creates in Athens, Greece. He loves street art, stencils, graffiti and painting. He works on his own projects, but also freelances creating murals, portraits, paintings, illustrations and more.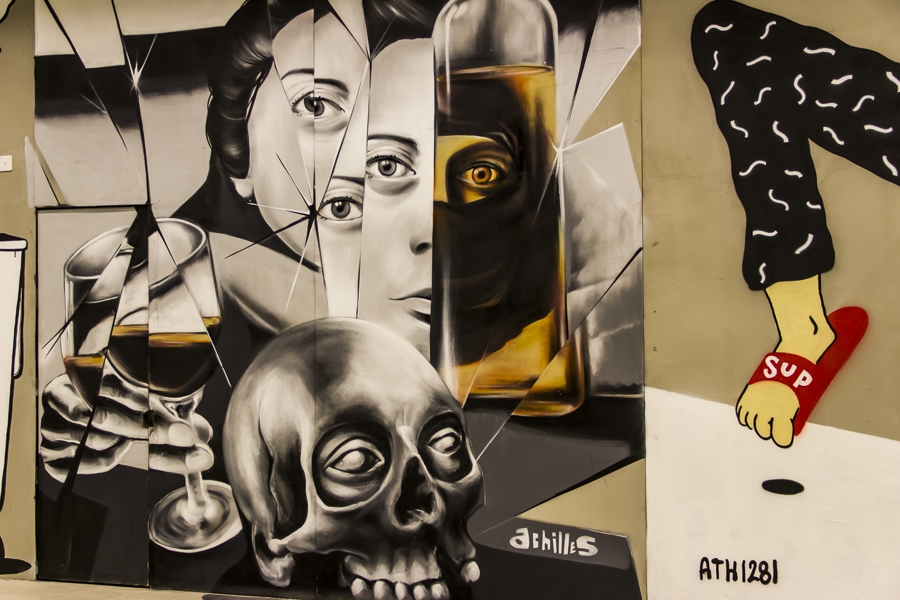 Artists: SHUEN (left) / BIZ (right)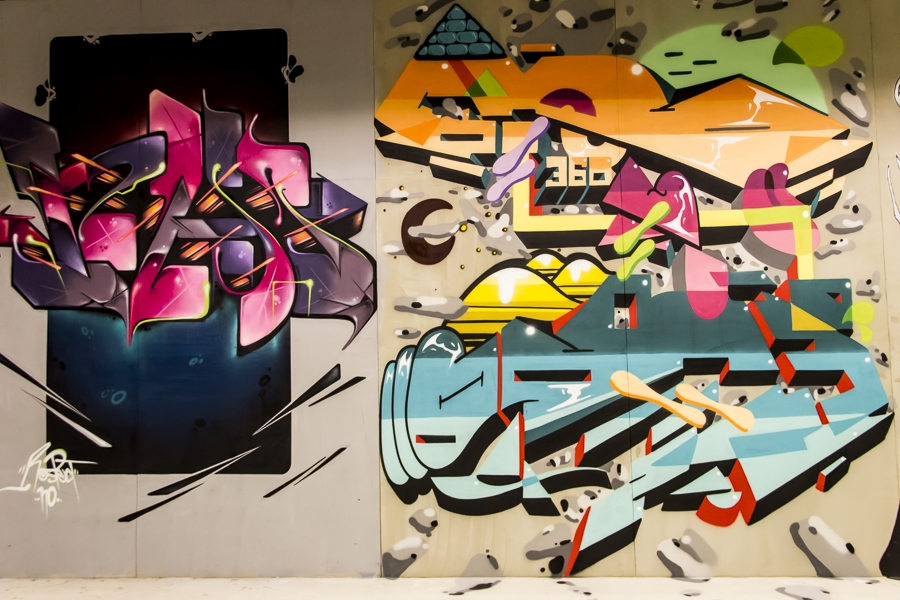 Artists: SENOR (left) / DEPON (right)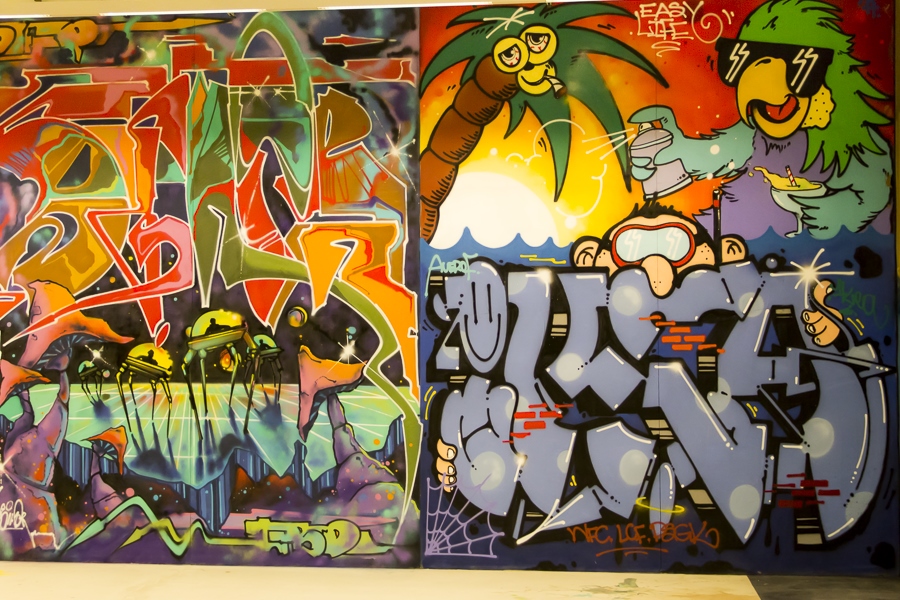 RTMONE:
Manolis Iliopoulos, aka rtmone, studied Architecture Engineering in Univesity of Thessaly. He has an active street art background. Currently, he is based in Athens, working as a freelance illustrator and muralist. He is also the founder of Imaginary Rooms.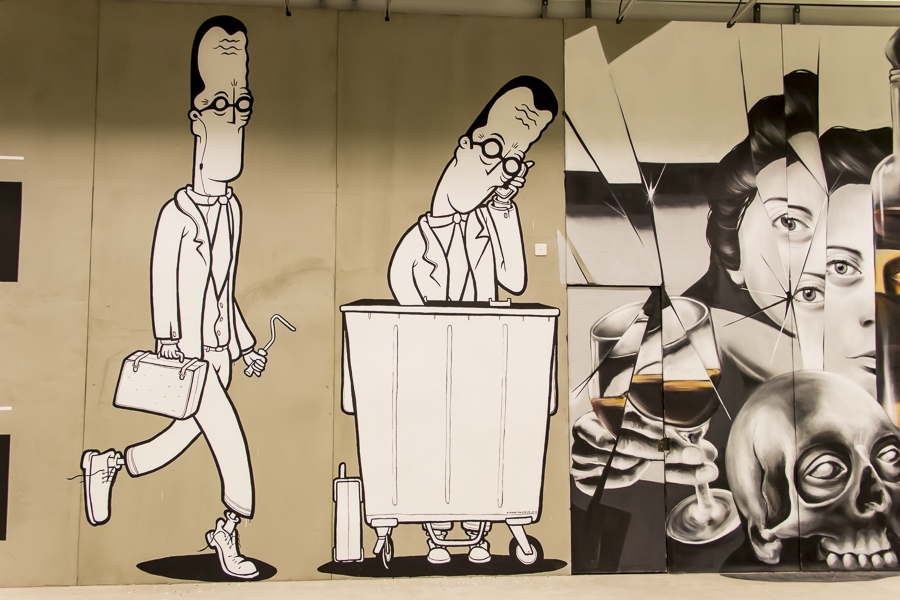 BILLY GEE (car on the right):
Billy Gee is an iconic figure in both the skate and graffiti scene of Greece the last 20 years. The old Mercedes-Benz for his 'Athens Rat' piece will never look the same again...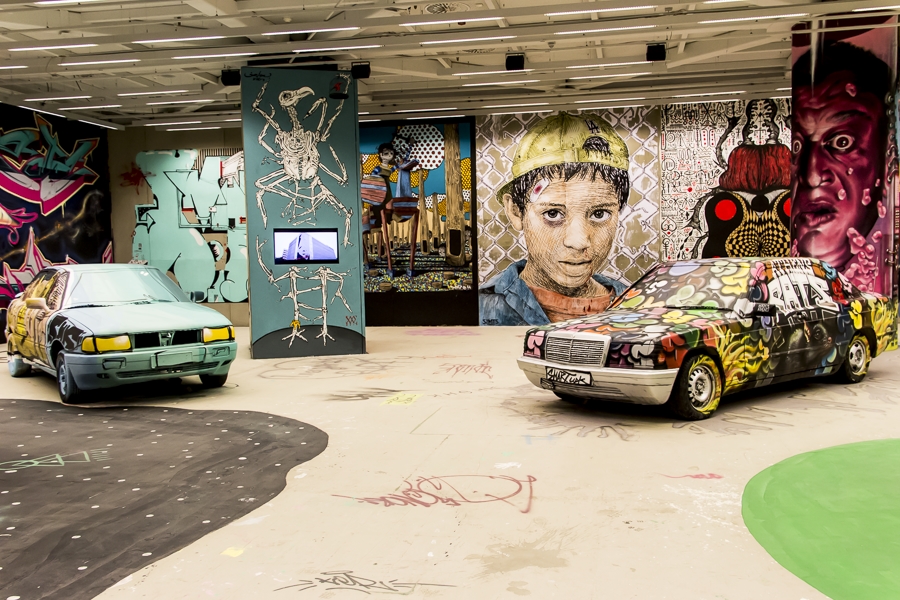 SHK CREW:
SHK (aka Slaves Hit Kings) Crew comes from Chalkida, the chief town of the island of Euboea in Greece (not far from Athens). With almost a decade under their belt, they have participated in Greece's biggest graffiti festivals and their pieces are distinctive to anyone.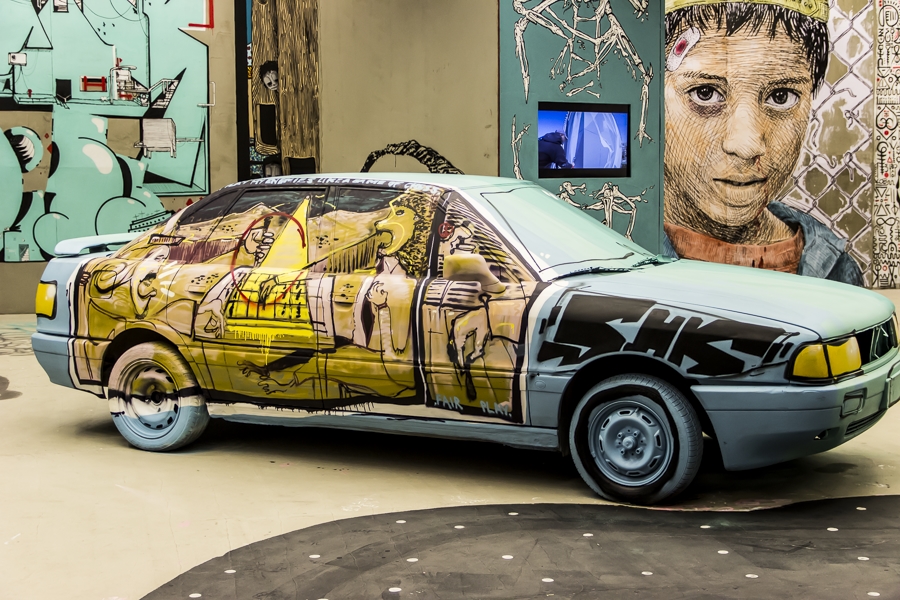 About 'No Respect'
The Onassis Cultural Center is staging an in-house exhibition which sets out to document the Greek graffiti and street art scene as this manifests itself on the streets of Athens and other cities around Greece today.
Each of the forty works on display was created in situ by a different artist, some of the many who responded to the OCC's open invitation to exhibit. The works cover the walls, columns and floor of the exhibition space as well as cars placed within it.
Participating artists: Achilles, Aiva, Alex Martinez, Apset, Ath1281, Billy Gee, Bilos, Biz 360, Cacao Rocks, Dokos Dimitris, Don40, EX!T, Ezion, Fola Crew, Fors, Ikear, Ino, Jason, Jola, Kert, Linardaki – Parisot, Nar, Noble, Rot, RTMOne, Same84, Senor, SHK Crew, Shuen, Simek, Sinke, STMTS, Theopsy, Think, This Is Opium, WD, Yiakou, Zamie, ZEK, ZOFOS, Zota, Π.

Onassis Cultural Center, 107-109 Syngrou Avenue, 11745 Athens, Greece
www.sgt.gr