Ramona Gonzalez lost it when a few years ago E-40's son, Issue, emailed her professing that he was a fan of Nite Jewel, Ramona's vaporous synth-pop solo project. "Growing up the Bay Area," she tells me, "E-40 is a god." The correspondence resulted in her eventual collaboration with E-40's other son, Droop-E, with whom she released the 2013 single, "N in the Traffic," and this year's Euphoria EP as AMTHST, which they recorded in E-40's studio.
"We were just drinking E-40's wine and getting stoned," the singer/producer tells me of the recording process. "I was like the task-master." Ramona prides herself on her artistic efficiency, which she attributes to growing up in a working class family: "I've never not valued the concept of time. Time is the thing that you have that is the most valuable. And wasting it is so absurd." But rap music, she explains, "is all about vibe." You have to have to take time to recreate the mood you want the record to convey.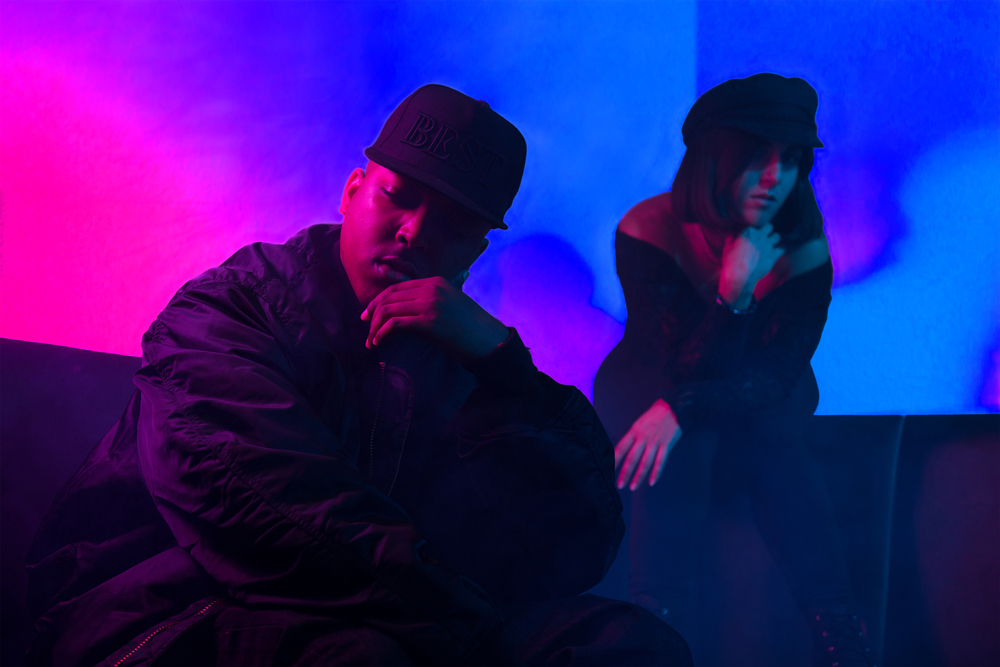 Nite Jewel (right) as duo AMTHST with Bay Area producer/rapper Droop-E (left).
Droop-E commended Ramona on her impressive work ethic. She laughs, expanding: "And I was like, 'This is nothing… we just sat around and got stoned for most of this session.'" But the collaboration resulted in what Ramona calls a lifelong creative bond: "We're basically family now. We'll collaborate until there is nothing more to collaborate."
While AMTHST worked with Toronto-based producer BatmanOnTheBeatz on Euphoria, for their next collaboration, the duo plan to harness a more up-tempo, Bay Area sound. In preparation of that, as well as Nite Jewel's upcoming studio album, Liquid Cool, and our The Hundreds feature coming soon, I asked Ramona to share with me her top 5 favorite Bay Area rap tracks. Read and listen below!
"Hurricane" – The Click
"This song is like classic funk to me at this point. When I was a kid, it was really popular so I listened to it a lot and would sing along with the choruses without really having any idea what the lyrics meant [laughs]. Later my older brother explained it to me. I actually love this whole album and would consider it a major influence. Everything in the song is so top notch, the flows—E-40's in particular—the background vocals, the instrumentation. Perfection."
"I Got 5 On It" – Luniz
"Another classic Bay Area anthem that continued its relevance into adulthood as far as letting friends know that you were chipping in [laughs]. Okay, but let's be real though, this song is musically incredible. The beat and synths, the super literal but sick flows, and most notably the infectious chorus that you just can't help passionately singing along with no matter if you smoke weed or not."
"Gettin' It" – Too $hort
"Fun fact, people actually used to call me "too short" in high school, 'cause well… but I never took it as an insult since I loved Too $hort. I love his flows because he's always so inspirational and funny but also super hard. You just get a good feeling hearing him. And this song in particular has that aspirational message, but it knocks. Always sure to get people dancing and singing when you put it on at a party in the bay."
"Feelin' Myself" – Mac Dre
"The outsider artist of the Bay Rap game and definitely the most imaginative. His songs are always like haunted houses, shit pops out at you like WTF?? I love his choices of samples and sounds; they were really futuristic at the time 'cause they broke out of that classic G-funk sound. His flows are so influential to stuff now, too, in their off the wall, humorous, but dark quality."
"You Never Knew" – Hieroglyphics
"A very important group on the more 'musical' and 'conscious' side of Bay Area hip-hop. They were kind of like our Tribe Called Quest, with beautiful, soul samples mixed with introspective, uplifting flows. This song in particular has that sick sample for the chorus that makes it totally infectious."
***
Watch Nite Jewel's just-dropped video for "Kiss the Screen" and follow her on Twitter and Soundcloud.