Ed. note: This interview was originally published on July 10th, 2015. We are revisiting it now to welcome Spider Sinclair to our Homebase on July 6th, where he will be tattooing members of the The Hundreds family. This post has been updated with new imagery—and stay on the lookout for a new video featuring Spider.
Spider Sinclair, a tattoo artist from Auckland, New Zealand, has an unexpected style. Instead of the bold tribal designs that New Zealand has become known for, Spider uses a single needle to create tattoos with fine lines and delicate shading. His subject matter, which references the biker era in the United States, is also unusual. "When I graduated from BMXs to motorcycles, I started a collection of old biker mags," he explains in the following interview. "Those old mags have a tattoo section full of fine-line designs. Before long, I began to truly appreciate the aesthetics of that era and I tried using a single needle for the first time in my career. Now, I use a single needle for every tattoo I do—from outline to shading."
When we interviewed Spider last year—who rides a '71 Ironhead Chopper, a '91 softail, and an Evo sporty at home—he was planning to ride a motorcycle across the U.S., where he tattooed at several cities along the way. He is once again traveling now (if you are interested in an appointment, his contact info is here) and will soon be coming through Los Angeles in early July. When we asked him last year what he was looking forward to most about the trip, Spider answered, "Just being in the wind, man. I'm looking forward to seeing the landscape change from desert to forests and mountains, bayous to the ocean to the urban sprawl of Brooklyn. I'm looking forward to living day by day with minimal commitments, tattooing strangers in small towns and big cities, making friends, and becoming familiar with middle America. I'd like to make the giant expanse of North America feel a little smaller in my mind."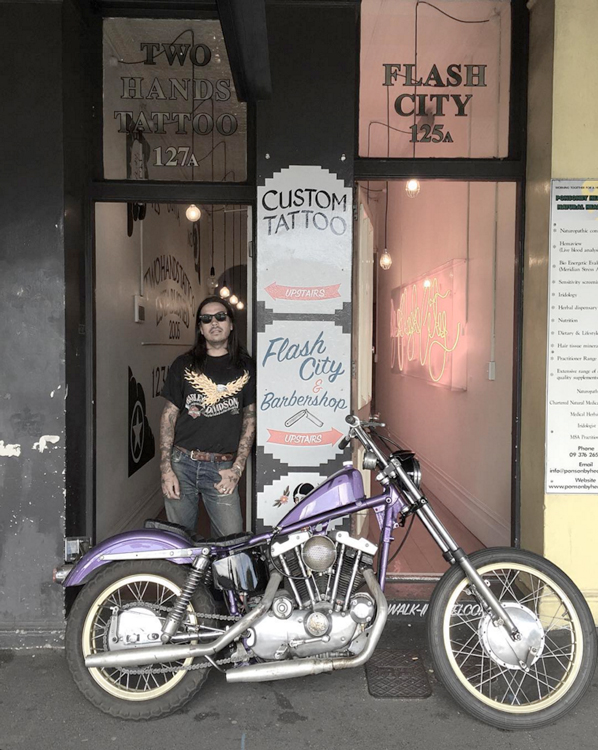 What part of New Zealand are you from? What was it like growing up there?
I grew up in the 1980s and 1990s in Auckland's inner city, in the neighborhoods of Grey Lynn and Ponsonby. My mum and her siblings and cousins grew up there too. It's one of the oldest parts of the city; the houses in the area were built from native timber a hundred years ago. It was densely populated with a mixture of immigrants from Samoa, Tonga and Niue, Maori from the countryside, and retired working-class Pakeha.
Downtown Auckland was a short BMX ride away. The city in those days was derelict, full of empty buildings, adult cinemas and whore houses, tattoo parlors, abandoned cars, packs of dogs, and gangs of glue-sniffers.
Some of my best memories are on my BMX. From the age of 5, I spent most of my spare time drawing and exploring the city on my bike. I think I was very privileged to grow up in that neighborhood at that time. It was once considered a slum. Now it's prime real estate.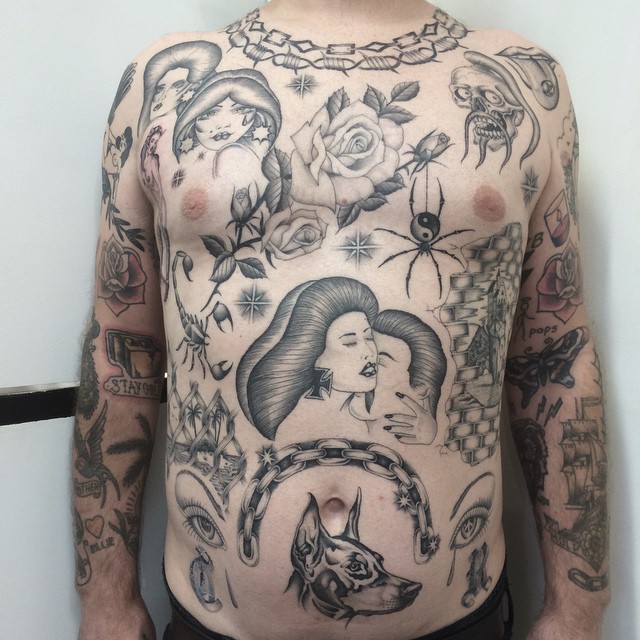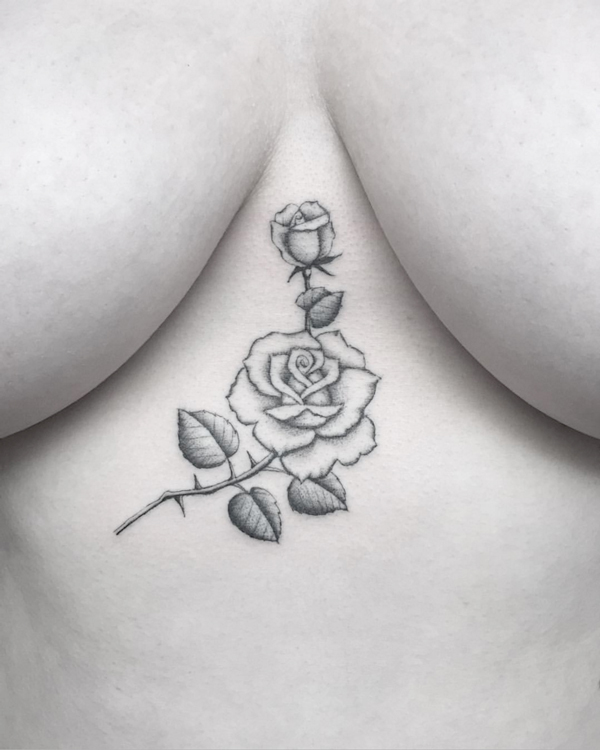 You were previously doing more traditional or Sailor Jerry tattoos, which have color and bold lines. What made you switch to fine-line and black-and-gray work?
When I was about 6 or 7, there was a tattoo parlor two blocks from my house. It was Merv O'Connor's place, and I was mesmerized by the flash on the walls and the Harleys parked up outside. Merv had been tattooing since the 1950s and had a solid collection of designs on the wall from the floor to ceiling. Ten years later, when I started tattooing, I wanted to tattoo those same designs. Bold lines, two colors, black shading. Real tattoos.
This was the late 1990s and some tattooers made fun of me for liking that style. Most tattooers in Auckland at that time were using a single needle rotary set up. Fantasy art was popular. So was new school. But I didn't care; I was so immensely passionate about western traditional tattooing. I had photocopies from Sailor Jerry Volume 1 and I had Mike McCabes' New York City Tattoo. Those two books provided the reference for every tattoo I did.
Ten years later, I began to look for new inspiration. Western Traditional tattooing had become popular, and I was so happy to be busy tattooing the designs I loved. But I also felt like I needed a new challenge. I dabbled with geometric designs and dot-work. But deep down I'm a history buff and those styles don't have the heritage that I yearn for.
In my spare time, I had graduated from BMXs to motorcycles and I'd started a collection of old biker mags. Those old mags have a tattoo section full of fine-line designs from what I like to call tattooing's biker era. I started by adapting those designs to suit a bold line and black whip shading. Before long, I began to truly appreciate the aesthetics of that era and I tried using a single needle for the first time in my career. Now I use a single needle for every tattoo I do—from outline to shading.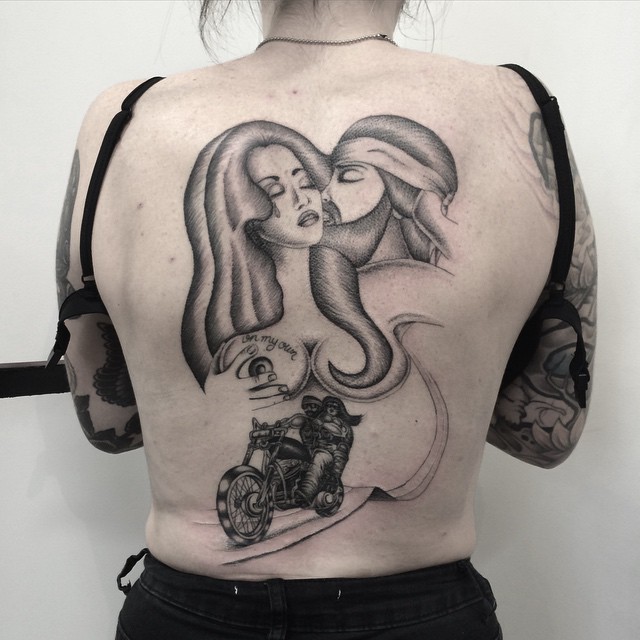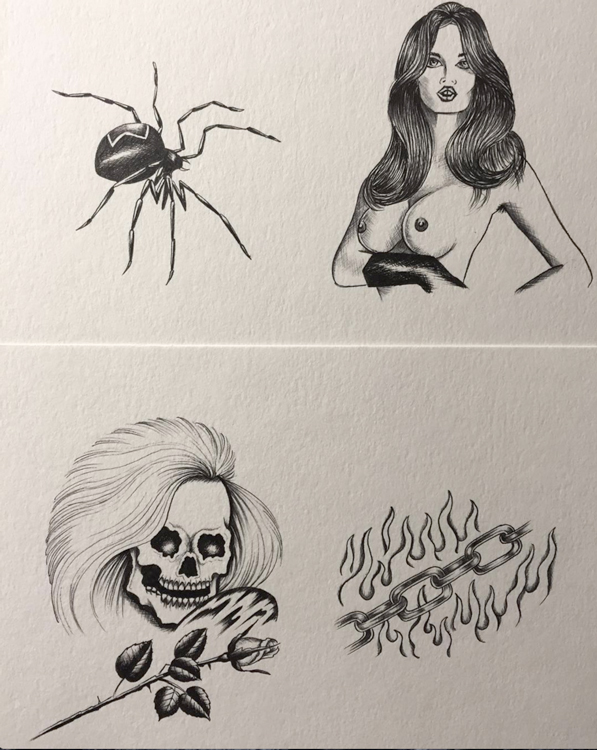 I know you also like tribal tattoos, and sometimes try to sneak elements of that style into some of your designs, which is a really unique combination. What attracts you to tribal tattoos? Does it have something to do with being Maori?
I'm a proud Maori, but I grew up in the city away from my Iwi and Tupuna, so my art probably reflects the experiences of a Maori from the inner city rather than that of a practitioner of Ta Moko. I'm less interested in the designs passed down through generations of Maori tattooers and more interested in the way those styles were interpreted by the western world. I like to incorporate "spikey" tribal into my designs when I can. I enjoy the contrast between the fine lines and shading of the single needle, and the bold graphic designs of classic Westernized tribal. The combination of those two styles reminds me of an imaginary transition point between those two opposite styles at some point in the past. I think they work together to form an awkward but perfect union.
Isaiah Toothtaker.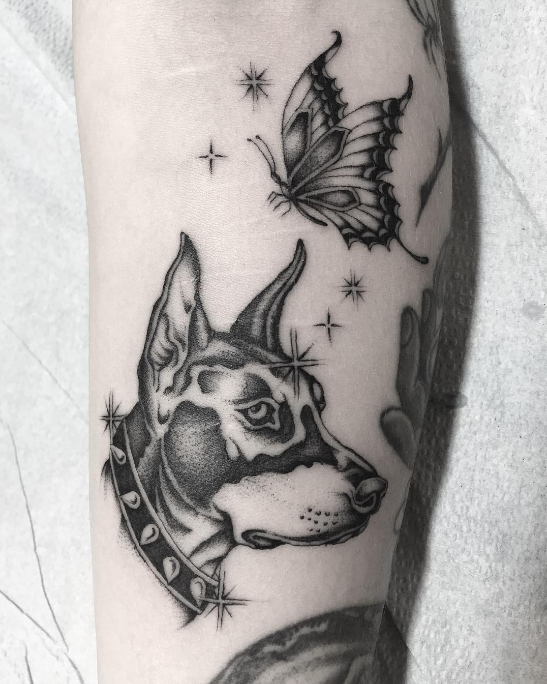 Are tribal tattoos still popular among young Maori people? Or has new school or another style become more popular?
Ta Moko is now, and I'm sure always will be an integral part of our identity as Maori and as New Zealanders. We are responsible for re-introducing Europe to the art of tattooing when the first European sailors reached our shores and witnessed the art of our ancestors. The art form has evolved since then. Some Maori prefer a more traditional style and some favor a modern approach. For me, it's all permanent marking of the skin and essentially the same thing. It's a very normal practice amongst our people to have tattoos, whether they're done by your uncle in the garage or a professional. It's very acceptable and seldom frowned upon.
What other tattoo artists are you inspired by?
I'm inspired by a very broad range of artists, mainly by those that I'm lucky enough to work along side of, especially the residents at Two Hands: Joshua Solomon, Victor J. Webster, Richard Warnock, KD Sypes, Aaron Luckman, and KJ Milk. Other tattooers that I've worked with recently or have been tattooed by and have deeply inspired me include Sean form Texas, Sue Jeiven, Bert Krak, Matt McCormick, Simon Erl, Tamara Santibanez, Maxime Buchi, Rachel Hauer, Oliver Macintosh, Kane Trubenbacher, Mina Aoki, Guy Le Tatooer, Talley Mathew, and countless others that I don't have room to list!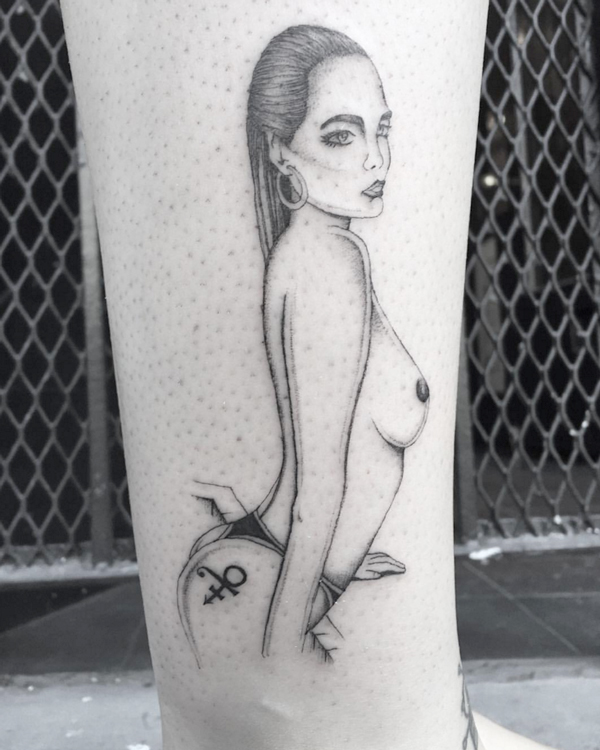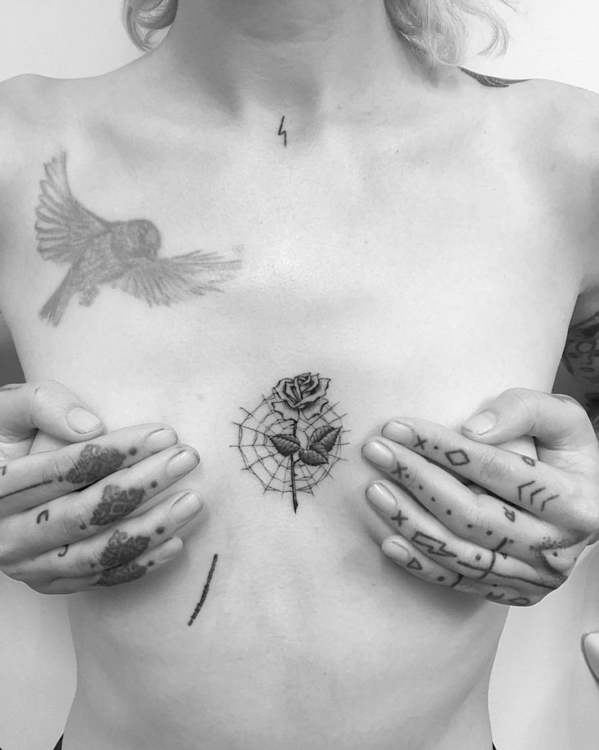 When did you open your shop? What makes the shop unique in Auckland?
In 2006. It's our artists that set us apart. We all travel a lot and work very hard to make original and unique work, while still having strong roots in traditional tattooing. We are also blessed with an ever-growing roster of world-class tattooers from every corner of the globe.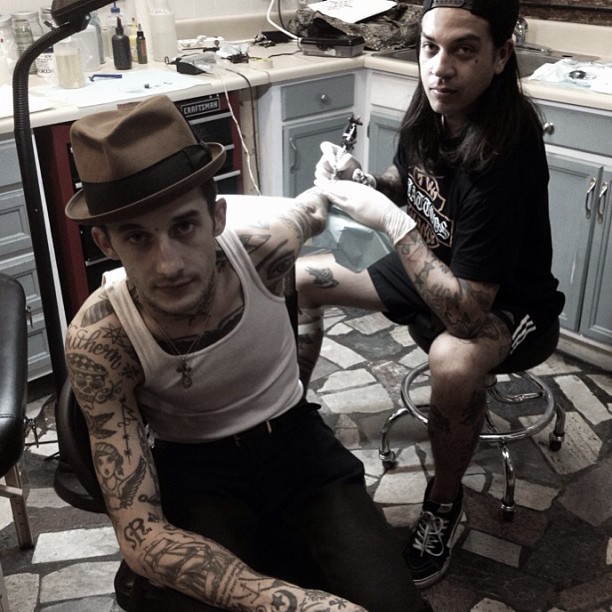 ***
Follow Spider on Instagram @spidersinclaire and Tumblr at spidersinclair.tumblr.com. 
All photos from Spider Sinclair's IG.