Jesse Furman leads our newest food column, which is an off-the-wall exploration into the underbelly of LA. Here, he finds the city's greatest culinary creations and digs into the passionate minds behind them.
Just over the hump called North Hollywood, tucked between a Wienerschitznel and a ubiquitous auto repair shop that dots the landscape of Burbank lies a coffee shop. Once pre-occupied by an original Orange Julius retail storefront, the spot has been transformed with a new modern industrial, eclectic facelift. It's called Coffee Commissary, where dapper young gents and lads pour great coffees and espresso. Delve deeper into the small kitchen and you'll find just a couple pastry tables (one French marble countertop and a 8ft wooden top), 1 Hobart machine, and a fridge with over 50lbs of Plugrà butter. In another fridge is various unique berries, herbs, and fruits—most of which are sourced at the local farmer's market, and stocked based on what inspires the delicate palate of the most joyful pastry chef Naomi Shim, who has been developing some of the city's most phenomenal baked goods at Coffee Commissary.
Naomi Shim is an artist. She told us that her inspiration can come as spontaneously as the recollection of a dream. All of her doughs are made from scratch—puff pastry, pate brisee (pie dough), croissant dough (she uses an original three-year-old starter), etc. She and her small crew roll each dough out by hand, a laborious task that yields all the rewards when you take a single bite. She seeks new flavor combinations and artisan products, making her own ricotta for Danishes, and creating a spin on Nutter Butters, with her Cashew Sesame Honey "nutter butters." Naomi Shim embodies that wave of next-generation, experimental, ingredient-focused cooking and the outcome is something delicious and pure. And her style is the secret ingredient.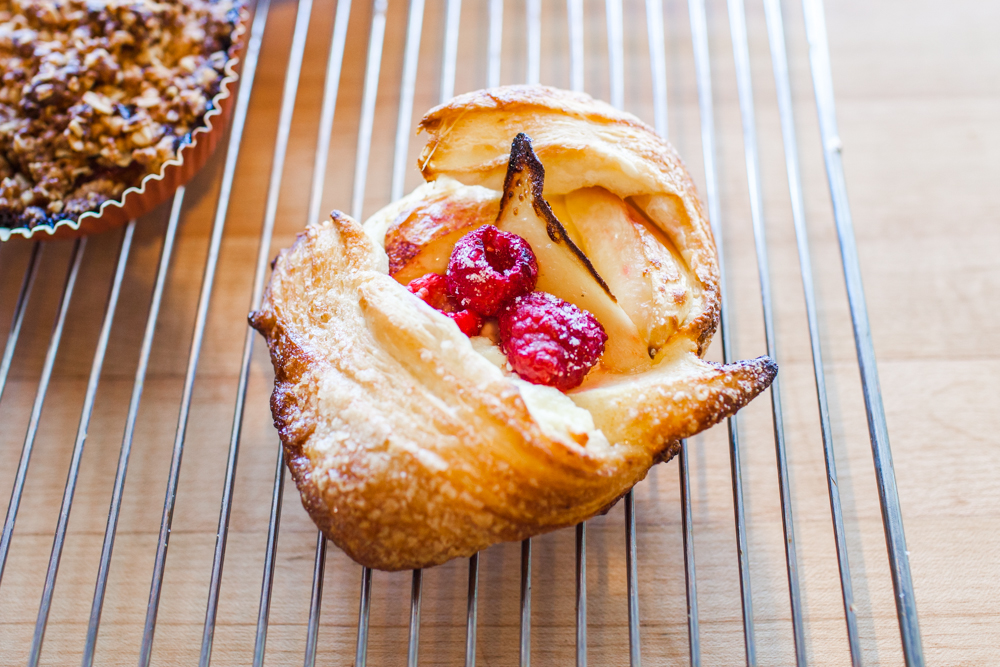 It's safe to say that Naomi Shim is one of the most underrated pastry cooks in the local Los Angeles scene. Having worked in high-end professional kitchens like L'Orangerie, what makes Naomi Shim's characteristics and personality shine are her crusty morning buns and the rigid dark ends of her homemade oatmeal cookie. Her focus is slightly against the grain. She's also the pastry chef at Salt's Cure, a California-focused 20-seat eatery in West Hollywood that made their own sourdough loafs for sandwiches before the current wave, and has the chefs driving 4 hours to different ranches in Northern California to bring in whole animals. In the back of the Salt's Cure kitchen, she was making the irresistible "Tangerine Bun"—which basically makes you never ever want a generic cinnamon bun ever again. The "Tangerine Bun 2.0" can be found as the "Morning Bun" at all 3 Coffee Commissary locations. It may not have the strong citric accents as the first, but still has all the glory of a flaky, buttery, and uniquely dark honey sugariness, swirled within a glorious imperfect circle (she loves asymmetry).
We had the great opportunity to ask Naomi a few questions about her life and beliefs on pastry, asymmetry, and what she calls "the handmade spirit" at the Commissary Coffee kitchen. In return, we got a taste of her Stanwick Nectarine and Raspberry Ricotta Danish and the recipe for her incredible puff pastry.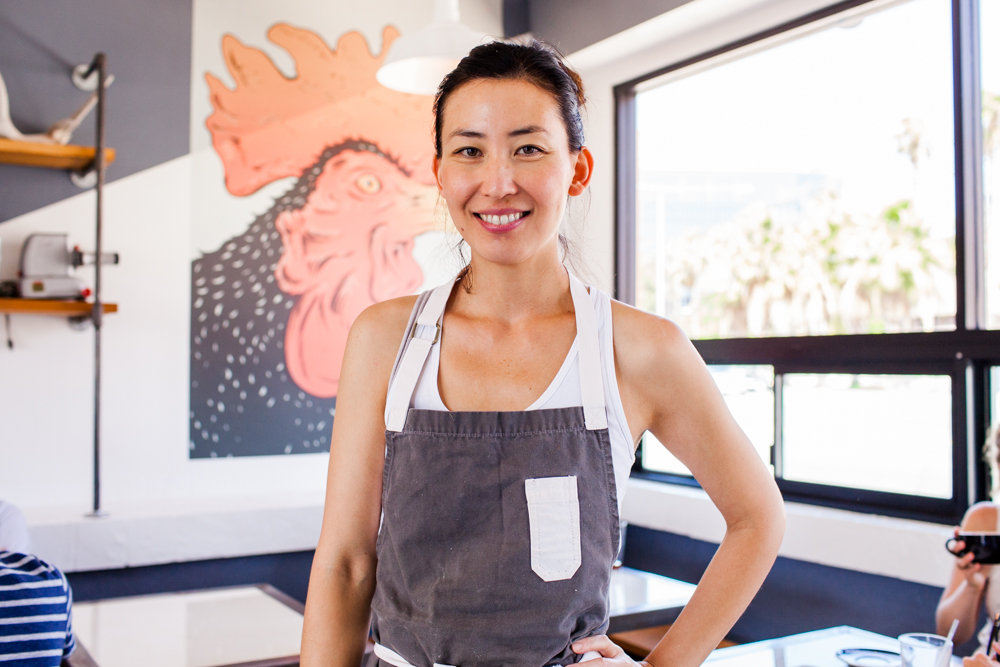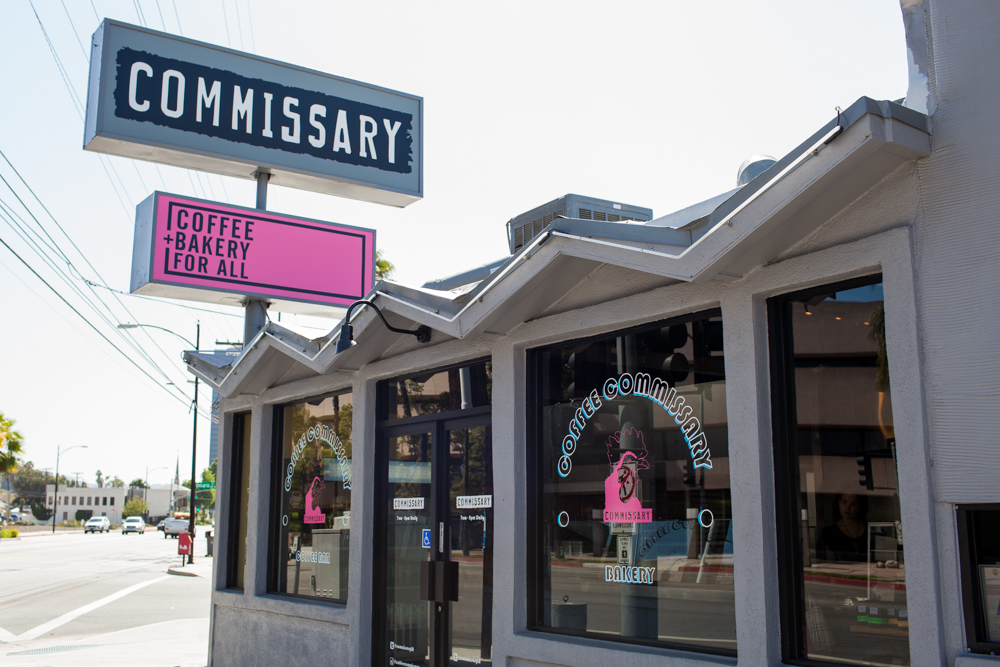 When did you first realize that you liked pastry and cooking?
I just loved breakfast foods. When I would come home from school, I used to make myself French toast. I just loved breakfast foods and that's when I was 9. So I started early.
Is that when you knew you wanted to pursue pastry?
It was a natural progression. I love sweets. I have a major sweet tooth. The purpose to me was that dinner was a means to dessert.
What is the most important key to pastry? 
Love.
Love? 
You can taste it.  Even when it is shipped all the way to Fairfax.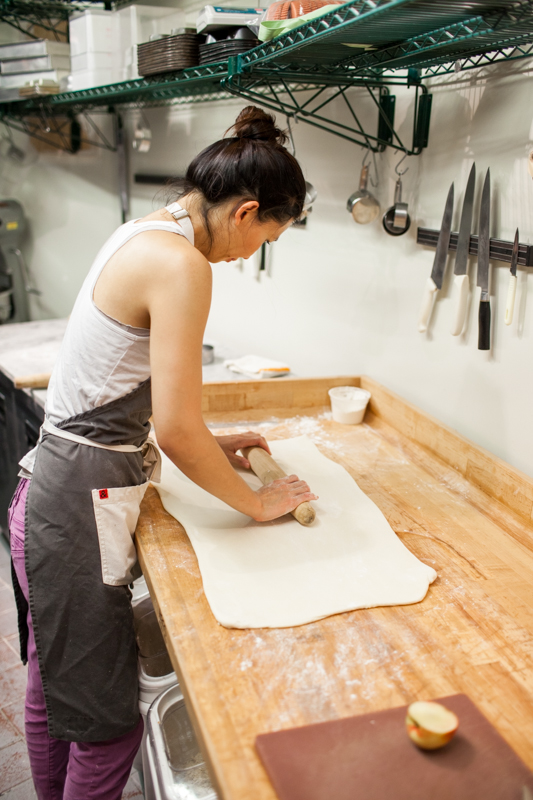 What is your favorite sweet?
Pie.
What is your favorite place to get a pastry in LA?
I like Huckleberry and Cooks County.
What was the hardest kitchen you worked in?
Probably l'Orangerie... When I worked there, I worked for 3 different French pastry chefs. It was difficult because the chefs were fighting with the owners and they changed. When you learn under three different French pastry chefs, you learn a lot.
You have a particular style. Can you explain what your style is?
Yeah, everything is really natural and asymmetrical.  I don't like things that are medium and middle. I like things that are asymmetrical and slightly bigger. I like things where each one looks different. It is part of the handmade spirit.
I like things looking like they fell from heaven.
::
::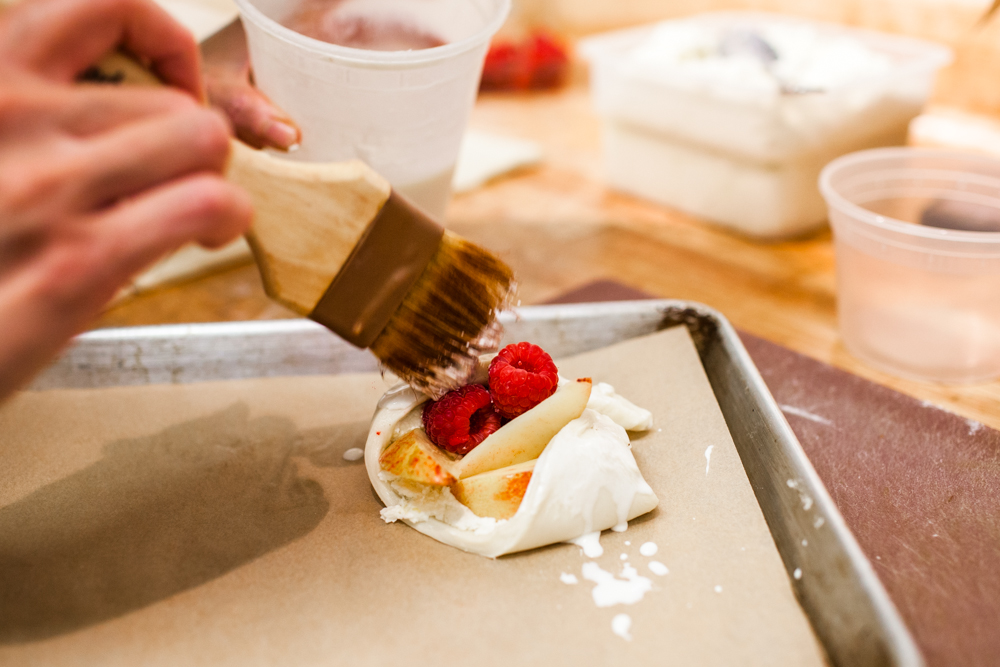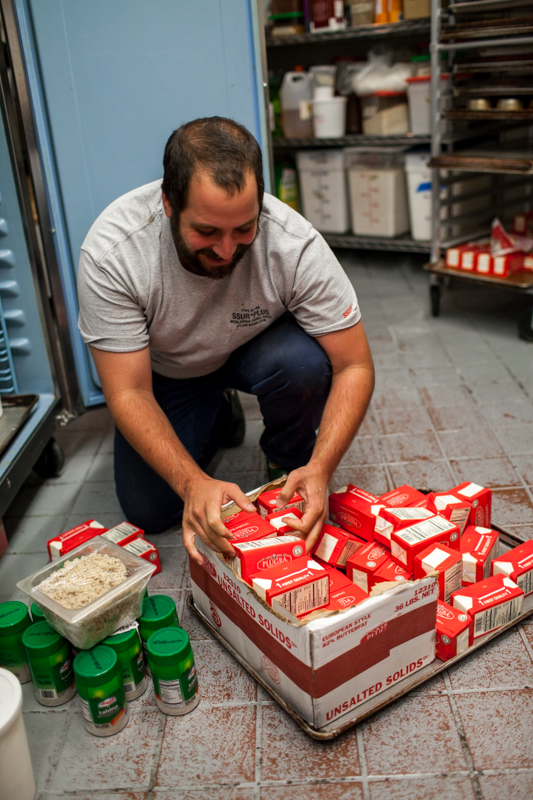 There were about 50lbs of Plugrà butter in the fridge and another 25lbs of butter tempering outside.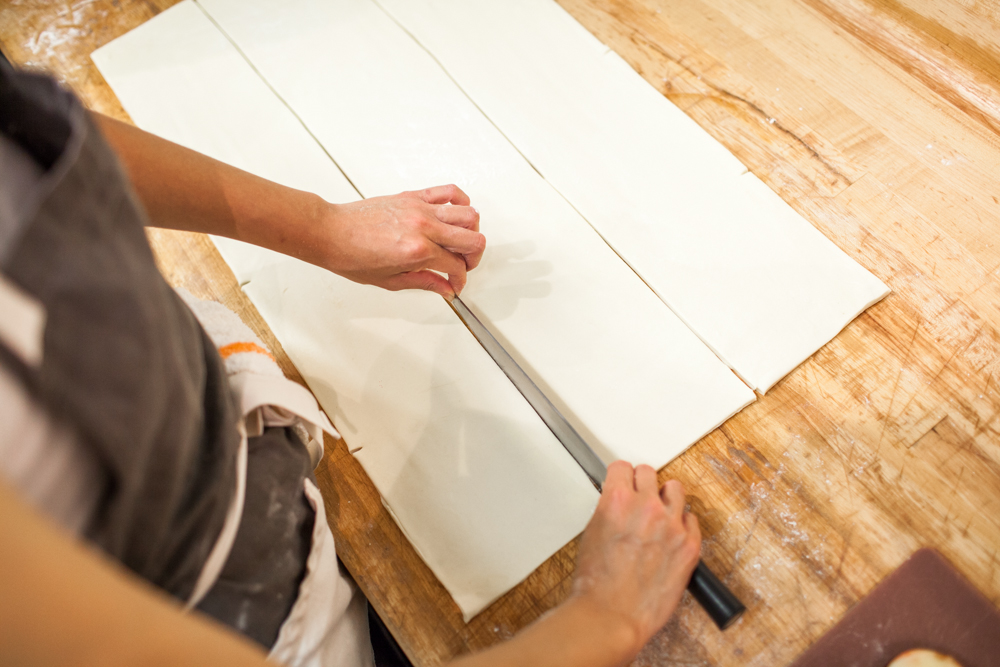 We followed Naomi to the oven and talked to her for a few more minutes about cooking for people with the heart and soul, and how her inspiration can come as spontaneous as the recollection of a dream or of the first thought waking up in the morning.  Then she pulled out the Danish and it was, needless to say delicately sweet, slightly sour, and pure deliciousness. 
This recipe below is for the dough and you can fill it, cut it, and shape it any which way you like it! For use in danishes, puff pastries, etc.
NAOMI SHIM'S PUFF PASTRY DOUGH
6 cups all purpose flour, sifted
4 teaspoons of salt
½ pound cold butter, cubed
2 cups of ice water
3 teaspoons of vinegar
::
Sift flour.  In mixer with paddle attachment, mix all dries with butter until dime-sized chunks.  Add ice water and vinegar.  The dough will be sticky, but will become smooth as it is laminated.  Wrap the dough in plastic wrap and allow the dough to rest in refrigerator for at least 2 hours.  Laminate with butter block.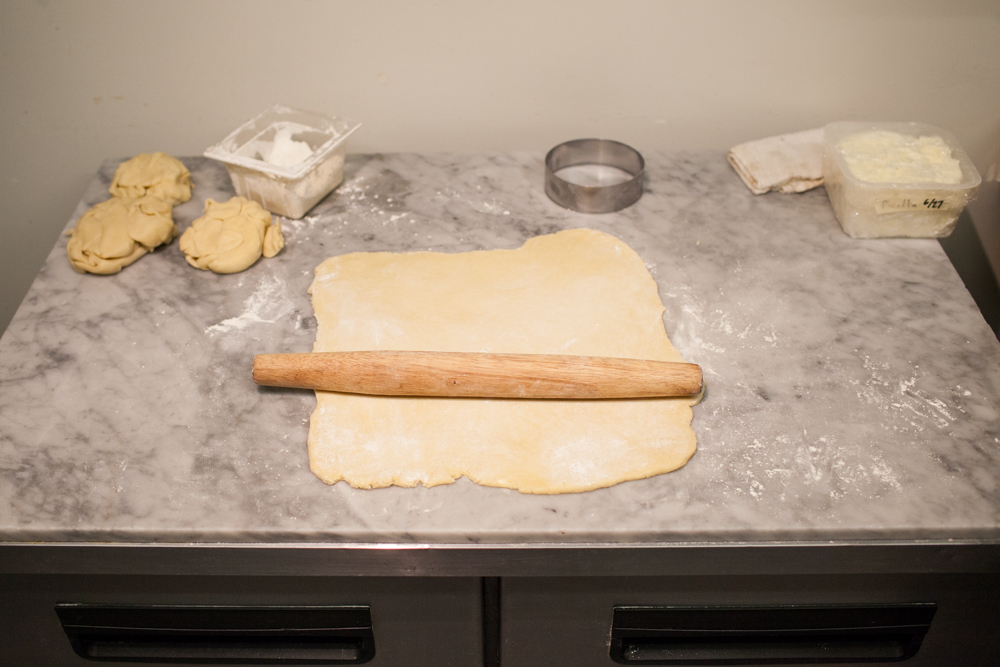 For the BUTTER BLOCK
1 ½ pound butter, room temperature
::
Flatten butter block with rolling pin into an even rectangle approximately ½ inch thick 8 inches x 5 inches.
Flour surface and roll out dough to 18 inches by 12 inches. Place butter block on one side of the dough and fold over.  Seal the open ends and roll out again to about 10 inches x 18 inches. Mark the rectangle into three equal columns and fold like a letter. The first turn is completed. Repeat six more times, giving the rectangle a quarter turn each time.  After the sixth turn, roll out block to 32 inches x 18 inches, about a ¼ inch thick. Cut into squares or triangles. Fill with cheese, fresh fruit, or jam. Bake off, high fan 400F for 10 minutes. Rotate pan and turn the fan to low and oven at 350 for an additional 10 minutes. Cool turnovers or danishes on cooling rack.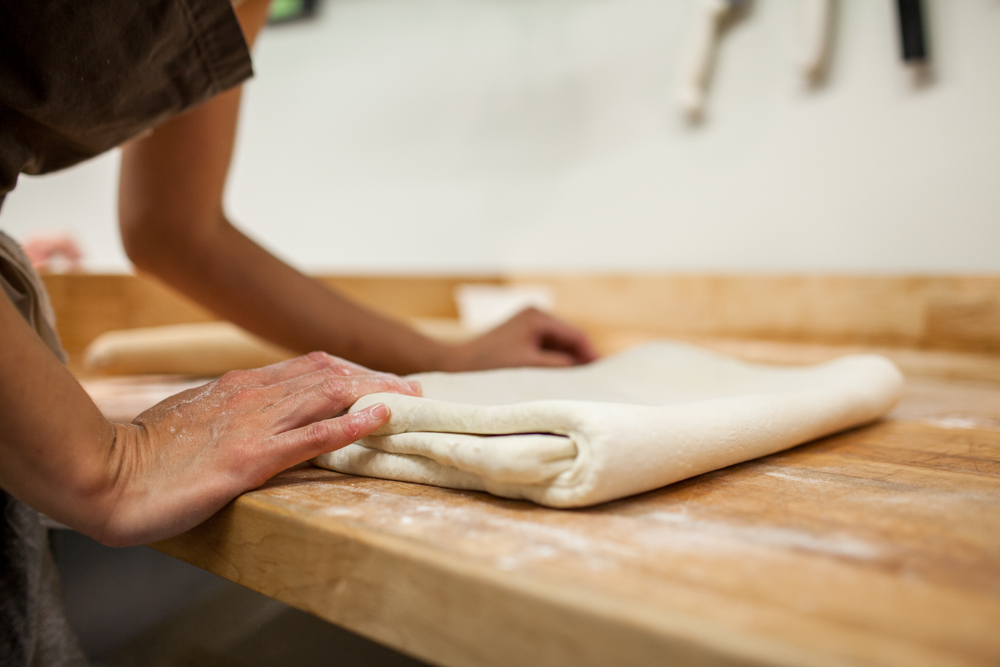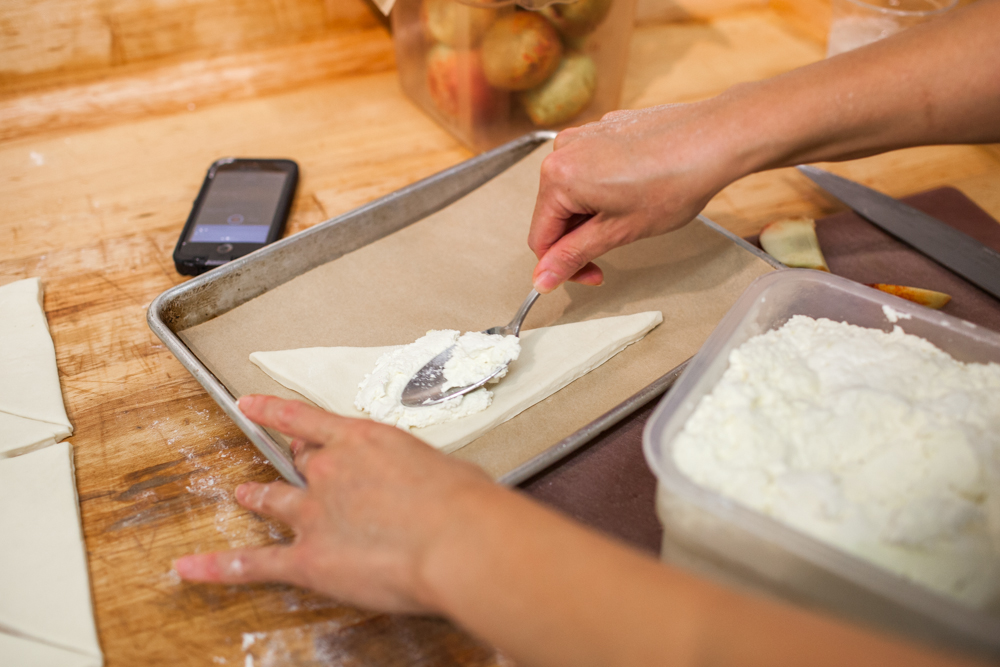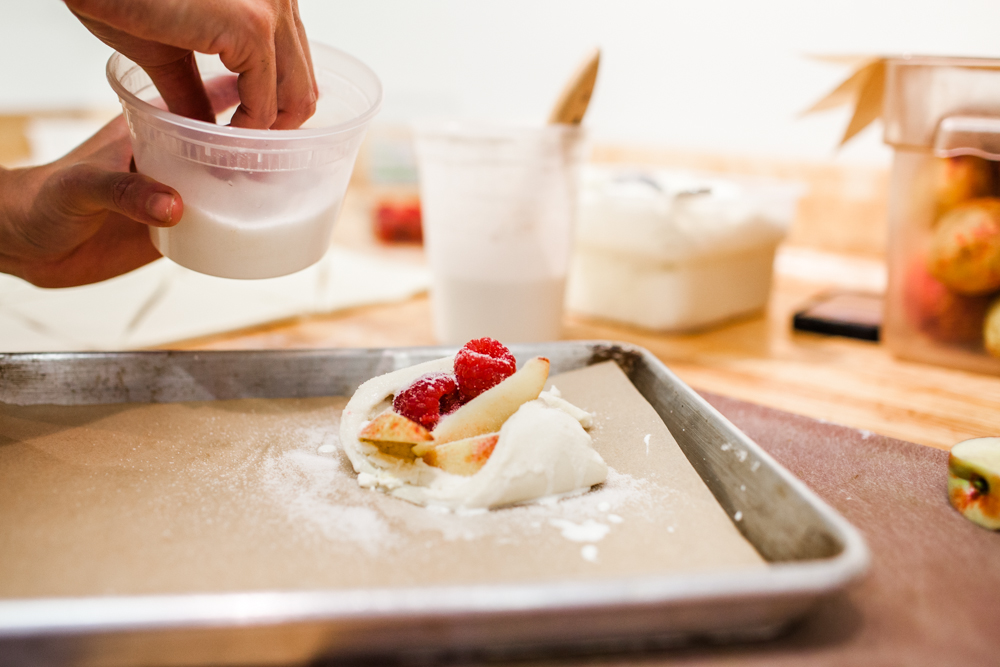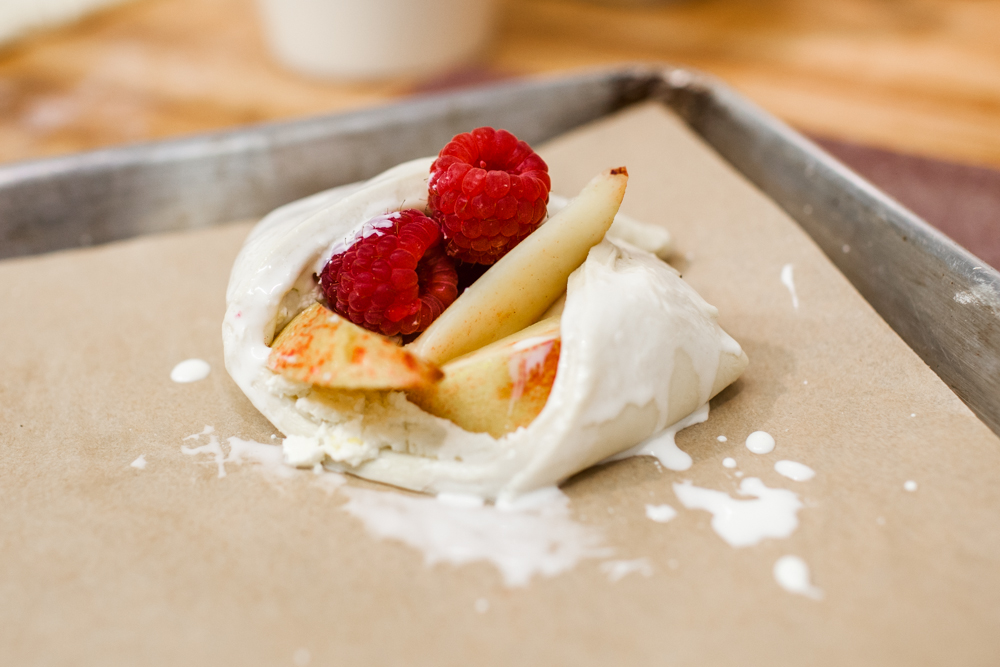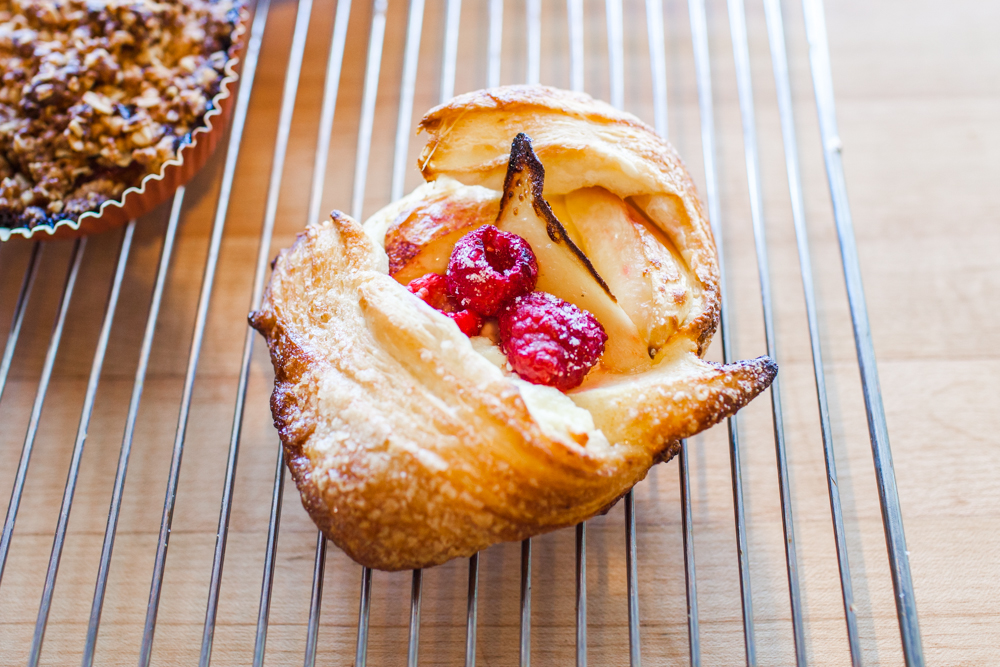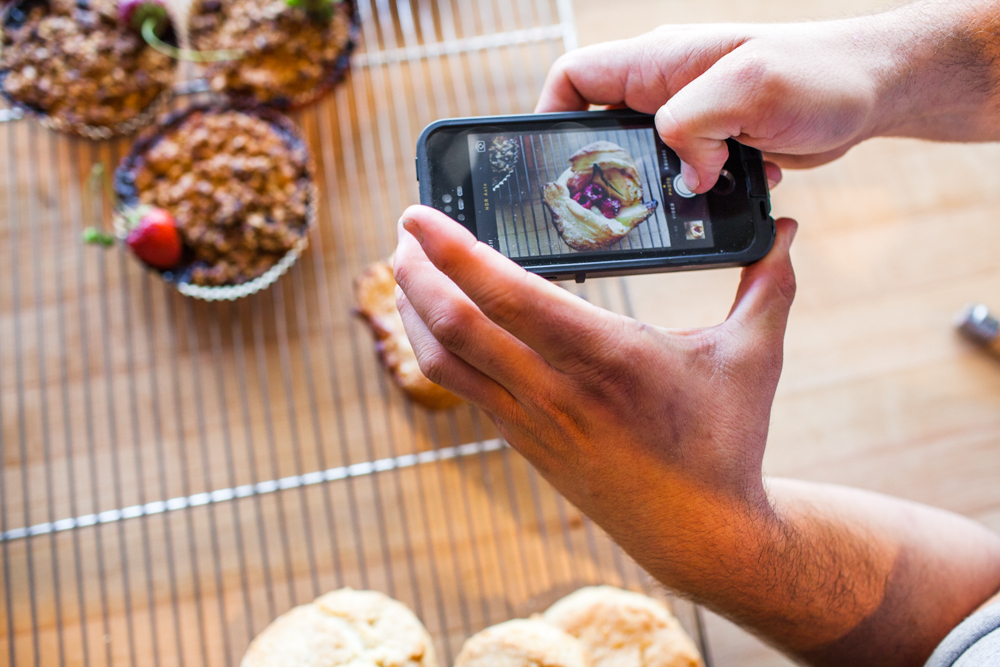 ::
::
Read more about Naomi in LA Weekly here. And visit Coffee Commissary and Salt's Cure to try one of Naomi's one-of-a-kind pastries.