After Germany, I decided to stick around in N.Y. for a few days before flying back to L.A.  I will take any excuse to have an extended stay in the big apple. On this trip, I got to link up with known jeweler Mr. Flawless. The introduction came through my buddy Ivan. He mentioned that Flawless and I should meet.  Aside from hearing about his great work, any friend of Ivan's would most likely be a friend of mine. So we got to link up while out at a couple of night clubs, but I wanted to pay a visit to where he does his business. We met up at his exchange to photograph his spot and do a little interview as well. So check out the photos below as well as a Q&A to find out more about him.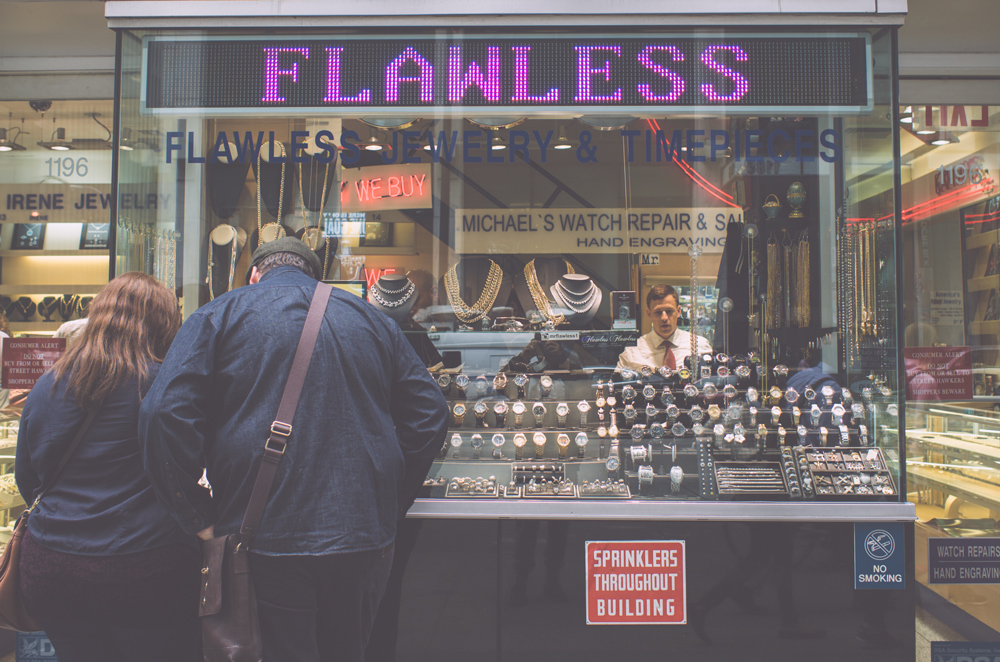 Alright Flawless lets start this off. Where were you born?
Queens, N.Y.
And where are you currently residing?
Manhattan, N.Y.
How did you become a jeweler?
My cousin and uncle needed an employee at their shop for the holidays. I was working in mortgages which happened to be extremely slow at the time. I figured I would give it a shot and help them out. I hated it at first, then I started to see the potential in the business. When I started making custom pieces, I knew the jewelry business was my calling.
So where did the name "Mr. Flawless" come from?
Our stores name is Flawless. One day Floyd Mayweather was shopping with me and he asked my Twitter name to shout me out. I didn't have one at the time so the first that that came to mind was Mr. Flawless and it stuck!
Where you into jewelry at all prior to working with your uncle and your cousin?
My mom has a funny story of when I was six years old and I broke apart a piece of her custom jewelry and threw it in the dirt in the backyard so I could pan for it like kids in Africa. So she would definitely say yes! I grew up always wanting to look fresh, I had my first chain at the age of 13 for my bar-mitzvah.
Who are some of your unique clientele that you have had the chance to work with?
Floyd Mayweather, Ceelo Green, Scott Disick, and Davido Adeleke to name a few.
What inspires you when designing a piece?
I love collaborating with artists. Working with creative minds has really opened my eyes to all the possibilites and platforms that can be reached in the jewelry world. I am always trying to reach new levels.
Are there any other jewelers that inspire you or whose work you respect?
Ben Baller of course! And Jacob.
What is the connection between fashion and jewelry in your eyes?
I am always trying to be fresh and new. Jewelry and accessories go hand in hand with fashion. Everything has to flow right.
What is the most expensive piece you have ever created?
I would have to say a 2 kilo cuban with 114 carats of diamonds. 140k I also did a 8 carat pink diamond that was 748k, that shit was crazy!
If you weren't Mr. Flawless what would you be doing?
I dunno, probably getting into trouble somewhere.
Lastly any do's and don'ts in your business?
Do's: Always stay innovative, keep your word and keep pushing!
Don'ts: Never copy, never bite, and never do fakes!