Being born and raised in New York, you get used to the fast pace and time. If anything, it feels faster here. 10 years in New York could easily translate to twice as much anywhere else. Neighborhoods change, venues and bars open and close, fashion, music, art—anything and everything moves and shifts like a yellow cab weaving through traffic down Fifth Avenue. That being said, the life span of things in NYC are probably shorter. Just as things come into style, they go out of it. So for a brand created and based out of NYC to still be around—let alone maintain a level relevance—is a feat in and of itself. Mighty Healthy is celebrating its 10th year. It's seen its share of ups and downs, but Ray Mate has always made sure that it stayed rooted in its DNA: New York mentality with a global appeal. Be it Hip-Hop, skateboarding, NYC grit and wit, Ray's managed to stay consistent, because Mighty Healthy is an extension of himself and who he is—a tried and true New Yorker.
For its 10th year, Mighty Healthy has joined with the illustrious artist, Kevin Lyons, to create a capsule portaying "the Big Apple," New York's nickname. I had a chance to discuss this with Lyons during Agenda New York, where he was painting a mural depicting the images from this capsule. We discussed the changes in New York in the last 10 years, to the music he's currently drawing inspiration from.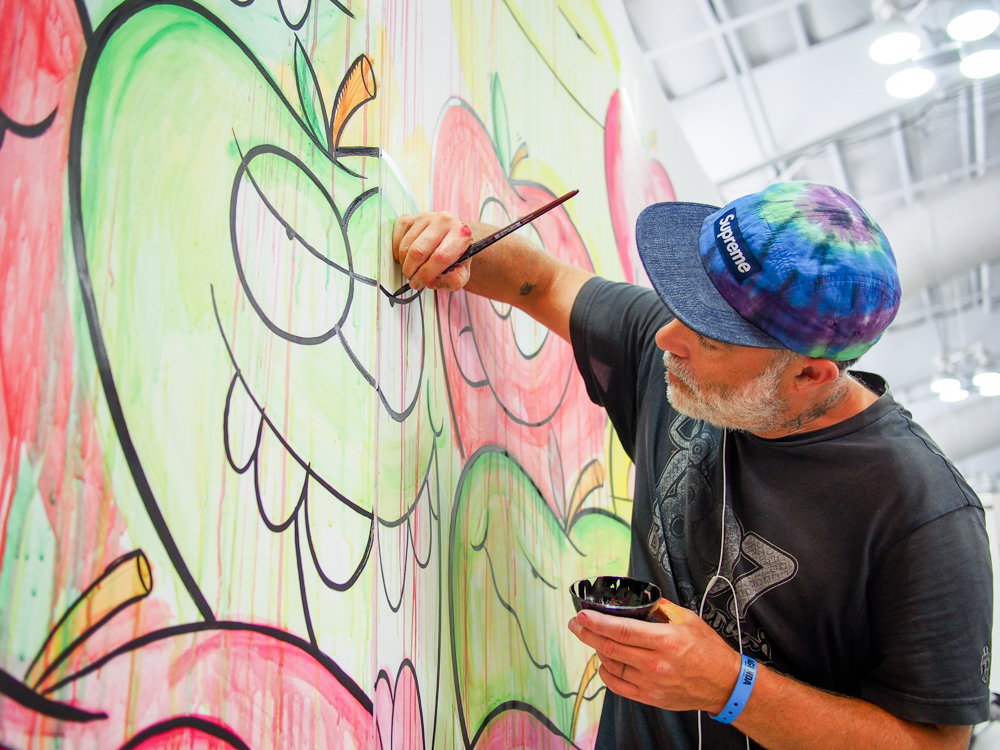 PETE: There's a lot of mystery surrounding the term "the big apple" and why it came to be. What do you think it means? Do you have a personal fictional backstory behind it?
KEVIN LYONS: I don't have a great story or a great idea of what the Big Apple means. To me it just means the greatest city on the planet and the apple being the quintessential fruit. And there's so many different types of apples and so many different types of New Yorkers. And when you put them all together, it's the Big Apple.
How long have you been based out of NY?
Based out of New York since pretty much landing here when I was 18 years old. Which is like—let's just say 20 plus years ago, but it's really more like 30 plus years ago. That's how long I've been in New York.
In terms of Mighty Healthy's 10 year anniversary, how has the city changed over the past 10 years in your eyes?
Over the last 10 years, I think New York has gotten cleaner, a little bit slicker, a little more expensive, a little bit richer. But I think at the heart of downtown New York, it's always stayed the same. New generations come, old generations leave, but the core of what New York downtown is, I think, still totally intact over the ten year period.
You don't think it's a little more homogenized?
It depends on how you want to look at it. I think the homogeny comes with the territory as it got richer and more touristy and more people came, but I think that the true New Yorkers—the true kids that have always dwelled downtown—they still are all there and still are doing great stuff, they just may not be on the streets everyday. So, to me personally, it doesn't change the way New York is.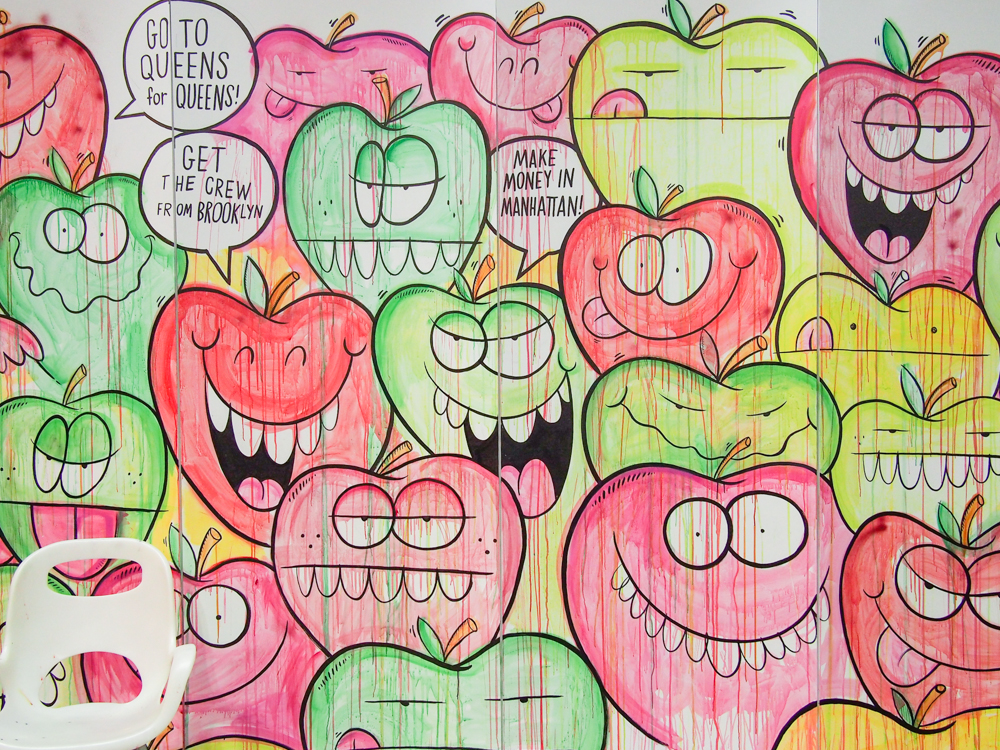 Can you tell us a bit more about the Mighty Healthy collab outside of what was in the PacSun video? Ray Mate said that you're "pretty much [his] hero."
Ray's a big fan and I'm a big fan of what he's managed to accomplish as the next generation behind us. But for me, the Mighty Healthy thing was really simple. It was to celebrate the 10 years and it really was about creating a character that's an apple because Ray Mate has used the apple so many times in his graphics. I think of Supreme and punk graphics, I think of The Hundreds and the bomb image, I think of SSUR and Coney Island, and to me, Ray represents the apple.
Yeah, he's definitely a quintessential New Yorker in that sense.
It was a really easy thing for me to put two and two together and come up with this. To me, it was a very natural collaboration and natural thing.
What was the idea behind the "MAKE MONEY IN MANHATTAN" graphic? Any more details like that that you really like out of the capsule?
The "Make Money in Manhattan" is actually one out of the five T-shirts. We're going to make five more T-shirts. And "Make Money in Manhattan" is one verse of the Rakim vocal. So we have all the verses together: "Queens for Queens," "Get the Crew from Brooklyn," "Make Money in Manhattan," "Never Been Tooken," "Go to the Bronx to Boogie Down," and then the "Long Island" lyric as well.
You're going to see four more T-shirts like that, and that's essential to the collection because I wanted the collection to represent all five boroughs, because that really is New York to me—not just Manhattan.
Mighty Healthy is definitely—they're really rooted in Hip-Hop culture and New York culture so that makes sense.
Right, but also the different players involved, like the Gino's, and the Ray's, the Keenan's, the Huf's—they all came from Harlem or Long Island and they came from Staten Island. There's a whole bunch of different personalities that are in the Mighty Healthy store that found their way downtown, but are all from different boroughs.
I've actually known Ray for almost 20 years, he used to live in Canarsie, and we used to skate together.
Exactly, so I don't want to forget about any of the boroughs. There will be more T-shirts in the collection—that's important. There will be a different apple for each of the boroughs as well.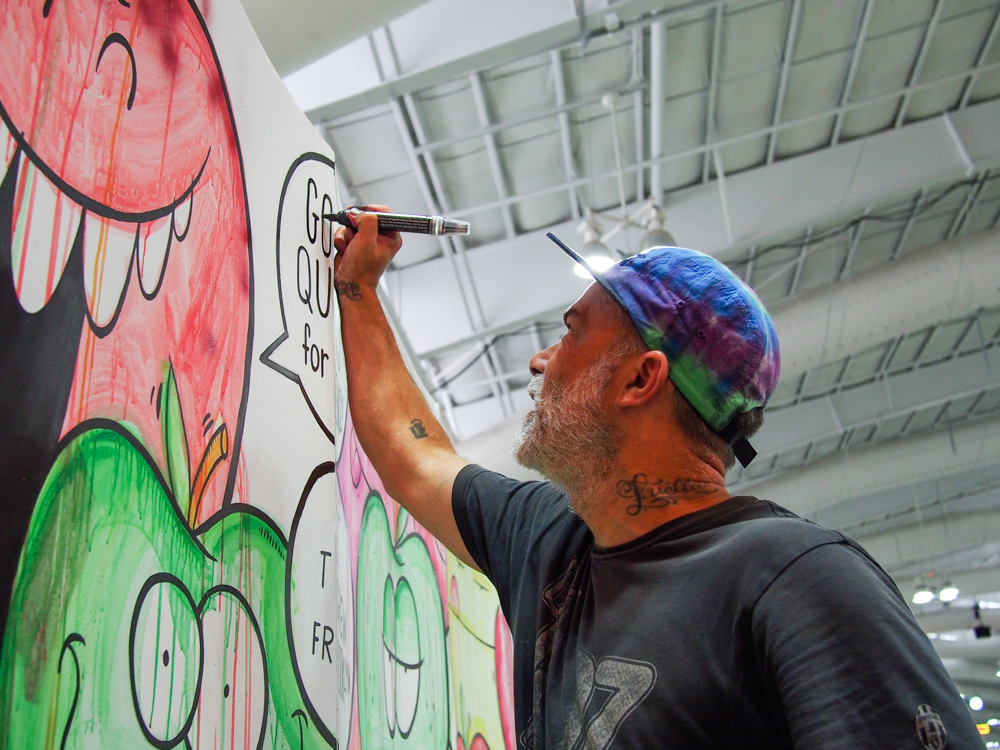 Do you still carry a handful of Mini iPod Shuffles to put all your music on? What are you currently listening to right now?
Yes, I do carry a handful of Mini Shuffles around, and right now I'm listening to a Bronson mix. That is the current mini that I'm listening to.
Big fan of Action Bronson?
I am, huge fan because of his lyrical quality is super easy to draw, and also the food thing goes hand in hand. Apples are food and Bronson is food. I know that has become my huge thing now, but I do really listen to a bunch of these. They are the easiest thing to work with.
Any plans for the future outside of Mighty Healthy?
We got Mighty Healthy coming up, then I got a kids collaboration with a company called Ruff and Huddle out of London, and then I have a kids snowboard collection with DC coming out in winter, and for Miami Art Basel, I dropped two adidas skate shoes, so that should be really exciting.
Any final words? Thank you's?
Just thanks to Ray for Mighty Healthy and letting me run with this. And to The Hundreds for being interested, so keep on keeping on.
::