Somewhere along the line, we all search to find our own style – looking for that state of mind when creating what shows our personality and viewpoint/message clearly. The route we all travel for this is unknown and unique to each one of us, and this journey is so important as it creates the very thing we set out to find.
"The most creative people are willing to work in the shadow of uncertainty."

– Ed Catmull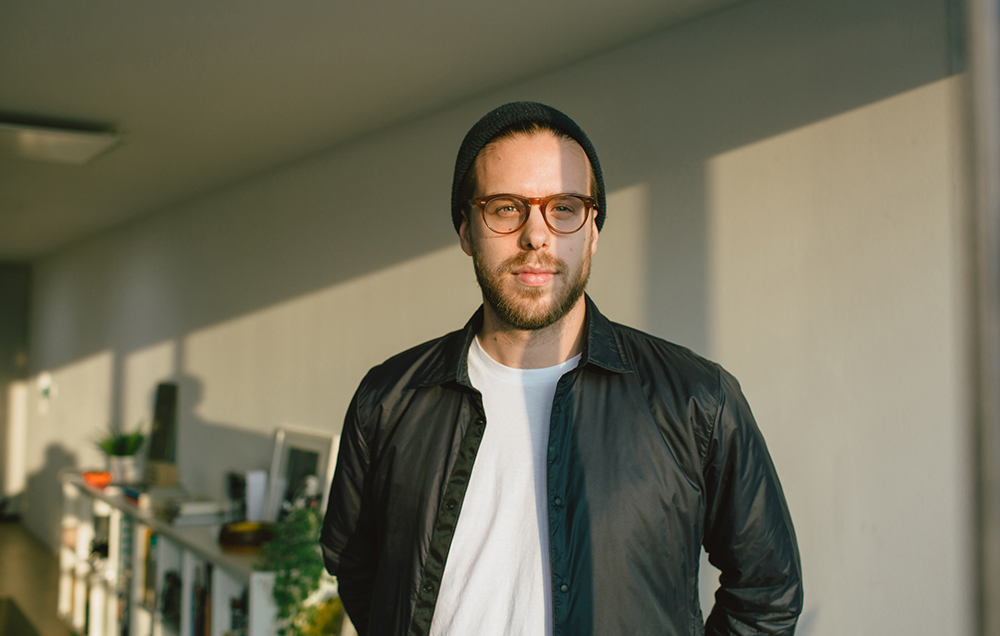 Meet Matt Blease, a visual pun genius illustrating for the likes of the BBC, Waitrose, Random House, The Guardian, Barbour, Liberty, and an ever growing impressive list of clients. Matt shares the story behind finding his style, his childhood obsession with skating, and what led to the success of currently living off his personal illustrations.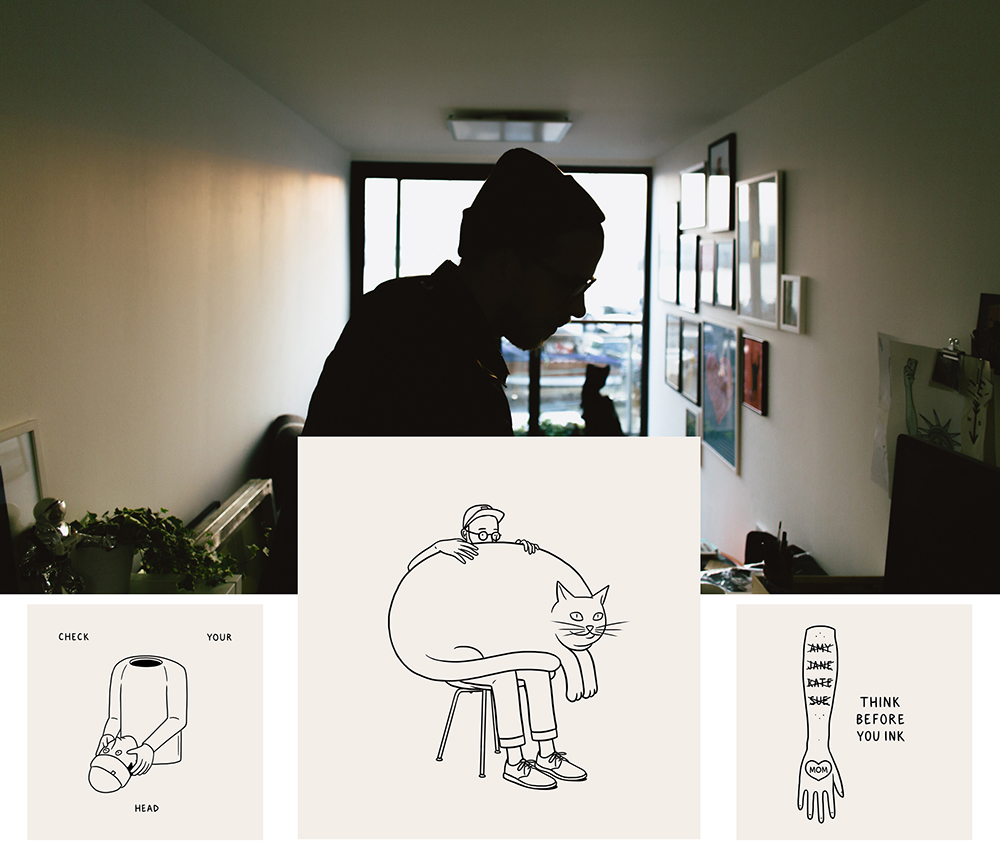 THE START
BOYCE: Where does your story begin?
MATT BLEASE: My first memory of drawing was in primary school [elementary], I drew this really overly-detailed floor plan of the classroom, a bird's eye view of teachers, etc. And at the end I was really proud of it, showed it to my teacher, and she didn't believe I drew it! I remember being so confused, I think it was down to the over-the-top details. Then, from there, I remember just always drawing continuously; that's what I did.
Did you draw from your imagination or was it from things you saw?
There was definitely a phase when I drew a lot of Simpsons stuff – a lot. I think what I loved about it was the simplicity, once you know how to draw one of the characters, you could automatically re-draw it, I really loved that it was that simple. My brother was always into drawing from comic books, so I think I gained an interest of them through him, a lot of Judge Dredd. So yeah, it all stemmed from that, I just found something I really enjoyed and was good at – I could just lose myself in this drawing world.
Where was this all taking place?
I grew up in Liverpool, it was cool, then we moved over to a town just outside of Edinburgh when I was 12, which was when I really got into skating. I think that was quite the turning point, it wasn't until I got to Edinburgh that I noticed it was a different kind of person who skates, it was quite eye-opening. It was a world that you could really obsess about and lose yourself in, like drawing. The shops that sold the skate products then, you really had to really seek them out and it was that knowing it wasn't for everybody that made you feel like you [were] part of something; it was cool.
So skating took over your life?
It was the visualization that really stuck with me, this sort of finding it all out to be a bit subversive and badass, I really enjoyed that. My dad was a vicar and one of the first skateboards I got from this old guy, in his late '60s, who build the pools I used to skate based off the Dogtown bowls; he would import boards. I think it was a Panic board, it had this little frog driving a car and you see this steam roller coming towards him in the road and the frog has a speech bubble that says, "Fuck!!" As you can imagine, I had to plead with my dad to get it. Our compromise was I would cover the swear word with a sticker and I remember every time I went out skating I would peel it off. [Laughs] So yeah, it was all about pushing it, feeling kinda punk, that attitude.
So when did you start taking drawing seriously?
In secondary school, through talking to friends of the family, I said I wanted to be a designer, they told me that I should go into graphic design. That's where the money is and I was like, "Okay, right," and looked into it.
That's pretty early to know what you're going to do, most of us still haven't got a clue.
I think that's the thing, I was always going to do design and it all just lined up, it made sense. I wasn't particularly academic, so it was always going to be something design. But I guess you're right, it is early to know, I guess I was more focused than I thought at the time.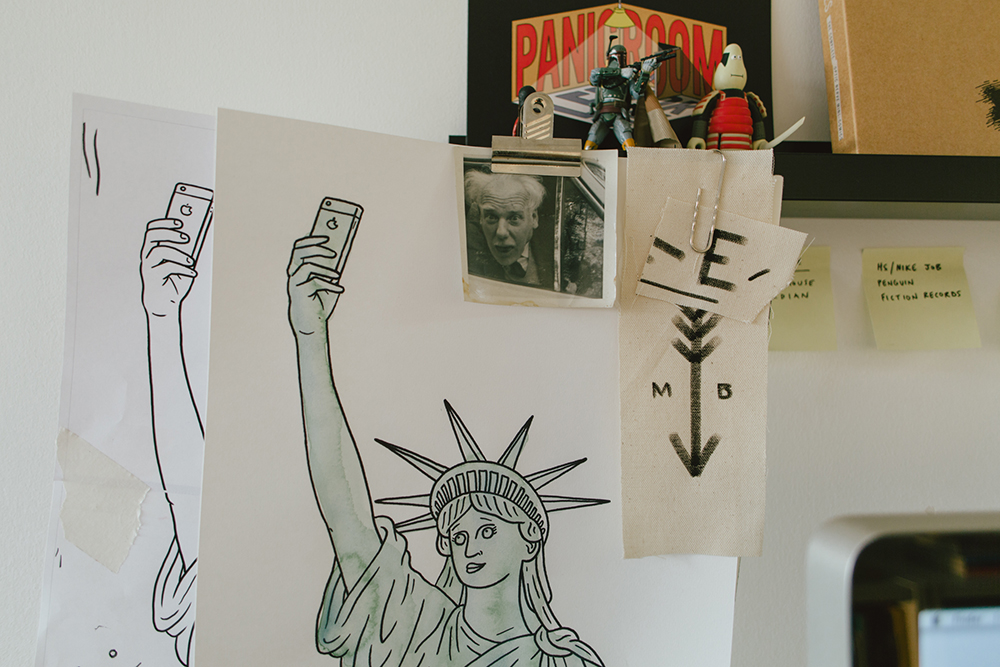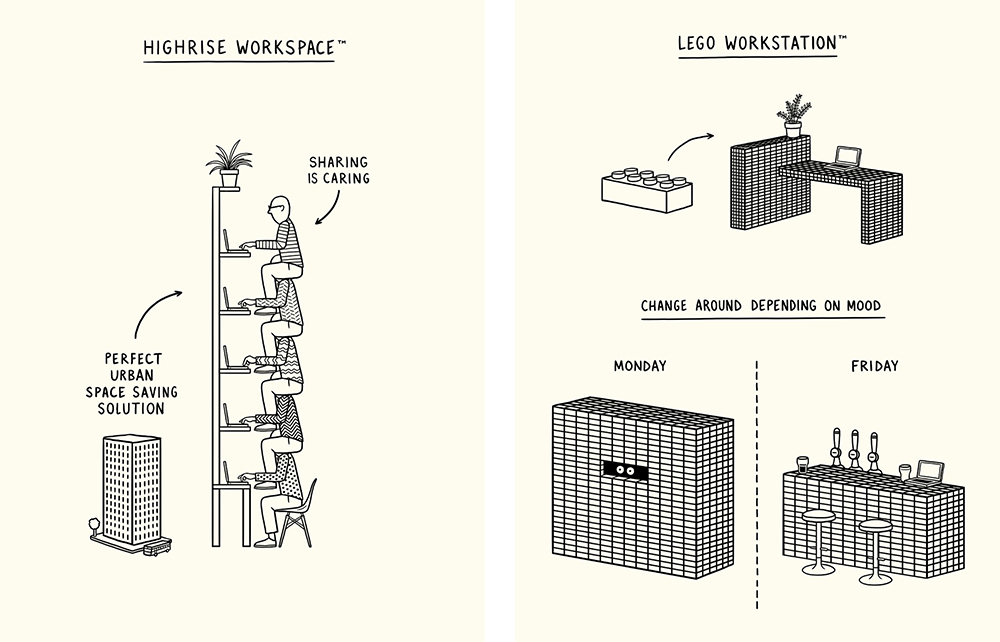 THE MIDDLE
First design role?
I studied design futures at University, which taught me so much. I learned a lot about the process of thinking on brief and the very subject of it, and with this mindset I could apply that to any aesthetic.
From there, I didn't really know where I was going to get a job, we had our degree show in London and we were always told it's amazing all these people come along and offer you jobs. It wasn't nothing like that, no one spoke to anyone from any industry, we were all so disillusioned. On my last day, I took my portfolio, wrote down a list of design companies from a magazine, went to the first place on my list in old street, rang the buzzer, and was like, "I have an appointment with Jamie I think his name was," I didn't have an appointment, I was just blagging my way in. They said he was his on holiday and invited me in. We looked and talked over my work and they gave me a design placement, "I was like shit... I've done it."
I was there for around 6 months, it was a really good place to be, we did a lot of great varied projects, from window displays to making a pick and mix garden at the Chelsea Flower Show. At this point I didn't know how to use Photoshop or anything, it was all down to the idea, just sketching it down, it was about that logic; the thinking I left there and didn't really know what to apply for, what job role I was. I had a bunch of interviews but nothing was sticking.
"[I] RANG THE BUZZER, AND WAS LIKE, 'I HAVE AN APPOINTMENT WITH JAMIE I THINK HIS NAME WAS.' I DIDN'T HAVE AN APPOINTMENT."
Then my brother was working in a chalet in Chamonix and had some guests who were also designers. He mentioned I was too and got their contact for me. So I pulled my work together, arranged to meet this guy my brother had met, and I got an internship. I ended up working there for five years, working my way up to a mid-weight designer; it was great opportunity. My first job was a big Nike campaign, so I got to work with some great brands I liked. Again, it was kinda luck that my brother met them, and the other thing was trust. They were the right people, they looked at my work and saw that it was about the ideas, they actually said to me, "Don't worry about Indesign stuff, you can learn that, but you can't learn this way of thinking overnight." So they were massively supportive, and that's when most of my illustration stuff started to really take role. They would ask me to draw the ideas up instead of getting in an illustrator.
What was a defining moment for finding your style?
I think what affected me most was we had internal projects at HarrimanSteel. We called them language posters, basically screen prints of the English language, like weird phrases. So on downtime, we would doodle these down and I think, again, that was really well-suited to me. I think the humor really encouraged my ideas and illustration. I think humour is really important in design, my style has never been serious or strict, because I don't really take myself that seriously.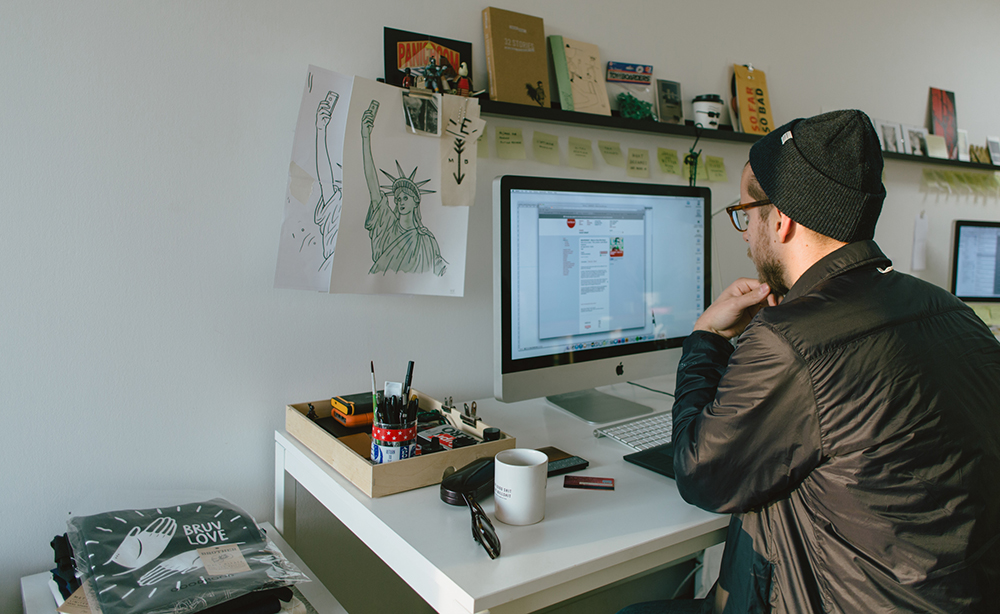 How did you land the Guardian job?
I was in need of making some more money due to some problems with moving flat – etc. So I thought, "I wonder if I can make some extra money by drawing." So I spoke to a friend who's an illustrator, Matthew Green, and he's an amazing, real nice guy too. He had a column in the Guardian and I spoke to him about my situation and he was like, "Yeah, I definitely think you could do it, here's a contact." Sent an email, got one back saying, "Cool work, man, thanks." And then a good bit of time passed and they hit me up out of the blue saying they had a project if I wanted it – of course I took it. I did one, it was a big thing, I had my mum buying the paper, everything. Then it started to trickle in fairly regularly, to a point where it started to affect my current job. I carried on and was enjoying it but – at that point I was so confused about my style. Because the whole time before I was told to follow style sheets, so when it did get to these jobs like the Guardian, etc., I sat down and thought, "What is my style? What does it even look like?" I became so obsessed with it for a while, comparing myself to others, and I think that was a big problem. If you can draw and you start thinking shit, what is the natural thing for me to do? I had to learn how to stop thinking about it all and at that point it just comes, it's just there. It's almost like the sketches I would do, that is actually my thing, that's how you draw, you can scan it in and buff it all up, but it's that initial drawing, the idea, that's your style.
Do you feel like when you create stuff you're really proud of, especially for myself, is when you're in that skate state, that zone of just being immersed in it all.
Yes, definitely. Drawing, skating, and riding is the same thing. It's like being in that strange head space, I have so many ideas when riding my bike to the studio I often stop and scribble them down in a notepad, a phrase, pun, or something and come back and draw it that night. Yeah, it is that strange state, like zen.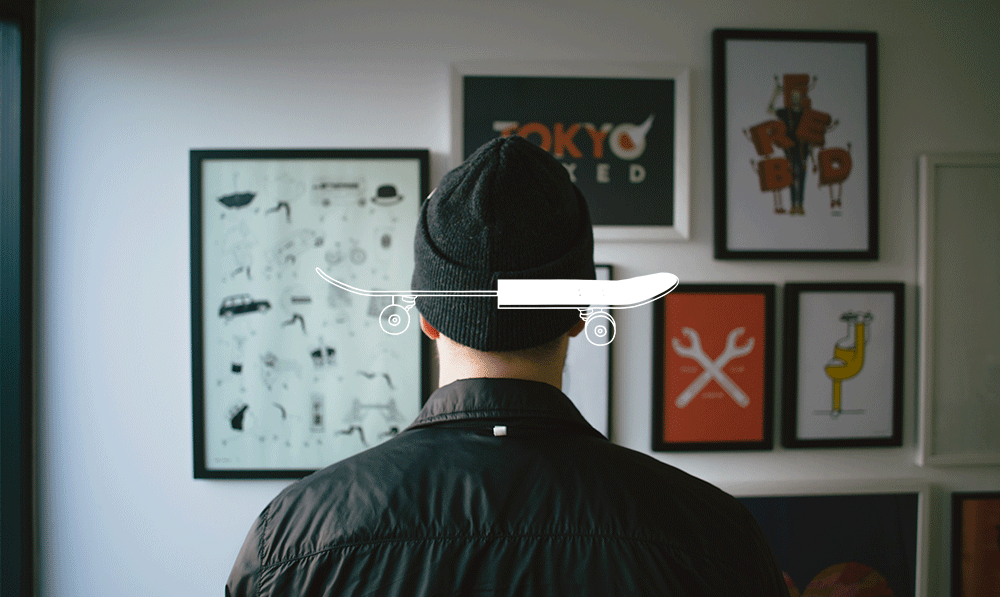 "DRAWING, SKATING, AND RIDING IS THE SAME THING… LIKE ZEN."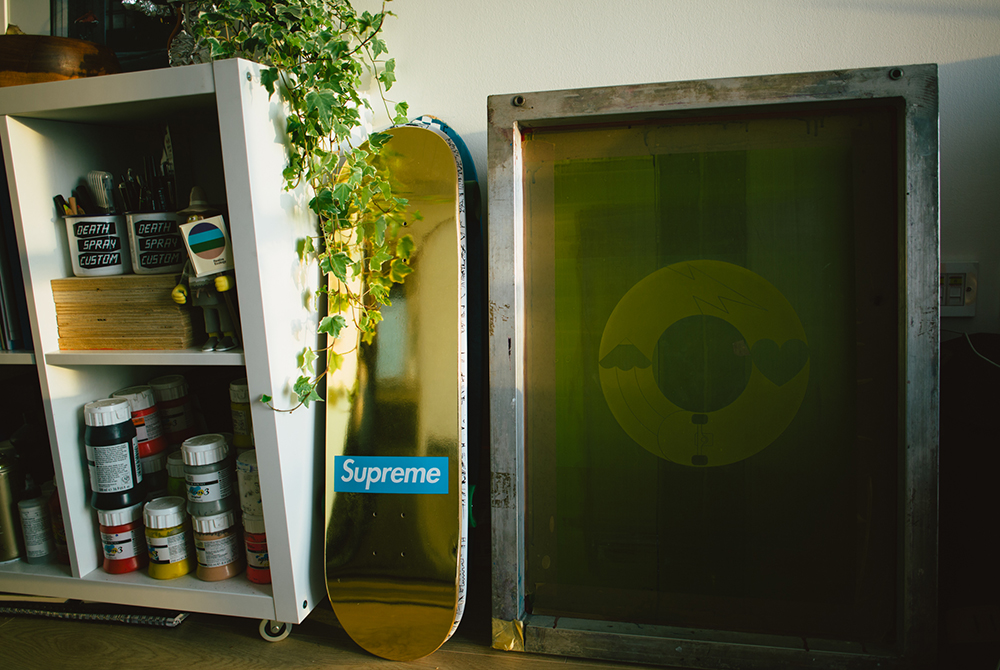 So next you landed the job at the British treasure that is Liberty [Design Studio].
I was looking for somewhere else to move on to. I wanted to go in illustration fully but didn't have the balls to go for it then and I was told they were looking for a senior designer at the time. So I went for an interview with the head of visual identity and I was offered the job there on the spot, which was amazing. It was a big step, like a management role where I would be running a team.
What made you take that on?
I think it was that kinda life point where I couldn't really progress up any more at HarrimanSteel. There was no space at the top, so I thought I could actually do something really interesting with this and took the leap.
It was a very, very different environment, I went from a big office to a tiny room in the attic of Liberty. Which sounds romantic, but it's small, with a sloped roof and rammed with people so I was like, "Right, I'm just going to get on with this." The team were really amazing, they were really supportive.
Did you get to use and develop your own style while there?
Yeah I did, they were pretty receptive to it, too, actually. Looking back, so much of my style was in the work there, when you're in it, you don't really see it, so when I walked away, I could see I actually had an impact. It's a really inspiration-building, when walking out on to the shop floor, which I did a lot, it was hard not to find it all inspiring, It was a great opportunity.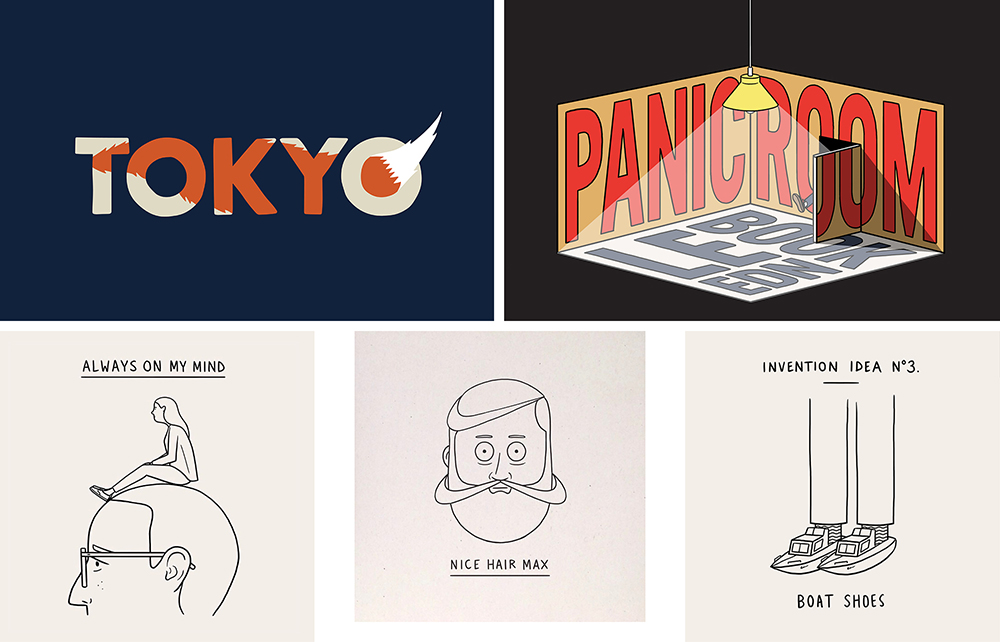 END
So you left Liberty this year and become a true independent artist living off your drawings, how's that feel?
It's amazing, it still hasn't sunk in, I feel so lucky. I never thought about it really, it's actually a dream come true to be drawing for a living and touch wood I get to do it for many, many years.
I think I've been really lucky, because of the process I've gone through, I have learned a lot being an art director and commissioning illustrators. I kinda know both sides and I think that's a huge plus for me, the way I speak to people in meetings and get jobs, and even the way I approach the brief, I read it as all these roles. Maybe if I had just gone straight in to illustration, maybe I wouldn't have that way of looking at things, or even got to where I am today.
Definitely, Its the process that builds character, gives you that confidence and knowledge to excel at what you do.
"Excellence is a continuous process and not an accident." – A. P. J. Abdul Kalam
What's next for you?
I have been working on a coloring book idea based off my silly drawings, bringing that all together for a solo exhibition for next year. So mostly working on pulling all that together. Plus, just keeping on top of all the work I have, a lot of it is making sure I take on the right briefs, which can be really hard, trying to figure out which ones you should be doing and work with my style .
It's a really exciting time, even though I have been doing it for so long, I feel like I'm right at the start of my illustration career. It's weird.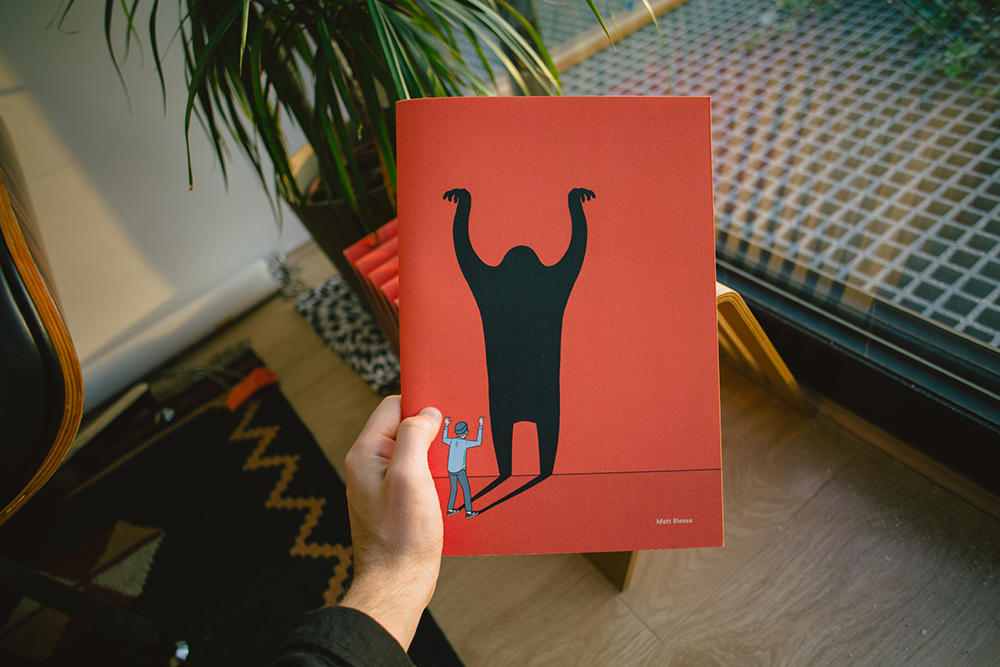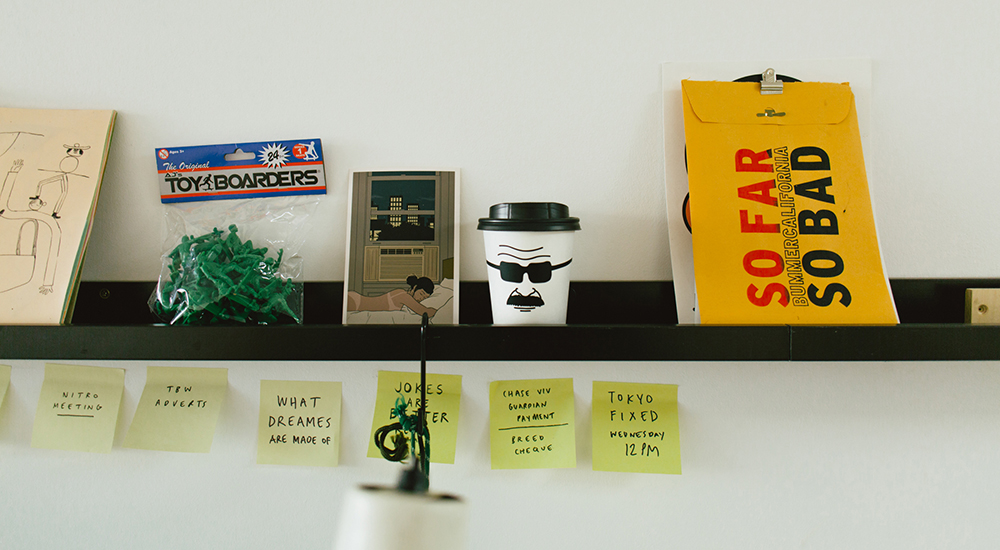 Thanks to Matt for taking the time to talk, I'm truly stoked for how well you've done. I hope this inspires others to not take life too seriously, to work hard, but to also enjoy the ride to your personal successes.
Visions of what we strive for at the start often evolve when we take the unpredictable road of opportunity, whether that be taking control ourselves or looking at the world through someone else's eyes. You will meet people who will expand your view of what is possible and help you enrich your style to reflect your personality.
Keep yourself amused by following Matt's doodles via Instagram.
Catch you soon,
Toodle Pip