The work of London-based street painter and illustrator Malarko has always been informed by his surroundings. His bright and bold swatches of color and trippy characters developed from painting on storefront shutters, "which are real bumpy and don't hold detail well," he explains. "The blocks of color started through necessity, and then progressed from there." The years he spent living in Barcelona also influenced his work. "I painted a lot of my favorite work while I was living there," he says. "The vibe fit me so well, and it came through in my works—chilling, the beach, beer, all the little streets and unlimited shop shutters, and an incredible history of art. I would still be living there now, but due to a combination of graffiti arrests, missed court dates and an angry judge, I was banned from the whole of Spain in 2012."
Back in the UK, an abandoned ceramics factory inspired Malarko to start working in that medium, and his new work includes a pair of wide-eyed and sweater-wearing puppies and a bong that looks like a creepy dog-slash-alien. "It's a really meditative material to work with," Malarko explains in the following interview with The Hundreds. "Nothing can be rushed or predicted, and experimentation and failure are integral to the process. For me, that's an exciting proposition."
ZIO: Where did you grow up? What was it like there?
MALARKO: I grew up in Bromley in South London. My main recollections of my youth there are loads of skateboarding and some mad house parties. I was lucky because the station near me didn't have barriers so you could always jump the train if you wanted to go skate Stockwell or Southbank. Bromley had a good scene too—there was skate shop with a mini ramp out the back in an abandoned car park, and there was always a bunch of wood there to make stuff out of. Sometimes stolen cars would get dumped or burnt out down there, so we ended up making some pretty rad obstacles to skate.
"MY WORK HAS ALWAYS BEEN INFORMED BY MY SURROUNDINGS AND WHATEVER MATERIALS I HAVE ACCESS TO."
When were you first interested in art? Did skateboarding and skateboard graphics have an influence on that?
Yeah, skate graphics of course. I don't want to sound too obvious here, but seeing the Toy Machine adverts in Sidewalk in about '98 really gave me my first look at lowbrow art. Before that, I would just draw Iron Maiden album covers. I wasn't into going to museums or galleries at that time, and I remember art feeling really inaccessible. I wanted to see more, but I had no idea where to look—perhaps that was part of the excitement, I really only got my fix by going to Slam City Skates to look at the new decks every month or whatever. Aside from that, a lot of my friends were painting graffiti, and I used to dip in and out of it, always painting some kind of wacky character. But I liked it more just for the naughty, fun night time missions.
How did you come up with your unique cast of characters?
I guess they just come up with themselves. Sometimes, they are abstracted from other forms or are made to consciously break my own boundaries of what I think something looks like. A lot of the proportions and horizontal aspects go back to the texture of shop shutters and just making my life a bit easier!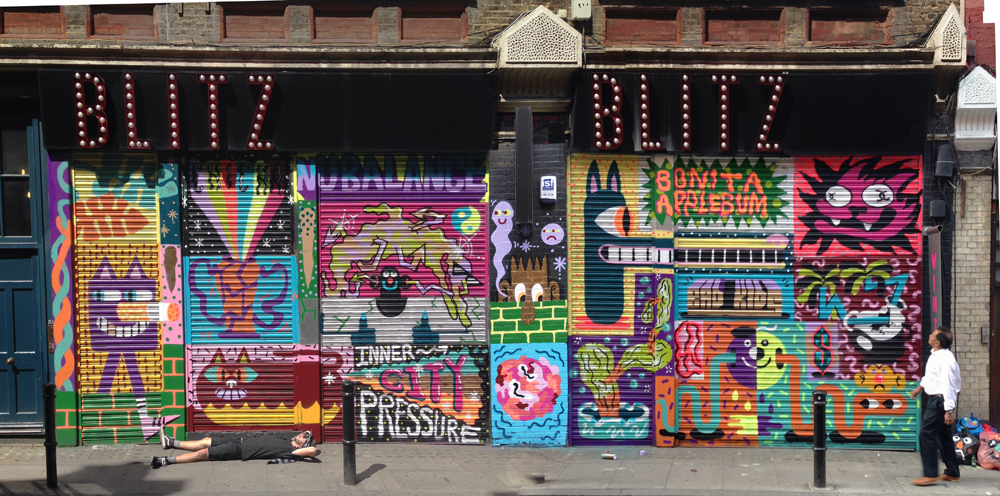 I love your Pup Dawgz ceramics. When did you start making ceramics?
I started making ceramics when I was working from a huge cheap studio above a gallery in a place called Stoke-on-Trent in the Midlands. Stoke is kind of the Holy Grail for ceramics in the UK, but nearly all the industry has shut down. I started going out and exploring the old factories, originally just to go and paint something there. Inside they were like a ghost town, as if one day everyone had just stopped coming to work, it was strange. They were almost preserved at that moment in time, and as such, all the equipment and supplies to produce this kind of work had been left lying around.
"[CERAMICS ARE] A REALLY MEDITATIVE MATERIAL TO WORK WITH, NOTHING CAN BE RUSHED OR PREDICTED, AND EXPERIMENTATION AND FAILURE ARE INTEGRAL TO THE PROCESS."
My work has always been informed by my surroundings and whatever materials I have access to, so I started collecting clay, tools, and parts to make a kiln from the old factories, and kind of just got to work. There is a ceramics museum in the town center, which showed an amazing history of the city, and opposite that, on Sundays, there was a banging Car-Boot sale. The Car-Boot sale was always stacked with incredible cheap ceramic [junk], so I just vibed off that really. It's a really meditative material to work with, nothing can be rushed or predicted, and experimentation and failure are integral to the process. For me, that's an exciting proposition.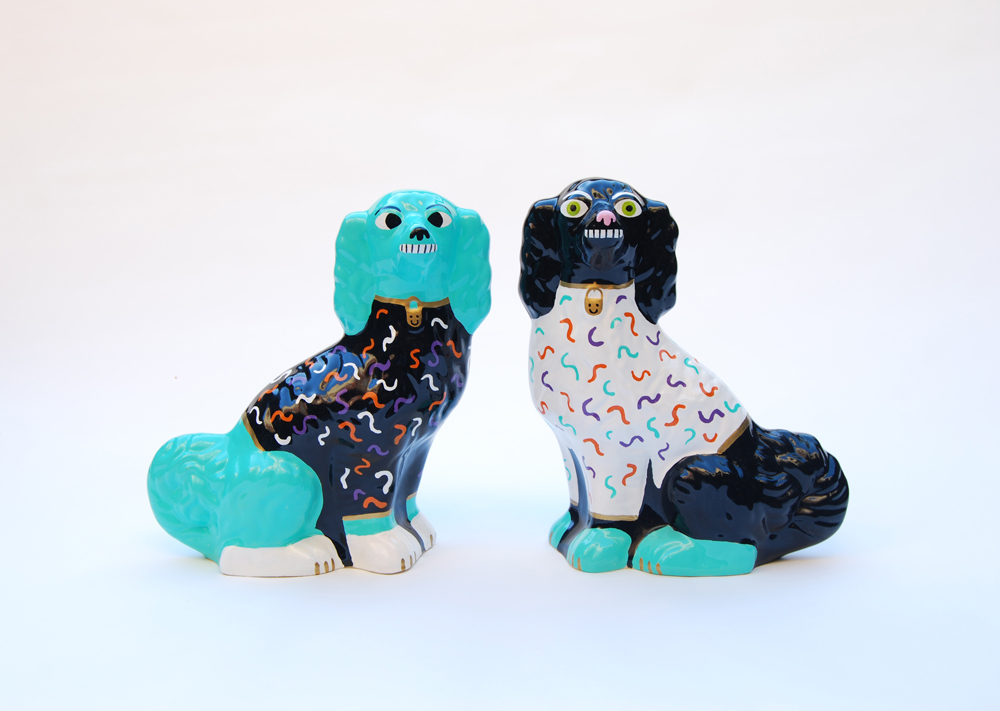 What are you working on right now?
I'm doing ceramics and zines today, and actually right now I'm finishing off a ceramic bong that looks like an trippy dog alien, and a pipe I made that looks like a butt plug—although, this is not typical of me, I promise! There are also some half-finished paintings around; I got a few exhibitions coming up next year, so I'm trying to stay one step ahead. Ceramics takes up lots of time and space—I got stuff drying, and I got some pieces being bisque-fired in the kiln (they will make it if the kiln gods are on my side!), and then other stuff waiting to be glazed. Working hard, hardly working.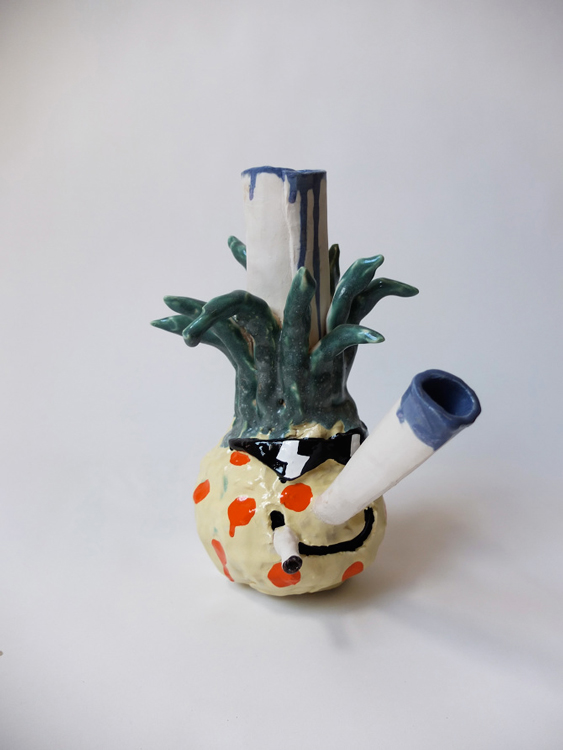 What are you goals for 2016?
Paint something bigger and better then ever before, win the lottery, stay alive, do a slam dunk, do a wheelie on a mountain bike the full length of London Bridge, pedestrianize the Old Kent Road!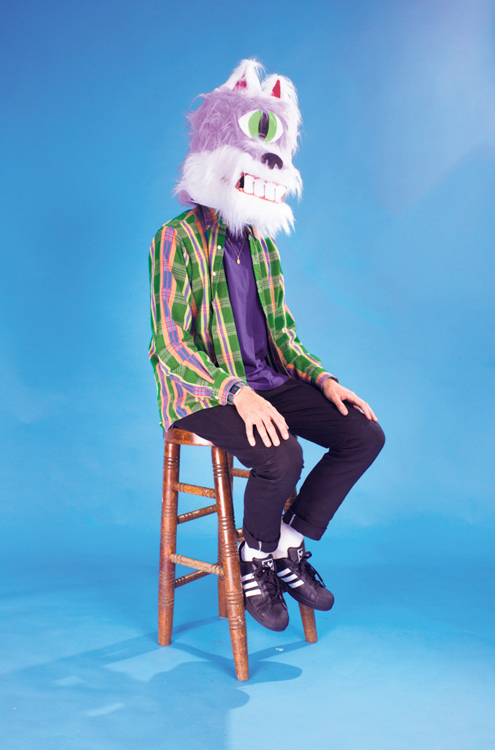 ***
Keep up with Malarko's work at malarko.com and on Instagram @malarko.