As a kid, DUCKWRTH (born Jared Lee) wasn't allowed to listen to hip-hop in his religious residence. His mother, a Pentecostal pastor's daughter, sheltered him from the ills of their neighborhood—hip-hop included. As a result, he ended up with a very eclectic interest in music.
With his new The Kickdrums-collaborative LP, Nowhere, out now and his first-ever tour under his belt, we recently asked DUCKWRTH to list five songs that helped shape the rapper-singer he is today. The South Central, L.A. native cited some surprisingly diverse tunes, each paired with a special story—from being forced to listen to "creepy classical ballads" in his dad's Mazda RX-7, to a Jimi Hendrix song that gives him a flashback high every time he hears it.
Check out his list of inspiration songs below (he sent us these via email so we're presenting his answers in verbatim):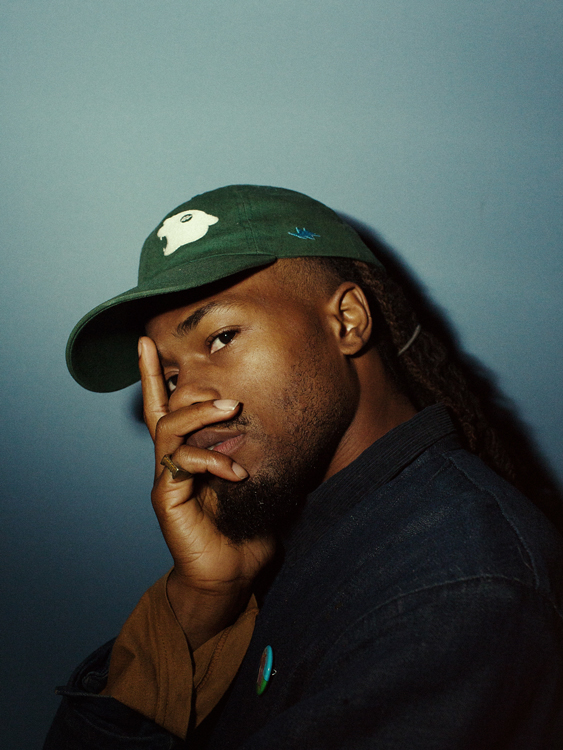 "Phantom of the Opera" – Andrew Lloyd Webber
This is literally the first song I remember hearing as a youth.
This song kinda f**ked me up though.
I didn't remember hearing soul, jazz, or even heavy rock at first, but [instead] this creepy classical ballad that my dad used to bump in his Mazda RX-7.
This is probably the reason why I love death metal.
Thanks dad for playing off the wall music and Phantom of the Opera for turning me into a weirdo.
STANKYOU Andre Lloyd W
"Lapdance" – N*E*R*D
Being that I was one of the only black skaters in my area in South Central, this was my theme song.
I was called an "OREO" or "white boy" for so long.
So when Pharrell, Shay, & Chad made it to my Napster download playlist, it all made sense.
Til this day, N*E*R*D inspires me to push the envelope, sonically & visually.
Even my fascination with Japanese design comes from N*E*R*D segueing Japanese culture in their music and lifestyle.
STANKYOU 'RELL CHAD & SHAY
"Chop Suey" – System Of A Down
Where do I begin?? I knew I loved rock.
This song confirmed it.
They had the humor of Busta Rhymes, the political views of Rage Against the Machine, & the creepiness of Marilyn Manson.
It was perfect for me. They initially pushed me to write more about social ills and corrupt politics.
STANKYOU SERGE & S O A D
"Dazed & Confused" – Led Zeppelin
Robert Plant, that androgynous f**king diva of a god man.
He held nothing back on this track.
Whoever he wrote this for must have the bomb sex because he knew she was f**king up, but still wanted her ass!! He was literally dazed and confused.
And then Jimmy Page's wailing guitar riffs along with John Bonham's apocalyptic drumming throughout the track really depicted heartache, confusion, and mental instability due to this love.
THIS SONG ALONE taught me that it's cool to emote in my art and music. Just let it all out! Thus my newest single "PSYCHO."
Relationships yo………
STANKYOU JIMI & ROB & JOHN X 2
"If 6 Was 9" – Jimi Hendrix
So I was in college smoking trees with homies out of the crazy German bong.
They didn't exactly let me know that there was hash in the bong hit.
Not only was it my first time smoking hash, but I hit the bong like an iron lung should.
Let's just say that was the highest I've ever gotten.
While I was blown out of my mind, Jimi's "If 6 Was 9" was playing in the background.
For the next 4 years, every time I heard this song, I literally relapsed.
I would actually get high off of this song!!!!
This song made me the natural psychedelic fellow I am today and Jimi widened my perspective of what greatness a black eclectic artist could reach.
STANKYOU JIMI
***
DUCKWRTH recently dropped a new video for his newest track "PSYCHO," produced by The Kickdrums and directed by Nick Snow:
Intro by Chris Harris.