"Chicago, the world is watching you right now," were the first words Chance The Rapper said Saturday evening on stage to the 48,000 fans at Magnificent Coloring Day. He had just opened with "Angels" and metallic echoes still lingered in the air from Donnie Trumpet's horn. It was in this exact moment when I realized—looking around the U.S. Cellular field and its people covered in rainbow beams of light, their eyes fixated on Chance holding their breaths with anticipation—just how meaningful this day was for Chicagoans. In unison, the crowd roared a "heyyy!" to the millions of viewers streaming this significant moment in Chicago history on their screens. I felt lucky enough to be where I stood. I began to understand that Magnificent Coloring Day was more than a celebration of Coloring Book, Chance's third independent mixtape—it was to praise the city of Chicago and its people to the rest of the world.
With a reputation for gun violence (CNN reporting back in July that the city crossed 2,000 shooting victims already in 2016), continuous pressures from gentrification, growing closures of public schools, and a history of segregation, the world, for once, was taking a moment to acknowledge a city that has built its historical narrative on rising from the ashes. It was a day to resurrect the true meaning of "the second city." And rising they are, as MCD marked many milestones—an easily accessible one-day festival with a record-breaking sold-out attendance at Chicago White Sox's U.S. Cellular field, Chance and Kanye West performing together in the Southside of Chicago—the fruition of a dream dating back years for Chance.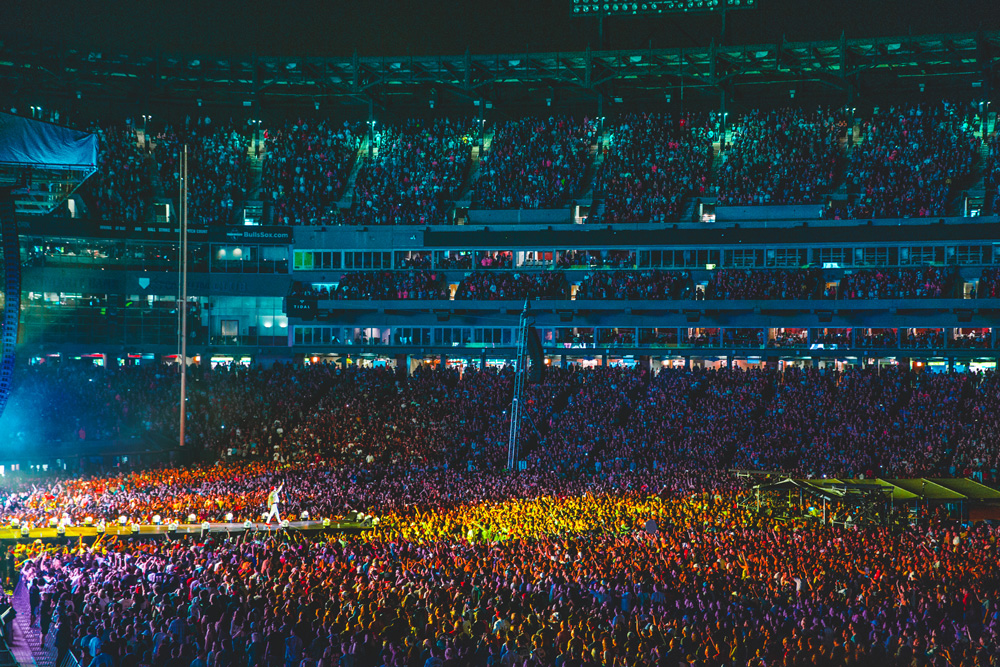 Photo by Nolis (@nolisuniverse)
Aside from the impressive lineup that represented a wide facet of hip-hop and R&B acts—including Francis and the Lights, Lil Uzi Vert, Tyler the Creator, Kanye West, John Legend (with a guest appearance by Common), 2 Chainz and Lil Wayne (known as "ColleGrove"), Alicia Keys, and Chance—it was what was happening outside of the lively thundering music, crowd shouts, flailing arms, and trailing lines for tour merch that was responsible for MCD's success. Unseen from viewers at home, MCD was a day that centered on community building; it encouraged civic responsibility and aimed to better the city.
The last time I was at U.S. Cellular Field, I was getting ready to say farewell to Chicago. I had just finished a round of packing at my Bridgeport loft, formerly one of the Chicago's cultural centers, nicknamed The Ballroom. Chance had just released his second mixtape, 10-Day. Empire Liquors would close its doors for good in Wicker Park, taking along its 40oz bottles and "Do The Right Thing" Wednesday parties. The semester was wrapping up, and I was ready for change. After being separated for more than 2 years, today I knew I was being reintroduced to the city that raised me.
Before looking for my seat, I weaved through the 100-level stadium, decked with merchandise, stadium food and drinks, and even Chicago staple food joints like Harold's Chicken and Haire's Gulf Shrimp. Local streetwear brands like Fat Tiger Workshop, Jugrnaut, and Ends/Wealth Corp., were invited to host booths that were showered with endless love and support. Joe Freshgoods, one of the co-founders at Fat Tiger Workshop stated in his Instagram that it was "one of the biggest days for the brand." Brandon Breaux, the artist responsible for designing Chance's mixtape covers, was signing Coloring Book posters, given away free with a purchase from Ends/Wealth Corp., who he collaborated with in their latest collection. No matter how robust sales were or how packed the booth was with customers, I witnessed the Fat Tiger Workshop team give humble exchanges to each individual, showing gratitude for any support and debunking the too-cool attitude streetwear may be known to give off, while also laying to rest the notoriously Chicago epithet: "the city of haters." I was in the presence of support.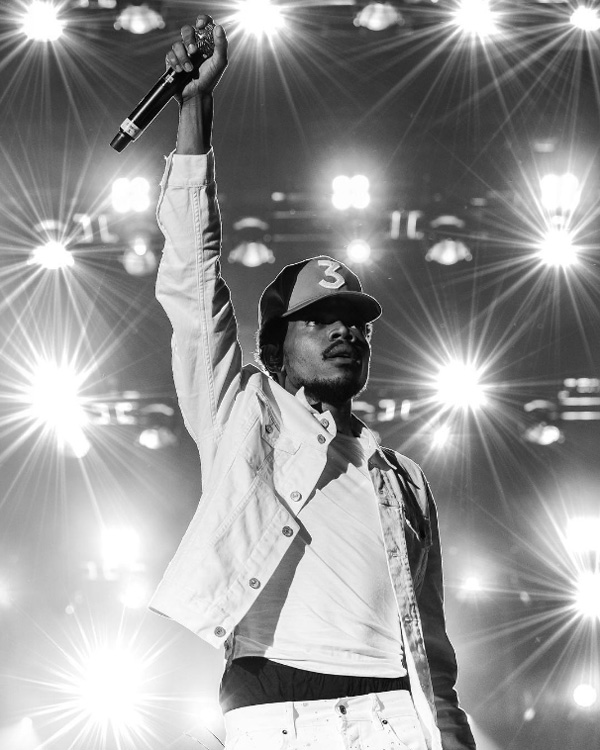 Photo by Jason Peterson (@jasonmpeterson)
After a surprise set by Kanye West that caused swarms of kids to rush the stage, jumping guard rails and porta potties to get the best view, the jumbo screens surrounding the stadium included a new message beyond event sponsors: a reminder to register to vote. I was in the presence of change. Nearing backstage, a booth with social campaign #StayWokeAndVote also offered in-person voter registration, extending all efforts to call for action. Chance not only wanted to utilize his influence for the national level, but understood it starts locally—and took this opportunity to introduce his non-profit organization, "Social Works." Justin Cunningham, the CEO and co-founder, thoughtfully explained that Social Works combines all of Chance's initiatives he's made over the past years—OpenMike Chicago and fundraising for 1,000 EMPWR coats for the homeless—and builds them as youth programming that focuses on art, philanthropy, and civic engagement.
The community blueprint for MCD became more evident as the day passed. During the tag-team set between 2 Chainz and Lil Wayne, I found myself raging with college students as we recited in a capella the lyrics to "A Milli." Kids were dancing on cue, hitting dabs, and dancing in sheer joy while the cameras panned over them—all to the credit of artists such as Lil Uzi Vert and Tyler the Creator who owned the stage with their unique presence. Moms were there too, belting out the lyrics with Alicia Keys as she soulfully sang "Fallin'." But it was the moment when I gazed around the stadium, while John Legend and Common performed "Glory" with a sea of fists outstretched to the sky, that I realized how wide and diverse Chance's reach is. I was in the presence of unity. It was as if the stadium had its own color palette that day, a harmonious mix of different ethnic backgrounds and generations.
One thing was apparent—it was the first hip-hop crowd I was part of that was predominantly millennials and overflowing with Generation-Zers interested in change. I was in the presence of the future. As Chance's show and production continued to swell, I felt my emotions surge, reflecting on the fact that a kid from 79th Street in Chicago built all of this—a community, a movement, a moment—in such a time of need for not only this city, but for the country as well. Chance set a fortified example on what happens when you invest in your people. "Are you ready for your blessings?" crescendoed and filled the air. Chicago responded, bursting out of its seams, chanting back, "For your miracle." And right then, I was in the presence of Chance.
***