As a producer with 15 years under his belt, Jesse Rogg is so talented that he's used to his work preceding trends in waves and actually having it fall upon deaf ears. Take his production work with Sam Sparro, for instance, whose sound was way too future for America in the mid-2000s, and seemed to dupe label heads even though the duo received a Grammy nomination. For the second Sam Sparro record, Jesse decided to go old school and only have musicians playing – transcending the musicality beyond your usual dance record... something which you might remember Daft Punk then did a year later. "We were like, 'Ugh, just a little bit too early again,'" recalls Jesse. Afterwards, he began to work with a then-unknown artist that we now know as BANKS – and the timing was perfect. "It started from nothing, when we first met she had these couple of really cool piano songs and her amazing voice and lyrics and melodies, but we created this whole sound around her to make it work in the world," explains Jesse. The rest is history.
But for the past 2 years, Jesse has been applying that same all-in nurturing approach he previously had, working with the sounds of burgeoning artists, to a new creative LA space called Mack Sennett Studios. It's a huge, unique historical studio space that started out as a silent movie studio in the early 1900s, and eventually became a go-to spot for iconic music videos from No Doubt's "Don't Speak" to Robin Thicke's "Blurred Lines" – boasting clients from adidas to Universal Pictures to Martin Scorcese. Despite the studio's impressive resume, it still manages to exude an underground edge – something that's been close to Jesse's heart as someone steeped in the music world for over a decade – and a drive to do good for the Angeleno community.
Last Monday marked the 2 year anniversary of Mack Sennett Studios, and the perfect time to share its – and Jesse's – story. It's not often we come across such a passionately well-rounded creative, who is able to channel the multi-tasking perfectionism and patience of being a successful music producer into a physical creative hub that requires an organizational, hands-on business mindset. From how he obtained the studio – which was no easy feat and involved 3 months of shadowing the previous owner to gain his trust enough to sell it – to what his father taught him about doing good first and letting the success follow, read our enlightening interview with Jesse Rogg below: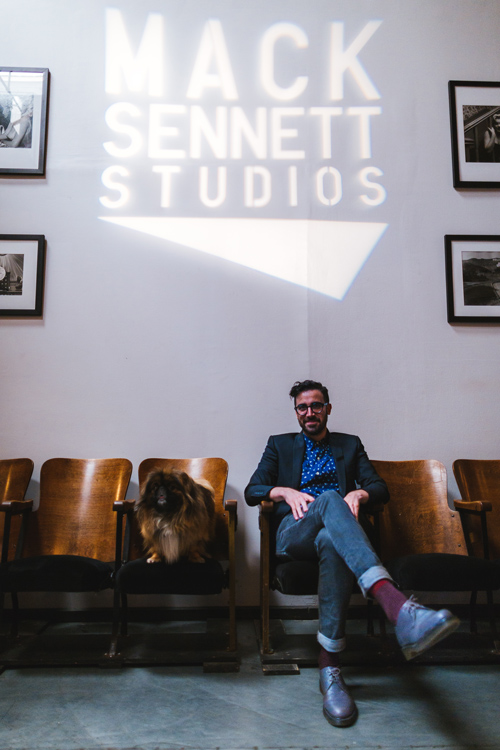 Jesse & his dog Butter.
ALINA NGUYEN: I interviewed a few artists recently who described how they hit a creative standstill because they wanted to create work that was wildly different from what they did before, but everyone expected the same damn thing.
JESSE ROGG: Yeah, totally, and it's so true. That definitely applies to all artistic outlets. But it's based on fear. It's based on the fact that the guys at the top are fearful of trying something new because they don't know if it's going to work or not, so they might as well just do what they already saw worked. Basing any decisions on fear is a bad choice, my Mama taught me that a long time ago. Literally that.
Where did you first have the spark of an idea for [Mack Sennett Studios]?
So I had a day off in Copenhagen in 2012, maybe 2011 [when I was touring with Sam Sparro]. My girlfriend came to visit me on tour and we had a day off, so we ended up walking all day and talking and I was like, "I can't – I am so sick of being on tour, I can't keep doing this grind. I want to be in LA, I love LA, I want to do something for LA." At that point in Copenhagen, I was thinking about wanting to do something educational or something like that. Then my girlfriend mentioned Mike B's involvement in a DJ camp sort of thing or whatever, which he was at the time. Long story short, I was like, "Okay, I think I can wrap my head around the concept of finding a physical space where I can rely on something real and physical and do something in there." I didn't know what, but I knew I wanted to provide a space for people to explore their creativity.
That was the mission, I wanted to find a home for LA's cultural and creative renaissance that was happening and already starting at that time. I had been in LA since 2000 and I'm always very curious about cultural trends and stuff, so I had seen that happening and wanted to be on the forefront by creating this space… I wanted to give it a home.
"I'VE GOT THIS MANIAC OBSESSION THAT DOESN'T ALLOW ME TO NOT DO SOMETHING."
So what happened when you got off tour?
I started looking for spaces everywhere between Hollywood and Downtown really. I was looking for what they call a "flex space" – at a bunch of places in Chinatown, obviously Downtown, and Atwater and I didn't really find what I wanted. And then one Monday morning, I just kind of expanded my real estate search price-wise to unlimited. [Laughs]
You were like, "OOOOKAY!"
I was like, "Fuck it!" I had been looking for months and months and I had found some decent places, but it was just a Monday morning type of decision – I was being pompous. Then this place popped up, this was actually the first day it was on the market too. Obviously, we've all driven by here a million times, right? [The space is tucked away at the huge intersection of Sunset and Fountain – right behind the heavily photographed all white motel installation]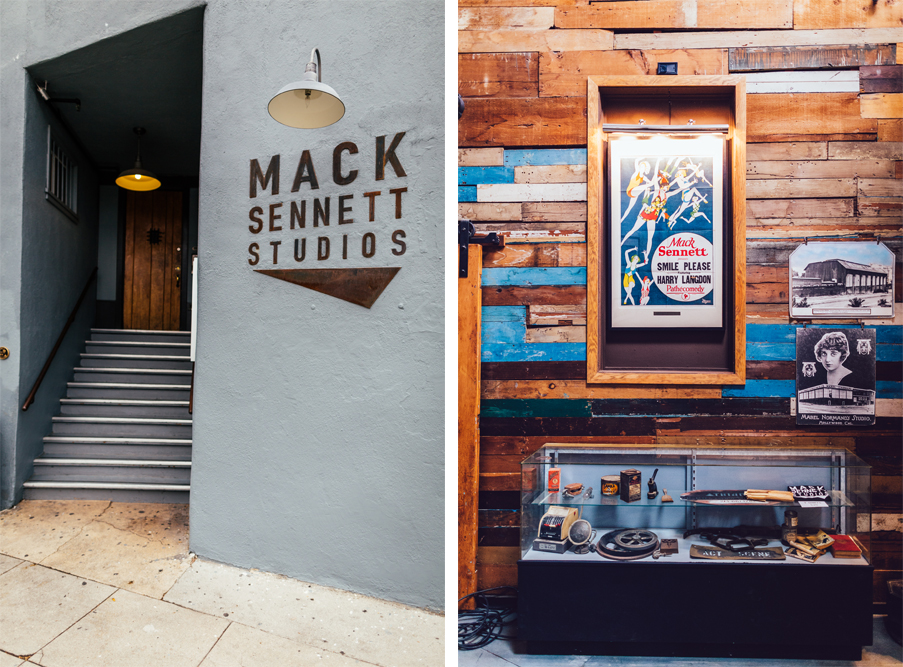 Did you enter right through that front door?
Yes – but you should've seen it at the time, it was in no pretty state. My first impression was like, "Holy shit!" It was so incredible because I didn't know what was in here either. It was just ridiculously awesome. From the Michael Jackson "Remember the Time" backdrop that's in the main stage of that Hall Egyptian – that was there already. From the basement to the layout – the location and everything made me think like, "How has this just been sitting here for 15 years unused?" I mean, more or less unused. It would have a couple of projects a month.
But it wasn't at all used to its full potential like now. Why wasn't it like that before?
Because the previous owner was an older man who didn't really want people around. Plus, he had been here for almost 30 years so he had paid off his mortgage back in the '90s. He was just sitting on it. He didn't have to do much, it was a one-man show too so he didn't have a staff really or any type of overhead, he just did his thing, just tinkering around… But I also became really friendly with him; I had to. Because it was his baby – after decades you don't just let something go.
There were a lot of other people that were interested in the building and had offers on it. But I literally posted up here for like three months. Every day [I came back] and just shadowed him. I followed him around and asked him questions to the point where he was kicking me out. I wanted it so bad.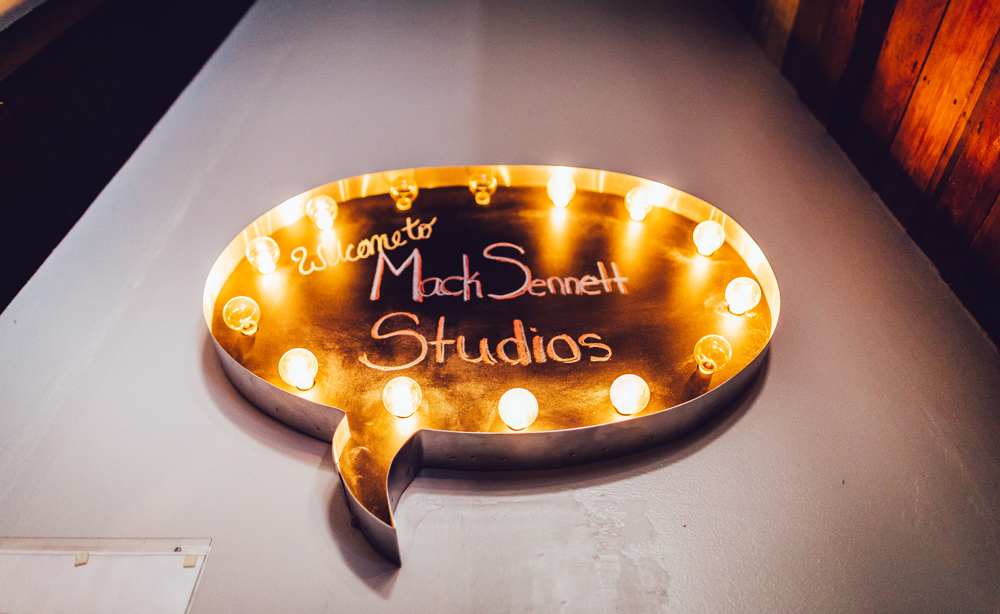 Interpol live at Mack Sennett Studios.
What was the hardest thing for you opening up this space?
I will say the moment when he gave me the key – it's actually a whole lot of keys – but he gave me the front door key and was like, "Here you go. Have fun with it." I remember I almost had a tear in my eye because it was awesome, it was the most exciting feeling. But it was also like, "What the hell am I doing? How am I going to keep this place from exploding? Just the power grid alone is enough to light a rocket on fire." Also, financially there was a lot of overhead to bring in every month.
"I WANTED TO FIND A HOME FOR LA'S CULTURAL AND CREATIVE RENAISSANCE."
I definitely got thrown in the deep end, which was awesome. It was like a Masters in Business – by fire. The most challenging thing was – ­especially at the beginning, it was like, "There's 30 days in a month, where do you begin?" Because it's not just one, single marketing ploy, we can do anything here. We can do everything, technically, from Bar Mitzvahs to the biggest music videos in the world, so do we start hitting up production companies? Do we start hitting up event planners?
What that maybe came from your childhood or something that led to you having this mentality of not being afraid to jump into something like this?
Good parents. I love my parents and they're super supportive and they've given me a decent amount of confidence that I can do things. "If you set your mind to it," as cheesy as that sounds, but it's true. In a weird way, it was almost like divine intervention. There was no way I couldn't do it, it had to happen. Everything happened in a very organic and natural way.
Obviously, there were major bumps in the road and a lot of things to go through to get to this point, but I guess I'm a workaholic too, which plays into it. I've got this maniac obsession that doesn't allow me to not do something. I'll mess up just like everybody else, but I try to not do that, which actually sometimes is a bit of a hindrance because I try so hard to not mess up on stuff that sometimes I shoot myself in the foot a little bit beforehand. Sometimes I might not even go for stuff because I think that I might mess up maybe.
As a producer, I know you're used to working with other people, but I feel like it's such a workaholic solo thing too. How do you deal with that?
Oh, for sure. That's definitely been a challenge – to run a whole staff of people. Now I have 20 people or more working at different times and everybody has their own personalities – let's leave it at that [laughs]. So just dealing with other people was just very different to being just a record producer at a studio. I've always been good with directing people, as a producer in the studio, unless you're just like a producer making beats by yourself, you're directing an artist or musicians or whatever to do what you think is best. In that sense, you have to be a leader.
Here, I just assembled a motley crew of people that I knew or didn't know. It was basically me and three other people at the very beginning and two of them are still here actually, which I'm kind of proud of. And they're awesome, I could not have done it without their work ethic and their intense passion for this place and for our team.
Filmed at Mack Sennett Studios.
I read a little where you talk about your music influence from your stepfather and that your greatest influence is from your own father. Can you talk about how he influenced you?
Well, my dad's always been a business person and a spiritual business person. He sees money and creating businesses as sort of an energetic thing in a lot of ways. So it's about being of service and doing good things and doing good, and then financial success will come from that. It's really a matter of doing good. And we're not talking about Mother Teresa stuff, we all have our limitations – so to speak – of what we can do. But here, we actually have the chance and opportunity to do quite a lot, which is why I've done a lot of these fundraisers and aligned with purpose-driven things and content. In fact, that's a big thing for our "Mack Sennett 2.0" is what we're calling it now with our second anniversary upon us. We're focusing on a lot more socially conscious events and content and purpose-driven stuff.
It's along the lines of what we talked about with regards to where music is heading and where the music business is heading, kind of hit a bit of a tipping point for people wanting to see good and do good. There's so much crap happening everywhere in the world and it seems to be coming to a head. I think, especially the younger generation, have been so apathetic; we've all been so apathetic for last couple of decades. But I think things are just starting to really hit the fan with global warming and all these wars and the police brutality and with all these things that are really affecting us on a daily basis now.
I feel like with Bobby and Ben [Hundreds] for instance, Ben is more the business-minded person and Bobby is hyper creative, everything is a passion project, he'll do something even if it makes no money, and he doesn't care. But it sounds like you have both of those sides.
Like I said in the beginning, I guess I've sort of always had that in-between mentality. I've seen that in a few people, I guess it just came about because I really like both sides. Maybe it's a grass is greener on the other side type of thing, because when I spend a day in the studio, the next day I'm also really excited about cranking out emails. In the end, honestly, it's all kind of creative. You're always having to create opportunities or create art or create spreadsheets or whatever. It's all just making things happen, making things better. But I do have a lot of help here – I'm not by any means a one-man show.
::
Catch up the latest at Mack Sennett Studios at macksennettstudios.net and follow Jesse on Instagram at @golden_touched.