Pinkies up.
In her 2007 book, Deluxe: How Luxury Lost its Luster, cultural critic Dana Thomas chronicles the history of the luxury industry from its origins in rarified craftsmanship and intrinsically valuable materials reserved for aristocracy, to badge of the nouveau riche, and finally to outsize brands trading on amorphous, logomaniacal personas targeting the unprecedented socioeconomic group known as the middle class.
In 1982, Dapper Dan opened his Harlem boutique on 125th Street, outfitting hip-hop royalty and celebrity athletes in yards of leather screenprinted with co-opted designer logos. Luxury had divorced from its history and embarked upon a new one. Four years later, artist David Hammons erected Higher Goals, basketball backboards covered in humble bottlecaps and placed impossibly high atop a telephone pole in Brooklyn. The writer Raphael Rubenstein believes it signaled a hope "that community kids might start dreaming about something more than NBA stardom."
In the summer of 2014, Victor Solomon secretly apprenticed himself to a local stained glass maker, cutting and soldering for months, intent on bringing a passing vision to fruition through this arcane practice. The results are an elegantly hilarious marriage of contemporary fanaticisms: the return to craft and the role of basketball as the professional sport with the greatest claim to cultural freeplay—an arena where 50 Cent and Meryl Streep delightfully and believably coexist.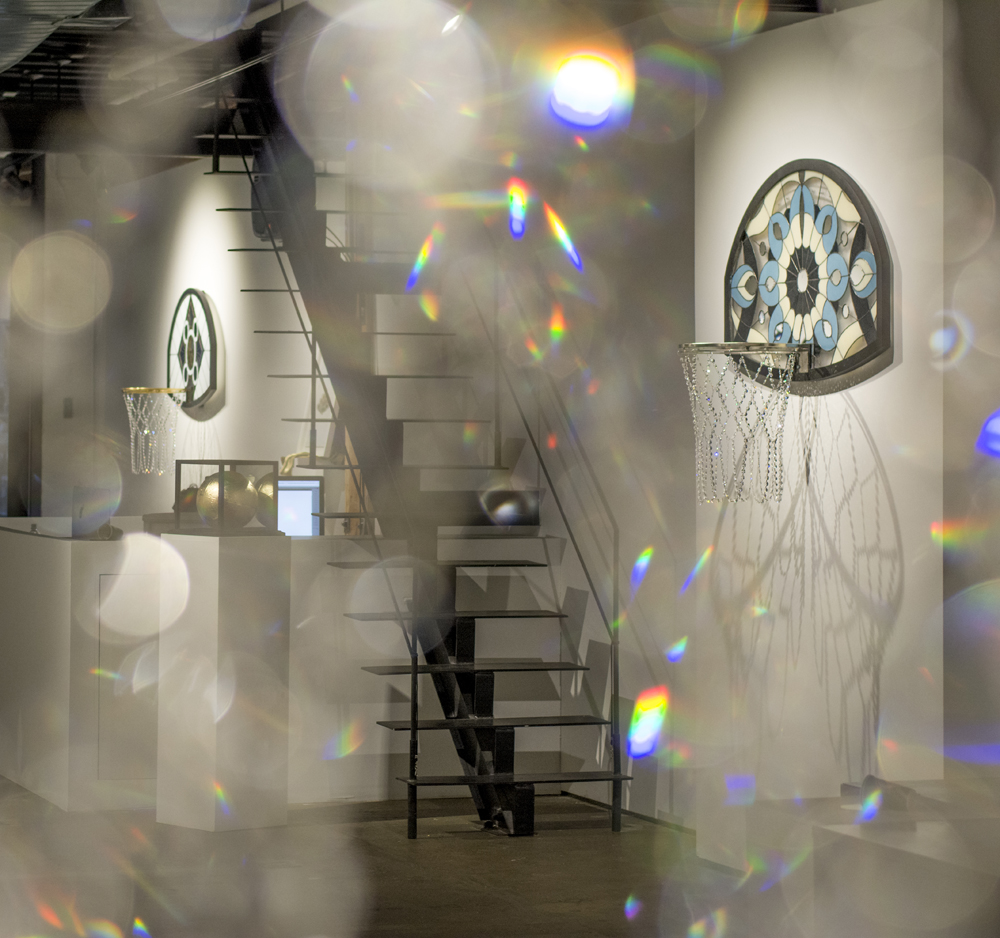 "Literally Balling" is a series of sculptures, ostensibly functioning stained glass backboards, replete with gold-plated rims and "nets" woven from gold chains and chandelier strands. Each backboard is the result of over a hundred hours of hand labor; Tiffany-style totems that betray the patience of a medieval Gothic artisan. Solomon's work collapses the opposing definitions of luxury, interlooping the histories of craft-as-worship and the birth of new money culture. Dapper Dan's store was raided by the feds in 1992. But the dream didn't go anywhere.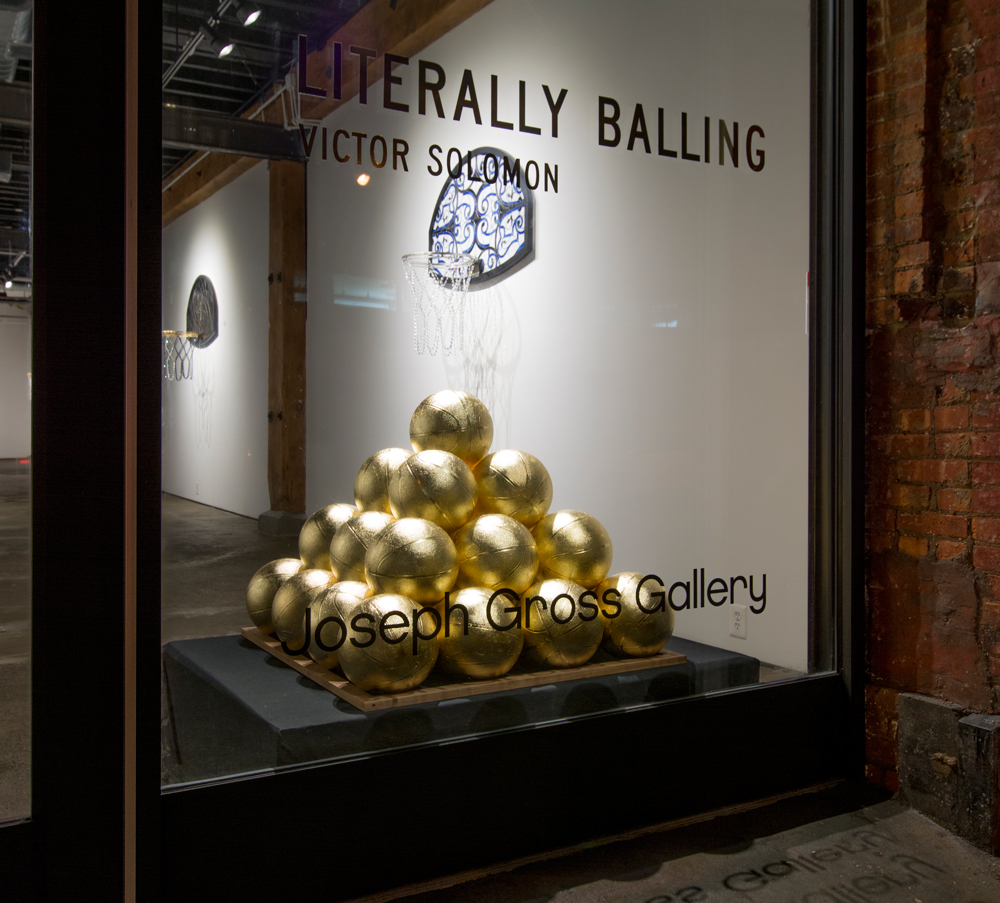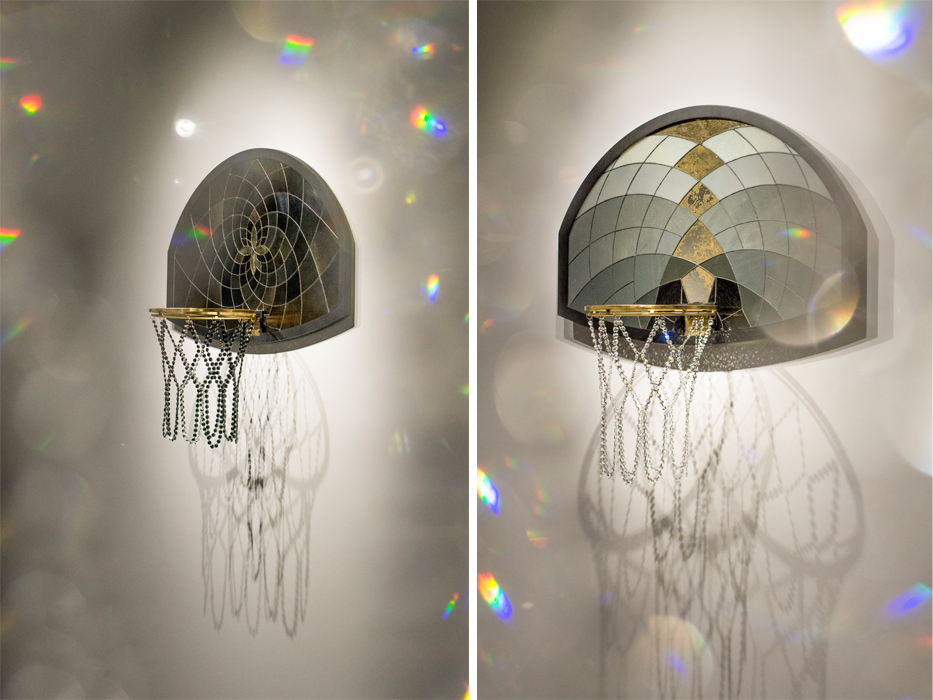 "It started as an offhanded joke," Solomon says, "a play on the basketball terminology 'glass,' but the more I worked on it, the more I found a convergence of philosophy between this game and this craft: both require exquisite precision in execution and devotion."
Painstaking in execution and immediate in impression, the sculptures evoke the pop catharsis of backboard shattering, the dazzling rain of glass that caps off only the most forceful slam dunks. An elite tradition initiated in 1979 by Daryl Dawkins and brought to an apex in the 1990s by superstars like Jordan and O'Neal, backboard shattering is an athletic flourish that has the bravado to provide its own fireworks. A jig in the end zone pales by comparison. Technically, the Harlem Globetrotters hold the world record for shattering backboards—their staged stunts have supplanted organic occurrences as the phenomenon has been repressed via shatter-resistant backboards by hand-wringing NBA accountants. As if frugality were a badge of the professional sports industry. Or the luxury industry. Or the hip-hop industry.
Solomon's backboards celebrate the pomp of unbridled athleticism; altars to the church of basketball, sacred in their own right yet archly courting the very spectacle of desecration that inspired them. The Gothic ethos believed in the power craftsmanship, that the height of man's skill could inch him closer to god. A rapper's MO is to have more money than god. Celebrity athletes push their bodies to superhuman limits, supplanting god altogether. Solomon's appropriation of an arcane medium to illogical ends teases apart varied definitions of luxury as practice, and—like money itself—as collectively held belief.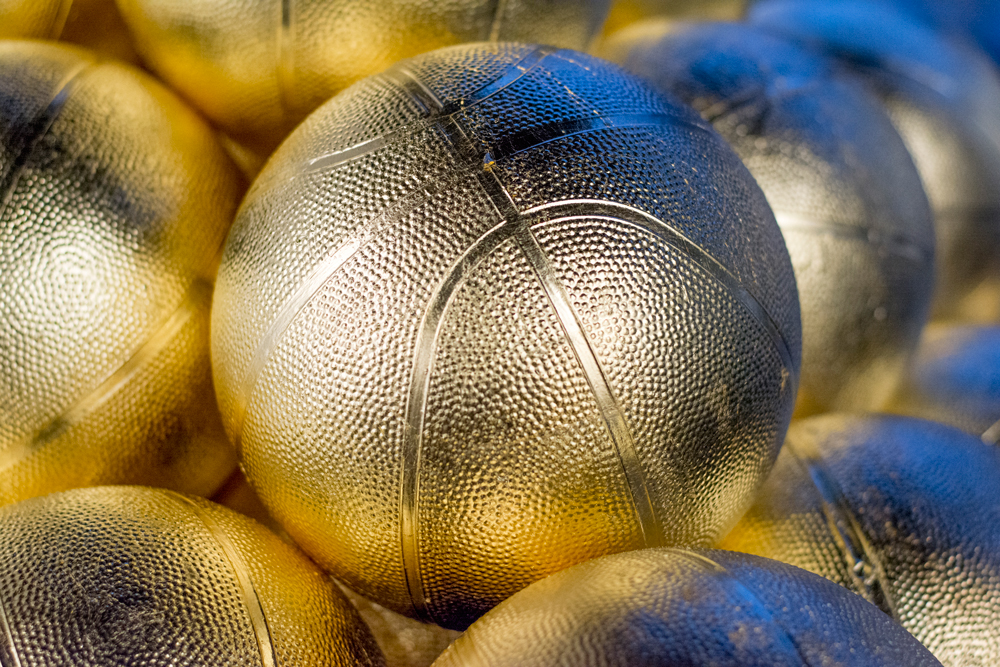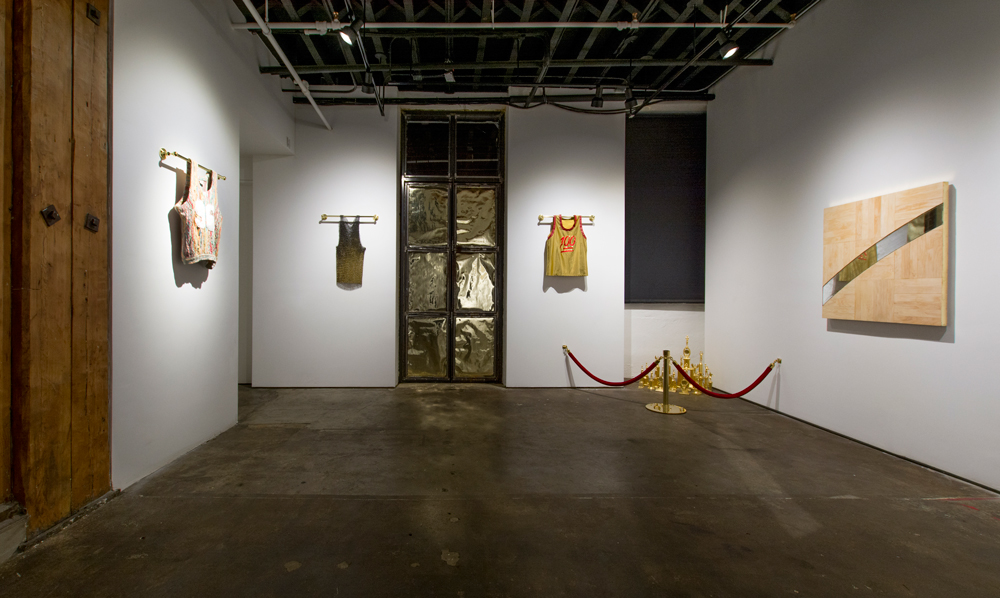 For his first solo exhibition as Joseph Gross Gallery in New York, Solomon expands the cosmology of Literally Balling with sly nods to mimetic online discourse and darkened subtexts beneath the flashy humor. Earlier sculptures were coupled with basketballs sheathed in jewel-tone lizard and ostrich skins; here they are gilded gold and stacked pyramid-style, like cannon balls at the ready. An assortment of trophies in a corner is sectioned off by velvet rope, a pithy riposte to notions of sport meritocracy. A series of jerseys, re-cut in chain mail and recycled Coogi sweaters hang from golden rods, their soft forms alternately suggesting attitudes of display and surrender.
Ideas break down, delusions shatter, but dreams—shot through with ambivalence—live forever.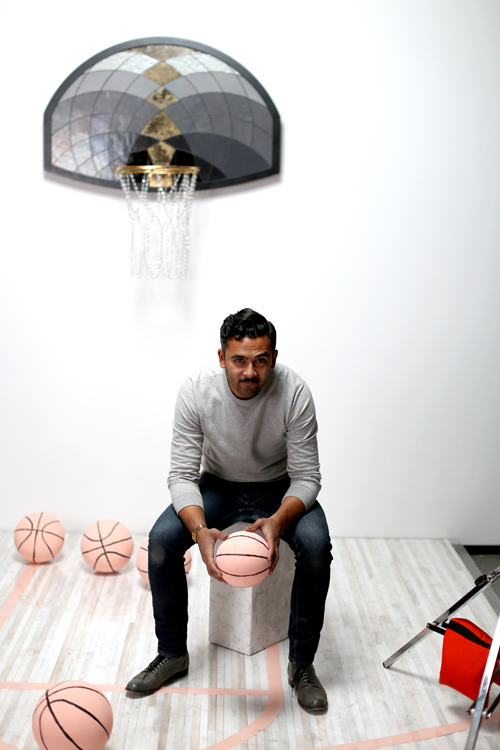 ***
Literally Balling will be on display at Joseph Gross Gallery through April 1, 2016.
548 W 28th Street, New York
February 25th –March 19th, 2016
Opening Reception: February 25th, 6 – 8 PM