There's a thin line between credible hip hop and humorous comedy. Trust me, I know first hand. It's insanely difficult to maneuver. Although we grew up with rappers like Biz Markie and The Fat Boys, with the invention of YouTube over the past decade, we've since had to endure too much Whole Foods Parking Lot and misogynistic bullshit. Standouts like Lonely Island or Jon Lajoie are brilliantly funny, but in no way, shape, or form are claiming to be real rappers. The distinct separation between comedian and MC has never been more defined. That is until Lil Dicky.
Cheltenham, Pennsylvania's David Burd had far away dreams and aspirations of being a comedic actor and writer, eventually working in Hollywood. Raised upper middle class to graduate from the University of Richmond, he took a job in San Francisco at a notable advertising agency best known for initiating the Got Milk? campaign in the '90s. Hoping to find an outlet to release his actual passion, but avoid his Jewish parents' guilt about not having a "real job," he took on the persona of Lil Dicky, a sarcastic, and somewhat postmodern, rapper to release videos on YouTube. Then, only a few videos into the project, he uploaded "Ex-Boyfriend," an anxiety-ridden tale of being haunted by your lady's prior lover, that went instantly viral (it currently sits at over 7 million views). But it's what happened next that makes Lil Dicky incredibly rare.
Rather than pigeonhole his work into the type of music that your mom sends you in an email with the subject line "Have you seen this yet? HILARIOUS" – Lil Dicky decided to focus on the rap part of the equation. In short, he just became a better MC. He launched a Kickstarter, where he even surprised himself, raising $120,000, well over his initial goal and expectations. In turn, he quit his day job and is pursuing rap full-time to drop his debut traditional album, perfectly titled "Professional Rapper." The first single, "Lemme Freak," might just be the funniest/dopest rap song/video combo I've ever heard/seen. And remember, he can rap his ass off now. He's demanding the attention of the entire industry, selling out shows across the US and Canada, all because he posted a YouTube video to follow, and perfect, his dreams. I was able to talk to Lil Dicky while on the road to fill us in on what it's like to be an ever-evolving rap phenomenon.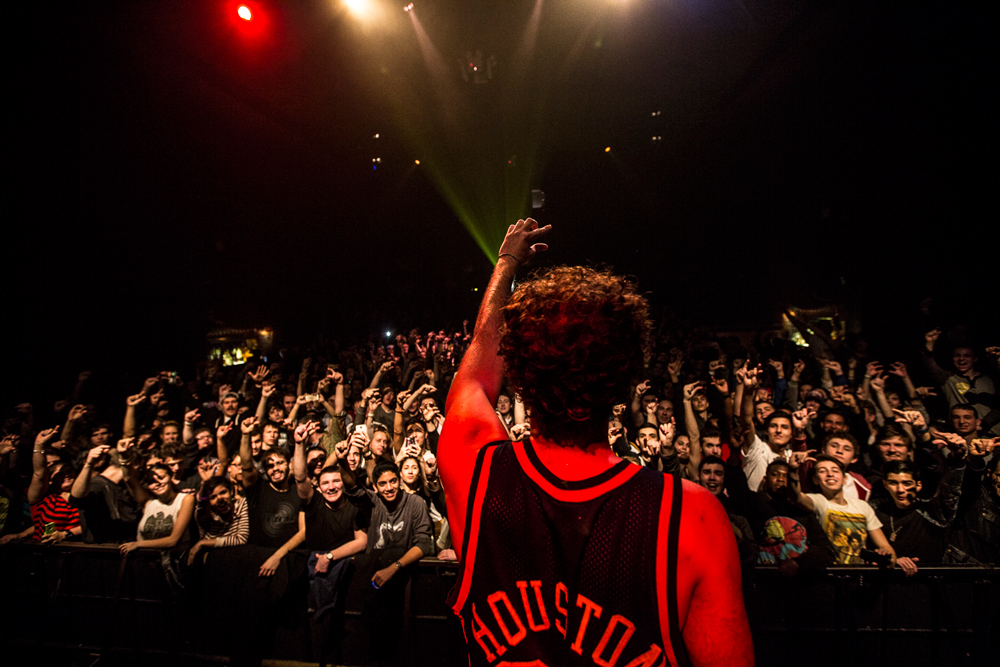 JENSEN KARP: You're currently on tour through the middle of October, for the first time hitting the road since you've quit your day job and made rap your career. Technically, your first time even being on stage was back in February of this year. Is it getting easier? And what's the biggest difference between a day at your old marketing gig and being Lil Dicky full-time?
LIL DICKY: It's definitely getting easier. Honestly, I haven't been nervous since the first show, so that's no longer an issue. But I'm just learning what works, what doesn't work, how to pace myself, etc. It's continuously improving, which is encouraging.
The biggest difference between my old job and my new job (beyond the difference in tasks required) is the overall feeling that I answer to nobody. I am my own boss now. I have final say on pretty much every decision I make in life, and that's a wonderful feeling. It's also much more fun to pour your heart and soul into something that you are super duper passionate about. I liked my old job, but it still wasn't my absolute passion, the way making my own comedy and/or rap is.
You just released "Lemme Freak," your hilarious new song and video off what will be your next album Professional Rapper. It's gotten praise from comedians like Hannibal Buress to rappers like Diddy. How did that video, your most complicated to date, come together?
I made the song and knew immediately that it was a viral video waiting to happen. And the beautiful thing about the song is the story writes itself – the video really had to go a very particular way, which makes it easier to execute.
I wanted it to feel like an indie movie throughout the verses, and a smooth ass R&B video during the hooks. And I think we accomplished that.
It was 2-day shoot – the make up for the old man took 3 hours, but beyond that, it was just a more expensive rendition of what I've been doing.
I think the most interesting part about you is that, as fans, we've been able to watch you really develop as an actual rapper, beyond just being a comedian who figured this would be a fun way to get out there. It seems like a basic question, but so many "comedy rappers" have failed at that growth: How did you get better at rapping?
I'm watching it in real time along with you guys, which is the coolest part. I think it genuinely just works the way a sport works. The more time you put into it, the more songs you make, the better and better you get. It's really that simple. I listen to my old stuff and cringe, it sounds so far off from where I am now. And I'm sure in a year from now, I'll cringe at the stuff I like currently. Rappers really do evolve, and I think I started at an extremely high floor, which makes me that much more excited about my ceiling.
You've said numerous times that you're looking to have two "concurrent careers," one as an MC and the other as a working actor/writer in comedy. If you had to pick someone's career in comedy to aspire to, who would it be? And in rap?
Comedy – Larry David. He created the best comedy ever (Seinfeld), and then starred in/created my personal favorite comedy ever, Curb Your Enthusiasm. I also behave like him to some extent. I'm constantly told I'm a 26-year-old Larry David. I can be pretty annoying about social norms, and logic based issues. Typically, if we're arguing, I'm right – or wouldn't have gotten involved in the argument to begin with.
Rap – I don't know that I necessarily want to be like any other rapper, I consider myself more of a trailblazer in that industry. I just want to go down as an all time great, and get massive respect for doing things differently, while remaining true to myself. I really want to change the rap game to be honest with you. When I leave, I think things will be different than they would have been had I never entered.
I feel like I'm breaking barriers with my style.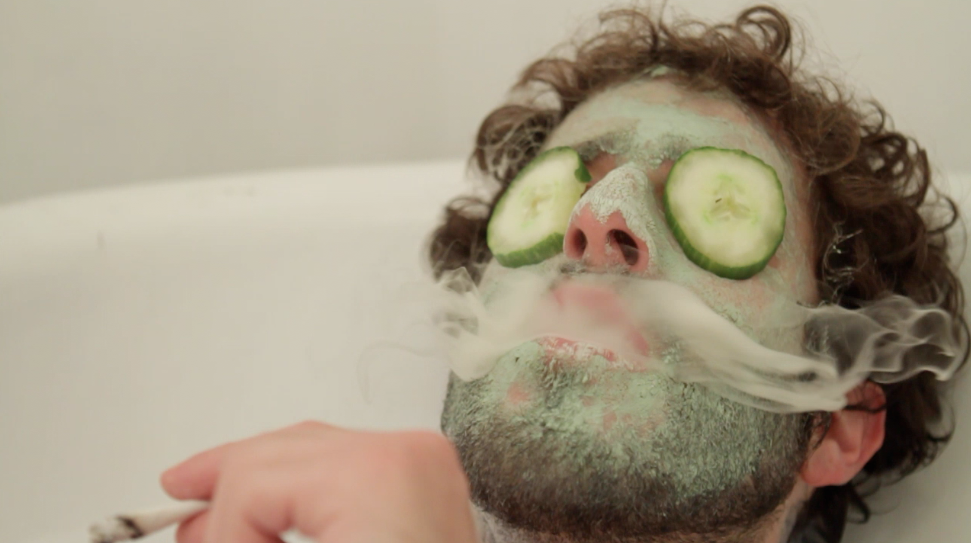 What's the most accidentally funny line in hip-hop history? Mine may be when Eminem said, "Man I'm done saying that I'm done playing, Im'ma a start laying any of these motherfucking cocksuckers." I don't think he proofread that.
That's a good one. Biggie says something like, "you look so good, I would suck on your daddy's dick." He never caught any flack for that somehow, which is very impressive. Sounds like something I'd say.
Being a Jewish rapper isn't an easy task, that's something I've learned first hand. You've used the term "kike" in your songs in the same way that black rappers have re-appropriated the n-word. Have you gotten any flack for that? I sort of cringe slightly when it's chanted at your shows because I'm nervous about who else is saying it and why they think it's funny.
I haven't gotten much flack as far as I can tell. But I haven't been searching for the flack, if that makes sense. I like being a cultural puppeteer. I like the fact that you get nervous and wonder why people are chanting it. I like the fact that people chant it without thinking about it. I like the fact that people chant it upon thinking about it.
Basically, I don't want to tell people what to think. I want to make people react to very common issues that exist, yet aren't really discussed. And in that reaction, they'll learn a little bit about where they stand – which is a valuable thing for all of us to be aware of.
I'm just the messenger.
Let's talk about your vintage sportswear game. I've seen you wear throwbacks, Homage shirts, basically everything athletic. What are your favorite gems that you own and can you believe what happened to Rex Chapman?
Poor Rex. He was never the same guy since that half court buzzer beater. I've got a bunch of gems. I'm pretty into my Jesus Shuttlesworth jersey because he's a fictional character. I have a Babe Ruth jersey I'm pretty proud of, because it's so simple. Just Yankees, number 3. Nobody rocks Babe Ruth jerseys.
Deion on the Braves is cool, Bo Jackson Royals... there are really too many to have a favorite. I think I'm at like 53 right now, that's the jersey count.
You're a recent LA transplant, moving out here to officially start you rap career. What are you thoughts after your first year in Santa Monica? Also, I am not interested in your answer if you haven't fucked with Bay Cities yet?
Oh I've been fucking with Bay Cities for years, back when I used to come down to LA for work. It's dope. I actually really like Santa Monica. To be honest, I can't judge it fully because I really don't socialize whatsoever. I have no gauge on the nightlife, I pretty much work my ass off all day and night.
But it's a great setting, I'll tell you that much. Every day is 83 and sunny, the beach is 2 blocks away from me... it feels like I'm constantly on vacation even though I'm constantly working, which is ideal in a sense.
The girls on Tinder are totally reasonable and good looking, too.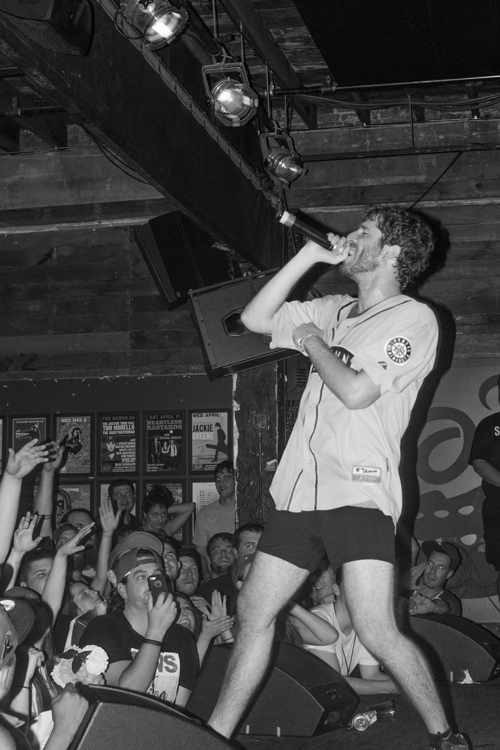 How much has your history in marketing played into what you've done so far? From your YouTube presence to the Kickstarter campaign, it seems like you've been able to implement your old life a bit.
I can't really say. I don't think it's impacted what I'm doing from a branding perspective now, because all of that just felt obvious to me from the get-go. I will say, I don't know that I would have begun rapping had I not had that job at the ad agency. Here's why.
I used to work on the Doritos account, and every few months I had to send out a report about chip sales to everyone who worked on the account at my agency. It was so boring, and nobody seemed to actually care. So one time, I decided to deliver the report in the form of a rap song. Over Drake's "best I ever had". Everybody at my agency's mind was blown.
I then was tasked to make a music video for an internal Doritos meeting, which ended up showing me how easy and simple it is to make legit looking music videos.
So after doing that at work, it clicked for me. What if I did this for topics of my choosing, rather than chip sales? And the rest is history.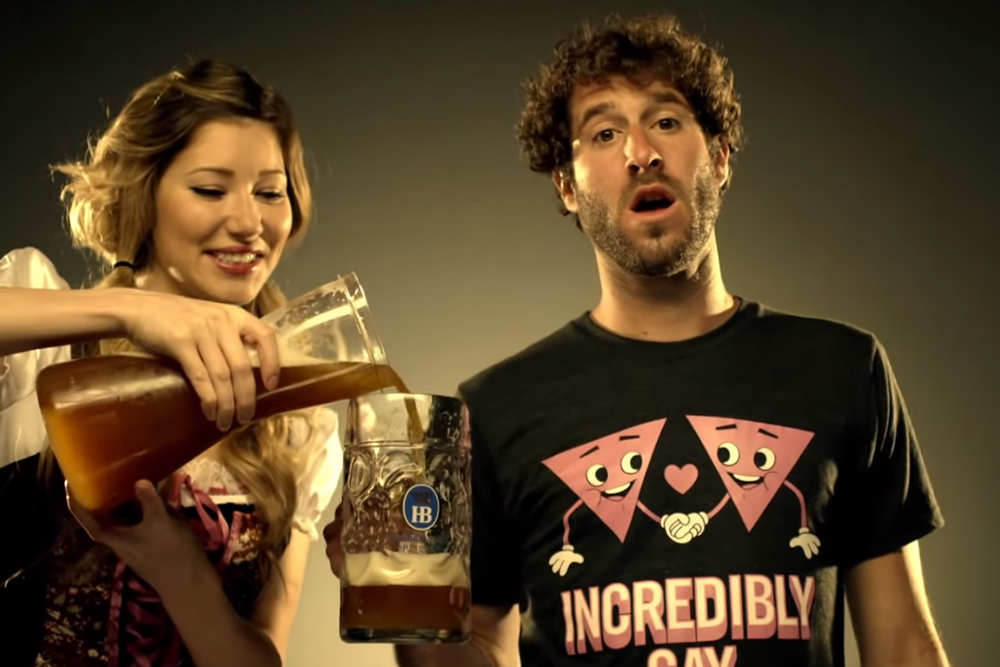 In closing, what should people expect from Professional Rapper? And also the 76ers 2015 NBA season?
Professional Rapper is going to be super hot. I think it's going to sound a lot more like a really good rapper who happens to be funny, rather than a comedian who happens to be a really good rapper, if that makes sense.
Very topic-driven. Great beats. Diverse style. Some serious, some funny, some hybrids. Hopefully some great features (we're working on that now). About 11 or 12 songs. Some interludes.
I think there could be legitimate radio singles on it, without them feeling mainstream or generic. Which is something I'm proud of. I think the sky is the limit for it. It feels like an adult project, a professional project, if you will.
Sixers are gonna suck dick. But everybody in Philly knows it's about 2018 and on. I look forward to watching them grow.
::
Visit www.lildicky.com to download So Hard the mixtape.
Youtube: LilDickyRap
Twitter: @lildickytweets