2015's SXSW Music Festival came and went as it always does: in a chaotic and somewhat sweaty mess. Austin, Texas, plays home to what is growing year after year, becoming the epicenter for what's new and now in the always-evolving music industry. Like a hipster scavenger hunt, I was lucky enough to run around town and catch sets from Run The Jewels, Diarrhea Planet, Unlocking The Truth, Twin Shadow, Brother Ali, Future Islands, Deer Boy, and an impressive new LA pop upstart named Frankie. I felt content with my itinerary, even braving the rain on the last night to catch Ghostface perform with the former jazz students of BADBADNOTGOOD, but I knew, deep down, I was unable to see the one artist that I so badly needed to learn more about. No matter where you turned at SXSW this year, someone was talking about singer Leon Bridges. The Texas native quickly became one of those meteoric festival breakouts, with each one of his EIGHT performances packed with new fans. The venues touted lines so long that most badge holders attempting to see him in person, including myself, were turned away at every show due to capacity or an unhappy Fire Marshall. As the crowds grew, so did his folklore. Only a few months ago, the 25-year-old was washing dishes at Del Frisco's Double Eagle and playing at dive bars in Fort Worth, TX when his Soundcloud was picked up the music blog Gorilla vs. Bear, catching the attention of reportedly 40 labels, each competing to sign him until Columbia Records emerged victorious, leaving Del Frisco's down one dishwasher.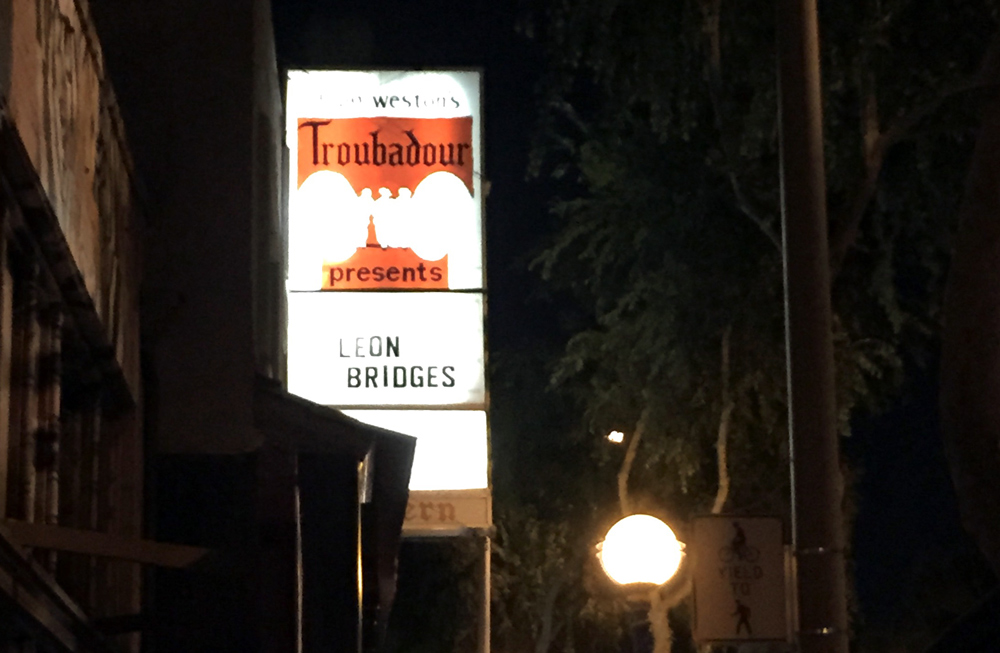 Bridges is a complete throwback, easily (and countlessly) compared to Sam Cooke and Otis Redding, but dressing like "Goldie" Wilson when he became Mayor in Back To The Future. Over the past year, he's studied and written soul songs, with a faint R&B influence, since he admits most of his past work is more comparable to Usher than Marvin Gaye. He's since found a sound wildly unique to him, less pop and rap-inspired than Aloe Blacc and more churchgoing than The Weeknd, but somewhere in between nonetheless. What he lacks in chops, he makes up for with heart, channeling the greats of yesteryear and forcing you to assume his music would be a perfect soundtrack for an 1950's soda shop. With pieces this week in the New York Times, Billboard, and Grantland, not only is Bridges getting coverage, he's crossing over genre lines, ready to catch the attention of not just hipsters, but also a mainstream audience. To call Leon Bridges a future superstar would be a major understatement.
So to make up for my experiences at SXSW, when Leon Bridges made his Los Angeles debut Tuesday night at The Troubador, I knew there was no line that could stop me from seeing if he was just as impressive in person as he was on record. What did get in my way, however, was the sell out that occurred only minutes after the tickets were released online. After the buzz of the festival, tickets, which were $15 originally, were now fetching up to $70 on secondhand sites. A later stop in Allston, MA has online bidders shelling out $160 per ticket. It quickly became the hottest ticket in our city as well, so I dropped the lowest I possibly could on Stubhub for two tickets ($120).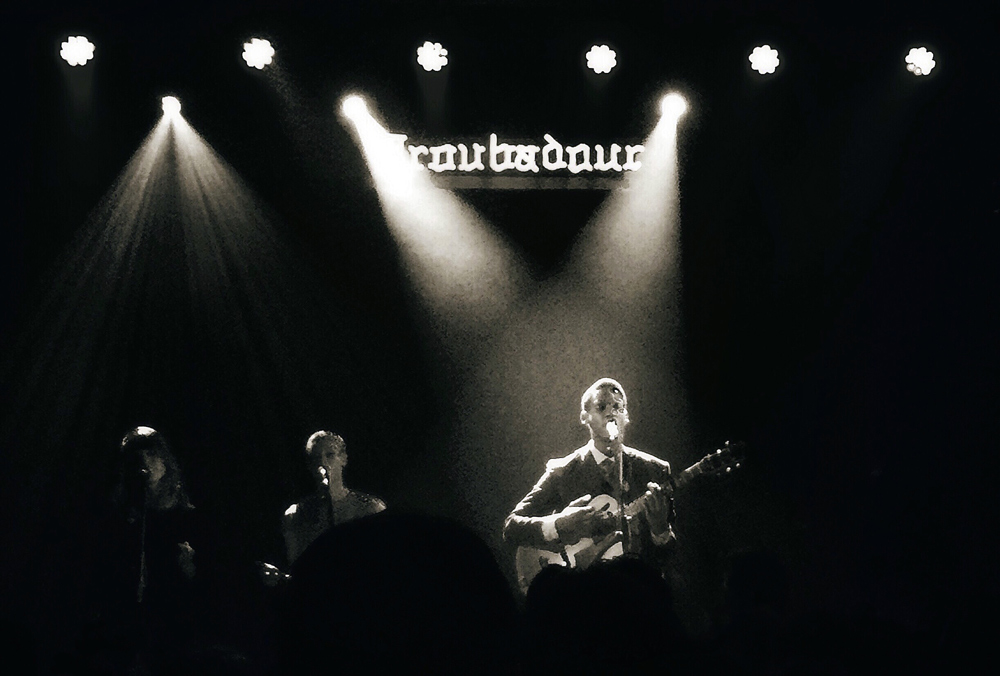 With doors opening at 9:30 PM and Leon said to be taking the stage at 10 PM sharp, the atmosphere was determined, with each concertgoer there for one reason - hype. OK, two reasons - hype and Leon. I watched comedian and musician Reggie Watts walk towards the dressing room, which makes sense since Bridges made his national television debut the next day on The Late Late Show with James Corden, the new talk show where Watts works as bandleader. Talk of the difficult ticket and Soul-saving prodigy was loud within the room, but the industry-savvy crowd got quiet when Bridges' band, made up of 2 guitarists, a bassist, a drummer, 2 back-up singers, and a saxophone player took the stage. Bridges followed the group, meager and quiet, walking to the microphone, visibly very nervous and asking the audience if they were ready to get down. He also quietly expressed his affinity for Los Angeles weather and like that - he was off to the races. No matter how quiet, or unseasoned, his introduction was, Bridges loudly commanded the stage, running through his set without much talk or distractions, just undeniable heart.
With only a subtle dance move here and there he powered through songs like "Lisa Sawyer" and "Better Man," all to a captivated audience, proving the praise from SXSW wasn't purely festival hype. The hyperbolic comparisons are actually warranted, as tunes like "Brown Skinned Girl" and "Coming Home" were ultimate standouts, as timeless as they are impressive. He warned the audience that he was about to take them to church before playing a new song undoubtedly inspired by his religious upbringing, then returned for his first encore (of two) with only his back-up singers and a guitar to deliver, what I found to be, the most moving rendition of the night, "River." He reunited with his band to close the show with "Daisy Mae," and, still somewhat shy in his closing words, thanked the crowd and walked off stage as unassuming as he walked on.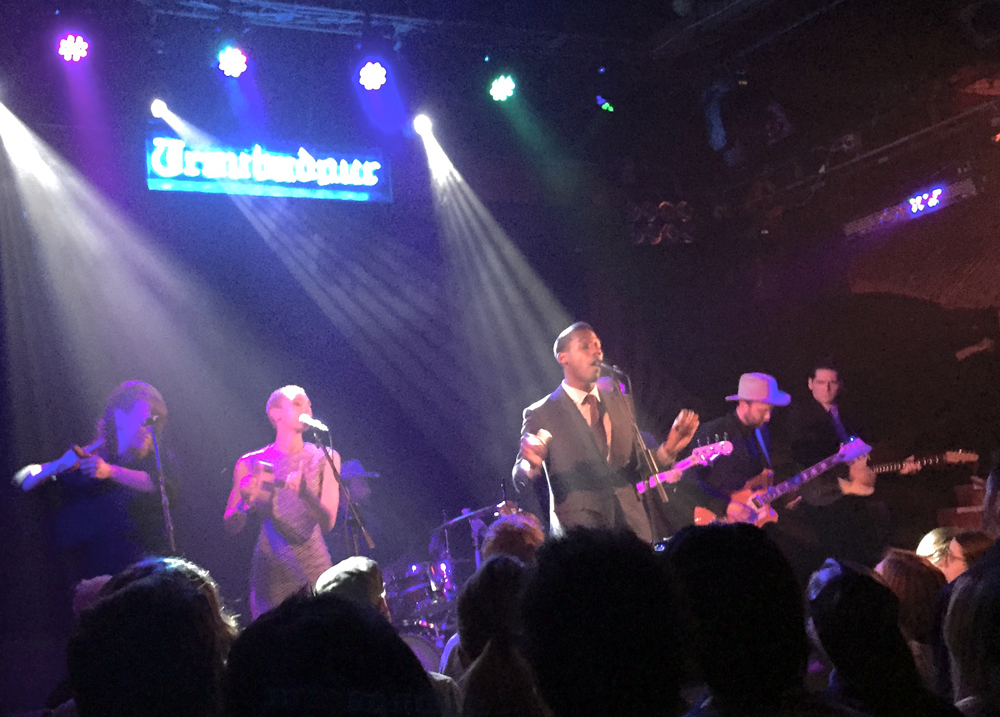 Sometimes when group mentality kicks in and everyone gets behind one new musician, you can chalk it up to bullshit and marketing. Now that corporations like YouTube and McDonald's are sponsoring the must-see SXSW showcases, it's difficult to decipher what's a real reaction and what's being sold to us as impressive. With Leon Bridges, and his upcoming album reportedly dropping in just a few months, that distinction couldn't be clearer. Bridges is the real deal, ready to open up a whole new, yet vaguely memorable, lane for himself. I may have had to pay 5x face value for his first LA performance, and his nerves couldn't have been more obvious (or adorable), but that type of raw and green talent is hard to come by on the jaded stages of Hollywood. Soon he'll have it all down pat and become a weathered pro, but, in the end, watching the journey of this former dishwasher might just end up being the biggest story in music for 2015.