In one of the scenes from Laura Callaghan's illustrations, a girl with lavender locks punches a blonde in the parking lot of a retro motel. From the sidelines, an onlooker films the fight on her iPhone while another girl (who has pink cropped bangs, drawn-in eyebrows and red lips) couldn't care less—she casually reads tarot cards on a picnic blanket and is surrounded by a pack of cigarettes, empty beer cans, and a bag from In-N-Out Burger. The scene, like all of Laura's illustrations, captures the zeitgeist of today, but also recalls the aesthetic of the 1980s and 1990s: Her badass but beautiful characters bring to mind the art-deco work of artist Patrick Nagel, and her palette resembles the opening credits of Saved by the Bell. "I used to be afraid of color and even now I don't think I have a natural eye for it," explains Laura. "I use a combination of pinning things I like when I come across them online and playing around with swatches in Photoshop. Sometimes you need to put together the ugliest color combinations to see what works." Laura further discusses her characters and color palette, as well as the evolution of streetstyle, in the following interview with The Hundreds.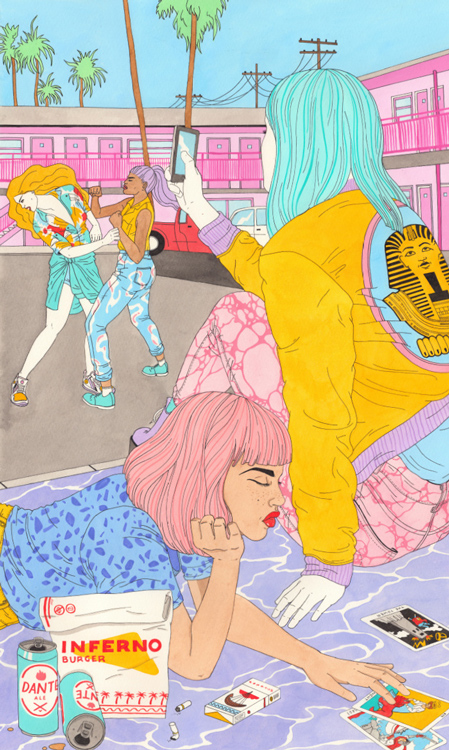 You're from Dundalk, a coastal town in northeastern Ireland. What was it like growing up there?
Pretty uneventful! It's an old industrial town and a small place, which I used to think was the worst thing in the world but going back to visit now after living in London for six years, the size of it is what appeals more and more.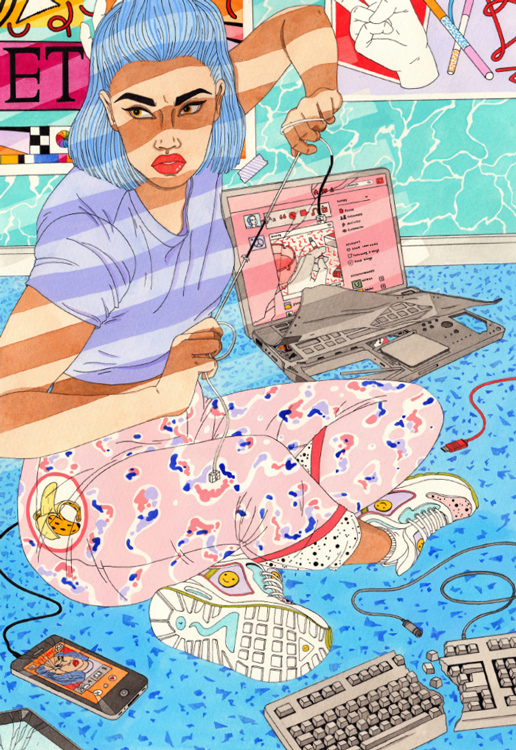 When and why did you decide to move to London? What do you miss most about Ireland?
I moved in 2009, a few months after finishing up my BA to do an MA in illustration. The reasons were twofold really: Ireland didn't have a dedicated Illustration course at the time, and London seemed to have some of the best in Europe. Also, the bottom had just fallen out of the economy back home and jobs were incredibly thin on the ground, particularly for those in the creative industry. I worked as a temporary clerical staff in the [welfare] office for three months after finishing my BA on the same street as my college and routinely saw classmates come in to sign on. It was a bleak time. I miss being near the water and how compact the country is; it makes it much easier to escape the chaos of a city.
How did you develop your aesthetic? Did you go to art school or were you self-taught or both?
I studied Visual Communication in NCAD back home in Dublin, which was predominantly focused on graphic design—typesetting, logo design, branding, that kind of thing. I did a four-week internship in my third year and quickly realized a design studio environment wasn't for me. Most of my work had been illustrative in nature so it made sense to do a one-year course to focus purely on putting a portfolio of illustration together. I initially thought I wanted to be a children's book illustrator so my style has changed drastically since then. Once I left my master's, my funds were drained so I took on a fulltime office job in a biscuit factory that left little time to out commissions. I think once I stopped thinking about what style clients wanted or would get me work, and started drawing purely for pleasure, that's when my style really began to develop.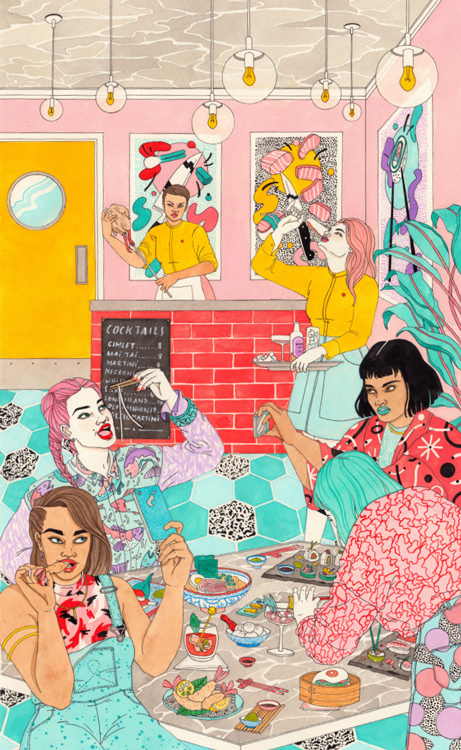 The colors in your works feel very Saved by the Bell to me (which I love). How did you develop your color palette and what do you look at (or watch) for inspiration?
I used to be afraid of color and even now I don't think I have a natural eye for it. I use a combination of pinning things I like when I come across them online and playing around with swatches in Photoshop. Sometimes you need to put together the ugliest color combinations to see what works.
If your work had a soundtrack, what album would it be?
Ah, that's really hard. I'm not sure if the viewer sees what I see, but the album I listen to the most when working and come back to time and time again is Heaven or Las Vegas by the Cocteau Twins.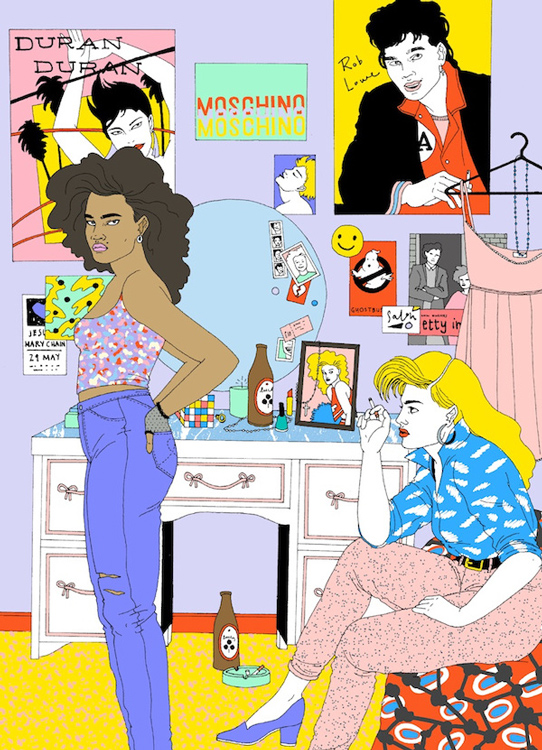 For an issue of Riposte magazine, you illustrated the evolution of streetsyle through the decades. Can you explain a bit about the project and what that evolution looked like?
I was contacted by the editor, Danielle, to provide five full-page illustrations to accompany an essay by Nina Manandhar. Nina is the author of What We Wore, and she has compiled a treasure trove of personal photos from laypeople and celebrities involved in subculture fashion from the 1950s onwards. Danielle forwarded some reference photos from the book as a starting point, which was great; she had a rough idea in mind for the content/setting of each decade (1970s photo booths, 1980s teen bedrooms, etc.) so I just fleshed these out. I researched the trends I was unfamiliar with—UKG didn't quite make it over to Dundalk so that was a fun one to look up and see pictures of club nights in the early 2000s with patrons dressed head to toe in Moschino and Morgan de Toi! It was interesting to look into UK-specific trends and subculture—the era of trip hop and drum & bass in Bristol, 90s raves; music and fashion have always been very closely entwined.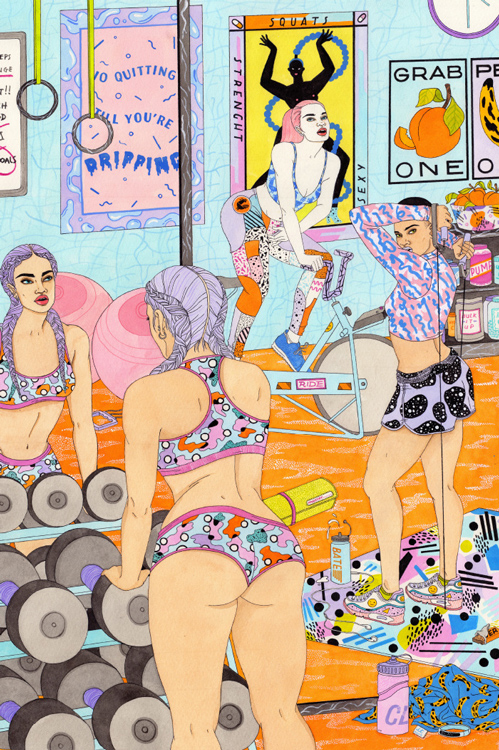 Why only female characters? What do you love most about drawing girls?
Women inspire me and I relate to women, so for me they make the most interesting subjects. When it comes to narrative work, the stories I want to tell are from a female perspective. I think ample space is given to male stories and characters within comics and illustration and I don't really feel a need to contribute to that.
What's next for you?
I took some time out from commissions at the beginning of the year to focus on making work for the Pick Me Up exhibition in April, so at the moment I have a backlog of pre-agreed client work to get through! But the exhibition pieces have really motivated me to make more personal work, particularly paintings, so hopefully I'll get a chance to get stuck into that soon. I also have plans to self-publish a new comic to sell at some fairs coming up in August. Fingers crossed!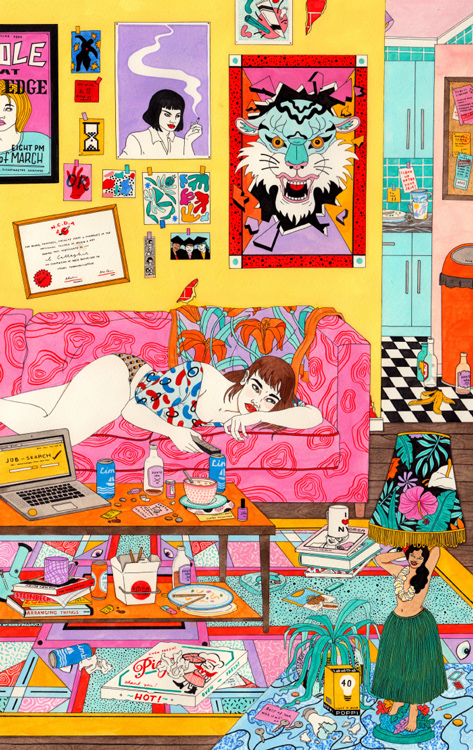 Best piece of advice?
Illustration wise? Start saving as much money as you can as early as you can. You're solely in charge of paying for your holidays, sick days, and pension, so put a little aside and hopefully you can avoid waking up in the middle of the night with palpitations in your late 20s! Life wise? Always wear clean pants. And never trust anyone with a limp handshake.