Every few weeks I like to check in on the Cinefamily website, a specialty, nonprofit movie theater here in Los Angeles that is technically another Fairfax spot you should be lining up in front of. They may not be releasing limited edition T-shirts with dolphins on them or ugly Nikes only worn on St. Patrick's Day, but they do specialize in exhibiting independent hard-to-find flicks, trippy compilations, and cinematic revivals you'll never find at your local AMC. I've been lucky enough to catch movies like The Act of Killing, Birdemic, and The Brown Bunny there, while incredible weeks like "Everything Is" and the "Wayne Federman Int'l Film Festival" take place annually. In a town where the biggest IMAX screen and THX system rule your new release schedule, it's nice to have a throwback space where the focus is on a cinephile community not ready to just see whatever fighting turtle reboot is marketed to them (and it appears RDJ agrees with me).
So during my most recent sporadic perusal of their schedule, I was delighted to find a documentary called Hungry, an in-depth look into the bizarre world of competitive eating, following a few of the sport's most eccentric professionals. The screening was part of the 2014 "Everything Is Festival" and, most importantly, would include a special appearance and Q&A session with the directors and one of the film's stars, eating legend Takeru Kobayashi. Every 4th of July, since its first ESPN telecast in 2003, I have intensely watched Nathan's Hot Dog Eating Contest, the Super Bowl of the "sport," and followed its action in the same manner guys who drink Coors Light watch football. I have my favorite competitors and some of my most memorable small screen moments have involved records being broken by both Kobayashi and current champ, Joey Chestnut. They've both taken a laughable gimmick pastime and turned it into a rather fierce sport – at least in my mind. If I were the type of asshole that had a bucket list, right up top would be to actually attend the Coney Island competition in person one day. But until then, I figured the Hungry screening – and a Kobayashi appearance – would be a nice appetizer.
The movie, directed by stand-up comedians Barry Rothbart and Jeff Cerulli, is a captivating peek into this wild world of indigestion called Major League Eating. Both hilarious and touching – even dealing with controversial training techniques and the shady financial rewards for participants – the movie is now available for download and rental on iTunes and I couldn't recommend it more. The highlight of my screening, however, was seeing the sport's Michael Jordan, Kobayashi, in person before and after the movie, where he detailed his entry into the sport, his well-documented bouts with the company now running the contests, and his equally-as-strenuous battles with diarrhea. But what I was most shocked to hear was that he would be competing in a Redondo Beach taco eating contest just two days later with hopes of besting his own world record of 106 tacos in 10 minutes. I immediately made plans to attend what is considered one of the West Coast's best competitive eating displays, and braced myself for something that could be both amazing and disgusting, in only a manner that a taco-eating contest – or 2 Girls 1 Cup video – could claim.
The contest was at WeeMan's Chronic Tacos, which is right in the heart of Redondo Beach, a surfer's city perfectly fit for both the eatery's reference to weed and the celebrity endorsement from WeeMan, a prank-happy little person seen in the Jackass TV show and movies. Gringo Bandito Hot Sauce –  a salsa inexplicably owned by Offspring's lead singer Dexter Holland – sponsored the contest for its 4th annual year. Small reminder: All of this is true.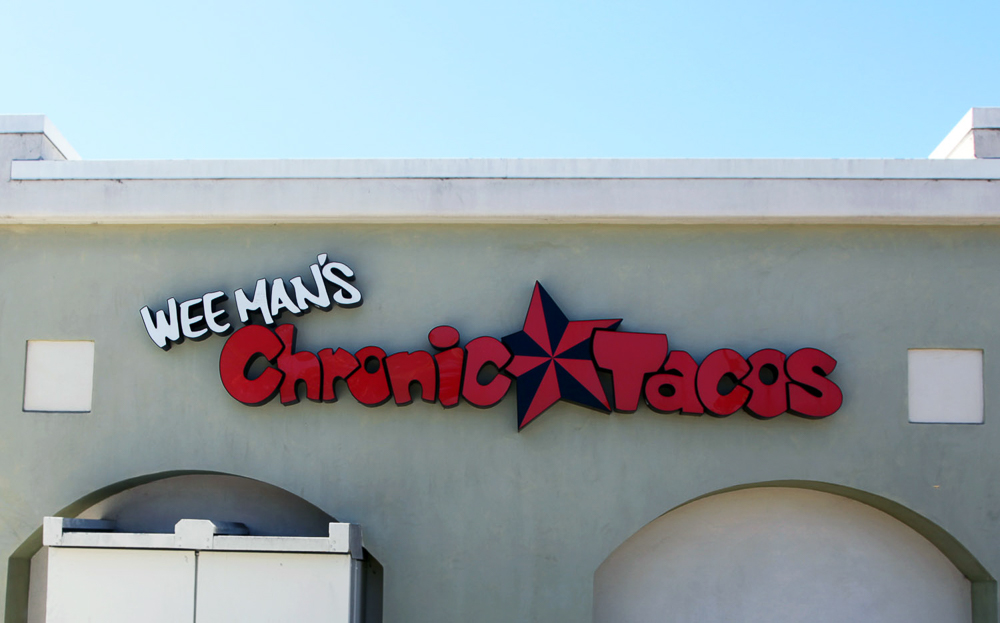 Kobayashi was clearly the day's main draw, his name visible on every promo item from flyers to T-shirts, as Gringo Bandito had to pull from a pool of competitors who are no longer affiliated with the union of eaters partaking in sanctioned events like Nathan's. Each of those recognizable names have signed exclusive deals that forbid them from competing in outside sponsored events like the one I was now attending. But, lucky for me, a man commonly regarded as the world's number 2 eater, Patrick "Deep Dish" Bertoletti, had just defected, joining Kobayashi, and now would be guzzling taco meat for the guy who sang "Keep Em Separated" for the first time ever. Bertoletti added a threat to the champ that had never been seen in Redondo Beach before, holding the world record himself in maybe 2-dozen different categories including Pickled Jalapeno Peppers (191 in 6.5 minutes) and Peanut Butter & Jelly sandwiches (42 in 10 minutes). I was ready to see this battle up close and personal, even if food ended up flying at me like it was a Gallagher concert.
Promotional models walked around the restaurant in tiny white shorts I couldn't help but assume could be covered in salsa or vomit in just a few hours. Ironically, I ordered two chicken tacos when I first arrived and had trouble finishing both in 30 minutes, so I can't exactly say I was training to compete. An MC presided over the festivities hyping up the Kobayashi vs. Bertoletti duel like it was Mayweather vs. Pacquiao, while also revealing they're benefitting a charity called "No Kid Hungry," an organization that HAS to see the irony of wasting hundreds of tacos while fundraising. But with that, the real contests began with a "celebrity division," pitting Wee Man against two other Jackass alums, Dave England and Preston Lacey, alongside the owner of the Chronic Tacos franchise, Randy Wyner. England took a quick lead, as the group opted for the professional ten minute time limit, but with 2 seconds left on the clock, England uncontrollably vomited, forfeiting his results and leaving Lacey the winner. There legitimately could not have been a grosser opener for what would be an incredibly athletic main event. It felt like seeing a double feature of Hostel and Hoosiers.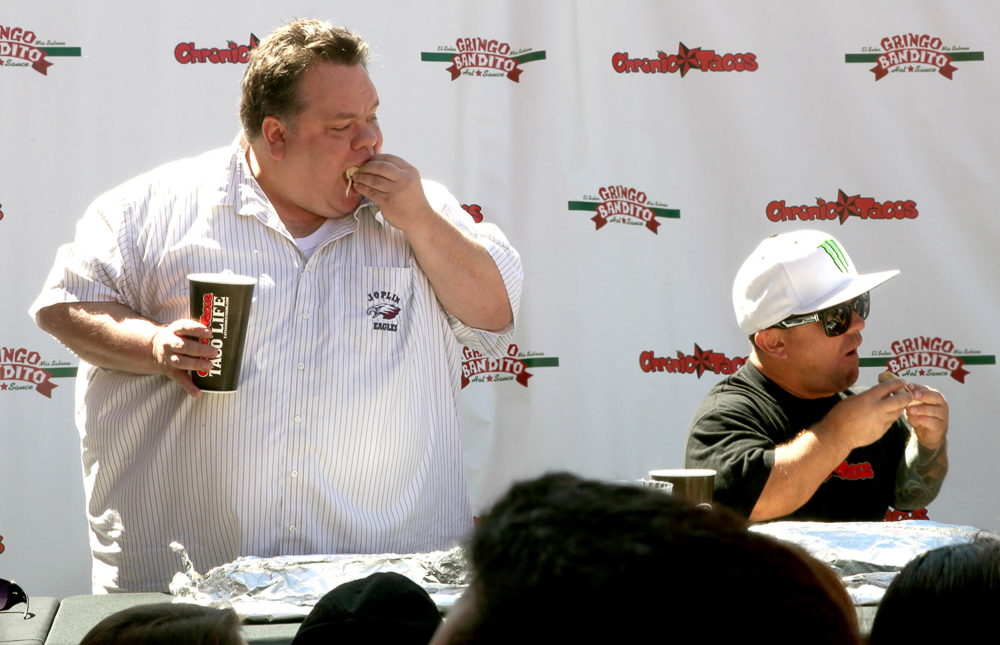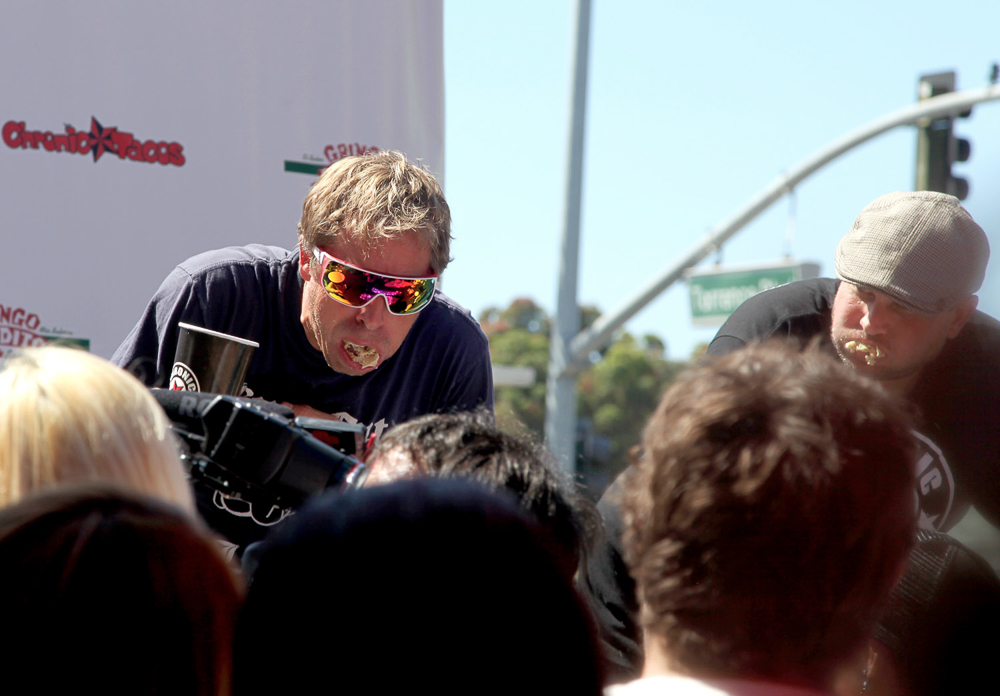 Dave England throwing up. For real.
The taco shop's staff cleaned off the stage, one busboy passing by me holding a leaking tablecloth filled with throw up. I rushed to the stage to get a better position, knowing one of my heroes was about to take the center. Part of Kobayashi's appeal is his unassuming look. His skinny jeans. His multi-colored hair. He looks more like a hipster Pokémon than a savage garbage disposal. He's soft spoken, skinny, and focused and I didn't want to miss one bite. His manager/translator/probably girlfriend, Maggie James, took the stage first, meticulously going over the set-up, feverishly moving around water cups and measuring the distance between eaters. She nitpicked with the event organizers, even pushing nearby stations a bit further away and throwing her elbows out to measure the comfort. The promo models took their places behind the eaters, with official count boards in hand that would flip quickly for the audience to keep tabs themselves. A majority of the competitors were then announced quickly, in the same way that on Gilligan's Island Professor and Mary Ann were just "and the rest" for a season, slyly admitting they'd be no real danger for the actual stars. Some notable competitors though included Jimmy Lin, who would later chug a bottle of Ghost Pepper hot sauce with a quickness that makes any Cirque du Soleil talent seem bullshit, and Jamie "The Bear" McDonald, who is touted as the world's #1 independent competitive eater, a title I'm still slightly confused by. But then, as challenger, it was Bertoletti's time to shine. The crowd chanted his nickname, "Deep Dish," rooting for the underdog, while he pumped himself up with music in his headphones. And then Nagano, Japan's son, Kobayashi, was introduced and the respect was obvious. As much as I can make jokes and laugh about the event, even the biggest doubter could feel the intensity as the MC finally counted down from ten and the contest began.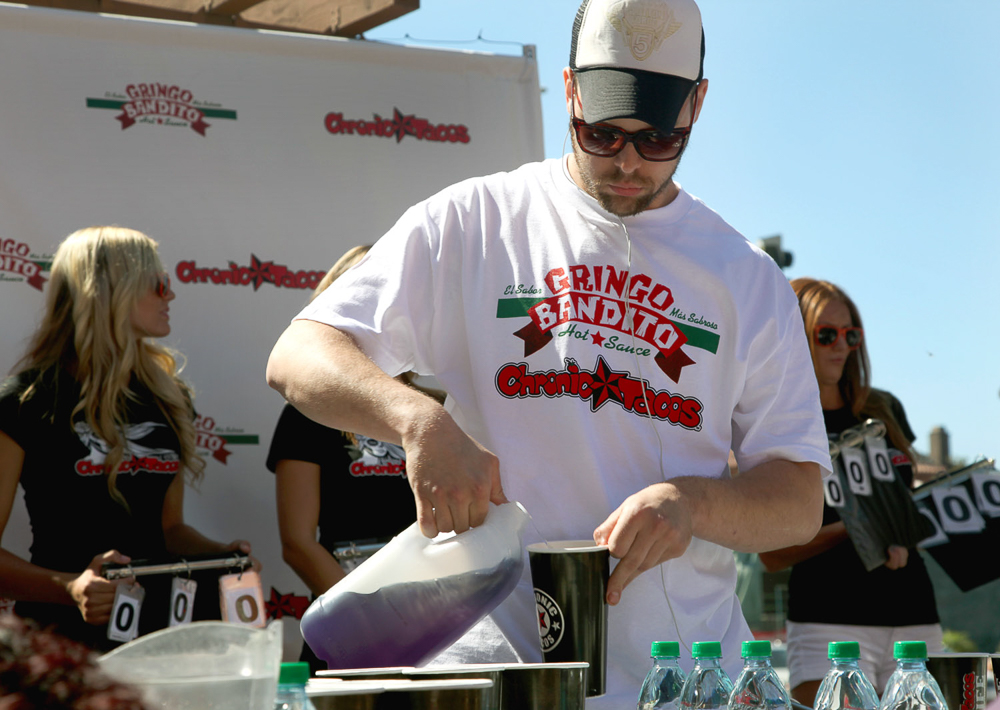 Bertoletti getting his station ready.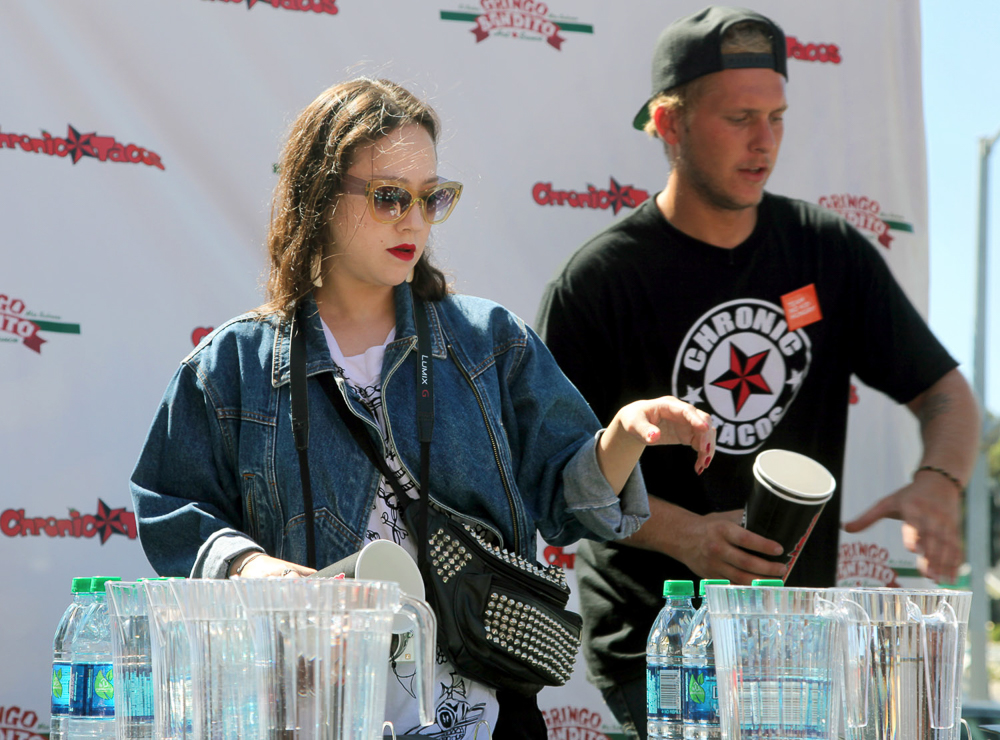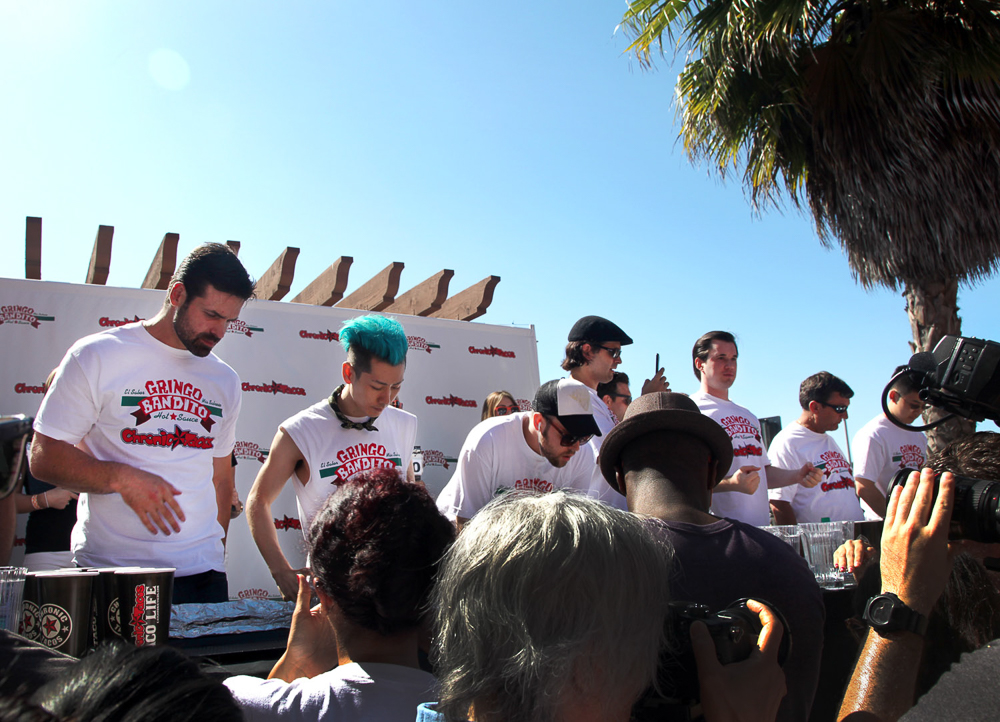 Bertoletti was unbelievably fast out the gate, downing 10 tacos in 20 seconds. Kobayashi couldn't keep up and I didn't know what to do. As Deep Dish kept a stronger pace than the champ, I felt a sinking suspicion that we were about to see an icon take a loss in front of a crowd that was confident he had it in the bag. Was this to be his Buster Douglas moment? Kobayashi displayed his signature style, cleanly taking in each taco, dipped in water for a smoother sail, jumping in place pushing it down his intestines. For years I had heard announcers call that game changing technique the "Kobayashi Shake," and there I was cheering for it loudly. On the other hand, Bertoletti downed tacos violently, with the passion of a just released inmate fingerbanging a girlfriend he hasn't seen in 3 years. You could see a handful of tortillas still violently peeking out of his mouth at all times, hardly chewed, and sometimes falling to the ground.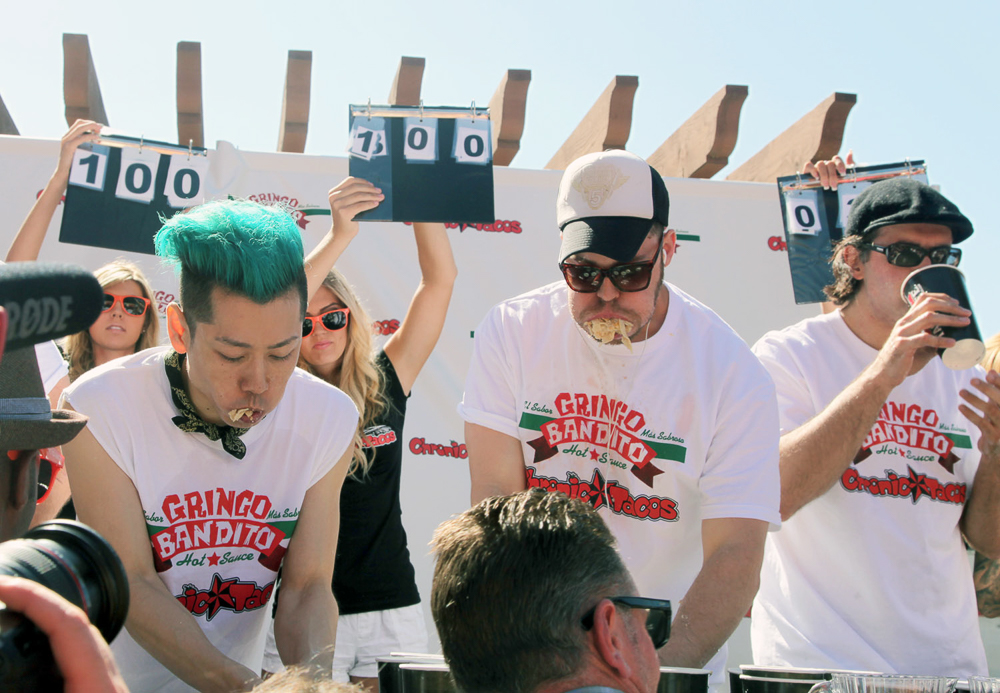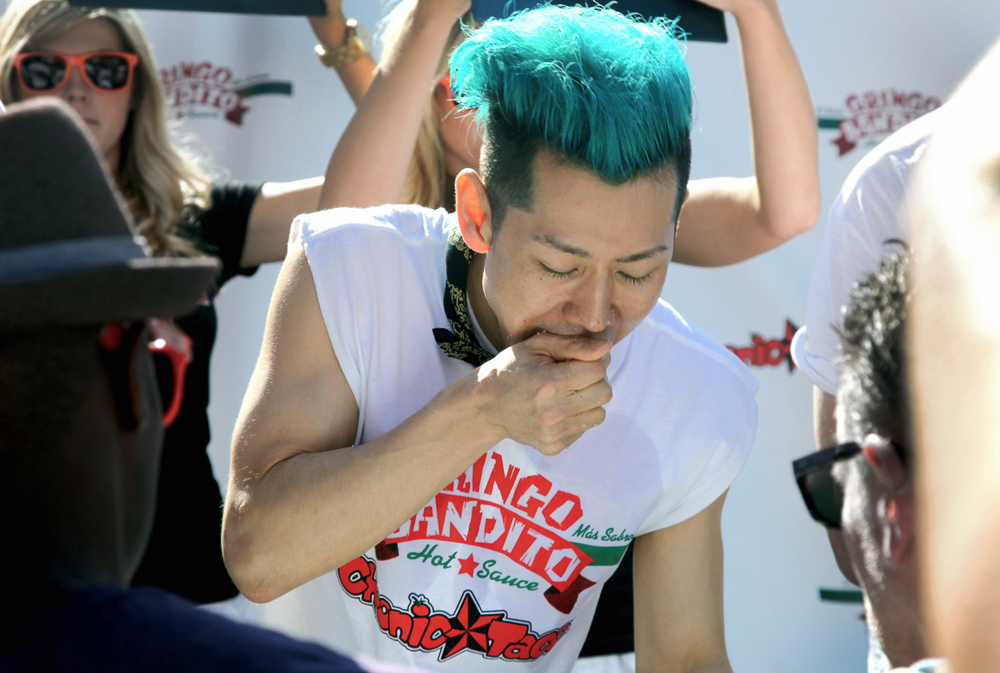 He continuously shoved his fingers down his throat like a model before Fashion Week. It was obvious that despite their polar opposite methods both pioneers would break any previous record (which they both did with minutes left), but Kobayashi's endurance and experience was evident, eventually forcing them into a virtual tie for the rest of the run. Both men seemed tired as we counted down from 10 seconds prompted by a nearby screen, and the contest seemed too close to call. When the dust settled and everything was swallowed, the count read –
Kobayashi: 140
Bertoletti: 141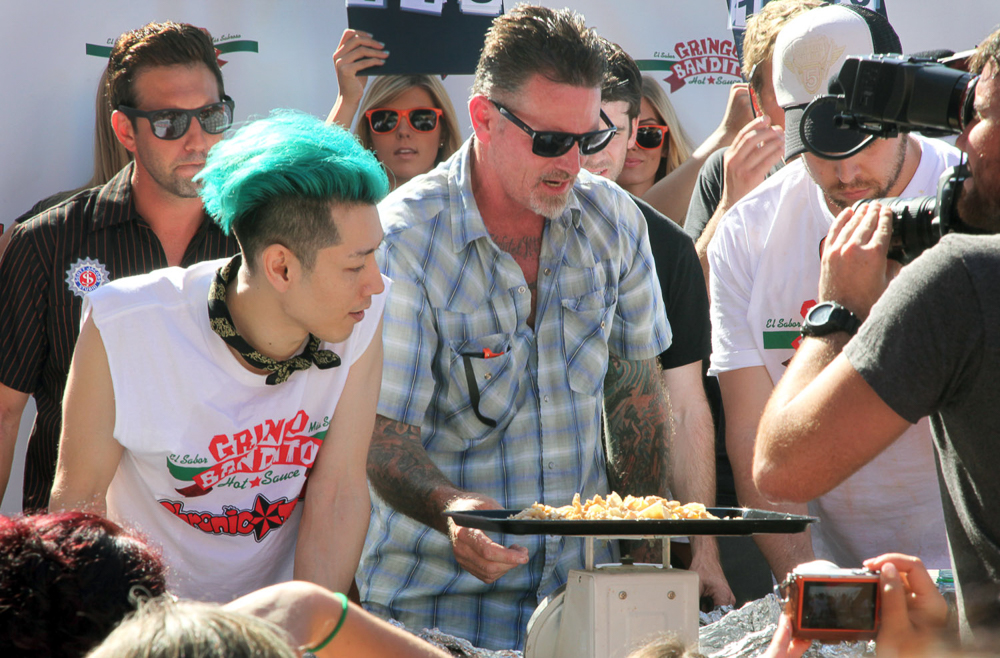 My heart sank. I came to see Mark McGwire hit a homerun and instead saw him speak at a congressional hearing about steroids. I felt destroyed watching Kobayashi's little disappointed face realize he was down a taco. The MC repeated what we saw on the flip boards, but admitted it was not official. You could feel the controversy on the stage, knowing things were too close to just consider finalized. Kobayashi's manager had some details to attend to. This wasn't her first rodeo. Confusion hovered on stage for 20 minutes after the final bell as judges began to pick up pieces of uneaten taco from both Kobayashi and Bertoletti's stations to weight them on a scale. As they determined how much of the tacos went undigested, I realized Super Bowl winners have been determined with less precision. When the scales were finally tipped and some bickering was overheard, the final tally ended up at:
Bertoletti: 122
Kobayashi: 130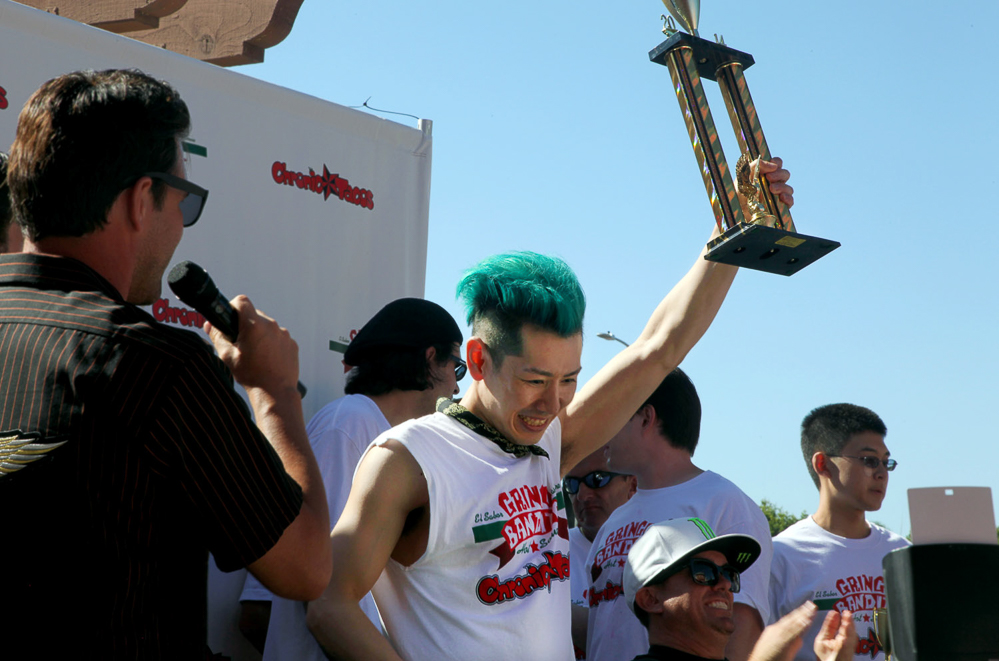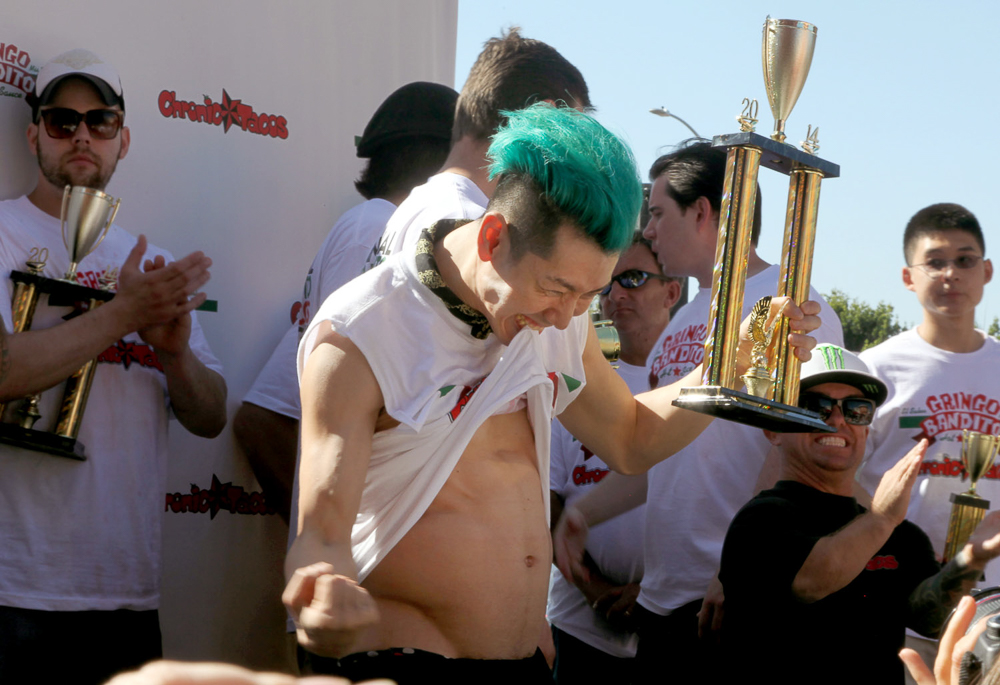 My little champion stayed atop the standings, while both athletes broke the record. Bertoletti seemed disappointed, but accepted his second place trophy humbly, shook hands with Takeru and, off-mic, even suggested a sudden death eat off as if he doesn't know (or care) how many years this entire sport is taking off his life. Kobayashi held his trophy high, exposing his 6-pack stomach muscles, which he does after every win. As he walked off stage, I congratulated him, shook his hand and we took a picture together. I made it my Facebook profile picture.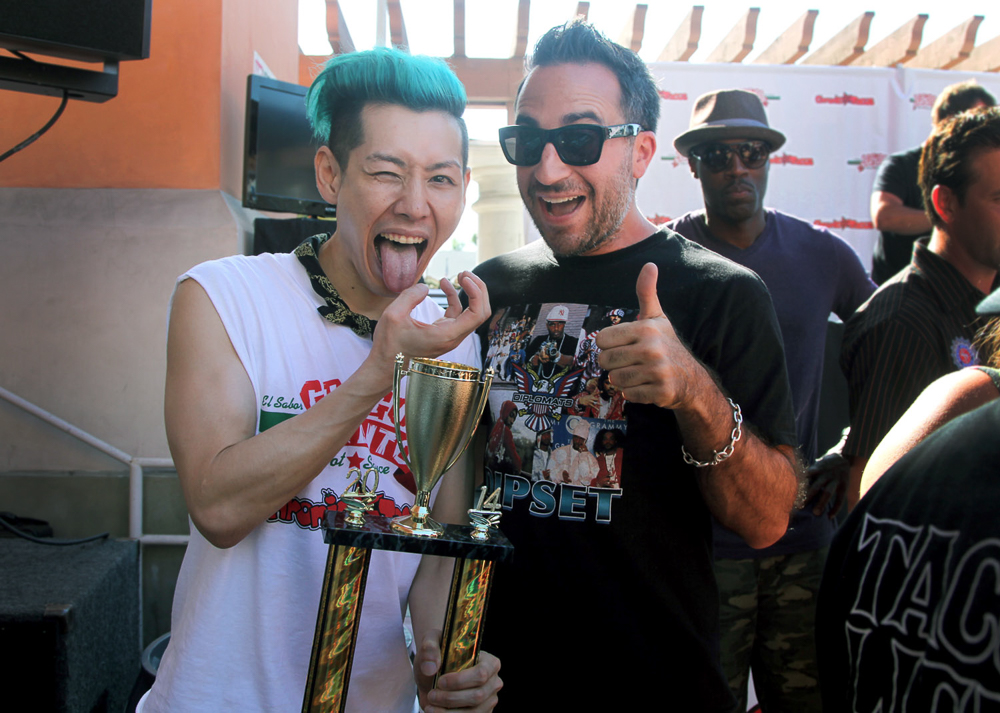 I drove home laughing about what I just witnessed. Not because I started to realize how "dumb" it was, but because I actually loved it. There was intense drama just like an NFL or NBA game, and there were two superstars to root for or against. And I related to Kobayashi on one level in particular. He's taken this small niche he faced doubt in, something most people can easily laugh at or ignore, worked seriously on perfecting it, and then made a living, but more importantly, carved a legacy. Whether opening a pop culture art gallery like I did, or collaborating with Cross Colours for 2014 streetwear like the owners of this website insanely, and smartly, decided on, that's really all you can ask for with any endeavor. Aim for some, reach many.
I plan on attending this competition again next year and I'd love to see you there. It's on Labor Day annually and like Wee Man yelled into the microphone when closing the event, "This is shit you can only see in Redondo Beach!" Ironically, I've had diarrhea ever since.
::
S/O to @MelissaStetten for the photography.