Street art is progressively getting older, yet it still somehow consistently maintains its freshness. As we see the scene age, it's easier to recognize its place in the history of art, along with its parallels to previous movements. Brian Donnelly, better known as the artist KAWS with his first show in three years, "Man's Best Friend," currently exhibiting at Honor Fraser in Culver City, CA, is a definitive example of this. There's a new intersection that has emerged, where the previously diametrically opposed worlds of street and corporate/gallery art are now peacefully enmeshing with one another. This is his third showing at this world-renowned LA gallery – "Even though I haven't done a show in three years, I'm working with and talking to [Honor Fraser] weekly. It just took awhile to come back around and do another show," he tells The Hundreds. In "Man's Best Friend," KAWS reinterprets the beloved American beagle Snoopy, along with other familiar shapes from the cast of the syndicated cartoon Peanuts, reworking them with the vividness, brightness, displacement, and playful abstraction he's known for.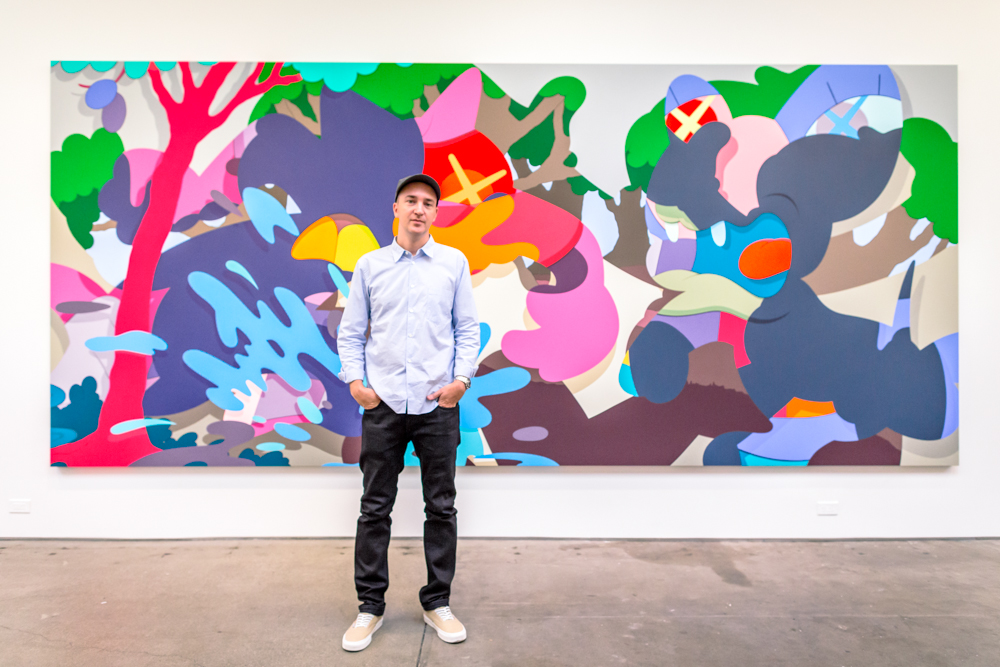 KAWS is truly one of the few cultural outsiders of street art from the early '90s to have been readily accepted into the commercial art world, with collaborations with NIKE, Bape, Kanye West, Comme Des Garçons, and even the Macy's Day Parade. I was lucky enough to get to sit down with KAWS and pick his mind on his early phone booth graf days, old animation jobs at Jumbo Pictures, as well as our preoccupation with classifications of what is art. In a time where artists designate themselves as just street, graphic, gallery, and even Internet artists, KAWS says, "I hate all those labels [laughs]. It always seems like bullshit – you just make stuff. I just feel like when things grow and become popular, a lot of people jump in and want to be a part of that movement at the time. But when I look at a graffiti artist or someone making toys or somebody making oil paintings, I'm just trying to look at the piece they're making. I'm just trying to figure out, 'Is this good or bad?' So whenever I think about the stuff I make I just want to either to do something good or bad."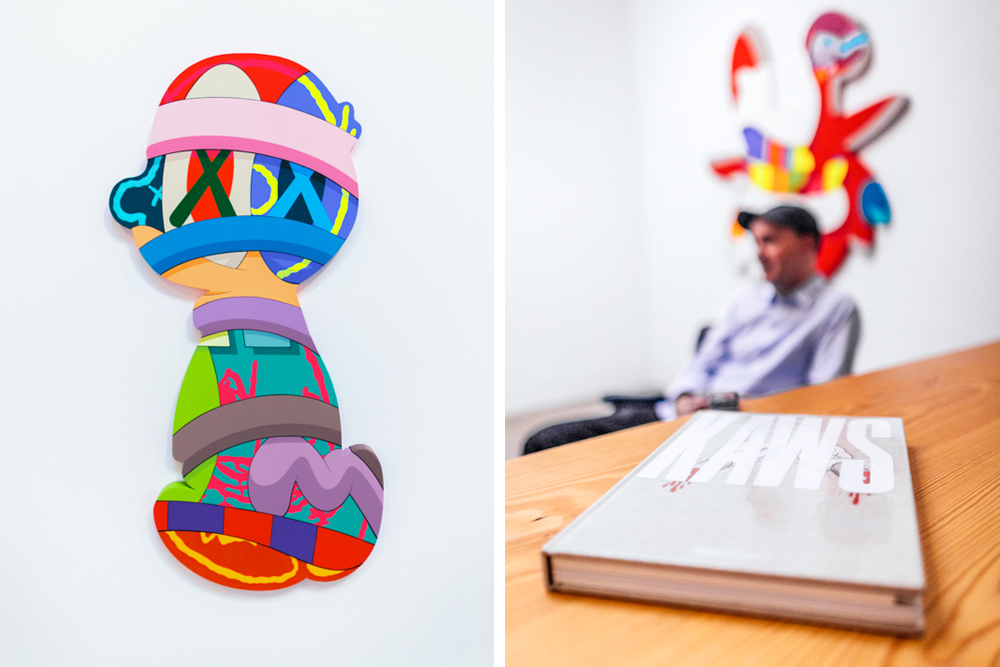 "You know, I think it's more of the visceral feelings of cartoons, the flat colors, that I relate to. When I'm doing a painting there's no narrative or anything like that. It's just sort of, 'This composition feels good. These colors feel good.' If it happens to exist within a frame, then people associate it with cartoons. It's not an alignment with a certain narrative or story." –KAWS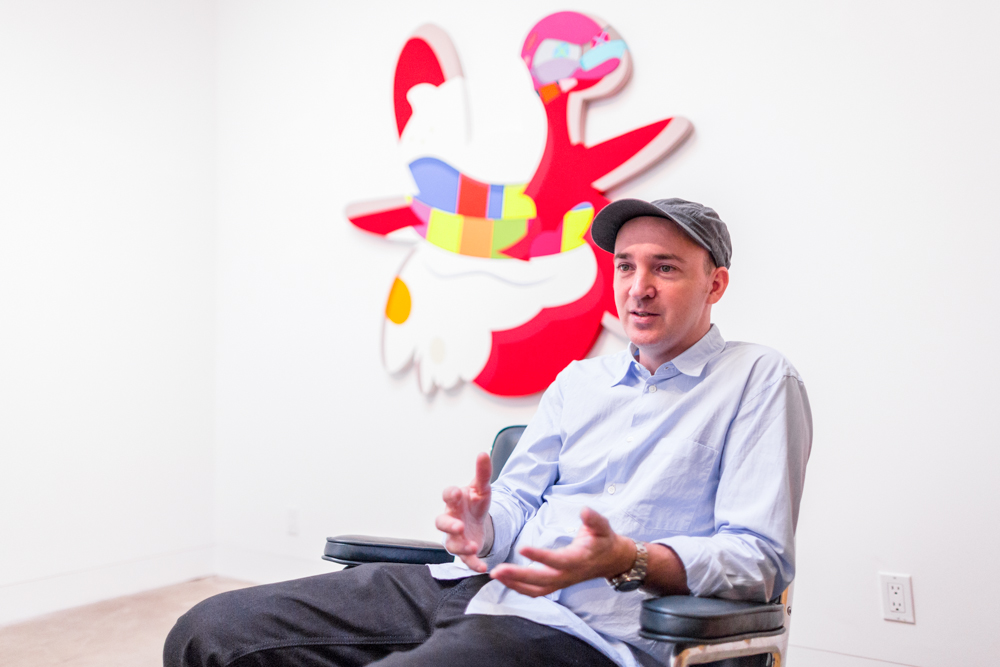 A true child of the Pop Art and Abstract Expressionist movements rooted in the New York art tradition, KAWS's "Man's Best Friend"  is an exceptional body of work which shows the artist taking from the creative ethos of his stylistic progenitors and modifying a standard in the American cartoon world, giving his audience a glimpse of its transformation in development. These days, it sounds like he's taking his time with his art, and taking a step back to look at the bigger picture:
"Honestly, when I'm doing a show, you're just catching me at a certain time so this is just where I'm at with painting and sculpture. It's just a new body of work. It's like I'm holed up in the studio for a while and come out with new work that I want to put in front of people and see how I feel about it.

 

When I'm making the works, they're made individually, and this is the first time I get to have the black and whites and the color stuff in the same room and see it and then I can take it back and think about, 'What was successful? What wasn't?' Then I can make new work."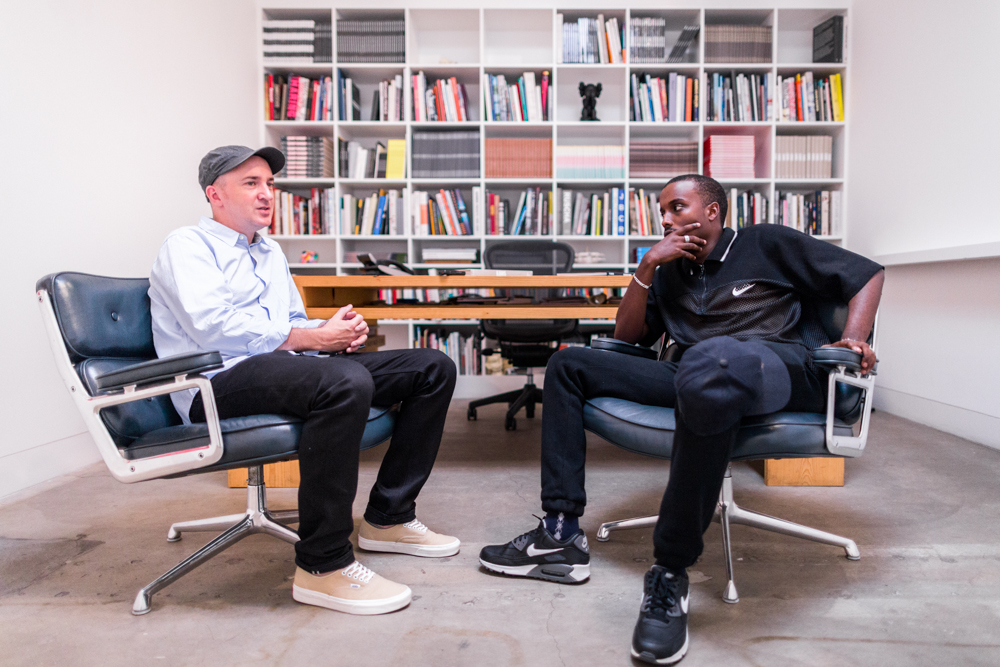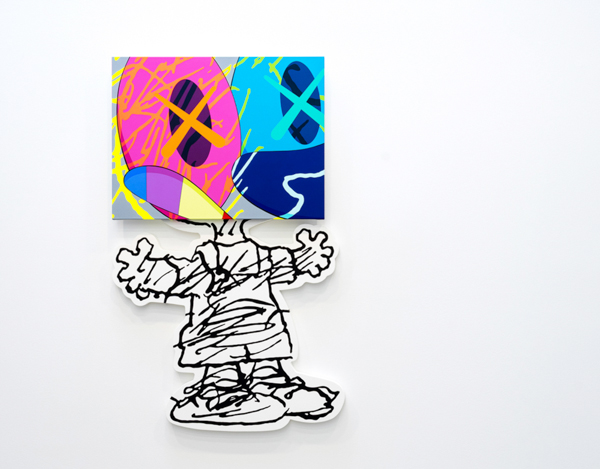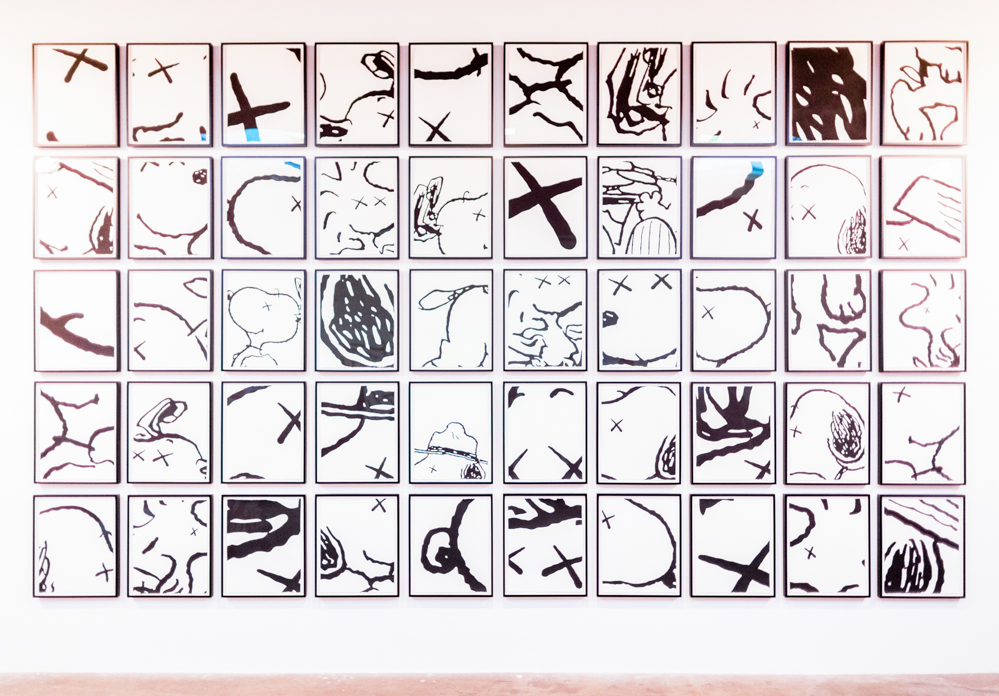 "What's abstraction to somebody that knows something? If you look at something but then you know what it is, is it still abstraction? You just start looking at the gestures and how they work and thinking about the history of painting and how it can relate to that." -KAWS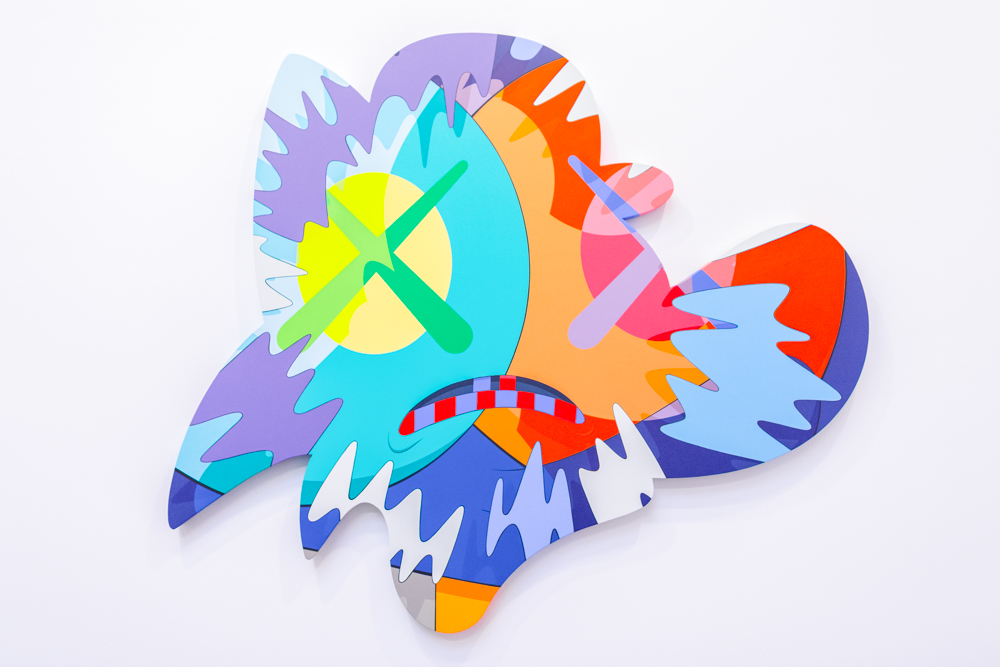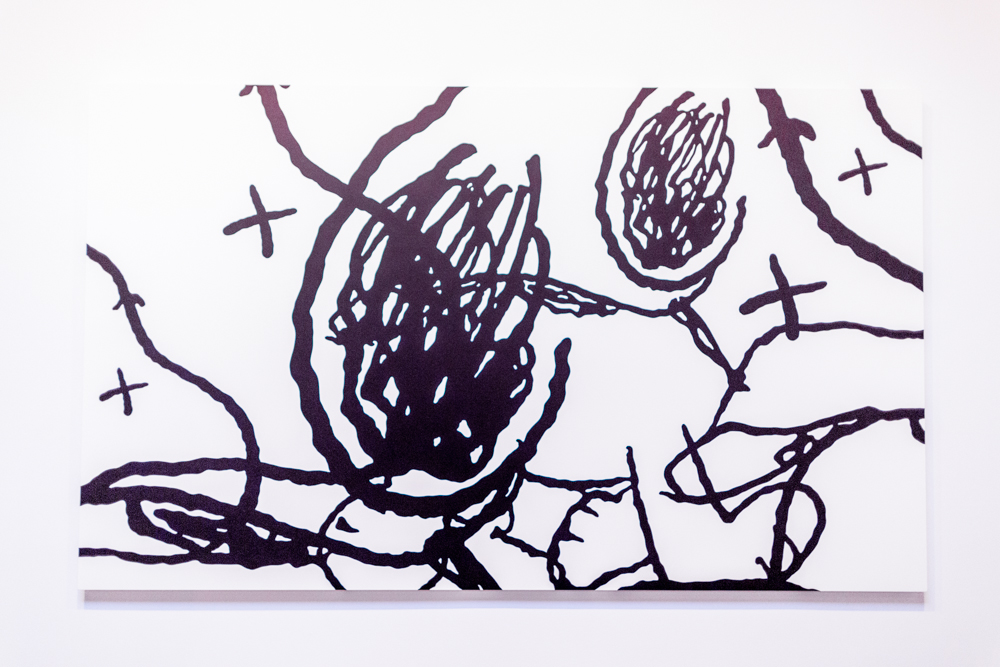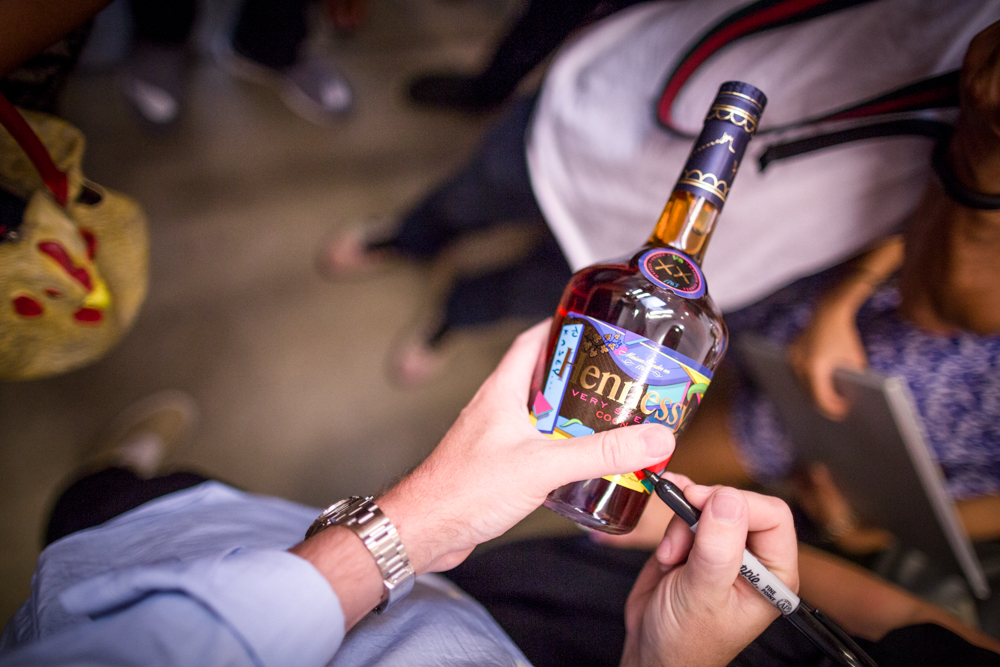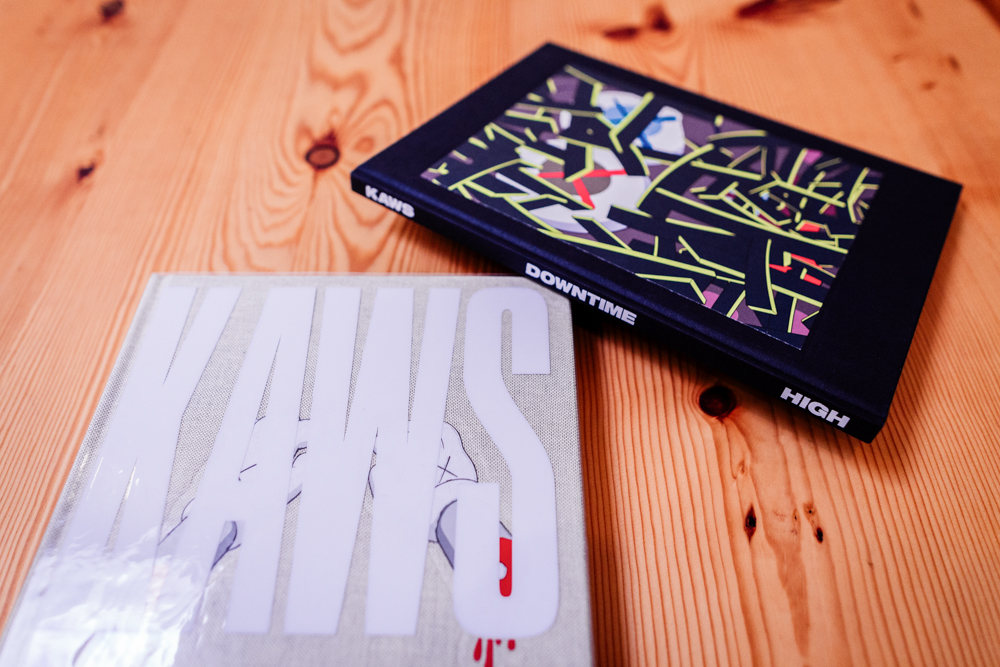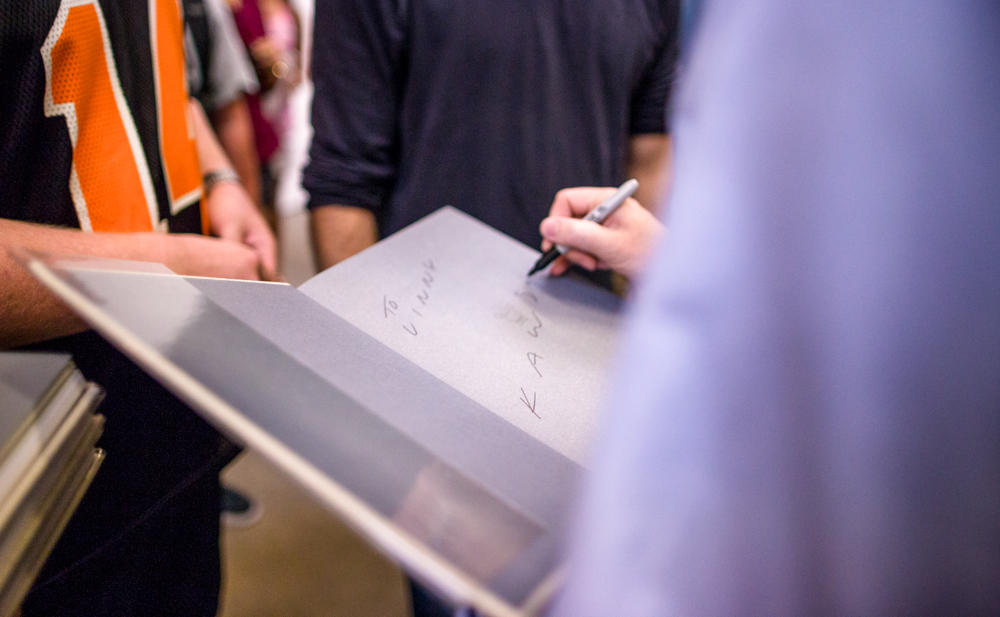 ::
Catch KAWS's "Man's Best Friend" at Honor Fraser from now until Halloween, October 31, 2014. Special thanks to German Vizcarra @vzmaestro for shooting KAWS and the images above for TheHundreds.com.