I've never been to New Orlean's Mardi Gras or Rio's Carnival but I've always wanted to experience them. So when a trip to experience Düsseldorf's Karneval celebrations came through my inbox from Air Berlin, I couldn't say no. I did a bit of research before the trip and learned that there are several variations of Carnival throughout Germany, but it is mainly celebrated in Western and Southern Catholic parts of the country. Celebrations begin in November and end on Ash Wednesday the following year. While there are special events that happen throughout this whole period, the serious partying doesn't start till the Thursday before Ash Wednesday.
I landed in Düsseldorf on the Thursday morning when their Karneval celebrations start. After an easy flight from NYC, I checked into my hotel, took a shower, and quickly made my way to the heart of the action. I walked to Marktplatz or the city's central square where the Karneval festivities officially begin. I had seen photos of scantily clad women and people partying in Rio and NOLA before, but as I walked down the cobbled streets of Düsseldorf, I noticed Germany was on its own program. A friend of mine texted me and asked me what it was like – I said, "It's like Mardi Gras x German Halloween."
Walking through Altstadt or the city's old quarter and stalls were already set up to help everyone get turnt.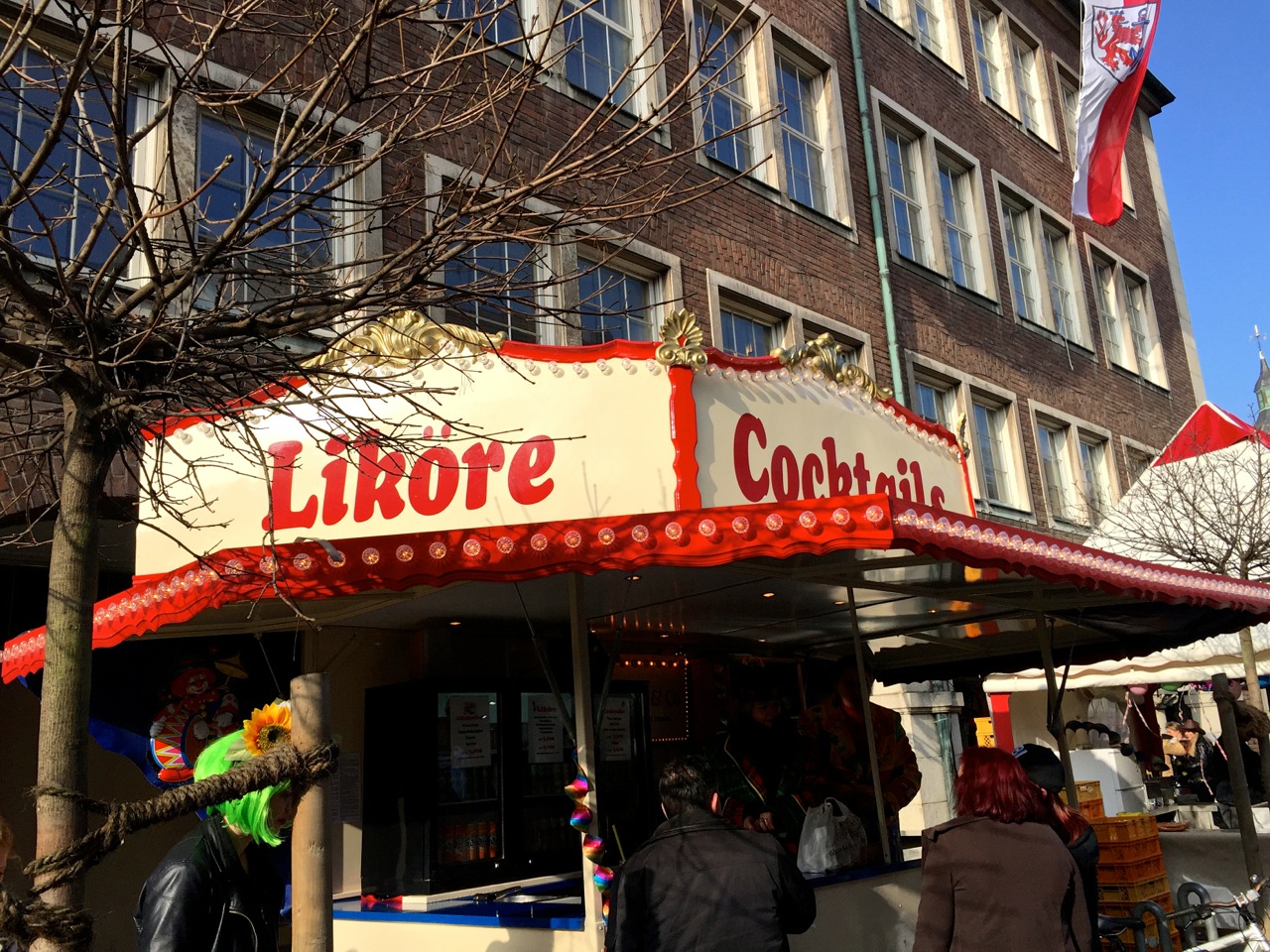 Düsseldorf's Marktplatz and a couple of smurfs.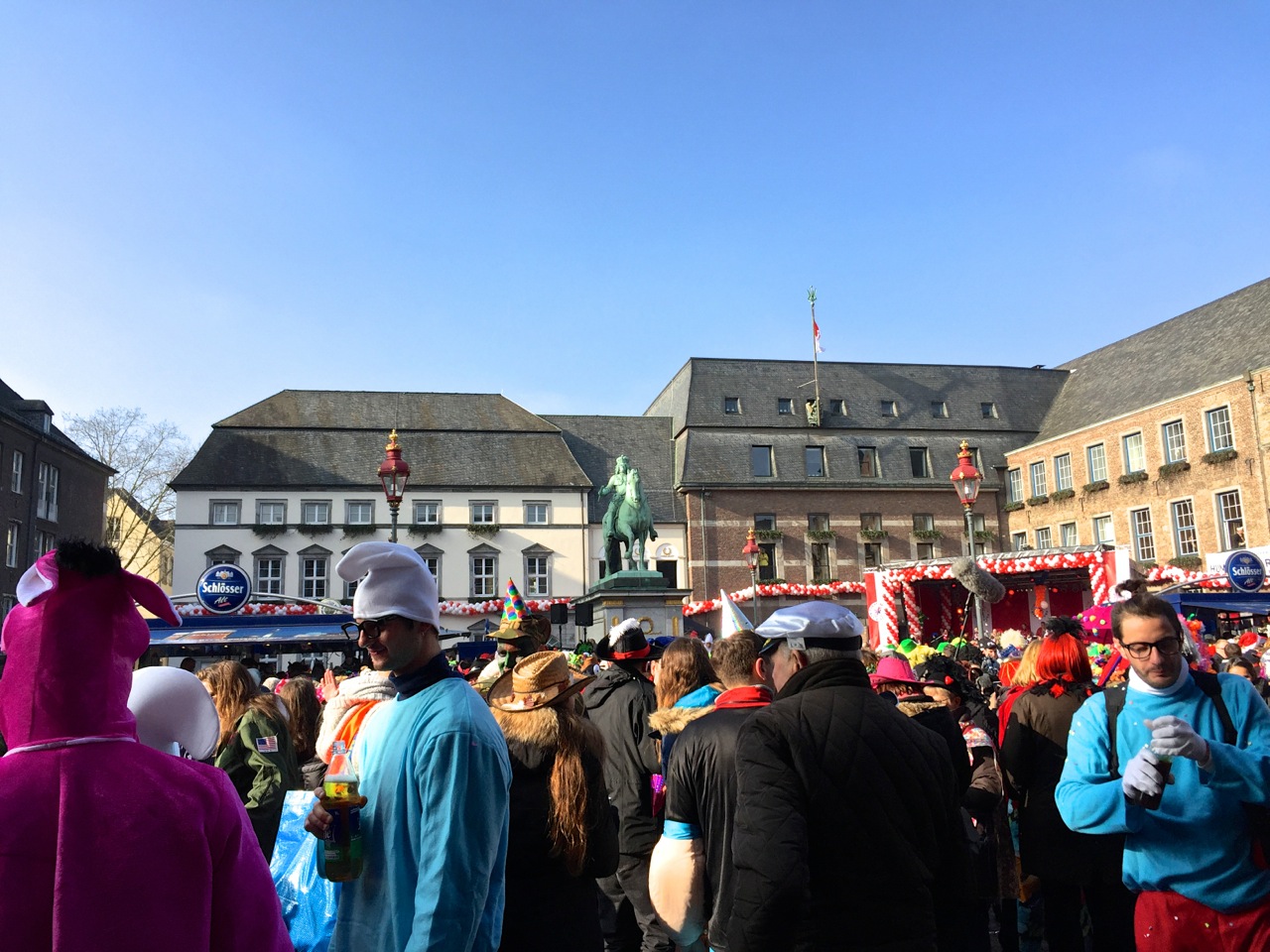 A sea of Karneval-goers in Marktplatz drinking and merry making.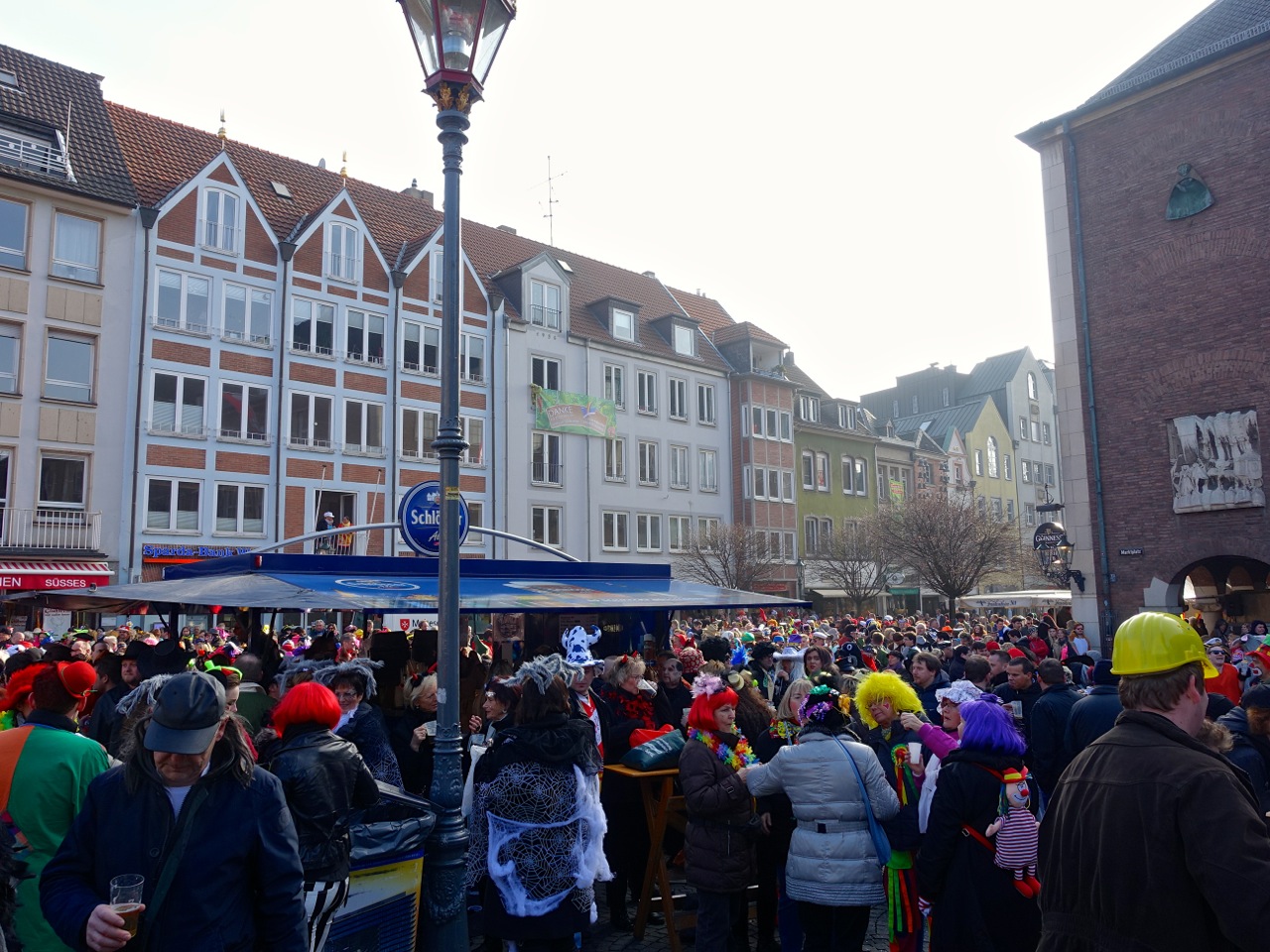 Every corner I turned… costumes.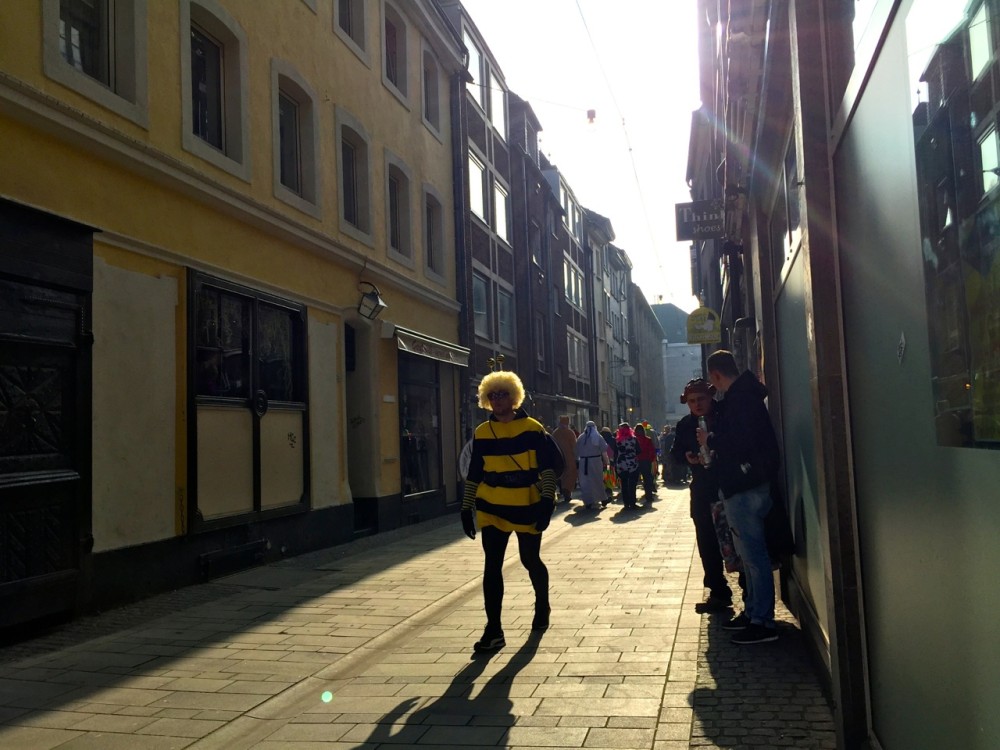 And um…more (what a dick!).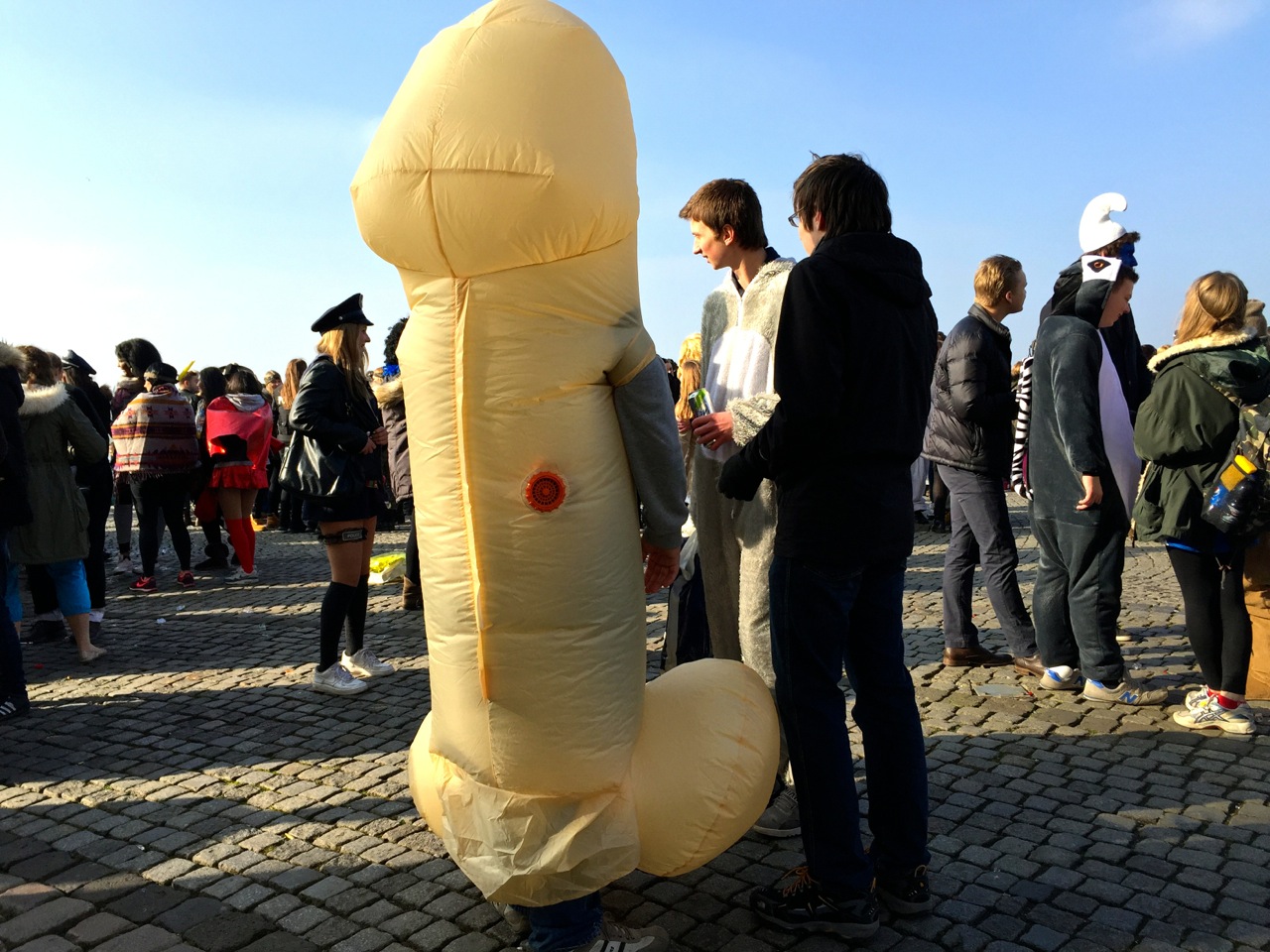 There were even American-style costumes or maybe that's how he dressed.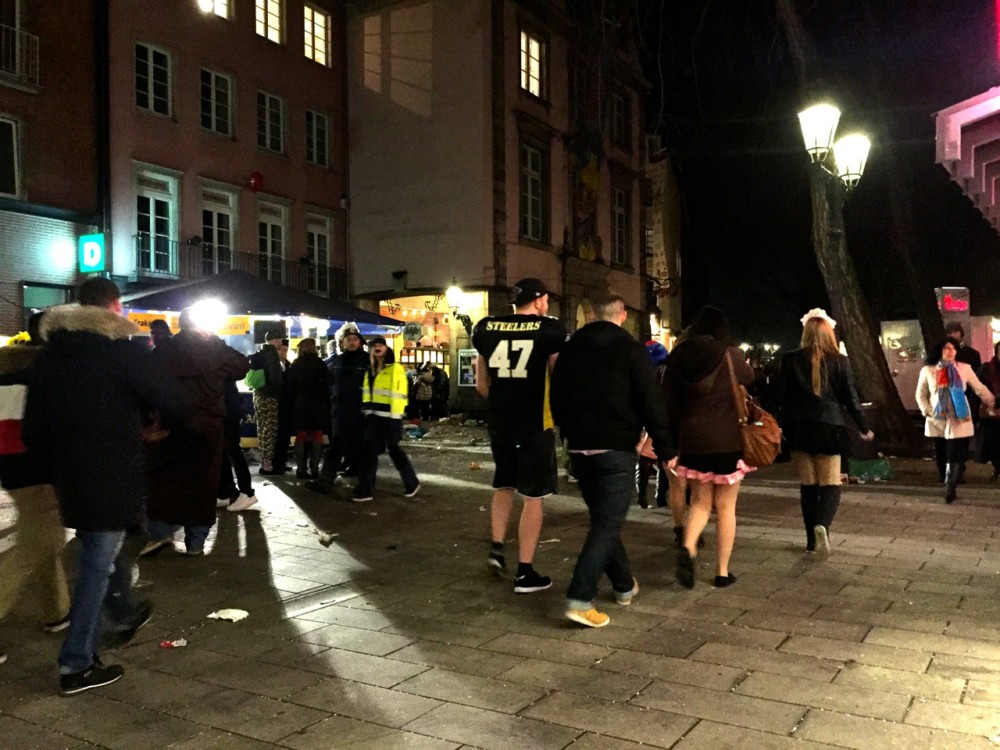 I spent most of Friday exploring Düsseldorf so I didn't participate in any Karneval celebrations. The party definitely kept going though. On the Saturday morning, I went on a brewery tour that took me through Altstadt (old quarter) and people were drinking like it was night time. We popped into a Karneval tent and people young and old were getting their good time on.
Inside a tent for the Karnival Komitee Onger Ons.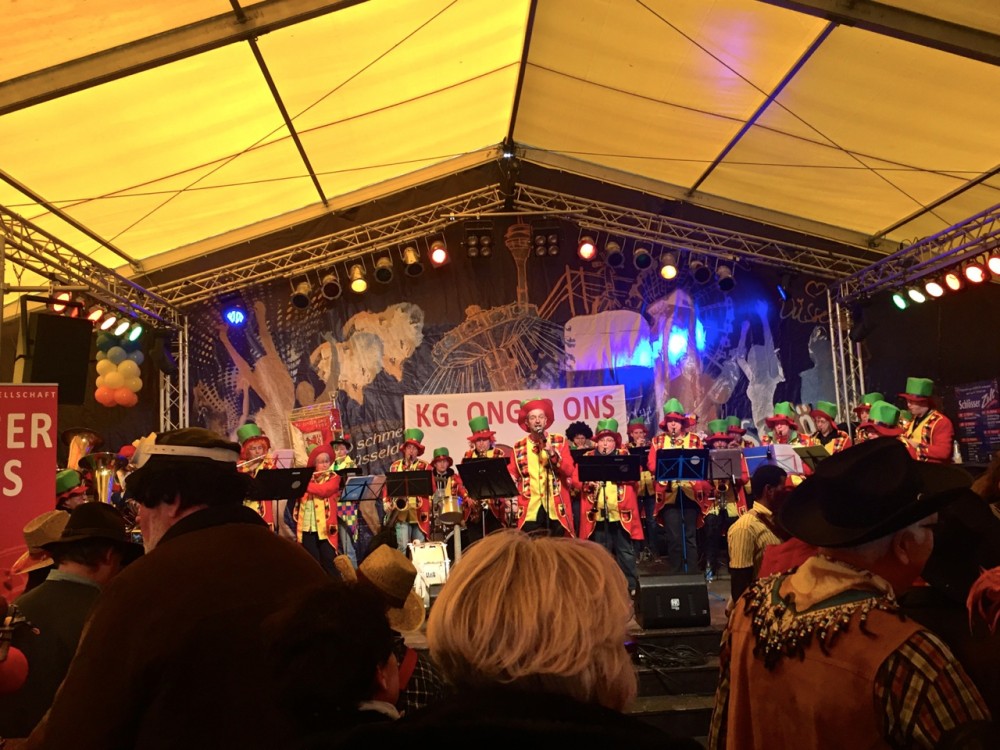 Saturday evening I went to a drag queen show called Tunte Lauf at a club called Nachtresidenz. It's an annual event where drag queens get all decked out in a costume, put on their highest heels, have a walk off, and try and win the title of the Supertunte or Super Queen. The race has been going on since 1995 and become one of the most popular events of Karneval weekend. Click here for a short video I made of the night.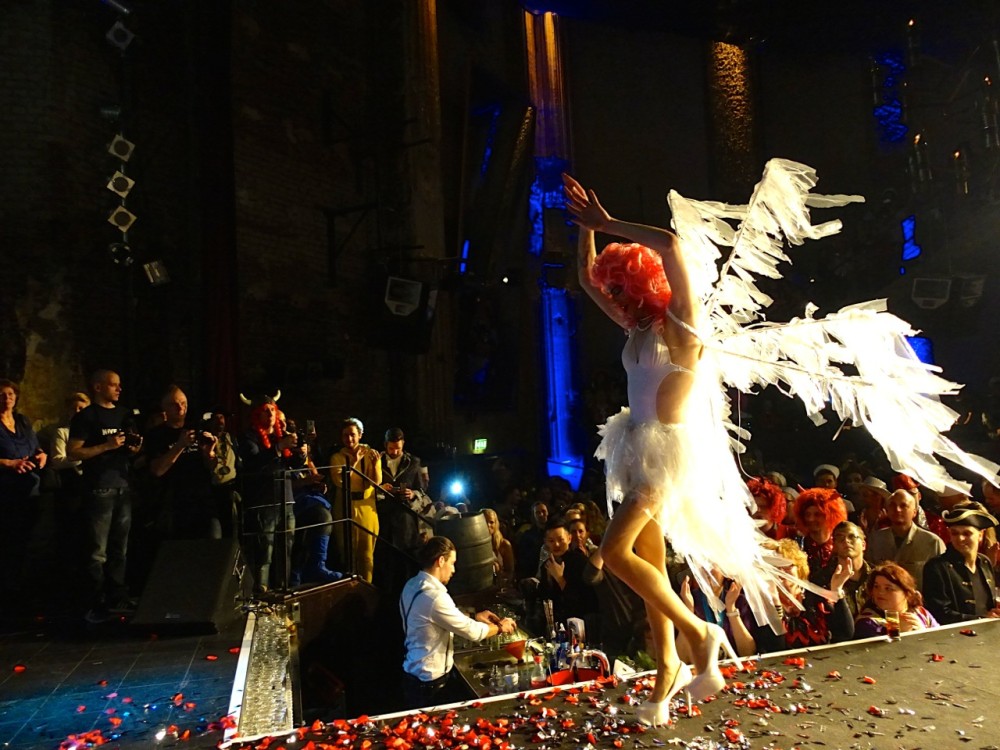 Tunte Lauf
After the drag race, my friends and I ventured into Altstadt. It's the old quarter in Dusseldorf and it's known as the longest bar in the world with some 300 bars and clubs beside each other. We drank copious amounts of altbier, the local beer, and bar hopped. After a while, I wasn't getting drunk so I moved on to bourbon.
On Sunday morning I spent most of the morning trying to motivate myself to get up and check out the city. All the altbier and bourbon I drank caught up with me. If you want to celebrate Karneval on this day, all the partying happens on Königsallee, which is a popular shopping boulevard in Dusseldorf. The shops are closed and even boarded up for a big street party and you'll see street food and alcohol stalls set up and people dancing in the street.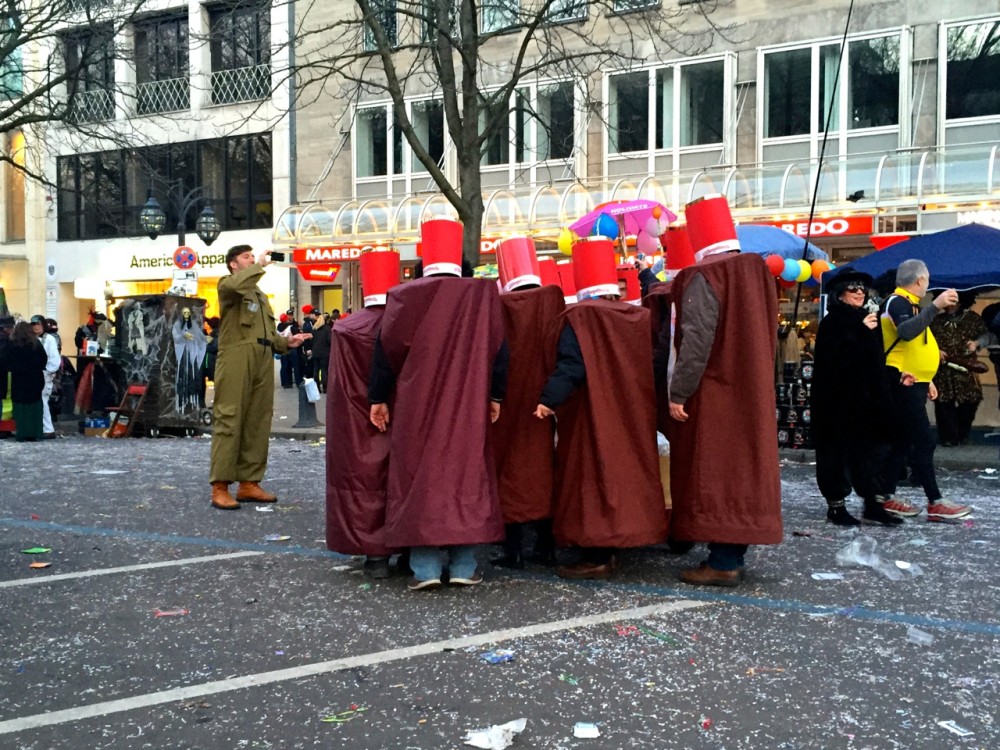 They love group costumes in Germany!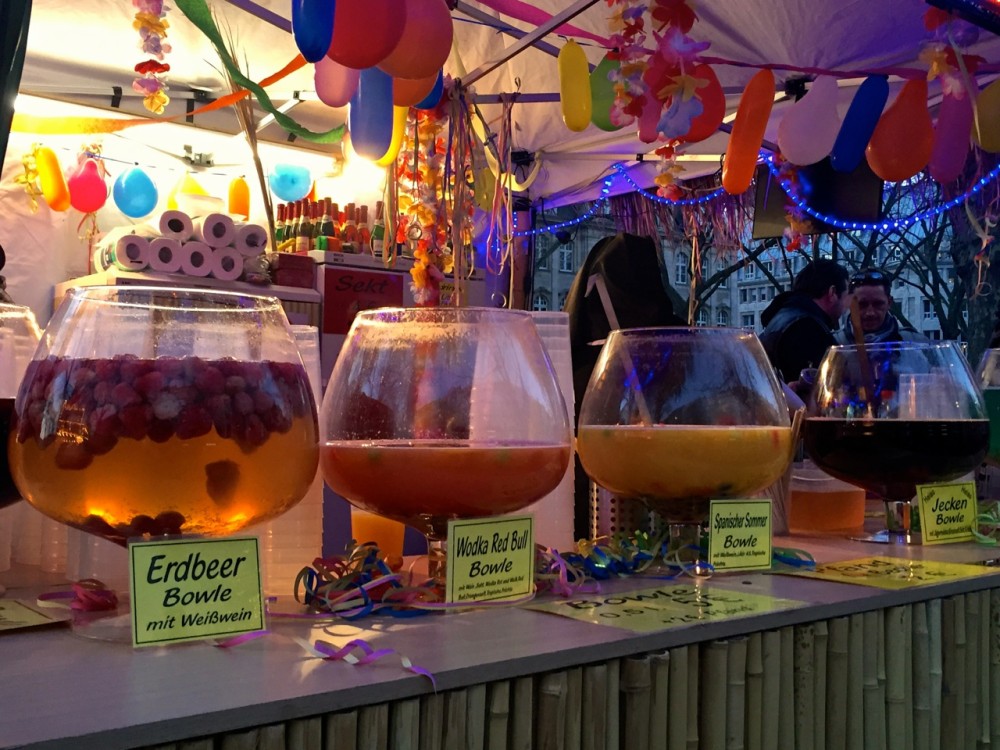 You can get your drank on in the streets of Düsseldorf during Karneval.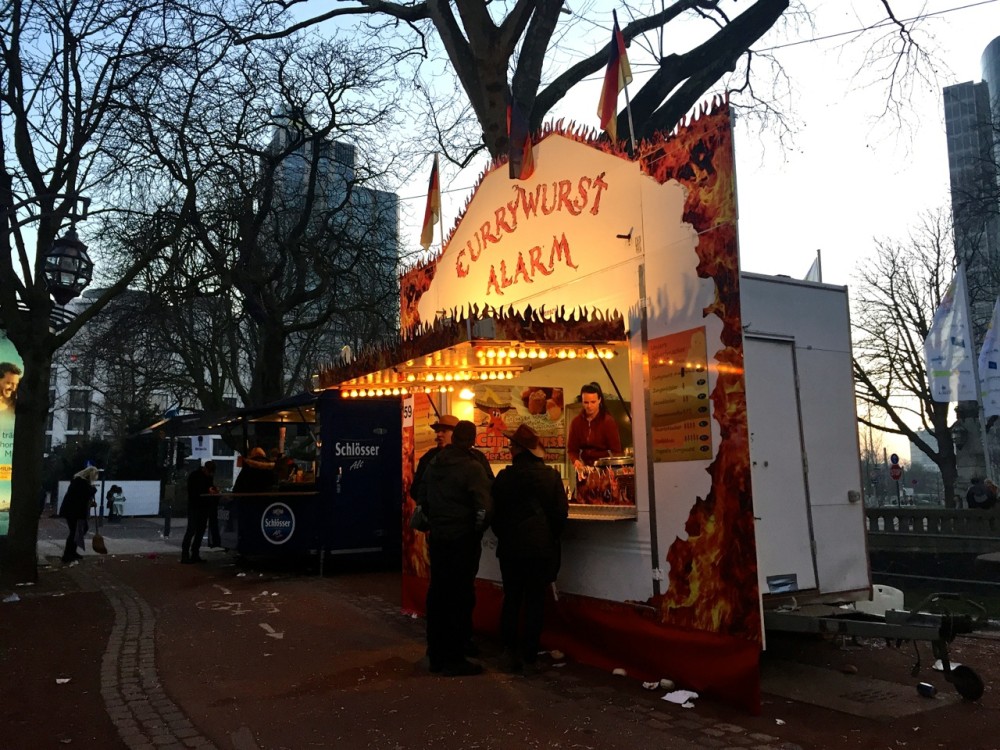 German street food, hollaaaaaa.
Monday is when the serious festivities happen. This day is called Rosenmontagszug or Rose Monday or also known as Shrove Monday. There's a lot of throwback to Christianity but all of that is pretty much lost in most Carnival and Mardi Gras celebrations these days. This was the pinnacle of my trip because I got to celebrate with the local tourism board, Visit Dusseldorf. Myself and the group I was traveling with were asked to be a part of their parade float. I photographed a handful of the parade floats because they are so different from the ones you see in North America. Many of the floats from the Dusseldorf parade (as well ones from other German cities I've seen) are very political. One city in northern Germany cancelled their parade this year due to terrorist threats.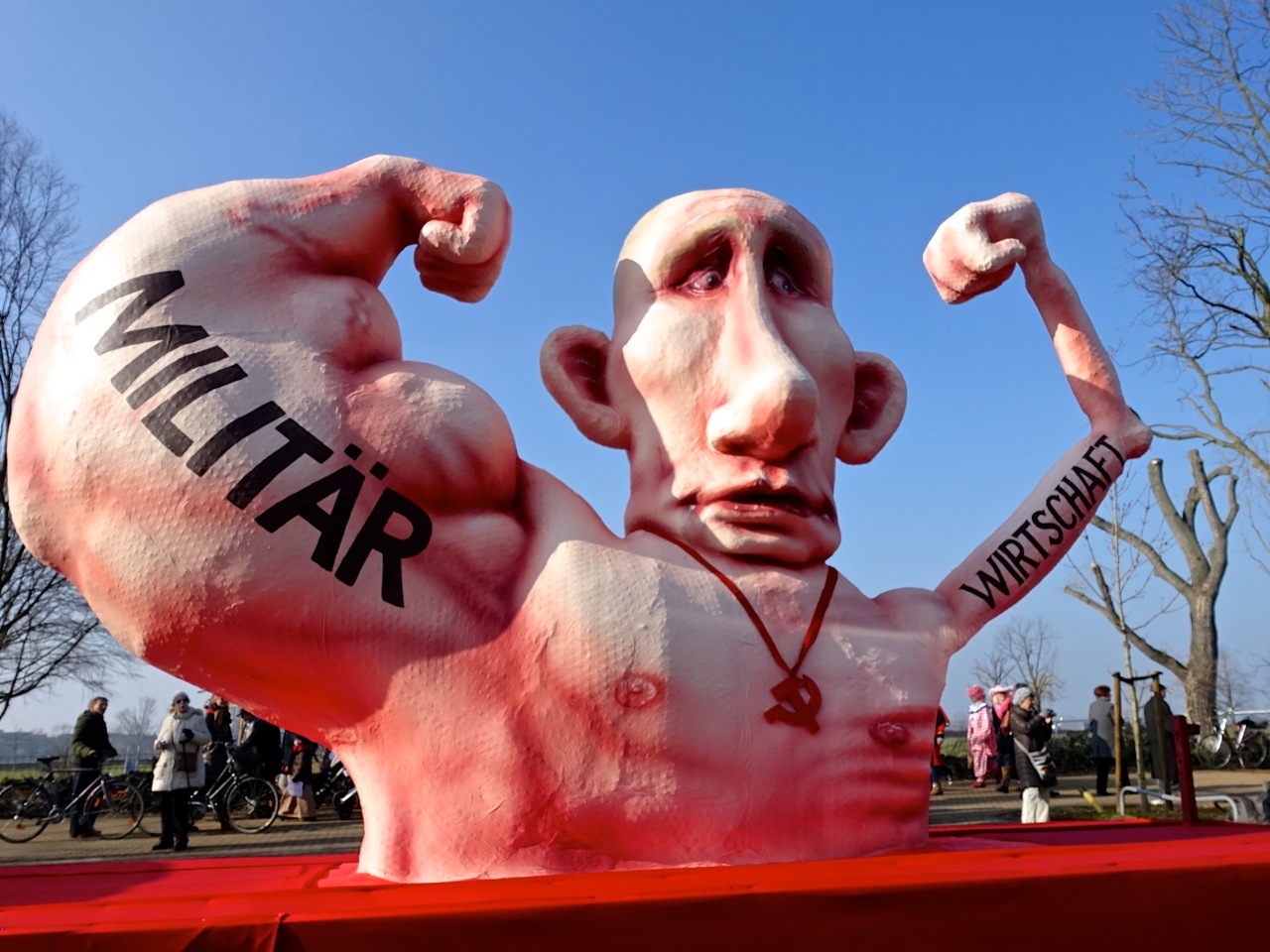 Big muscle on the left is military, on the right, economy.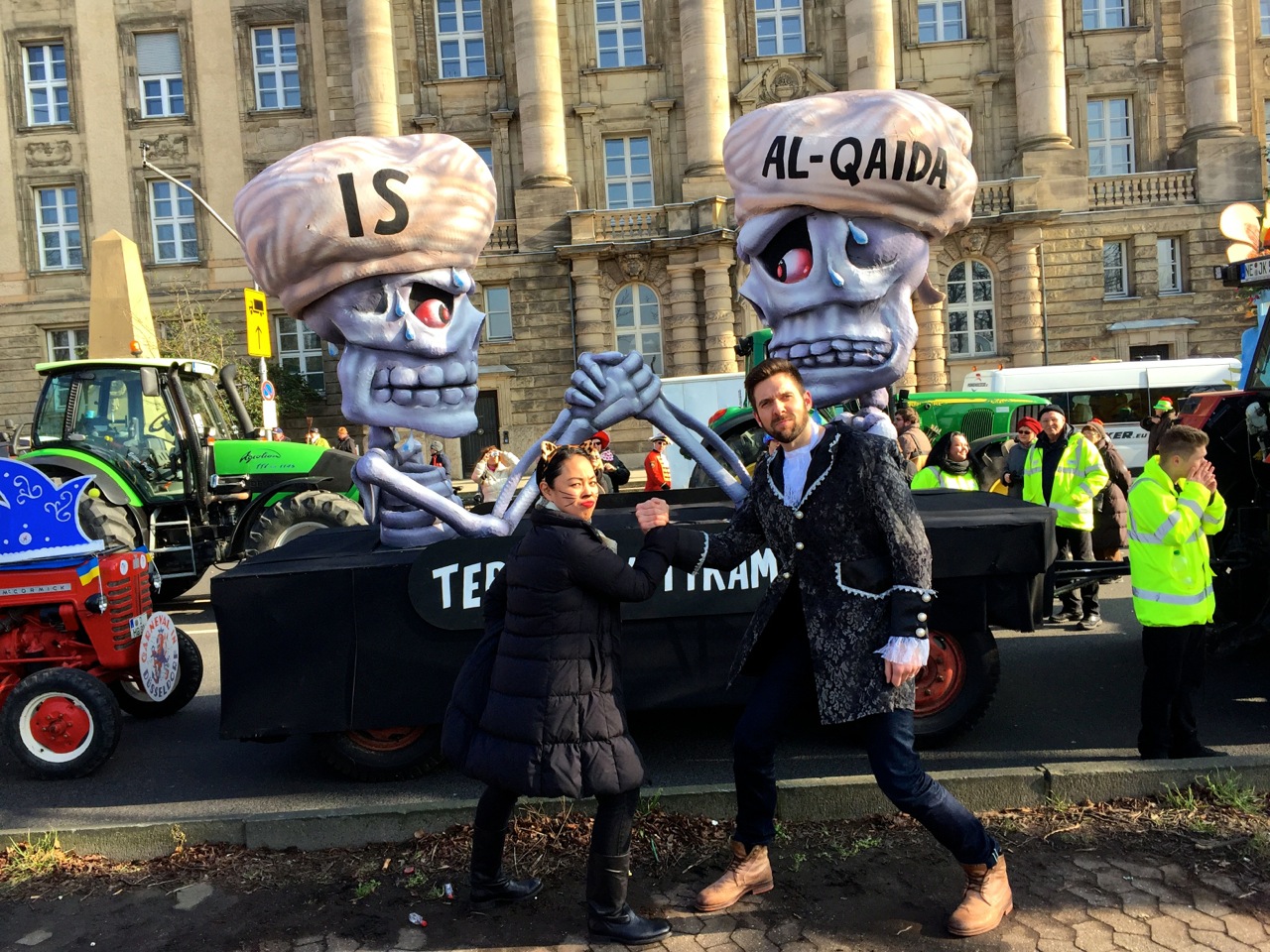 My friend Clint and I in front of a float depicting Isis and Al Qaeda. I'm sure I've been flagged by the NSA.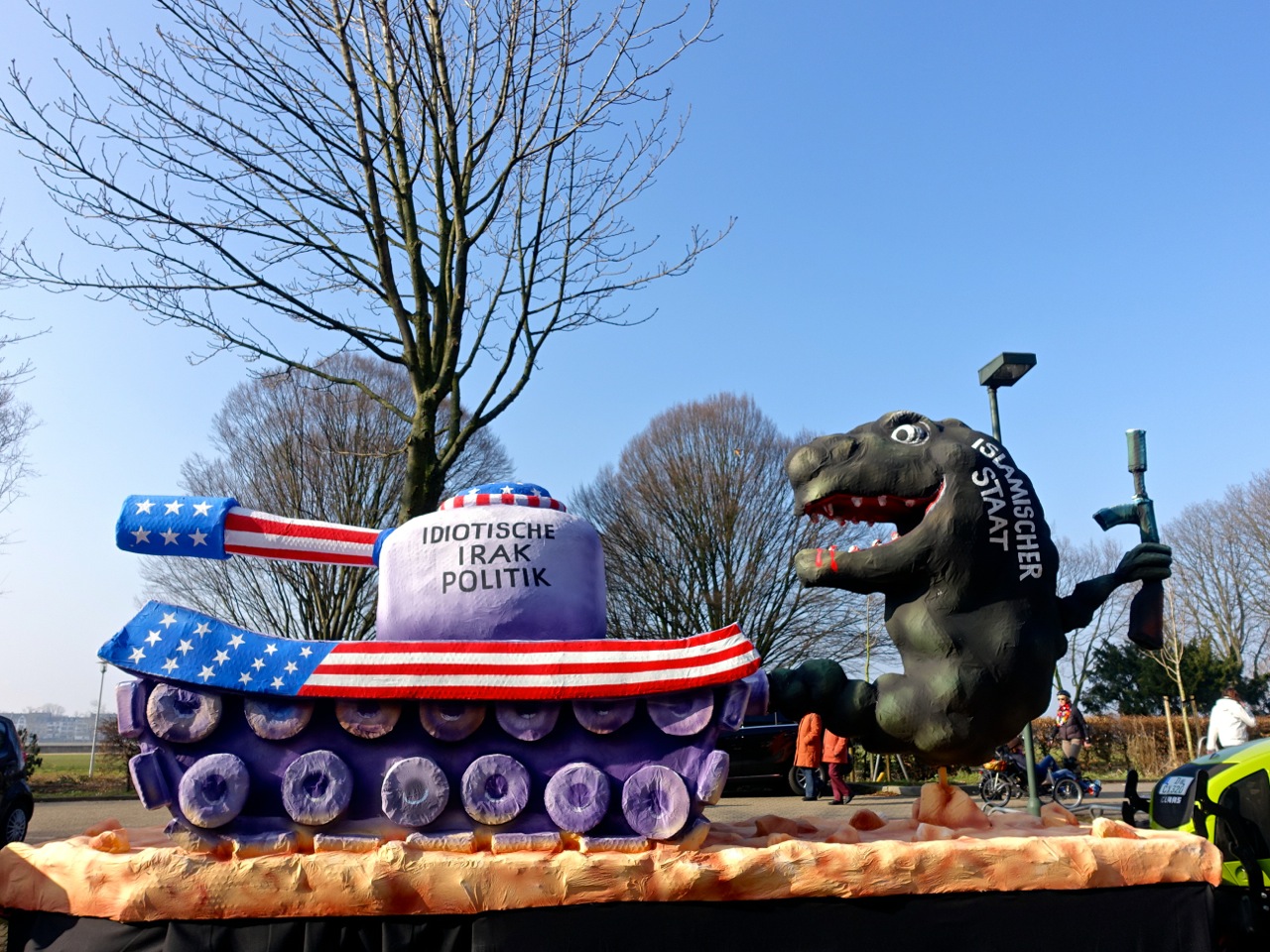 The tank is Idiotic Iraq Politics on the left and Islamic countries on the right.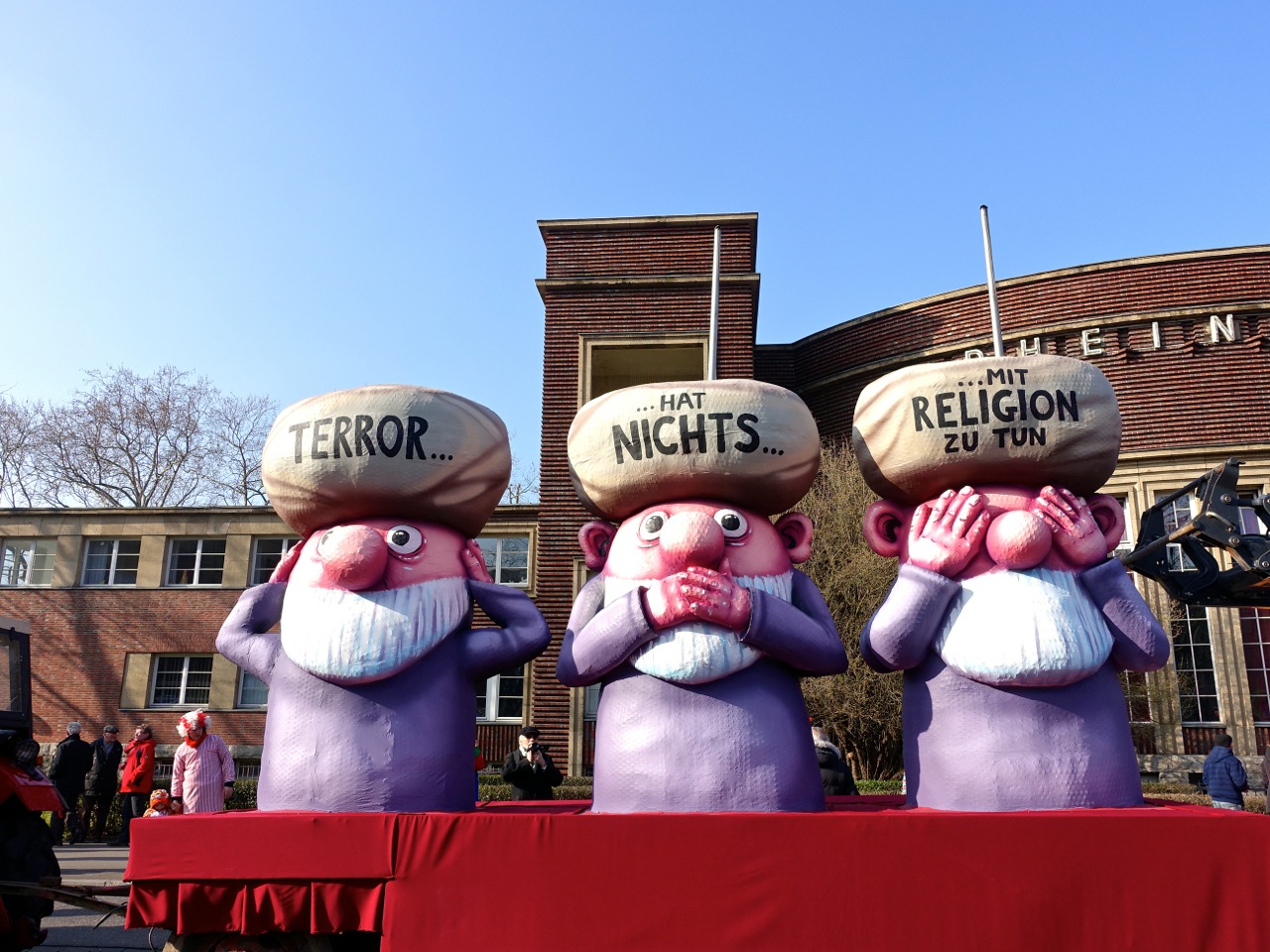 Terror has nothing to do with religion.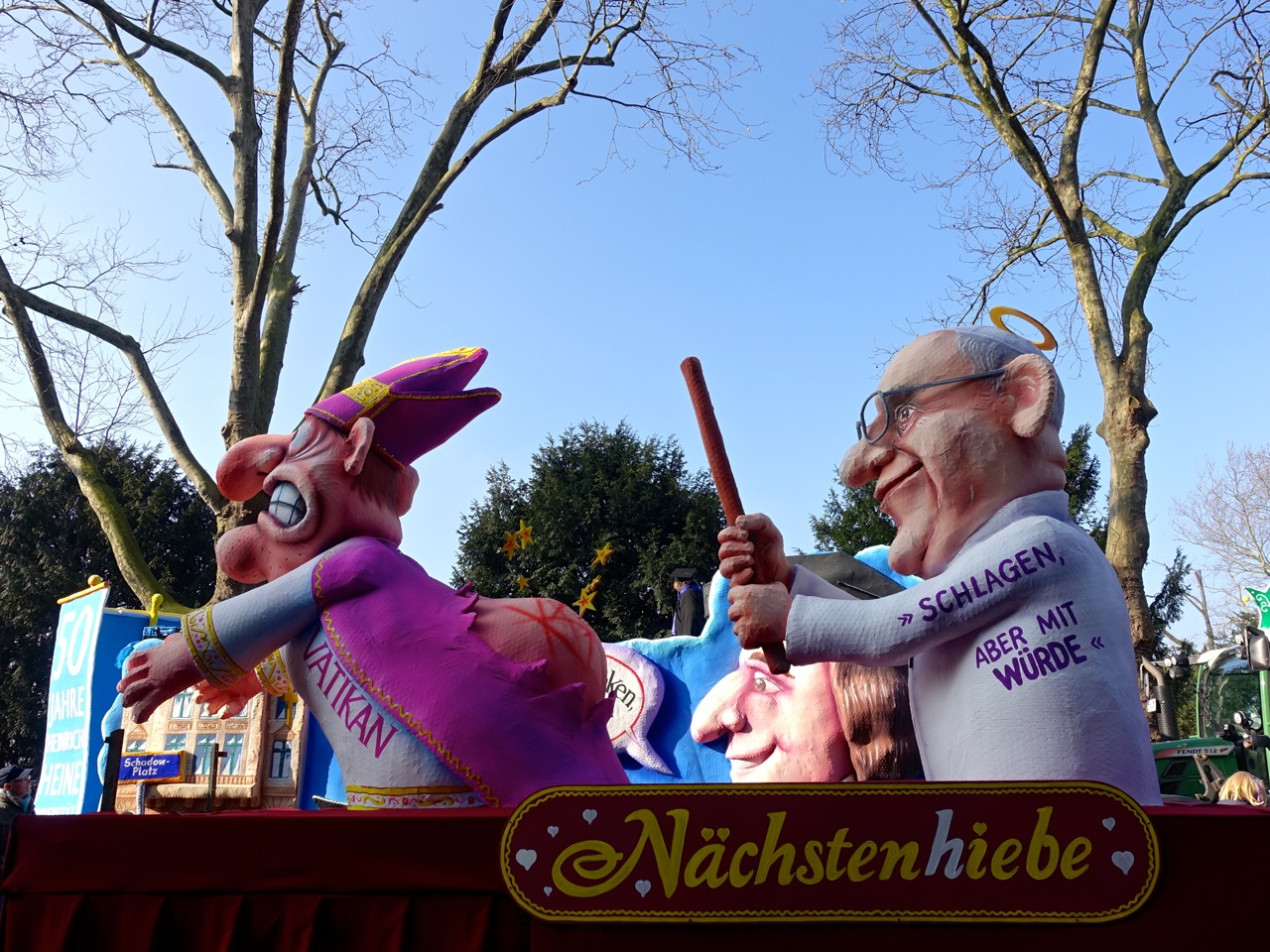 I am just using Google translate but: "Vatican was hit with."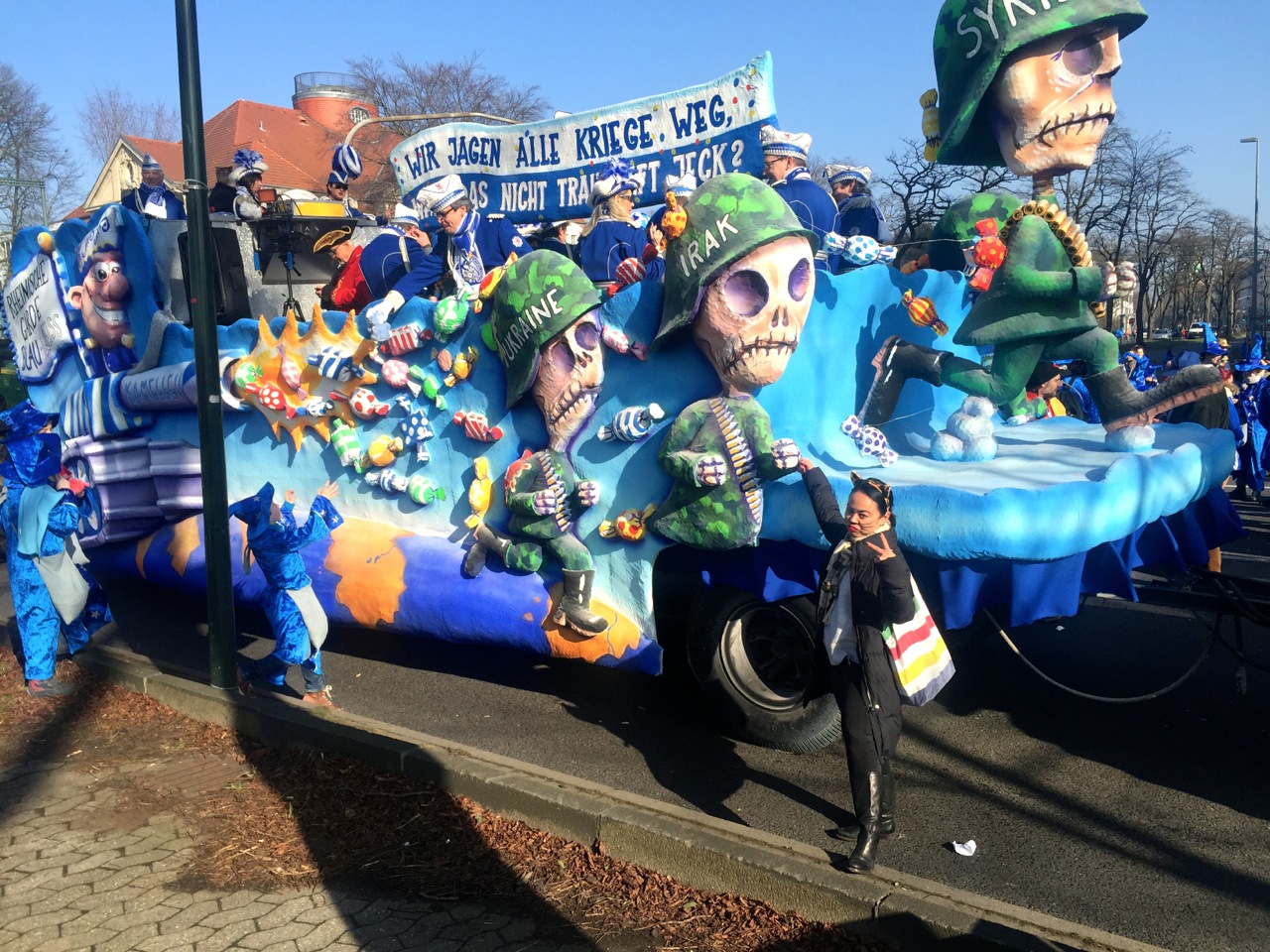 You know me.. .just trying to get flagged.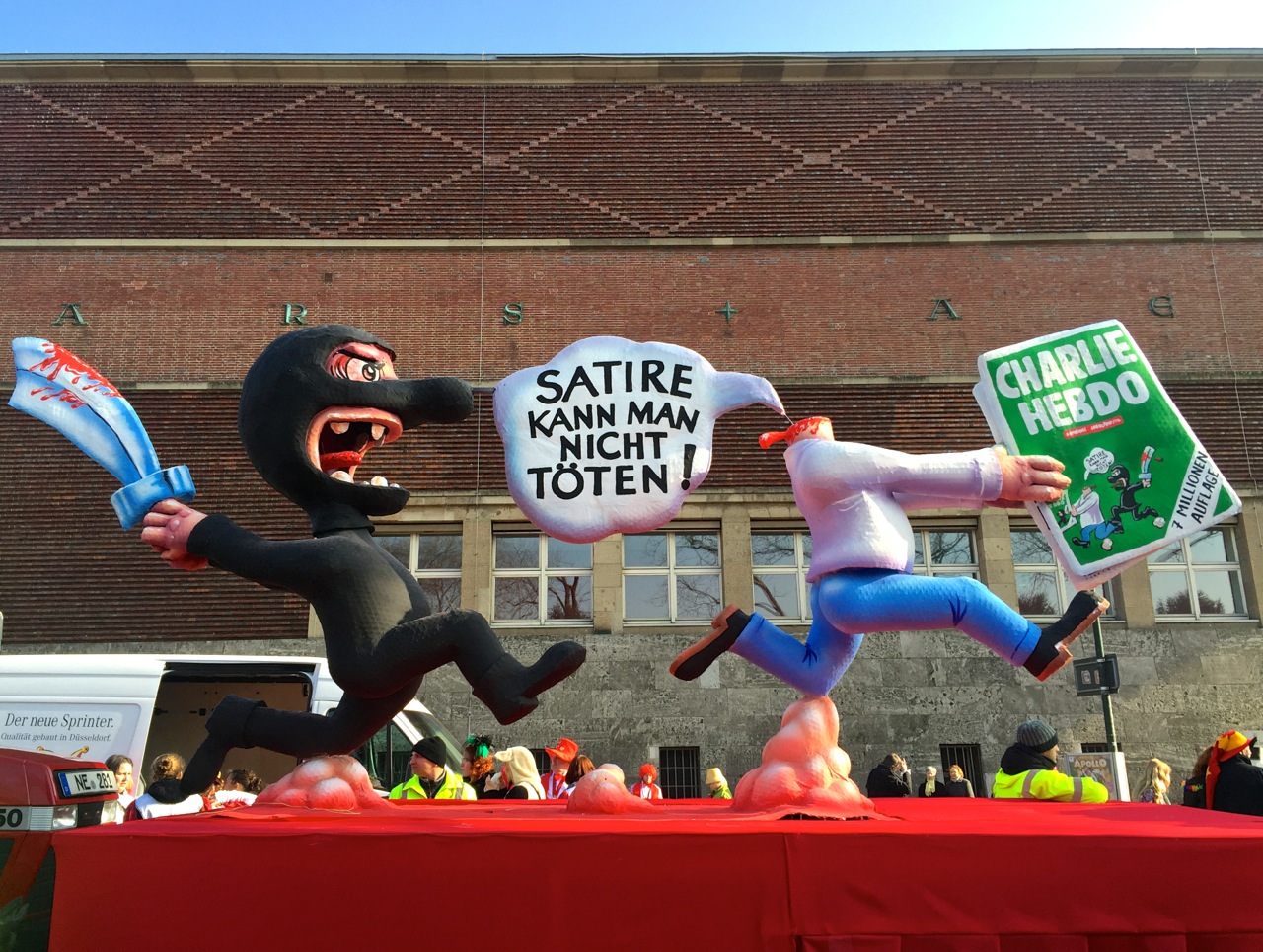 Satire cannot kill you with the Charlie Hebdo reference.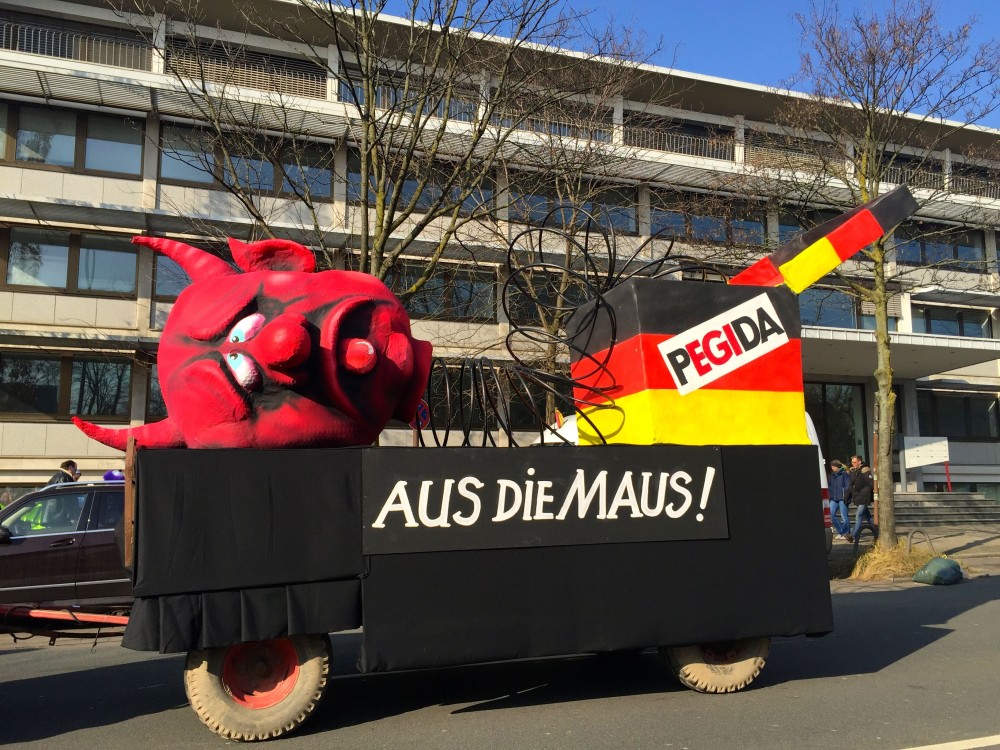 This is a float depicting Pegida and translates to "from the mouse." Pegida is an anti-Islamic group in Europe.
Besides all of the political themes of the floats and some threats in other cities, the parade was very safe and family-friendly. People line the streets and yelled out Helau! which is the Dusseldorf Karneval greeting. People, especially the children, wait for "kamelle" or sweets to be tossed from the floats. I did that for several hours which was super fun and a good workout for my arm.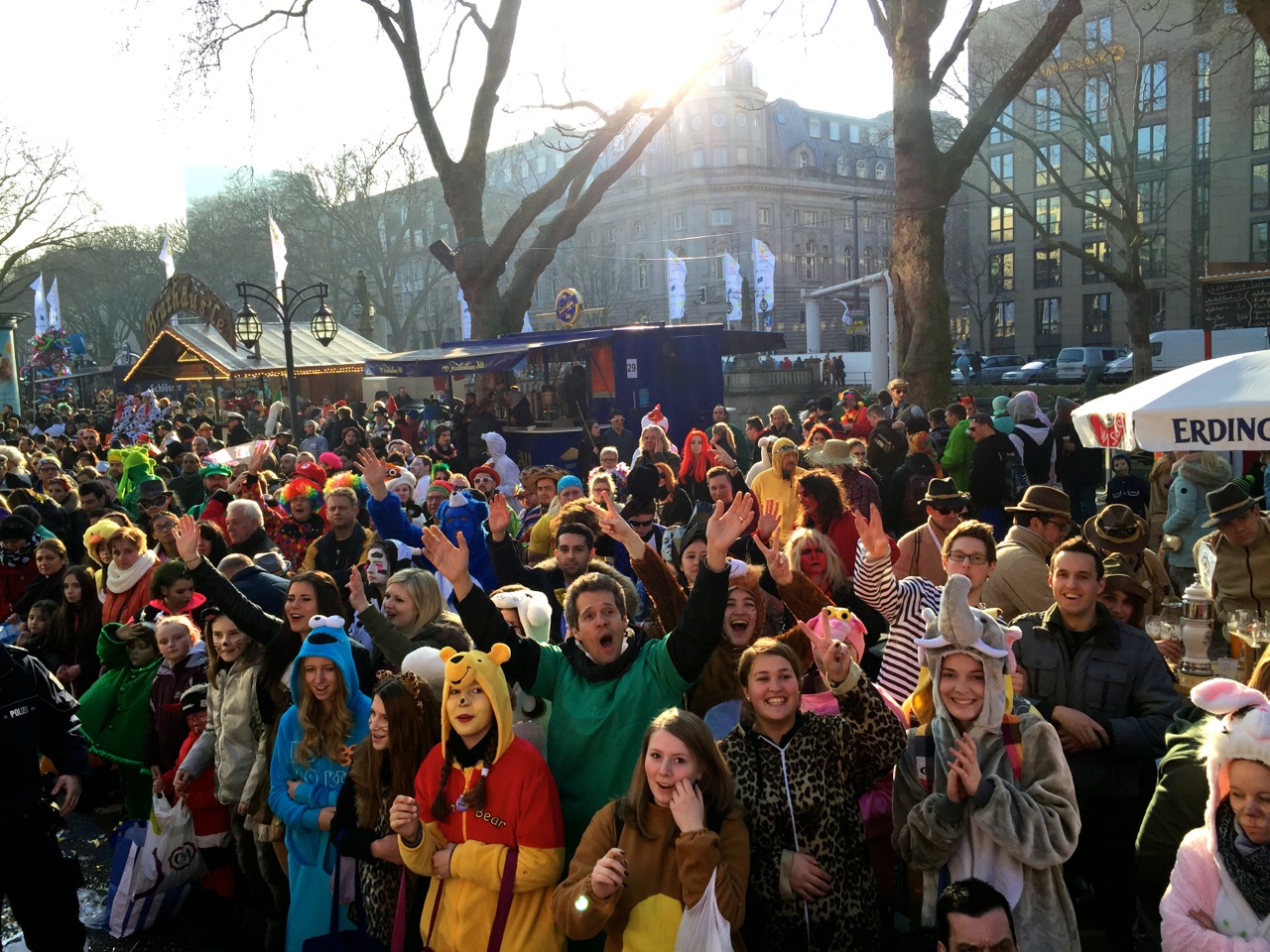 Snapshots of the streets lined with people.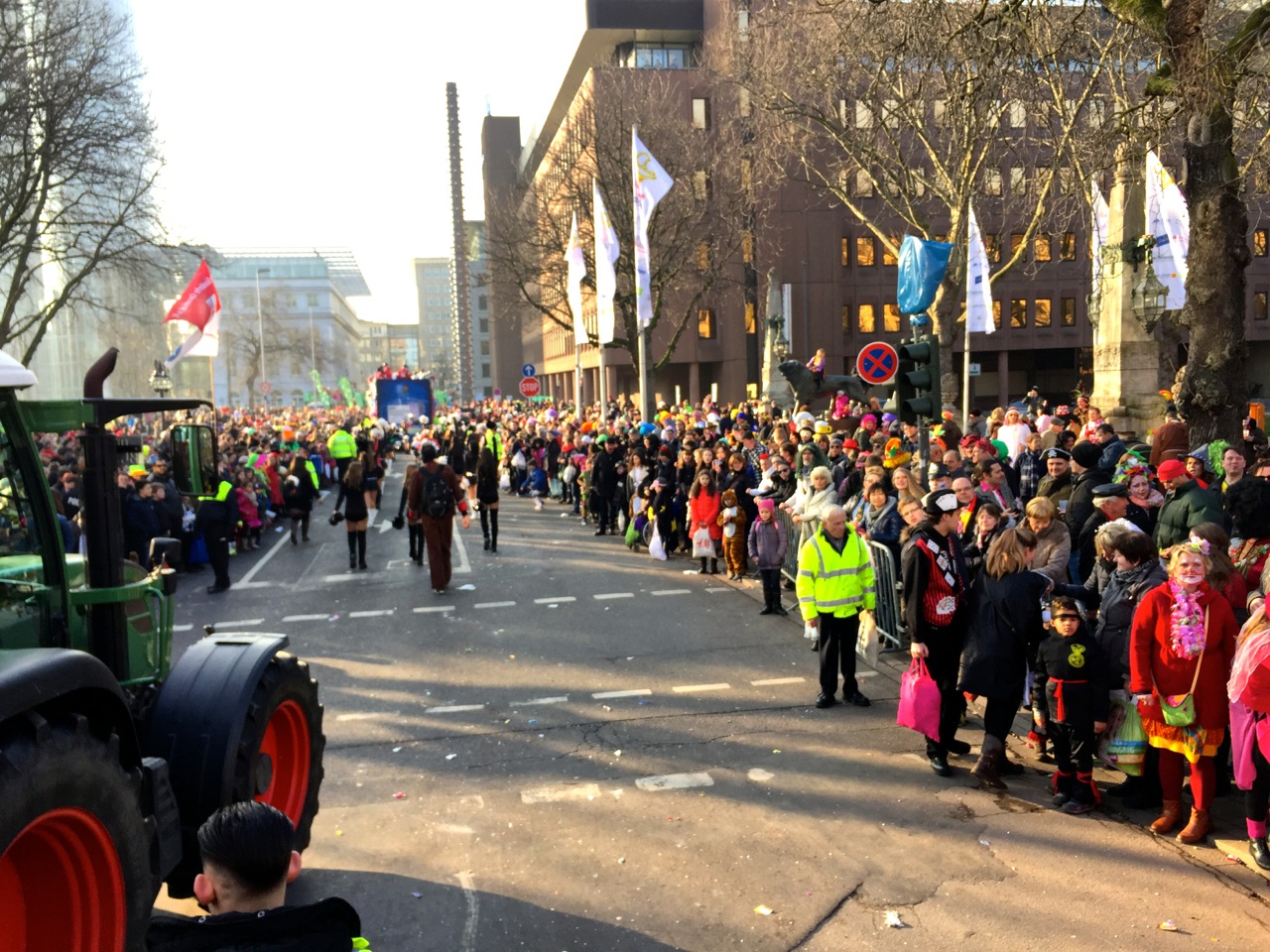 And more
The trip was hype and it was a good entry into the world of Karneval celebrations. Düsseldorf often gets overshadowed by other German cities like its neighbor Cologne, but I was impressed by their Karneval and would definitely go back again. 
I've always wanted to be a hip-hop video so I made an edit about what it's like on a Karneval float here. .