Along with funny man Dan Levy, I co-host a monthly comedy show at the NerdMelt theater in Hollywood, where we invite three of our funniest friends over to interview a child between the ages of 7-11 years old, all in front of a live audience. We've had some amazing people join in on the fun, including John Mulaney, Whitney Cummings, Chelsea Peretti and TJ Miller. Billy Eichner even told a 7-year-old to "fuck off" once. Considering the all-stars we've had stop by over the past year, we still seem to credit one comedian with being our overall MVP. His name isn't quite recognizable yet, but I also don't know anyone else with more shit in the pipeline than Julian McCullough. What makes Julian so unique is his ability to think on his toes AND write stellar material at the same time. Some people are just good at crowd work – some are just good at improvisational roundtable stuff and other focus on written word. Julian has seemed to excel in all three areas. To be honest, I've actually never worked with someone that seems quicker than him. Whenever he participates on Baby Talk, I sort of just sit back, mouth wide open, shocked at how quickly he forms jokes on the fly. It's hard to fight back the hatred for a skill like that, but he's also just a nice dude.
He can constantly be seen in the regular LA stand-up rooms, but that won't last long, because he's about to be VERY busy. So before he starts ignoring my emails, I decided to ask him some questions for The Hundreds and find out exactly what a full comedy schedule sounds like.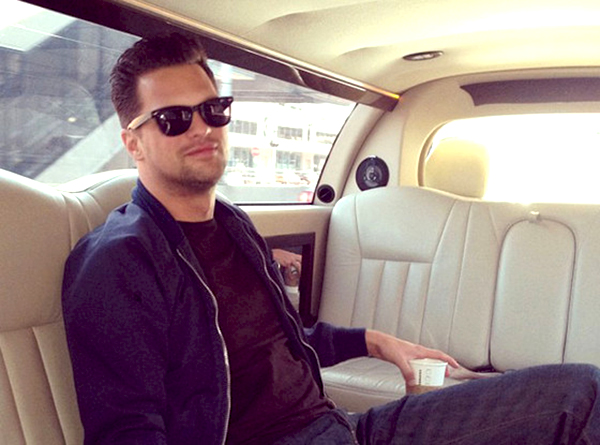 JENSEN KARP: You just spent almost a month in Scotland, in Edinburgh, performing a show basically everyday as part of the Fringe Festival. I assume that's like if the movie Groundhog Day and Lost In Translation had a baby. Was it a fun experience?
JULIAN MCCULLOUGH: It was an artistic success (5 Stars in the Mirror!) and a commercial failure (5-20 tix sold per night!). I had fun because it wasn't my stand-up, it was one long story that I punched up every night for a month. Scotland is crazy, food wise. It's disgusting in the best way. All their food is hangover food.
The show was mostly about your past failed relationships. Did you feel like heartbreak is sort of universally understood, no matter what country you're in?
Oh yeah, the few people who came out absolutely loved the show and most of them wanted to talk to me afterwards, which seldom happens with my stand up.
How did you get on stage to do stand-up for the first time?
I got a job seating the room at the Stress Factory Comedy Club in New Brunswick, NJ, while in college. The owner, Vinnie Brand, knew I wanted to do it and made me go on in front of a sold out Friday night crowd. It was the worst experience of my life. That night I couldn't even sleep in my own bed. I drank a bottle of vodka in my roommate's bed and passed out.
Do you remember a certain moment doing stand-up when you realized you were getting comfortable and funny?
When I stopped doing jokes and started with crowd work. My natural state was much funnier than my joke writing for, like, 3 years.
What is appearing on This American Life like?
It's probably the thing I'm most proud of because I didn't hold back in either of those stories. They are very personal. And TAL is like the gold standard for storytelling, so I was beyond honored that they wanted me on their show. I didn't even go to Harvard!
Some people may know you as a roundtable panelist on what was Chelsea Lately or from MTV2's Guy Code, but you're currently working on two pilots over at E! that is quite a way to hedge your bets…
Yeah, moving on from Chelsea and Guy Code is a little sad, but that's kind of the point of those shows anyway. I am going to miss my Guy Code fans, because they are more often than not black teens, and nothing makes you feel cooler than getting your picture taken with black teens. The E! pilots sound amazing on paper, but they filmed like 10 pilots, so my odds are still long.
Last week it was announced that Ed Helms is going to produce a sitcom called Poor House you created that's inspired by your childhood, 'cause you can't stop making big deals now. What can you tell us about the show?
It's about me starting high school as a new kid in Moorestown, NJ, which is one of the wealthiest towns in America and we were super poor. So it was like an '80s movie, but nobody knew karate.
Can you tell the difference between your Chelsea Lately fans and your This American Life fans?
Hahaha. Nice try, Jensen.
Who is your favorite person to open for?
The two guys that helped the most in the beginning were Dave Attell and Colin Quinn. And I would argue that between those two, you can learn literally everything you'd ever need to know about comedy, being funny, and the business. You could also learn how to end up alone forever. JK! Love those guys. But they are alone.
How has your act changed since you had a baby?
I have some jokes about my baby, but not that many. It's so well-tread, it's taking me awhile to find the personal ways that people haven't heard a hundred times already.
A lot of your stand up is about the many women you dated before settling down. How did you know your wife was "the one?"
From dating all those women.
Has she ever thought a joke went over the line or was too personal?
When we started dating, she told me she was not going to be cool with "take my wife…" jokes. A lot of purists will tell you that's bullshit because comics shouldn't be censored. But the truth is, I know a lot of comics who did pretty mean material about their wives for awhile and then got divorced, so the whole "it's just a joke" argument doesn't totally hold up. But you know what else? I haven't even thought of many anyway. And certainly none that felt truly original.
What's your least favorite city to do stand-up in?
Any town where you have to walk 3 miles on the side of a highway to get to a CVS. Mainly Jacksonville, Florida.
Do you remember your first VERY hard laugh? Like the uncontrollable kind?
I saw the Harlem Globetrotters when I was six years old. I thought I was going to have to go to the hospital.
You were part of a 4-person squad that was booking and performing at a monthly show called Church and then the venue was instantly shut down. What's your understanding of what happened? And if you had to book your perfect show, who would be on it?
My understanding is they never got the permits to exist and so the cops were like, "You don't exist."
But we're at UCB now and our next show is on September 28th with the Lucas Bros and Chelsea Peretti. Come out! Also with Sean O'Connor, Beth Stelling, and Brent Sullivan!
My perfect show would be in this order:
Host: Paul F. Tompkins
1. Colin Quinn
2. Norm MacDonald
3. Maria Bamford
4. Bill Burr
5. Patrice O'Neal
Everybody does an hour.
::
You can follow Julian at @julezmac, where he'll let you know all the places he'll be telling jokes, and which of his dozens of TV projects you'll need to tune into.