Last Friday I met up with a couple of homies, including The Hundreds Norway's Godfather, Niclas of Icon Distribution, and Norway's DJ duo of the decade Juicy. The homie Snaasa completed the table at Taco Republica. The food was pretty good. Almost, just almost, like eating in the US. S/O to their salsa verde and chilaquiles. And of course the artwork in the spot by the great UglyLogo. While partaking on the food, we talked a bit about this Friday's crazy party – the 10 years of Juicy party! The duo has gone at it for 10 years, and are probably responsible for the most historic parties in Norway ever! This weekend will be nothing different. For the occasion they have Cam'ron coming in from Harlem, Norway's finest entertainers, and DJs from around the globe. They even got limited edition memorabilia for the event. This will be another one for the books. Niclas also found some time to do a little interview with the vets below.
It's about to go down.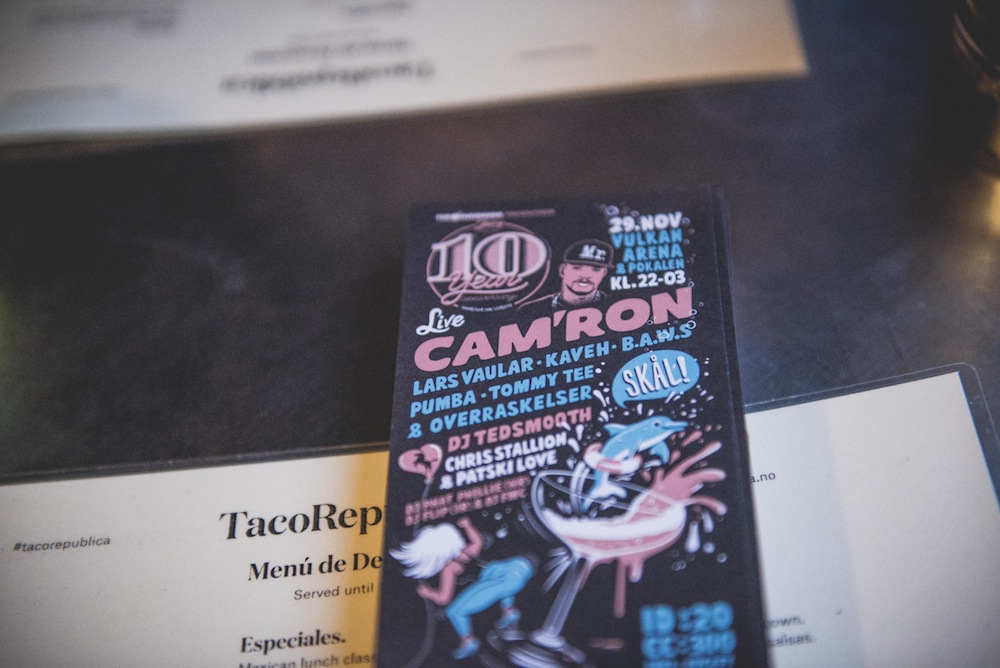 NICLAS LARSEN: For all those people that will read this interview, tell me a little about who you are and where Juicy came from.
JUICY: Well, basically we are both rappers who also had passion for club culture, DJ'ing and more or less the same taste in music. Patski Love was a part of the multi-platinum selling group Multicyde, and Chris Stallion was one of the rappers in the live rap group Oslo Fluid. Around 2003, we started playing gigs together and in 2004, we started Juicy. The name is of course a bow to the late, great The Notorious B.I.G. and a excuse to play "Juicy" at every party we did.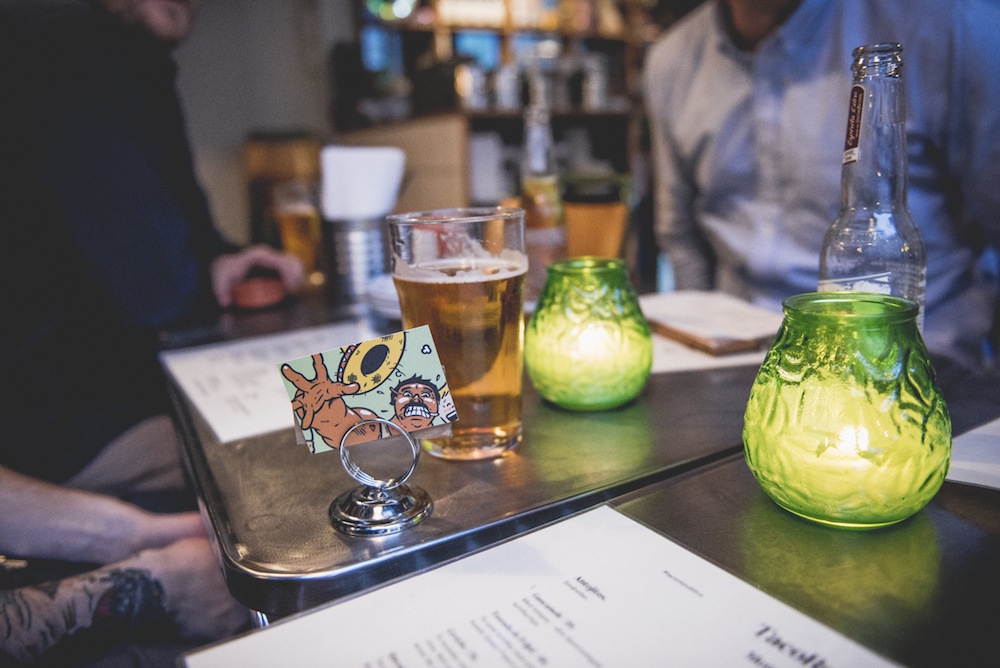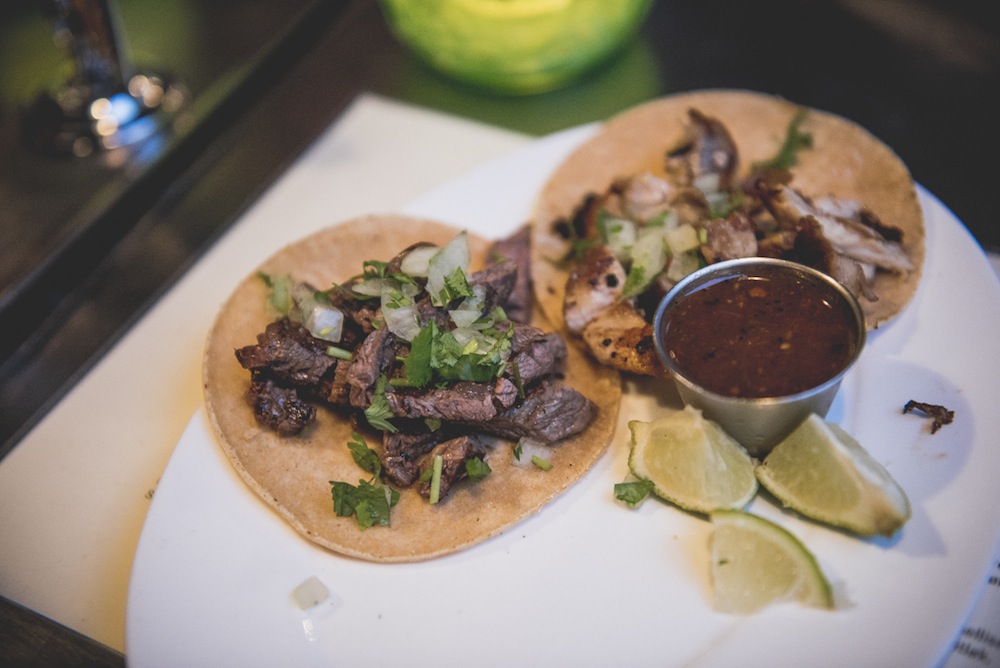 10 years on the clubbing scene is pretty unique for Norway. How have you been able push your concept forward through all these years? You have also been pretty true to the same venue Blaa.
Music, of course, is our main passion and we've always wanted to bring something new to the table. When you do something you're passionate about, I guess you don't really consider it as work. But that being said, we have worked extremely hard to get to where we are today. From the first big international DJ we booked in 2004, DJ Jus Ske (Star Trak/N*E*R*D/Pharrell), where we had to sell his mixtapes to cover the extra fees for transporting his 4 crates of vinyl (this was pre-Serato) to working the streets ourselves with posters and flyers. We have always taken good care of all our DJ guests, and because of this the word started spreading in New York, then throughout the DJ world; that if you were a good DJ traveling to Europe, Juicy in Oslo was the place to play. We can never forget our guests/club-goers either, because they show a lot of love and appreciation to all the artists we bring out and this also builds a bond between the DJs/Artists and Juicy. We "moved" to Blaa in 2006. It was one of the first goals we set ourselves. Blaa was and still is the best place to have a monthly club night, the crowd is so genuinely music interested, like us. Since we started our residency at Blaa there hasn't been a show that didn't sell out. Now thats pretty impressive, if we may say so ourselves.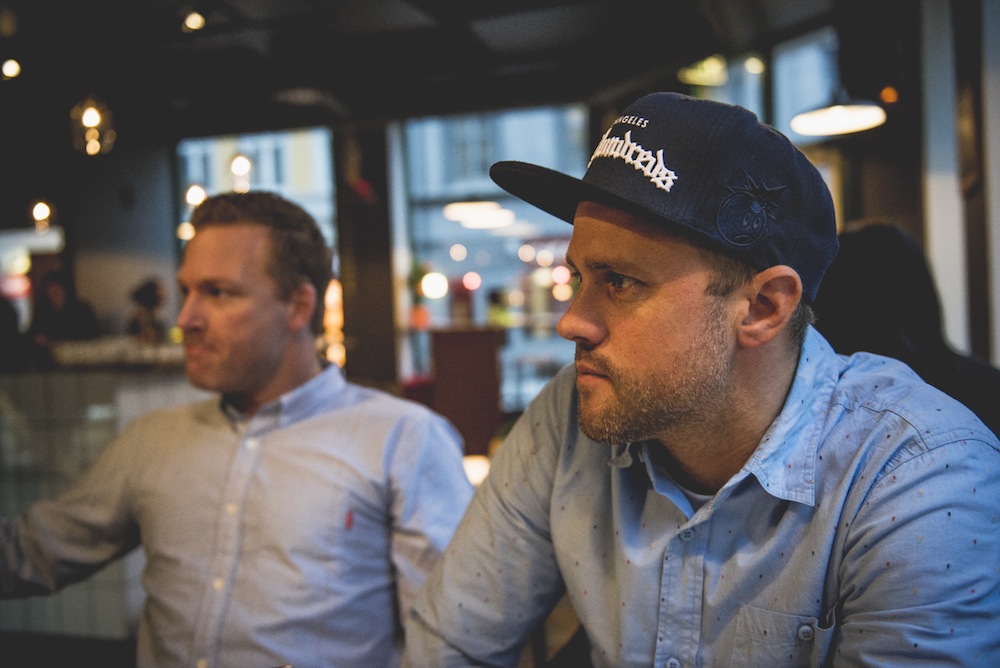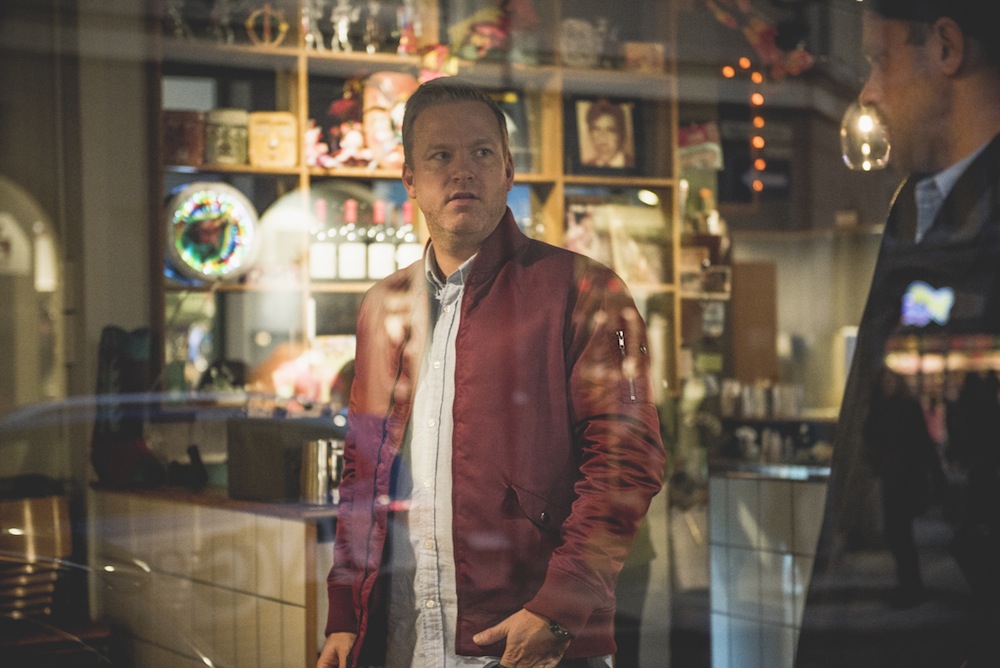 What is next for Juicy? We have been joking around with the catch phrase "Juicy from here to infinity", tell us some more about your plans.
World domination! Naaah, we are actually quite lucky to be able to stay in our home country, without having to travel the globe to make ends meet. Don't get us wrong, some traveling is good and it is also healthy to see what is going on outside of your backyard. We've played at Fresh Island Festival in Croatia, New York, Los Angeles, Miami, Las Vegas, and Germany, just to name a few. We're actually going back to Germany in Feburary. We are slowly making our way back into the music business as producers, putting the finishing touches to our Norwegian version of the The Notorious B.I.G. classic Ready To Die. We have gathered over 30 of Norway's best artists, and the end product sounds amazing. We love the phrase "Juicy – from here till infinity!" since one of our favorite tunes is "93  Til' Infinity" by Souls Of Mischief. So yeah, we will be here a while.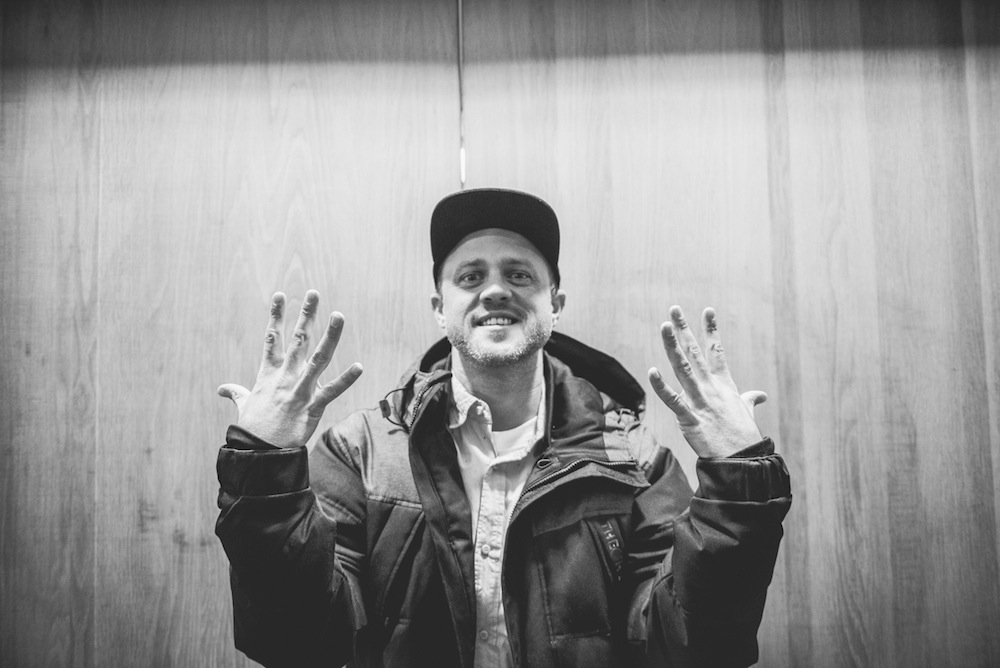 Introducing Patski Love.
You guys have been offering some very good bookings. What have been your favorite parties in terms of excitement form the crowd and feedback on the dance floor?
There has definitely been many memorable Juicy nights. And they keep coming... We believe that we've have passed 400 DJs and artists over these 10 years, which we find pretty impressing. One of the most memorable was when we flew Steve Aoki over, he played a unannounced set in a tiny clothing store before the show. The store was built to fit around 50 people – we filled it up with roughly 100 guests. It was insane. The first time we had Diplo play at one of our parties was also beyond this earth. It was wild to see the "God is a DJ" thing starting to evolve, the crowd was spellbound by him (pre EDM DJs headlining and selling out huge arenas). All of the five parties we did with L.A. legend Thee Mike B have been crazy. Sharing the stage with DJ Premier for the first time was also a huge one for us. Getting love back from a cornerstone in hip-hop history and someone we've been looking up to all our life was such a overwhelming feeling.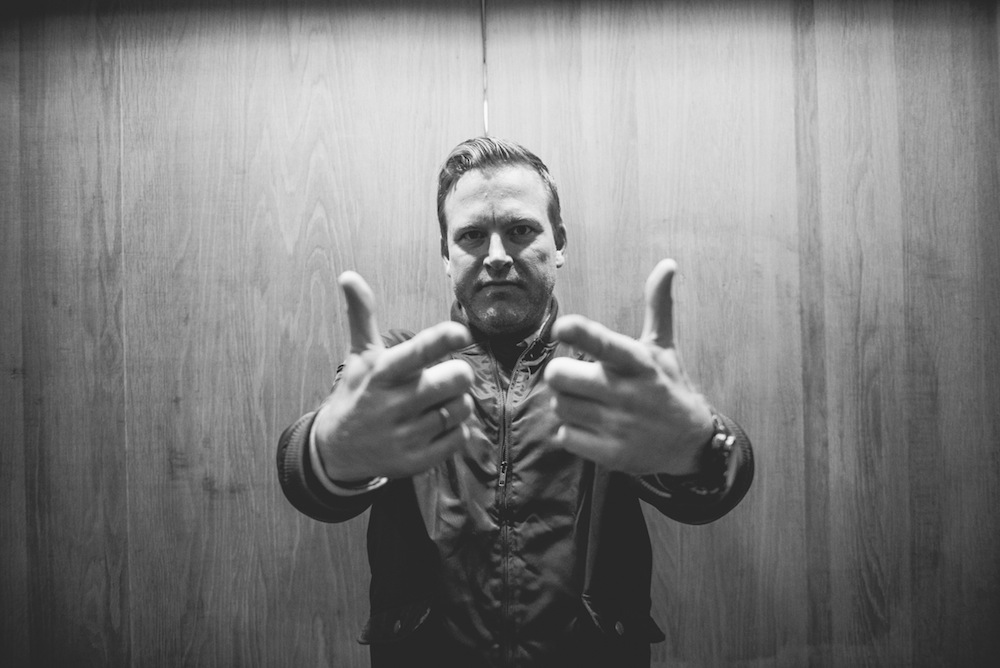 And the great Chris Stallion.
For the past years you have moved on into the grown up lifestyle with kids and a 9–5, me included. What's the key to keeping the new schools happy and how do you push your sets?
We are never going to forget our roots, which is '80s and '90s Hip-Hop, R&B, Soul, and Funk, but we have also always brought all the new stuff that we like into our sets. When Baltimore Club Music was rocking, we were playing that as well as embracing the quality Electric Dance Music. We never stopped digging for gems from the past. It can be pretty tough to stay up to date with all the new stuff, but we feel like we've been able to mix it all together nicely over the years.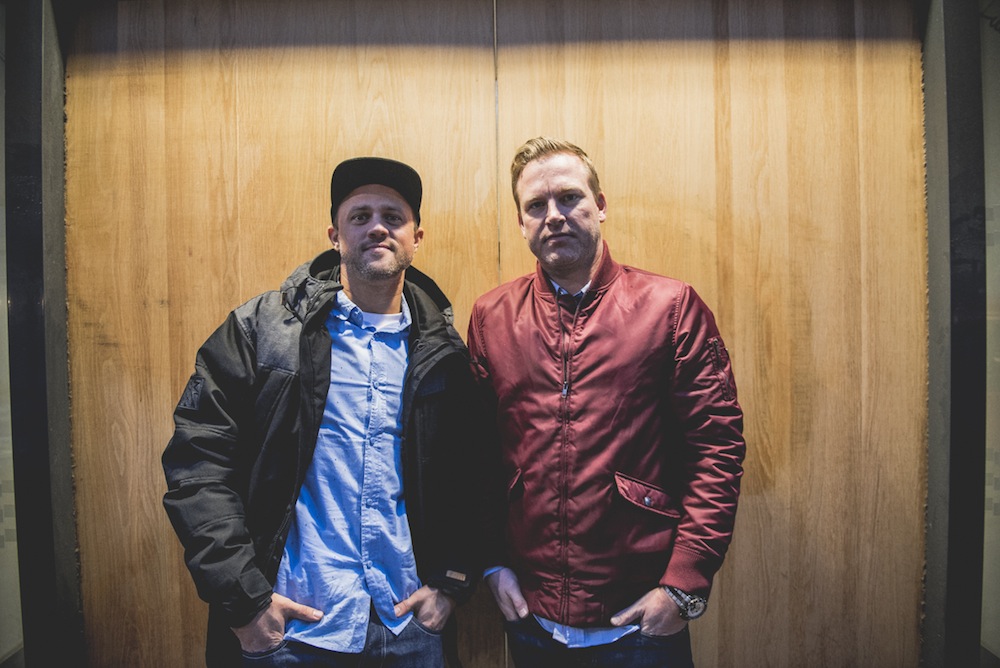 No doubt a lot of people found love for a night or two at your club nights and Juicy always have tons of girls getting bouncy on the dance floor. How do you keep the ladies happy, but still get the stubborn guys twerking?
Can't remember who it was, but this "smart" guy once said, "You know why you have so many girls at your party? It's because Juicy rhymes with pussy" (which it doesn't), but he was right in a way, because once you have all the hot ladies at your party, the guys follow along. We usually start off filling the dancefloor with girls, then throw on some music that we know the guys would like. At that point we have them all going wild on the floor to the music we want to play.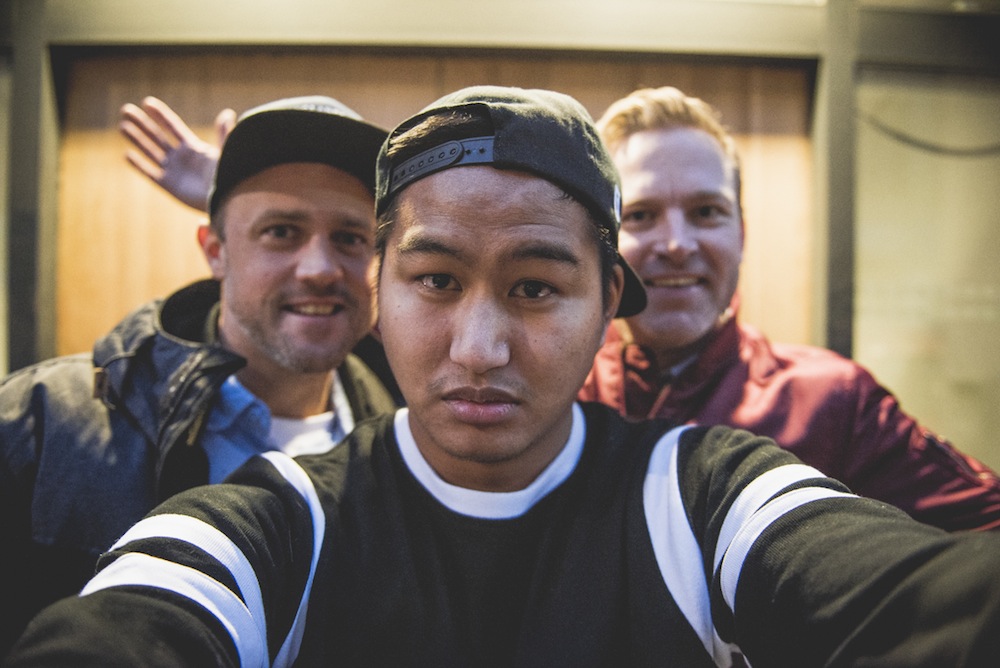 Thanks for all the parties and letting me take so many pictures of dope people!
We have been in dialogue about collaborating on club nights since forever. In your 10th year we finally made it happen and can look back at some really nice bookings with The Hundreds. Next weekend it's going down like strippers on a pole, 10th year, how did you plan your bookings and why? Your back catalog of booking pretty intense so the artist involved must meaning something.
We have actually discussed the headliner for the Juicy 10 Year Anniversary since our 5th anniversary, and the main criteria was to book someone that we've been playing songs by from the beginning, as well as someone who still is as relevant today. We can remember playing at least two Cam'ron songs at the first Juicy party ever, and this year we've been playing A-Trak & Cam'ron "Dipshits" like crazy. So Killa Cam was a perfect match for us. Also, he's such a character on the scene – we know we can expect something crazy and unforgettable from him. He's never been to Oslo before, so the town is bound to go wild. DJ Tedsmooth actually played at the 9th anniversary as well (and will be the first DJ to ever play two Juicy anniversaries), but since his set was so sick, and he is from Harlem as well as Cam'ron, we found him to be the right DJ for this night. For the Norwegian artists, we picked the acts that have been supporting us over the years, like Lars Vaular which was the first Norwegian artist to perform live with us at Blaa. Akam1k3's boys; B.A.W.S have been down with us for many years, so it also felt natural to put them on. Norwegian Hip-Hop Godfather Tommy Tee was a must as well since his new artist Pumba just released his album this week. Young and hungry Kaveh also always supported us and we have done several shows with him so he also felt like a perfect match. On top of that we also have Croatia's Hip-Hop king Phat Phillie, I.T.F. Scratch World Champion DJ Flip from Ireland and local Red Bull Thre3Style champ DJ FMC.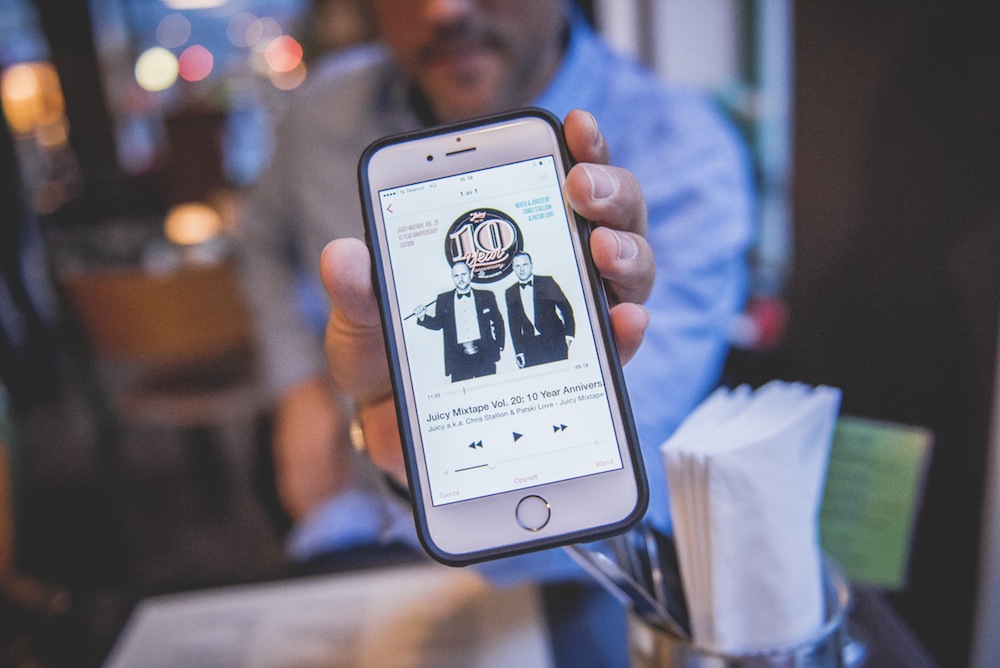 Can't wait to listen to the anniversary mixtape.
Any last words?
Last, but not least we would like to thank The Hundreds for all the support, dope clothing, and accessories! You are a main puzzle in making this dream party possible and we look forward to loads of new ventures together in the future as well!
One love, Chris Stallion and Patski Love – now that's two love's, but you get it [laughs].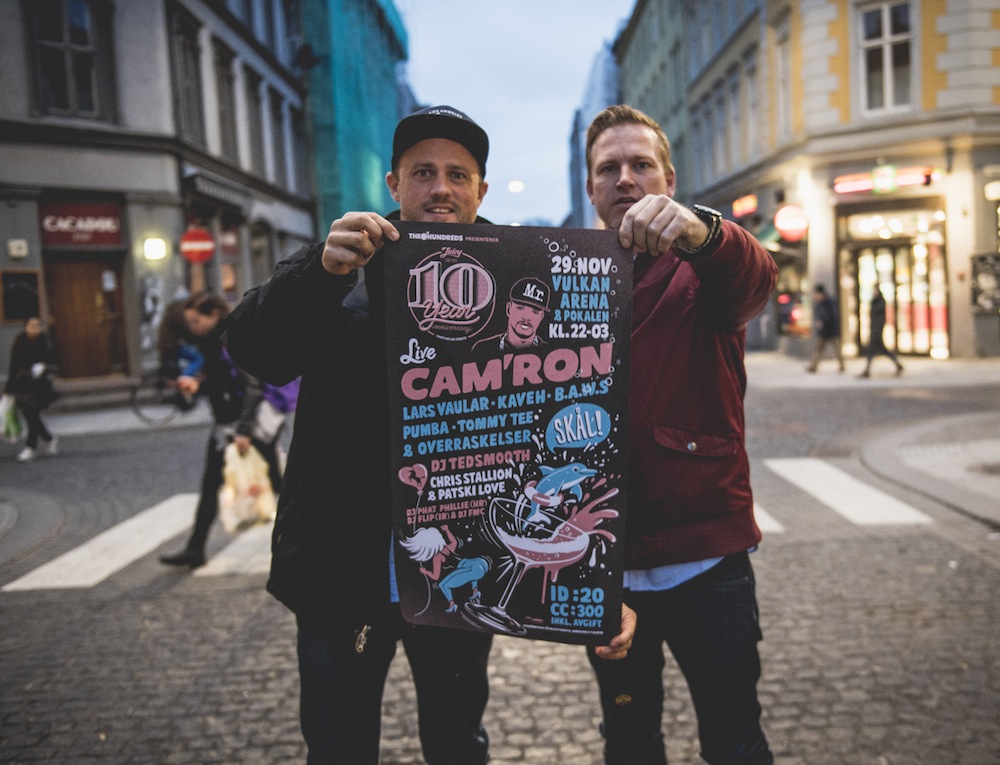 Anniversary artwork: Truong Vu Pham

The Hundreds is proud to present Juicy's 10th anniversary tonight, November 29, live at Vulkan Arena & Pokalen. Click here for ticket details. Facebook event info here.
LINE UP:
Cam'ron (US – Dipset/Diplomats)
Lars Vaular
Kaveh
Pumbish Pengelens & Tommy Tee
B.A.W.S
Moosh & Twist: OCD (US)
+ SURPRISES
DJ':
DJ Tedsmooth The Remix King (US)
ChrisStallion Welsh & Patski Love
DJ Flip (I.T.F World Scratch Champion) (Irland)
"DJ Phat Phillie" (Kroatia)
DJ FMC