Juan Riesco is pulled up to the Citgo gas station at the corner of Milwaukee Avenue and Fullerton Avenue. Standing next to him and his black Dodge is rapper Joey Purp, smoking a cigarette. I walk up to them, introduce myself, and say, "You know it's illegal to smoke cigarettes at a gas station?"
"I'm not gonna die by the rules," Purp says, with legitimacy, "If you think about it, more people die by the police than smoking a cigarette at a gas station anyway."
After he puts his cigarette out, a guy walks over to Purp and introduces himself. He's a fan. Purp later comments on how he's still surprised when people recognize him. Though he hasn't completely shed the SaveMoney insignia, he's now stepped out on his own as a soloist—and as part of the duo Leather Corduroys with fellow SaveMoney member KAMI—so people approach him... a lot.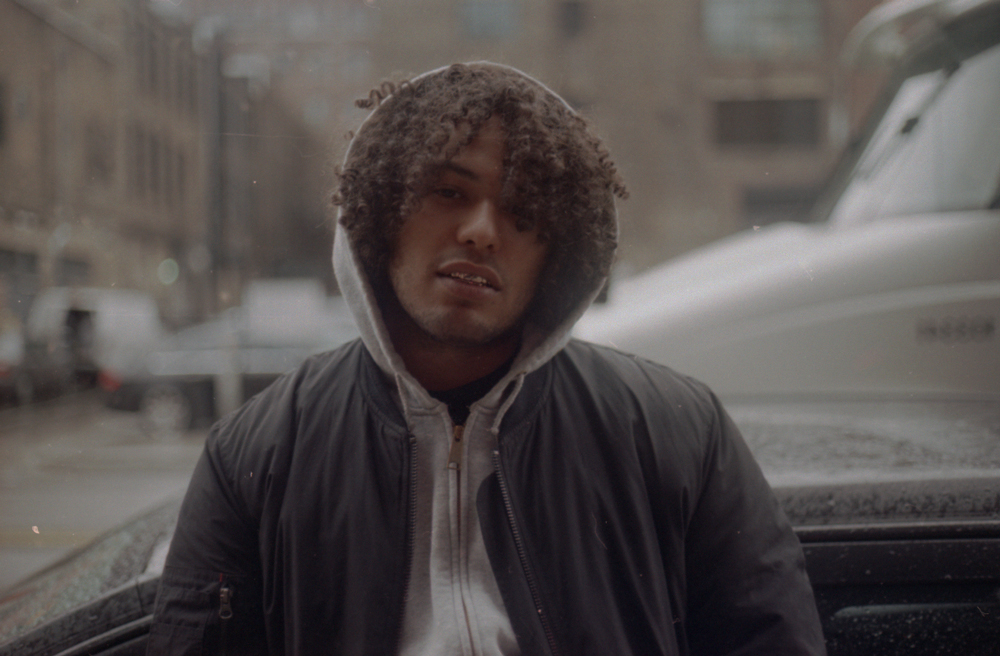 We hop into the car and drive to a nearby thrift store, a Village Discount Outlet. Almost as soon as we put our seatbelts on, Riesco and Purp are reminiscing. They've known each other since 2007—both have been graffiti artists at some point in their lives, Riesco going by the moniker Bandit and Purp going by Glory.
But before Glory and Bandit, before Leather Cords, was the initiation of SaveMoney, a coming together that was almost kismet.
Purp went to elementary school four blocks from Vic Mensa, but only met Mensa and Nico Segal—a.k.a. Donnie Trumpet, one-fourth of the Social Experiment—in middle school. The three started hanging out the summer after eighth grade, which is when the collective first assembled.
Purp next recruited his best friend Reese into SaveMoney, who went to elementary school with Chance the Rapper and Nikko Washington—soon-to-be Art by Nikko, the group's art director and graphic designer. Purp was the fundamental glue.
Over the years, SaveMoney's ranks have multiplied, representing every neighborhood in Chicago, rappers like Towkio from the North Side, Dally Auston from the West Side, and Brian Fresco from the South Side. Many auxiliary groups have also been spawned from the collective, like Leather Cords, SoX, and the now-defunct Kids These Days.
"There's a bunch of us that make music but SaveMoney is bigger than rappers—it's like bigger than music," Purp says. What started out as a small group of homies turned into a multi-faceted, artistic entity, a tool used to forge new musical ground in Chicago. Because of SaveMoney, more eyes looked to Chicago, to this group of young voices that traversed neighborhoods that have historically, culturally, and musically been disconnected.
Inside the Village Discount, Riesco photographs Purp. Though Purp continually mentions that, "This Village isn't fire," he eventually caves and purchases four black t-shirts (he has a thing for black tees). Soon, we're en route to the Chicago Diner, a famous vegan and vegetarian eatery that's been around for over thirty years. Purp tells me he just made the vegan transition four months ago, and that his reasons for being vegetarian also led him to becoming vegan. Our conversation is interspersed with him rapping; first, it's Snoop Dogg's "Gin and Juice," then Jay Z's "Public Service Announcement," and Kanye's "Last Call." Though his mind does wander—for instance, Riesco and Purp argue about the validity of the mayonnaise line in "Last Call"—Purp is always in razor-sharp focus. While he's rapping or singing lines from other songs, his mind is always churning and dissecting the artist's purpose and intent.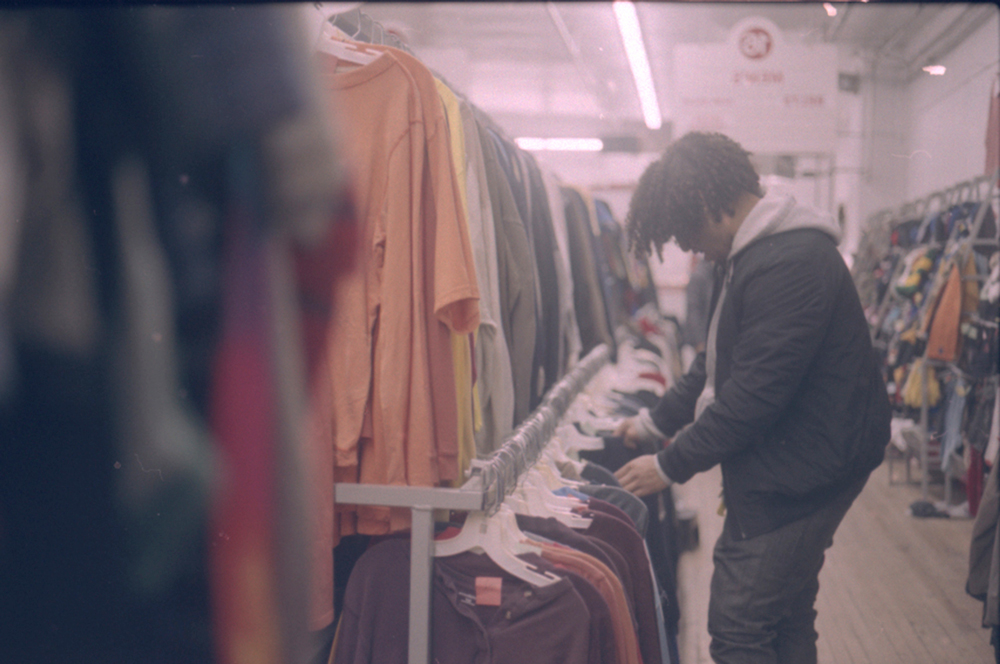 Purp's been passionately rapping for about four years, from the age of 18, admitting that he's been jokingly rapping since he was a kid. He released his debut solo project The Purple Tape in 2012, something he calls, "A very adolescent attempt at rapping." Indeed, The Purple Tape's point of view is that of an 18-year-old, a time that predates the birth of his daughter and his relative sobriety. His habits were different then; now, he justifies the intermission between his first project and forthcoming debut album iiiDrops as personal development, a difference in his life's circumstances, in a newfound adulthood.
"[The Purple Tape] was like grandiose, and that's the immature way to talk about your life. And now I like to talk about the different way I see the same things that we all see... And now it's more like a human approach to this shit, as opposed to like a superhuman approach."
Even though he had a knack for rap, at the time, Purp didn't take rapping seriously, and didn't see the importance in making music. He looked up to rappers and groups like Lil Wayne, Wu-Tang Clan, and Curren$y from a young age, but it took him a while to realize that he could play the same role for younger kids.
"That was the thing I had to appreciate. That was the thing I had to start like not neglecting—I felt like I was being ungrateful by not realizing that... I can like dunk and shoot and crossover just by natural capabilities, so I really should put this jersey on. I really should try out for this team and shit, 'cause I was just like neglecting my natural talent," he says, laughing, likening his rapping abilities to a ball player's abilities.
"I just never had an idea of me as an adult in my head, so I never thought of the idea of me like being a leader. I always knew I was a leader for my group of people but I never saw past that. Once I got a little bit older and I wasn't even a rapper yet, kids would come up to us and be like, 'Oh you guys are SaveMoney...' I was like, damn, what we do is really important; we're like spearheading some shit. I kind of took it as a responsibility to change what I was doing and what I was saying and my approach to it."
Since releasing The Purple Tape, he's done a lot of growing, including having a daughter. He and KAMI created Leather Cords and released their first project Season in early 2015. The duo is a continuation of Purp's ethos, feeding into his musical flexibility; Leather Cords cannot be cornered into any box.
"The theory behind [all my music is] that it's like the fluidity of being genre-less and being fearless and being able to show all of your influences without trying to hide it. A lot of people think that like if people say you sound like somebody else, that's a bad thing. I think that's a great compliment."
Pitchfork's review of Season, written by Winston Cook-Wilson, agreed, "…The raw, whip-smart musicianship of Kami, Joey, and their varied cast of producers… is left at loose ends, resulting in music which innovates, imitates, confounds, and deliberately rankles... The key to appreciating the music on Season is accepting that the questions it seems to raise don't have answers, or aren't worth asking."
Season was within the realm of hip-hop but covered a lot of land—oscillating between rock, trap, and neo-soul, borrowing Caribbean aesthetics, showcasing sounds comparable to the Neptunes, Zappa, and Young Thug—and because of that, it received both positive and negative attention. But more importantly, it showed that we can't pigeonhole the SaveMoney rapper; what can be seen in Purp's career as a soloist, as one-half of Leather Cords, as a member of SaveMoney is that he has attitude, and versatility.
Purp's growth can certainly be traced, the original thread plucked from the moment he met Mensa and Segal. Over the last couple years, he's released a few loosies; but, over the last couple months, he's released the ones that matter, allowing for his progress to be tangible and trackable—allowing us to believe that he might be giving his ideas more time to marinate.
"Yeah, we don't do second place, don't do second dates/ How you run the game when you run in place?/ And shout out all my young boys getting to it/ We be right around the way, you know how we movin', ya," he raps on his 2015 single "Run It Up." Releases like that and "Morgan Freeman" confirm that Purp can still spin lyrical gold, that he can still run it up on us. That confirmation will come in full this year as he gears up to drop iiiDrops, which he assures us is brimming with both bars and production.
"I still feel like art should have no filter and you can't cater to other people when you make your art, but if you're put in a position of power, you have to be understanding of like the lives that you're affecting... I have a child so I'm literally affecting her life if I said like, 'Y'all rap niggas, I don't like y'all'—I don't wanna do this rap politics shit. Now I'm literally like taking money out of her college fund every day that I don't make music; every day that I'm not productive is literally time wasted towards her life."
"It's just a matter of understanding like the balance between expressing yourself truthfully and sometimes feeling reckless and saying fuck it—expressing yourself in a way that other people will understand why you might have said fuck it and that they don't have to say fuck it too."
It's safe to say that Joey's flourished. For the most part, he's sober. He no longer smokes weed, and only drinks sparingly. At the Chicago Diner, he orders the country benedict and an Oaxacan hot cocoa, which does have a bit of mezcal. He removes his grills and places them in a box; and when the food arrives, before doing anything else, he prays.
*** 
Photos by Juan Riesco. Follow Joey Purp on Soundcloud and Twitter.